In October of 2011, PCC will release PCC EHR 6.1. PCC EHR has now passed the full ARRA certification test, and this release includes both ARRA-related features and other client-requested improvements.
6.1? Why the Number Change?: PCC has moved both of its product suites, PCC EHR and the Partner Practice Management system, to the same release number: 6.1 for October 2011. This change eliminates the confusion of having two version numbers for each release, as feature changes often involve integration between the two products.
Watch a Video: Want to watch a video summary of everything in this release? CLICK HERE.
Contact PCC Support at 1-800-722-1082 for information about these or any features in PCC EHR.
ARRA Certification Test Complete
PCC EHR version 6.1 has completed all 32 ARRA tests for full ARRA certification. If your office qualifies, you will soon be able to use PCC EHR to apply for ARRA incentive funds.
Clinicans qualify for first-year ARRA funds by using a qualified EHR or EMR, like PCC EHR, and seeing a certain percentage of Medicaid patients (for pediatricians, 20%).
To apply for funds in the second and third years, you may need to make certain changes to charting and configuration. These changes are described in our Meet Meaningful Use and Meet Clinical Quality Measures help articles.
Not Just ARRA: Even if your office is not applying for the ARRA incentive, the many improvements to PCC EHR also apply to PCMH and other industry programs. Stay tuned to PCC EHR Insider and chat with PCC's consulting team if you want help using PCC EHR and Partner to meet other standards.
Future Plans: In the coming year, PCC will be working with interested offices to implement ARRA-related software features and improve those tools through further development. We will use your feedback to make Meaningful Use and CQM-related features useful for all offices, whether applying for ARRA or not.
Patient Portal and Patient Medical Home Tools (Coming Soon!)
PCC EHR 6.1 includes preliminary internal tools for maintaining a Patient Portal. With a Patient Portal, your office can turn on a custom Web site where your patients and families can log in and review their medical information.
Our infrastructure work on these features is complete, and we will be introducing the feature and helping offices get started early in 2012.
ARRA Required?: PCC EHR has patient portal capabilities as part of its ARRA certification work. However, your office is not required to have a patient portal in order to qualify for ARRA incentive funds. For more information, read Meet Meaningful Use.
Auto-Update PCC EHR From Your Workstation
You can now update PCC EHR from the login window. After the PCC EHR 6.1 update, all users may launch PCC EHR and click to update the local software on their personal computer.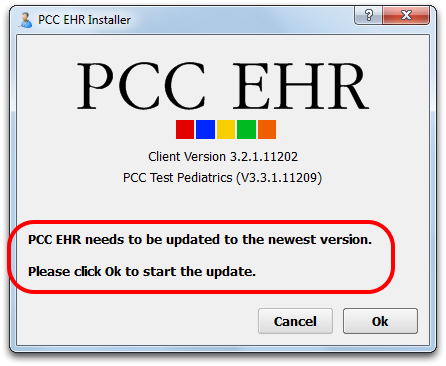 After downloading, a simple installer program will help the user complete the installation.
This feature has been available to several PCC EHR clients already, and may not be new to you. PCC EHR 6.1 includes this feature for all clients.
Leave It On?: You no longer need to leave your workstations on for an update. (PCC Support will work with your office if this is still required for some reason.)
If anyone in your office has trouble updating to the latest version of PCC EHR, please contact PCC Support at 1-800-722-1082.
Meaningful Use: Patient Data Exchange
PCC EHR can now submit and receive patient health information in the HL7 CCD and CCR formats. These infrastructure tools are behind-the-scenes in PCC EHR in 6.1, but they will lead to new features in 2012.
Sending and receiving health information in CCD format is part of PCC EHR's ARRA certification.
CQM: Adult Weight Management
The Clinical Quality Measures report can now evaluate the adult weight management measure.
In order for PCC EHR to accurately calculate your numbers for this CQM, you should record height and weight for all patients 18+ years old and, for those patients with BMI outside of the CQM guidelines, document your care goal and follow-up plan using ICD-9/CPT on the electronic encounter form.
Additionally, you can enter dietary consultation information or indicate why a visit's BMI is unusual with the new Adult Weight Screening and Follow-Up (ARRA) component.

Work with PCC Support if you wish to add this component to your chart notes. Once added to a protocol, the component will only appear for patients who are eighteen years old or older.
Read More: For more information, you can read a guide to running the CQM report, or a guide to Meeting CQM with PCC EHR.
PCC eRx/Rcopia DrFirst Updates
Rcopia DrFirst has made several recent changes and bug fixes. You can read about them in the Fall 2011 Rcopia Update article.
Indicate Health Information Summary is for Transition of Care or a Referral

You can now indicate, while generating the Health Information Summary report, that you are producing the report as part of a transition of care or a referral.
This information is collected for the Meaningful Use Report calculation on the "Provide Summary of Care Record" row.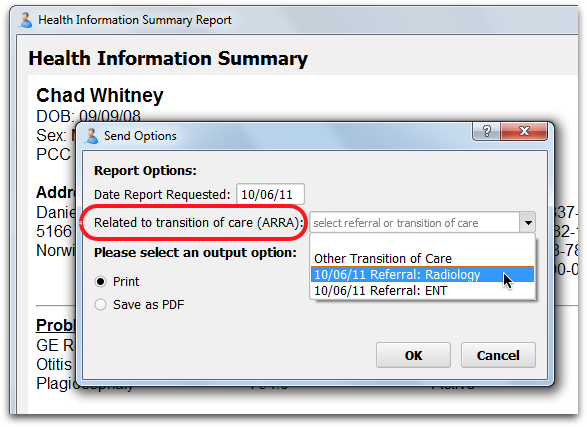 Other Improvements in PCC EHR 6.1
In addition to the features described above, PCC EHR 6.1 includes:
Report Output: Both the Health Information Summary and the Patient Visit Summary reports now have a unified "Send To…" button instead of Print/Save buttons. Click "Send To…" whether you are printing, e-mailing, or saving the report to file.

Clearer Display of Contraindicated Imms in Visit History: The Visit History screen now displays contraindicated imms more clearly.

EHR Data Conversions from eClinicalworks: PCC can now convert chart data from the eClinicalworks EMR.

MU and CQM Updates: PCC EHR 6.1 includes numerous tweaks to the Meaningful Use and Clinical Quality Measures reports. This includes minor changes to which visits require signing, which codes need to be recorded, and improvements to the labels on the reports. Your report results may change after this update.

Handout Searching By Old Medications: The medication search list for Patient Education now includes plain text medications recorded in PCC EHR before the adoption of Rcopia DrFirst as well as free-text medications ordered through PCC eRx.
Minor Bugs Squashed in PCC EHR 6.1
Our clients helped us find and squash the following minor bugs this month:
Adding historic immunizations sometimes overrode the default user assignment for immunization order tasks. This no longer occurs.

Prior to 6.1, if you charted some diagnoses, billed the visit, and then went back to modify the diagnoses or notes after billing, deleting a diagnosis could trigger a reset of your other diagnosis changes before they were saved. Now, when you delete a billed diagnosis, your other unsaved changes will not be reset.

Entering and then canceling an immunization caused a blank line to appear in the patient's immunization history. This no longer occurs.

You can now look up procedures by code on the electronic encounter form, a feature that was disabled by last month's update.

The Practice Preferences window sometimes stretched below the bottom of the screen. This no longer occurs.