In May and June of 2017, PCC will release version 8.0 of our electronic charting and practice management software to all PCC users.
The PCC 8.0 includes all-new prescription and medication tracking features in PCC EHR, vaccine inventory tracking, chart note availability in pocketPCC, sending images through the patient portal, numerous improvements to account and patient management and billing, as well as updates to the Appointment Book, PCC's new visual scheduling software.
Watch a Video: Want to watch a video summary of everything in this release? CLICK HERE
Implementation: The new features in PCC 8.0 require configuration and user-specific software training. Read about the features below and then review: the PCC 8.0 Migration Considerations and the PCC eRx 2017 Migration Considerations articles.
Read below to learn more, and contact PCC Support for information about these new features or about any PCC product or service.
Prescribe and Manage Patient Medications With the New PCC eRx
PCC 8.0 updates and improves every aspect of prescribing medications. You can prescribe or renew medications quickly, and use a complete suite of tools to manage a patient's medication record. Highlights include:
Fast, familiar navigation to all eRx tools
Automatic prescription favorites, and built-in dose statements that are better than favorites
View prescription activity on the visit chart note
No additional password needed for non-schedule drugs
Learn to Use the New PCC eRx
You can learn about PCC eRx by watching the video series below. You can learn even more by reading the accompanying documentation.
Topic
Video
Article
Prescribe Medications
Watch
(7 min)
Read
In about 7 minutes, learn how to prescribe medications in the new PCC eRx.
Rx Queue - Alternative Prescribing Workflows
Watch
(6 min)
Read
Learn about the Rx Queue, renewal requests, and how provider agents prescribe.
Weight-Based Dosing and Other Prescribing Tools
Watch
(8 min)
Read
Learn more about how to use the dose, frequency, days supply and other features when you prescribe.
Medication History
Watch
(9 min)
Read
Quickly review and update a patient's medications, review pharmacy history, and renew medications.
Allergies
Watch
(5 min)
Read
Learn how to record and review patient allergies and handle drug allergies as you prescribe.
Set Up PCC eRx Users
Watch
(7 min)
Read
Learn how to set up staff and clinicians in your office to use the e-prescribing features in PCC EHR.
EPCS: How to Enroll Prescribers and Prescribe
Watch
(10 min)
Read
Enroll in EPCS, perform identity proofing, and prescribe a controlled substance electronically.
PCC eRx 2017 Migration Considerations
Read
Your practice's eRx champion or PCC expert can read about all the different issues related to the eRx transition.
PCC eRx Component Reference
Read
Read special tips and tricks of each component on the PCC eRx ribbon.
Vaccine Inventory Tracking
PCC EHR now tracks vaccine lot quantities as you add lots and administer vaccines. New lot management tools and inventory reports will help you keep track of all the shots in your fridge.
In the Immunization Configuration tool, you can manage vaccine quantities and lot status.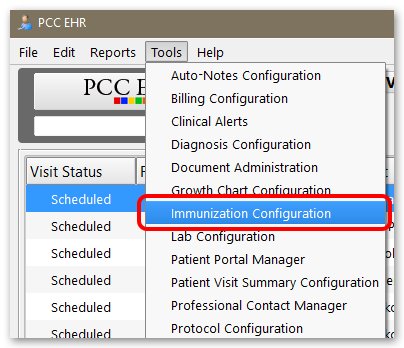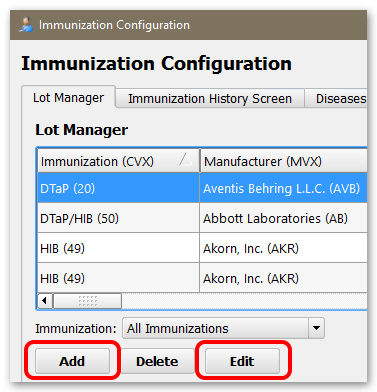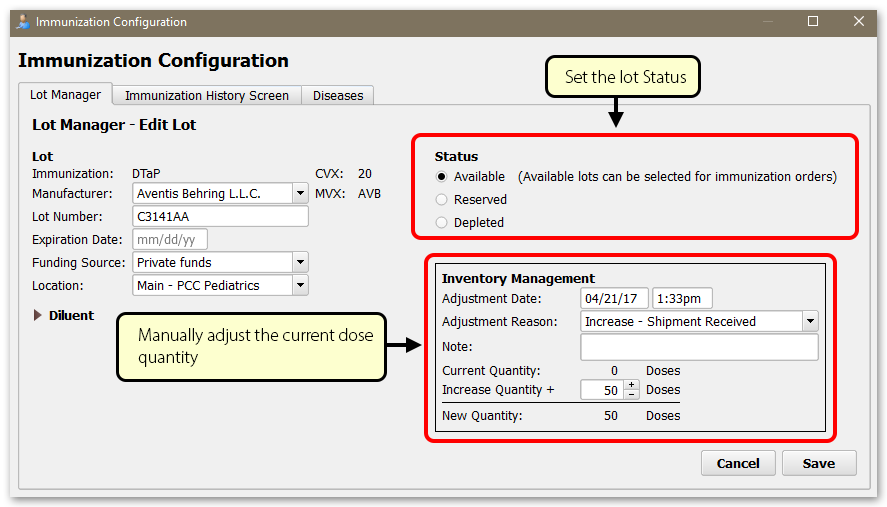 The status of a lot affects whether or not you can select that lot to administer. Immunization orders will not offer you lots marked as Depleted or Reserved. Only lots that are Available will appear in immunization orders.
Use the Inventory Management section of the Lot Manager to adjust dose quantity when you receive a shipment, are reconciling inventory, need to record wasted doses, or for any other reason.
Whenever someone at your practice administers a shot, the vaccine lot quantity will automatically decrease.
Bonus Doses: Dose quantity in a vial is often not exact. Your practice may get 11 doses out of a vial that was originally defined with a quantity of 10. Administering more doses than the original dose amount will lead to a negative dose amount in PCC EHR. That's okay! PCC EHR will allow you to administer a lot until you manually mark it as Depleted.
Reserve a Lot: You can enter lots into your inventory with a "Reserved" status, if the lot is set aside in the refrigerator and not yet in active use.
Report to Track Vaccine Inventory For a Specific Time
Use the Vaccine Inventory Transaction Log report to monitor additions and subtractions from a specific vaccine lot.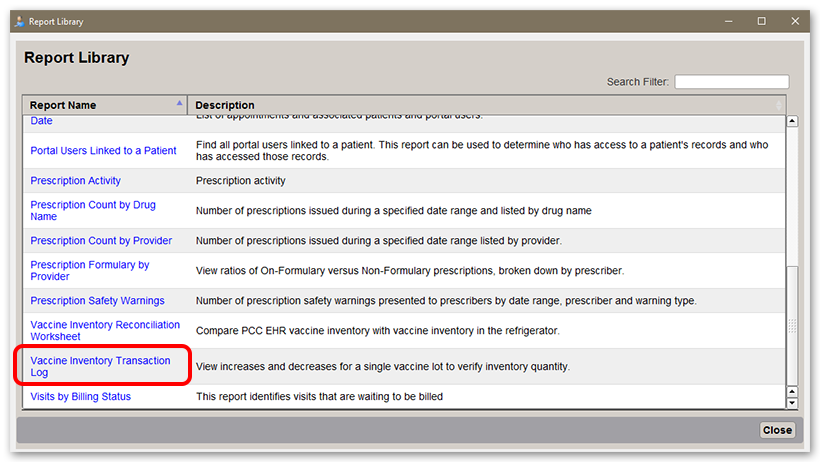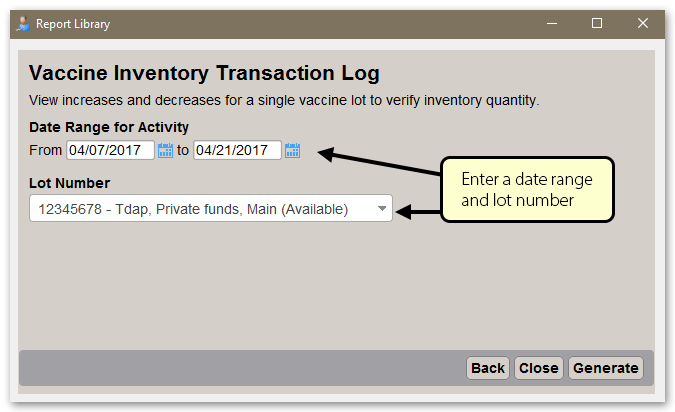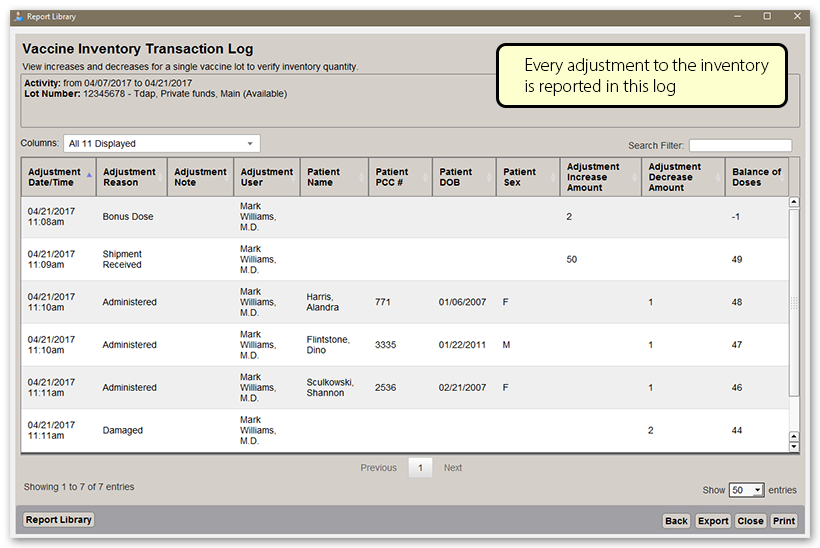 On the report, you can see how many doses were given, and to whom, as well as any adjustments that have been made, such as wasted doses or transferred inventory.
Report-style Worksheet Assists with Vaccine Reconciliation
Use the Vaccine Inventory Reconciliation Worksheet to assist you as you reconcile your vaccine inventory.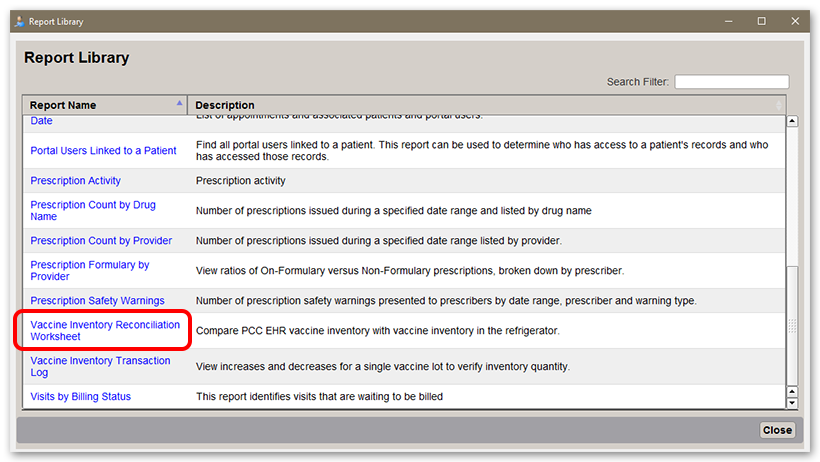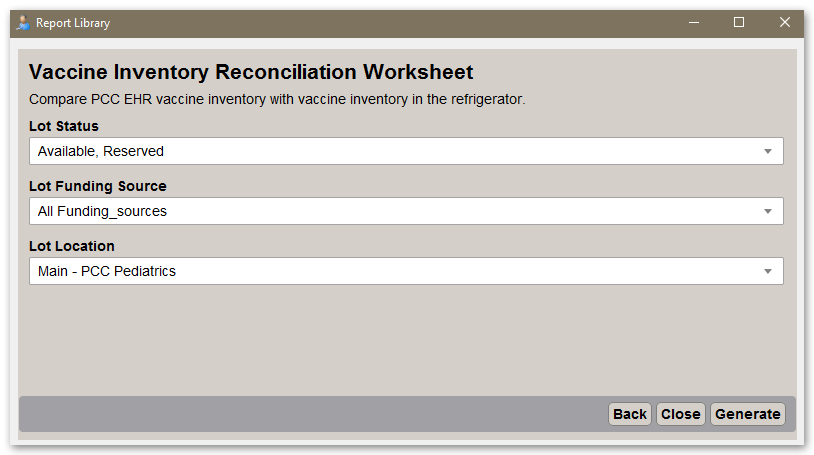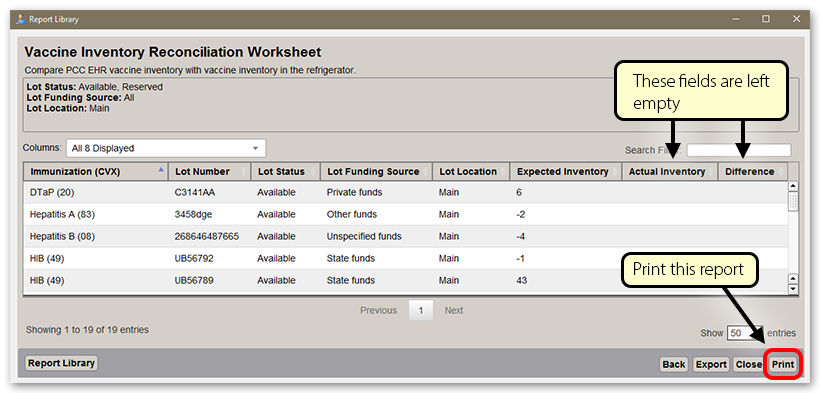 The report displays what is expected for your inventory for all vaccines. Print it out, and use the Actual Inventory and Difference columns to record and compare the actual inventory in your vaccine refrigerator with the value recorded in PCC EHR.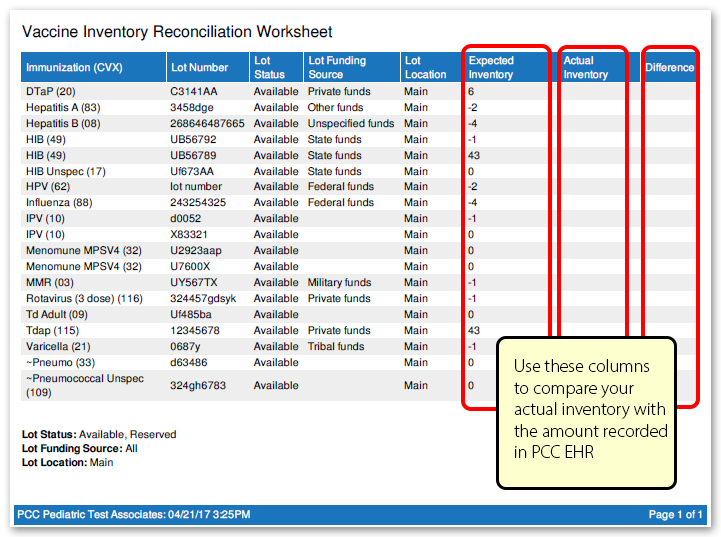 Add New Patients and Family Accounts in PCC EHR
You can now add new patients and families in PCC EHR. You no longer need to switch over to Partner to create a new patient record or manage account-patient relationships.
Add a Patient
Your practice can add new patients from the Find field in the upper-left corner of PCC EHR.
After you search for a patient, a "Create Patient" button will appear at the bottom of the Patient Finder results window.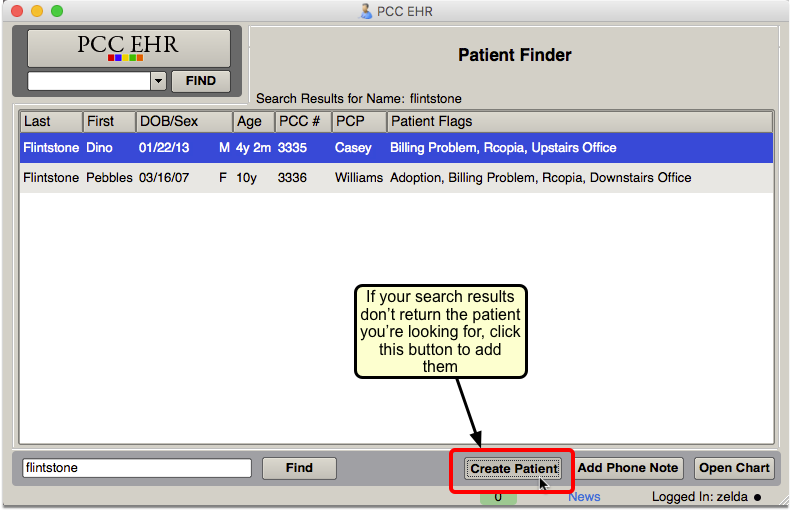 On the Create Patient screen, you can fill out patient demographics and add family accounts. PCC EHR will auto-fill the patient name fields with the search text, including first, middle, alias, and last names (in that order).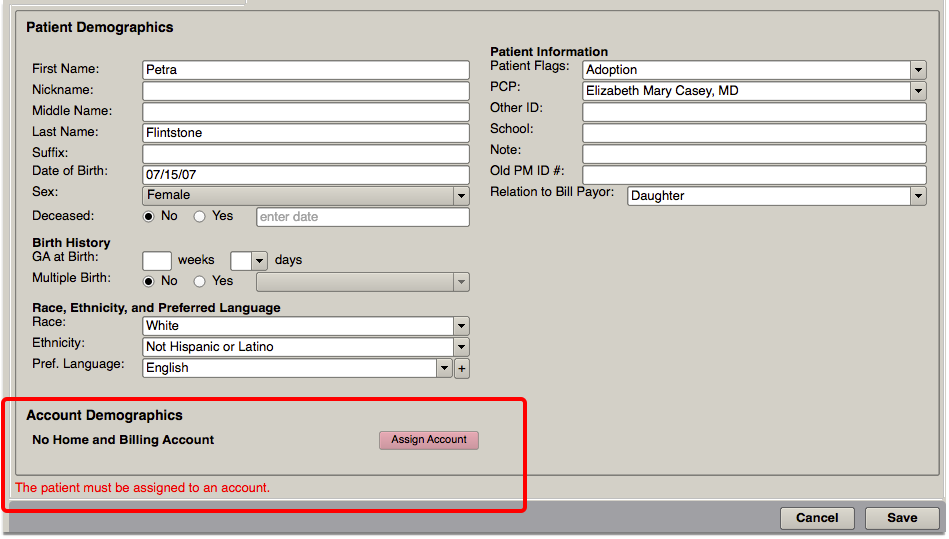 You must add an account to the patient's record when you create a new patient.
Create a New Patient While Scheduling: If you use PCC EHR's new Appointment Book, you can add a new patient while attempting to schedule.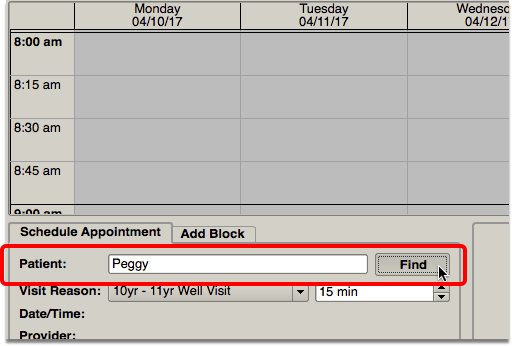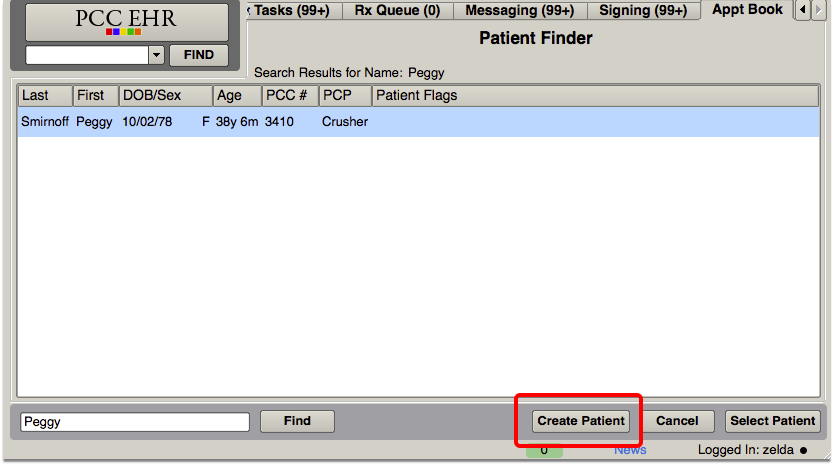 After creating the patient, you can immediately schedule them.
Got a Fax or Form for a New Patient?: Sometimes your practice receives documents before you even know a patient is coming to your practice. As you import documents, you can create a patient on the fly.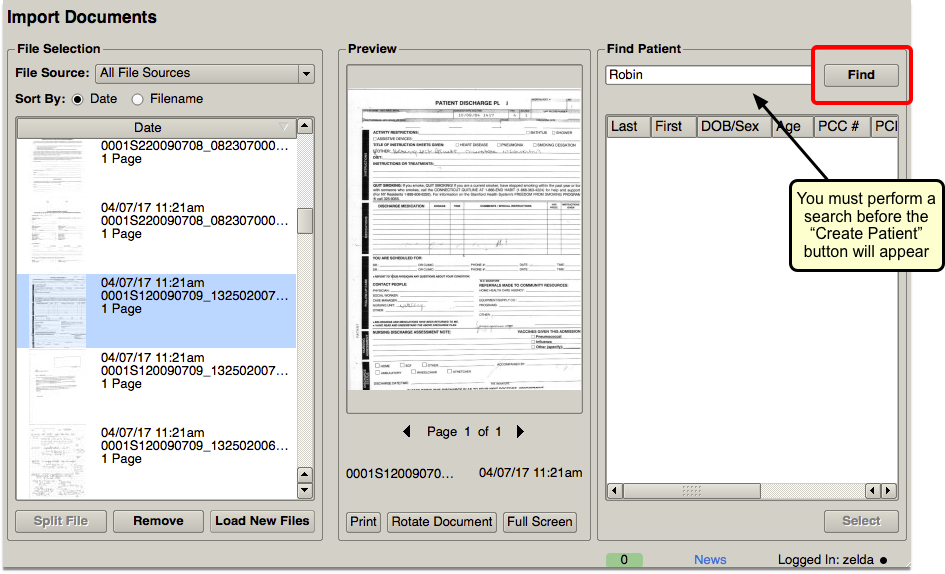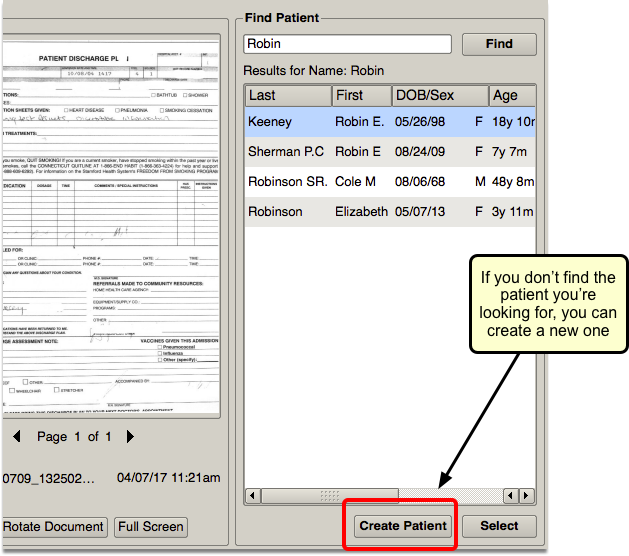 After you finish creating the patient, PCC EHR will take you back to the Import Documents screen so you can continue working with the document.
Reassign Account or Add an Account
You can change the Home (custodian) and Billing (guarantor) accounts for a patient in the Demographics section of their chart.
Click "Edit" at the bottom of the page and then click the "Reassign Account" button next to the currently associated account.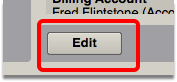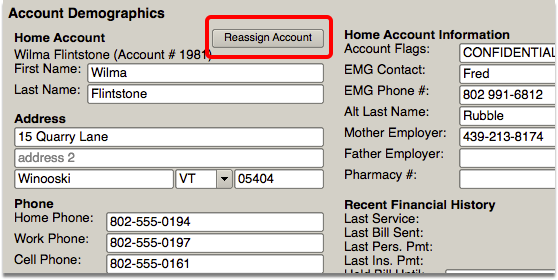 First, search for the account.
If the account does not already exist, you can click "Create Account".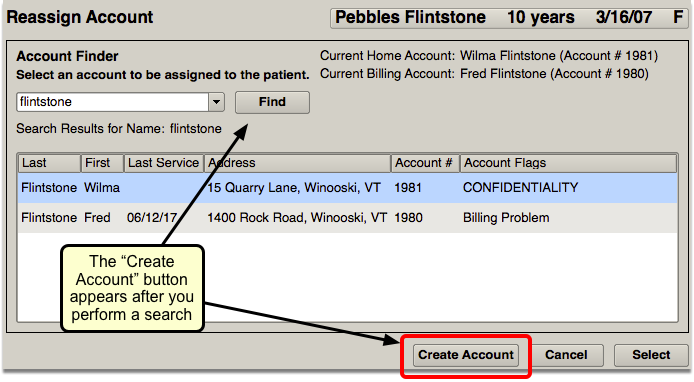 Next, select whether the account is home, billing, or both.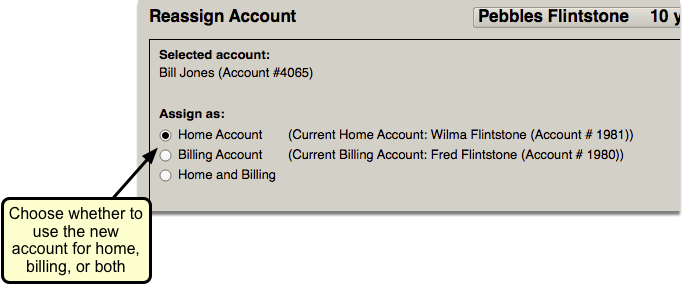 Edit More Demographic Information in PCC EHR
Users can now review and modify additional family demographics in PCC EHR.
When you wish to edit account information, click "Edit" in the Demographics section of a patient's chart.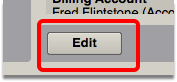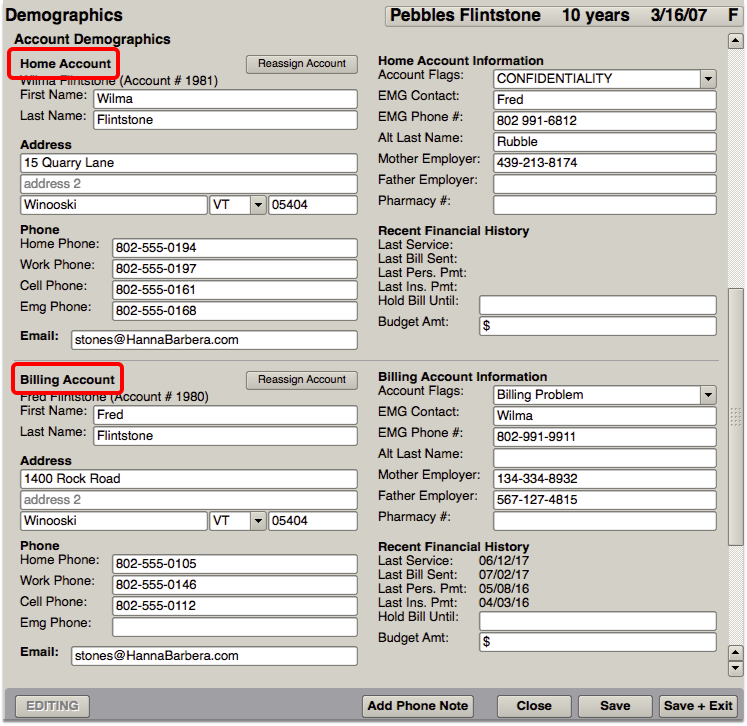 The Account Demographics component displays account information, which may be split into Home and Billing account information if the patient has two different associated accounts. The component includes PCC's six customizable account fields, which are often used to store emergency numbers or other account information.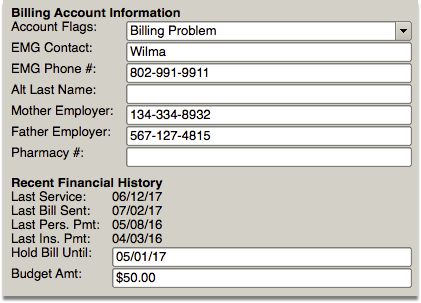 The new and updated fields added in the PCC 8.0 update are:
The six configurable account fields
The automatic fields for Last Service and Last Bill Sent
The Hold Bill Until field
The Budget Amount field
Where is Relation to Bill Payer?: The Relation to Bill Payer field now appears in the Patient Information component.

Edit Patient Physical Dates in PCC EHR
You can now edit a patient's Last Physical and Next Physical Due fields within the Recent and Upcoming Appointments component in the Medical Summary section of the chart.

Set Automatically By Billing: PCC automatically calculates a patient's last physical and date due for next physical based on billing data. Under normal circumstances, you do not need to edit these fields. However, if you learn about a patient's care away from your practice, or you are setting up a new patient sick visit, you can manually enter dates.
Review Visit Chart Notes in pocketPCC
You can now review patient visit chart notes and other encounters in pocketPCC.
When you want to review patient history, click on the chart menu and select "Visit History".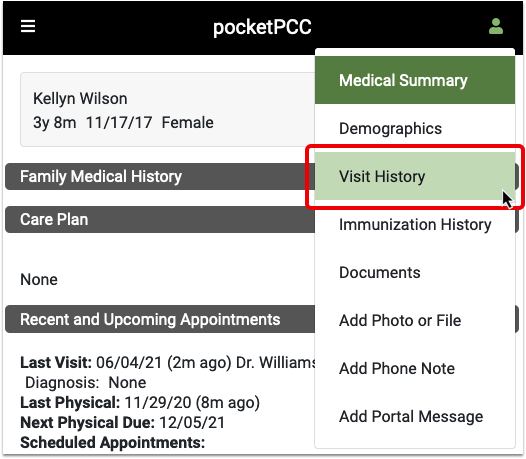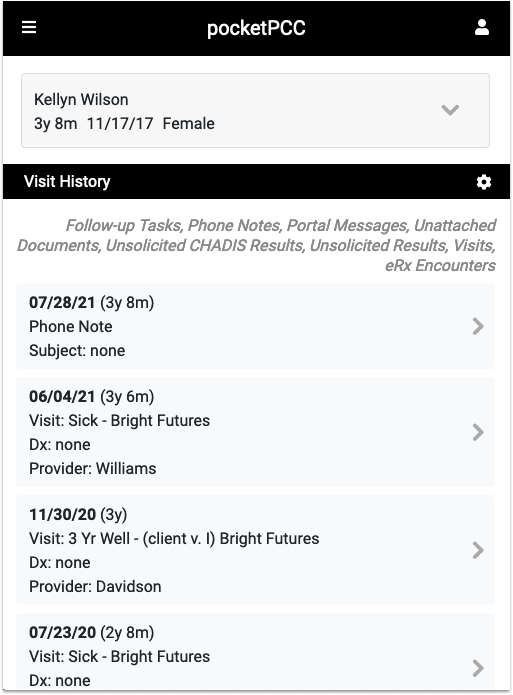 On the Visit History, pocketPCC displays all chart notes, phone notes, portal messages, and eRx encounters. If you want to see only messages or visits, for example, you can filter the history using the gear button.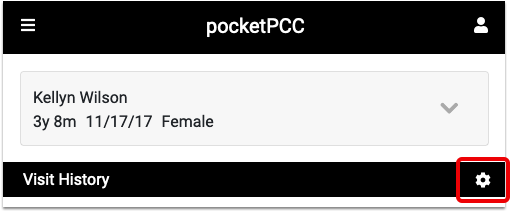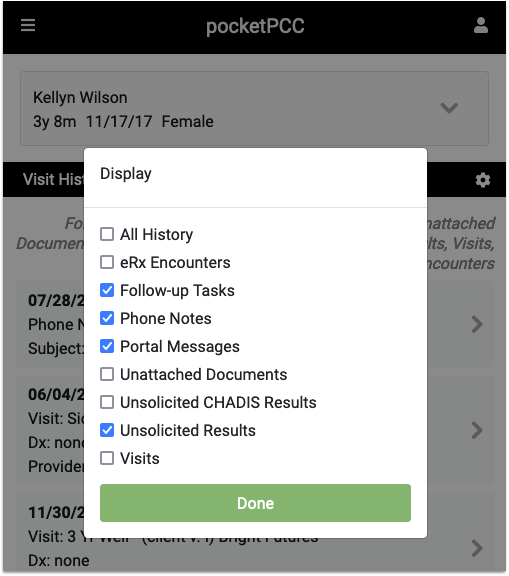 Click on any encounter in the Visit History to view it.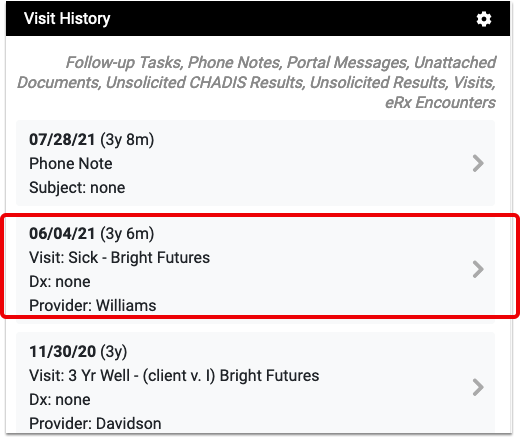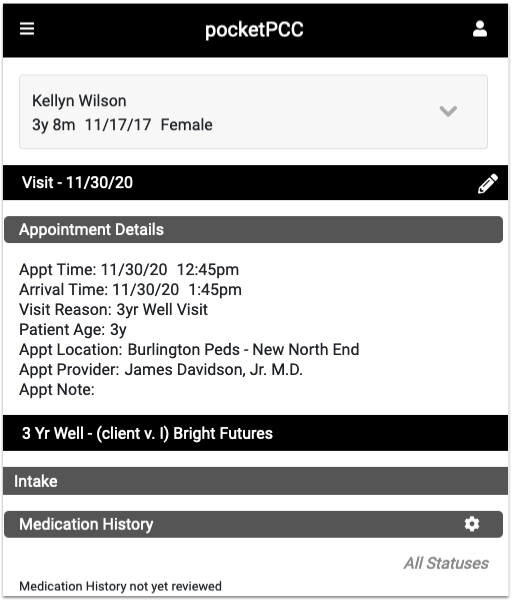 You can review the information in each component. For example, you can check up on orders and read their results.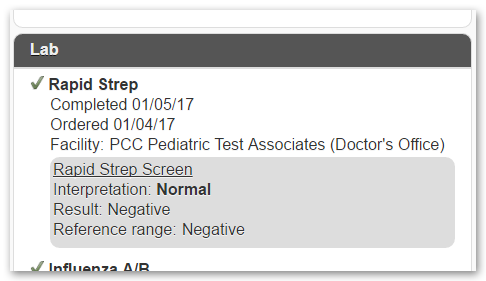 If a visit chart note has more than one protocol, you can scroll down to review each protocol.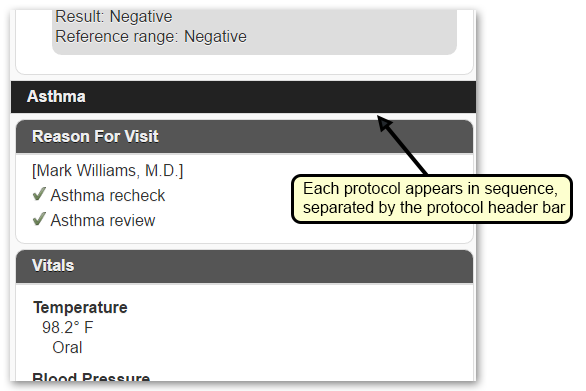 Limitations to Chart Notes in pocketPCC: As of PCC 8.0, pocketPCC can display most standard charting components and encounter types. Some specialized components, such as full lab order details, medication reconciliation, appointment history, growth charts, amendment requests, and some immunization details such as forecasting, VFC, and diseases, can not yet appear. Certain Visit History entries, such as e-lab results that are not attached to a visit or unattached documents, do not yet appear in the pocketPCC Visit History. When you need to guarantee a complete, detailed history of a patient's lab results, for example, you should refer to PCC EHR.
Improved Display of Phone Notes and Other Encounters: As pocketPCC can now display more types of chart note components, those components can also appear in other encounter types. For example, if your practice had custom questions on your phone notes, those questions will now also be visible when you review a phone note in pocketPCC.
Patients and Families Can Send You Images and Documents Securely
Your patients can now send you pictures and PDFs securely through the Patient Portal. They can use their mobile phone or other device to send you images of rashes and other ailments, snapshots of forms, or their prescription labels.
Family Sends a File
When mom or dad want to send you something, they first create a portal message.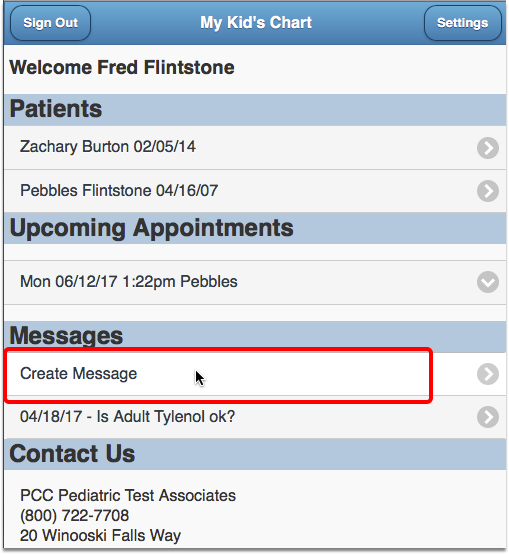 Next, they click "Attach a Photo or PDF" and select the image or document.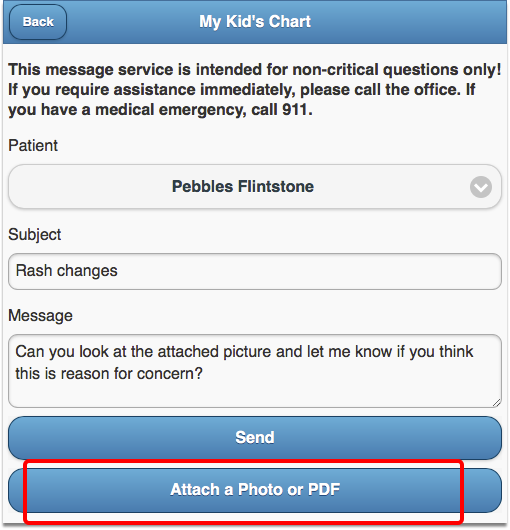 They can use their phone's image browser to select one or more image or document.
When they are finished with the message and attachments, they click Send.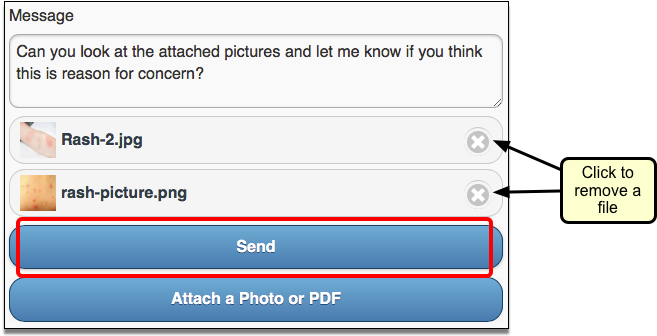 Later, if they review their portal message, they will see their attachments.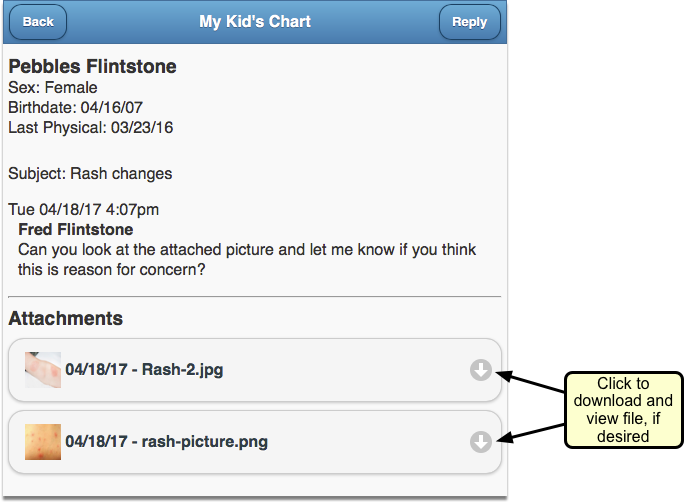 Practice Receives the File
You or your staff will receive incoming Portal Messages on the Messaging queue in PCC EHR.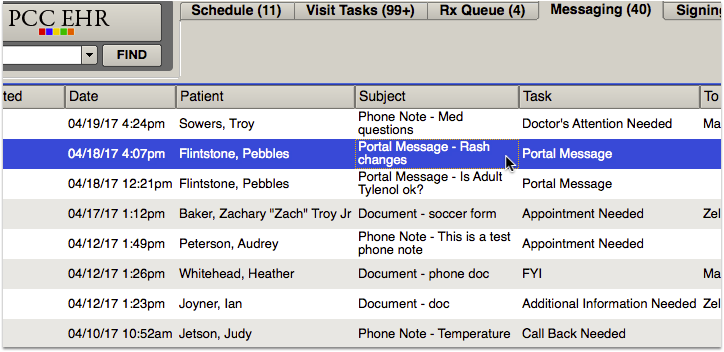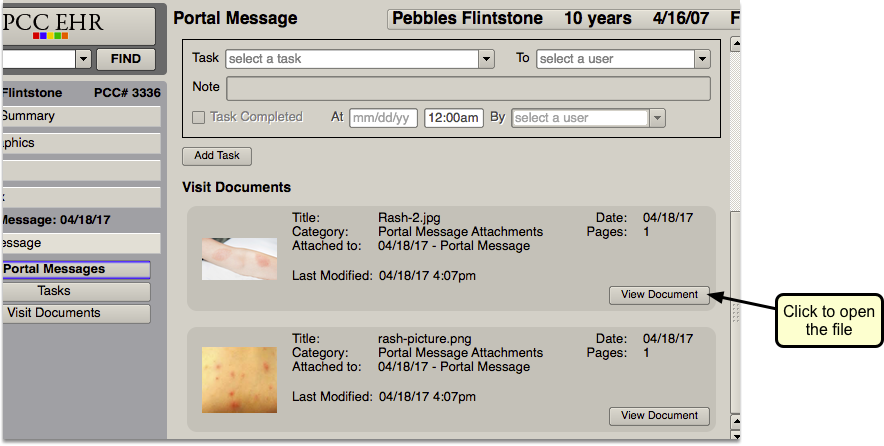 Optionally, you can click "Edit" to change the document's tags. You can give the file a new name, category, or re-attach it to a different visit or order. If you move the document to a different visit, it will no longer be attached to the portal message.
Use the 'Display in Portal Documents' Checkbox: The "Display in Portal Documents" checkbox is not checked by default, even for documents sent from the portal user. There may be more than one parent or other guardian who has patient portal access for a patient. Check this box only if a document should be visible to all portal users for a patient.
Move the Document to a Different Patient's Chart or Remove It: You can edit a document and remove it from the patient's chart. When you do so, you can send the image to an image source bucket in the Import Documents tool. Then you can import the document to any patient's chart or delete it.
View Your Practice Vitals Dashboard Inside PCC EHR
You can now access your PCC Practice Vitals Dashboard from within PCC EHR.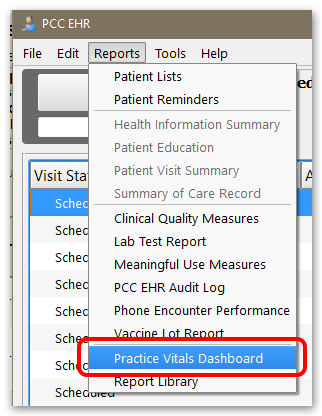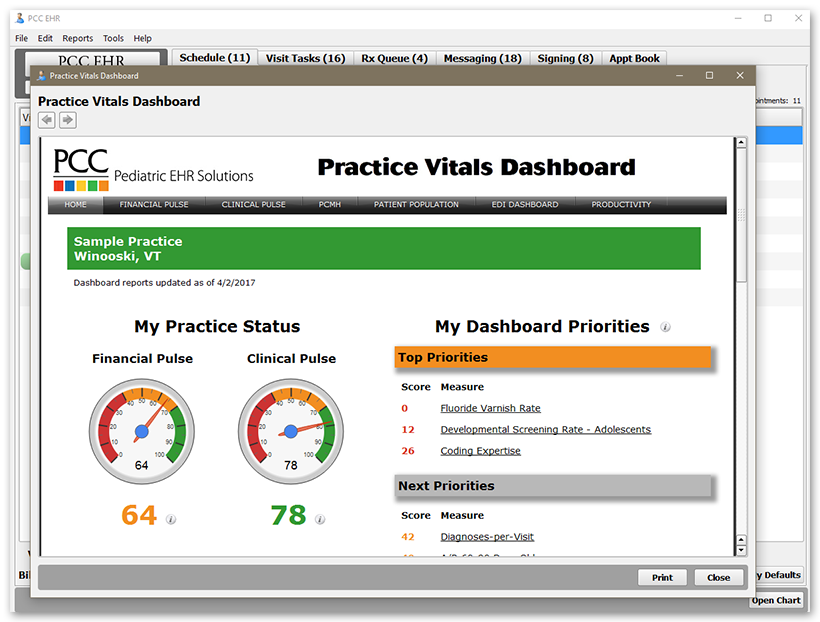 The Practice Vitals Dashboard is a tool for tracking and reporting your practice's financial and clinical health based on relative performance in a variety of areas. For more information about how to use your Practice Vitals Dashboard, click here.
Permission to Access: Your practice can customize which users can access the Practice Vitals Dashboard. Adjust the Roles in your User Administration tool, or create a new "Dashboard Access" role and grant it to specific users.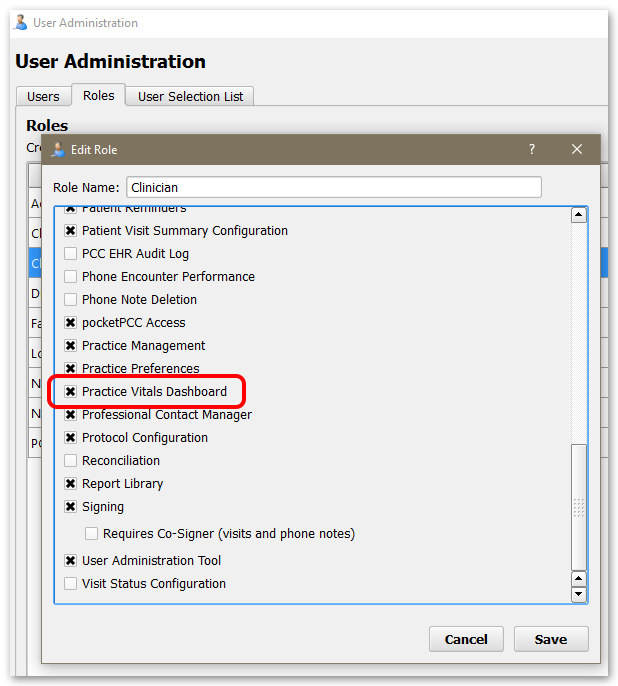 Continue to Access From Home: You can still access Practice Vitals Dashboard from any web browser. For more information, read Practice Vitals Dashboard.
Create Document Tasks and Other Document Improvements
Whenever you open and view a document, you now have the ability to create and assign tasks, review contact information, and sign the document.
Create a Document Task
While looking at a document from the signing queue, or any other location in PCC EHR, you can use the new Tasks tool to work with tasks.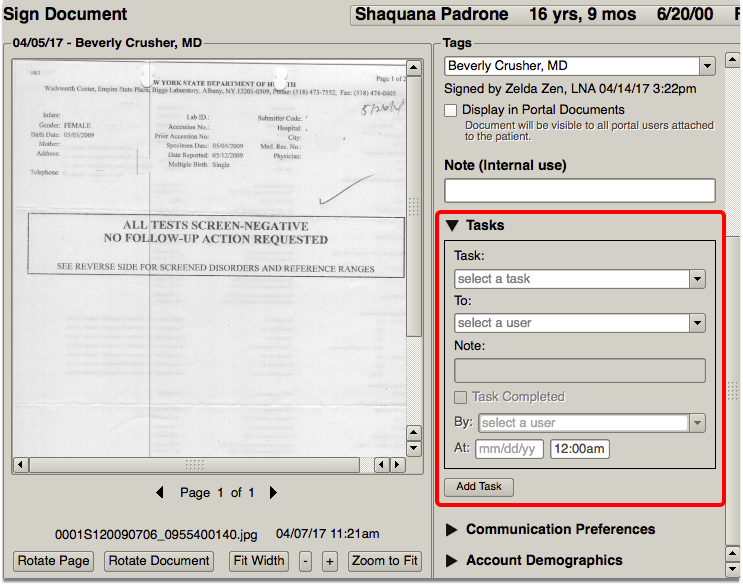 For each document you can add new tasks, select a user, and add a note. You can add more than one task if many different users need to respond to the content of a document.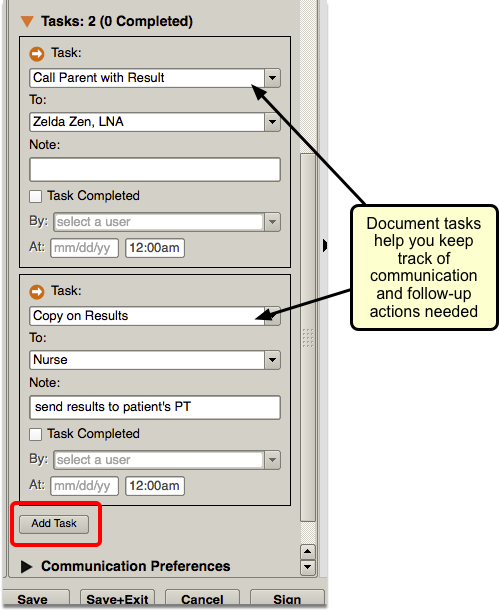 You can also work with tasks as you import a new document to a patient's chart.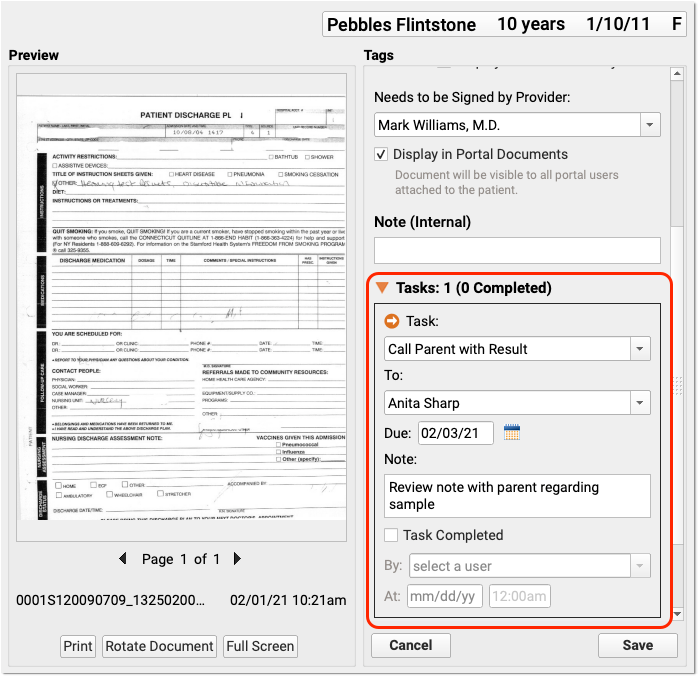 You can also work with document tasks in the editable sections of pocketPCC (phone notes and portal messages).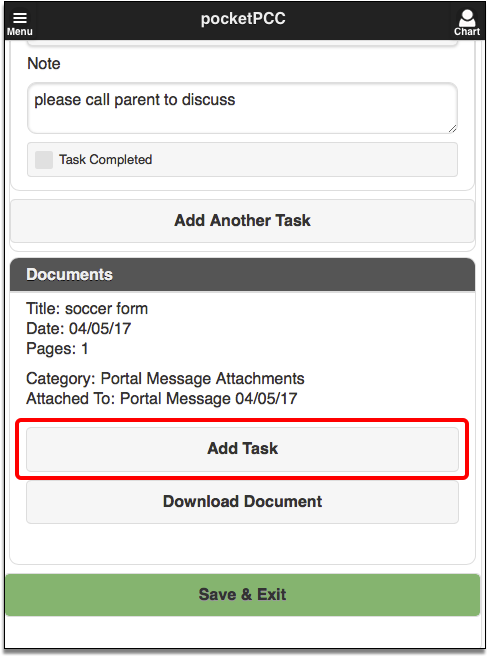 Complete a Task, Review Contact Information
Users can review and work with document tasks on the Messaging queue in PCC EHR.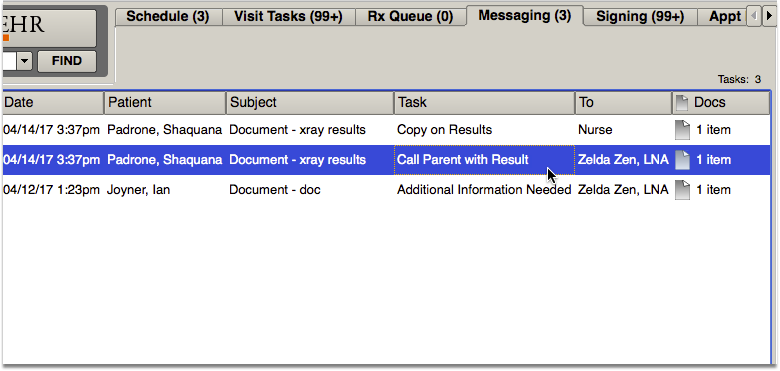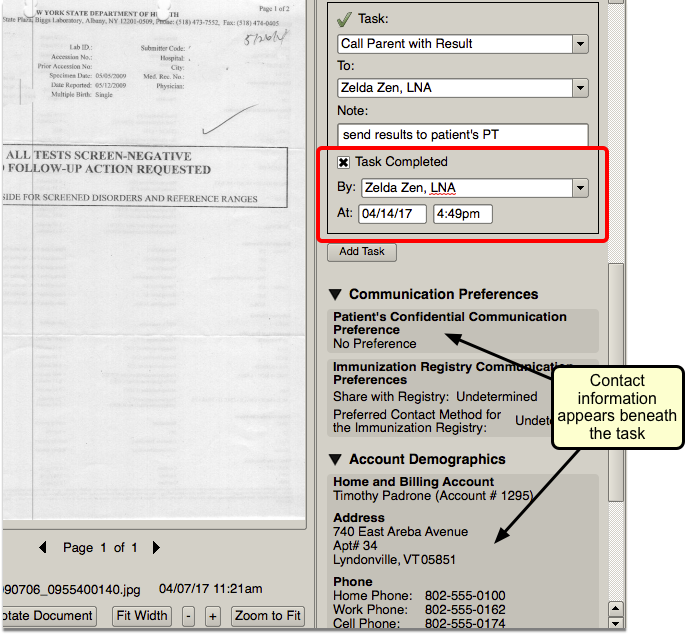 When they open a document, they can see contact information which will help them complete many tasks. For example, if you needed to call back a patient's mom about a document, the contact information would be ready for you.

Sign a Document From Anywhere It Can Be Viewed
You can now sign a document from any location. When a document requires review and signing by a provider, a user can indicate that by selecting the provider's name from a pull-down menu.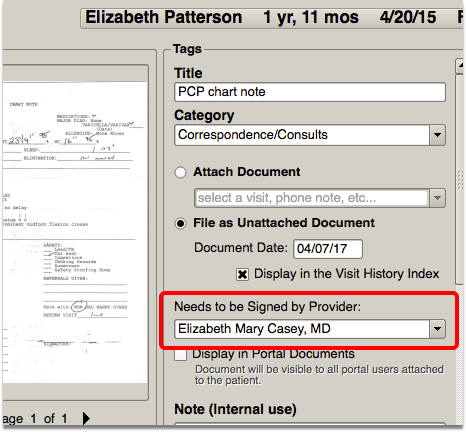 If you review a document while working in the patient's chart, you can sign it from there. You do not need to visit the Signing queue to pick up and sign the document.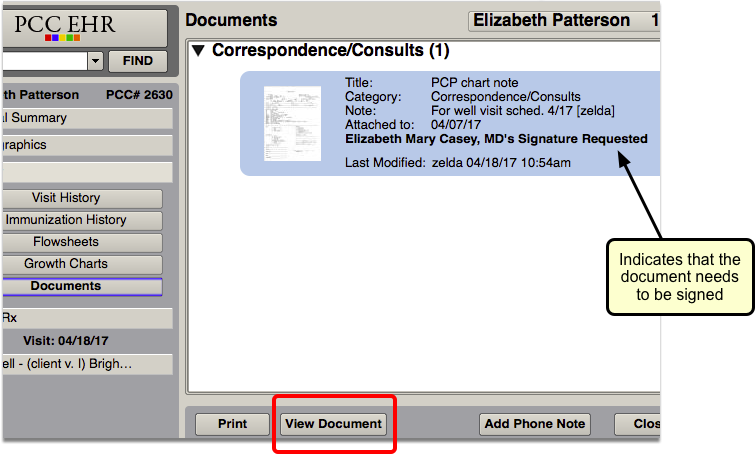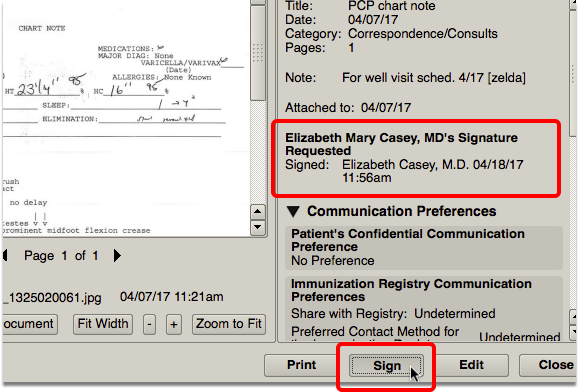 Messaging Queue Subject Prefix
When you work on your Messaging queue, you can now quickly see the source of items that need your attention.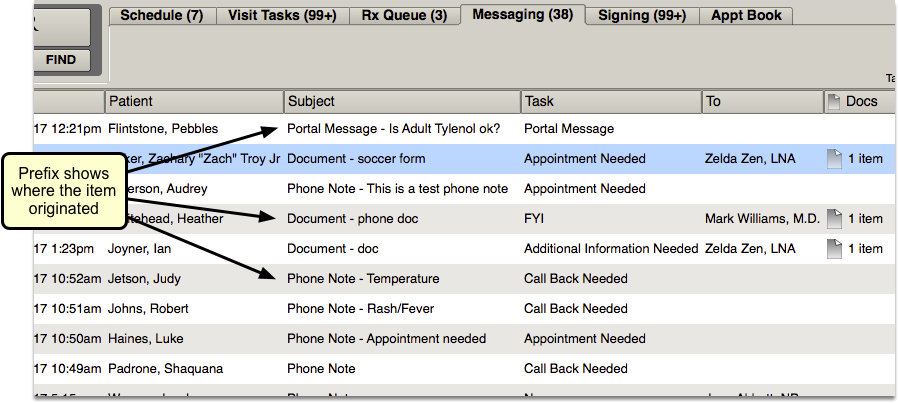 The Subject column now displays a prefix that explains the source of each item on the queue. You can quickly address unanswered Portal Messages, or respond to tasks on Documents, which are new in PCC 8.0.
Powerful New Reports to Eliminate Lost Revenue and More
PCC adds great new reports to the Report Library for the 8.0 release.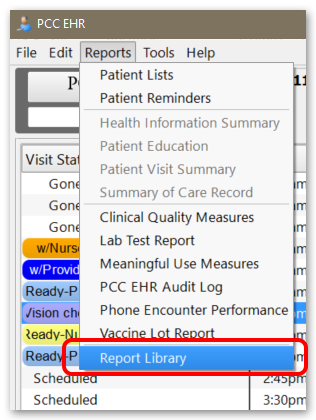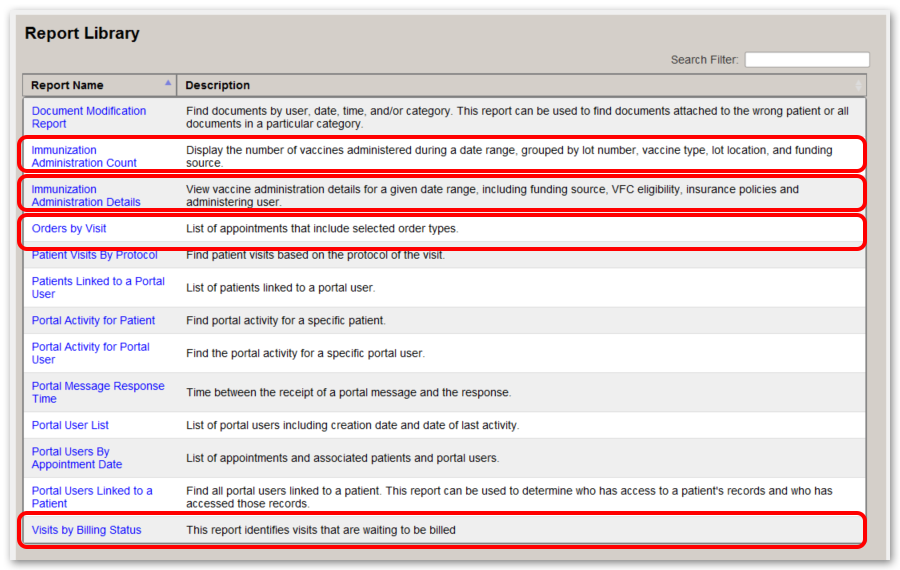 Use the Visits by Billing Status report to catch missed charges and identify visits that are still waiting to be billed. You can eliminate lost revenue and stop the "blame game" between the clinical and billing workflows at your practice. For more information, watch Find Unbilled Visits to Eliminate Lost Revenue.
Your practice can use the new Immunization Administration Details report to find all patients who received a vaccine during a given date range. The report provides information about funding source, VFC eligibility, and insurance, as well as who administered the immunization.
The Immunization Administration Count report displays the number of vaccines given during a date range, grouped by lot number, vaccine type, and funding source. Your office can use this report to reconcile vaccine orders with your inventory.
The new Orders By Visit report produces a list of appointments that include selected orders. Use this report to find all visits with certain order types, such as referrals.
Report Library Usability Improvements
The PCC EHR Report Library is better than ever!
Pick Which Columns Display
As you review report output, you can use the Columns pull-down menu to choose which columns are visible.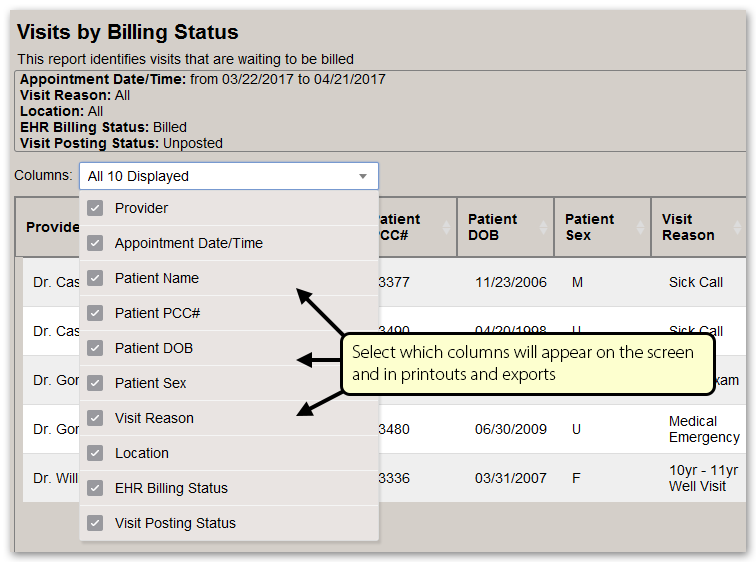 This choice will affect both what you see on the screen as well as any printout or export of the report.
Report Library Criteria Memory Between Runs
The PCC EHR Report Library will remember report criteria while you view a report. If you run a report and then discover that you need to adjust or refine your criteria, PCC EHR will remember your last set of criteria until you close the Report Library window.
Print, Export, and Navigation Buttons
The buttons in the Report Library have been adjusted to make navigating the library easier.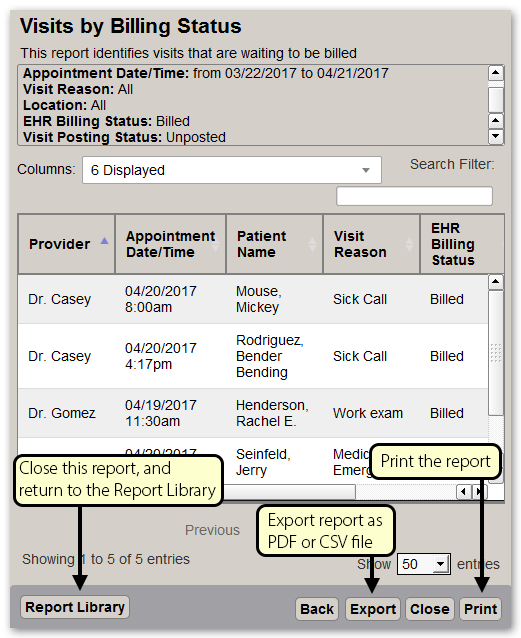 Use the new "Print" button to get a printed copy of a report more quickly. The "Export" button allows you to save a PDF or CSV file. The "Report Library" button will close your report and take you back to the Report Library.
Format, Look and Feel Improvements
Finally, the PCC 8.0 update also improves the PCC EHR Report Library's look and feel in key areas:
Improved Page Footers with Page Numbers
Practice's Name and Date of Printing Appear in the Footer
New Colors and Table Formatting
Column Headers Appear on Every Page
Report Title and Criteria on Exported CSV
PCC EHR Appointment Book Supports Multiple Providers
PCC is developing a new, visual scheduler in PCC EHR that is now in pilot testing. As part of the PCC 8.0 release, we added support for multiple providers and created new configuration tools for complex scheduling needs. The Appointment Book is currently limited to single-location practices.
Choose a Provider As You Schedule
As you schedule a patient, you can choose among providers who see patients.

Once you pick the provider, the Appointment Book will display their schedule so you can pick an available time. The Appointment Book remembers which provider you scheduled last. If you regularly schedule for a specific provider, you will not need to select the provider each time. PCC EHR displays the patient's PCP, if available, to help you schedule for the correct provider.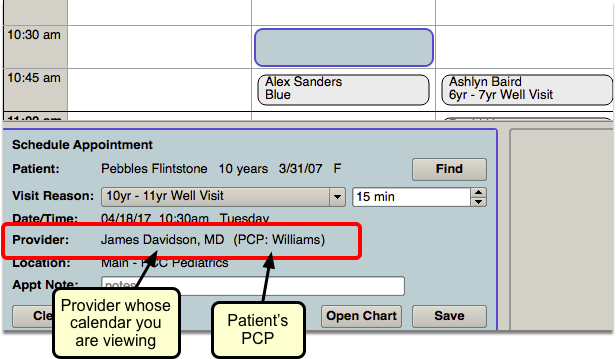 You can pick the provider before or after you select a patient and choose a time, which allows for different scheduling workflows. For example, once you've picked the date for a patient's next Well Visit, you can rotate between providers to see who is available on different days that week.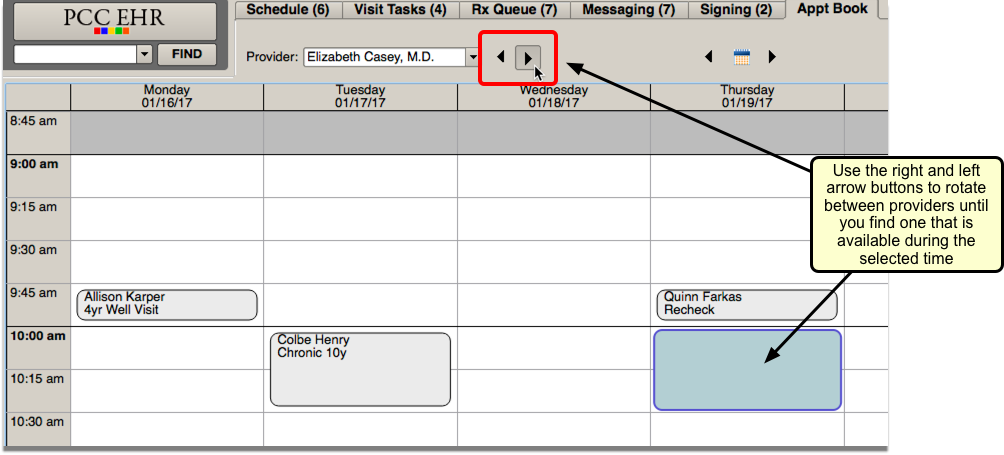 Configure Provider Calendars
The Provider Hours configuration tool includes a Provider Schedule tab, a calendar where you can define which days each provider is working, and whether or not they are working their regular hours on a given day.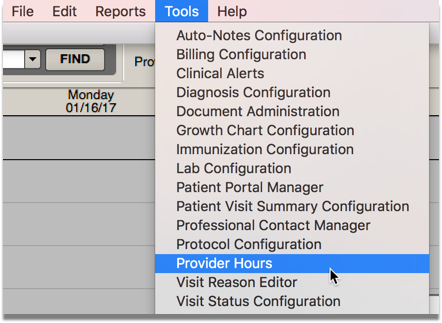 Double-click on any day to make changes to the provider's working hours that day.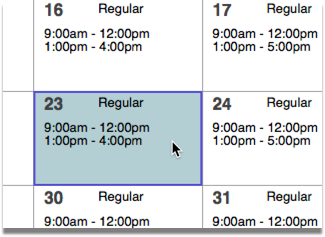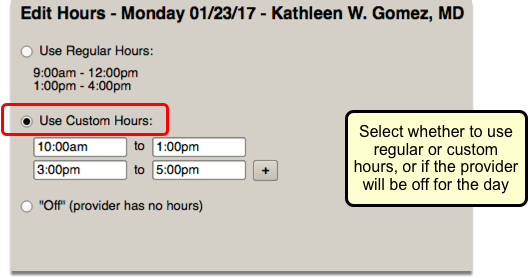 On the Provider Regular Hours tab, you can set each provider's start and end times.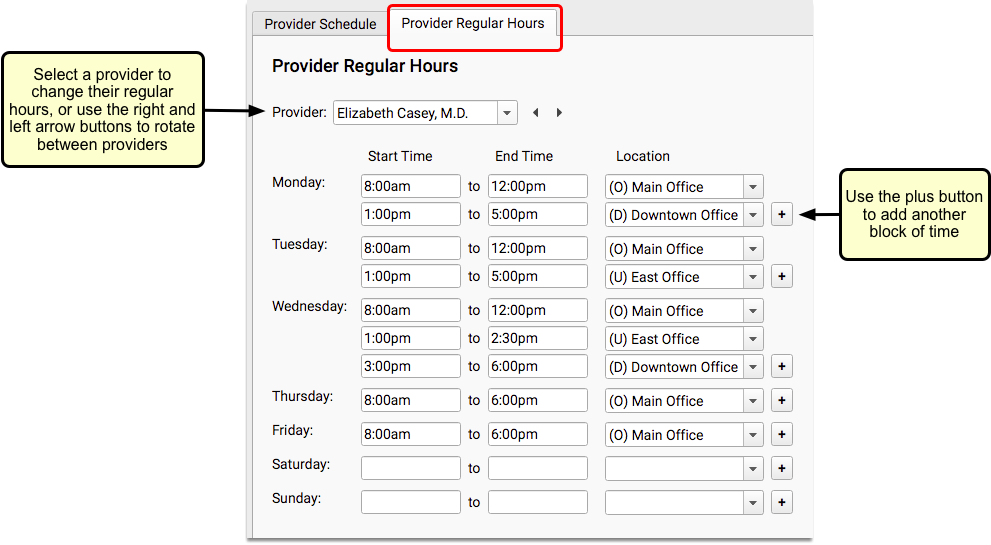 Coming Soon: The Appointment Book visual scheduler is currently in pilot testing for single-location practices. Stay tuned to learn more, or watch the Appointment Book video. Additional information is available in the Pilot Test: The Appointment Book help article.
Set Visit Duration by Visit Reason and Provider
Use the Visit Reason Editor to create visit reasons, set visit reason durations, and choose your practice's default visit reason.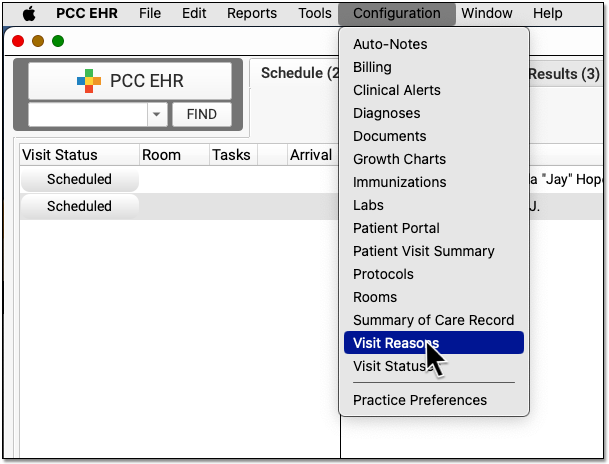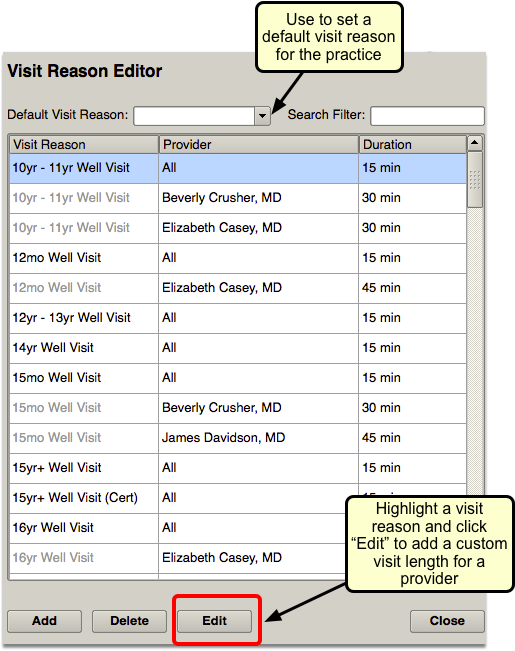 Use the pull-down menu at the top of the screen to pick a default visit reason.
Edit any visit reason to change its name or define its default duration, in 15-minute increments.
For each visit reason, you can set different visit durations for individual providers by selecting their name from the pull-down menu and choosing a different 15-minute increment.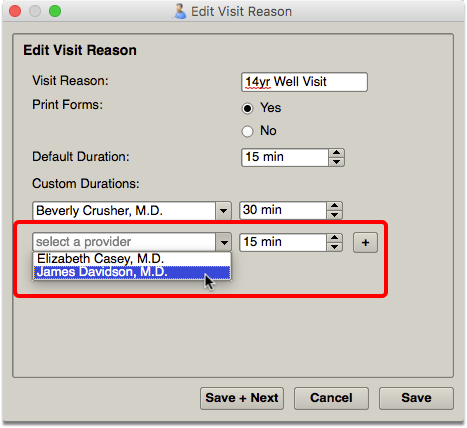 Search Filter
The Visit Reason Editor screen now has a search filter that will help you find a visit reason or a provider quickly.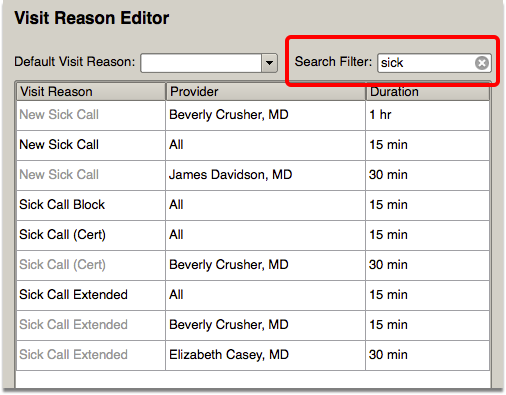 New Button: Save + Next
A new "Save and Next" button takes the user from one item in a list directly to the next one, without having to close the window and click on the next item. It can be used to cycle through the whole list of visit reasons, or just for the reasons within a search result.

Add More Charges to a Visit After It Is Posted
You can now add new diagnoses and procedures to a posted encounter. When you post a visit for billing in the Post Charges (checkout) program, Partner will now intelligently identify the encounter. When you return to post again, you can select the same encounter and add additional charges.
When you run the checkout program, you can pick from an unposted visit, as usual. But you can also find any patient and select from past encounters.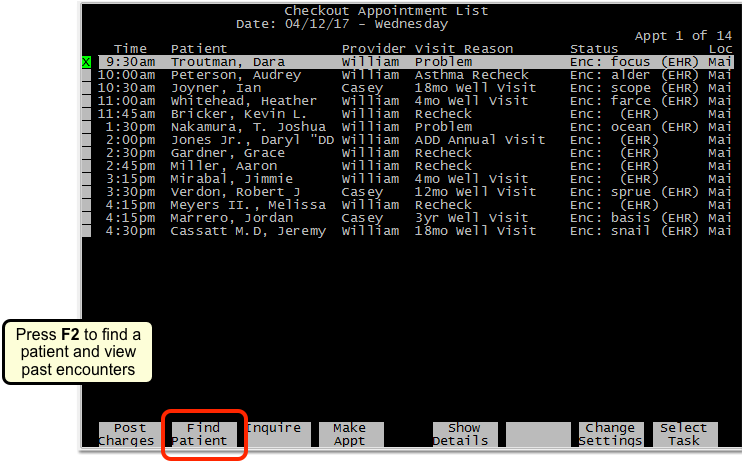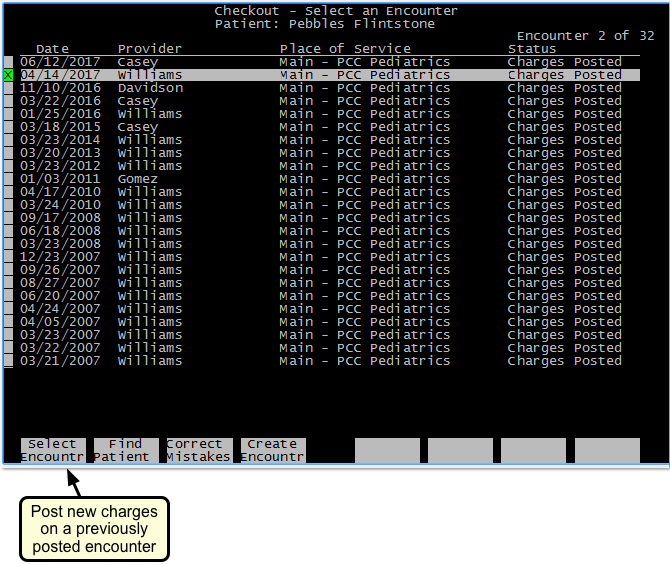 The list of past encounters includes all clinical visits, as well as any appointment for today or in the past. You can press F4 to post a new visit, or select a previously posted encounter and press F1.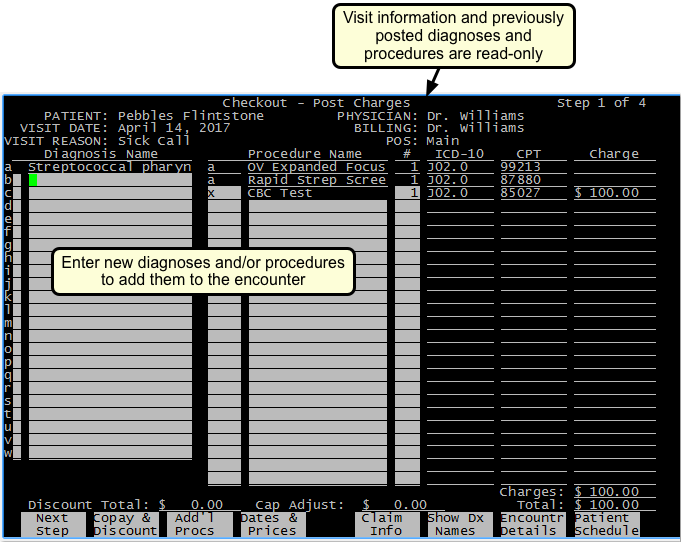 The checkout program will display all diagnoses and procedures posted previously. It will also display any new charges it notices for this encounter. For example, if a clinician added an order or procedure to the visit in PCC EHR, those charges will appear here automatically. You can also add any new diagnoses or procedures manually.
When PCC sends a claim, it automatically gathers up all charges from the same encounter. If you add new charges to an encounter after your practice has already filed a claim with the insurance payer, Partner will automatically queue up a new claim.
As you review and enter new charges, you can use the other functionality in checkout. Press F5 – Claim Info to add accident, hospital, or other claim information, for example, or press F7 – Encounter Details to learn more about the encounter.
Encounter Details in checkout
As you add diagnoses and charges, press F7 – Encounter Details to get a better understanding of the encounter.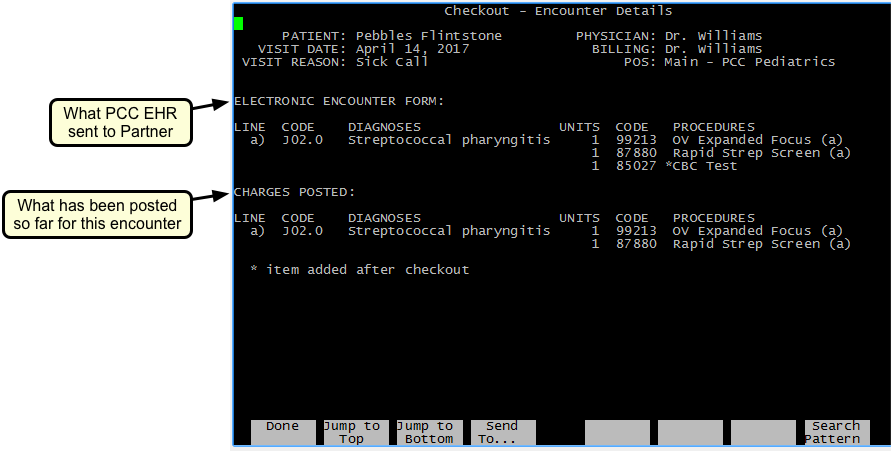 The new Encounter Details screen includes all the available encounter information from your EHR. You will see what charges were already posted for an encounter, as well as any additional charges that PCC sees waiting.
You can use this screen to reconcile the billing information sent from the EHR with the previously posted charges. You can also identify any unposted procedures from your EHR.
I Don't See the Encounter Details Button: The new F7 – Encounter Details function key will appear if you are working with charges from an EHR, and/or if you are adding charges to an existing encounter. If you are posting charges on a blank checkout screen, for example, then there are no encounter details to show.
Better Support for Hospital Billing and Other Special Billing Circumstances
PCC 8.0 includes improvements to how the Partner billing system handles hospital visits and other visits that require additional information on the claim.
Partner Knows About Hospital Visits
When you enter an admit date for an encounter, PCC will know it is a hospital visit and will change the screen to indicate that (from Visit Date to Admit Date).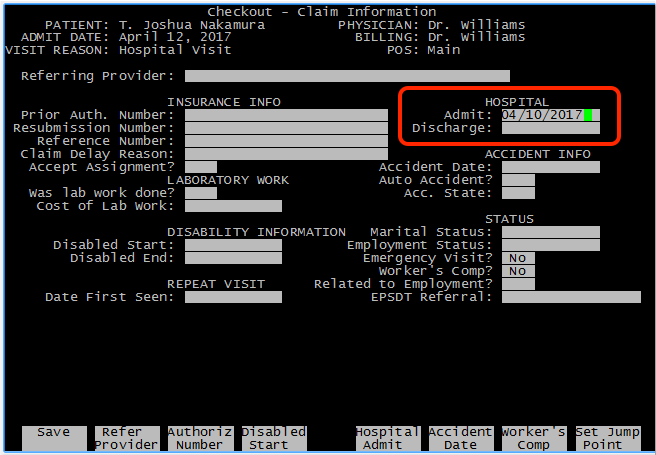 New Date Validation: The Partner checkout process will now do additional validation on date ranges for hospital visits. If you try to enter an invalid date range with service dates that don't work, checkout will warn you so you can fix the problem.
Add Discharge Date and Charges to a Hospital Encounter
When you need to add additional information to a hospital encounter, you can use PCC 8.0's new ability to post more charges to a previously posted encounter.



Update the Claim Information in oops and All Charges for an Encounter Are Updated
If you use the Correct Mistakes (oops) program to update the claim information for a hospital visit or other encounter, all charges for the encounter will be updated as well.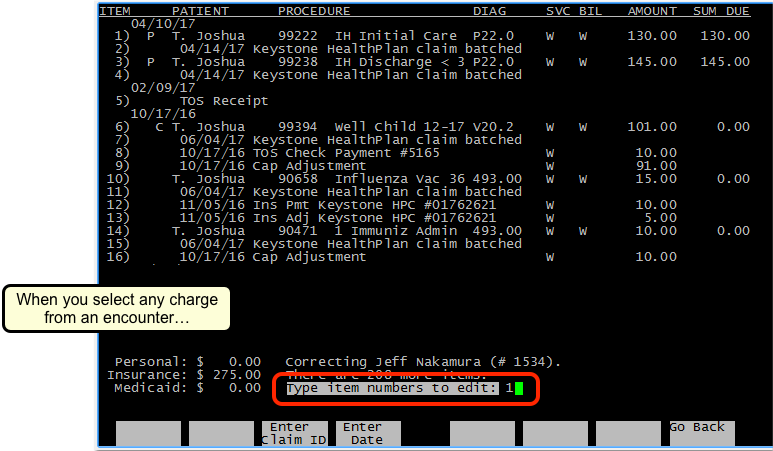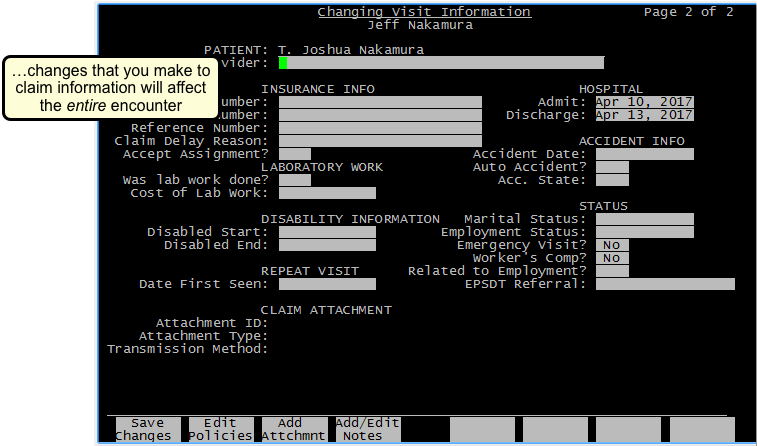 It is no longer possible to accidentally enter different accident information, admit/discharge dates, resubmission numbers, or other claim information for different charges that belong on the same claim.
Once a Hospital Visit, Always a Hospital Visit: It is no longer possible to accidentally remove the admit date on a charge. You can adjust the admit date in oops, but you cannot remove it.
Use Clinical Variables in Partner Forms
You can now add clinical data from PCC EHR to your Partner form letters, including Problem List diagnoses, vitals, vaccines, and allergies. For example, you could work with your Client Advocate to create a well visit form letter that pulls a patient's most recently recorded height, weight, blood pressure, and their most recent flu shot date.
For a complete list of variables available for your Partner form letters, you can select Show Form Letter Variables from the Partner Configuration window.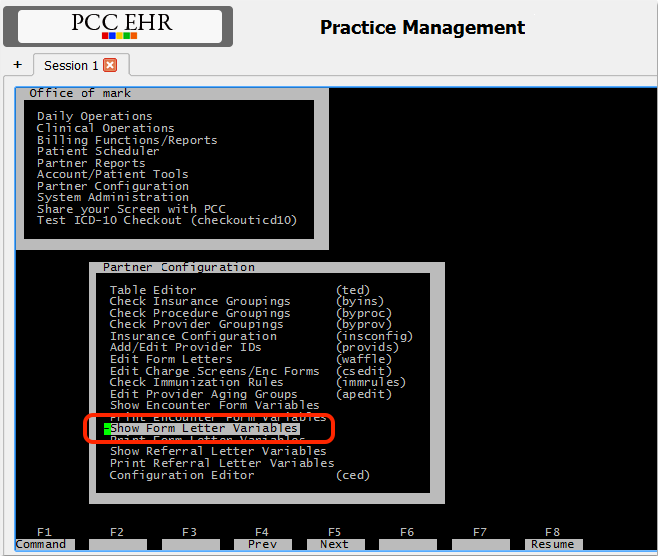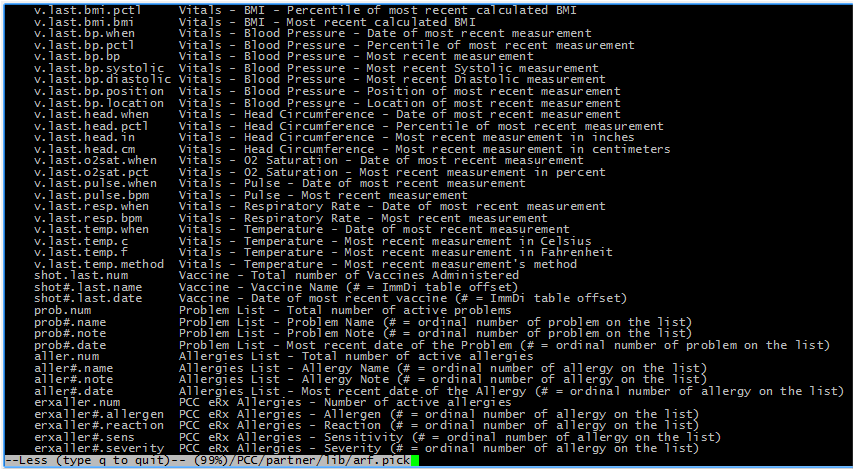 2017 SNOMED Update
PCC updates your database of SNOMED descriptions on a regular, ongoing basis to reflect the most recent code set. PCC 8.0 adds 8730 new diagnoses and other clinical terms and marks 462 deprecated concepts as inactive. The update also improves the preferred description for many concepts.
PCC's certified coder, Jan Blanchard, selected 498 new descriptions for pediatric offices which will be added to your practice's default Favorites list.
You'll find powerful new pediatric clinical terminology, including better otitis media variations, expanded body sites for contusions, and bilateral impacted cerumen.
After your update, you may want to review new BMI descriptions, map new favorites for billing, and lock diagnoses from the patient portal and patient reports. For more information, read the PCC 8.0 Migration Considerations article.
Support For Bright Futures 4th Edition
PCC 8.0 includes support for Bright Futures 4th Edition, coming out in 2017 and 2018. Bright Futures is a national health initiative led by the AAP. The 4th edition includes new handouts, periodicity adjustments for visits, and many more improvements and adjustments to the AAP's recommendations for all pediatric practices.
Where and how can you take advantage of Bright Futures 4th Edition with PCC?
Patient Education: PCC EHR includes Bright Futures handouts as part of the AAP offerings in the Patient Education tool. As handouts are updated for the 4th edition, your practice will have instant access to the most recently published version. To search for a handout in the AAP library, open the Patient Education tool for any patient.

Protocols (Coming Soon): PCC's online chart note protocol library, protocols.pcc.com, includes example Bright Futures chart note protocols. In 2017, PCC is updating those protocols to include new Bright Futures 4th Edition recommendations. Stay tuned!

Help With Periodicity Changes: PCC has published a guide to the Bright Futures 4th Edition Periodicity Recommendations, which includes CPT codes for services that you can perform and bill at each age. After you review the AAP's new recommended schedules for patient care, you may want to adjust your visit reasons, physical chart note protocols or other under-the-hood configuration in PCC EHR and Partner. Contact your Client Advocate! We can help you implement the new suggestions.

Training, Education, Opportunities: Want to learn more about Bright Futures 4th Edition? PCC's Jan Blanchard is offering a User's Conference course to show off the most prominent new changes. Stay tuned to the PCC Newsfeed to learn more about PCC UC 2017.
Check For Out-of-Date Operating Systems
PCC EHR will now present a warning message on the log in screen if you are using a computer with an operating system that is nearing the end of its support life cycle.
The warning will appear in red and it will state that you need to update your operating system before the next PCC EHR release. If the operating system is not updated, then the EHR will cease to work with the next release.
New and Updated Interfaces Available in PCC 8.0
With each release, PCC's Interoperability team expands and updates PCC's direct connections, partnerships, and integrations with insurance payers, immunization registries, and more. Here are the interoperability updates for PCC 8.0:
New and Updated Immunization Interfaces: As part of the PCC 8.0 release, PCC developed new immunization registry interfaces for Nebraska (NESIIS), Louisiana (LINKS) and Philadelphia (KIDS Plus). PCC 8.0 also updates registry interfaces to meet new requirements for California (CAIR 2), Tennessee (TENNIIS), South Carolina (SCIR).

New Clinical Interfaces in PCC EHR: PCC developed new lab interfaces with Doctors Hospital at Renaissance, Mountain Star Clinical Laboratories, and Intermountain Healthcare. These organizations can now send electronic test results directly to PCC EHR. In addition, PCC developed clinical data interfaces with NueHealth Missouri and Children's Health Alliance / Wellcentive.

New Eligibility Interfaces: PCC developed new real-time insurance eligibility interfaces with IEHP of California, BCBS of Nebraska, Medical Assistance of Maryland, and Aetna Better Health of Nebraska. PCC also updated interface standards for BCBS of North Carolina. You can view patient eligibility information during patient check-in as well as in the Eligibility (elig) program.

Updates to Immunization Forecasting: During the PCC 8.0 release cycle, PCC installed the latest updates to immunization forecasting schedules used in PCC EHR. These periodic forecasting updates improved forecasting and added new variant vaccines and schedules for flu, dTap, HPV, and other immunizations. A patch we added in January corrected an erroneous recommendation for a 4th HIB booster when patients had 2-doses and the Hib PRP-OMP booster, which finishes the HIB series. A patch we added in February added the new 2-dose HPV schedule and included minor corrections to schedules and warnings for PCV, Hep B, MCV, Hep A, and HIB.
If your practice would like to take advantage of these connections, or you have another interface need, contact your PCC Client Advocate.
Other Feature Improvements and Bug Fixes in PCC 8.0
In addition to the features described above, PCC 8.0 includes these smaller improvements and squashed bugs.
Flu Vaccine Update: The PCC 8.0 update includes support for the latest influenza vaccines. The latest flu vaccines with CVX 168 and 171, CPT codes 90653 and 90674, are now supported by all PCC products and services. You can add the new procedures to your Procedures table for billing in Partner, view them on the Immunization Forecasting tool in PCC EHR, and when administered these procedures will be included on the "Immunization Rates – Influenza (Asthma)", "Immunization Rates – Influenza", and "Immunization Rates – Patients 2 years Old" Practice Vitals Dashboard measures. Contact your PCC Client Advocate to help you configure the new flu vaccines or any new immunization procedure.

2017 RVU Values in PCC Reporting: PCC 8.0 includes the 2017 relative value unit updates for reports in Practice Vitals Dashboard and the Smart Report Suite (srs). You can use PCC's RVU-based reports to assess your pricing schedule in relation to Medicaid/Medicare reimbursement rates. PCC RVU reporting now uses zip codes to indicate region. You can select a different zip code from your office's default if you wish to analyze your RVU data by a different region.

Hold Claims That Include Adjustment Over-Posting Errors: When Partner prepares a secondary (or tertiary) claim, the claim processing programs will now check to make sure that the total of all adjustments does not exceed the charge amount. If you accidentally post multiple adjustments to a charge, and end up re-posting adjustments so that the total exceeds the charge total, Partner will stop the claim before it goes out the door and create a rejection.

Submit Claims - Easier Commands and Unified Workflow: When you submit electronic claims, you can now run the Submit Claims (ecs) program, and it will handle claim processing and configuration settings for you. Formerly, you may have been familiar with running "preptags" to run the claim processing step before ecs. The PCC 8.0 update keeps the old preptags commands in place so this change will be transparent to the user, and it paves the way for better claim processing by eliminating a layer.

'Make Available in Patient Portal' is now 'Display in Portal Documents':

When you edit a document, the checkbox which lets you control whether or not a document is visible in the Patient Portal is now labeled better, indicating where the document will appear.

Improved Syncing of Medical Data w/ PCC eRx: The PCC eRx update in PCC 8.0 includes improved syncing of patient data. Important signifiers, such as "Allergies Reviewed" or "No Known Drug Allergies", were sometimes delayed before PCC 8.0. Now that information automatically syncs between the patient's chart record and the e-prescribing system.

Quickly Review Start and Stop Medication Dates: The updated Medication History component in PCC 8.0 includes new "Start" and "Stop" columns. Wherever the Medication History component appears, you can quickly see the start and stop dates that were defined for a prescription.

Improved Prescriber Location Support: Prior to the PCC 8.0 update, PCC eRx used a clinician's default prescribing location. You can now specify all the locations where a provider may prescribe. PCC eRx will automatically use the location of the patient's visit, and if that information is unavailable it can use the provider's default location, or the provider can specify the location.

Audit eRx Access in PCC EHR: Prior to the PCC 8.0 update, practices needed to use DrFirst Rcopia reports in order to audit which users accessed eRx tools for a patient. In PCC 8.0, access to PCC eRx in a patient's chart is tracked in PCC EHR, and you can audit that access using the PCC EHR Audit Log tool.

Deprecated Dashboard Tool Removed: PCC 8.0 removes the "View CPT Code Utilization" tool from the Practice Vitals Dashboard, formerly found in the "Revenue-Per-Visit" and "Revenue-Per-Visit (without imms)" measures. The tool displayed outdated charge and reimbursement data. To research CPT code utilization at your practice, PCC recommends alternate reports in Partner, such as the "Reimbursement Analysis" and "Reimbursement Analysis with RVUs" reports found in srs.

Customize Where the Documents Component Appears on Chart Notes: If documents are attached to a chart note, they will appear in the Documents component on the encounter. In PCC 8.0, you can use the Protocol Configuration tool to customize where the Documents component appears.

Long Filenames and System Backups: If your practice used document filenames that were abnormally long, it could cause daily backups to pause or fail. This no longer occurs.

SNOMED Update Bug: In rare circumstances, updating an existing diagnosis record could keep the previous SNOMED code on a patient's record. PCC corrected this bug with a mid-release patch for all practices.

Empty Care Plan Bug: If a Care Plan was created and saved with only contact information, and then edited and re-saved to add actions or goals, under certain circumstances the new notes would not be saved. This bug was fixed with a mid-release patch for all practices.

Eligibility Notes: Under rare circumstances, eligibility notes for patients with expiring insurance would not save. PCC fixed this bug with a mid-release patch for all practices.

Server Reboot Access Error: After a power failure or server reboot, some PCC client systems lost access to mobile services, necessitating PCC Support intervention. These services are now restored automatically in the event of a server failure.