From January to May of 2017, PCC has a special beta release: PCC 7.6.
The PCC 7.6 Beta Release includes all-new prescription and medication tracking features in PCC EHR, as well as chart note availability in pocketPCC and updates to the Appointment Book, PCC's new visual scheduling software.
PCC is using this beta release to perfect these new features. The PCC 7.6 Beta Release will conclude with the PCC 8.0 release, which will roll out to all PCC practices in May and June of 2017.
Do I Need to Read This Article?: The PCC 8.0 release will include all of the content described below and additional PCC EHR and Partner Practice Management features. You do not need to read this article, as all content will be revised, updated and included in the PCC 8.0 Release article and video.(COMING SOON)
Implementation: If your practice participates in the PCC 7.6 beta release, you should carefully review the required configuration and user-specific software training. Read about the features below and then review PCC 7.6 Migration Considerations.
Read below to learn more, and contact PCC Support for information about these new features or about any PCC product or service.
Prescribe Medications With the New PCC eRx
PCC 7.6 updates and improves every aspect of prescribing medications.
How do you prescribe a medication in PCC 7.6?
Click to Open the PCC eRx Section of the Chart
While viewing a patient's chart, click the PCC eRx chart navigation button to begin working with medications.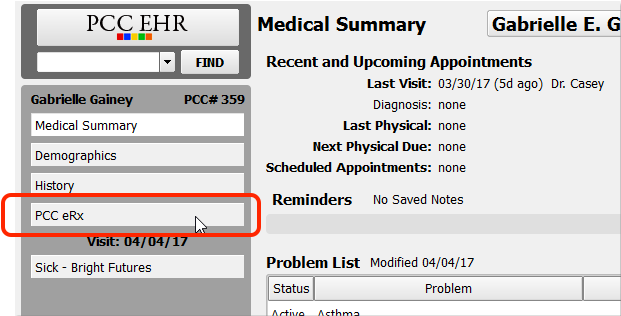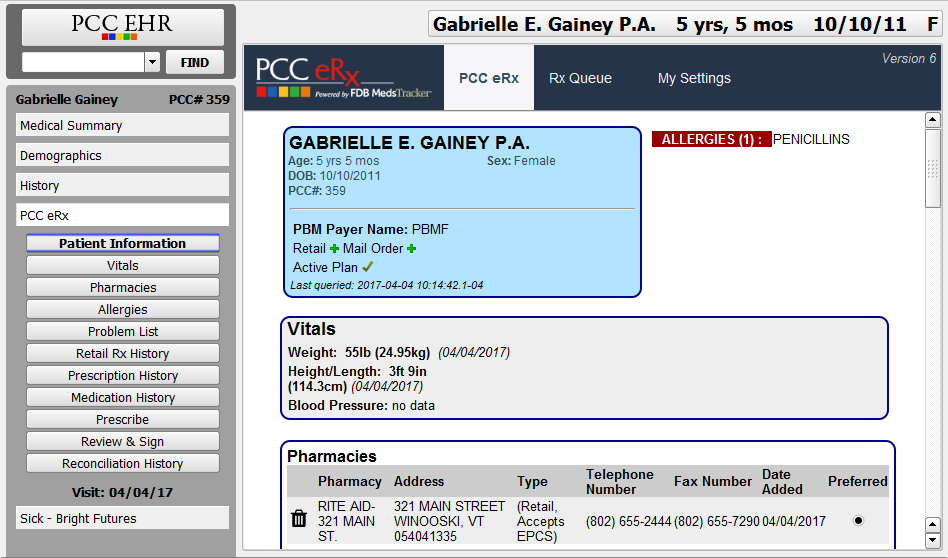 Review Patient Information
The new PCC eRx is a single ribbon of patient medication-related information, made up of components, just like a chart note protocol.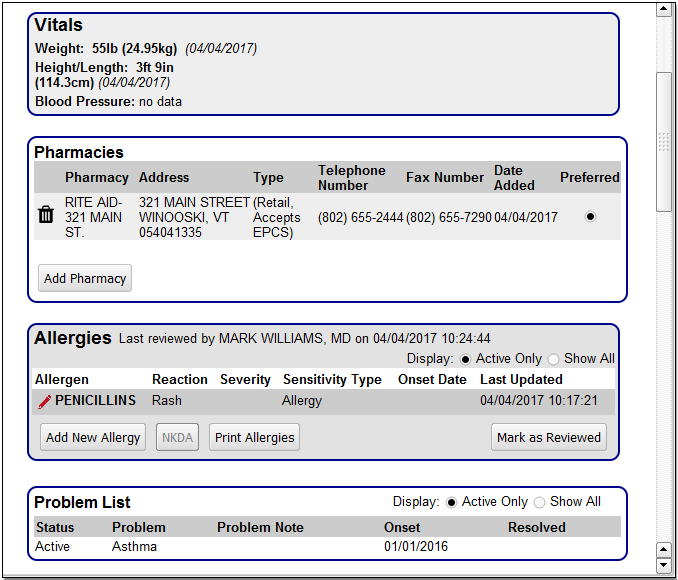 You can click on an anchor button to jump down to the component you wish to review.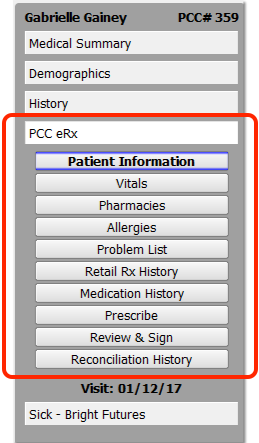 The components contain everything you need to review when working with a patient's medications: prescription benefit coverage, preferred pharmacy, allergies, problem list, retail Rx history, medication history, today's vitals, and more.
Review the Prescribe Component
Click the Prescribe anchor button or scroll down to the Prescribe component to prescribe a new medication.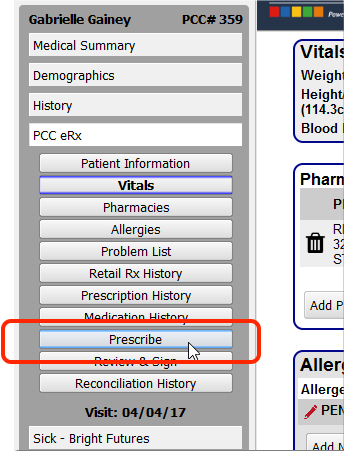 Click to Prescribe a Favorite, or Search for a Medication
Click the green plus on a Favorite prescription to create the prescription. Or, you can click the name of the Favorite to edit it before you prescribe.
If the medication is not a Favorite, use the Search field to find a medication.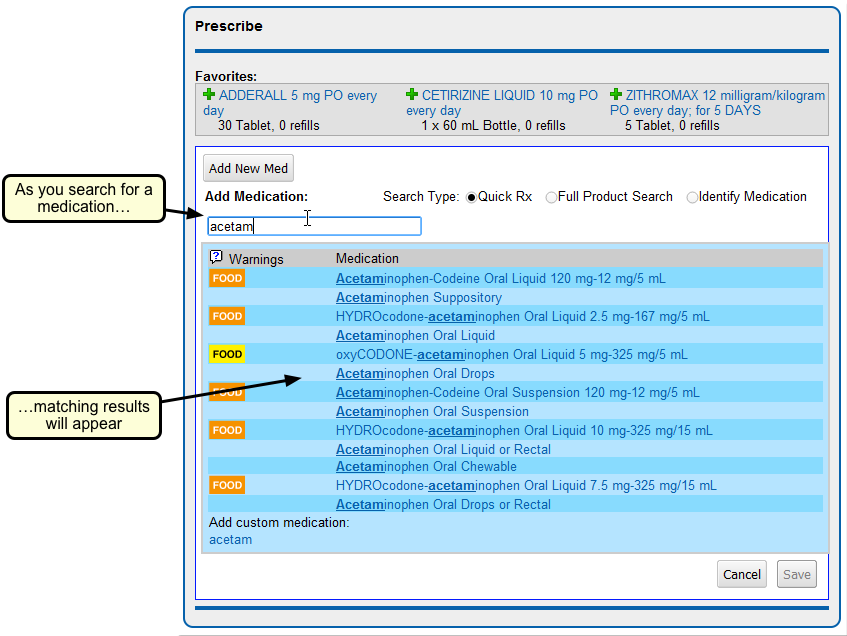 PCC eRx helps you search, correcting your spelling errors and showing you only those medications appropriate for the patient's age. As you hover your mouse over a selection, you will see common indications.
Select Dosing Statement
After you select the medication, choose from a list of dosing statements.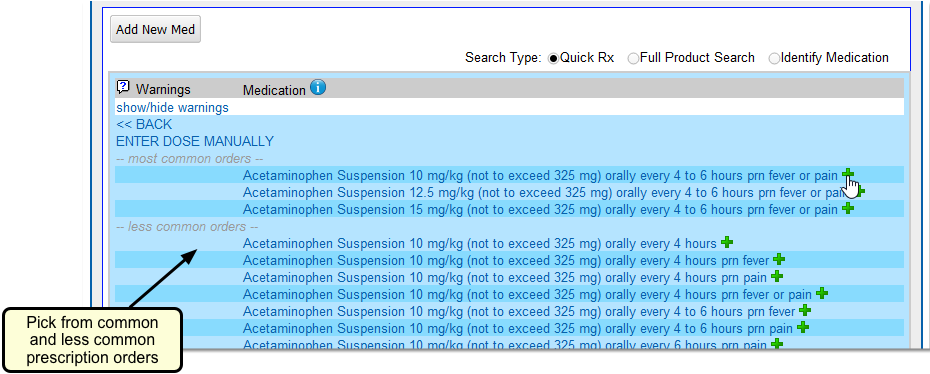 For most medications, you'll see precise order options, including dosage and frequency.
Click the green plus to create a prescription, or click the blue link to make modifications before you create the prescription.
Don't See What You Need?: If you don't find the precise drug or dosing statement you need, you can click "Full Product Search" or another filter option to expand your search. When choosing a dosing statement, you could also click "ENTER DOSE MANUALLY" or click on an option that is close to the dose and strength details you want and make changes on the next screen.
Optional: Update or Modify Prescription Information and Click Save
If you clicked on a blue link to edit a prescription, next you will see options to update or modify details including dose, sig, instructions, and any indications you would like to record. Click "Save" to create the prescription.


PCC eRx enters many details for you. If you selected a Favorite or one of the order descriptions, for example, you won't have to re-enter the dose and frequency details.
Formulary Support: If PCC eRx is able to identify the patient's prescription benefit coverage, you will see a Formulary Support section on this screen.
Review and Sign the Prescription
PCC eRx displays all pending prescriptions in the Review & Sign component, where you can approve and send them to the patient's pharmacy.
On the Prescription Review pop-up window, you can select either an electronic or print prescription. You can also review and make a last-minute change to the pharmacy destination. Click "Send Prescriptions" to sign and send the prescription.
After you create and send a Prescription, it will appear on the patient's chart note as well as in the Patient Portal and in pocketPCC.
Contraindications, Warnings, and Allergies?: As you prescribe, PCC eRx will alert you to any drug-to-drug interactions, age or allergy warnings, and other contraindications for the patient for the selected medication. You will see proactive warning in the search results when you search for a medication.



You will also see reactive warnings when you create the prescription.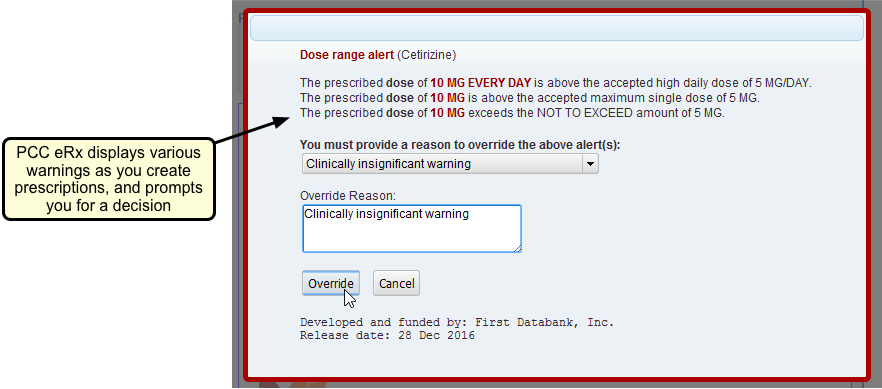 What About Provider Agents?: A Provider Agent can create and send prescriptions, using the same tools as shown above, on behalf of an ordering provider. Later, the physician (for example) can review and approve the prescription on the patient's chart or on the Rx Queue.
All eRx Activity is Linked to an Encounter: PCC eRx records all prescription activity in the context of an encounter. If there is no open visit chart note, phone note, or other encounter, you can select the appropriate encounter or create an "eRx Encounter".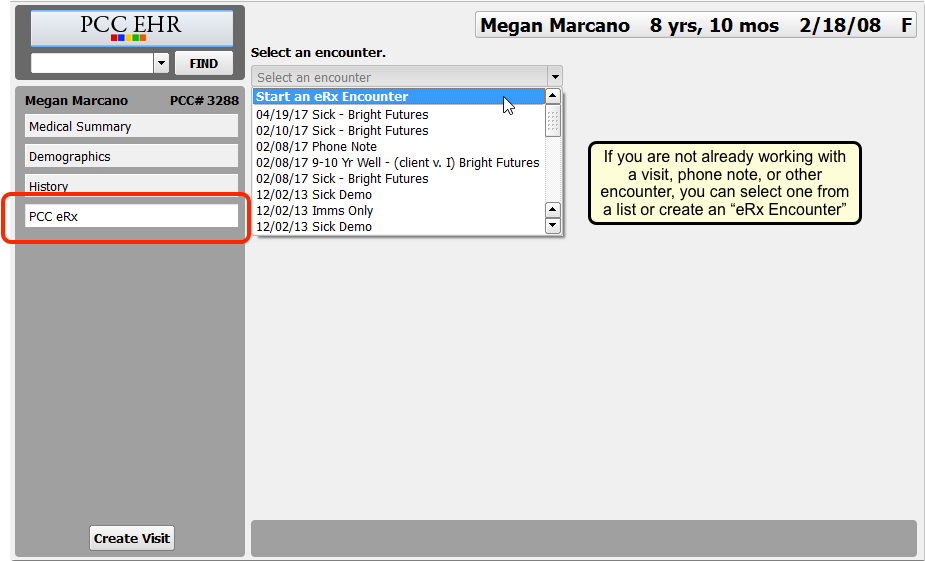 For a more detailed procedure, and to learn about other special features and tools for prescribing, read Prescribe a Medication.
No Prescribing Password Required for Non-Schedule Drugs
As shown in the procedure above, when you prescribe a non-schedule medication, you do not need to enter a password or pin number.
PCC eRx uses your PCC EHR login ID and password to determine your prescribing role and authorize prescriptions.
For Electronic Prescribing for Controlled Substances (EPCS), PCC eRx will prompt the user for both a passcode and either a token ID or a software token confirmation.
Update Your Password, Do Not Share Accounts, and Remember to Log Out: PCC recommends that you update your PCC password periodically. You can change your password in the My Account tool in the Tools menu. For security and auditing purposes, a login account should never be used by more than one person, and every user should log out and close all PCC EHR and Partner windows when they leave their workstation unattended.
New and Improved Medication Management Tools in PCC eRx
As you use the PCC eRx chart section to create a prescription, the new PCC eRx components provide powerful new tools for working with medication-related information and tasks.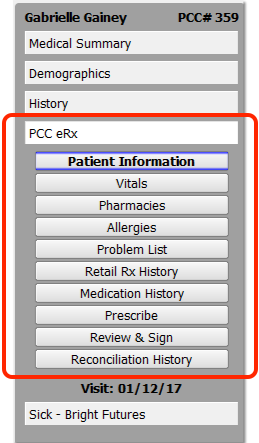 Click on any anchor button to jump to a component, or scroll down through all information.
Read the sections below to learn more about each new component in PCC eRx.
Refresh Tip: As you work with a patient's medication information, you will see vitals, problems, and other information from the patient's chart. Click on the PCC eRx menu title to refresh the information from the chart. The menu title will appear yellow if PCC eRx detects a refresh is needed.

Patient Information and the Top of the Ribbon
At the top of the PCC eRx chart section, you will see basic patient information, formulary plan information, and any drug allergies.

The green plus sign (+) or red minus sign (–) next to each item indicates whether the drug plan for a patient includes drug coverage for retail, mail order, specialty, and/or long term care pharmacies.

If the patient is eligible for drug coverage from more than one plan, you will see them in sequence and can click "Activate" to select which formulary plan to use for new prescriptions.
Vitals
The patient's most recently available height, weight, and blood pressure appear in the PCC eRx Vitals component.

Vitals may come from today's visit or the most recent visit when a measurement was taken. For example, you may have recorded the patient's height and weight at their last physical and then taken their blood pressure today. All three measurements would appear in the Vitals component in PCC eRx, reflecting the most recent available vitals.
If your practice uses the Smoking Status component in PCC EHR, you will see smoking status information. For female patients, you will see options to indicate if the patient is pregnant or lactating.

Your practice can configure the age at which the pregnant, lactating, and smoking status information appear.
Pharmacies
Use the PCC eRx Pharmacies component to review and update the patient's preferred pharmacy or pharmacies.

When you search for a pharmacy, you can begin your search from either your practice's zip code or the zip code of the patient's custodian.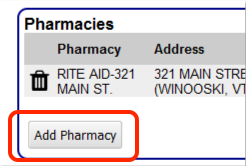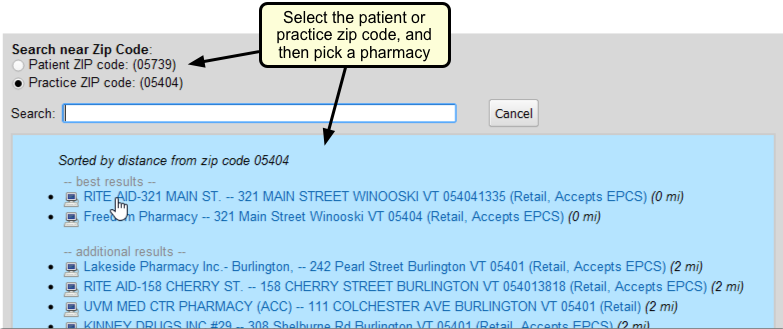 You can optionally search by a pharmacy name, street, a new zip code, a town, et cetera. PCC eRx will show you the closest matching pharmacies.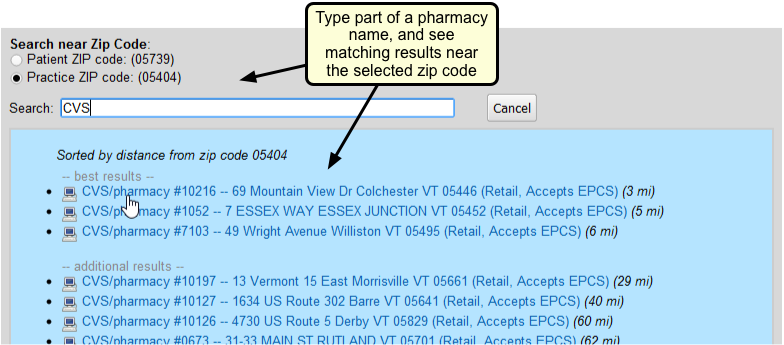 Patients can have multiple pharmacies on their list, and you can indicate which one is their default preferred pharmacy.

Retail, Mail Order, EPCS: In the Type column, you can see whether or not a pharmacy is retail or mail order, and if it accepts electronic prescriptions for controlled substances.
Allergies
The Allergies component in PCC eRx displays known medication allergies.

Click "Add New Allergy" to add a new allergy. You can also click "NKDA" to indicate the patient has no known drug allergies.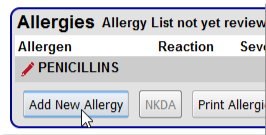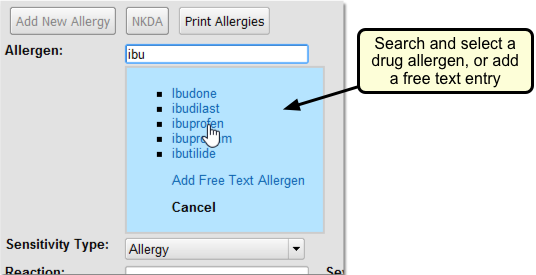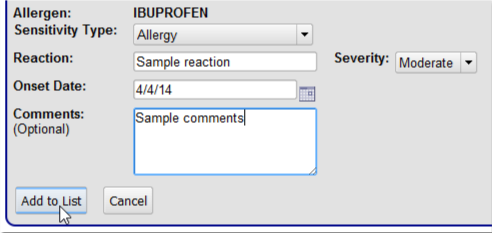 PCC eRx's allergy search tool uses robust pattern matching, along with a library of drug reactions, making it easier to enter precise information about patient drug allergies. You can enter sensitivity type, reaction, severity, onset date, and comments.
During the visit, you can click "Mark as Reviewed" to indicate that you have reviewed drug allergies for the patient. The reviewed status will update in PCC eRx and on the Medication History component in the patient's chart.


Allergy Report: PCC eRx includes an Allergy Report. Click "Print Allergies" to generate the report.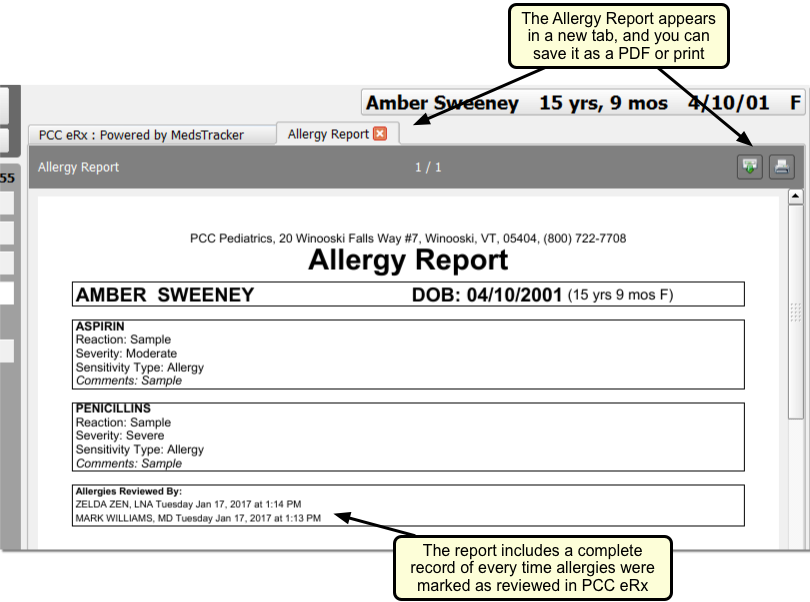 The Allergy Report includes allergy details along with a record of the last time someone at your practice clicked "Mark as Reviewed" in PCC eRx. You can save the report as a PDF or send it to a printer.
Problem List
PCC eRx displays a patient Problem List that includes items from PCC EHR's Problem List and non-drug Allergies component. You can use this information while making medication decisions.

Update Your ICD-9 Diagnoses: PCC EHR and PCC eRx track Problem List and non-drug allergy diagnoses using the SNOMED-CT coding system. If you still have historical ICD-9 Problem List or allergy diagnoses in a patient's chart, you should update their records. The PCC eRx interface will not display ICD-9 diagnoses.
Retail Rx History
Use the Retail Rx History component to look up a patient's retail prescription history.
First, confirm that you have patient or guardian consent. Then click "Query Retail Rx History".
PCC eRx will retrieve the past two years of retail prescription history available from insurance companies and partner pharmaceutical systems. You can review instructions, refills, and other notes on file with the pharmacy.
To see more information, click the clinician or refill icons.


Click "Copy" next to any historical prescription to copy it into the patient's Medication History in their chart in PCC EHR. PCC eRx will prompt you to select the matching medication from your system's medication library, and then allow you to adjust information about the medication record before you save it to the patient's chart.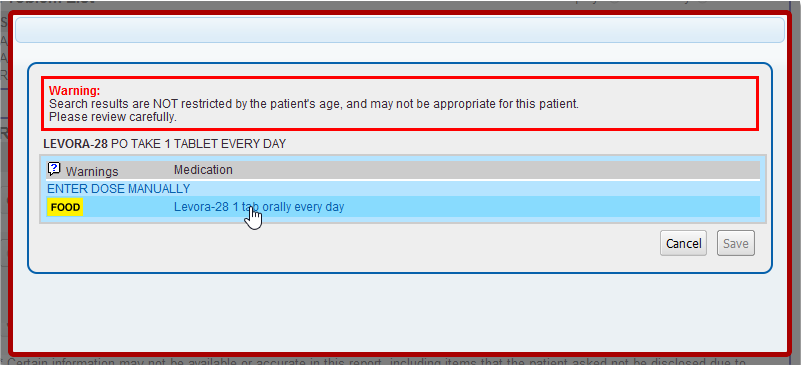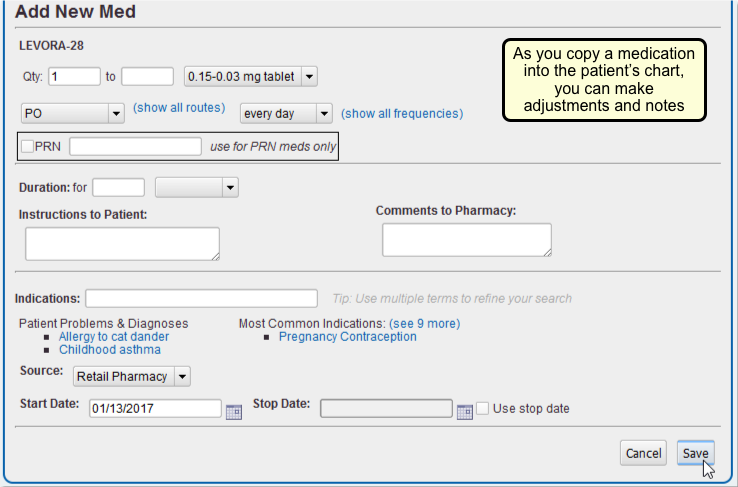 After you save the medication, you can review it and make changes in the Medication History component.
Query Constraints: A Retail Rx History query result remains visible in the PCC eRx section of the patient chart for 72 hours. You will see the same results without querying if you open PCC eRx again, and you cannot re-query the network for the patient within that time period. After the 72-hour period, you can re-query the patient's retail pharmacy history.
Medication History
PCC eRx displays the patient's Medication History so you can review it while making medication decisions and optionally re-prescribe a medication.
By default, the history shows only active medications. Click the "Active & Inactive" filter button to see both active and inactive medications.
You can click "Mark as reviewed" to indicate you have reviewed the patient's medications, and that status will be updated in the patient's chart in PCC EHR.
Click the "Renew Prescription" icon to renew a prescription on the Medication History. Or, click the "Create New Prescription" icon to make a new prescription from an historical medication.


Click "Add Hx Med" to add a new historical medication.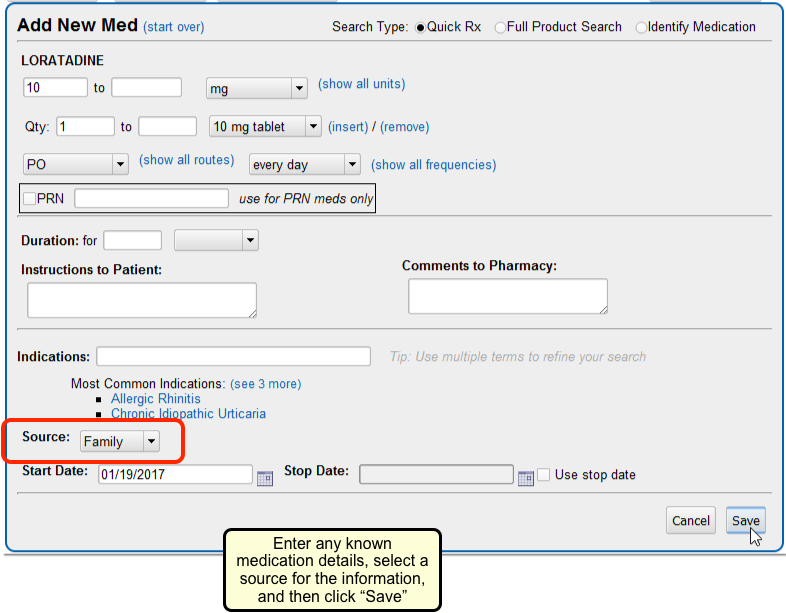 As you add a medication to the patient's history, you can select from your Favorites or search. Next, you can add indications or other prescription details, and indicate the source of the information you are entering.
Reconciliation History
The Reconciliation History component in PCC eRx displays all medication-related activity performed during the encounter. Click "View Reconciliation History Details" to expand the history.


If multiple prescriptions are created, deleted, or adjusted during a visit, you can use the reconciliation history to figure out what occurred.
View Prescription Activity on the Visit Chart Note
You can now review prescriptions on chart notes. If you have created or approved prescriptions, then a Prescriptions component appears on the visit chart note or other encounter. The prescription information is saved as part of the patient's Visit History.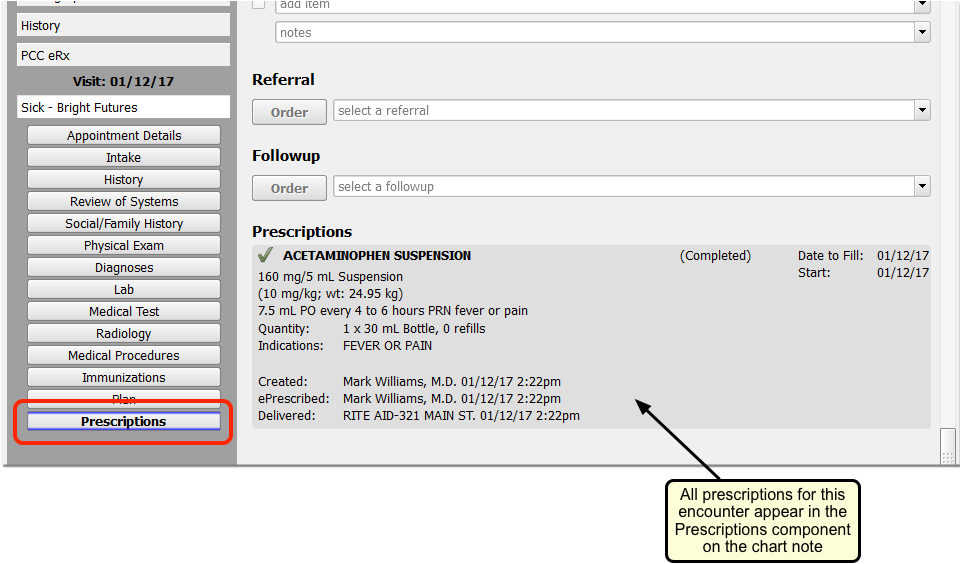 The new Prescriptions component displays all new prescription information for the encounter. You no longer have to duplicate the prescription information in the chart, and you can always tell what was prescribed during a visit by looking at the visit chart note.
Similarly, if you prescribe a medication after a phone call, or in response to a patient portal message, the information will appear on the corresponding encounter protocol.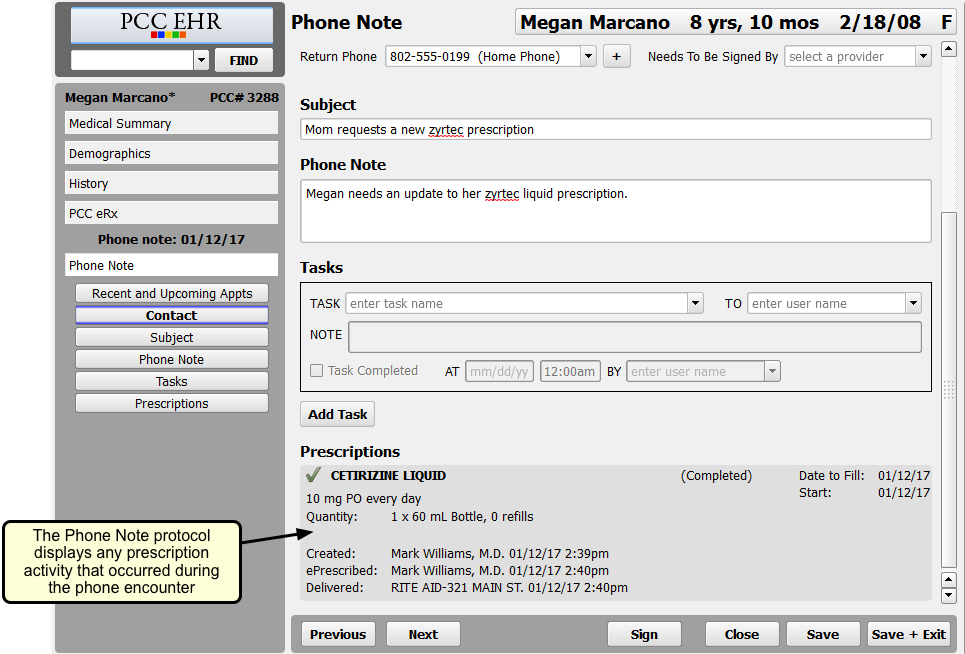 In addition to the medication name, dosage, sig, instructions and other notes, you can see who created the prescription and the date and time when the prescription was created, sent, and received.
Every prescription will also have a status icon.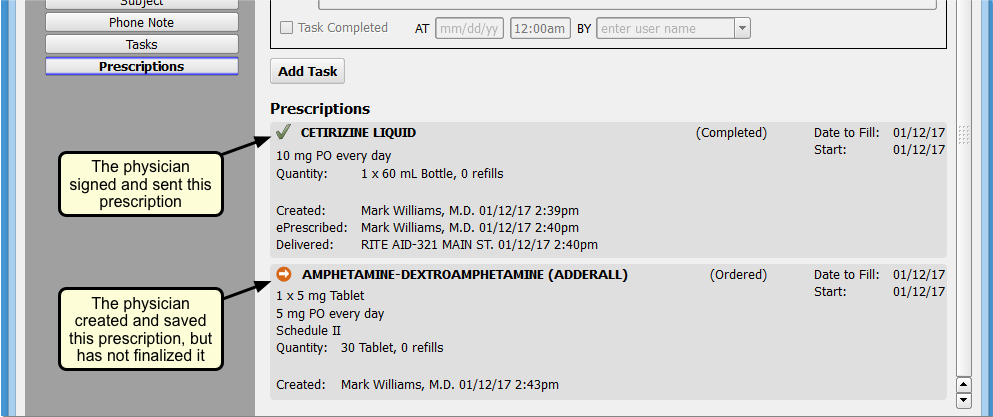 The green checkbox indicates that a medication has been prescribed. An orange arrow means that the prescription has been created but not sent.
You can also review the Prescriptions component on encounter notes in the Visit History in pocketPCC.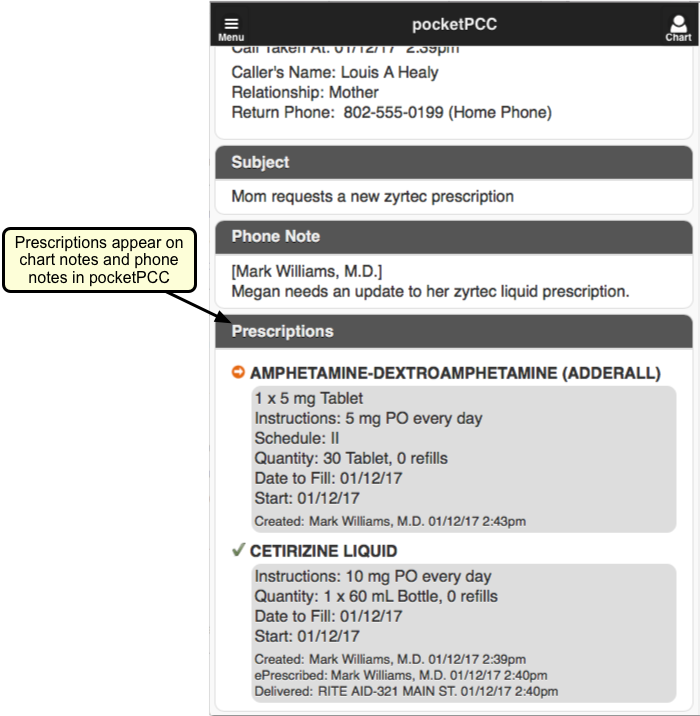 Custom Location: By default, the Prescriptions component appears at the bottom of all protocols. If you'd like this information at the top of the chart note or in the Plan section, for example, your practice can use the Protocol Configuration tool to customize where the Prescriptions component appears.
Sign Prescriptions and Approve Refills on the New Rx Queue
On the new Rx Queue in PCC EHR, you can handle renewal requests, sign agent prescriptions, and finalize pending prescriptions faster and more easily.
Click on the Rx Queue tab to get started.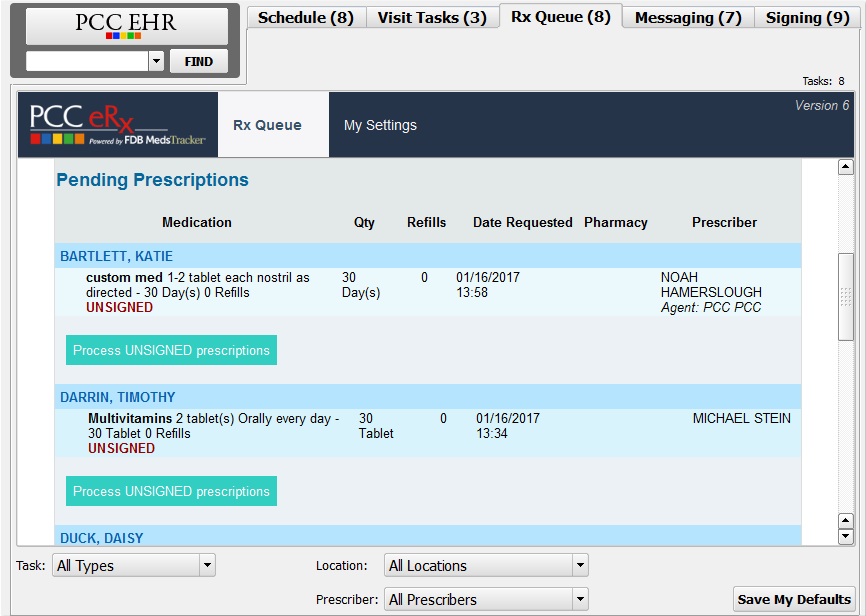 On the queue, you will see up to three sections: Renewal Requests, Agent Prescriptions, and Pending Prescriptions. In each section, you will see a list of patient prescriptions that require attention.
You can review prescriptions, make selections, and approve and sign the renewal, agent, or pending prescriptions.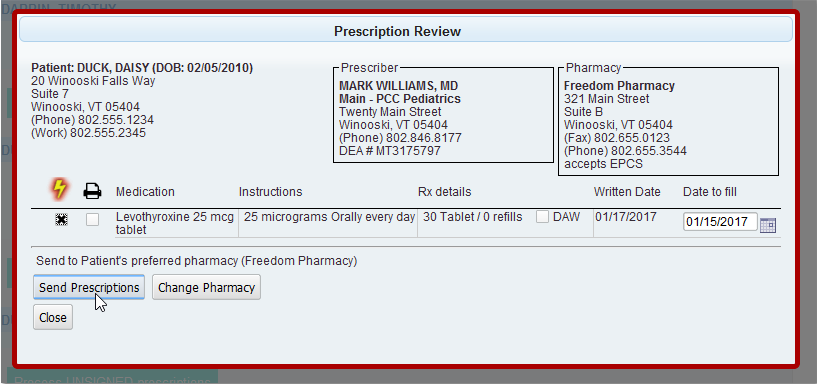 At any time, you can click on a patient name to open their chart and review more information. The patient's chart will open, and the associated encounter chart note will also open so you can review it easily.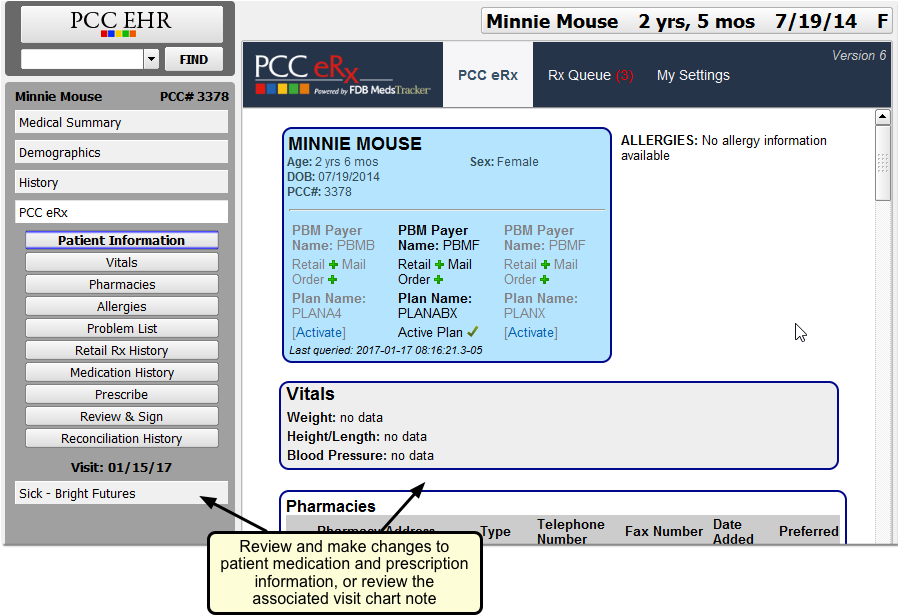 Other Special Features of the Rx Queue:
Customize For Your Workflow: At the bottom of the queue, you can filter by Task, Location, and Prescriber, in order to see just the prescriptions that pertain to you or that you need to take action on.

Rx Queue Counter: You can see the number of outstanding prescription tasks right on the queue.

The task count pays attention to your filters, so the number can always represent prescriptions that need your attention.

Reassign a Pending Prescription to Yourself: Did another prescriber create a new prescription, but not send it? You can approve and send the prescription and become the prescriber. When you click to approve the prescription, PCC eRx will ask you to confirm reassignment.

Select All: You can click the "Select All" checkbox to select all renewal requests or agent prescriptions and approve them quickly. (Pending prescriptions must be signed by encounter.)
Where Do Rx Queue Prescriptions Come From?: Renewal Requests are initiated by pharmacies. Agent Prescriptions are created by PCC EHR users at your practice who are authorized to create and send prescriptions, but need to be countersigned. Pending Prescriptions were created by either a prescriber or clinical staff but not yet finalized and sent.
Learn More About the Rx Queue: For more information on how to complete or deny renewal requests and options for approving pending prescriptions, read Approve Renewal Requests and Finalize Prescriptions on the Rx Queue (COMING SOON).
New PCC eRx Reports
PCC 7.6 includes four powerful PCC eRx reports in the Report Library in PCC EHR.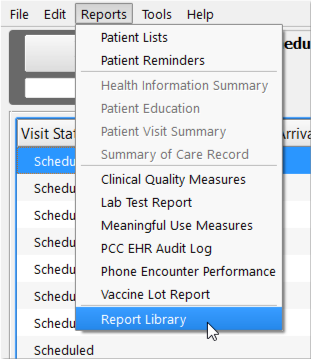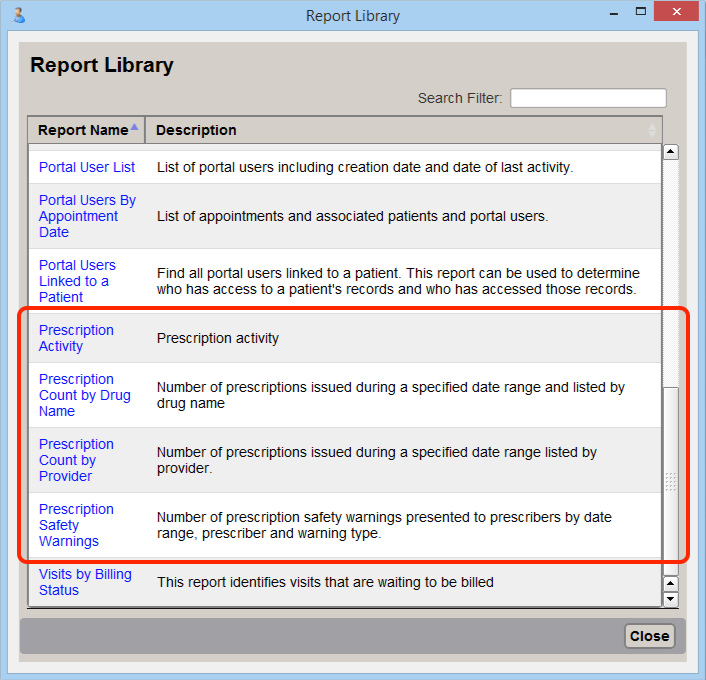 The Prescription Activity report is a large, master report that allows you to meet any eRx reporting need. For example, you can create a report by patient, by prescriber, by office location, by pharmacy, or by drug name. If you have a problem with a pharmacy, need a patient prescribing record, or have another prescription reporting need, the eRx Prescription Report can give you the data. For PCC 7.6, all fields are included on the report output. In a future release, you will be able to customize which columns appear in order to get exactly the report output you need.
The Prescription Count by Drug Name report shows the number of prescriptions, by date range, for each prescriber, listed by drug name. The report shows you whether a generic or brand name drug was prescribed. You can limit the report by provider. This report is used for PCMH.
The Prescription Count by Provider report shows who is writing prescriptions and the total number of prescriptions created during a selected date range. This report will be useful for PCMH, as for each Prescriber it displays a total count of Generic drugs and Brand name drugs as well as the total number of prescriptions for the timeframe
The Prescription Warnings Count by Provider report shows the total count of drug-drug interaction, drug allergy, duplicate therapy, drug-diagnosis interaction, and dosing range alerts that prescribers reviewed for prescriptions that were completed and sent during a selected date range.
You can use custom criteria on these reports to meet compliance requirements or to research medication and prescription activity at your practice.
Ohio eRx Identify Proofing Requirements: If you prescribe medications in Ohio, you should note that the State of Ohio Board of Pharmacy has additional requirements for positively identifying the prescriber. Many Ohio medical practices achieve this by doing a daily printout of prescriptions for the prescriber to review and sign, which they keep on file for three years. (You can read about Ohio regulations 4729-5-30 Manner of issuance of a prescription and 4729-5-01 Definitions). You can meet this requirement by running the Prescription Activity report each day for all patients, for each provider, and having them sign the output. When printed, the report includes a signing statement that meets the Ohio requirement.
EPCS is Now Faster and Free with Your PCC Subscription, But You Must Re-Register
As part of the update to the new and improved PCC eRx, physicians who need to prescribe controlled substances must complete an EPCS registration process. If they were already certified to prescribe EPCS, they must re-register and obtain a new EPCS token.
PCC has made the following improvements to EPCS in PCC EHR:
Get Registered Quickly: The new EPCS registration process does not require an identification letter sent through the mail. Once your EPCS token arrives, you can complete registration quickly.

No Monthly/Annual Fee: There is no longer an additional fee for EPCS. Your PCC subscription covers EPCS for any physicians at your practice who prescribe controlled substances.

Free Token and Replacement: Your EPCS token, and a replacement token every year, is included in your PCC subscription.

Improved App Support: EPCS in PCC 7.6 supports one-touch token apps for smart watches and/or your mobile device.
To get started with EPCS, read the Register for EPCS and Prescribe EPCS help articles. (COMING SOON)
Configure and Customize Your PCC eRx Experience
Your practice can define prescriber permissions for each user, manage customizable Favorites lists, and make additional changes to your PCC eRx experience.
To learn how, read Administrate PCC eRx Users (COMING SOON), Manage Your PCC eRx Favorites (COMING SOON), and PCC eRx Configuration Options (COMING SOON). Or, speak with your Client Advocate.
Automatic Favorites, Sharing Favorites: In PCC 7.6, your favorites are automatically generated based on your prescribing behavior. You can customize them to make the list work perfectly for your prescribing workflow. You can also create favorites and share them with other prescribers at your practice!
Review Visit Chart Notes in pocketPCC
You can now review patient visit chart notes and other encounters in pocketPCC.
When you want to review patient history, click on the chart menu and select "Visit History".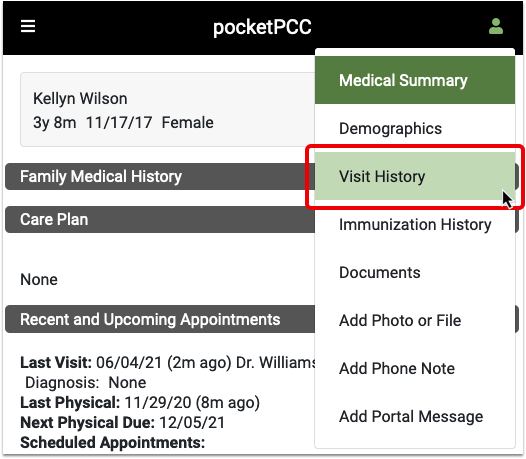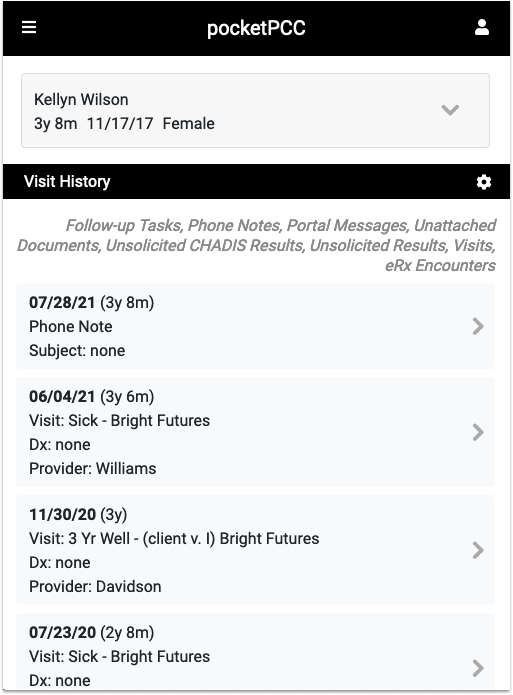 On the Visit History, pocketPCC displays all chart notes, phone notes, portal messages, and eRx encounters. If you want to see only messages or visits, for example, you can filter the history using the gear button.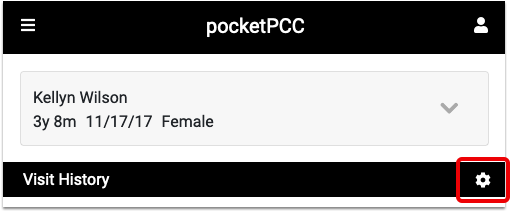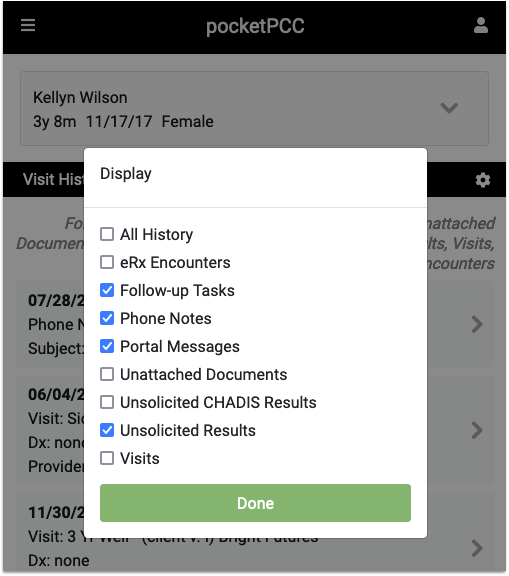 Click on any encounter in the Visit History to view it.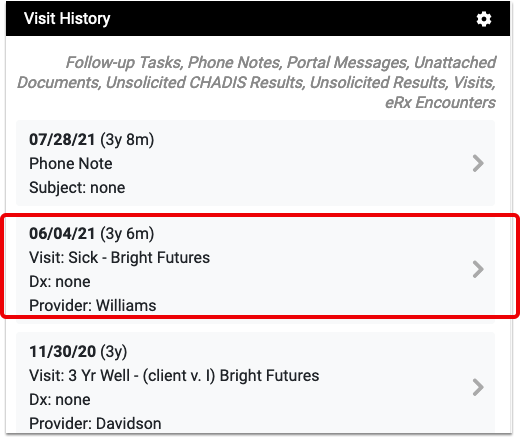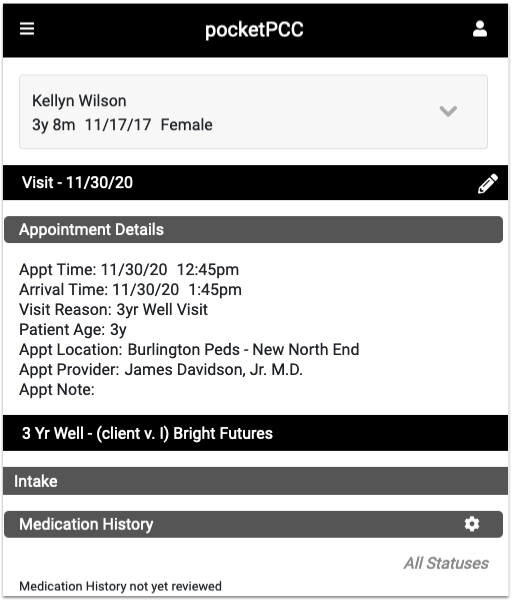 You can review the information in each component. For example, you can check up on orders and read their results.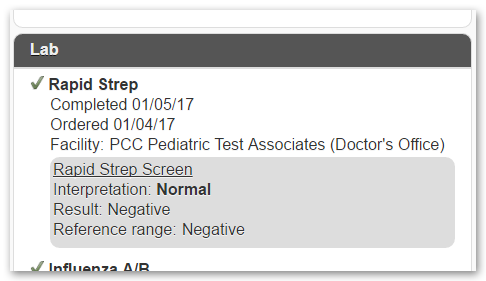 If a visit chart note has more than one protocol, you can scroll down to review each protocol.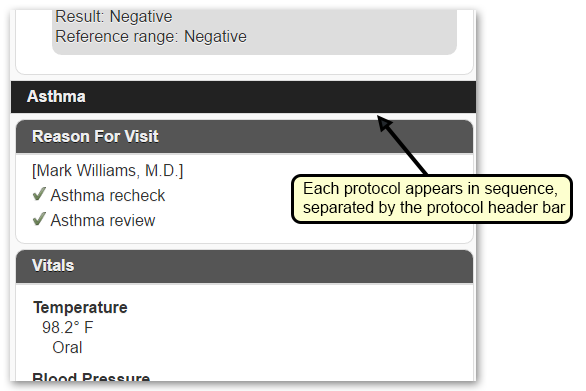 Limitations to Chart Notes in pocketPCC: As of PCC 7.6, pocketPCC can display most standard charting components and encounter types. Some specialized components, such as full lab order details, medication reconciliation, appointment history, growth charts, amendment requests, and some immunization details such as forecasting, VFC, and diseases, can not yet appear. Certain Visit History entries, such as e-lab results that are not attached to a visit or unattached documents, do not yet appear in the pocketPCC Visit History. When you need to guarantee a complete, detailed history of a patient's lab results, for example, you should refer to PCC EHR.
Improved Display of Phone Notes and Other Encounters: As pocketPCC can now display more types of chart note components, those components can also appear in other encounter types. For example, if your practice had custom questions on your phone notes, those questions will now also be visible when you review a phone note in pocketPCC.
Powerful New Reports in the PCC EHR Report Library
In addition to the new eRx reports described above, PCC has added four other new reports to the Report Library for the 7.6 release.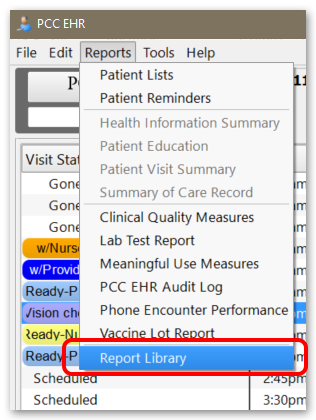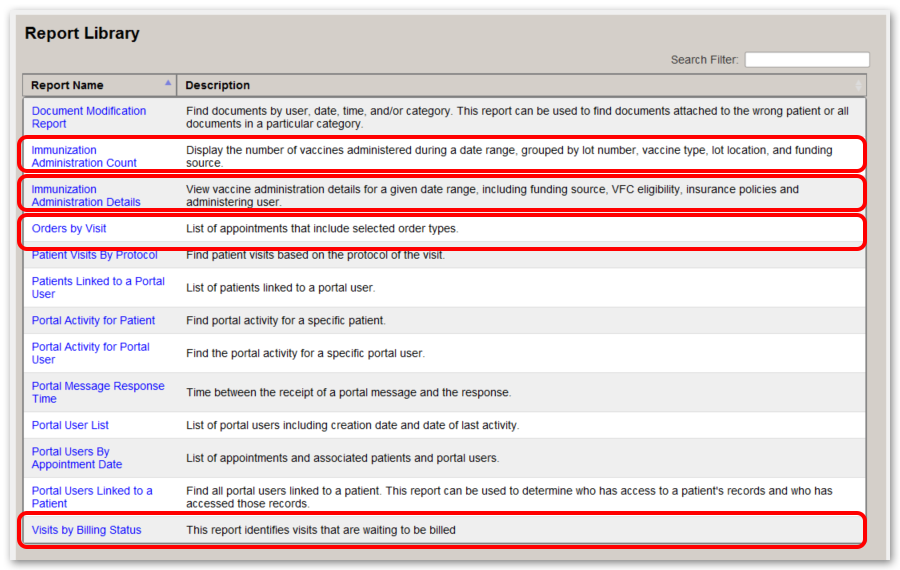 Your practice can use the new Immunization Administration Details report to find all patients who received a vaccine during a given date range. The report provides information about funding source, VFC eligibility, and insurance, as well as who administered the immunization.
The Immunization Administration Count report displays the number of vaccines given during a date range, grouped by lot number, vaccine type, and funding source. Your office can use this report to reconcile vaccine orders with your inventory.
Use the Visits by Billing Status report to catch missed charges and identify visits that are still waiting to be billed.
The new Orders By Visit report produces a list of appointments that include selected orders. Use this report to find all visits with certain order types, such as referrals.
Pilot Test: PCC EHR Appointment Book Now Supports Multiple Providers
PCC is developing a new, visual appointment book in PCC EHR that is now in pilot testing. As part of the PCC 7.6 release, we added support for multiple providers and created new configuration tools for complex scheduling needs. The Appointment Book is currently limited to single-location practices.
Choose a Provider As You Schedule
As you schedule a patient, you can choose among providers who see patients.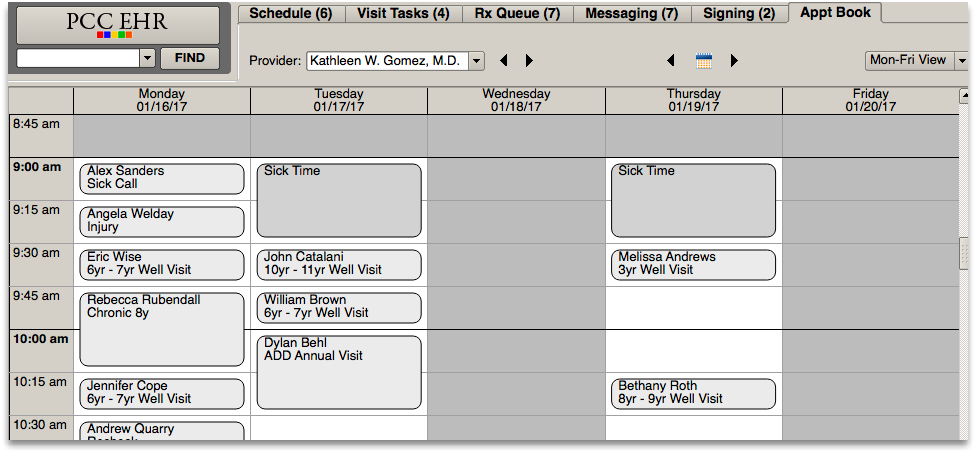 Once you pick the provider, the appointment book will display their schedule so you can pick an available time. The Appointment Book remembers which provider you scheduled last. If you regularly schedule for a specific provider, you will not need to select the provider each time. PCC EHR displays the patient's PCP, if available, to help you schedule for the correct provider.
You can pick the provider before or after you select a patient and choose a time, which allows for different scheduling workflows. For example, once you've picked the date for a patient's next Well Visit, you can rotate between providers to see who is available on different days that week.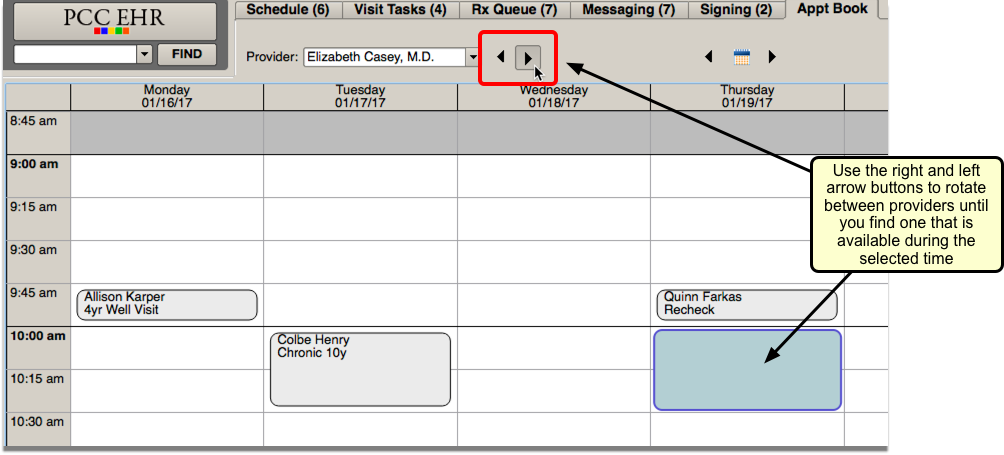 Configure Provider Calendars
The Provider Hours configuration tool includes a Provider Schedule tab, a calendar where you can define which days each provider is working, and whether or not they are working regular or custom hours.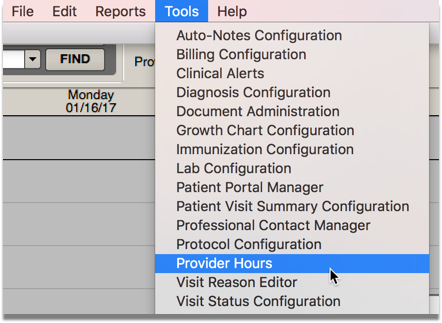 Double-click on any day to make changes to the provider's working hours that day.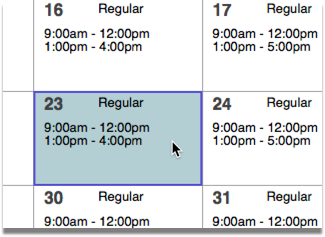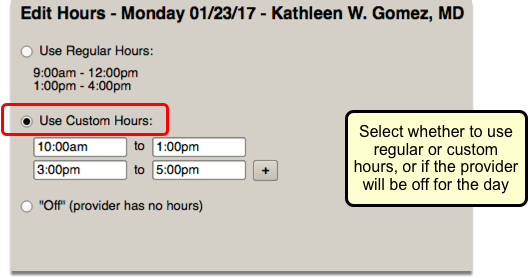 On the Provider Regular Hours tab, you can set each provider's in and out times.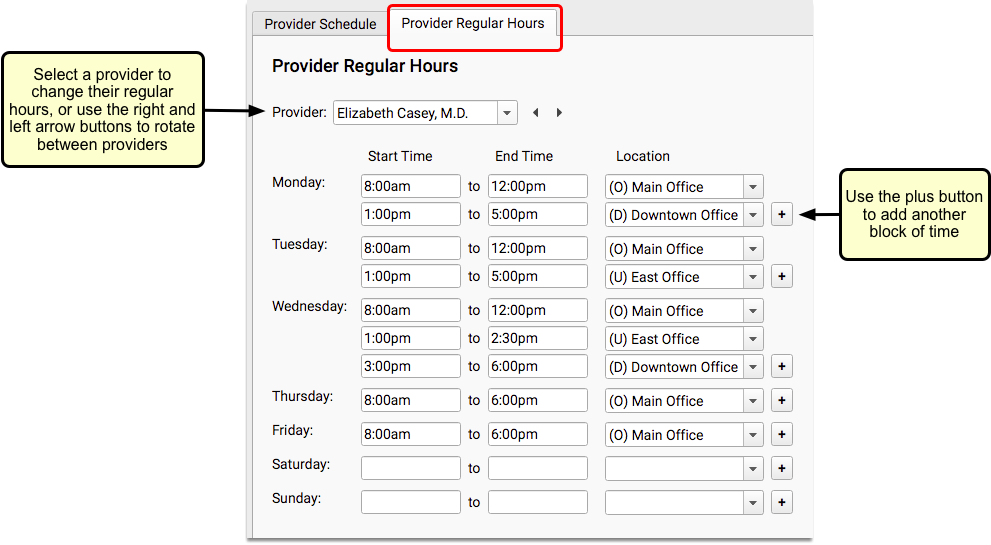 Coming Soon: The Appointment Book visual scheduler is currently in pilot testing for single-location practices. Stay tuned to learn more, or watch the Appointment Book video. Additional information is available in the Pilot Test: The Appointment Book help article.
New Place of Service Fax Number Field
Your PCC system can now define a fax number for each place of service for your practice. You can enter that fax number in the Place of Service table in the table editor (ted).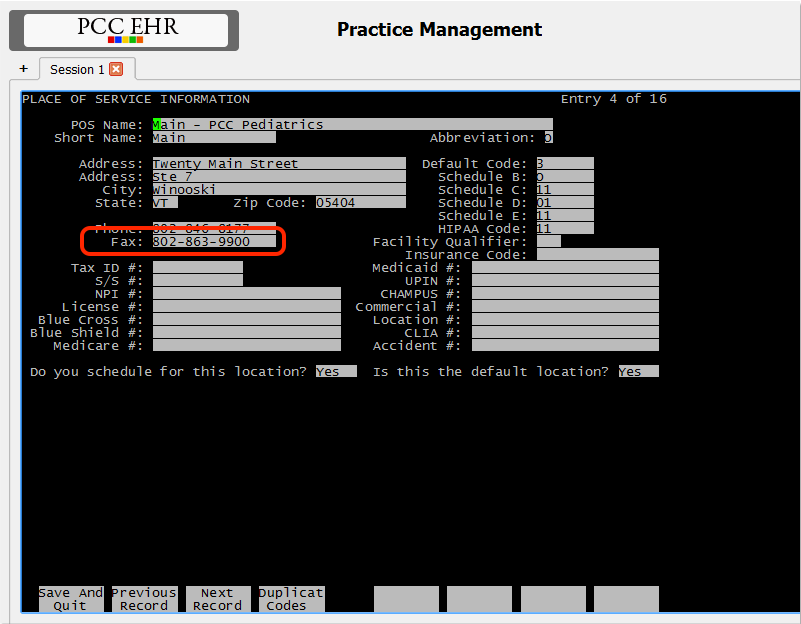 If you use PCC eRx for electronic prescribing, a fax number is a requirement for each location. Prior to the new prescribing features in PCC 7.6, that number was modified only by PCC Support. You can now update that number for your locations.
Also, if you would like to include per-location fax numbers on form letters, you can use the a1.loc.fax variable, or the p.carecenter.fax variable if your practice uses PCC's Care Center features. When you generate the form, the variables will be replaced with the location fax number.
Do I Need to Enter Fax Numbers into PCC After My PCC 7.6 Update?: If your practice has only one place of service, then the PCC 7.6 update will automatically enter your practice's main fax number into the new field. (Your practice's main fax number is stored in the Practice Information section of the Configuration Editor (ced).) Otherwise, your Client Advocate will work with you to identify and update your system with appropriate fax numbers based on how you want your prescribing activity identified.
New and Updated Interfaces Available in PCC 7.6
With each release, PCC's Interoperability team expands and updates PCC's direct connections, partnerships, and integrations with insurance payers, immunization registries, and more. Here are the interoperability updates for PCC 7.6:
New and Updated Immunization Interfaces: As part of the PCC 7.6 release, PCC developed new immunization registry interfaces for Nebraska (NESIIS), Louisiana (LINKS) and Philadelphia (KIDS Plus). PCC 7.6 also updates registry interfaces to meet new requirements for California (CAIR 2), Tennessee (TENNIIS), South Carolina (SCIR).

New Clinical Interfaces in PCC EHR: PCC developed new lab interfaces with Doctors Hospital at Renaissance, Mountain Star Clinical Laboratories, and Intermountain Healthcare. These organizations can now send electronic test results directly to PCC EHR. In addition, PCC developed clinical data interfaces with NueHealth Missouri and Children's Health Alliance / Wellcentive.

New Eligibility Interfaces: PCC developed new real-time insurance eligibility interfaces with IEHP of California, BCBS of Nebraska, Medical Assistance of Maryland, and Aetna Better Health of Nebraska. PCC also updated interface standards for BCBS of North Carolina. You can view patient eligibility information during patient check-in as well as in the Eligibility program.

Updates to Immunization Forecasting: During the PCC 7.6 release cycle, PCC installed the latest updates to immunization forecasting schedules used in PCC EHR. These periodic forecasting updates improved forecasting and added new variant vaccines and schedules for flu, dTap, HPV, and other immunizations. A patch we added in January corrected an erroneous recommendation for a 4th HIB booster when patients had 2-doses and the Hib PRP-OMP booster, which finishes the HIB series. A patch we added in February added the new 2-dose HPV schedule and included minor corrections to schedules and warnings for PCV, Hep B, MCV, Hep A, and HIB.
If your practice would like to take advantage of these connections, or you have another interface need, contact your PCC Client Advocate.
Other Feature Improvements and Bug Fixes in PCC 7.6
In addition to the features described above, PCC 7.6 includes these smaller improvements and squashed bugs.
Flu Vaccine Update: The PCC 7.6 update includes support for the latest influenza vaccines. The latest flu vaccines with CVX 168 and 171, CPT codes 90653 and 90674, are now supported by all PCC products and services. You can add the new procedures to your Procedures table for billing in Partner, view them on the Immunization Forecasting tool in PCC EHR, and when administered these procedures will be included on the "Immunization Rates – Influenza (Asthma)", "Immunization Rates – Influenza", and "Immunization Rates – Patients 2 years Old" Practice Vitals Dashboard measures. Contact your PCC Client Advocate to help you configure the new flu vaccines or any new immunization procedure.

Report Library Remembers Criteria Between Runs: The PCC EHR Report Library will now remember report criteria while you view a report. If you run a report and then discover that you need to adjust or refine your criteria, you don't have to re-enter everything. PCC EHR will remember your last set of criteria until you close the Report Library window.

Improved Syncing of Medical Data w/ PCC eRx: The PCC eRx update in PCC 7.6 includes improved syncing of patient data. Important signifiers, such as "Allergies Reviewed" or "No Known Drug Allergies", were sometimes delayed before PCC 7.6. Now that information automatically syncs between the patient's chart record and the e-prescribing system.

Quickly Review Start and Stop Medication Dates: The updated Medication History component in PCC 7.6 includes new "Start" and "Stop" columns. Wherever the Medication History component appears, you can quickly see the start and stop dates that were defined for a prescription.

Improved Prescriber Location Support: Prior to the PCC 7.6 update, PCC eRx used a clinician's default prescribing location. You can now specify all the locations where a provider may prescribe. PCC eRx will automatically use the location of the patient's visit, and if that information is unavailable it can use the provider's default location, or the provider can specify the location.

Audit eRx Access in PCC EHR: Prior to the PCC 7.6 update, practices needed to use DrFirst Rcopia reports in order to audit which users accessed eRx tools for a patient. In PCC 7.6, access to PCC eRx in a patient's chart is tracked in PCC EHR, and you can audit that access using the PCC EHR Audit Log tool.

Deprecated Dashboard Tool Removed: PCC 7.6 removes the "View CPT Code Utilization" tool from the Practice Vitals Dashboard, formerly found in the "Revenue-Per-Visit" and "Revenue-Per-Visit (without imms)" measures. The tool displayed outdated charge and reimbursement data. To research CPT code utilization at your practice, PCC recommends alternate reports in Partner, such as the "Reimbursement Analysis" and "Reimbursement Analysis with RVUs" reports found in srs.

Customize Where the Documents Component Appears on Chart Notes: If documents are attached to a chart note, they will appear in the Documents component on the encounter. In PCC 7.6, you can use the Protocol Configuration tool to customize where the Documents component appears.

Long Filenames and System Backups: If your practice used document filenames that were abnormally long, it could cause daily backups to pause or fail. This no longer occurs.

SNOMED Update Bug: In rare circumstances, updating an existing diagnosis record could keep the previous SNOMED code on a patient's record. PCC corrected this bug with a mid-release patch for all practices.

Empty Care Plan Bug: If a Care Plan was created and saved with only contact information, and then edited and re-saved to add actions or goals, under certain circumstances the new notes would not be saved. This bug was fixed with a mid-release patch for all practices.

Eligibility Notes: Under rare circumstances, eligibility notes for patients with expiring insurance would not save. PCC fixed this bug with a mid-release patch for all practices.

Server Reboot Access Error: After a power failure or server reboot, some PCC client systems lost access to mobile services, necessitating PCC Support intervention. These services are now restored automatically in the event of a server failure.