In September of 2016, PCC will release version 7.5 of our charting and practice management software to all PCC users.
PCC 7.5 includes new customization features for visit statuses that will improve your office workflow, new privacy features for sensitive diagnoses, a new document viewer, billing feature enhancements in Partner, and new telemedicine functionality in the patient portal and pocketPCC.
Watch a Video: Want to watch a video summary of everything in this release? CLICK HERE
Implementation: The new features in PCC 7.5 require configuration and user-specific software training. Read about the features below and then review PCC 7.5 Migration Considerations. CLICK HERE
Read below to learn more, and contact PCC Support for information about these new features or about any PCC product or service.
Hide Diagnoses From the Patient Portal and Patient Reports
In PCC 7.5, you can mark any diagnosis or Problem List, allergy, or Family Medical History list item as private. A private or "locked" diagnosis will not appear on patient reports and it will not appear in the patient portal.
Hide a Single Patient's Diagnosis or Problem
When you want to hide a single diagnosis for a specific patient, just de-select the "Include on Patient Reports" checkbox in the diagnosis component right on the chart note.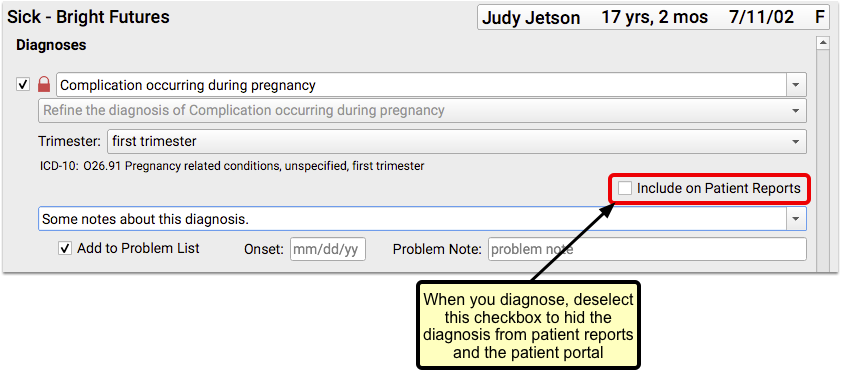 A red lock icon will appear, and the diagnosis will not be visible in the patient portal, the Patient Visit Summary, or other patient reports for that visit.
Similarly, you can hide a Problem List item for the patient. Just click the lock icon next to the item on the Problem List.

A hidden problem will not appear on patient reports and it will not appear in the patient portal for users who have access to the patient's records.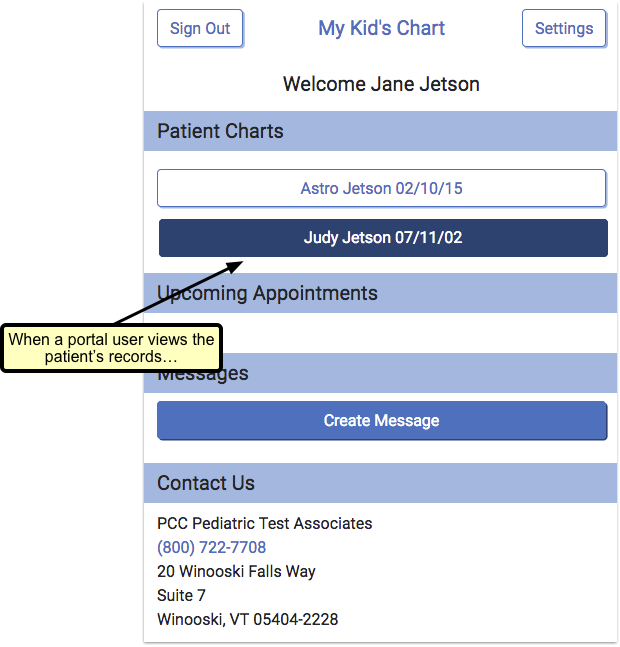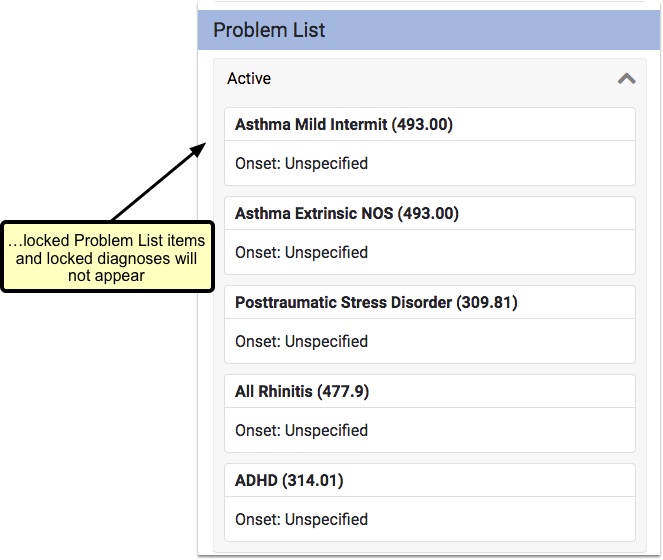 Where Does a Locked Diagnosis Still Appear? How Do I Send Records?
A hidden or "locked" diagnosis does not appear in the patient portal for any user, nor does it appear on reports like the Patient Visit Summary. However, it does appear in two places.
First, you can see all diagnoses on the chart note itself, which is available in the Visit History section of the chart. If you attempt to print a chart note, PCC EHR will warn you that it contains a sensitive diagnosis.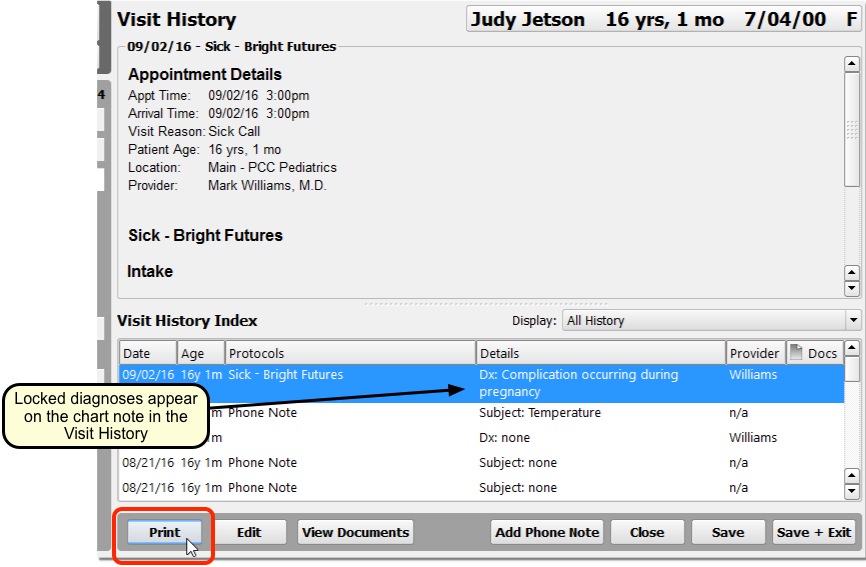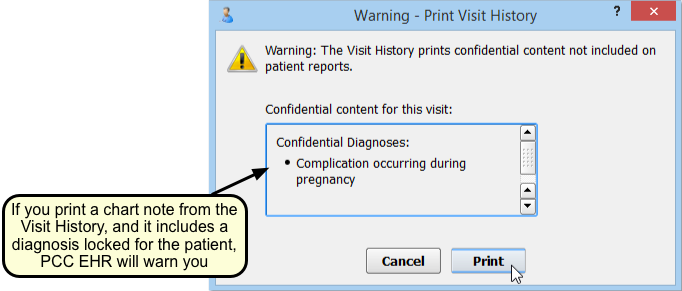 When you wish to send records out for a referral or for a transition of care, use the Summary of Care Record. You can select whether or not to include locked diagnoses as you generate the output.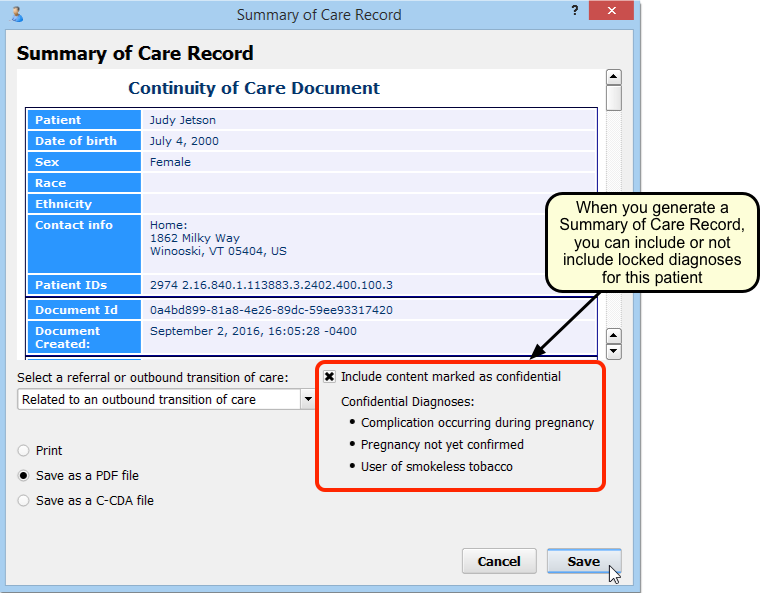 What About pocketPCC?: The pocketPCC mobile application provides clinicians with the same access to patient information as PCC EHR. Locked diagnoses will display as they do in PCC EHR, with a red lock icon.
Configure Default Hidden Diagnoses
Your practice can configure any diagnosis to be hidden by default for all patients. You can even apply the change retroactively for all historical diagnoses.
To learn more, read the PCC 7.5 Migration Considerations article.
Use pocketPCC to Send and Receive Patient Portal Messages
You can now use pocketPCC to view and respond to portal messages from your patients. You can work with messages on a Messaging queue; and you can send, read, and respond to messages while viewing a patient's chart.
The Messaging Queue in pocketPCC
To go to your messaging queue, open pocketPCC and select Messaging from the main menu.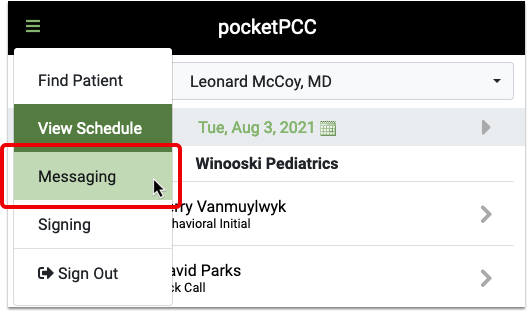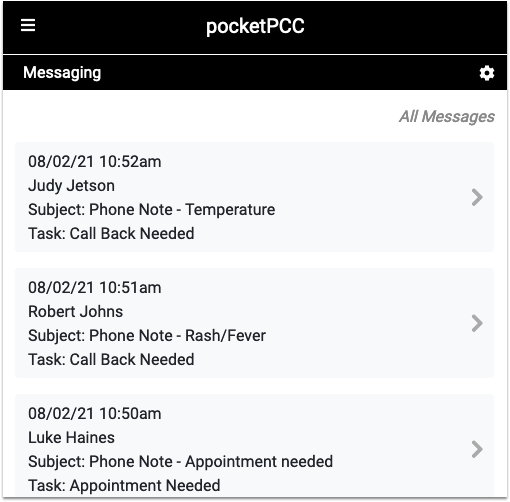 Your Messaging queue will display phone notes and portal messages, just as they appear in PCC EHR. You can use the gear icon to filter the queue by task, assigned user, date, and status. If your practice uses Care Centers, you can also filter by location.
Click on any message in the queue to read, add a task, or reply to the message. That reply will go directly to the patient portal user who sent the original message.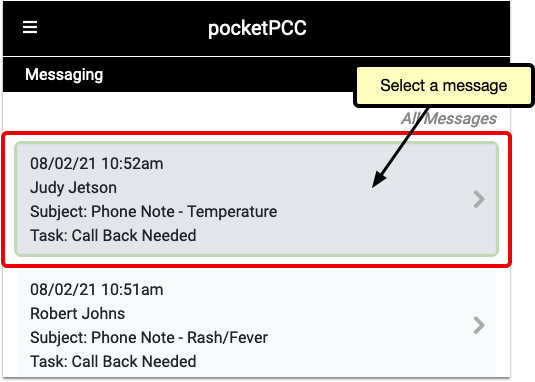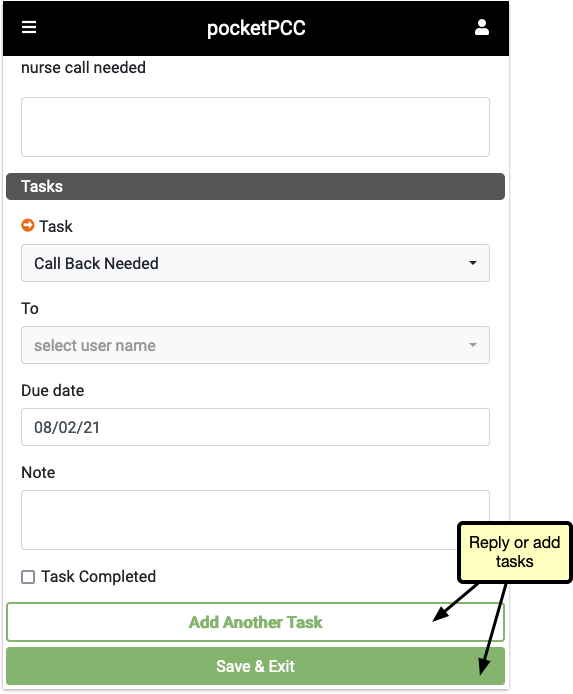 If your practice uses a custom message protocol, some components that are available in PCC EHR may not appear in pocketPCC.
Messaging in the Patient's Chart
From a patient's chart in pocketPCC, you can review, reply to, and send portal messages from the Messaging History section.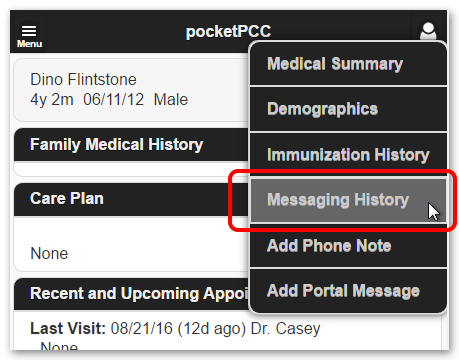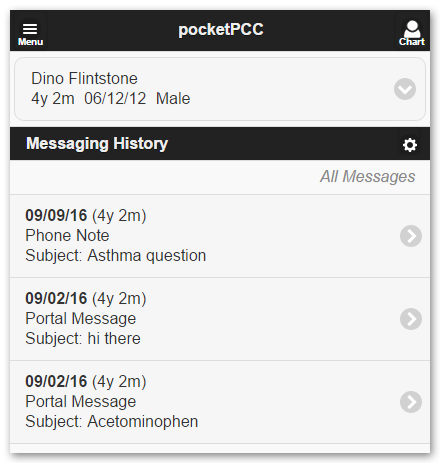 Here you can see all messages associated with the patient. Select the message you want to interact with, and reply by using the edit button.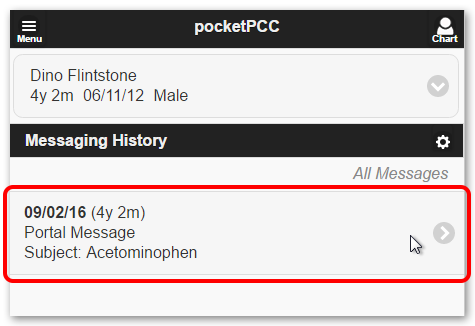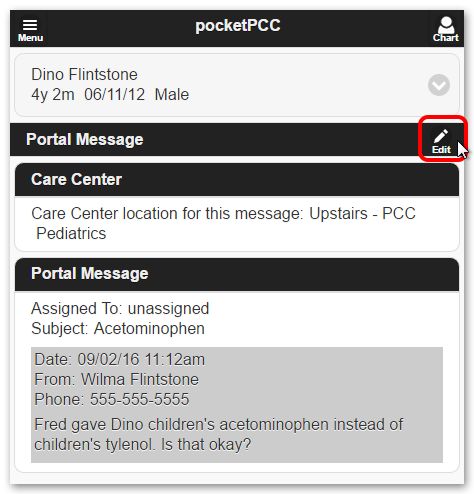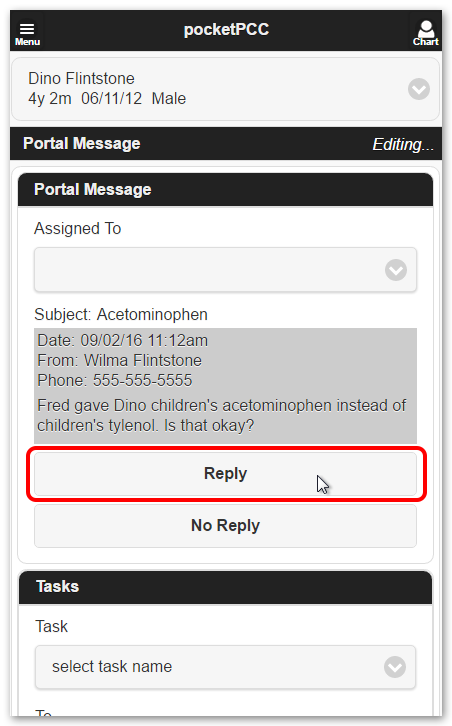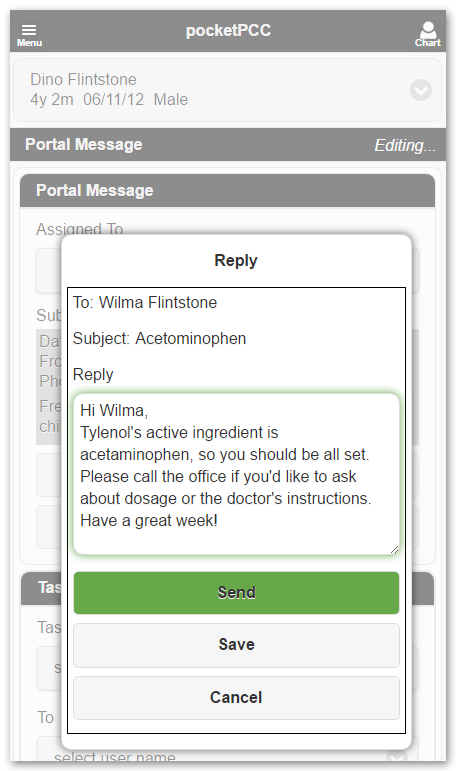 You can also send a new portal message to portal users by selecting Add Portal Message from the chart.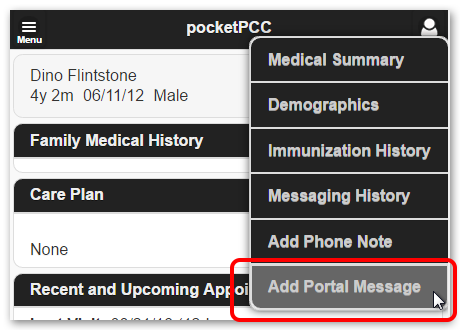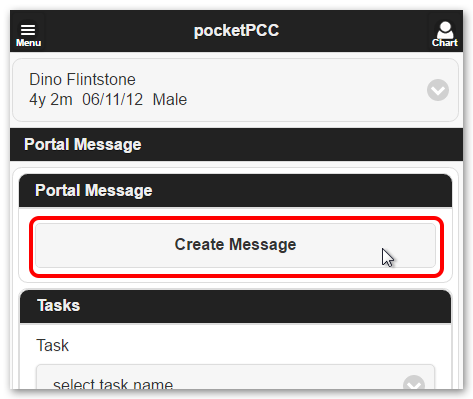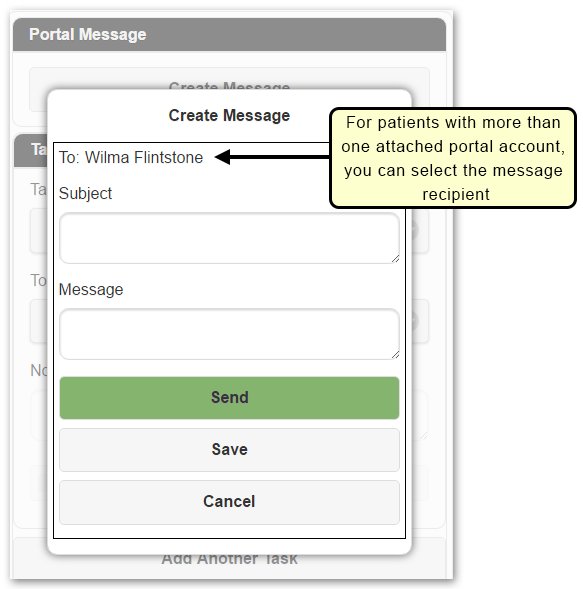 Patient Portal Messages vs. Direct Secure Messaging: The patient portal and PCC EHR support two different messaging technologies. Portal messages are a secure, optional messaging tool built into the patient portal. Patient portal users can exchange messages with their pediatric practice, and the practice can receive and send portal messages with PCC EHR or pocketPCC. Direct Secure Messaging, on the other hand, is a specialized message technology used to share and send medical information. It requires registration with a third-party service and it allows for secure transmission of C-CDA transition of care documents or visit summaries. For more information, refer to Receive and Respond to Portal Messages or Direct Secure Messaging.
Customize Your Practice's Visit Statuses
You can now configure the visit statuses for your practice. You can add any number of statuses to the ones already in PCC EHR, and you can select a color for each status.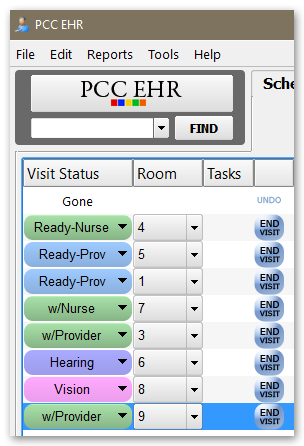 Use the new Visit Status Configuration tool to add or remove statuses. You can adjust their color and add or remove them from the Visit Status cycle.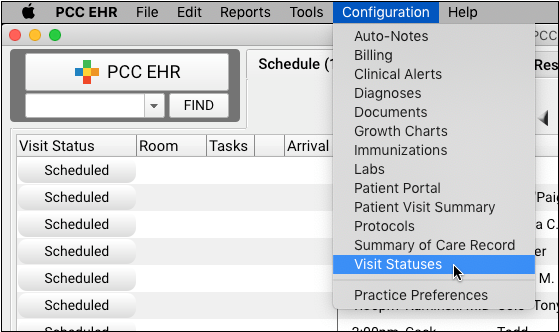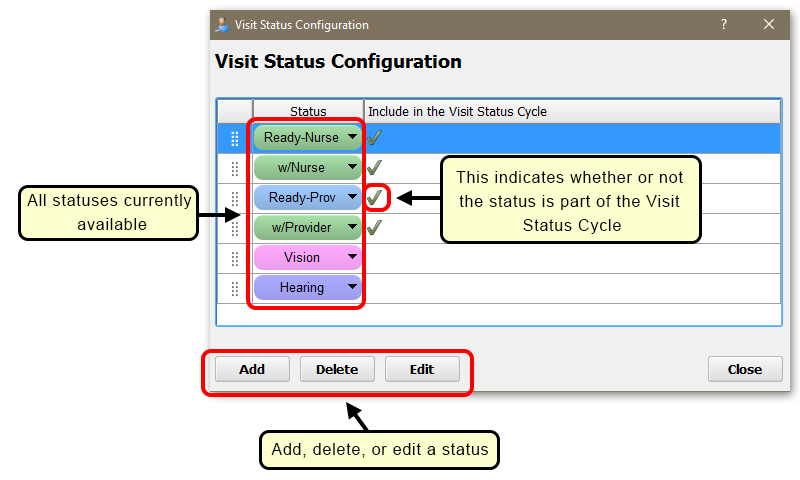 For more information, read the PCC 7.5 Migration Considerations article.
Visit Statuses appear on the Schedule queue as well as at the top of the chart note. Your practice can click to move stepwise through the cycle, or click on the arrow to select any Visit Status manually.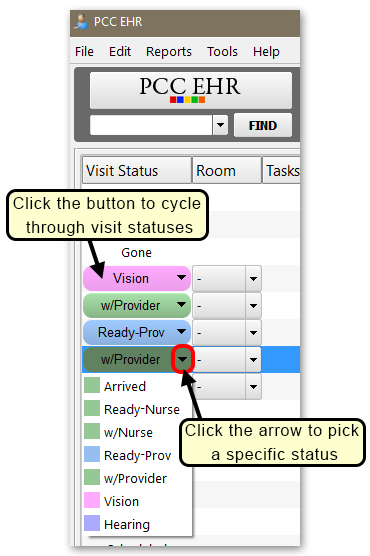 Customize Your Visit Status Counters
With the addition of configurable visit statuses, each PCC EHR user can now configure which visit statuses appear as a counter in the lower-right corner of their screen.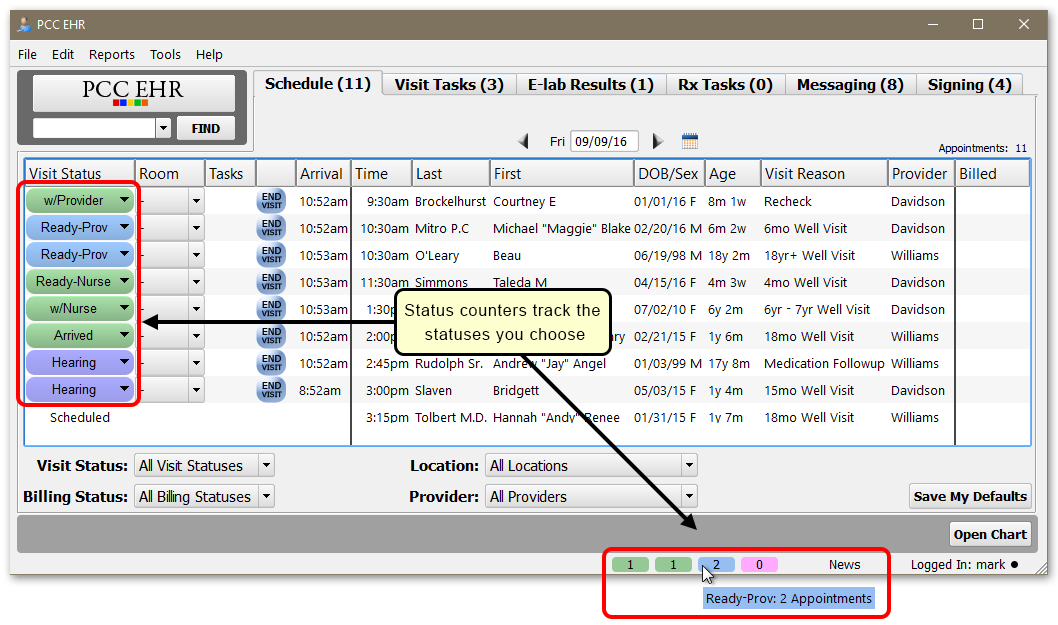 Visit Status Counters show you a count of a specific status, based on your personal user preference and your Schedule queue filters.
In addition to counting "Ready for Provider", you can use the My Account tool to choose several different statuses to track. Each will appear in your practice's custom color for that status.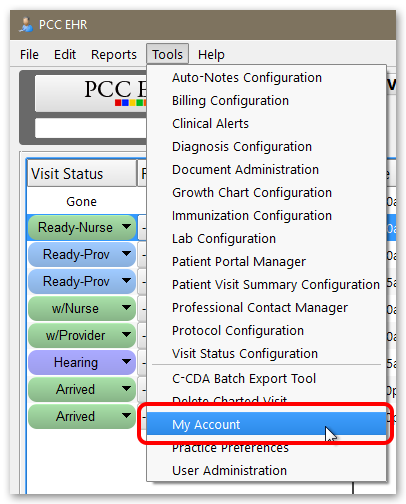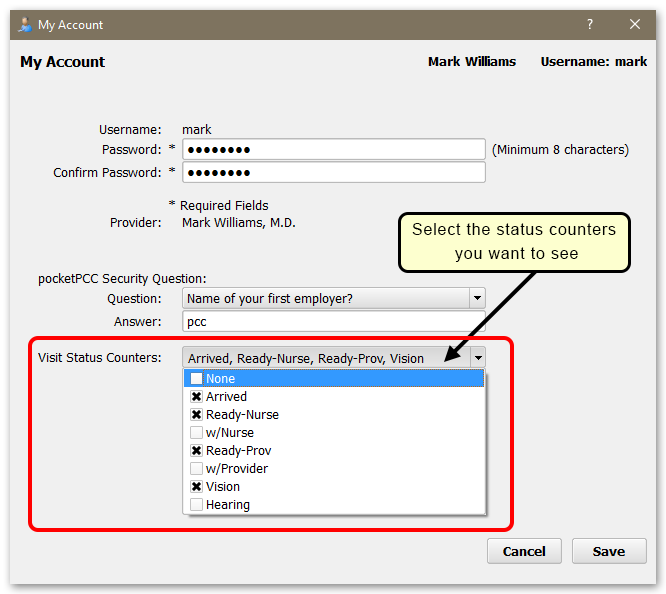 Use the Visit Status Counters drop-down in the My Account tool to select which statuses you want to keep track of during the day.
Can I Set This Up For My Staff?: Each user can define their Visit Status Counters in the My Account tool. An administrator can also set up Visit Status Counters for other users in the User Administration tool.
New All-In-One Document Viewer Improves Signing Workflow
The View Document and Edit Tags document tools have been combined into one window that lets you view and edit patient documents from anywhere a document appears, including the signing queue. When you have a document that needs to be signed, you can open it and add notes or make other changes without having to open the patient's chart. The new document viewing window will speed up your workflow while working on queues, when saving and sharing a document to the patient portal, and anywhere in PCC EHR that you work with documents.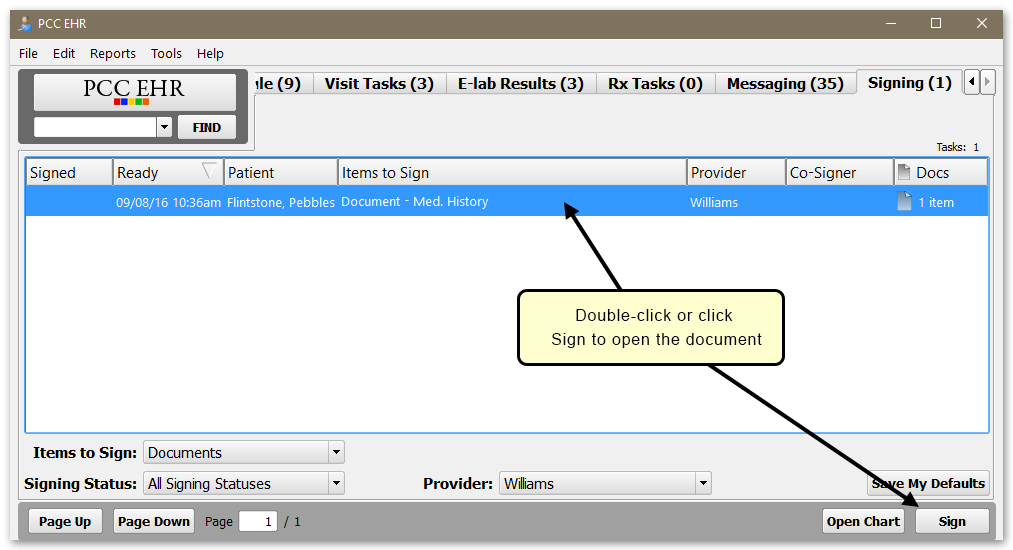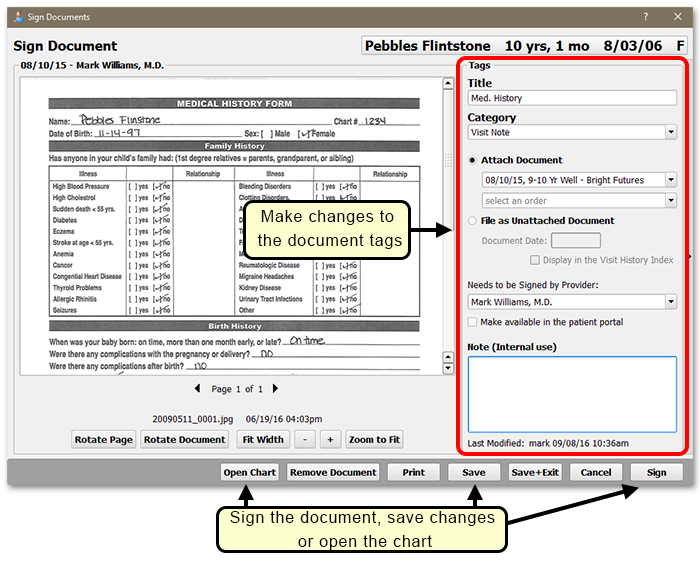 Show or hide panels: If you want to view more of the document on the screen, you can use the arrows on the right and left of the Document Viewer to hide the tags panel and the thumbnail panel (if applicable).
Multiple Documents: When you have multiple documents attached to your visit, they will appear together in the same Document Viewer window, accessible via tabs.


Better Item Titles on the Signing Queue
On the Signing queue, you will now see "Document – DOCUMENT TITLE", and "Phone Note – PHONE NOTE SUBJECT" under the "Item to Sign" column.

The more detailed item description means you can quickly identify items that are waiting to be signed and prioritize your workflow without opening each item.
Read PCC News Inside PCC EHR
You can now read about the latest updates and news from PCC from inside PCC EHR.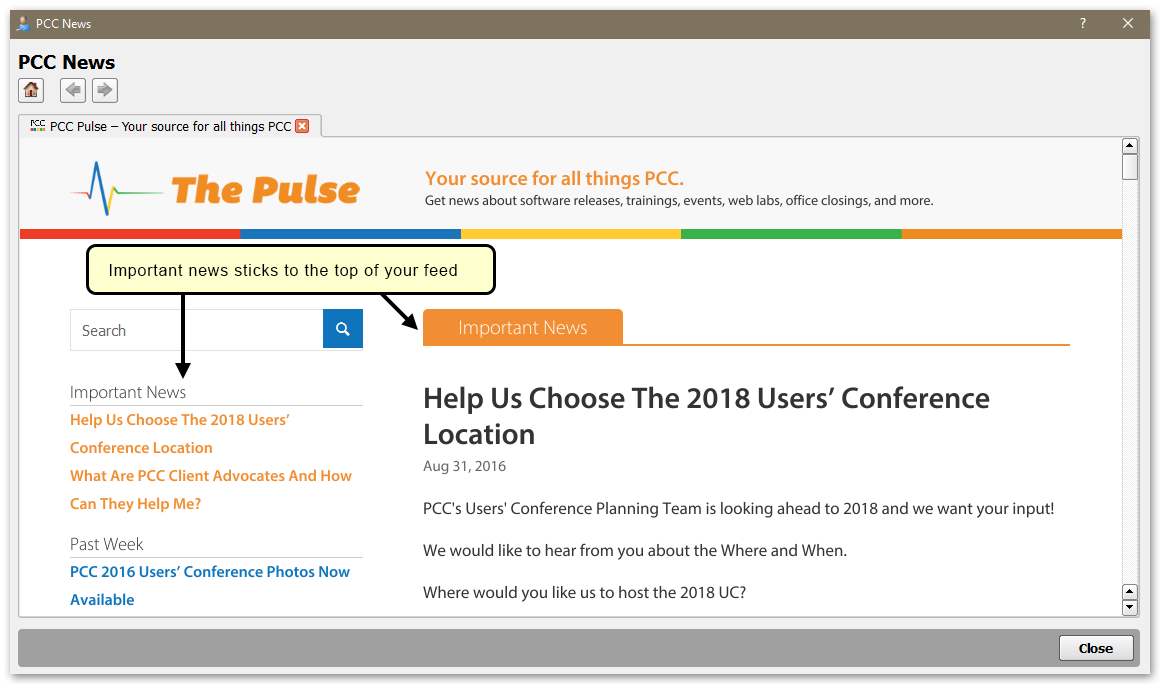 Click on the "News" link to read articles from the latest PCC "The Pulse" newsletter, which include news and announcements, information on PCC updates at your practice, and upcoming educational opportunities. Important and time-sensitive items will stick to the top of the news feed.
Record Blood Pressure from Right and Left Leg
When you record blood pressure in PCC EHR, you can now specify a location of left or right leg, in addition to left and right arm.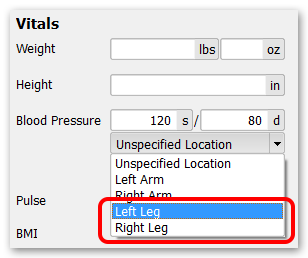 Improved Configuration for Users Who Are Assigned Tasks
When you need to configure whether or not a user can be assigned tasks, use the new Tasks attribute on the Account Information tab in the User Administration tool.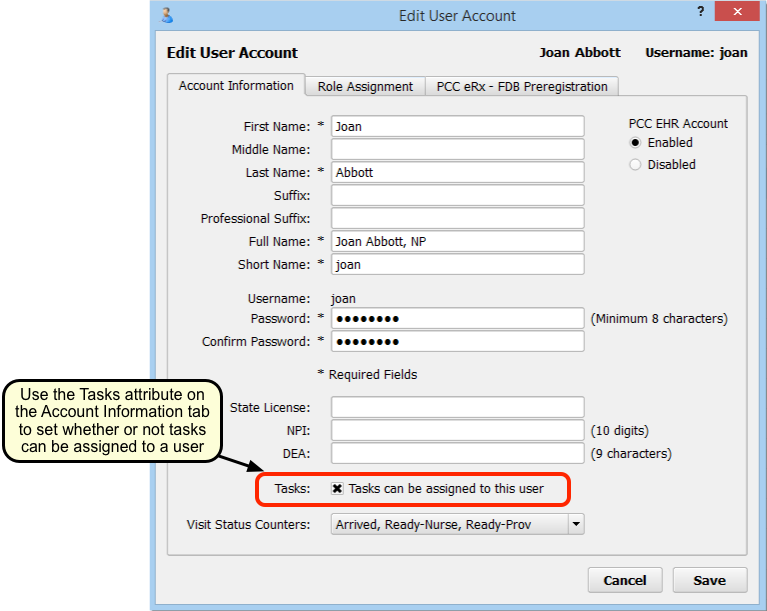 Task assignment is no longer defined as part of a user role. This change makes it easier to configure precisely which users can be assigned tasks. When you create a new user account, they will have this attribute by default.
Roles and User Attributes: As of PCC 7.5, all user attributes are defined on the Account Information tab, as shown above. Permissions and access to features are controlled by user roles. Upcoming PCC features will follow this rule. For example, a new "Appointments can be scheduled for this user" attribute will appear on the Account Information tab for those practices that use PCC's new Appointment Book, which is currently in pilot testing for single-clinician, single-location offices.
PCC EHR Keeps Working Through a Temporary Loss of Your Network Connection
If you lose your network connection temporarily, PCC EHR will now continue running and attempt to reconnect to your practice database when your network connection returns.
When your computer loses its connection, you'll see a note letting you know that PCC EHR is attempting to reconnect.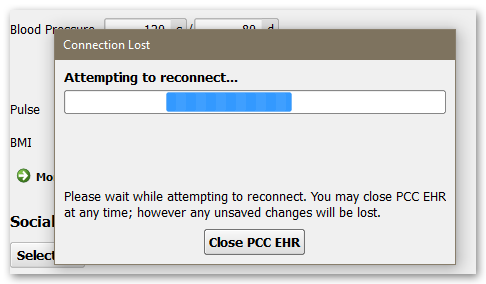 If you can't reconnect, you can click to close PCC EHR. If your computer successfully reconnects to your server, you'll see a message letting you know.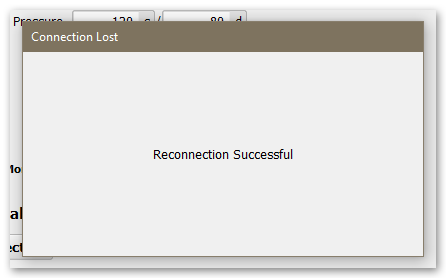 If the reconnection is successful, PCC EHR will continue working and you can save any unsaved notes or changes.
Improvements to Clinical Pulse and the Childhood Immunizations Dashboard Measure
PCC 7.5 adds a new "Immunization Rates – Patients 2 Years Old" measure to the Practice Vitals Dashboard, replacing and improving upon the Childhood Immunization Status Report. This measure, along with Meningococcal and Tdap measures, are now part of the Clinical Pulse score.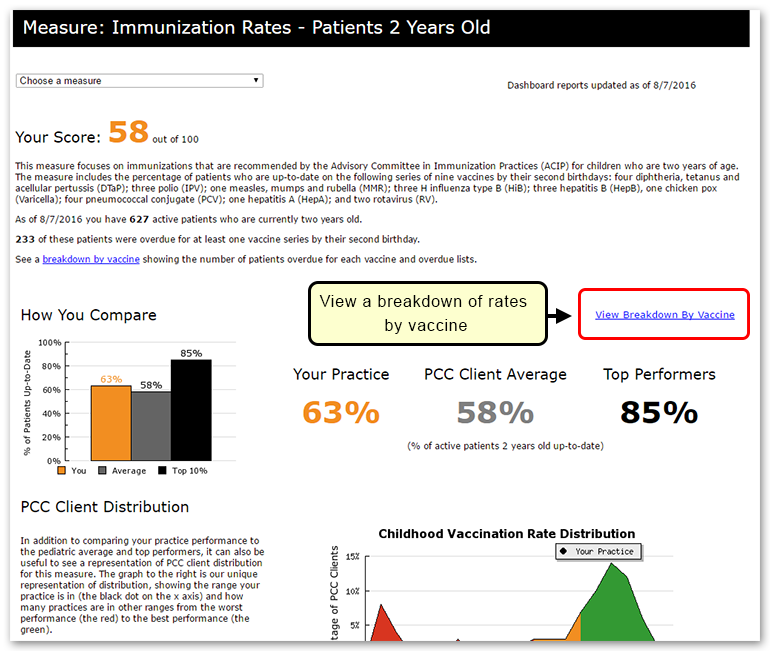 This measure will also provide you with a breakdown of immunization rate by vaccine.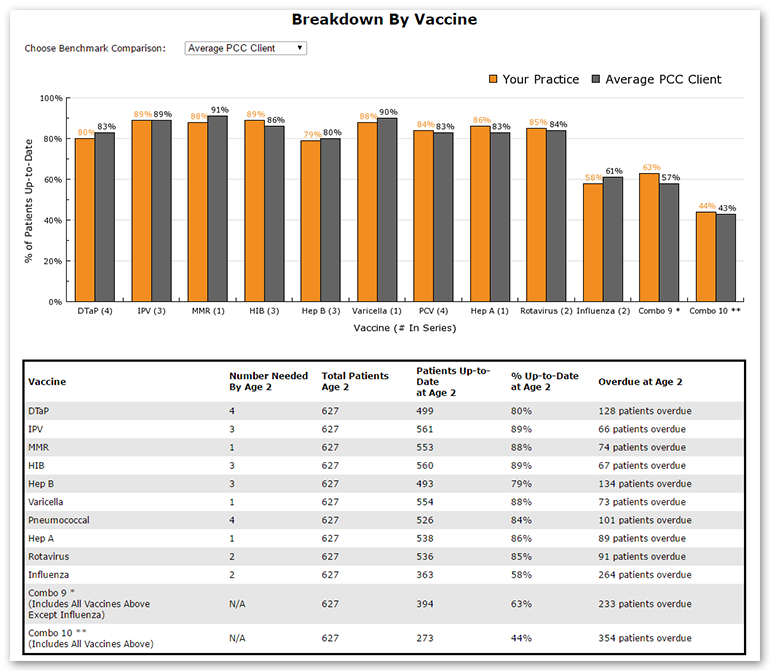 The Immunization Rates category still represents 30% of your Clinical Pulse, but has been altered to include the Patients 2 Years Old, Meningococcal, and Tdap immunization rates.
These measures track immunization rates for your patients and provide breakdowns and patient lists. Immunization measures will make the Clinical Pulse an even better "quick glance" assessment of your practice's clinical health.
You can use these measures when you attest for PCMH.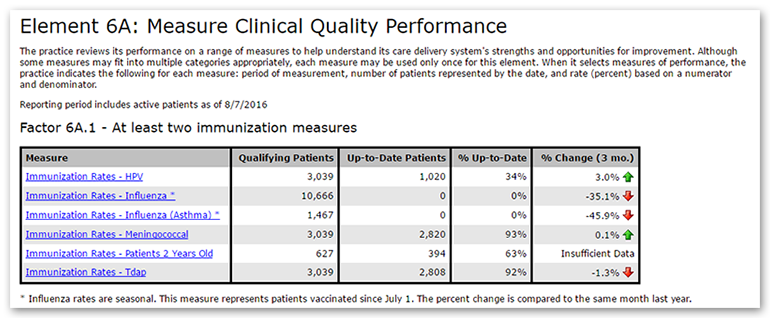 Other Improvements: In addition to the better navigation and integration of the immunization measures and your Clinical Pulse, PCC 7.5 improves immunization measures so that they look for 3 HIB vaccines before two years (instead of 1), and 1 Hepatitis A vaccine before two years (instead of 2).
New Policy Tracking Enables Double-Coverage By a Single Plan
PCC's databases now track patient insurance policies discretely, which allows direct association between charges and a given patient policy. This under-the-hood adjustment will strengthen reporting and lead to future billing features in Partner and PCC EHR.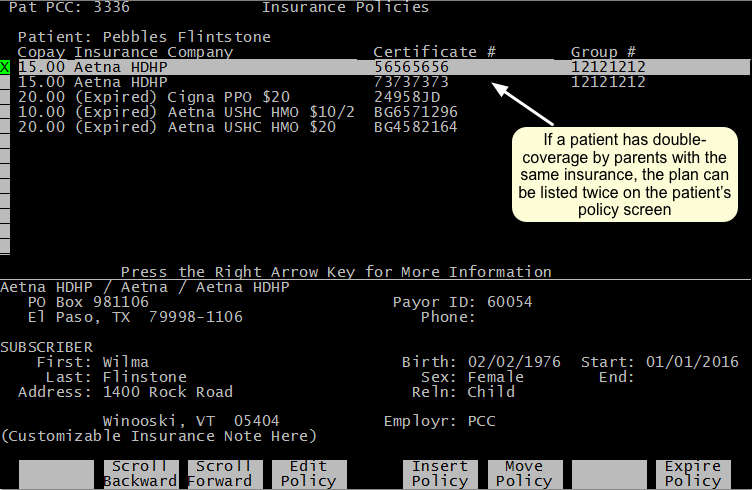 One immediate benefit is that when a patient has two active policies with the same insurance plan (with one as secondary), Partner can now send primary and secondary claims with appropriate insurance information. If your practice formerly used a "Secondary" insurance plan entry in your insurance plan table, you can discontinue its use.
Additionally, when you select from a list of patient policies, such as in the Correct Mistakes (oops) Insurance Status screen, you can now see the certificate number of each policy.


In some situations, this will give billers more confidence when they select a policy.
Finally, the insurance policy improvements in PCC 7.5 mean that users can no longer accidentally delete a policy that has outstanding charges pending. If you attempt to delete a policy from a patient's record, and there are outstanding charges pending the policy, Partner will tell you and not allow you to delete the policy.
Send Attachment Codes on PCC Claims
If a secondary insurance requires the EOB from the primary, or any claim requires a certificate of medical necessity, discharge summary, or other clinical documentation, you can now add attachment codes to a visit's charges, generate a unique attachment ID, and specify the attachment type and method. Attachment information will then be sent with the electronic claim.
When a claim requires an attachment, open the Correct Mistakes (oops) program and use Visit Status to select the visit's charges.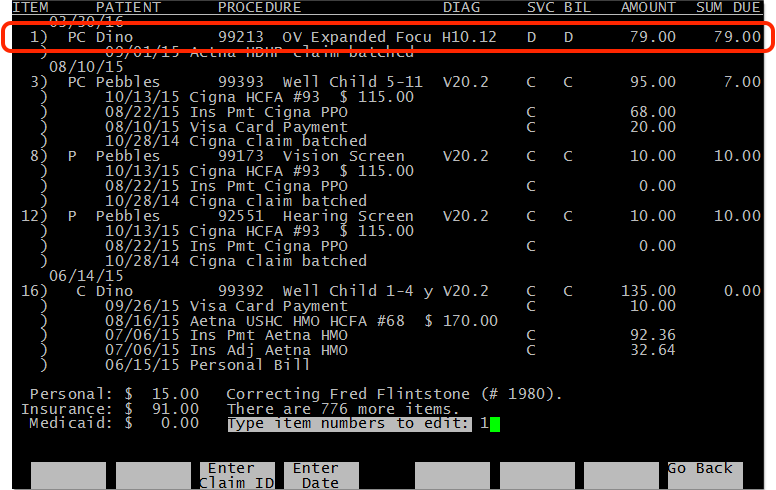 Next, press Page Down to see the claim information for the visit's charges.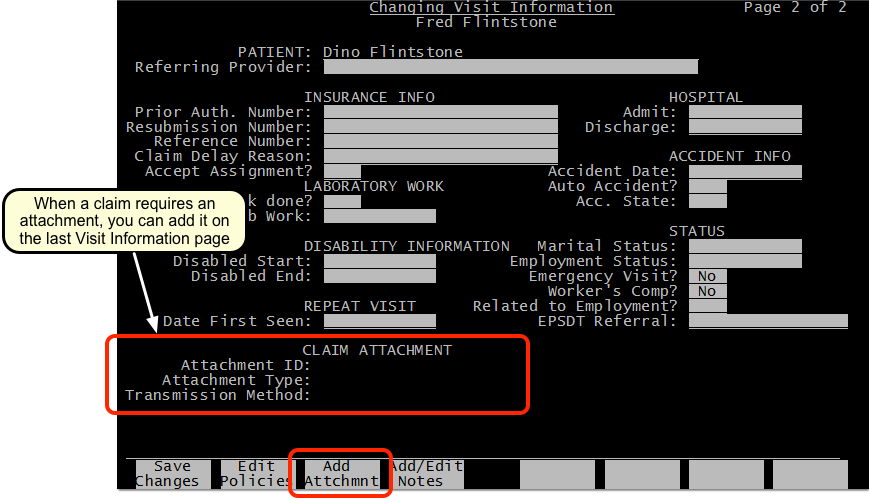 Press F3 – Add Attachment to add an attachment. PCC will generate a unique attachment ID for the selected charges, and you can declare the attachment Type and Method. If you add an attachment by mistake, you can press F3 – Remove Attachment. When you are finished, save your changes and then re-batch the charges to the desired insurance payer.
Attachment information will appear on the claim when PCC generates it, and a Claim Attachment billing message will appear in the billing history.

Single Use Only: Attachments require unique IDs. After you re-batch and generate the claim, the Partner billing system will remove the attachment ID, type, and method from the charges. You can review the information in the charge history, but if you need to resubmit the claim you will need to return to the Visit Status screen and add the attachment again.
Report on the CARC Values Used By Payers
Partner can now create reports based on CARCs and amounts.
Insurance companies send you CARC codes on EOBs to explain payments and adjustments. PCC automatically updates billing history with CARCS when you use autopip and you can enter them manually when you need to use pip.
You can create custom CARC reports with PCC 7.5, and the update also adds two predefined SRS reports: The "CARC Insurance Detail Report" and the "CARC Summary Report". To run a new CARC-based report, run srs and visit the Billing and Collection Reports section.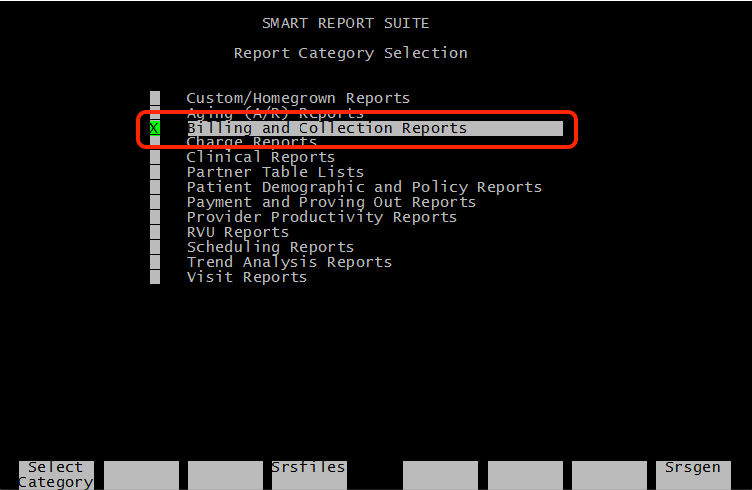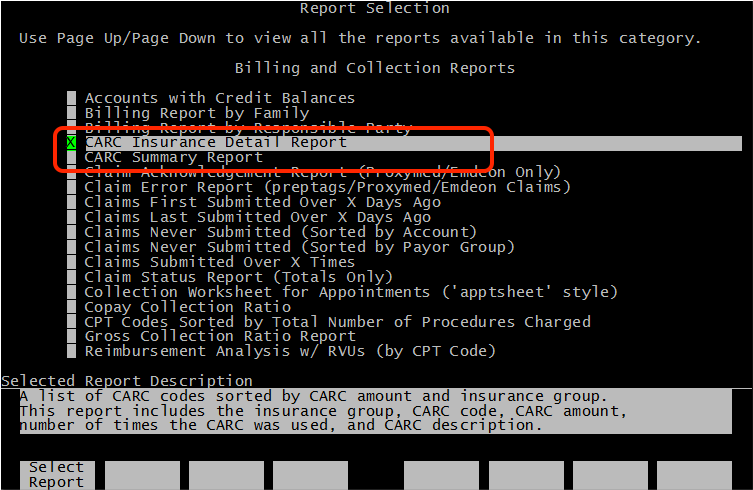 When you run a report you will be prompted for a date range, and you can add additional criteria to customize the report. The results will display CARC information and help you understand trends in payer responses to your practice.
If you would like help creating a custom SRS report that includes CARC information, or other Partner billing data, contact your Client Advocate.
2017 ICD-10 Update
PCC updates your database of ICD-10 codes and descriptions on a regular, ongoing basis to reflect the most recent code set.
PCC 7.5 updates your ICD-10 library to the 2017 code set. You can begin billing with new codes on October 1st, 2016, when the code set is officially adopted. The 2017 ICD-10 code update includes thousands of new diagnoses, it removes deprecated diagnoses, and it modifies the descriptions for some diagnoses.
As always, PCC software will intelligently implement the new code set changes. If your billers attempt to bill with a retired code, they'll see a warning when they attempt to post charges (in checkout) and the claim will be held for review before it leaves your practice (in the preptags step when you generate claims).
Read the PCC 7.5 Migration Considerations article for more details, code lists, and links to additional resources.
New Descriptions For Some of Your Billing Codes: You may notice new descriptions for ICD-10 codes that you use. For example, if you have ever coded an N10 for "Acute tubule-interstitial nephritis", you'll now see "Acute pyelonephritis" instead. In addition, many common "Newborn affected by…" codes in the "P000" range will have a new description which lacks the "(suspected to be)" text. These and other code description changes will not affect your claim billing and payment process in any way, but you may notice the difference when reviewing chart notes or billing history.
Map Codes for Billing: After your PCC 7.5 update, you may wish to review billing configuration for your diagnoses and take advantage of new ICD-10 codes. You can use the snomedmap report to review ICD-10 code changes on the codes you use, and you can open the Billing Configuration tool to configure which ICD-10 diagnoses are mapped to each SNOMED-CT description in PCC EHR.
New Reports in PCC EHR: Portal Activity, Find Lost Documents, Visits, and More!
There are seven new reports in PCC EHR for the PCC 7.5 release:
Document Modification Report: This report can be used to find scanned documents that may have been attached to the wrong patient accidentally. If Dr. Crusher attached a document to Pebbles' visit this morning, but then can't find the document in her chart, you can search for documents modified by Dr. Crusher to discover that she accidentally attached it to her brother Dino's chart. You can also use this report to find all documents in a specific document category, which can be useful when you wish to clean up unused categories.

Portal Activity for Patient: Your practice can use this report to find out which portal users have accessed a patient's records. This report can provide a legal record of patient record access, and help you research unusual activity on a patient's records.

Portal Activity for Portal User: Similar to the previous report, this will show portal activity by a specific portal user.

Patients Linked to a Portal User: Returns all patients who are attached to a specific portal user. You can use this report to determine how recently a portal user has accessed a particular patient's records.

Portal Users Linked to a Patient: This report can quickly show you who has access to a patient's records, as well as the last time those users used the portal.

Portal Message Response Time: The Portal Message Response Time report can help you track how well you are providing timely responses to patients through the patient portal (which can also be reported to NCQA).

Patient Visits by Protocol: If you need to deliver reporting to NCQA, or research protocol-specific care history, you can use this report to return patient visits based on date, provider, and protocol.
What Is the Report Library?: The Report Library appears in the Reports menu in PCC EHR. PCC 7.5 adds new and improved navigation and interface elements, making it even easier to pick the report you want, add custom criteria, and view results. Your practice's PCC EHR administrator must grant access to the Report Library in the Roles tab of the User Administration tool. More information and details on each of the reports can be found here. More reports will be added with each PCC release.
Pre-Register Users for the New PCC eRx With New User Administration Settings
A complete overhaul to PCC eRx is coming in PCC 7.6. After that update, your practice will be able to enable, configure, and disable PCC eRx access and prescribing roles without contacting PCC Support.
You can start preparing your user accounts now. To pre-register and pre-configure access to prescription tools, open the User Administration tool, find a user, and visit the new "PCC eRx – FDB Preregistration" tab: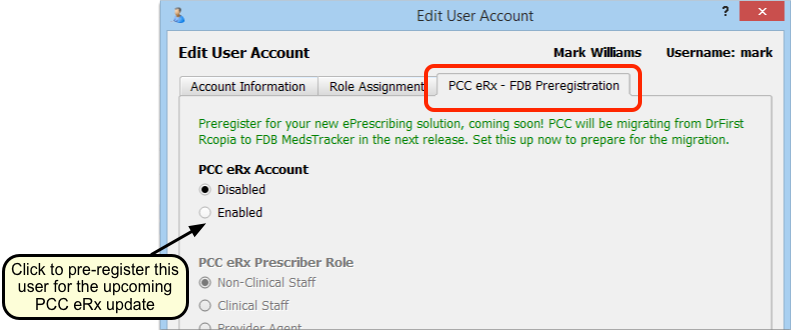 Click "Enabled" and select additional options for the user.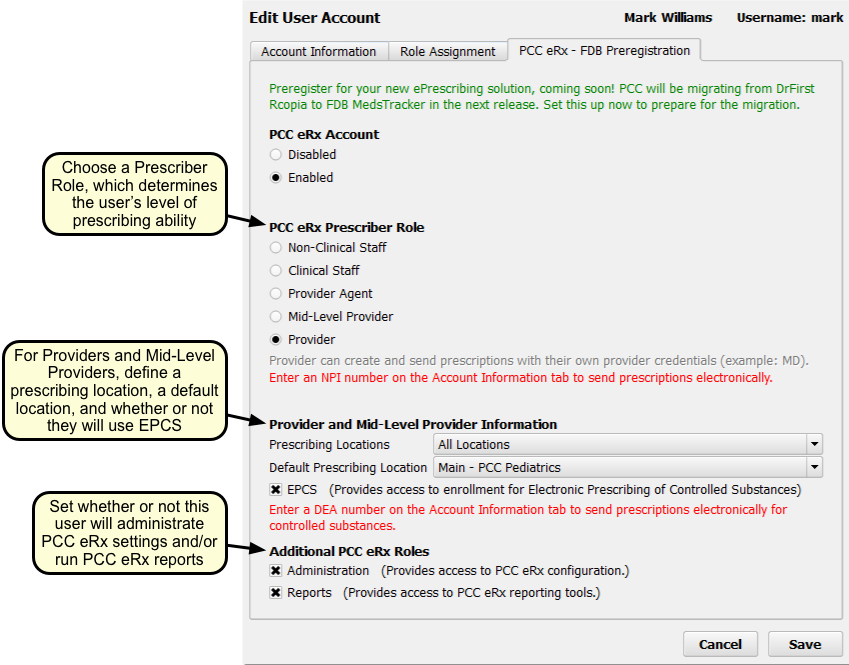 Select a Prescriber Role to set the user's prescribing ability, such as whether or not they require a supervising provider. A description will appear at the bottom of the list defining the selection you have made. Next, if the user is a Provider or Mid-Level Provider, you can set all locations they will prescribe from, a default location, and whether or not they will be using EPCS (electronic prescribing of controlled substances). Finally, you can add additional eRx user permissions for administration and reports.
If PCC EHR does not know the user's NPI, State License, or DEA identifiers, and they are required for the selections you make, you will see a warning message on the screen. You can enter that information on the Account Information tab. The State License and DEA numbers are new in PCC 7.5.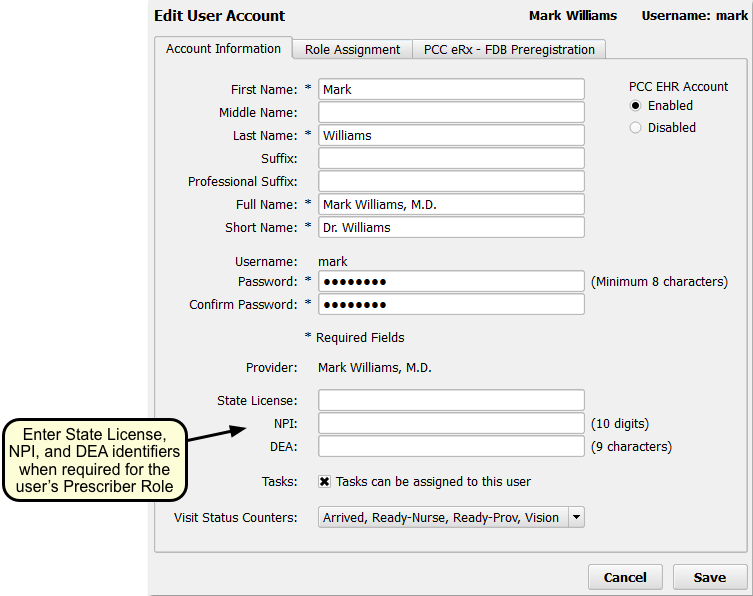 If you are working through all of your clinicians and other users and pre-registering all of them, you can track your progress in the new column on the user list in the User Administration tool.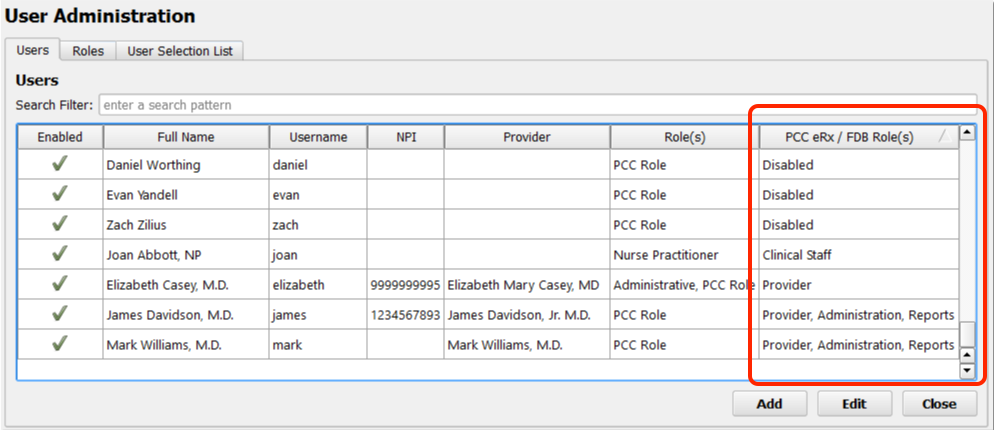 Pre-Registration Has No Effect Yet!: Your practice should use these screens to enable eRx access now. However, these changes will have no effect on prescribing or the DrFirst/Rcopia prescription solution currently available in PCC EHR. The "PCC eRx – FDB Preregistration" tab, the State Licence, and the DEA number fields will only take effect after your PCC 7.6 update.
What Else is Coming in the New PCC eRx?: To learn about all the other great new features coming to PCC eRx in PCC 7.6, you can read the ePrescribing in PCC EHR – What's New? handout.
Coming Soon: PCC EHR Appointment Book is Getting Ready For Your Practice
PCC is developing a new, visual appointment book in PCC EHR. As part of the PCC 7.5 release, we added more custom visit lengths and a user attribute for identifying providers who can be scheduled.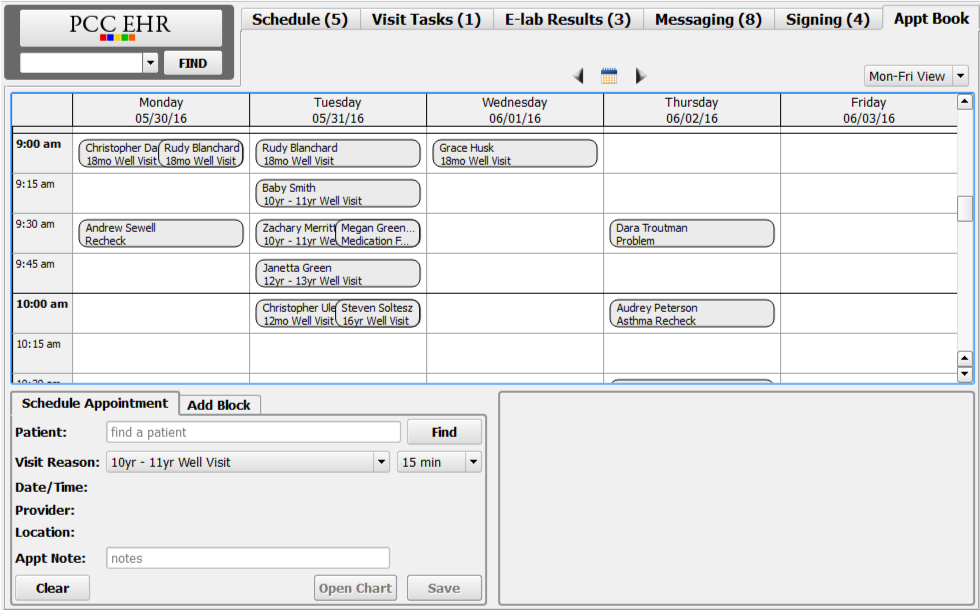 Coming Soon: The Appointment Book visual scheduler is currently in pilot testing for single-clinician, single-location practices. Stay tuned to learn more, or take a look at the Pilot Test: The Appointment Book help article.
New and Updated Interfaces Available in PCC 7.5
With each release, PCC's Interoperability team expands and updates PCC's direct connections, partnerships, and integrations with insurance payers, immunization registries, and more. Here are the interoperability updates for PCC 7.5:
New Immunization Interfaces: As part of the PCC 7.5 release, we developed new immunization registry interfaces for Ohio (OHIIS), Virginia (VIIS), Oregon (ORALERT IIS), and New York City (CIR).

New Lab Interfaces in PCC EHR: PCC developed a new lab interface with CPL (Clinical Pathology Laboratories). CPL can now send electronic test results directly to PCC EHR.

New Eligibility Interfaces: PCC developed new real-time eligibility interfaces with Care First, CMDP, Arizona IPA, QuikTrip, and WebTPA.

Updates to Immunization Forecasting: During the PCC 7.5 release period, PCC installed the latest update to immunization forecasting schedules from STC. This update improved your system's immunization forecasting schedules for Meningococcal, Hepatitis B, and Varicella, and added qualifying CVX codes for non-US DTap-Hib-IPV vaccines and new cholera, flu, and meningococcal vaccines.
If your practice would like to take advantage of these connections, or you have another interface need, contact your PCC Client Advocate.
Other Feature Improvements and Bug Fixes in PCC 7.5
In addition to the features described above, PCC 7.5 includes these smaller improvements and squashed bugs.
Gestational Age at Birth in pocketPCC: You can now review a patient's Gestational Age at Birth in their chart in pocketPCC. The new "Birth History" heading, introduced to PCC EHR for the PCC 7.4 release, appears in the Demographics section of the patient chart in pocketPCC.

Improved Diagnosis Searching By ICD-10: When you search for a diagnosis, and you enter an ICD-10 code to find a mapped SNOMED-CT description, PCC EHR will now search all assisted mapping ICD-10 codes. Formerly, it would not return expected results if two or more code specificity questions were required (laterality and episode of care, for example).

pocketPCC and Patient Portal Loading Indicator: If pocketPCC or the patient portal needs several seconds to load a file or screen, they will display a visual indicator to let you know they are working.

Improvement to Receiving Faxes in PCC EHR: Your practice can receive faxes in PCC EHR, right on the Import Documents screen. In PCC 7.5, this feature can function without a local PC in your office running intermediary software. Your PCC server can receive the faxes directly. If you use the sFax program on a Windows PC to relay faxes to PCC EHR, PCC Support will contact you about switching over to the server-based fax solution.

Eligibility Notes Attached to Visits: Partner now associates your eligibility notes with the patient's visit. Formerly, your eligibility notes were linked to an insurance policy. Now that any notes you add will be attached to the visit, they will be visible even if policy information changes. This will eliminate rare instances where eligibility notes were hidden because plan information changed.

Eligibility Checking Now More Robust: When retrieving patient eligibility information, the Partner billing system can now check by policy ID, as well as other factors. Even if a certificate number is wrong or missing, PCC can often display the correct eligibility results. On the morning after your PCC 7.5 update, you may need to re-run eligiblity for a patient if it comes back blank, as the method used for retrieval has changed.

Better Adolescent Screening Tracking on the Dashboard: PCC 7.5 adds G8431 and G8510 to the data collection for your PCC Dashboard, improving the Adolescent Screening measure calculation for practices that use those screening tools.

Updated VIS List for Hep A, Hep B, Polio, and Meningococcal: During the PCC 7.4 to PCC 7.5 release period, PCC updated your system's VIS form lists to include the latest versions of VIS forms for Hepatitis A, Hepatitis B, Polio, and Serogroup B Meningococcal vaccines. You can find the new 2016 editions of these VIS forms listed in the pull-down menu in the immunization order component.

Duplicate VIS Display Error: Under certain circumstances, the VIS line on an immunization order could appear multiple times. This will no longer occur.

Copay Amount for Primary vs. Secondary Insurance: Under certain circumstances, the copay amount for a patient's primary plan would also appear for the secondary plan. Now the secondary plan's correct copay amount will appear instead.

Dashboard Revenue-Per-Visit Score Fix: Under certain circumstances, the Revenue-Per-Visit score in the Practice Vitals Dashboard could be above 100. Offices who are amazing at achieving solid revenue-per-visit will now see a maximum score of 100.

Patient Portal School Form Download Quality: PCC patched all practices during the PCC 7.5 release cycle to improve the quality of forms downloaded from the patient portal, such as the Immunization School Form.