PCC 7.5 Migration Considerations
The PCC 7.5 release includes new features that may need extra planning, training, or configuration. Read below to learn more, and share relevant details with your physicians and staff.
Read the PCC EHR 7.5 Release Documentation for complete details on these features.
Watch a Video: Want to watch a video summary of everything in this release? CLICK HERE
Contact PCC Support at 1-800-722-1082 for information about these or any features in PCC 7.5.
Configure Diagnoses to be Hidden By Default
In PCC 7.5, you can mark any diagnosis or Problem List, allergy, or Family Medical History list item as private or "locked".
Your practice can configure any diagnosis to be hidden or "locked" by default for all patients. You can also apply the change retroactively for all historical diagnoses.
When you wish to make a diagnosis hidden by default, open the Diagnosis Configuration tool and select a diagnosis.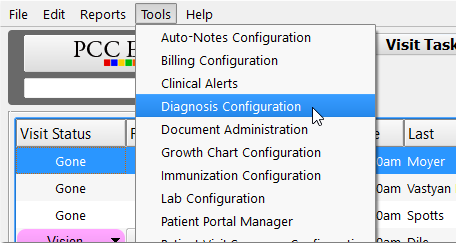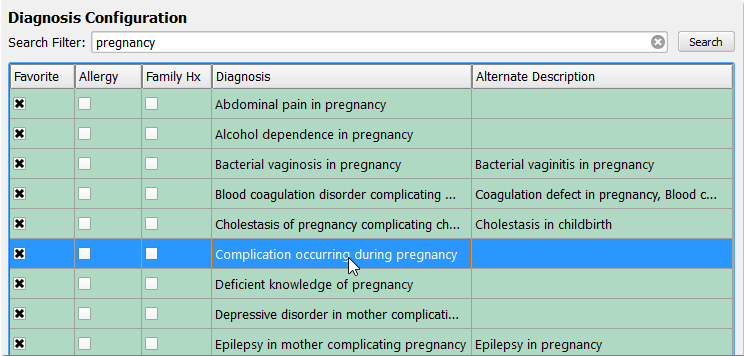 When a patient has a diagnosis somewhere in their chart, by default it is "included on patient reports" and in the patient portal. To change this default status to private, simply uncheck the "Include on Patient Reports" box. When you do this, you will see the lock next to the description close and change to red.


Hide Historical Diagnoses: When you change the default status to private, your change will apply to all future diagnoses. Existing diagnoses on patient problem lists or patient charts for past visits will still be visible. To make past diagnoses private, check the box labeled "Apply historically throughout all patient charts". This step cannot be reversed and only works one way; you cannot unlock all past diagnoses or undo this step once you have completed it. Once you click "Save", all instances of that diagnosis will be hidden from the patient portal and patient reports for all patients.
Set Your Filters for the pocketPCC Messaging Queue
The pocketPCC Messaging queue includes optional features. After your PCC 7.5 update, your pocketPCC users may wish to use the filters to customize which portal messages and phone notes will appear on their queue.
Click on the gear icon to filter the queue by task, assigned user, date, and status. If your practice uses Care Centers, you can also filter by location.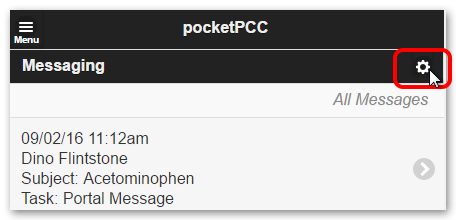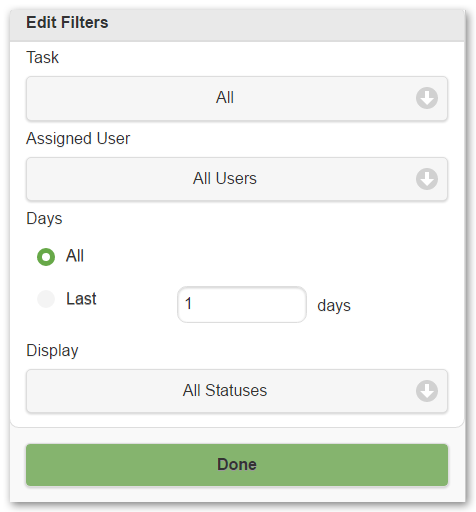 Customize Your Practice's Visit Statuses
You can now configure the visit statuses for your practice. You can add any number of statuses to the ones already in PCC EHR, and you can select a color for each status.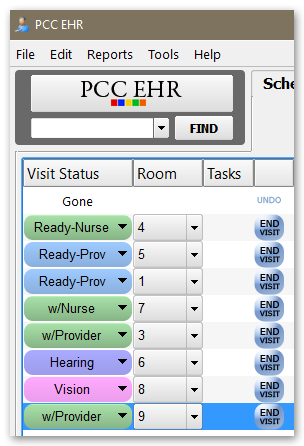 Use the new Visit Status Configuration tool to add and remove statuses. You can adjust their color and add or remove them from the Visit Status Cycle.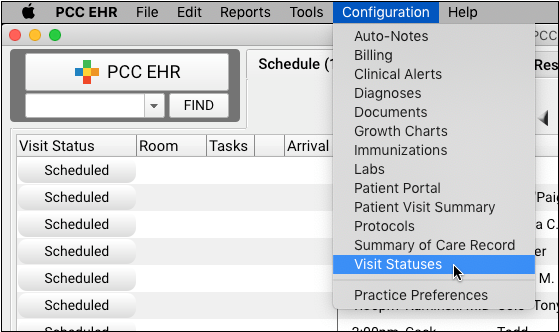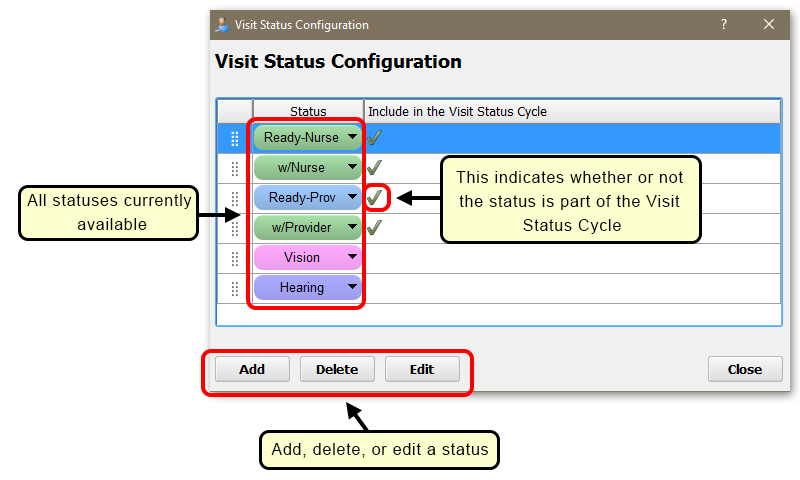 On this screen you can see all current statuses, as well as whether or not they have been selected for the Visit Status Cycle. Note that you can not edit the "Arrived" status. It is a special status that can not be changed.
Select a status and click "Edit" to make changes, or click "Add" to create a new Visit Status.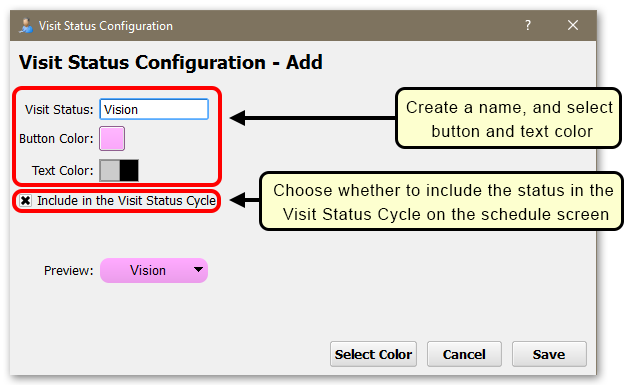 When you create a status, you can choose its name, its color, and whether or not it appears in the Visit Status Cycle.
Visit Status Cycle: The Visit Status Cycle is the sequence in which statuses appear when you click through the statuses on the schedule screen. Statuses not in the cycle can still be selected by clicking the drop-down arrow to the right of the status name.
Status Names Are Permanent: In order to prevent a situation where historic statuses are changed retroactively, you cannot change the name of a status. If you want to change the name of a status, you can delete it and then create a new one with the desired name.
You can drag and drop the statuses in the Visit Status Configuration tool to adjust their order in the Visit Status Cycle.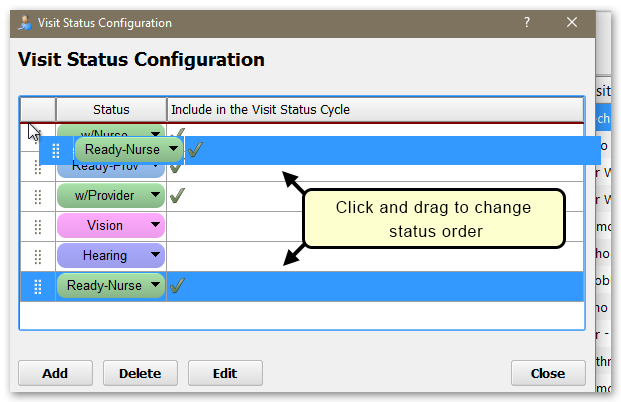 Not Care-Center Specific: Visit Status settings apply to all practices who share your PCC database.
Customize Your Visit Status Counters
After the update, your office's PCC EHR users can configure one or more Visit Status Counters, which appear in the lower-right hand corner of their screen. Your practice's system administrator can also set visit status counters up for each user.
When you want to configure your Visit Status Counters, open the My Account tool and pick which statuses you wish to track.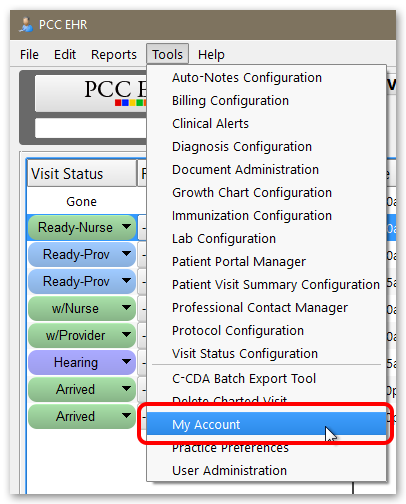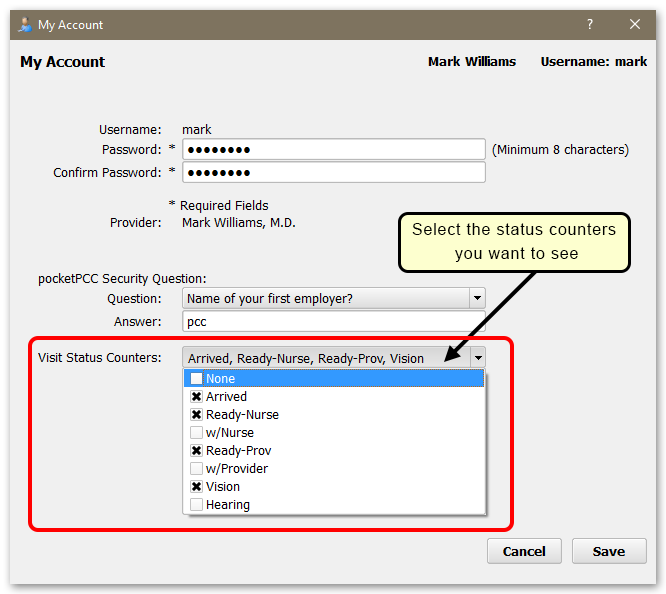 If you are the office manager or practice administrator, you can define each user's Visit Status Counters in the User Administration tool on the Information tab.
Change Your Workflow for the New Document Viewer
Prior to PCC 7.5, your practice may have used different procedures and workflow in order to review, sign, and make notes on incoming documents. Now that PCC EHR allows you to edit tags and make notes on documents from the Signing queue (and at any time you view a document), you may wish to review this workflow with your clinical and non-clinical staff and make changes.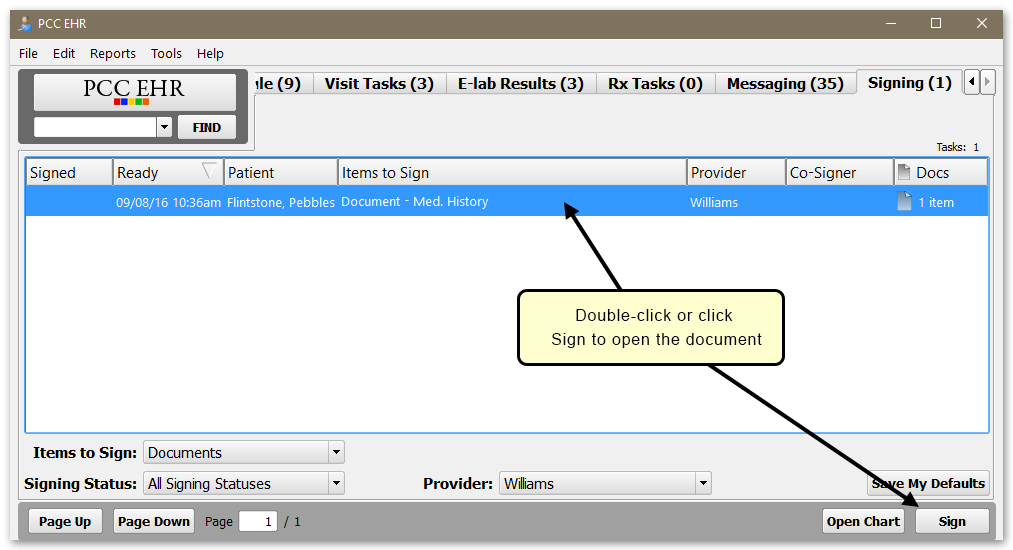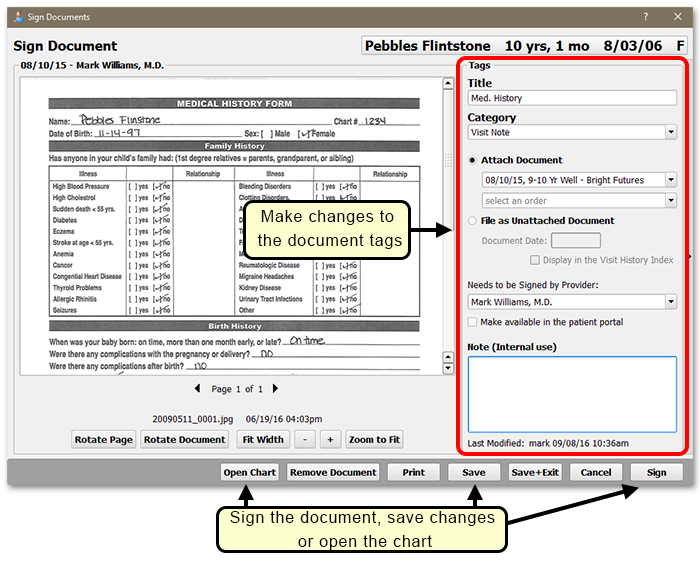 Adjust Charting Workflow for Blood Pressure on Leg
Prior to PCC 7.5, when you recorded blood pressure on a patient's leg, you would need to note that information somewhere else on the chart note. Now that "Right Leg" and "Left Leg" are on the blood pressure location list, you can change that workflow for your practice.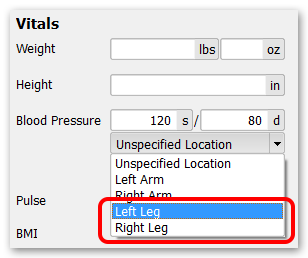 Review and Update Attributes for Users Who Are Assigned Tasks
When you need to configure whether or not a user can be assigned tasks, use the Tasks attribute on the Account Information tab in the User Administration tool.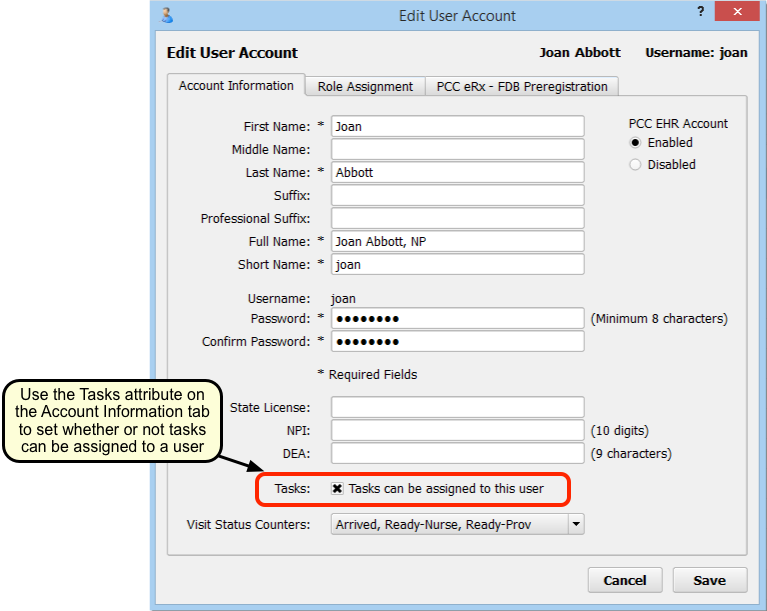 Prior to PCC 7.5, the Tasks attribute was designated by a user role. You can take this opportunity to review your user list and decide whether or not they can be assigned tasks.
What If a User Has Tasks Assigned to Them?: If you attempt to remove the Tasks attribute from a user, and they already have tasks assigned to them, PCC EHR will inform you that you need to edit those tasks before you can remove the Tasks attribute.
Inform Your Staff that PCC EHR Can Continue Working After a Temporary Loss of Your Network Connection
If you lose your network connection temporarily, PCC EHR will now attempt to reconnect to your practice database when your network connection returns.
You may wish to review this functionality with your staff so they do not click "Close PCC EHR" without giving the computer a chance to reconnect.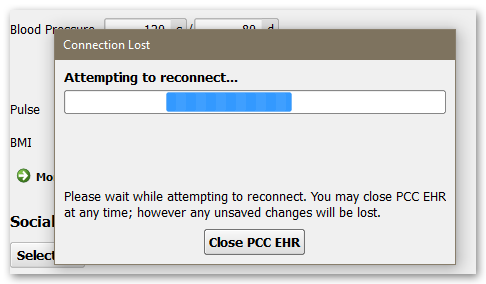 Update Your Insurance Plan Table and Double-Coverage Policy Guidelines
Patients can now have two active policies with the same insurance plan. If your practice formerly used an insurance plan entry labeled "Secondary" for a popular payer in your region, you can update your Insurance Plan table in the Table Editor (ted) and discontinue its use.
As always, when you retire table entries in Partner, it is best to mark them with a tilda (~) and leave other settings alone so that functionality or outstanding charge records are not disrupted by the change.
Set Default Values for Attachment Codes on Claims
PCC can now include attachment codes on claims. Your practice can optionally set default values for the attachment type and transmission method in the Charge and Payment Posting section of the Configuration Editor (ced). For example, if you always send attachments via regular mail, you can change the default from "Fax" to "Mail".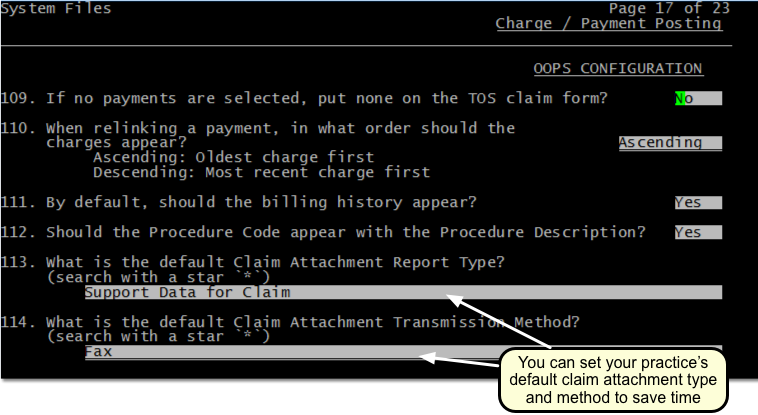 2017 ICD-10 Update
PCC 7.5 updates your ICD-10 library to the 2017 code set, which becomes the official billing code standard on October 1st, 2016.
ICD-10 Update Tip from PCC's Expert: PCC's certified pediatric coder, Jan Blanchard, has noticed many new ICD-10 codes which may be of interest to pediatricians. You can view her list by CLICKING HERE, and you can attend her monthly coding web labs to learn more and ask questions about the 2017 ICD-10 Update.
Check For Updates on Billing Codes That You Use
Your practice can also use the snomedmap report to research any changes to codes that you use. A new mapping report, "Favorite SNOMED mapped to Deleted or Modified 2017 ICD-10", will show you all of your practice's Favorites that are affected by the ICD-10 update. Since a diagnosis is marked as a Favorite once it is used, that report will give you a good overview of billing issues you may face after the October 1st update.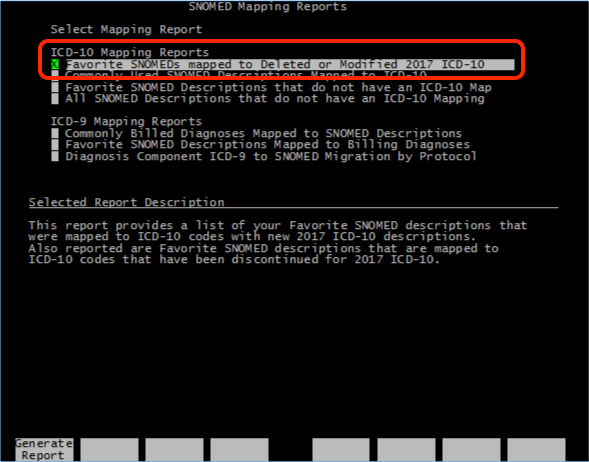 Download Lists of Revised and Deleted Codes That Pediatricians Use: In addition to the snomedmap report, PCC's certified pediatric coder has created a list of changed and deleted ICD-10 codes in the 2017 update that we know PCC's pediatric practices have used in the past year. If you are wondering if you may need to change how you bill, these lists are a great place to start: Revised ICD-10s By Usage, Revised ICD-10s By Code, Deleted ICD-10s By Usage, Deleted ICD-10s By Code. For more information, you can watch the latest Pediatric Coding Web Lab.
Update Your SNOMED to ICD-10 Billing Mapping in PCC EHR
You can use the Billing Configuration tool to adjust which ICD-10 diagnoses are mapped to the SNOMED-CT descriptions in PCC EHR.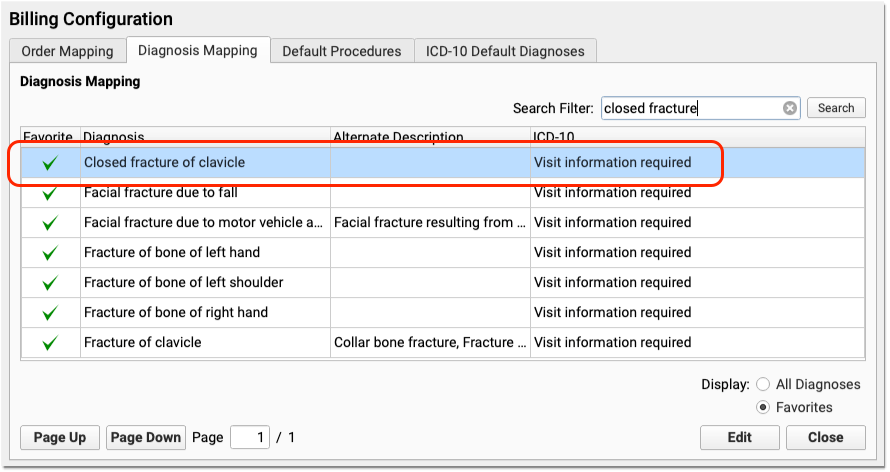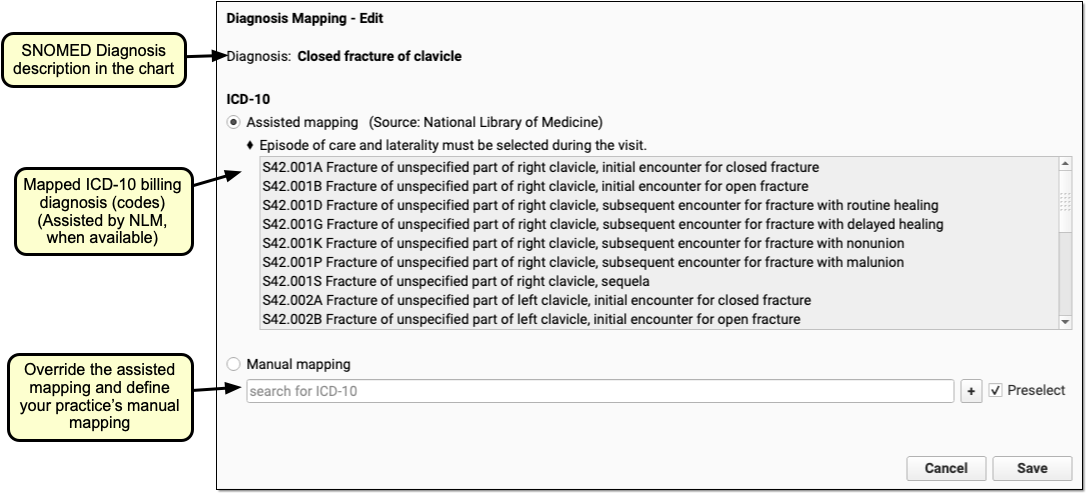 By using snomedmap and the Billing Configuration tool, your practice can review your most common billing codes that are affected by the ICD-10 update and optionally make changes to your billing mapping.
CMS Resources for the 2017 ICD-10 Update
The Centers for Medicare and Medicaid Services have created several handy resources for the 2017 ICD-10 update.
Pre-Register Users for the New PCC eRx With New User Administration Settings
Your practice should prepare all user accounts for the new PCC eRx.
Open the User Administration tool. For each user that will access a patient's chart, open their settings and visit the new "PCC eRx – FDB Preregistration" tab. Choose whether or not to Enable eRx access and set a Prescriber Role and other options.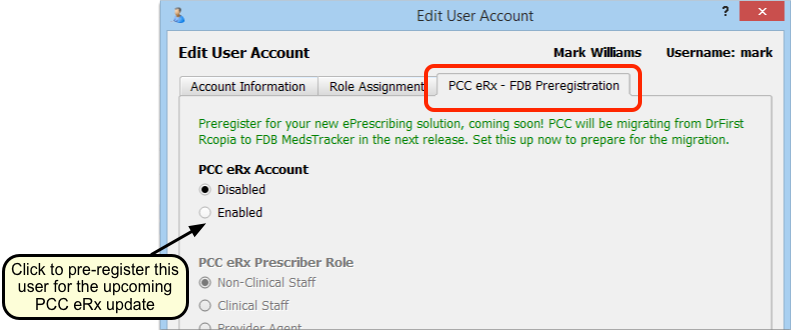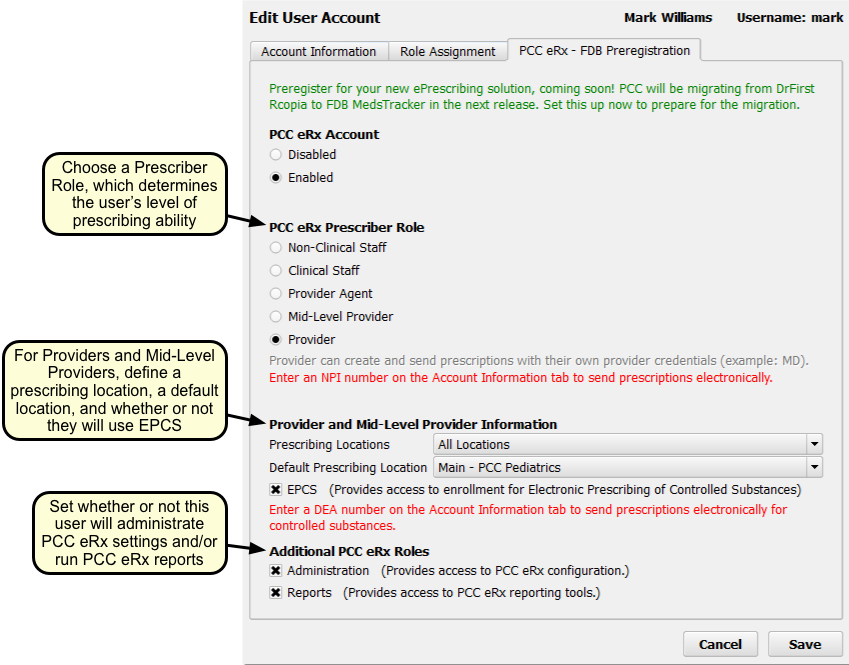 Select a Prescriber Role to set the user's prescribing ability, such as whether or not they require a supervising provider. A description will appear at the bottom of the list defining the selection you have made. Next, if the user is a Provider or Mid-Level Provider, you can set all locations they will prescribe from, a default location, and whether or not they will be using EPCS (electronic prescribing of controlled substances). Finally, you can add additional eRx user permissions for administration and reports.
If PCC EHR does not know the user's NPI, State License, or DEA identifiers, and they are required for the selections you make, you will see a warning message on the screen. You can enter that information on the Account Information tab. The State License and DEA numbers are new in PCC 7.5. If your practice is in Texas, PCC can also optionally turn on the Texas DPS identifier field.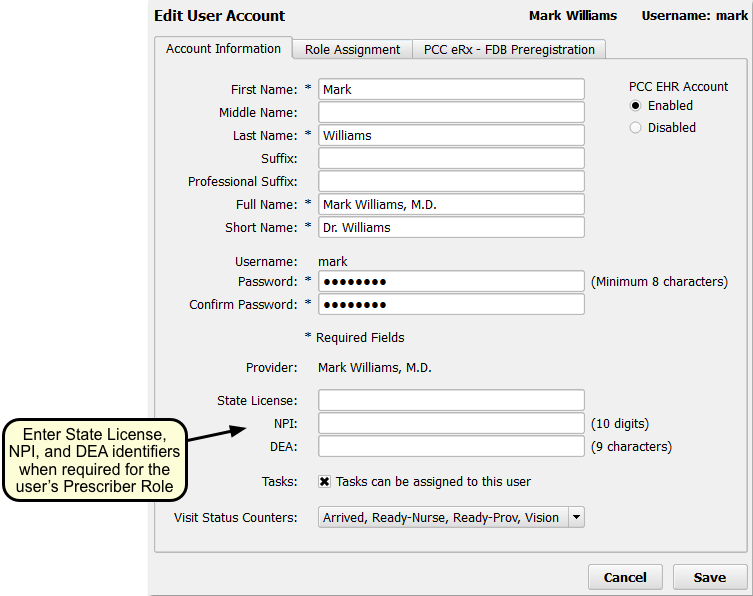 If you are working through all of your clinicians and other users and pre-registering all of them, you can track your progress in the new column on the user list in the User Administration tool.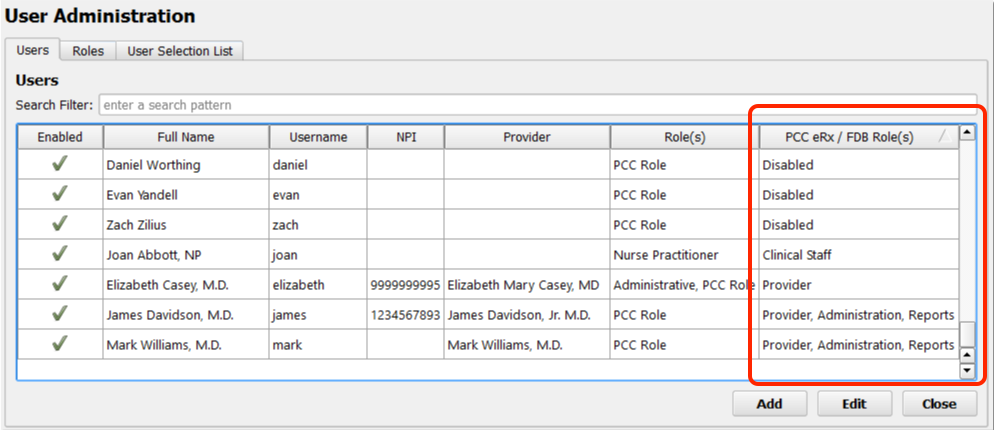 Pre-Registration Has No Effect Yet!: Your practice should use these screens to enable eRx access now. However, these changes will have no effect on prescribing or the DrFirst/Rcopia prescription solution currently available in PCC EHR. The "PCC eRx – FDB Preregistration" tab, the State Licence, and the DEA number fields will only take effect after your PCC 7.6 update.
What Else is Coming in the New PCC eRx?: To learn about all the other great new features coming to PCC eRx in PCC 7.6, you can read the ePrescribing in PCC EHR – What's New? handout.