In June of 2016, PCC will release version 7.4 of our charting and practice management software to all PCC users.
PCC 7.4 includes new diagnosing features in the chart note, customizable user lists, and the ability to send patients educational materials in the patient portal.
Watch a Video: Want to watch a video summary of everything in this release? CLICK HERE
Implementation: The new features in PCC 7.4 require configuration and user-specific software training. Read about the features below and then review PCC 7.4 Migration Considerations. CLICK HERE
Read below to learn more, and contact PCC Support for information about these new features or about any PCC product or service.
When Diagnosing, the Patient Problem List Now Appears on the Drop-Down
When you use the Diagnosis component in a chart note, all active problems are now listed at the top of the drop-down list, making it easier to diagnose an active problem.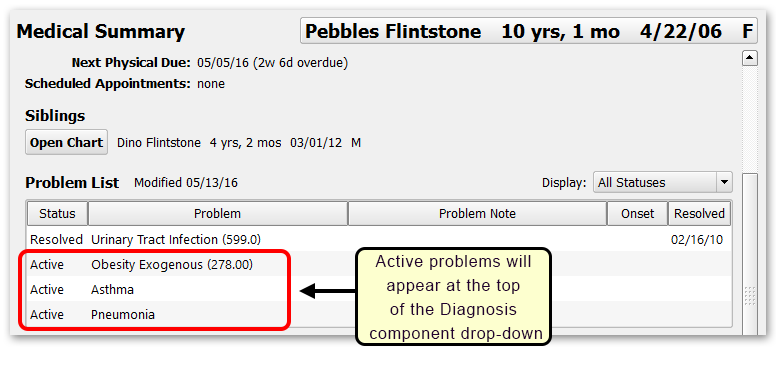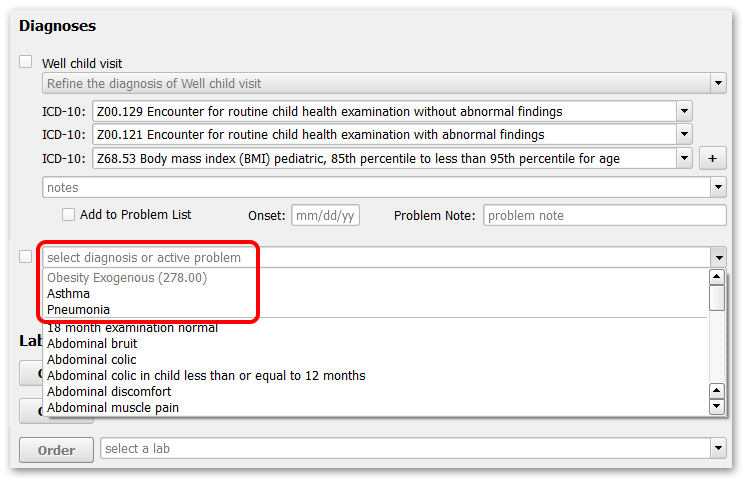 ICD-9: Problems that are coded with ICD-9 will appear on this list, but cannot be selected as diagnoses. This might be a good opportunity to go back and re-code problem list problems as SNOMED.
Customize the User Selection List
You can now customize your drop-down user lists in PCC EHR. You can adjust how the list is sorted and what version of their name appears.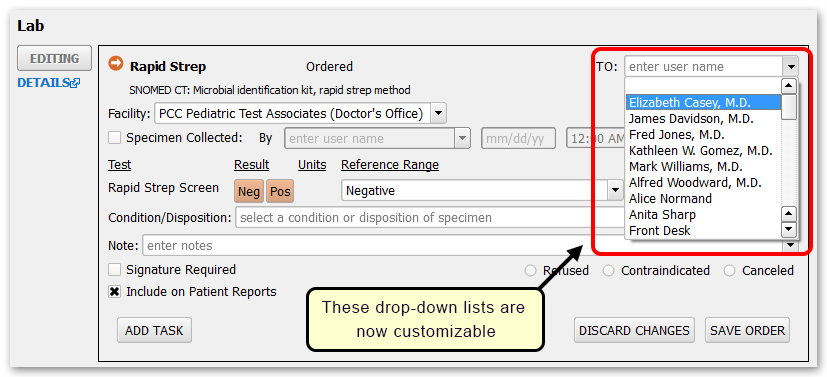 When you want to customize your practice's user selection lists, go to the User Administration tool, and select the User Selection List tab.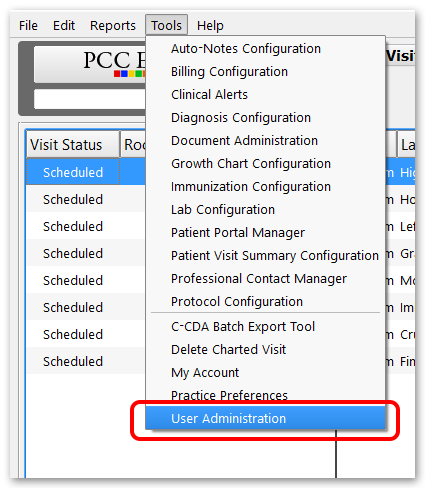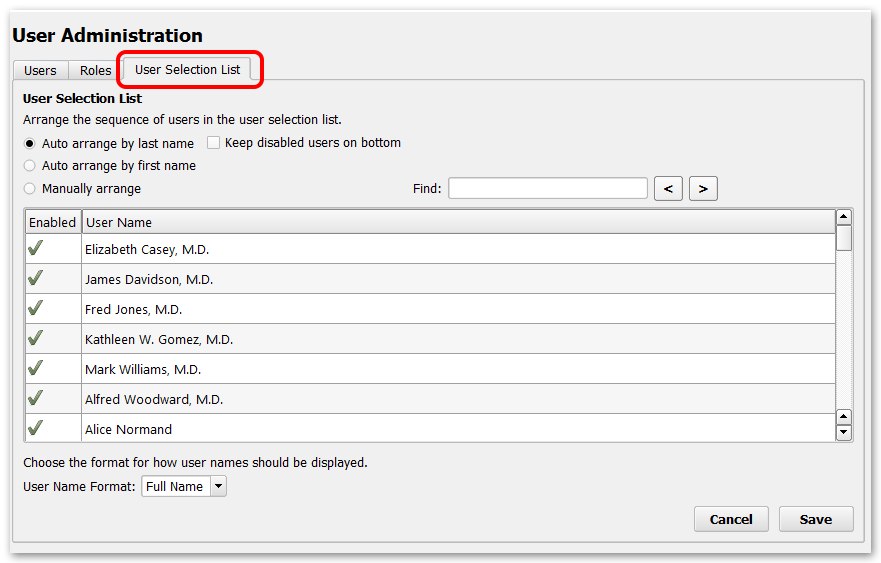 You can sort users in three ways. The first two options allow you to sort user lists by either last name or first name.
Keep disabled users on bottom: If you have disabled users that you would rather not sort through, you can force them to the bottom of either of the alphabetical sort lists by selecting the "Keep disabled users on bottom" check box.
If you would like to create your own sort order, choose the "Manually arrange" option. In this mode you can drag and drop users to appear anywhere you want in the list. You could use this to put all nurses at the top of the list, for example.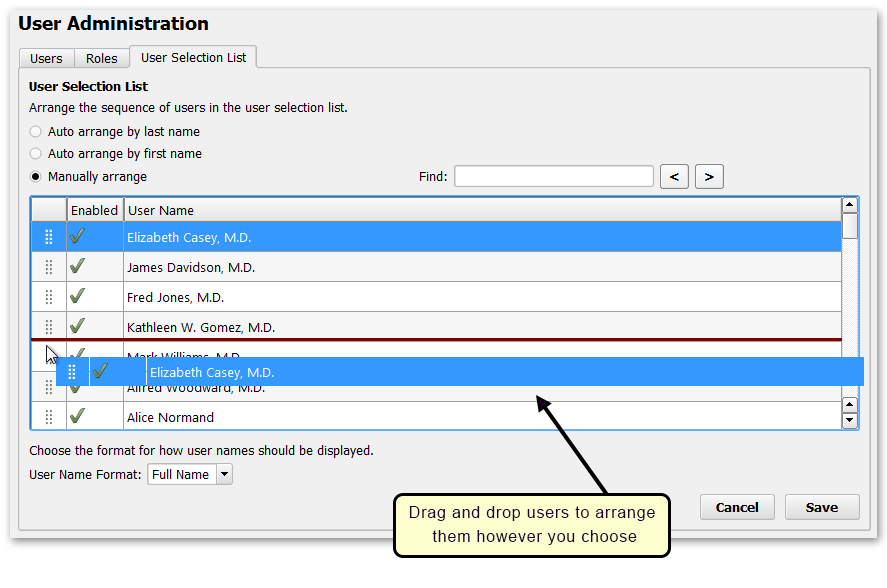 User Name Format: Use the menu at the bottom of this window to choose how you want the names in your lists to display: First Name and then Last Name; Last Name and then First Name; or Full Name. Note that the Full Name option displays the name from the Full Name field in the User Account Administration tool, which may not match the First Name and Last Name fields.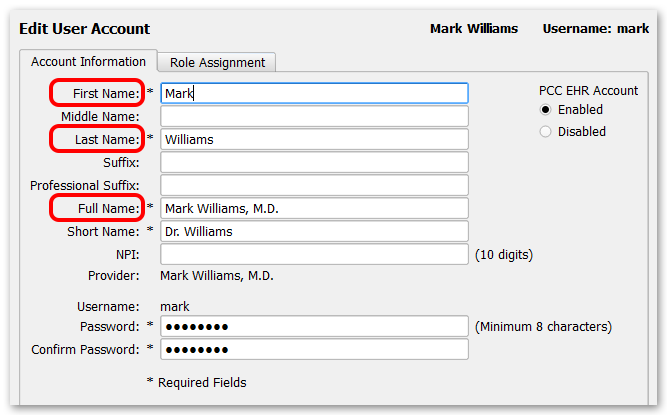 Care Centers: If you use PCC's Care Center features, you can select a unique user order for each Care Center.
Give Patients Educational Materials through the Patient Portal
If you have Patient Portal functionality turned on, you can now quickly and easily give your patients educational materials by posting them in the Patient Portal.
After you find a patient handout in the Patient Education tool (under the Reports menu), click the new Save As Document button at the bottom of the window.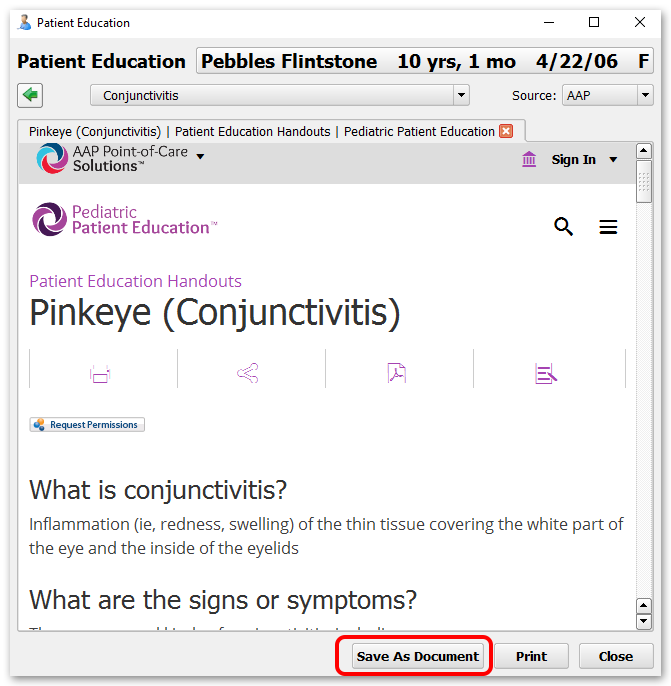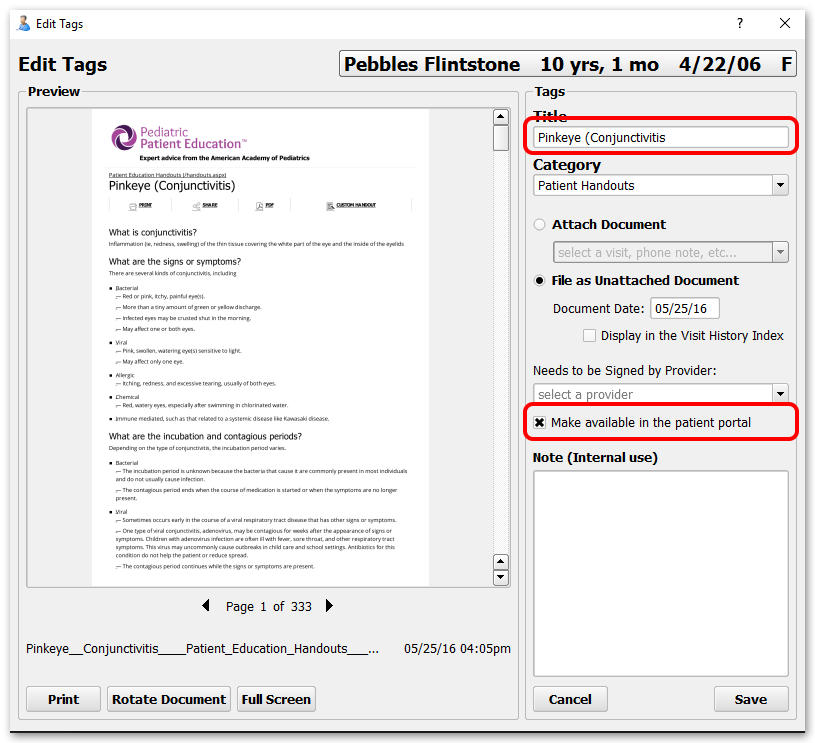 You'll then be taken to the familiar Edit Tags window. The Title field will be automatically populated with the title of the document, and the "Make available in the patient portal" option will be automatically selected. You can choose a document category and change any tags here you would like. Once you save the document to the patient's chart, it will also be available in the Patient Portal in the Documents section.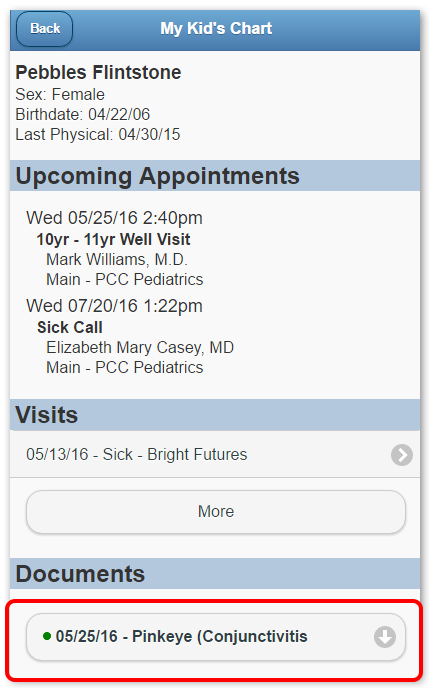 If you attached this document to a visit, portal users will also find the document within the visit.
Unread Documents: Documents appear in the Portal in chronological order. To help patients and families find new documents, all unread documents are displayed with a small green light, as in the example above. Once a user has downloaded the document once, the light disappears.
Default Category: You can set a default document category for patient education that will auto populate the Edit Tags window. You can find this in the Patient Education tab of the Document Administration tool in the Tools menu. You might want to use the Category Editor tab of the same tool to create a new category just for handouts.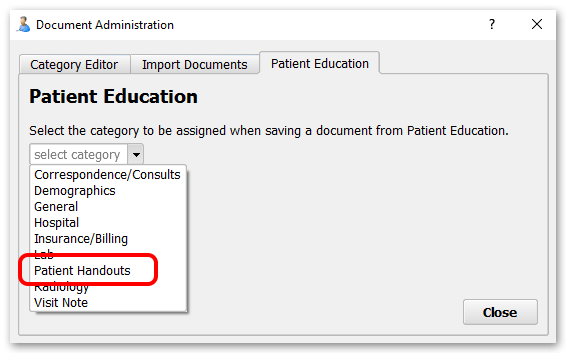 Meaningful Use: When you share educational materials through the patient portal, you satisfy Meaningful Use requirements in the same way that printing educational materials and handing them to the patient does.
Document Administration Tool
The Import Documents Administration and Document Category Editor tools have been combined with the new Patient Education tool as tabs under Document Administration.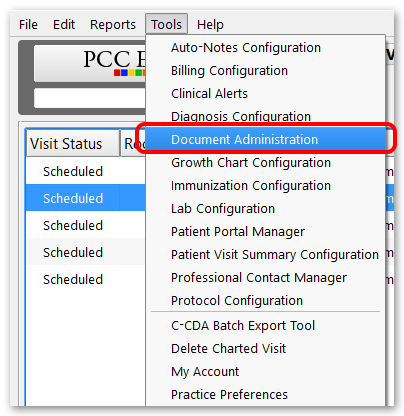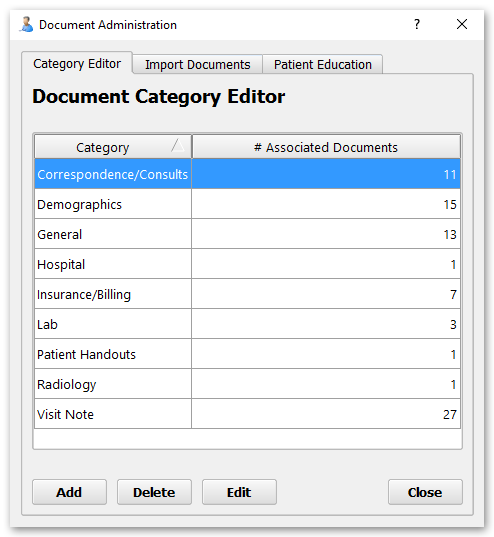 Create Lab Test Reports
You can now create a report of charted lab tests. When you want to create a lab test report, open the Lab Test Report in the Reports menu.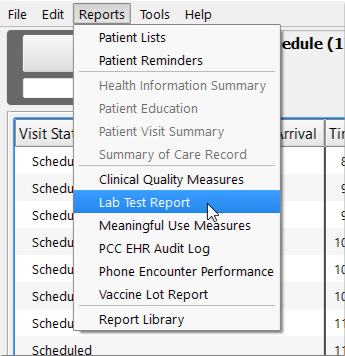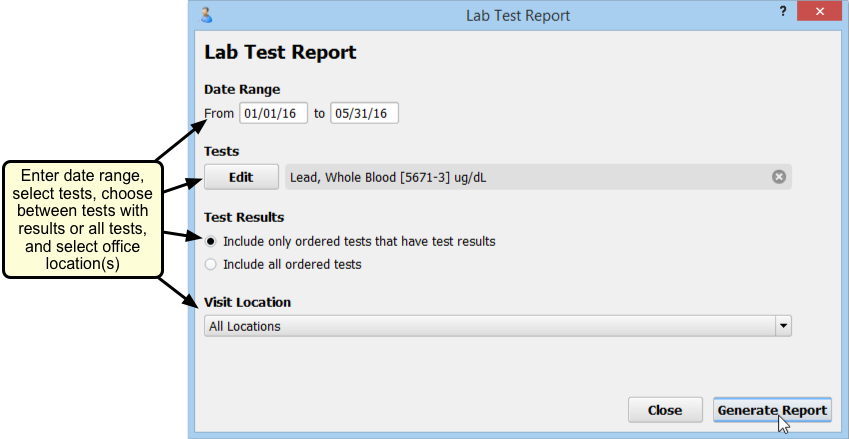 You can filter lab tests by date range, specific test(s), all tests ordered or only tests with results, and by location. Note that you can only select lab tests that you have ordered in PCC EHR at least once.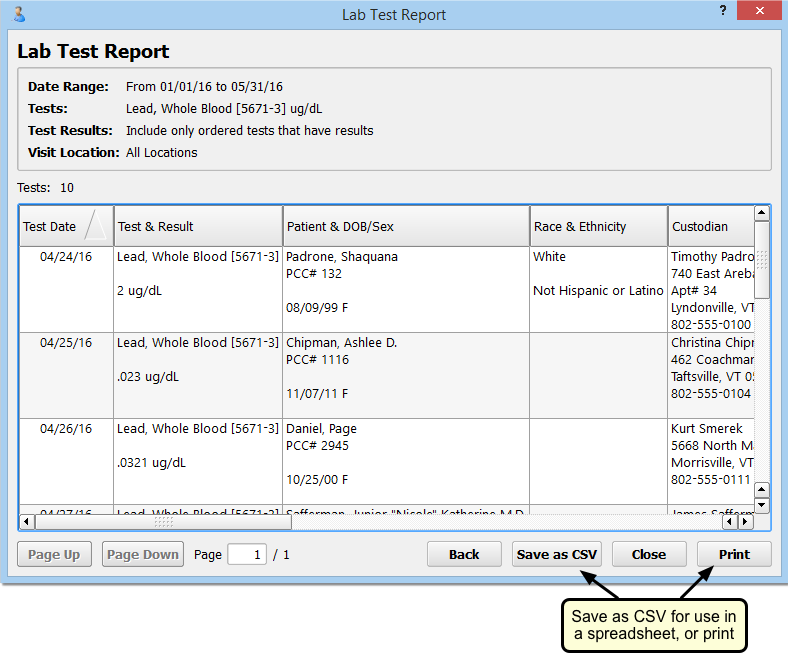 As you view results, you can scroll to the right to see complete demographic and test information. You can print or export the report for use in a spreadsheet program in order to work with data such as lead test results.
Lead Test Reports for State Submission: You can use the new Lab Test Reports feature to export information you need for lead test reporting. First, make sure your practice records lead tests using discrete lab tests. Next, run the report and select a date range and the lead tests you perform. Export the report to a CSV file and then import it into a spreadsheet program on your workstation (Excel, OpenOffice, etc.). From there, you can customize the output to match your state's requirements. For help configuring your lead tests or creating and exporting a lead test report, contact PCC Support.
Change Visit Status from Arrived to Scheduled
In the EHR, you can now reset a patient's visit status back to Scheduled from Arrived (or any other status).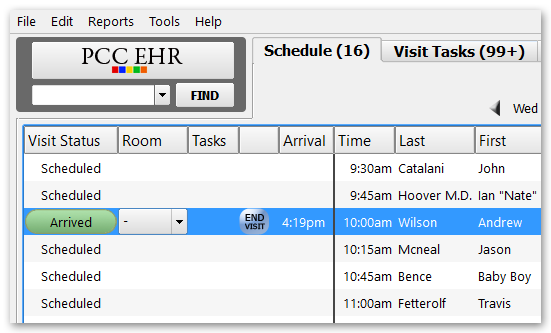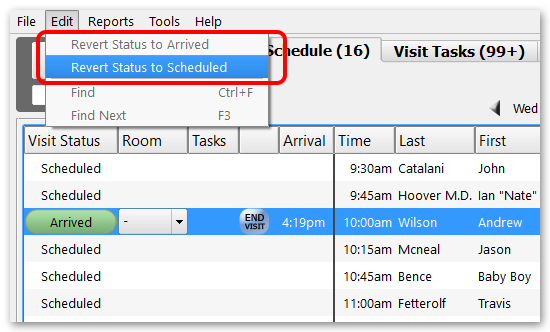 Orders Prevent Status Change: If your practice has created orders on a visit's chart note, you can not revert the visit back to the Scheduled status.
Review Patient Weight and PCP in pocketPCC
While using pocketPCC, you can now easily check patient weight, along with percentile and date taken, and the patient's primary care provider by clicking at the top of the chart. Click again to hide the information.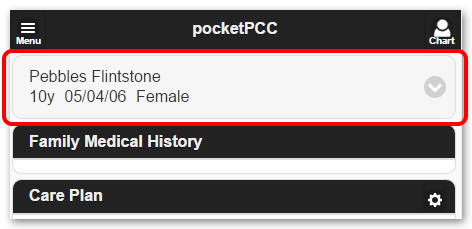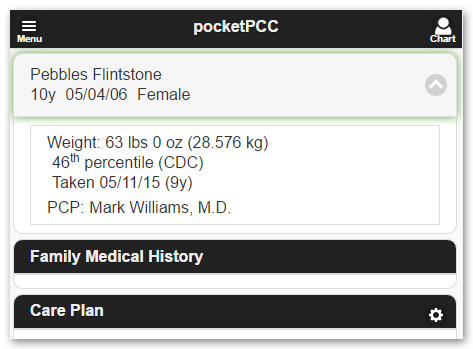 View and Edit Phone Notes in pocketPCC
You now have the ability to review and edit phone notes in pocketPCC.
To review a phone note, select Phone Note History from the chart menu.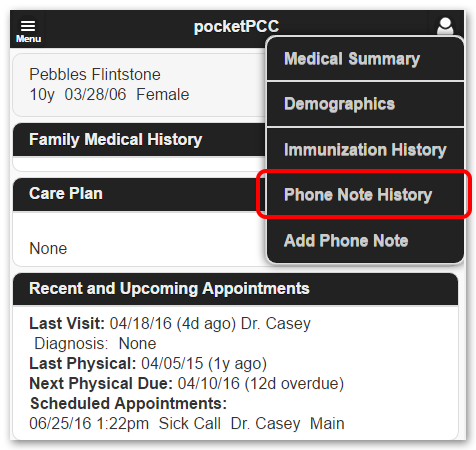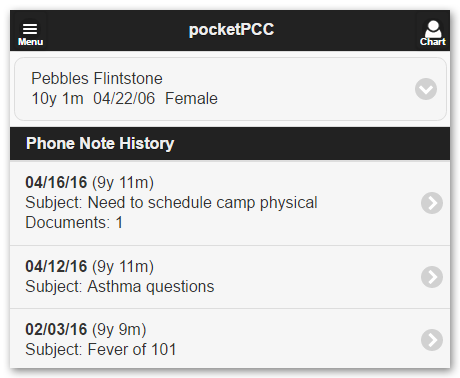 Select any note and then click Edit to make changes or add tasks.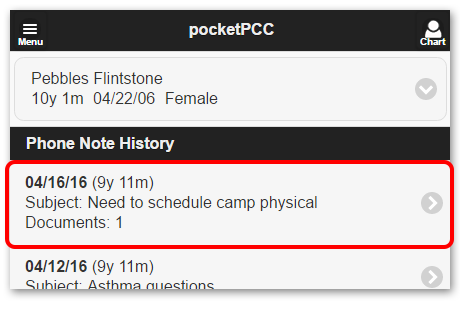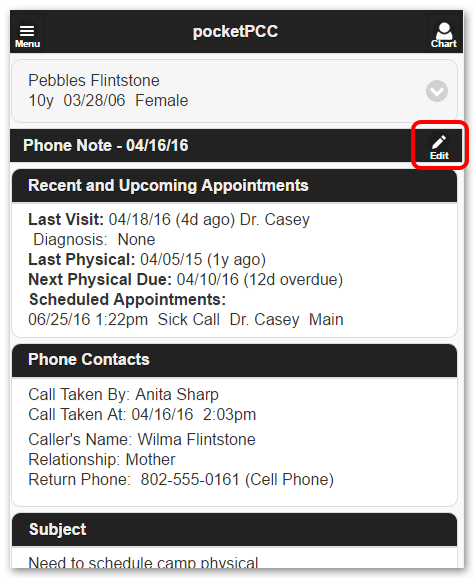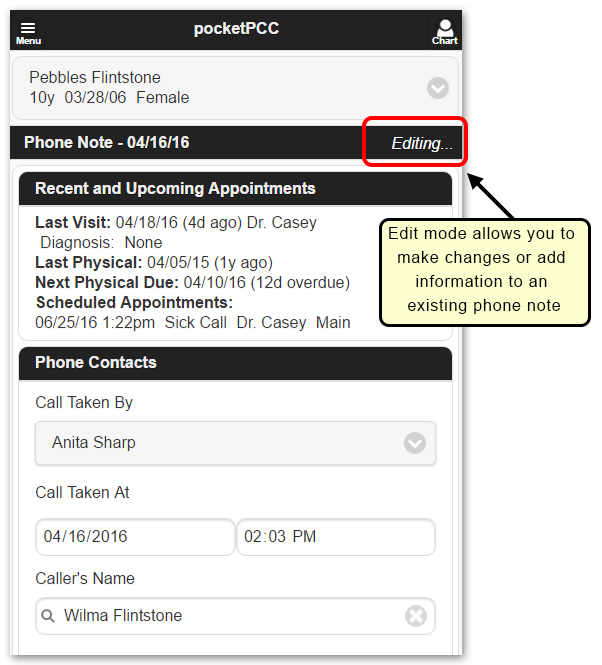 When you are finished, click Save to save your changes.
Only some components are editable in pocketPCC: Currently, the components "Contact", "Subject", "Phone Note" and "Tasks" are the only editable components in pocketPCC. If your practice uses a phone note with other components, such as History of Present Illness, those other components will appear as read-only in pocketPCC's new Phone Note History.
Read Attached Documents: As you review a phone note, you can also review any documents attached to that phone note. Note that documents attached to a phone note may contain PHI, so use appropriate precautions when you download them or view them on your mobile device.
Automatic Insurance Eligibility for All Active Plans
PCC will now check eligibility for all of a patient's active insurance plans. When a patient has a secondary insurance plan or a medicaid plan as secondary, you'll now be able to see eligibility results for that plan.
Overnight, PCC's elig program checks all active plans for patients with appointments scheduled today or tomorrow. Assuming the insurance plans support automated eligibility checking, you can see the results in the Eligibility Appointment List (elig) program.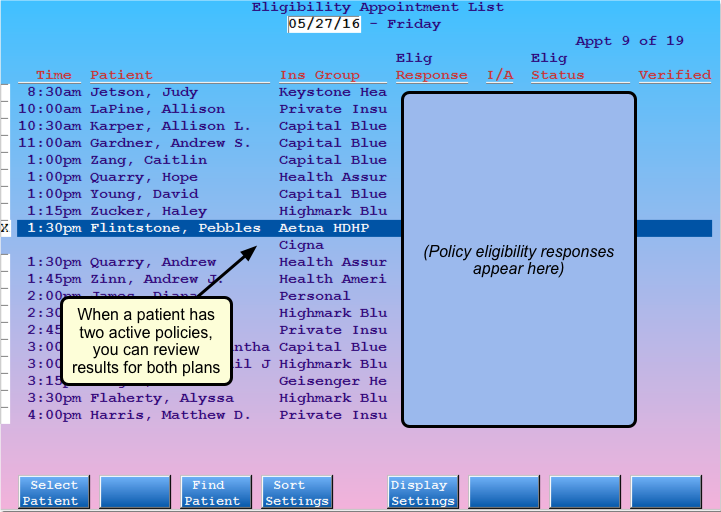 The Eligibility Appointment List will display all active plans for each patient, along with eligibility results (not shown).
Re-Check, and Check Manually: PCC automatically checks eligibility for today's appointments when you schedule them, or when you edit a patient's policy or make other changes or updates. You can manually check eligibility for any of a patient's active plans that support automated eligibility on the Eligibility page in the Patient Checkin (checkin) or Eligibility Appointment List (elig) programs.
On the Eligibility screen during patient checkin, press F8 – Next Policy to select a policy, and press F6 – Request Elig to query the selected insurance company for an eligibility report.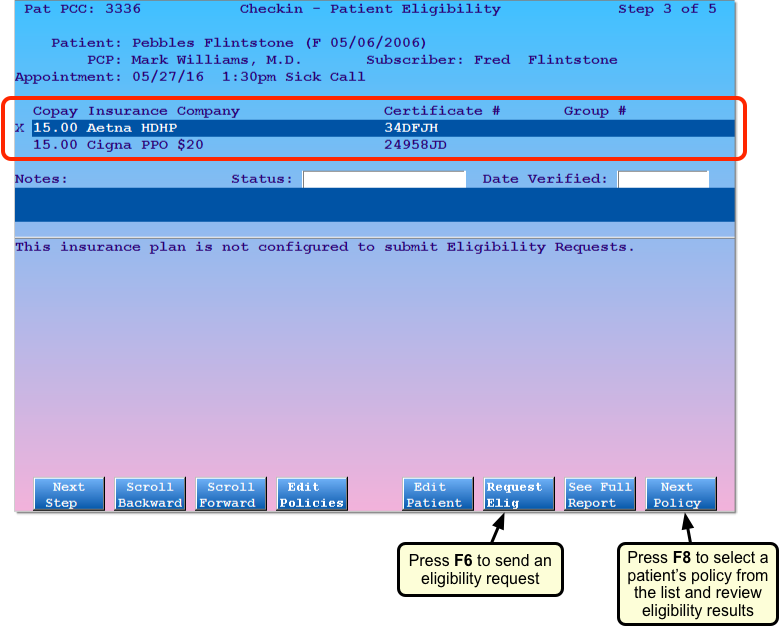 View Business Scenarios on ERAs in Partner
When you review ERAs in PCC, such as in the ERA Manual Post report, you will see a new "Business Scenarios" section, which summarize the status of a claim's charges.
The four Business Scenarios are:
Additional information required, missing/invalid/incomplete claim
Additional information required, missing/invalid/incomplete documentation
Billed service not covered by health plan
Benefit for billed service not separately payable
You will see these messages anywhere you review an ERA in PCC, such as in erareports, ecsreports, autopip's manual reports screen, and oops.
What is a Business Scenario?: Insurance payers add CARCs (Claim Adjustment Reason Codes) to your EOBs and ERAs to explain payments and adjustments. There are hundreds of CARCs. New Affordable Care Act regulations group these codes into four straightforward "Business Scenarios" which use everyday language to clarify CARCs. When you view ERAs in PCC, you will continue to see CARC codes, now with the addition of their associated Business Scenarios as well as any related CPT codes.
View Original Amount of Claim in Billing Messages
The total for the original billed amount on a claim will now appear in the claim billing message. You can review billing messages in programs like Correct Mistakes (oops) or A/R reports like Insurance Accounts Receivable Detail (inscoar).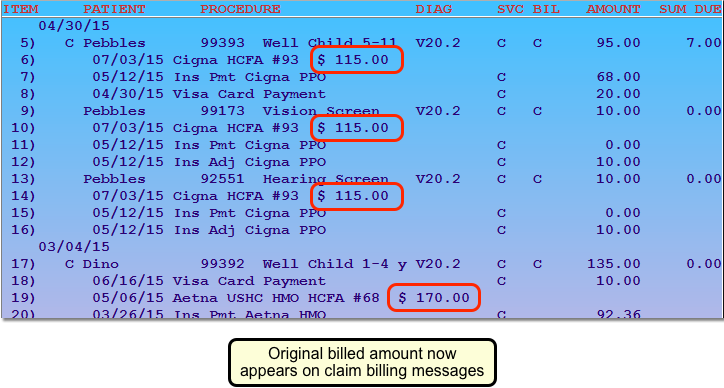 Insurance companies often require billers to identify claims by the total amount filed on the claim. This information will now be readily available to billers.
See Visit Notes in Insurance A/R Detail
You can add a visit note for any charge in the Correct Mistakes (oops) program. These notes can now be reviewed in the Insurance Accounts Receivable Detail (inscoar) report.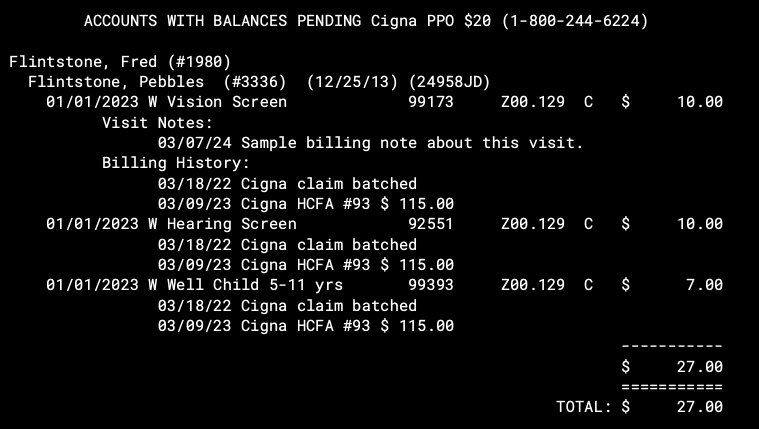 Visit notes, and any followup notes, are listed in reverse chronological order. If a visit note applies to multiple charges, inscoar will display them intelligently, showing the note only once, underneath the first charge for the visit.
Now that visit notes, along with the total original amount of the claim, are available in inscoar, your billing staff can review all the details of a claim's history as they work to collect unpaid charges.
inscoar Criteria Options Update: As part of the PCC 7.4 updates to inscoar, you can configure whether or not visit notes appear on the report's criteria screen. PCC 7.4 also updates criteria descriptions to be clearer and changes the report's default behavior so it will no longer show the list of insurance plans with no outstanding charges. If you use inscoar already, you can adjust your criteria manually on the first screen.
New Fluoride Varnish Dashboard Measure
The Practice Vitals Dashboard now includes a measure for tracking application of Fluoride Varnish.
The AAP's Bright Futures Guidelines recommend the application of fluoride varnish to all children every 3-6 months once teeth are present through age 5. For active patients 1-5 years old with a well visit in the past year, this new measure tracks how many of those patients also had a recommended fluoride varnish application billed with CPT code 99188 or D1206 within the last year. See how you measure up to other PCC clients and also see a breakdown of your performance by age and insurance group.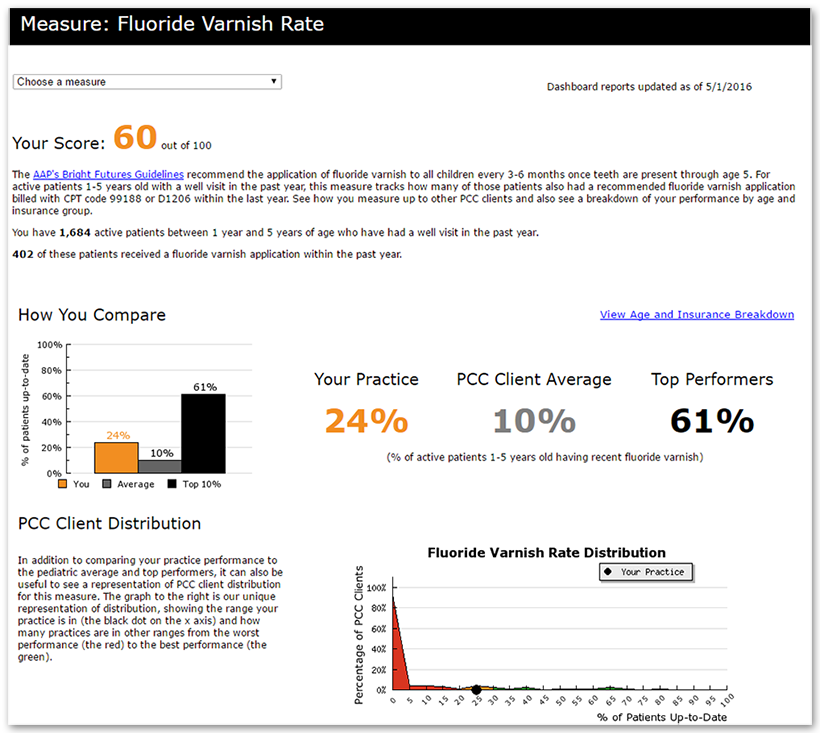 This new dashboard measure does not affect your practice's Clinical Pulse.
Adjust Your Coding: You may wish to adjust your order configuration and billing for the fluoride varnish procedure. Read the PCC 7.4 Migration Considerations help article for more information.
PCMH: If you are considering achieving PCMH Recognition with the NCQA, you can use this preventive care measure data to show you are capturing clinical quality measures for element 6A.
SNOMED Updates
PCC updates our database of SNOMED descriptions on a regular, ongoing basis to reflect the most recent code set.
The PCC 7.4 update adds almost 2000 new diagnoses and other clinical terms, and it removes deprecated diagnoses. PCC's certified coder, Jan Blanchard, chose 265 new descriptions for pediatric offices which will be added to your practice's default Favorites list. New clinical terms include specialty descriptions for pediatrics and Meaningful Use.
Map New Favorites for Billing: After your PCC 7.4 update, you may wish to review billing configuration for new SNOMED diagnosis descriptions. Use the Billing Configuration tool to configure which ICD-10 diagnoses are mapped to each SNOMED-CT description. Read the PCC 7.4 Migration Considerations document for more details.
New Report Library in PCC EHR
PCC is developing a new report library for PCC EHR. For the PCC 7.4 release, we created and installed the infrastructure and interface that will support new reports, and we created two initial reports on patient portal usage.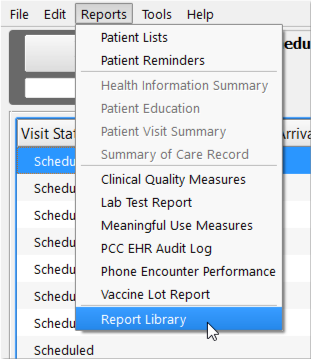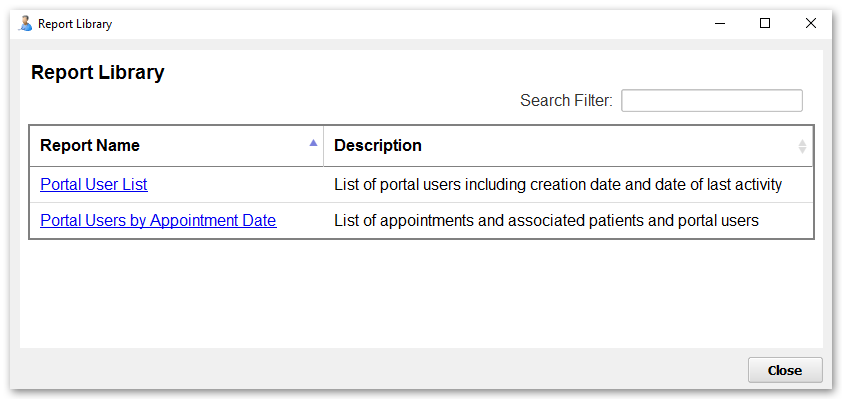 The new Report Library is available in PCC EHR under the Reports menu, but your practice must grant access to the Report Library in the Roles tab of the User Administration tool.
Details on each of the reports can be found here. More reports will be added with each PCC release.
Coming Soon: PCC EHR Appointment Book Re-Enters Active Development
The Appointment Book visual scheduler is currently in pilot testing for single-clinician, single-location practices.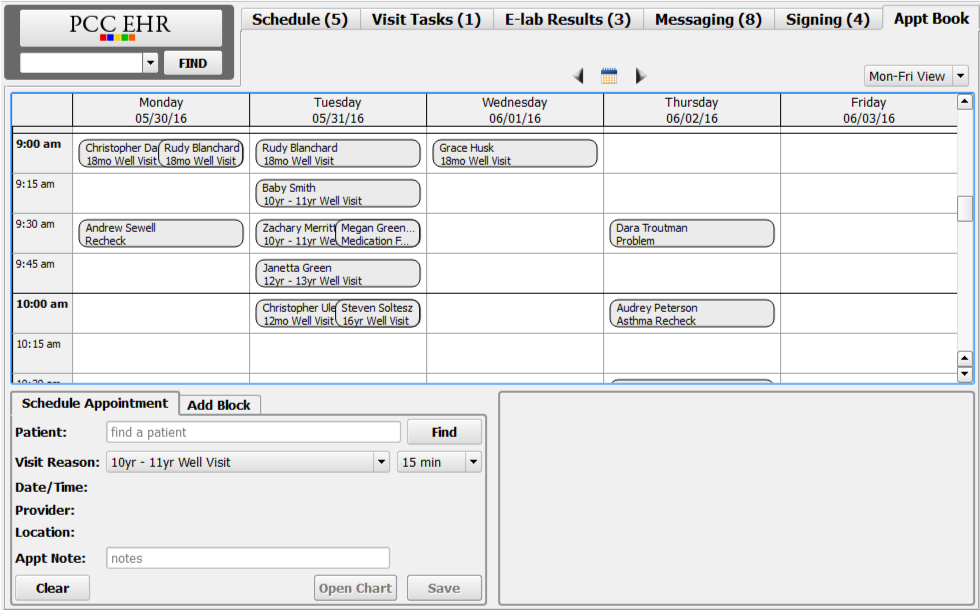 As part of the PCC 7.4 release, the Appointment Book has re-entered active development. It now follows practice hours, and a practice can set custom hours for the scheduling provider.
Stay tuned to learn more, or take a look at the Pilot Test: The Appointment Book help article.
Coming Soon: New ePrescribing Solution
PCC is working on developing the infrastructure for a new ePrescribing solution which we plan to roll out later in 2016.
We will begin sharing details of the new eRx solution beginning in July.
Pilot Test: Partner Terminal Access in PCC EHR
The PCC EHR Partner terminal window continues pilot testing in client offices for the PCC 7.4 release.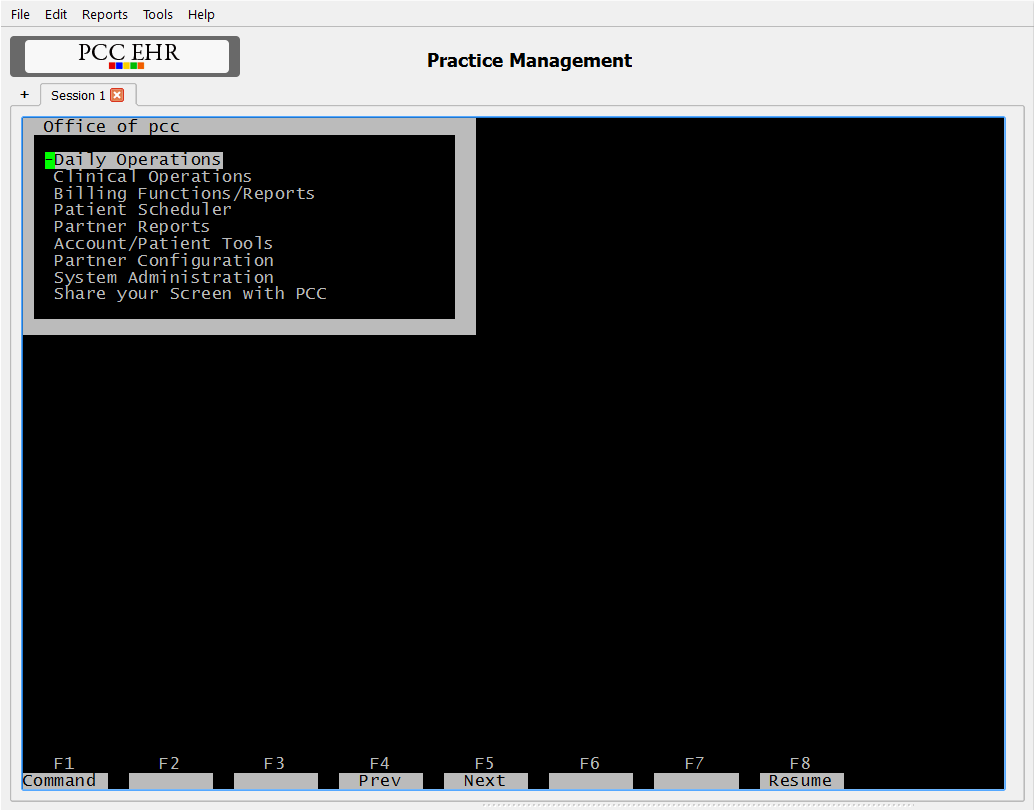 A few offices are testing this feature, and we will announce it again when it is available for all practices. Stay tuned to learn more, or take a look at the Pilot Test: Practice Management Inside PCC EHR article.
Other Feature Improvements and Bug Fixes in PCC 7.4
In addition to the features described above, PCC 7.4 includes these smaller improvements and squashed bugs.
New Immunization Interfaces: As part of the PCC 7.4 release, we developed new immunization registry interfaces for Maryland, and Pennsylvania and we updated our Utah, Washington, Georgia, and New Jersey state interfaces. Contact PCC for help getting an interface set up with your state's immunization registry.

New Lab Interfaces in PCC EHR: As part of the 7.4 release, PCC added two new lab interfaces for electronic lab test results. ACL Laboratories and SVMC (Southwestern Vermont Medical Center) can now send electronic test results to PCC EHR.

New Eligibility Interfaces: As part of the PCC 7.4 release, PCC developed new real-time eligibility interfaces with Community Health Plan of Washington, Aetna Better Health of Missouri, and Aetna Better Health of Kentucky.

Updates to Immunization Forecasting: During the PCC 7.4 release period, PCC is installing the latest update to immunization forecasting schedules from STC. The latest update includes minor improvements to Hib dose 3 and Hepatitis B dose 4 forecasting results. During this period we also fixed a "Forecast Vaccine Family" error that some PCC users encountered for Meningococcal B forecasting.

New Save/Discard Prompt in pocketPCC: If you attempt to navigate to a new page within pocketPCC after adding or editing a note, you will be prompted with a dialog asking you to save, cancel navigation to the new page, or discard your work.

Portal Account Email Link Update: Messages to new portal users will now contain the "https://" portion of the portal url, so that those who copy and paste the link text will not receive an error message.

Performance Improvements to Queues: PCC EHR now only refreshes the Schedule screen when a change would be relevant to a user based on their chosen filters. PCC can also now tune a practice's queue refresh rates, such as how often your Schedule screen refreshes, in order to accommodate a slow network connection and improve server performance.

Audit Log Improvement: User access of a chart's confidential notes, which has always been logged in PCC EHR, is now displayed in the PCC EHR Audit Log.

System User IDs: In order to accommodate new operating system requirements, PCC has adjusted the pcc user identification number. You may see the user "polkitd" on certain reports that display a username. The polkitd username is part of your system functionality and you may safely ignore it. It indicates work done by PCC Support on your system. Please contact PCC Support if you have concerns.

PDF Report Patch: A recent operating system update caused PDF printing of Partner reports to format incorrectly. PCC patched this functionality on your system between the PCC 7.3 and PCC 7.4 releases.

Charges Not Sent to a Secondary Insurance Fix: Under certain rare circumstances, when a single charge was fully paid and other database conditions were present, charges that should have been automatically batched to a secondary insurance were not. This no longer occurs.

Click to Expand Tabular Data in Growth Charts: PCC 7.4 expands the clickable region for viewing the tabular data under growth charts which was reduced during the PCC 7.2 release.

User Selection in PCC EHR Audit Log: When you select criteria in the PCC EHR Audit Log tool, you can now click "Select All" and "Select None" buttons to more quickly choose users.

Immunizations Lot Manager Adjustment: Under certain circumstances, a user could accidentally mark all immunization lots as depleted in the Immunization Lot Manager if they leaned on the space bar or the space bar was stuck. This is no longer possible.