PCC 7.4 Migration Considerations
The PCC 7.4 release includes new features that may need extra planning, training, or configuration. Read below to learn more, and share relevant details with your physicians and staff.
Read the PCC EHR 7.4 Release Documentation for complete details on these features.
Watch a Video: Want to watch a video summary of everything in this release? CLICK HERE
Contact PCC Support at 1-800-722-1082 for information about these or any features in PCC 7.4.
Customize Your Practice's User Selection List
After your PCC 7.4 update, you can open the User Administration tool and edit your practice's User Selection List.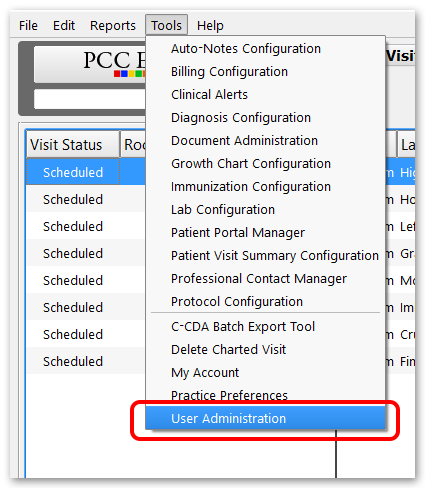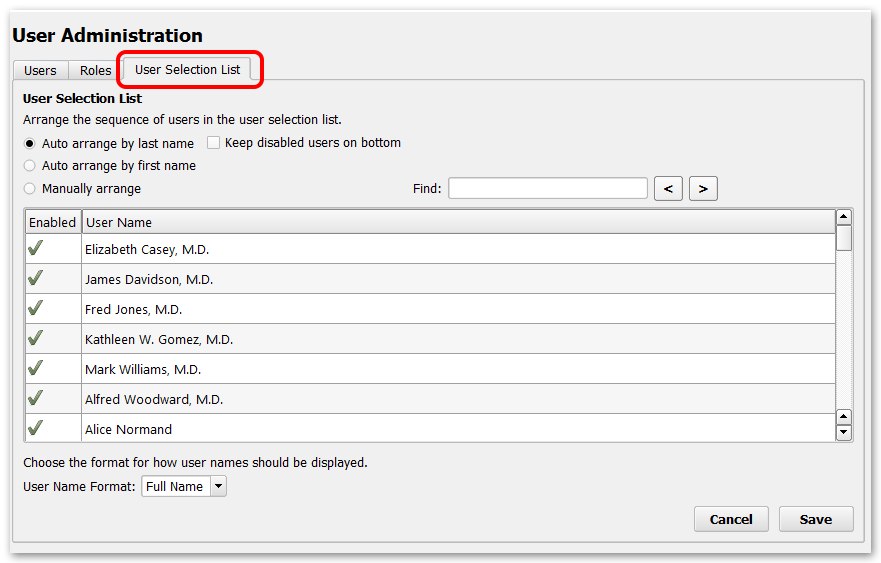 First, choose whether you wish to sort by last name, first name, or create your own custom sort order. If creating your own custom order, click and drag users into the order you prefer.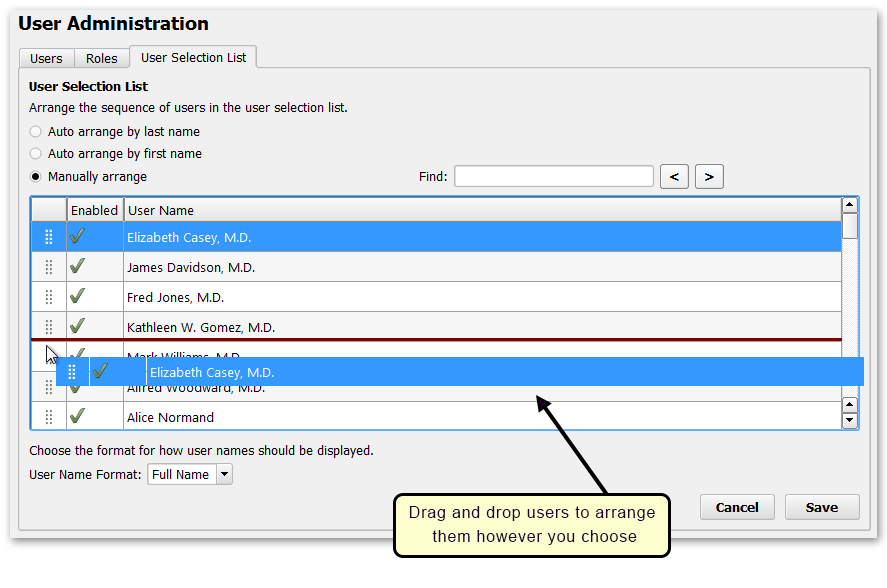 Keep disabled users on bottom: If you have disabled users that you would rather not sort through, you can force them to the bottom of either of the alphabetical sort lists by selecting the 'Keep disabled users on bottom' check box.
User Name Format: Use the menu at the bottom of this window to choose how you want the names in your lists to display: First Name and then Last Name; Last Name and then First Name; or Full Name. Note that the Full Name option displays the name from the Full Name field in the User Account Administration tool, which may not match the First Name and Last Name fields.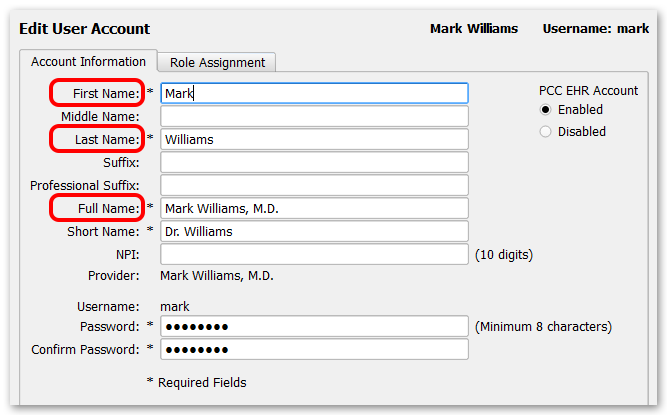 Care Centers: If you use PCC's Care Center features, you can select a unique user order for each Care Center.
Remove Naming Work-Arounds: If your practice inserted letters or numbers into the user name fields in order to maintain a custom order, you can now adjust those names back to normal.
Create a Custom Document Category and/or Set a Default Category for Educational Materials
If you will be saving handouts to a patients chart, especially in order to share them through the patient portal, you may want to create a new Document Category in PCC EHR for storing those handouts. You can also set that category as the default to save time when saving a new handout.
Open the Document Administration tool in the Tools menu to make changes.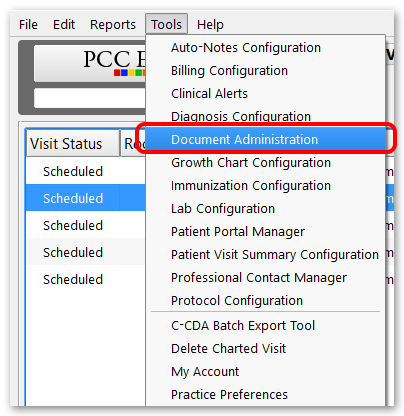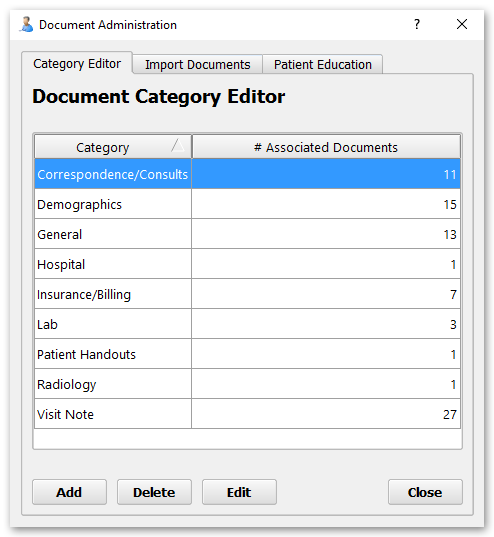 On the Category Editor tab, you could create an "Education" or "Shared Handouts" category for educational materials you save to a patient's chart.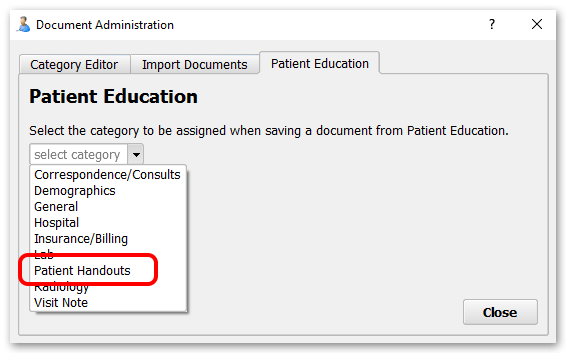 On the Patient Education tab, you can set which category will be selected by default when you save educational materials.
Set Permissions for Document Administration: You can grant or block access to the new Document Administration tool for specific user roles in the Roles tab of the User Administration tool.
Configure Your Lead Test Lab Order and Chart Notes for Reporting
If your practice plans to use the new Lab Test Reports feature to export lead test records for state reporting, you need to record lead tests as discrete lab tests with results.
Before or after your PCC 7.4 update, check that you have a lead lab order configured with appropriate LOINC lab tests. You can also configure your chart note protocols to include your lead test order, making it easier for clinicians to order and enter results.
Set Permissions for Report Library
To access the new report library in PCC EHR, you must have permissions set for your role.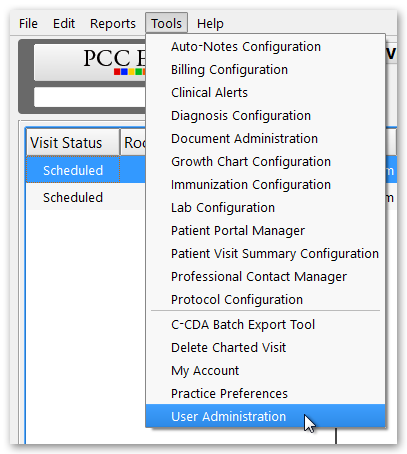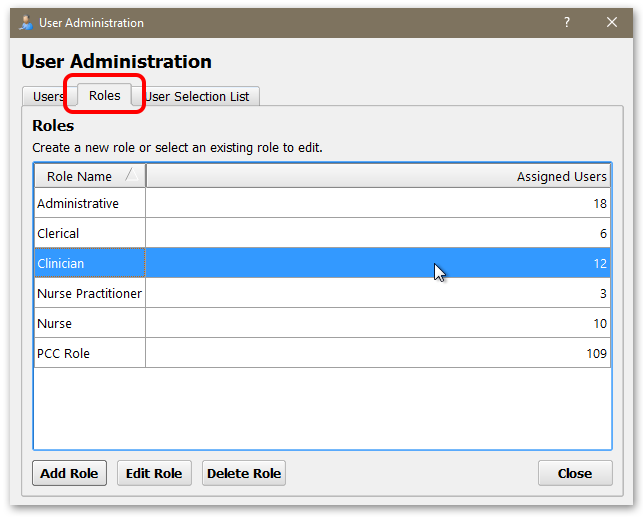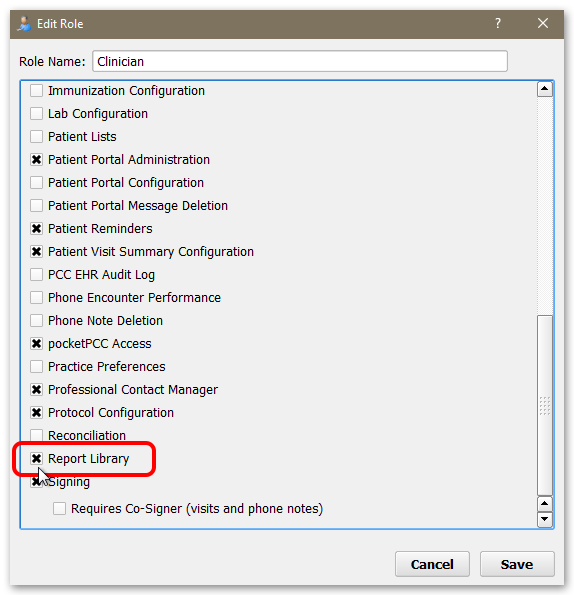 Review Coding and Workflow for the New Fluoride Varnish Dashboard Measure
The new Flouride Varnish Rate measure in your Practice Vitals Dashboard tracks your practice's progress using two billing codes.
CPT 99188: Application of topical fluoride varnish by a physician or other qualified health care professional.

CDT D1206: Topical application of fluoride varnish
The 99188 code was newly established in 2015 and should be used by non-dental medical professionals when applying fluoride varnish. CDT (dental) code D1206 is now meant to be used by dental professionals for this service, although we know many pediatric offices use this code as it is required by some payers. PCC recommends using the Z41.8 diagnosis code.
In order to record data for this new measure, you may wish to update your Procedures table in the Table Editor (ted) and adjust charting and billing workflow. For example, you could add a new Fluoride Varnish diagnosis and order to your well visit chart notes for patients 1 to 5 years old, in accordance with the AAP's new recommendation.
What About 99429 and 99499?: Your practice may currently be using 99429 (unlisted preventive medicine service) and 99499 (unlisted evaluation and management service) to bill for fluoride varnish. PCC recommends switching to the new 99188 code for greater specificity as 99429 and 99499 have other uses and can not accurately be reported on for the Fluoride Varnish Rate measure. While payers should accept 99188, it is always best to check with them first before changing billing codes.
SNOMED-CT Update: Review Favorite Diagnoses and Configure Codes For Billing
The PCC 7.4 update adds hundreds of new SNOMED-CT descriptions to your PCC EHR diagnosis tools. As part of the update, PCC added 265 new terms to your practice's Favorites list. (The diagnosis Favorites list is the list of diagnoses that are searched whenever you begin typing in a diagnosis field.)
After your PCC 7.4 update, you may wish to review your Favorites list and other diagnosis settings for the new SNOMED descriptions. Use the Diagnosis Configuration tool to review lists and make changes to your Favorites.
Next, your practice may also wish to review billing configuration for new SNOMED diagnosis descriptions. Use the Billing Configuration tool to configure which ICD-10 diagnoses are mapped to each SNOMED-CT description.
New Favorites That Are Not Mapped For Billing: Most of the 265 new SNOMED diagnosis description Favorites are not mapped to an ICD-10 billing code. The PCC 7.4 update will assign some billing codes that have obvious matches, but the rest are unmapped. If a physician uses an unmapped diagnoses on a chart, the biller will need to select an appropriate ICD-10 billing code later. You can proactively assign ICD-10 codes to these new SNOMED descriptions and review the mapping for any diagnosis in the Billing Configuration tool. You can download the list of new favorites, along with the provided ICD-10 mapping: PCC 7.4 New SNOMED Favorites (PDF, Excel).
Use Partner's snomedmap to Review Diagnosis Mapping: You can use the Partner snomedmap report to review your SNOMED Favorites list and how they are mapped to ICD-10, or work from a list of your most common diagnoses. For more information, read the Partner snomedmap Report help article or contact PCC Support.
Update Practice and Provider Hours
If your practice is pilot testing the PCC EHR Appointment Book, you should review and update your practice and provider hours after your PCC 7.4 Update.
Use the Practice Preferences tool to update your practice's hours.
Use the new Provider Hours tool to update your scheduling provider's hours.