In April of 2016, PCC will release version 7.3 of our charting and practice management software to all PCC users.
PCC 7.3 includes powerful improvements to billing functions in Partner, preterm growth charts in PCC EHR, and many other client-requested features.
Watch a Video: Want to watch a video summary of everything in this release? CLICK HERE
Implementation: The new features in PCC 7.3 require configuration and user-specific software training. Read about the features below and then review PCC 7.3 Migration Considerations.
Read below to learn more, and contact PCC Support for information about these new features or about any PCC product or service.
Gestational Age for Preterm Growth Charts and Vitals Percentiles
You can record gestational age at birth for each patient. If a patient's gestational age at birth indicates prematurity (less than 37 weeks), PCC EHR will display the Fenton Preterm growth charts, and will calculate patient vitals percentiles based on other patients with the same gestational age.
You can enter or update a patient's "GA at Birth" in the Patient Demographics component, in the new birth history section.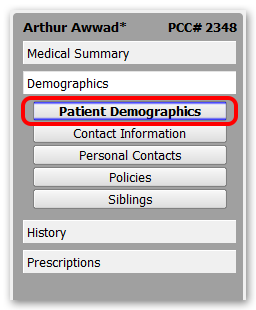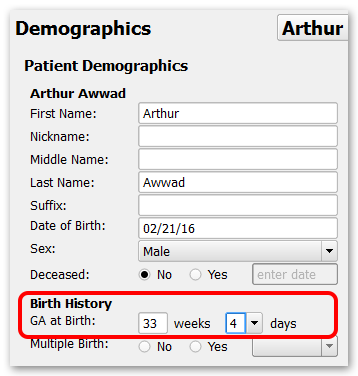 The Patient Demographics component appears in the Demographics section of a patient's chart. You can also add it to chart note protocols and other chart sections so that users can review and update the information while charting a visit.
When a patient has gestational age at birth of less than 37 weeks, you will see vitals percentiles based on patients with a similar gestational age until they reach a gestational age of 50 weeks.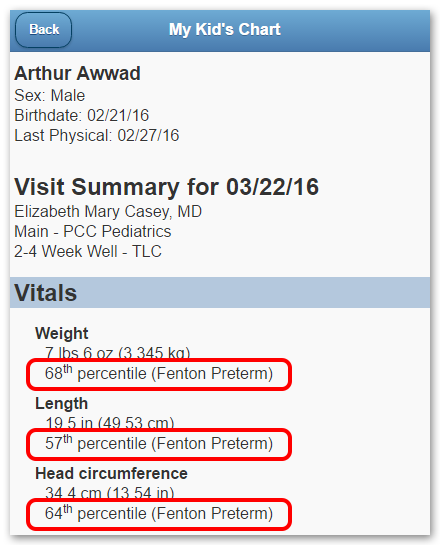 Also, for patients with a gestational age that indicates prematurity, you will see the Fenton Preterm Growth Charts for weight, length, and head circumference when you review the patient's growth charts.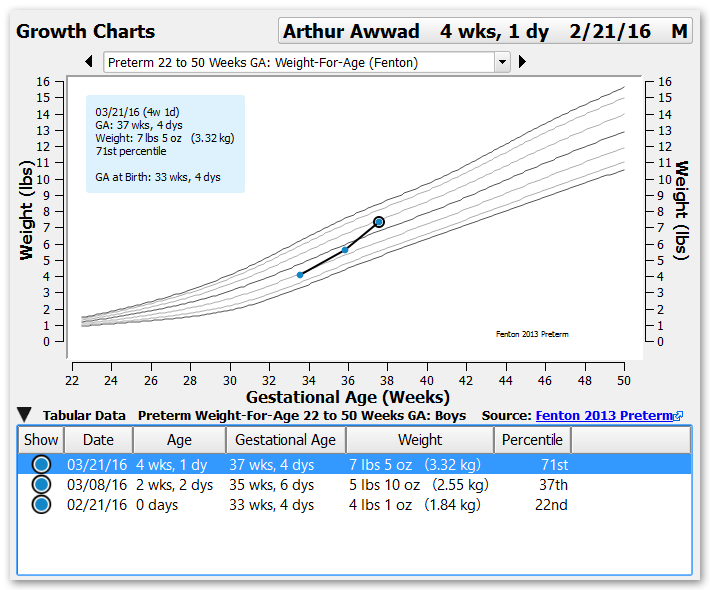 The Growth Charts component appears in the patient's Visit History. You can also add it to chart note protocols and other chart sections so that users can review the information while charting a visit.
After a patient reaches 50 weeks gestational age, the subsequent vitals percentiles and growth charts will revert to displaying the practice's default data set (WHO or CDC).
Optional: If your practice does not wish to see preterm vitals percentiles or use the Preterm Growth Charts, you can deactivate them by not recording the patient's gestational age. Alternatively, you can turn off any growth chart in the Growth Charts Configuration tool.
Down Syndrome: For patients with Down syndrome, PCC EHR will display the new Fenton charts until the patient reaches 50 weeks gestational age, at which point it will switch to the Down syndrome growth charts.
Filter Medications, Problems, and Allergies in pocketPCC
You can now filter the problem list, allergy list, and medication history in pocketPCC based on Active, Inactive and Resolved status flags.
You can choose to see any combination of active, inactive, and resolved items in each of these lists.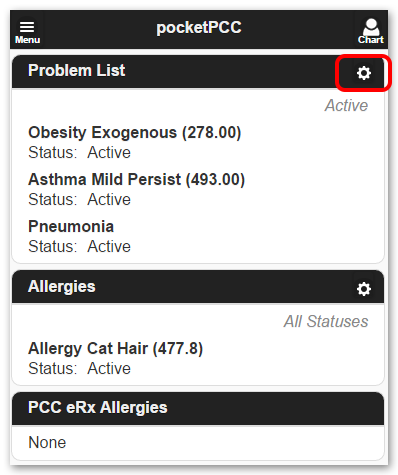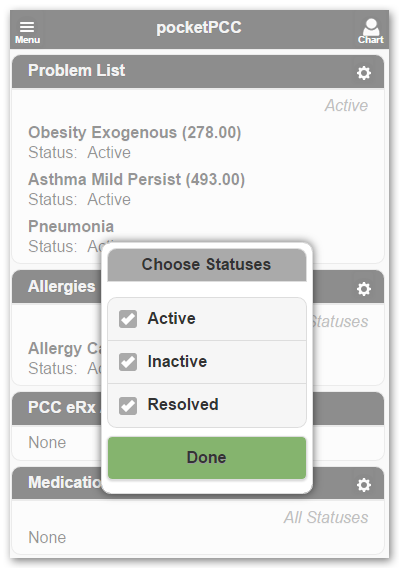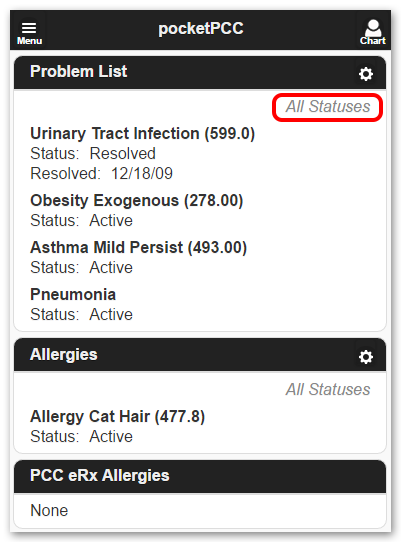 Filter Settings for both pocketPCC and PCC EHR: These filter preferences affect both pocketPCC and PCC EHR. Changing display options in pocketPCC will change the view in the respective components in PCC EHR, and vice versa.
Display Clinical Instructions in Patient Portal
Clinical Instructions are now visible to patient families in My Kid's Chart, the PCC patient portal.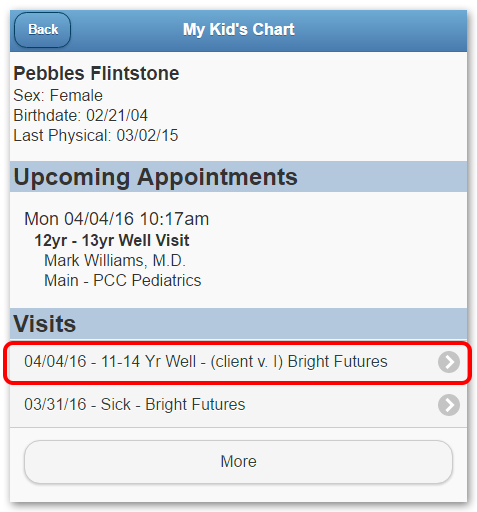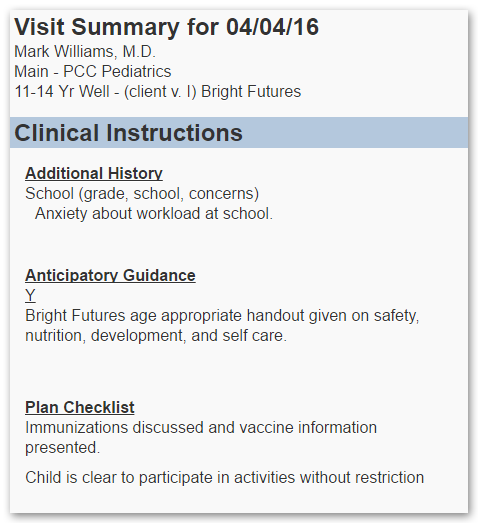 This feature is on by default if your practice displays Clinical Instructions on the Patient Visit Summary report. You can turn it off or on in the Patient Portal Manager.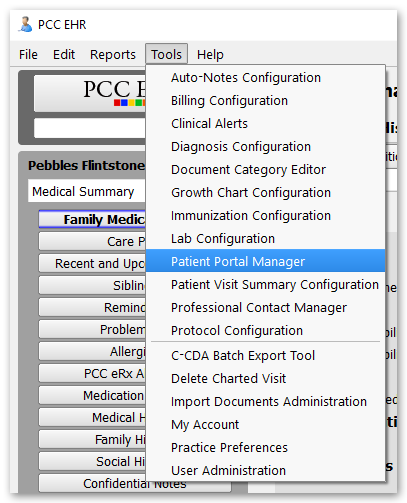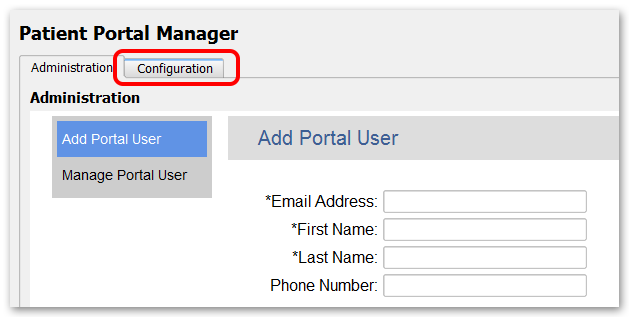 You can add any generic component to the Clinical Instructions section of My Kid's Chart.
Separate Configuration for the Patient Visit Summary Report: The configuration for Clinical Instructions in My Kid's Chart is independent of the configuration for Clinical Instructions in the Patient Visit Summary Report. Read more here about configuring Clinical Instructions in the PVS.
Updates to Childhood Immunization Status Dashboard
We have improved the accuracy and usefulness of the Childhood Immunization Status Dashboard Report.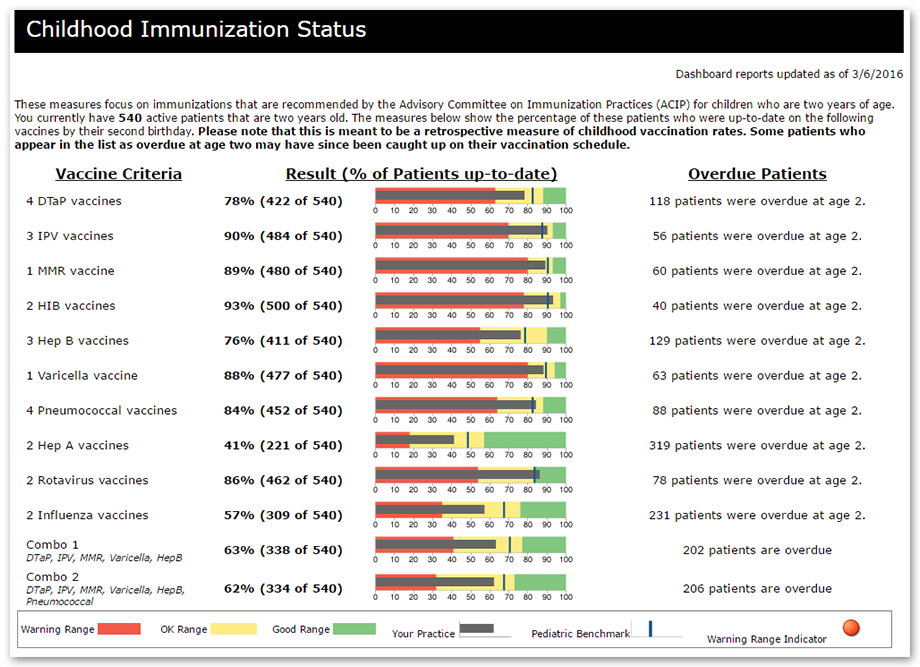 These calculations are now run monthly, and are based on all patients who turned 2 in the last year.
If your practice uses CVX codes and not CPT codes to map immunizations, the information in some of these measures may have been incorrect. The measures are now based on both CVX and CPT code mapping, providing a more accurate set of data.
Dashboard is a Summary Report: Remember, as the dashboard is updated monthly, the data may not reflect the most up-to-date statistics.
Review and Work with Prepared Bills Before You Send Them
After you prepare personal bills for accounts, you can now use an interactive screen to work on the list of accounts that will receive bills.
When you are ready to prepare, review, and submit personal bills, run either the Print Personal Bill (bills) or Submit Electronic Bills (ebills) programs. After you select bill run options and press F2 – Prepare Bills to prepare your bills, press F4 – Work w/ Accounts.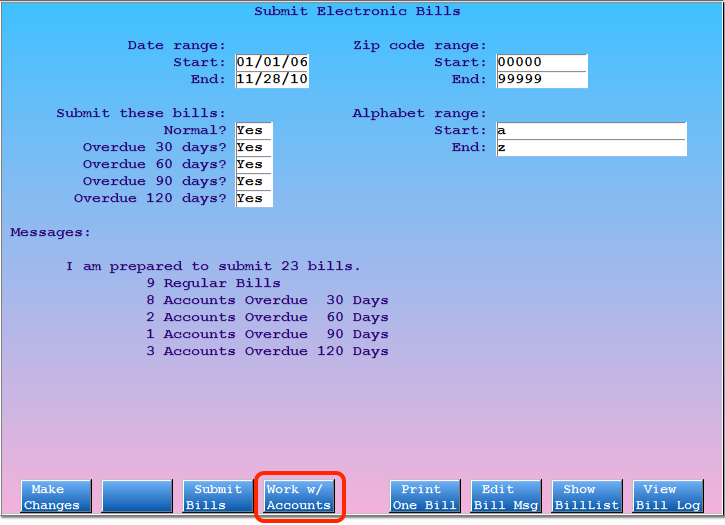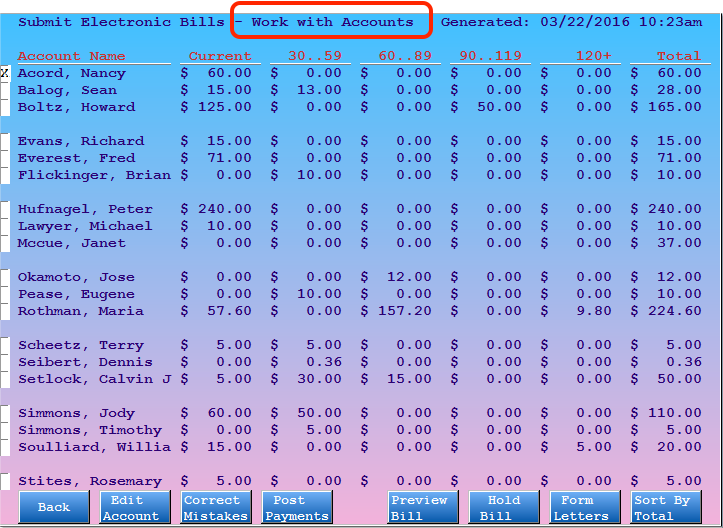 The Bills program will display the new "Work with Accounts" screen. You can review the list of accounts that will receive a bill, see their account balance by age, and use interactive tools to work with the accounts.
Select an account and use the function keys at the bottom of the screen to learn more about the account or perform various billing-related actions.

F1 – Back
Press
F1
or
F12
to return to the main
bills
screen. From there you can re-prepare bills and send or print them.
F2 – Edit Account
Select an account and press
F2
to run the Family Editor (
fame
) to review account history or make demographic changes.
F3 – Correct Mistakes
Select an account and press
F3
to run Correct Mistakes (
oops
) to review and edit charges on the account.
F4 – Post Payments
Select an account and press
F4
to run Post Payments (
pam
) to post personal payments or adjustments for the account.
F5 – Preview Bill
Select an account and press
F5
to preview the bill that Partner will generate when you print or submit your prepared bills. The bill's text will appear on the screen, including all information and the billing message that will appear.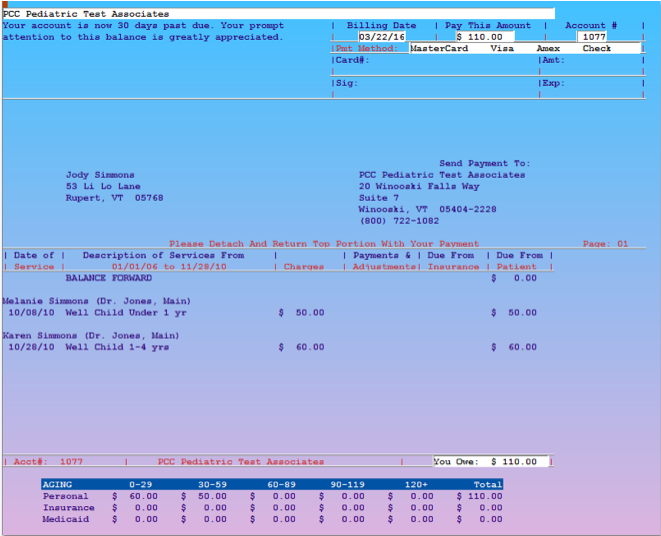 Previewing a bill will not count as generating the bill for the account. Even if you print or save the preview on your screen, Partner will still prepare a bill for the account when you re-prepare your bills.
F6 – Hold Bill
Select an account and press
F6
to review basic account information and enter a "Hold Bill Till" date. When you re-prepare your bills, Partner will see the new "Hold Bill Till" date and omit that account.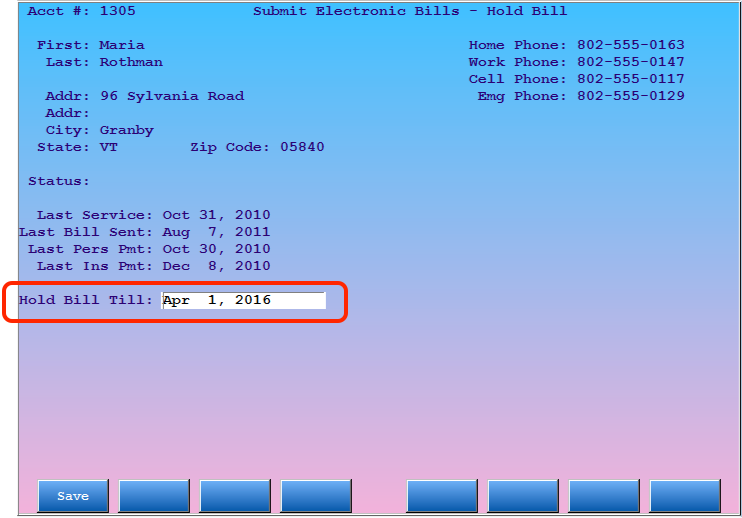 Your practice can customize the default Hold Bill Till date in the Personal Bill section of the Configuration Editor (ced) to make the process faster.
F7 – Form Letters
Press
F6
to generate one or more form letters for the selected account or all accounts on the list.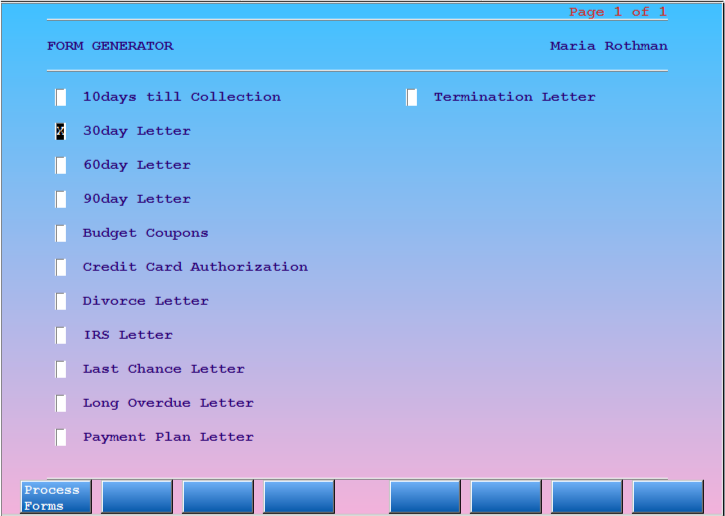 First, Partner will ask you if you wish to generate a form letter for one account or all accounts. Then it will offer you your Practice's list of custom form letters.
F8 – Sort By Total/Sort By Account
Press
F8
to sort the list of accounts by total or by account last name.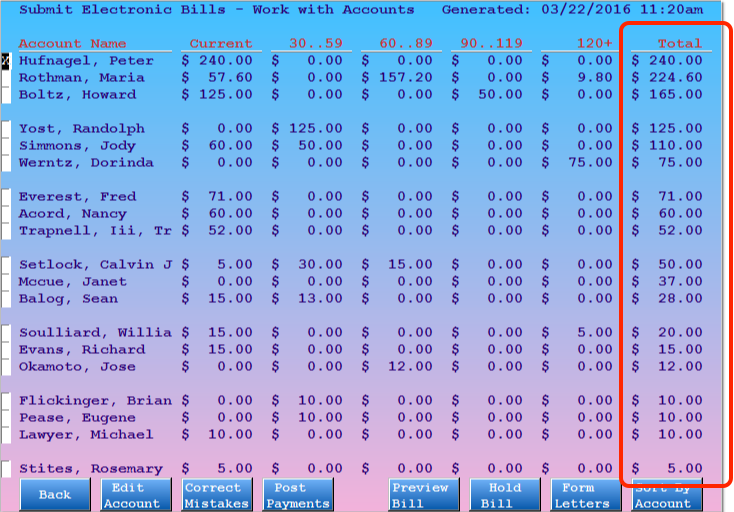 Your practice could sort by total in order to review and contact accounts with a total above a certain threshold before sending a bill, for example.
When you finish reviewing the accounts that will receive a bill and make any changes, press F12 or F1 to return to the first screen of the bills program. Since you may have made changes, payments, or held bills for accounts, you must now press F2 – Prepare Bills to re-prepare your bills.
A New Billing Workflow: After your PCC 7.3 update, your practice may want to change your billing workflow to use the new features of the bills and ebills programs. For example, you may want to adjust how and when you run bills, implement a policy for reviewing bills before they are sent, customize your default Hold Bill Till date (in the Configuration Editor (ced) for bills and ebills), and adjust your form letters. Contact PCC Support for help!
This Looks Familiar...: Your office may be familiar with the Personal Money Tracking Assistant (persview) program, which works in a very similar way to the new bills program. Your office can still use persview to review and work with accounts that have an outstanding balance. The persview program includes a criteria screen that lets you filter which accounts you will work with. The Bills program, on the other hand, shows you all accounts in the bill run that you just prepared.
Select All of a Visit's Charges in Correct Mistakes (oops)
It is now faster and easier to make charge corrections and re-batch a claim for all of a visit's charges.
When you need to adjust insurance status, visit details, or re-batch a claim, press F2, F4, or F5 in Correct Mistakes (oops).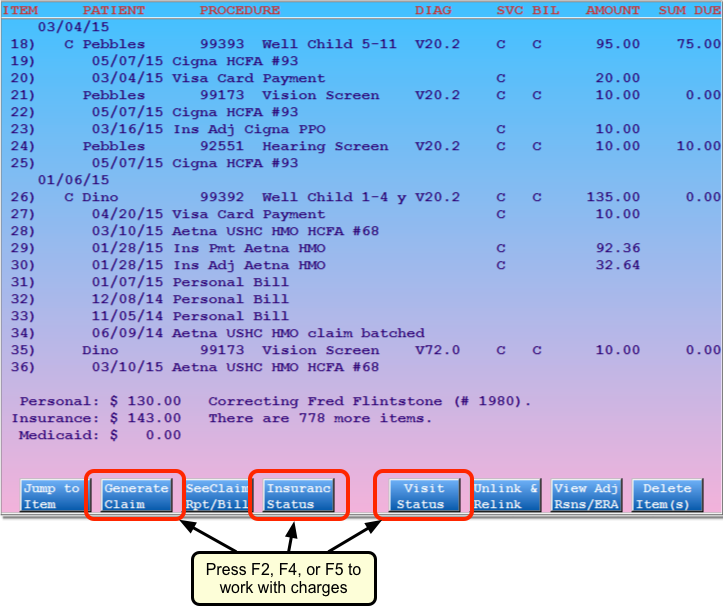 Next, either enter item numbers for charges from a visit, or press F3 or F4 to enter a claim ID or visit date and select all charges.
By Claim ID: Press F3 to enter a Claim ID. PCC will find all the charges associated with the Claim ID.

By Visit Date: Press F4 to select all charges for a specific visit date with the same patient and physician.

By Item Number: Press F2 to return to the default behavior. You can enter item numbers to select charges individually, as you could prior to PCC 7.3.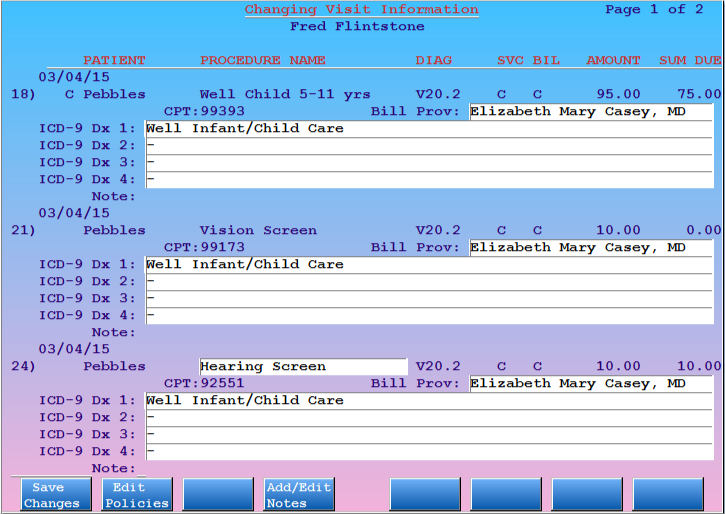 Use the new charge selection features to quickly change the insurance status for a visit, enter a resubmission number for all the charges on a claim, or rebatch a claim without having to pick the item numbers for every charge.
Two Visits w/ Same Physician on the Same Day?: If you are working with charges that occurred on a day when the patient had two different visits with the same physician, you should select charges using the item number in order to work with only one visit's charges. If oops finds two visits on a date with different patients or physicians, it will ask you which visit's charges you wish to work with.
Choose From Optional Billing Codes for Well Visits and Other Diagnoses
When you select a diagnosis on a chart note, PCC EHR can now optionally offer your clinicians a range of possible ICD-10 billing codes.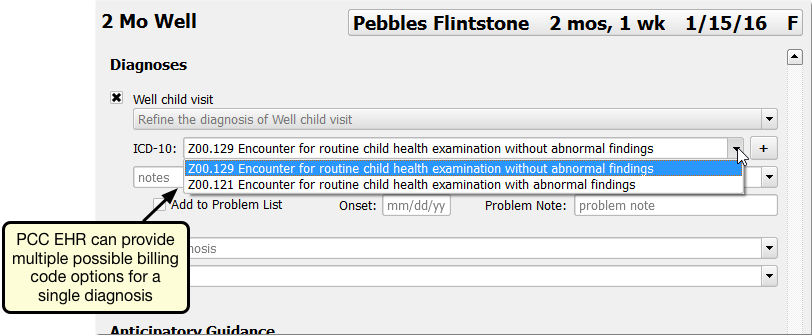 A clinician can select the correct billing code for each situation, which allows them to use more specificity for special billing requirements. Your practice can use this to distinguish between standard Well Visits and Well Visits with Abnormal Findings, both of which are possible billing situations for a single Well Visit SNOMED-CT description.
Your practice can configure several different possible ICD-10s, and have one or more of them be automatically selected or offered as a possible selection.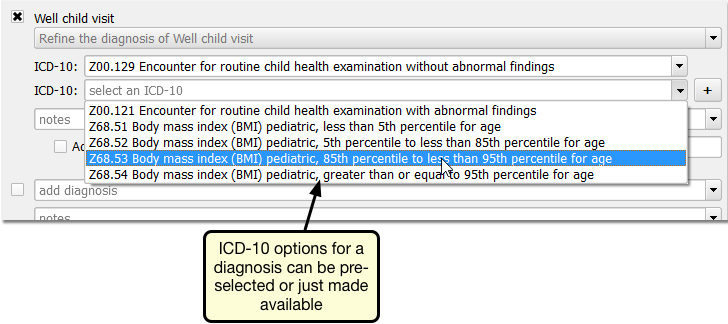 You can configure PCC EHR to automatically select the most common ICD-10 billing diagnosis or diagnoses, and offer alternatives and additional options.
Later, on the electronic encounter form on the Bill screen, the user can review the linked diagnoses and make additional changes.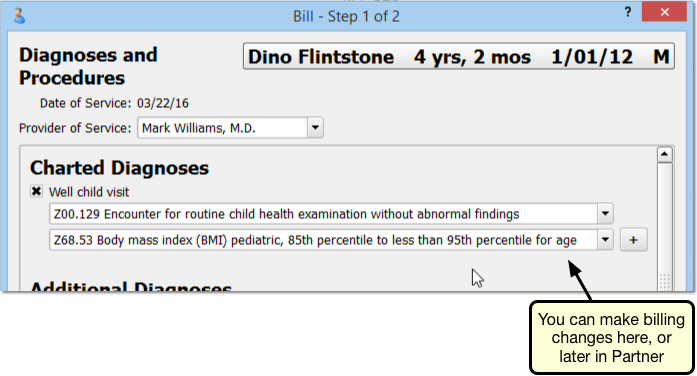 Configuration Instructions: Read the PCC 7.3 Migration Considerations document to learn how to configure multiple optional ICD-10 codes for a diagnosis.
Update Previous Work-Arounds: Your practice may have used multiple SNOMED-CT descriptions to indicate well visits, mapping them for with/without abnormal findings. You may also have created Electronic Encounter Form shortcuts for BMI reporting or made different mapping options available for recording prematurity. After your PCC 7.3 update, you may elect to reconfigure your diagnoses and your billing screens to use the new, optional mapping features.
Get an Alert if a Recurring, Scheduled Notification is About to Expire
Does your practice use the Patient Notification Center (notify) to send patients and families text messages or automated phone calls? If you use a scheduled, recurring notification, Partner will now alert you, as well as PCC Support, when that recurring notification is about to expire.
Your practice's Administrator e-mail alias will receive e-mails with text that looks like this:

SUBJECT: Patient Notification Center ALERT: Notification Run Expiring in 14 Days

Notification "Upcoming Visit Reminder" will expire 14 days from today, on 5/31/16. To avoid
a lapse, either edit the notification end date or create a new notification using the 
Patient Notification Center "notify" program.

To learn more, visit: http://learn.pcc.com/help/create-an-appointment-reminder-notification/

If you intended for this recurring notification to expire, please ignore this message.

Unless you update your notification, you'll get these messages three times:
14 Days before the notification expiration
7 Days before the notification expiration
On the day of the notification expiration
On the final day of a recurring notification, Partner will also notify your PCC Support Account Team. Your account team can work with you to edit and update your notifications.
At any time, you can run the Patient Notification Center (notify) and edit your notification to increase the date range and stop the reminders.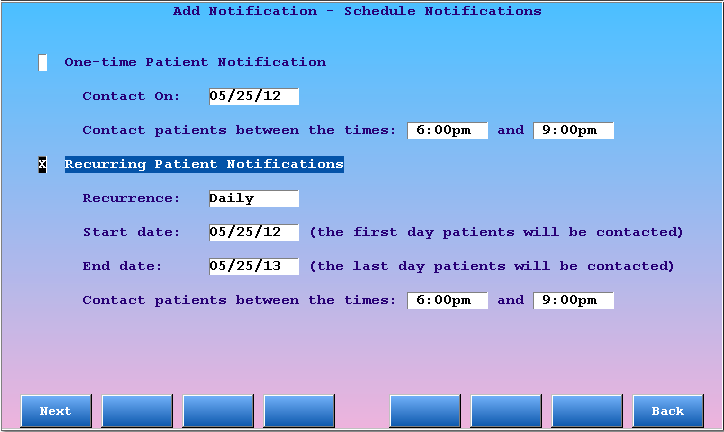 You can learn how to edit and update a notification in the Create an Appointment Reminder article.
Display Your Practice-Wide Tax ID Number on the Account History Report
Sometimes patients and families need an account record that includes your practice's Tax ID. The Account History (tater) report can now display a practice-wide Tax ID number.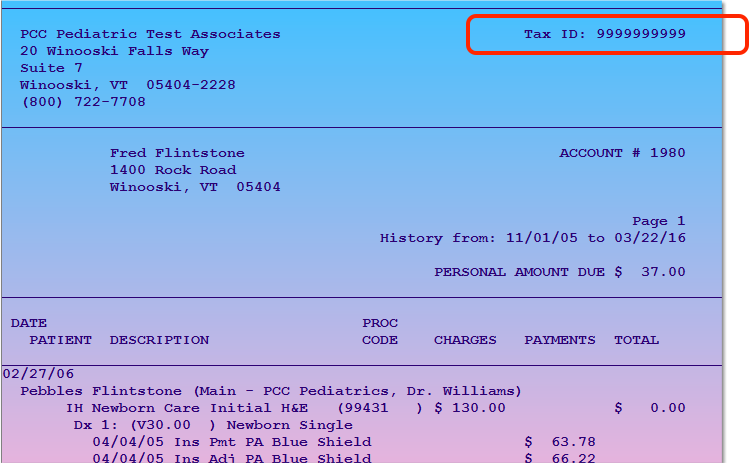 PCC 7.3 includes a new, practice-wide Tax ID setting in the Practice Information section of the Configuration Editor (ced).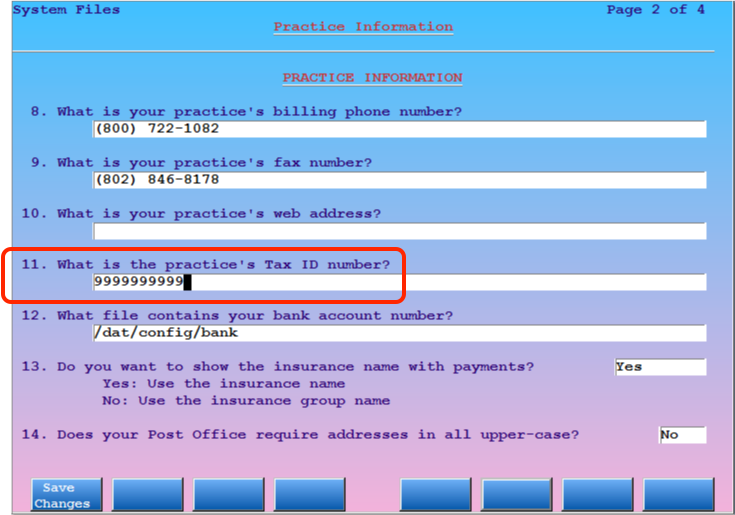 You can specify whether or not that Tax ID should appear on your Account History report in the Account Histories section of the Configuration Editor (ced).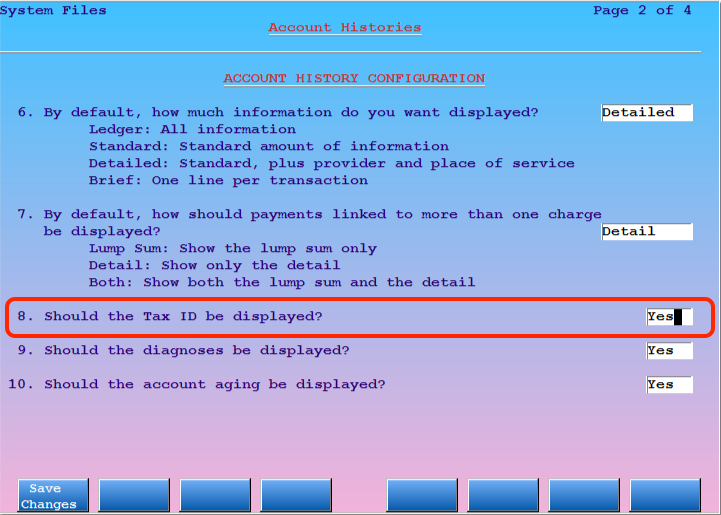 Use Tax ID On Your Custom Form Letters?: Optionally, you can use the new practice-wide Tax ID field on form letters and other custom reports. The form letter variable is prac.taxid.
Tax ID for Your Practice, Not For Your Claim Submissions: The new Tax ID number variable defines a general Tax ID for your practice for use on reports, forms, and other non-claim output. Your claim configuration, on the other hand, is based on the Tax ID for the Office entry in the Providers table in the Table Editor (ted), and claim configuration also sometimes includes special, per-payer configuration which selects the appropriate Tax ID.
Pilot Test: Log In To Partner From PCC EHR
PCC is developing new features to combine different software and services into a single window. In PCC 7.3, we are pilot testing Practice Management access in PCC EHR.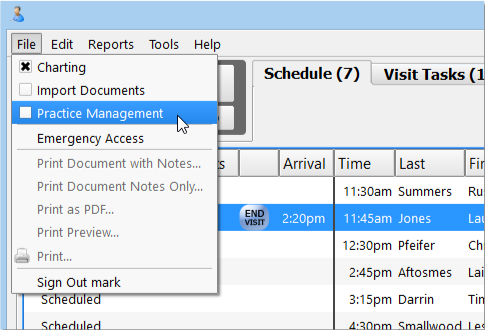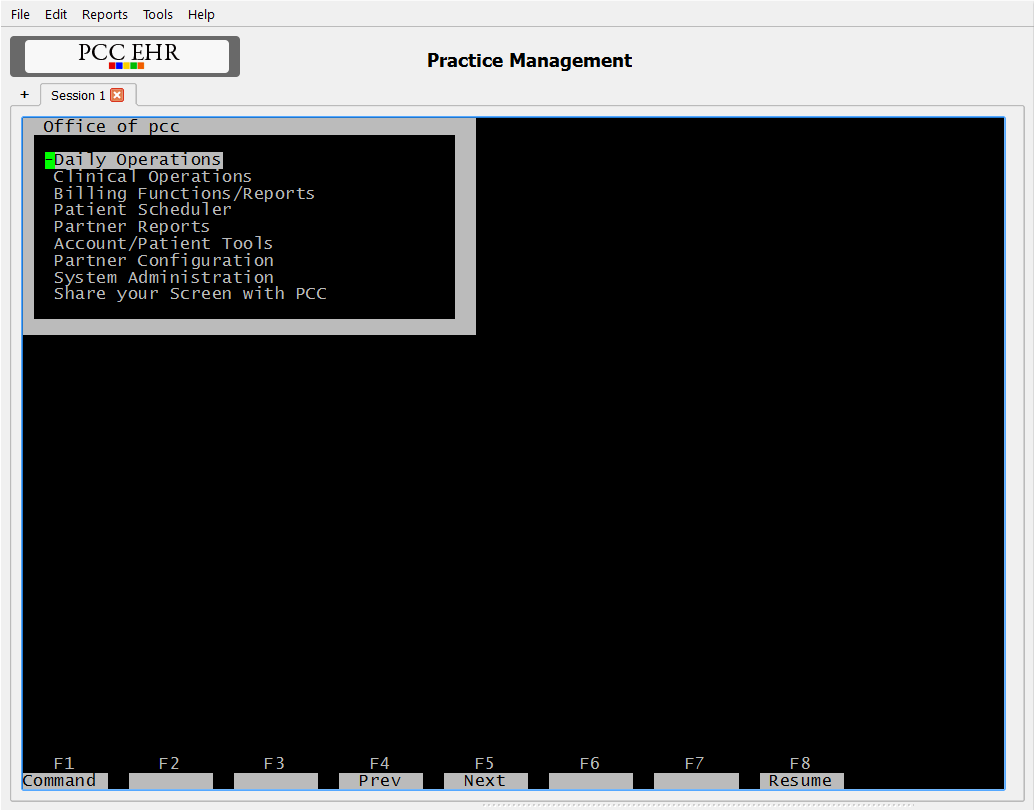 PCC is testing this feature in a few offices and we will announce it again when it is available for all practices. Stay tuned to learn more, or take a look at the Pilot Test: Practice Management Inside PCC EHR article.
Other Feature Improvements and Bug Fixes in PCC 7.3
In addition to the features described above, PCC 7.3 includes these smaller improvements and squashed bugs.
Immunization Forecasting Updates: During the PCC 7.3 release cycle, PCC's Immunization Forecasting partner (STC) will apply the most recent patch to forecasting rules in PCC EHR. Immunization Forecasting now supports two different vaccine families for Meningococcal B, CVX 162 and 163, for 3-dose and 2-dose Meningococcal B vaccines; forecast calculations will now work better for Penumococcal / PCV-13 vaccines that were received outside normal guidelines; and the patch includes a correction for incorrect flu shot forecasting that could occur under certain circumstances.

Prescriptions and New York's I-STOP Law: After 3/27/2016, if an electronic prescription sent to a New York pharmacy fails or can not be sent electronically for any reason, DrFirst Rcopia will no longer automatically send the prescription by fax. An error message will appear on the screen in DrFirst.

Automatically Flag Patients and Accounts Based on Custom Criteria: In PCC 7.3, PCC Support can configure up to six sets of custom autoflag criteria for your practice. You can use autoflag to automatically mark patients who haven't visited as "Inactive", or add any other status flag based on any set of criteria available in the Patient Recaller (recaller). Contact your account team to learn more.

Improved Save Times for Remote Locations: PCC 7.3 updates how PCC EHR refreshes the chart after you save your changes. If your practice uses PCC EHR in a remote office using the full software program (and not RDP), you will notice faster chart save times.

Host the Patient Portal on Your PCC Server: Your practice can now optionally host your My Kid's Chart patient portal on the server in your office. If your families or account administrators experience a delay when accessing the patient portal, PCC is now testing a solution to host it on your practice's PCC server to speed up access times. Contact PCC Support if you are interested in trying this new configuration option.

Access PCC Learn Through PCC EHR: The Help menu access to PCC Learn was not working on Apple Macintosh computers. It now opens a browser window to PCC Learn (learn.pcc.com).

Last Saved Answer for Older Visits: The "Last Saved Answer" feature of some chart note components in PCC EHR has been improved so that it will now show the answer from the most recent visit date, and not the most recently saved answer.

Improvements to Scheduling While Adding a Patient: If your practice attempts to schedule a patient while they are still being added to your system, PCC will now automatically save the patient record so they can be scheduled.

Immunization Registry Update: During each PCC release, we expand and improve our connections with state immunization registries. During this release cycle, we built new connections to the Utah, Massachusetts, and Illinois registries. If your practice would like to automatically submit immunizations to your registry, contact PCC to get started.

RBRVU Data: PCC's reporting tools are all updated for the 2016 RVU and GPCI regional adjustment data. This data was distributed to your system mid-release and will improve calculations for RBRVU reports and PCC Dashboards.

Added Security For Operating System Updates: PCC now reviews and schedules operating system updates for your PCC Server before allowing the update. PCC will push any urgent security updates directly to your server and will hold other updates and install them as part of your regularly scheduled PCC update.

New Patient Portal Administration Loading Message: Sometimes the My Kid's Chart administration tool pauses due to a slow internet connection with the central server. PCC has added a loading message so that administrative users who are trying to setup a patient portal account will know that the system is still working. PCC is also testing a local hosting option for My Kid's Chart to improve connectivity for both patient and administrative users.

Refused Labs in Patient Flowsheets: Patient Flowsheets previously required a test result in order to display a lab. The Labs flowsheet will now also display refused labs with no result.

Timezones in Log Files: All of PCC's system log files now include timezones. Previously, tools like PCC EHR Audit Log might not display all events in the correct order because of the lack of timezone information.

Day Calculations and Month Calculations: The Clinical Alerts system sometimes calculated months as 30 days. PCC EHR now looks at actual month length, which will improve accuracy.

BP Percentiles: PCC 7.3 removes blood pressure percentiles for patients over 17, as the pediatric dataset is only valid through the end of the patient's 17th year.

Back-to-Back Appt Scheduling: The Scheduling system sometimes offered back-to-back patient scheduling with a slot of time between appointments. The sam program will now only offer true "back-to-back" appointments when scheduling two patients.

Secondary Payment Patch: For certain insurance payers with special configurations, when a user manually generated a secondary claim in pip or oops, payments were not being included in the secondary claim. PCC patched this problem for affected clients and rolls it out to all clients in PCC 7.3.

Sibling Notes: Patient notes will no longer appear erroneously when you run oops for a particular patient with oopsp. You will only see visit notes for the selected patient.

HPV in Practice Vitals Dashboard: If your office does not give HPV vaccines at all, PCC Dashboards will now report that correctly in the HPV Dashboard.