PCC 7.3 Migration Considerations
The PCC 7.3 release includes new features that may need extra planning, training, or configuration. Read below to learn more, and share relevant details with your physicians and staff.
Read the PCC EHR 7.3 Release Documentation for complete details on these features.
Watch a Video: Want to watch a video summary of everything in this release? Click Here (17 minutes)
Contact PCC Support at 1-800-722-1082 for information about these or any features in PCC 7.3.
Review Gestational Age Field and Optionally Adjust Protocols
If your practice wants to track each patient's Gestational Age at Birth and take advantage of the new preterm vitals percentiles and growth charts, you should review the new GA at Birth field with your clinical staff.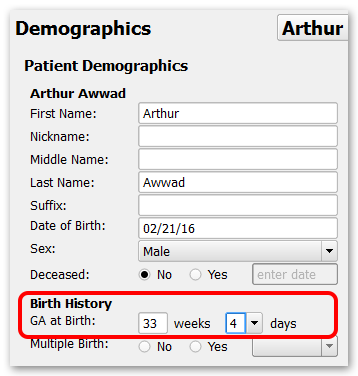 The Patient Demographics component appears in the Demographics section of a patient's chart. You can also add it to chart note protocols and other chart sections so that users can review and update the information while charting a visit.
If you do not want the preterm growth charts to appear by default for patients with an appropriate "GA at Birth", you can deactivate the growth charts in the Growth Charts Configuration tool in the Tools menu.
Adjust the Clinical Instructions Configuration for My Kid's Chart
Clinical Instructions are now visible to patient families in My Kid's Chart, the PCC patient portal.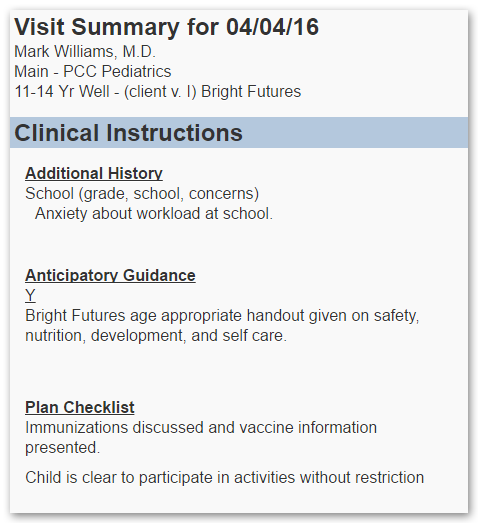 During your PCC 7.3 update, your practice's Clinical Instructions settings for the Patient Visit Summary report were implemented for the patient portal. You can adjust which components from the chart note appear in the Clinical Instructions settings in the Patient Portal Manager.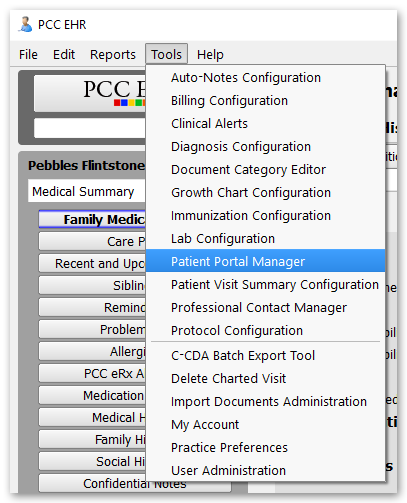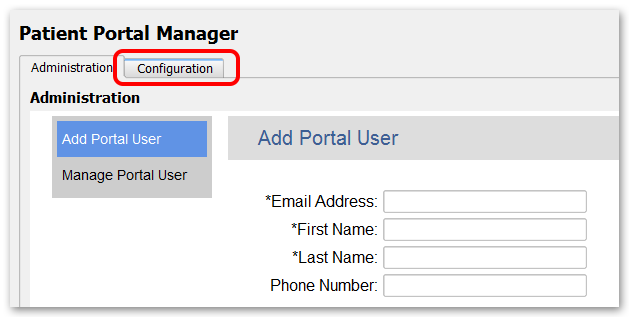 You can add any generic component to the Clinical Instructions section of My Kid's Chart.
Separate Configuration for the Patient Visit Summary Report: The configuration for Clinical Instructions in My Kid's Chart is independent of the configuration for Clinical Instructions in the Patient Visit Summary Report. Read more here about configuring Clinical Instructions in the PVS.
Adjust Billing Workflow for the New "Work With Accounts" Screen
When does your practice send personal bills? What is your billing cycle? Do you review accounts with high balances before sending the bills?
The new "Work With Accounts" screen in the bills and ebills programs will give billers the power to work with prepared bills before they are printed or sent. Your practice may want to review this functionality and make changes to how you manage personal account balances.
Configuration Options: Your practice can customize the default "Hold Bill Till" date in the Personal Bills section(s) of the Configuration Editor (ced) to make holding a bill faster. You can also create custom form letters and make other configuration changes to each of the programs that you reach from the Work With Accounts screen.
Configure Multiple ICD-10 Codes for SNOMED Diagnosis Descriptions
You can configure multiple ICD-10 mapping options for any SNOMED diagnosis description.
When your practice decides that a SNOMED diagnosis description needs a list of optional ICD-10 billing codes, open the Diagnosis Mapping tab of the Billing Configuration tool.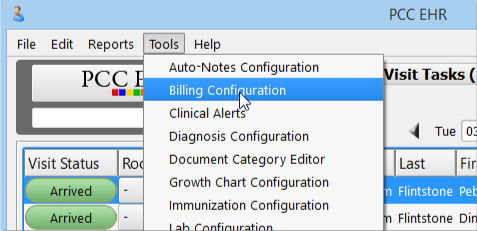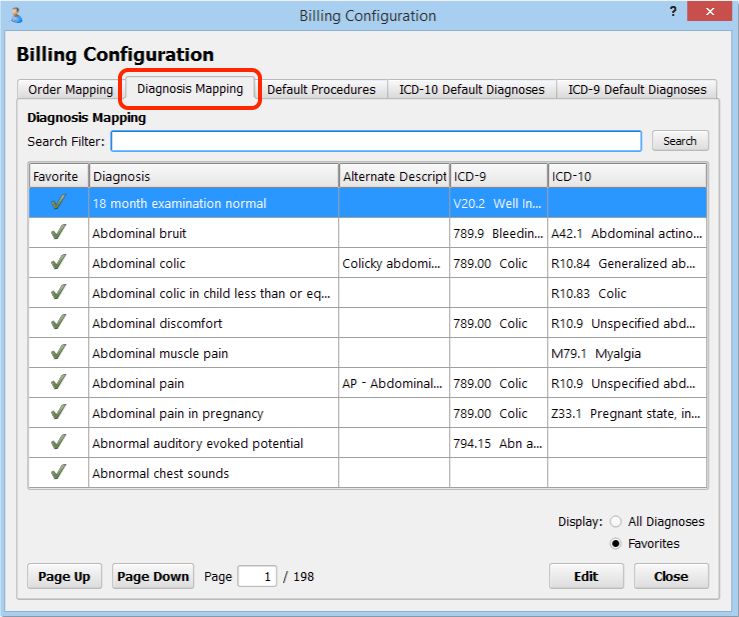 Find and edit the SNOMED description that needs multiple mapped ICD-10 options.

Under the "Manual mapping" heading, add or edit the list of optional ICD-10 diagnoses for the SNOMED description.
You can select the "Preselect" checkbox for one or more ICD-10 codes. If set to "Preselect", that ICD-10 code will be added to the visit automatically when the user selects the SNOMED diagnosis. Otherwise, it will be available through a drop-down menu.
For example, your practice may want a certain ICD-10 to be preselected automatically, but allow the clinician or biller to adjust it to one of several other options that are not preselected. You can use the ICD-10 manual mapping features to create a pick-list for the clinician.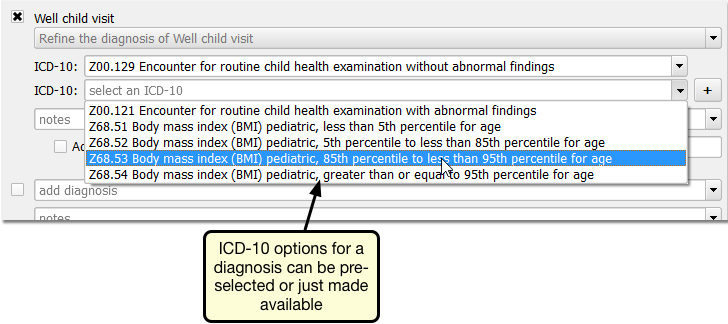 Update Previous Work-Arounds: Your practice may have used different SNOMED-CT descriptions to indicate well visits, mapping them for with/without abnormal findings. You may also have created Electronic Encounter Form shortcuts for BMI reporting or made different mapping options available for recording prematurity. After your PCC 7.3 update, you may elect to reconfigure your diagnoses and your billing screens to use the new, optional mapping features.
Adjust Your "Admin" E-Mail Alias To Receive Informational Messages
When PCC sends your practice a Network Vulnerability Scan report, or the new Patient Notification Expiration notices, we use an e-mail alias on your system for the administrator or "admin" user at your practice.
Who is the "admin" user at your practice?
To find out, you can send an e-mail to your admin user, admin@YOURPRACTICE.pcc.com, replacing "YOURPRACTICE" with your PCC practice acronym.
If you would like to change or add a person at your practice to that "admin" alias, contact PCC Support.
Display Your Practice-Wide Tax ID Number on the Account History Report
Sometimes patients and families need an account record that includes your practice's Tax ID. The Account History (tater) report can now display a practice-wide Tax ID number.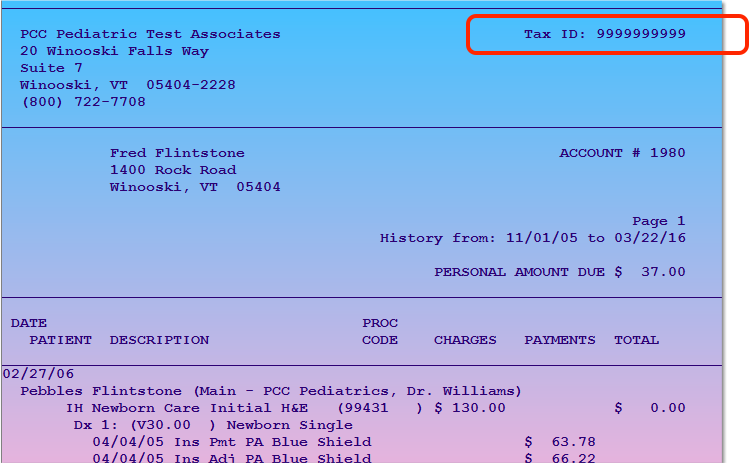 PCC 7.3 includes a new, practice-wide Tax ID setting in the Practice Information section of the Configuration Editor (ced).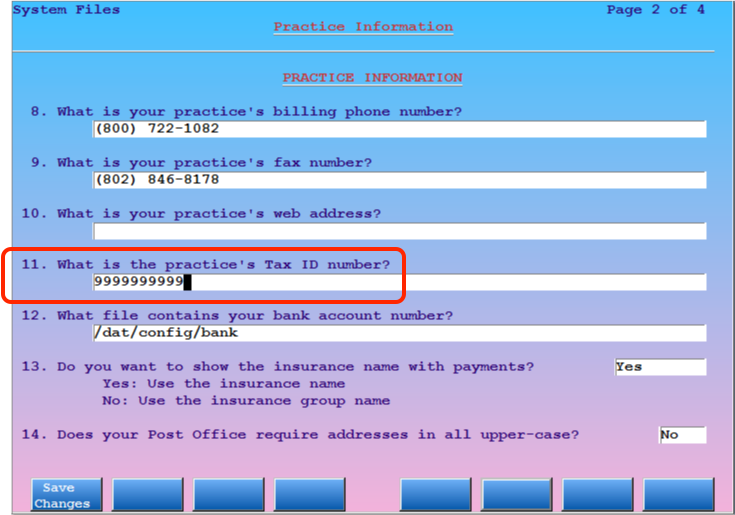 You can specify whether or not that Tax ID should appear on your Account History report in the Account Histories section of the Configuration Editor (ced).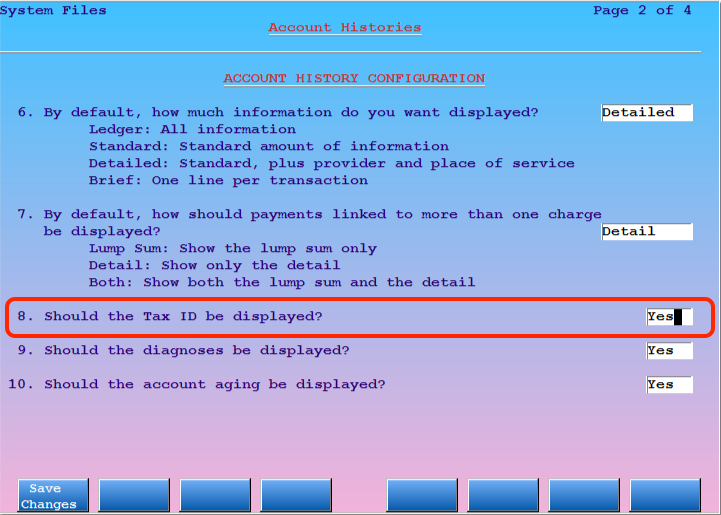 Use Tax ID On Your Custom Form Letters?: Optionally, you can use the new practice-wide Tax ID field on form letters and other custom reports. The form letter variable is prac.taxid.
Tax ID for Your Practice, Not For Your Claim Submission: The new Tax ID number variable defines a general tax ID for your practice for use on reports, forms, and other non-claim output. Your claim configuration, on the other hand, is based on the Tax ID for the Office entry in the Providers table in the Table Editor (ted). Claims also sometimes rely on special, per-payer configuration.
More Autoflag Options
Does your practice use autoflag to automatically flag accounts based on a custom set of recaller criteria? PCC 7.3 now supports up to six sets of custom criteria, for all of your account management needs. Contact PCC Support for help implementing multiple sets of autoflag criteria.