In February of 2016, PCC will release version 7.2 of our charting and practice management software to all PCC users.
PCC 7.2 includes Down syndrome growth charts and vitals percentiles, a PCMH page in the Practice Vitals Dashboard, improvements to Auto-notes, a new vaccine lot report, improvements for tracking VFC immunizations, and more.
Watch a Video: Want to watch a video summary of everything in this release? CLICK HERE
Implementation: The new features in PCC 7.2 require configuration and user-specific software training. Read about the features below and then review PCC 7.2 Migration Considerations.
Read below to learn more, and contact PCC Support for information about these new features or about any PCC product or service.
See Patient's Most Recent Weight, percentile, and PCP At Any Time
As you review a patient's chart, you can now quickly review their most recently recorded weight, percentile, and their primary care physician.


When you need patient weight for prescribing, or other basic patient information for another purpose, click on the patient's information label in the upper-right corner. The weight appears with the date it was last taken, which can help you decide whether you need to check weight again.
When you are importing a document that needs a clinician's attention, you can use the new patient information button to quickly identify their PCP.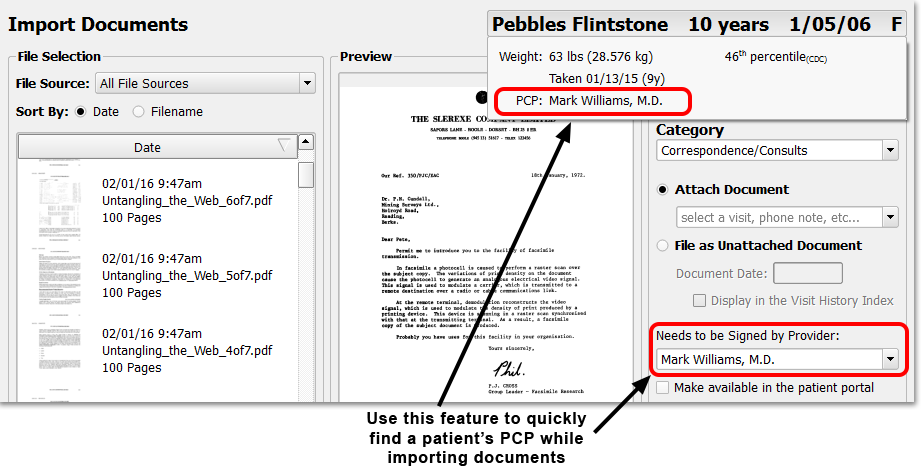 Down Syndrome Growth Charts and Vitals Percentiles
PCC 7.2 includes Down syndrome growth charts in PCC EHR and can display Down syndrome percentiles for vitals.
When a patient has a Down syndrome diagnosis (Trisomy 21) on their Problem List, the Down syndrome growth charts will appear by default in the Growth Chart section of the chart and in the Growth Chart chart note component.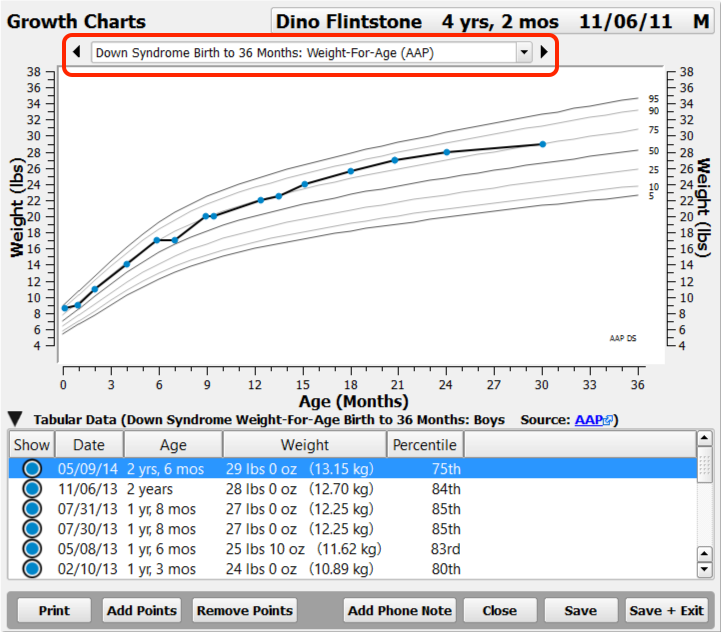 PCC built the Down syndrome growth charts from AAP data published in the November, 2015 edition of their journal (AAP Publications Site).
Optionally, you can switch between a Down syndrome growth chart and other standard growth charts (WHO and CDC) using the growth chart pull-down menu.

In addition, when you look at various locations in PCC EHR that show percentiles, you will see the Down syndrome percentile numbers for patients with a Down syndrome diagnosis on their Problem List.

Down syndrome percentiles will appear in the chart note, in Flowsheets, in Visit History, and can be used to trigger Clinical Alerts.
When a family of a Down syndrome patient reviews the patient's information in the Patient Portal, My Kid's Chart, they will see percentiles based on Down syndrome patients of the same age and sex.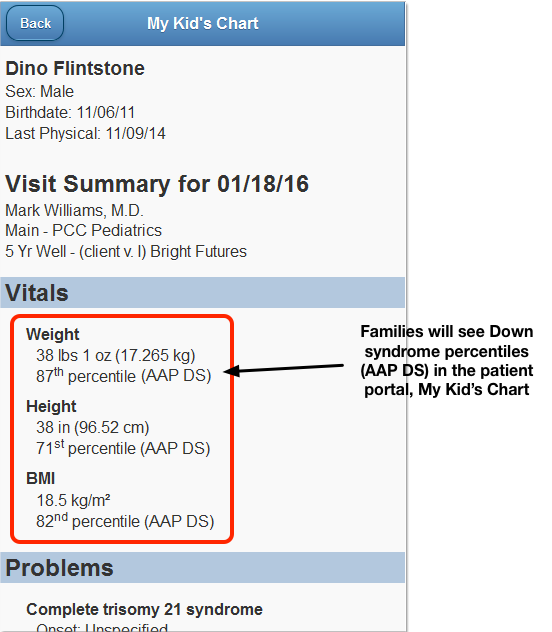 Configure Growth Charts: Your practice can hide, show, and arrange the complete list of available growth charts and also set which diagnoses cause the Down syndrome charts to appear. For more information, read the PCC 7.2 Migration Considerations article.
Auto-Note Fields Update Every Time You Click
PCC EHR's Auto-Notes feature can automatically enter your default notes for "Normal" or any other option.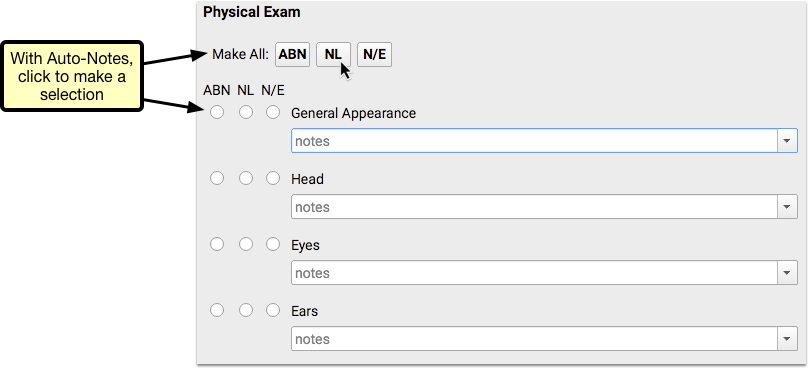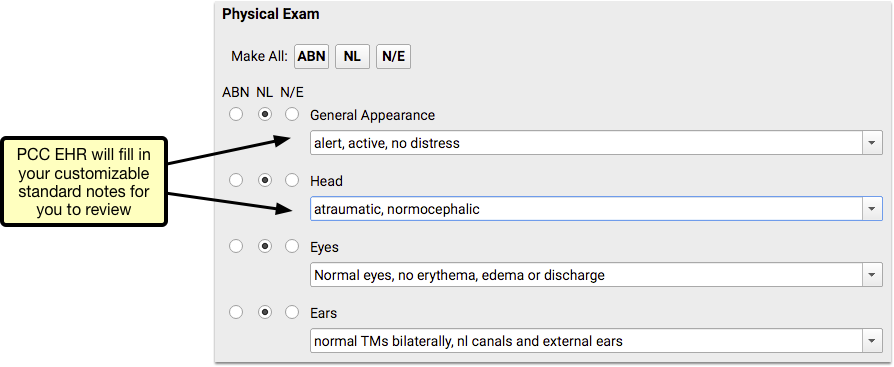 In PCC 7.2, when you click on a new radio button selection, it will either replace the Auto-Note text with your alternate Auto-Note value, or erase the note text.


You can also re-click on a selection to deselect it, and PCC EHR will remove the Auto-Note text.


Your clinicians can now chart faster and with confidence, knowing that each time they adjust a Normal/Abnormal or other radio-button selection, PCC's Auto-Notes feature will respond.
Your Changes Are Never Removed: If you make any change to a note text, PCC EHR will prefer your new note text and will not remove or update the note with the Auto-Note after that point. You can clear the note field to reset the Auto-Note behavior.
Abnormal Notes May Now Be More Useful: Before the PCC 7.2 update, clinicians may have found it useful to only enter a standard "Normal" Auto-Note, since it was less likely they would initially click "Make All Abnormal". Your clinicians may want to use this update as an opportunity to review their Auto-Notes and enter their standard abnormal notes for each chart note protocol. To learn more, read the Auto-Notes help article.
Find Patients By Vaccine Lot Number
You can now run Vaccine Lot reports in PCC EHR.
When you need to report on vaccine lots, go to the Reports menu, and click on Vaccine Lot Report.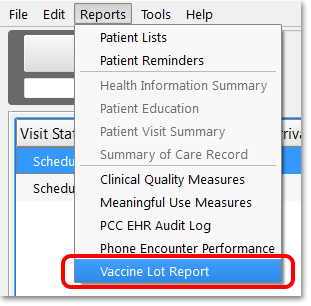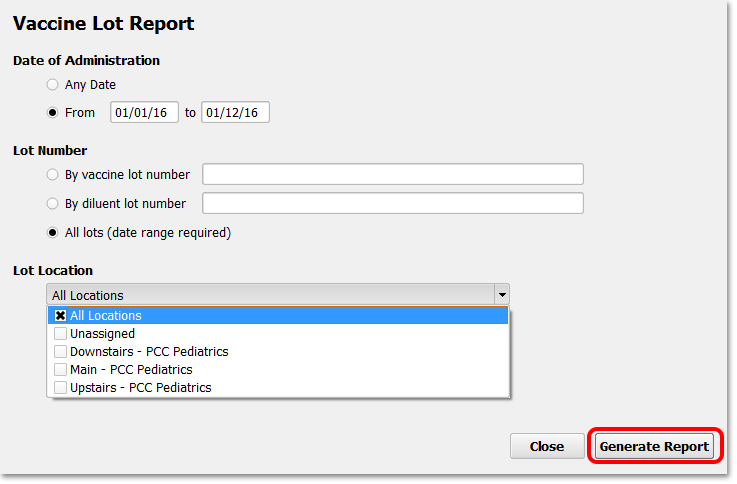 You can run this report on a number of criteria, specifying date of administration, as well as Vaccine lot number or diluent lot number. You can also specify lot location, if you are a multi-location practice.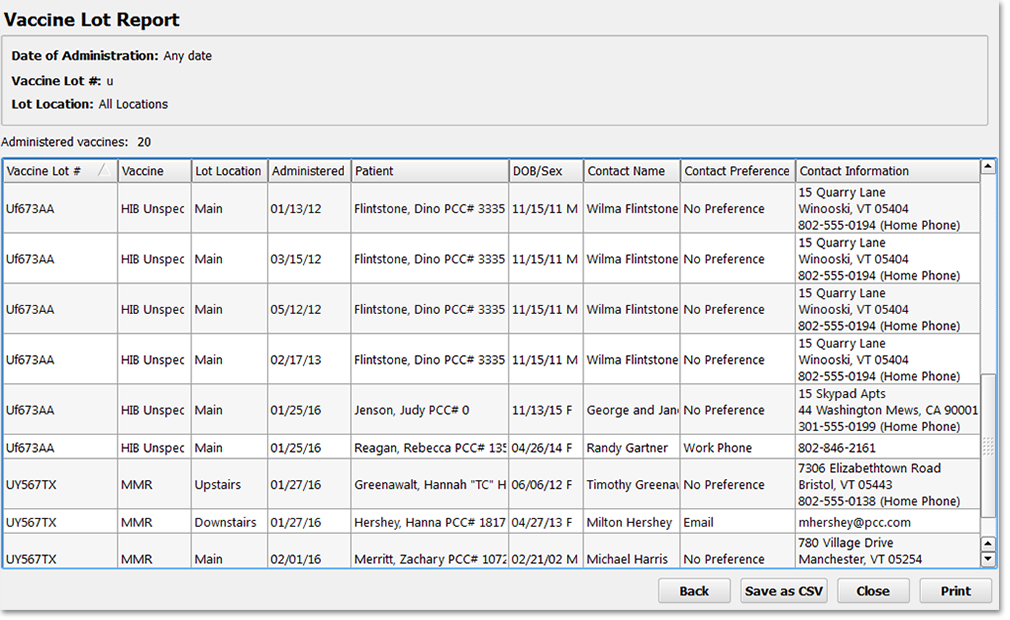 The report returns a table, sortable on any column by clicking the column title. This report can be printed directly, or saved as a *.csv file.
Contact Information: The contact information in this table is pulled from the Patient's Confidential Communication Preference from the Demographics section of the patient's chart. If the patient does not have a contact preference, these columns will display the mailing address and phone number of the patient's custodial account.
Identify the Funding Source for Vaccines
You can now specify whether an immunization lot is from your practice's private stock or from some other funding source, such as VFC immunizations supported by Federal funds.
Use the Immunization Configuration tool to add a funding source when you add or edit an immunization lot.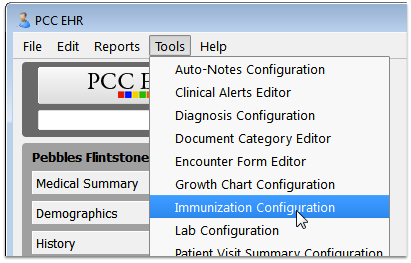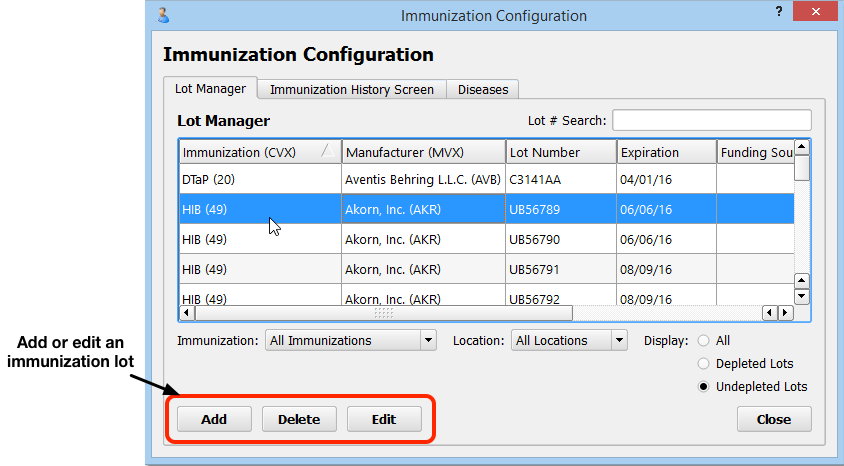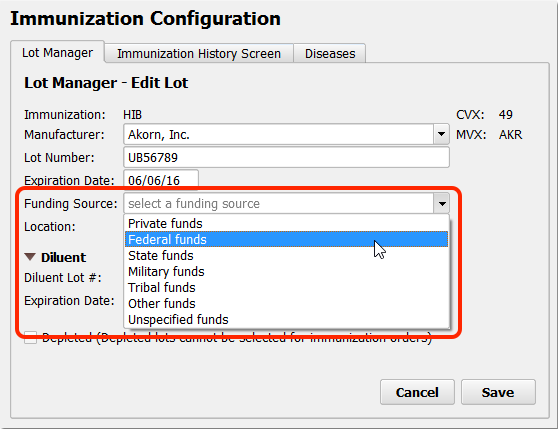 The available funding source list is based on the CDC's recognized list of funding sources. For example, your practice may store and administer VFC immunizations, provided by Federal funds, to VFC eligible patients. You can now indicate that when you set up the VFC lot in the Lot Manager.
Once you identify that information for an immunization lot, you can see the funding source when you select the lot in the chart note.


By entering the funding source for immunization lots, you can be certain you are selecting the correct lot for the patient when you administer the vaccine. Later, you can review the patient's record at any time to review whether they were given a Federal-funded immunization or not, for example.
Is the Funding Source Sent to Your Immunization Registry?: Your state's immunization registry may require the funding source for every vaccine record. (Your state's registry requirements may vary; the funding source is part of the HL7 standard.) Contact PCC Support if you need help with your immunization registry.
PCMH Dashboard Page
The Practice Vitals Dashboard now has a PCMH section, pulling together all of the dashboard measures relevant to attaining PCMH recognition.
After logging into the dashboard, you will find a new PCMH menu option. Click on this option to view a page containing all of the PCC Practice Vitals Dashboard measures that relate to NCQA's 2014 PCMH standards.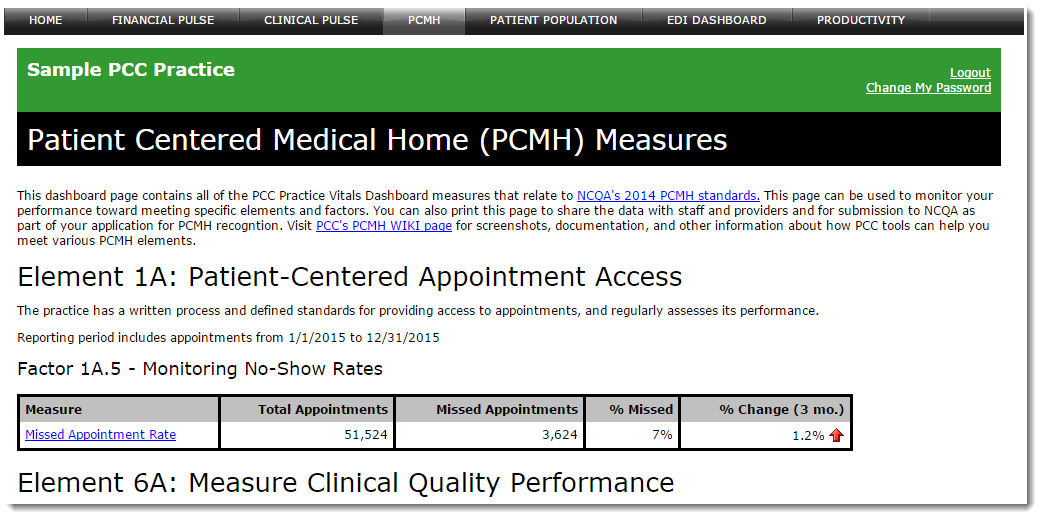 PCC Does Even More for PCMH: In addition to the reports in your Practice Vitals Dashboard, PCC's software and services include many other features and reports that help you apply for PCMH. PCC's tools can help you achieve 59 of the 85 points needed to reach Level 3 PCMH recognition. Read more about becoming a Patient Centered Medical Home.
Documents Now Have a Title Tag
Documents in PCC EHR now have a title tag. This tag can be used to further identify the document in the Visit History and Documents section of the patient history, as well as in the patient portal.
When importing a document, the Title field appears at the top of the tag region of the Import Documents window. This is a free text field, which you can fill out with any title you wish.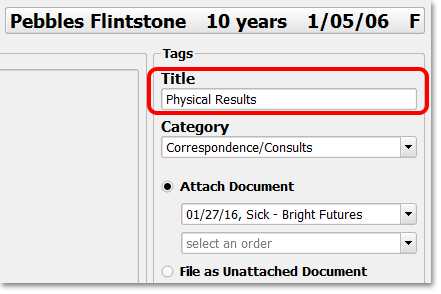 The title appears in the Documents section of the patient history.
You can edit the title of a document at any time, using the "Edit Tags" button.
If a document is not attached to a visit or order, and is set display in the Visit History, the title will appear in the Details column of the Visit History Index.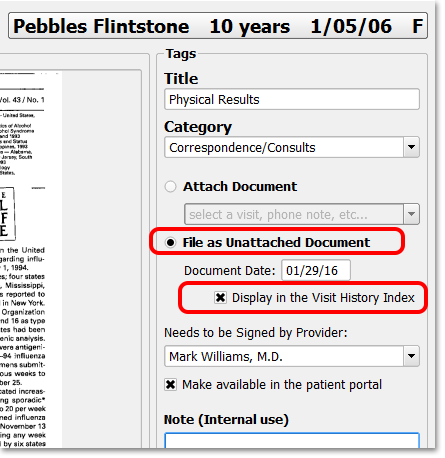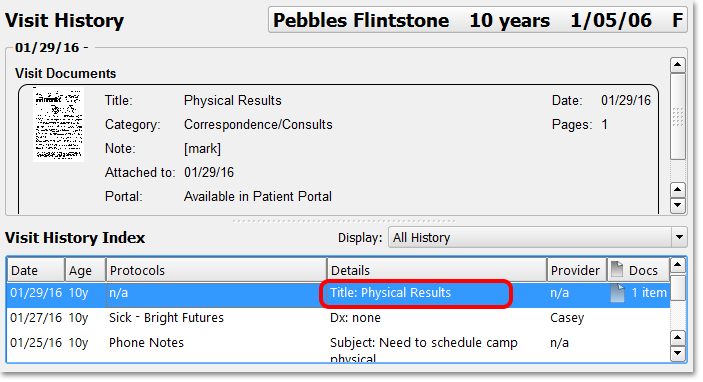 Title is Visible in My Kids Chart: When a document is shared through My Kids Chart, the document title appears in the Documents portion of the patient's record.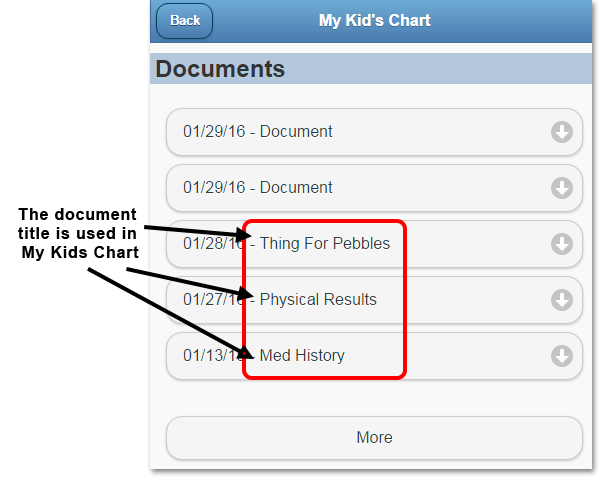 Make Documents Available to Patients and Families in My Kid's Chart
You can now make documents available to patients and families in My Kid's Chart, PCC's patient portal. You can use this to share forms, test results, and other important documents with your patients and families.

When you import a document into a chart, you will now see an option to make the document available in the patient portal.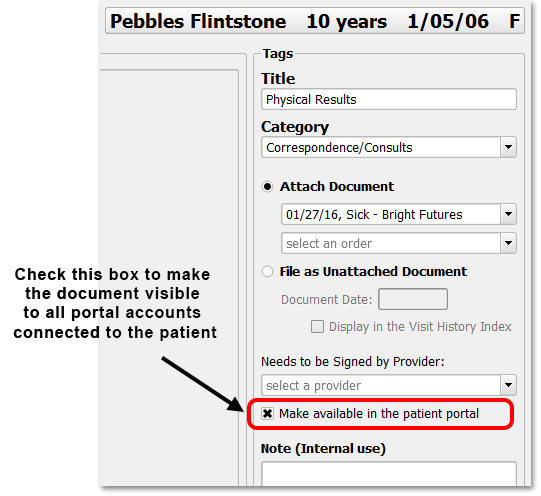 In the Documents section of the patient's chart, the panel will indicate whether a document has been shared, making it easy to see what information a patient has access to in the portal.

Update Availability: You can make a document available or unavailable at any time by editing the document tags.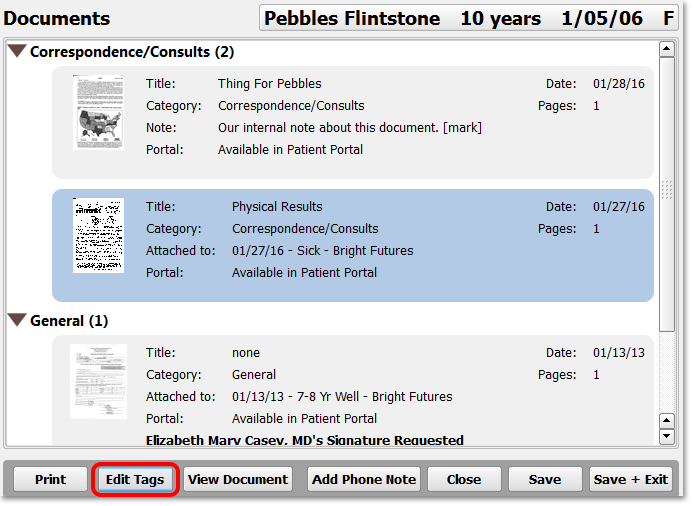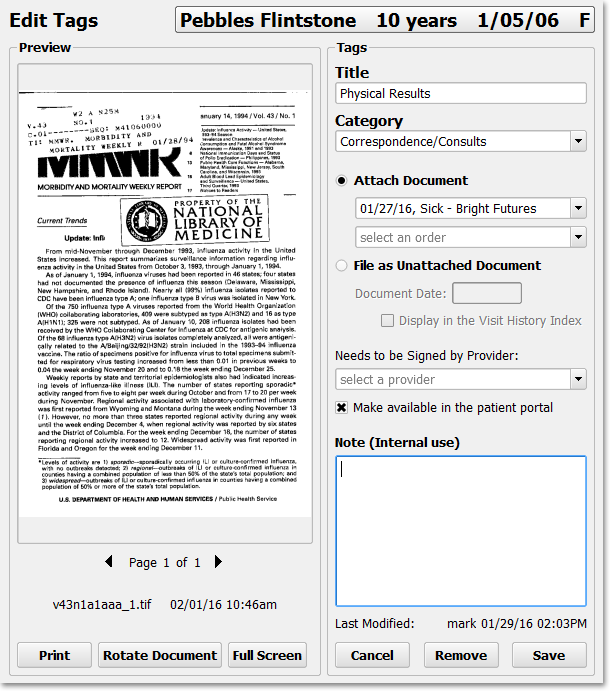 When the patient or guardian logs into My Kid's Chart, they will now see all documents that have been shared for that patient. The portal displays the five most recent documents by default. To view more, the patient can click the "More" button at the bottom of the document list.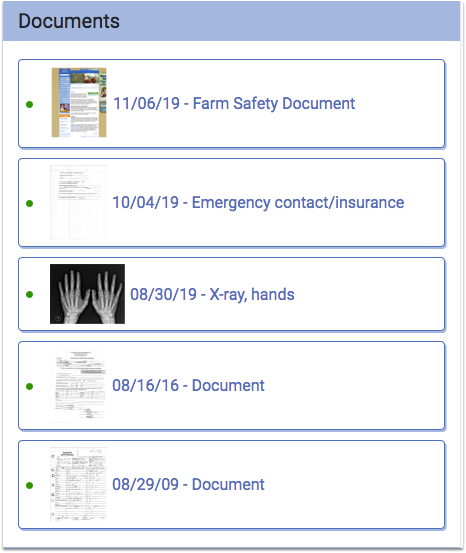 The user can click on a document to download and view it.
Turn It Off?: If your practice does not want to share documents through the patient portal, you can turn this feature off in the Patient Portal Manager in the Tools menu. For more information, read the PCC 7.2 Migration Considerations article.
Administrate My Kid's Chart Accounts Inside PCC EHR
You can now create and configure patient portal users inside PCC EHR.
When you need to create a new user, or change patient access, run the Patient Portal Manager under the Tools menu.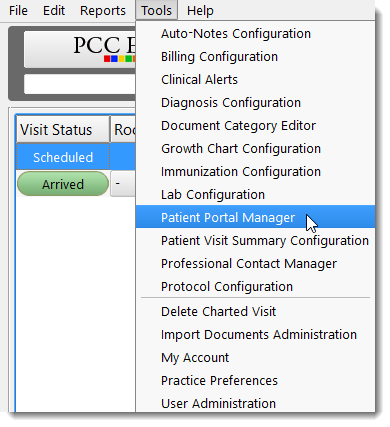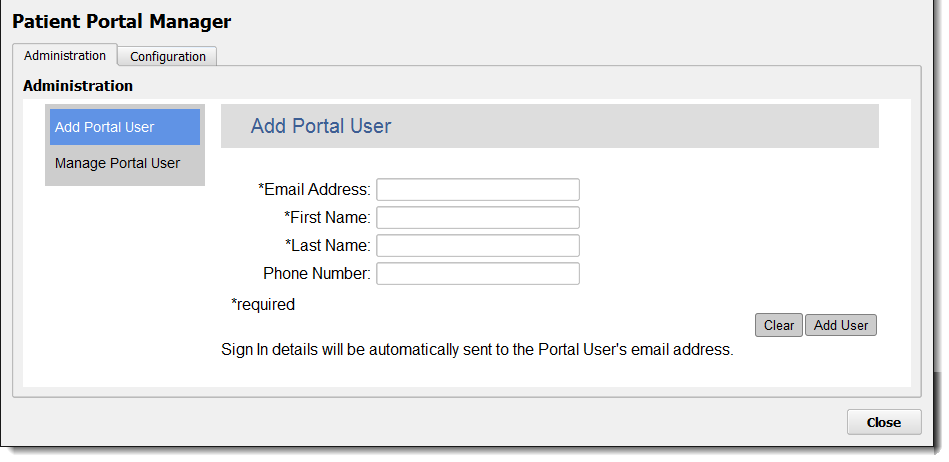 Use the "Administration" tab of the Patient Portal Manager to create new user accounts, reset passwords, or connect patients to accounts. For a complete guide to all the powers of the Patient Portal Administration tool, read the My Kids Chart Administration article.
Browser Access Still Available: You can still access the My Kid's Chart administrative tools from a Web browser, using your practice's Patient Portal Administration Web login address.
Permissions: The two tabs in the Patient Portal Manager (Administration and Configuration) are restricted to users with one or both permissions in the User Administration tool. After your PCC 7.2 update, your practice should review which users should have access to each tab and adjust your User Role definitions. For example, a Front Desk or Nurse user role could have access to the Administration tool, so they can help new families get started with My Kid's Chart, and a supervisory user could have access to the Configuration tab, to make practice-wide adjustments to what options are available in My Kid's Chart. For more information, read the PCC 7.2 Migration Considerations article.
Care Centers: If you work in a large, multi-office practice that uses PCC's Care Centers features, you must assign Care Centers to specific users in the User Administration tool in order for the Administration tab to point to the correct domain for each user. For more information, read the PCC 7.2 Migration Considerations article.
SNOMED-CT Diagnosis Description Update
PCC 7.2 includes an update to the SNOMED-CT library in PCC EHR. The combined SNOMED-CT update adds 6873 diagnoses and 2750 procedures, along with new regime therapies, allergies, and family medical history descriptions. Over 2000 existing terms were changed or removed from the library.
When you add diagnoses to a chart note, a patient's Problem List or Family History, or when you need to add a SNOMED-CT procedure to an order, you will have the most up-to-date version of available SNOMED-CT descriptions. Most description changes are minor, clerical improvements that your users will not notice. You may notice hundreds of new, pediatric-specific SNOMED diagnosis descriptions.


If a Code's Description Changed, Will That Change Patient History?: The PCC 7.2 SNOMED-CT update will not change or rewrite any existing diagnoses already present on a visit chart note. PCC EHR records and preserves the diagnosis descriptions that your practice records on a visit chart note, and code set updates will not change a patient's history. The patient's Problem List, on the other hand, will reflect the newest SNOMED-CT description.
Migration of your Protocol Defaults: The PCC 7.2 update will automatically migrate any chart note protocol default diagnoses that were renamed or removed by the SNOMED-CT update. For more information, read the PCC 7.2 Migration Considerations article.
Assign PCC EHR Users to Care Centers
If you work in a large, multi-office practice that uses PCC's Care Center features, you can now assign users to their Care Center.
Use the User Administration tool to edit a user's Care Center.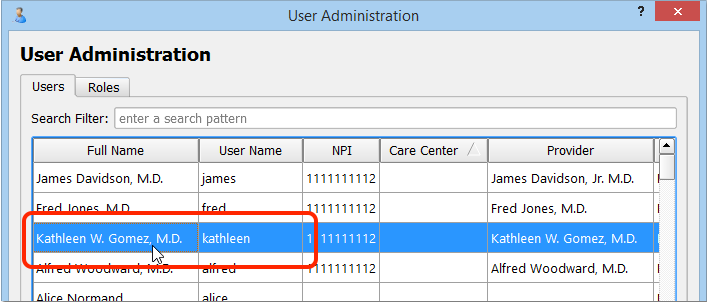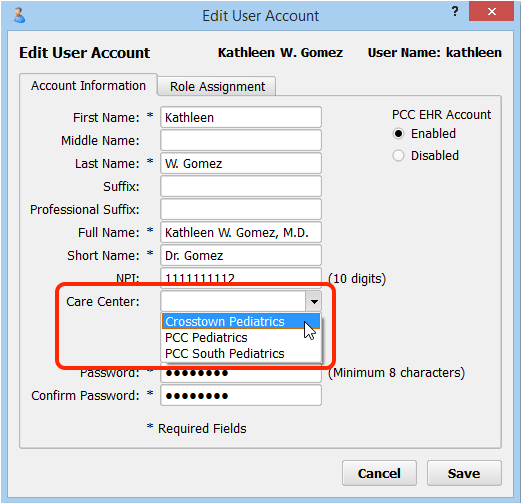 If a user floats between multiple locations, you can leave their care center blank.
Once you have assigned a care center to the users at each of your care center locations, PCC EHR's user pull-down menus and provider pull-down menus will show only those users who match their care center. This filtering works in pocketPCC as well. Read below to learn more.
Implementation After Your Update: After your 7.2 update, an office manager or other administrative user at each care center location should review and set the care center for each PCC EHR user. Many features in PCC EHR, including order assignment, provider lists, and My Kid's Chart administration will rely on the user's care center.
Have You Linked Clinicians to Partner Providers?: Some PCC features, including Care Center features, rely on having PCC EHR users linked to the providers in the Partner practice management system. You can see whether or not your clinicians are linked up in the new Provider column in the User Administration tool.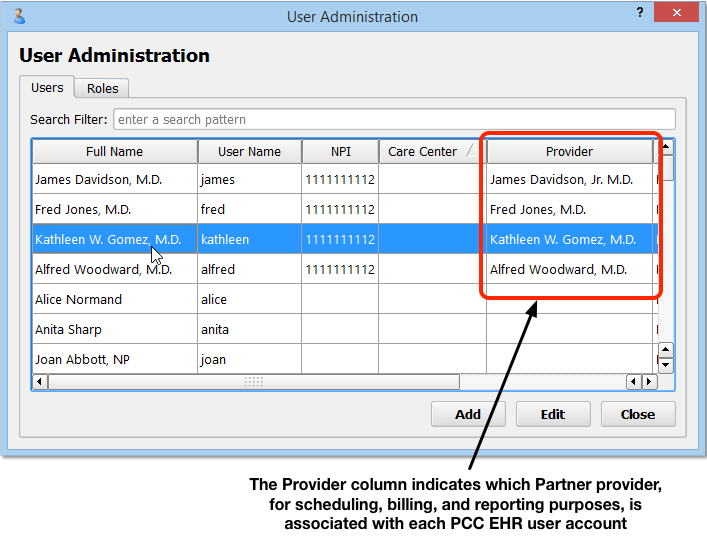 If you believe a provider is not correctly assigned, open the Providers table in Partner and enter the appropriate PCC EHR user.

When You Assign a Task, See Only the Users in Your Care Center
When you want to assign a task to a nurse or other person in your office, you will now see only those users who work in the same Care Center as you.



Instead of seeing all possible nurses in PCC EHR, for example, you will see only those nurses who are configured with the same care center as yourself.
In addition to users in your Care Center, you will also see users who are not assigned a Care Center. And, if you are a "floating physician" or for some other reason do not have a Care Center assigned, you will see all users.
When You Pick a Provider, See Only the Providers in Your Care Center
When you want to pick a provider from a drop-down menu in PCC EHR, you will now see only those providers who are assigned to your Care Center.

For example, when you set the filters for your Schedule screen or other queues, or when you pick a signing provider to review an imported document or order, the list of providers will be filtered to your Care Center.
In addition to users in your Care Center, you will also see providers who are not assigned to any Care Center. And, if you are a "floating physician" or for some other reason do not have a Care Center assigned, you will see all providers in the pull-down menus.
Provider Lists that Are Not Limited: There are a few provider lists in PCC EHR that will not be limited by Care Center. For example, the Protocol Map, which assigns chart note protocols to particular providers, will continue to show all providers. The E-lab Results queue filter will not be care center-specific, as that filter lists assigned providers on e-lab results sent to your practice by third-parties. Finally, some practice-wide reporting tools, such as the CQM and Meaningful Use Measure reports, display all providers and allow you to specify which ones you wish to see in the report output.
Providers By Care Center Requires User Linking: Some parts of this feature rely on having PCC EHR users linked to the providers in the Partner practice management system. If you have not already linked your Partner providers to their associated PCC EHR user accounts, you can do so in the Table Editor (ted), as shown above.
Clinical Alerts will Appear in pocketPCC
When you select a patient or save a phone note in pocketPCC, you will see the Clinical Alerts applicable to that patient, just as you do in the EHR. You can scroll through the alert(s), and click the continue button to close them.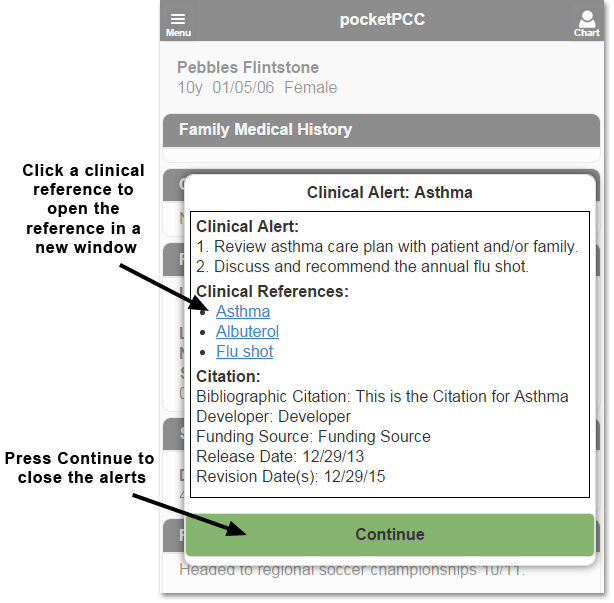 Clinical References: You can click on a clinical reference to open it in a browser window. Using your device's browser navigation, you can return to pocketPCC at any time.
View the PCC EHR Audit Log
When you want to know which user performed an action on a patient's chart, or you want to know if a user has viewed a chart or performed other actions, you can now access your practice's PCC EHR Audit Log. You can use the PCC EHR Audit Log to find out who accessed or changed patient records or keep a close eye on specific patient charts.
To view the log, select "PCC EHR Audit Log" from the Reports menu.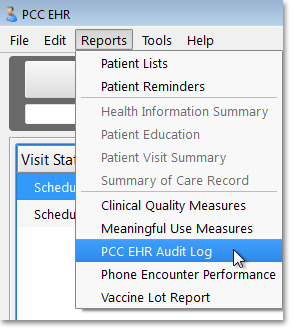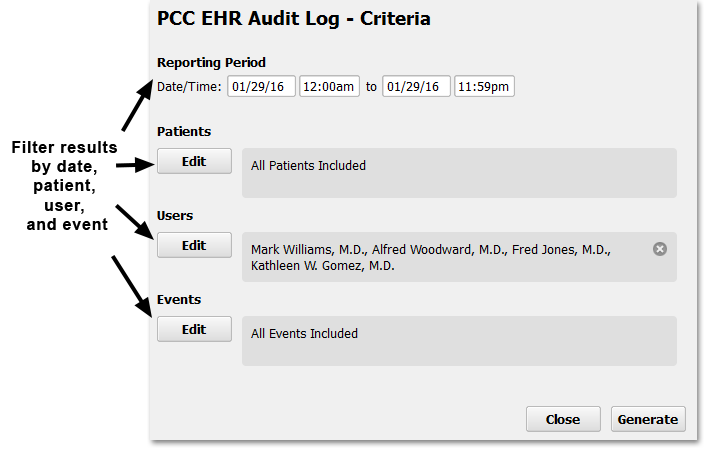 Before you generate the report, you can add filters to limit the output to a specific patient, one or more users, or one or more kinds of chart events.

Click "Generate" to see the results.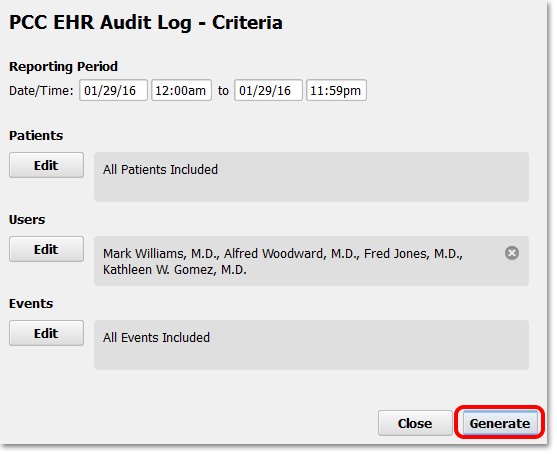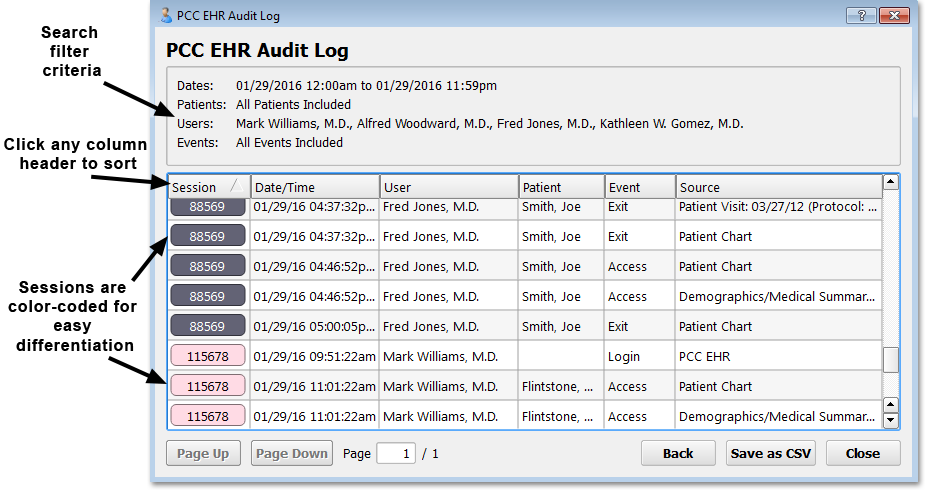 On the results screen, you can see all chart events that met your chosen criteria. When a user logs in and logs out, that information becomes a unique session. You can see the session ID with a unique color in the first column.

Click on the session ID to narrow the report down to a specific user's session, or the user's session with a patient.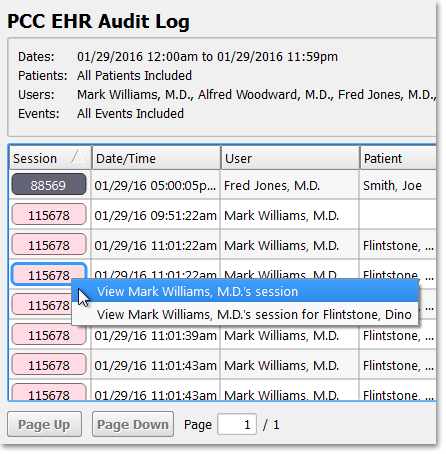 Permissions to Access: Your practice can customize which users can access the PCC EHR Audit Log by adding or removing access for a user role in the User Administration tool.
Slow Performance, One User Only: The Chart Event Audit Log compiles thousands of records into an easy-to-read format. It takes considerable system resources, and can take several seconds to run. Only one user can open the Chart Event Audit Log at a time.
User: The User column won't always show a PCC EHR user. It may instead show programs and processes that access and modify a patient's chart automatically, such as the Partner billing system or the Rcopia prescription system.
Other Feature Improvements and Bug Fixes in PCC 7.2
In addition to the features described above, PCC 7.2 includes these smaller improvements and squashed bugs.
Partner Claims Will Check for External Cause as Principal Diagnosis: If an external cause, (formerly "E" codes in ICD-9, now V, W, X, or Y codes) is the principal or only diagnosis code on a claim, insurance payers reject the claim. In PCC 7.2, Partner's claim generating program will check each claim's principal diagnosis and add them to the Tagsplit Bad Claims report if the primary diagnosis is an External Cause code. You can then edit or reorder the diagnoses on the Visit Status screen in oops and resubmit the claim.

PCC Can Now Submit Updated and Deleted Immunization Messages to Registries: Some state immunization registries, such as Massachusetts, require that your EHR system submit updated and/or deleted immunization messages when patient records change. PCC now supports these messages, and is therefore compatible with more state immunization registry systems.

Secure Messages After Disabling the Feature: If your practice decides to turn off secure messaging for the Patient Portal, patients and families will now still be able to see and work with previous historical messages sent before you disabled the feature.

Chart Already Open Error: Under certain circumstances, a user could press Enter while opening a chart and PCC EHR would believe the chart was open twice, which could later return a "Chart Already Open" error. This no longer occurs.

Line Plotting for Growth Charts: If your practice had both metric and English measurements in a patient's history, the growth chart lines would sometimes draw incorrectly. This has been adjusted so the growth chart lines will always display correctly.