In December of 2015, PCC will release version 7.1 of our charting and practice management software to all PCC users.
PCC 7.1 focuses on simple feature improvements that have a big impact. We answered wishes and requests from our users. The release includes blood pressure percentiles, a new "Ready-Provider Alert" to help clinicians know when patients are waiting for them, lots of great new pocketPCC features, and two new measures in your Practice Vitals Dashboard.
Read below to learn more!
Watch a Video: Want to watch a video summary of everything in this release? Click Here
Contact PCC Support for information about the items below or about any PCC product or service.
See When Patients Are Ready With the Ready-Provider Alert
PCC EHR now displays the number of patients who are ready to see the clinician.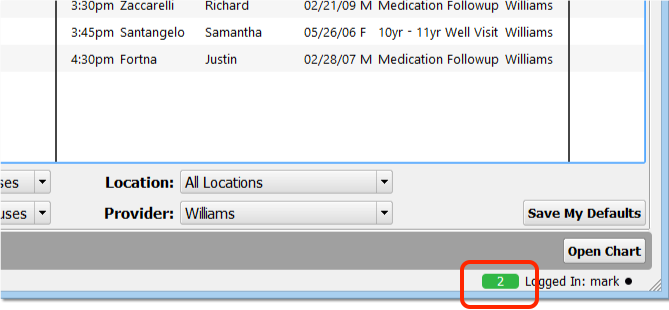 In the lower-right hand corner of any PCC EHR window, a green indicator will show the number of patients on your Schedule screen for today that have the status of "Ready-Prov".
Whenever a nurse or other user changes a patient's visit status to "Ready-Prov", the Ready-Provider Alert number will increase.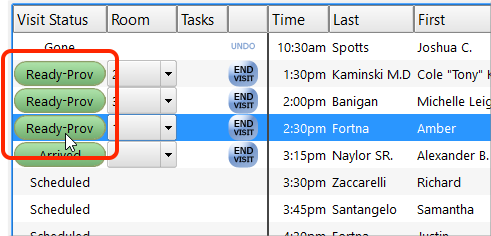 Since the "Ready-Prov" number appears in the lower-right corner, you can see that a patient is waiting for you no matter what task you are performing in PCC EHR. If there are no patients with that status, the alert will not appear.
Your Ready-Provider Alert Number Comes From Your Schedule Screen Configuration
The Ready-Provider Alert number is based on each user's configuration on the Schedule screen.
For example, if Dr. Casey is covering for both herself and Dr. Williams, she can change her Schedule screen Provider filter to show both sets of patients.

The Ready-Provider Alert will display the total number of patients visible on the user's Schedule screen, for today, that have the "Ready-Prov" status, based on their current Schedule screen queue settings. Nurses and other users can adjust their Schedule screen configuration and save their defaults to control which patients are counted in that number.
Turn It Off?
If a nurse, office manager, or other user does not want to see the total number of patient appointments with the Ready-Prov status on their Schedule screen, they can turn the feature off in the My Account tool.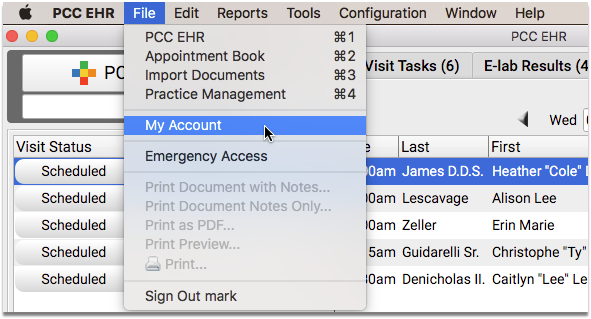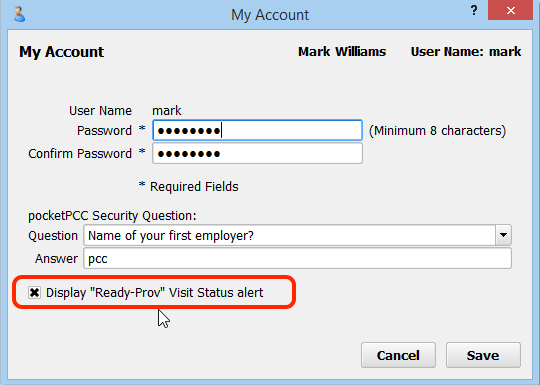 Blood Pressure Percentiles in the Chart Note
PCC EHR now calculates and displays blood pressure percentiles for patients aged 2 to 20 years.
When you enter vitals in a chart note, PCC EHR will automatically display the BP percentile.

PCC EHR uses the National Institute of Health's data to perform the BP percentile calculation. In addition to blood pressure, the calculation requires patient sex, age, and height (stature, not length).
After you chart, the patient's Flowsheets and Visit History will also display the blood pressure percentiles.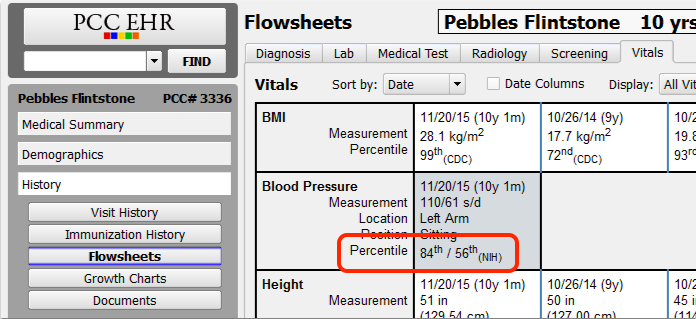 Your practice can use blood pressure percentile to help catch potential hypertension diagnoses and optimize health outcomes for your patients.
Blood Pressure percentiles will appear on previous chart notes that were charted prior to your PCC 7.1 update, as well as in the Visit History.
Vitals Component Layout Improvements
The Vitals component on your chart note in PCC 7.1 includes numerous layout and workflow improvements.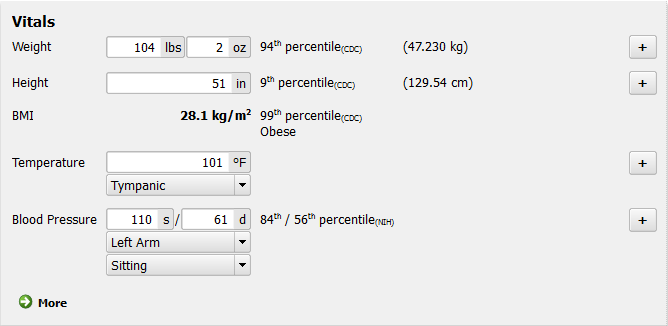 Column Alignment: The fields for each vital now align, making it easier to find and review field labels, percentiles or alternate units.

Spacing and Layout: Spacing improvements between columns and the different vitals elements make the screen easier to read.

Units Attached to Fields: Units, such as pounds, ounces, and Fahrenheit, are incorporated into the fields, making them easier to associate with the text value.

Improved Attribution Look Up: When you wish to review which staff member recorded a vital, you can hover your mouse over any part of the measurement to see their name.

Multiple Vitals Readings Will Appear in Order: When a patient has a second or third vitals reading in a single encounter, such as a series of blood pressure readings, PCC EHR now ensures that measurements all appear in the order they were entered.
Blood Pressure Field Entry Improvements
PCC 7.1 changes the Systolic and Diastolic blood pressure field to two separate entry fields.

When you indicate location and position, you can type a single letter or use the down arrow keys to make a selection.
Why Did PCC Change This Field?: Prior to the PCC 7.1 update, blood pressure results were entered in a single split field, which reduced a keystroke when entering Systolic and Diastolic values. Unfortunately, this caused confusion when users clicked to enter the field (you could enter the field in a different digit position than intended). Additionally, the field behaved in a way that was different from all other entry fields in PCC EHR, which caused challenges for new users or for users who only occasionally enter blood pressure.
Your Nurses Are Going To Need To Retrain Their Fingers: After your PCC 7.1 update, your nurses and other clinicians who enter blood pressure values will need to learn to press the Enter or Tab key after they enter the systolic value. They can also type the first letter of the location and position to speed up selection.
pocketPCC Now Includes Immunization History
Physicians and other pocketPCC users can now review a patient's Immunization History.
After you select an appointment or find a patient, you can use the Chart menu to view the Immunization History.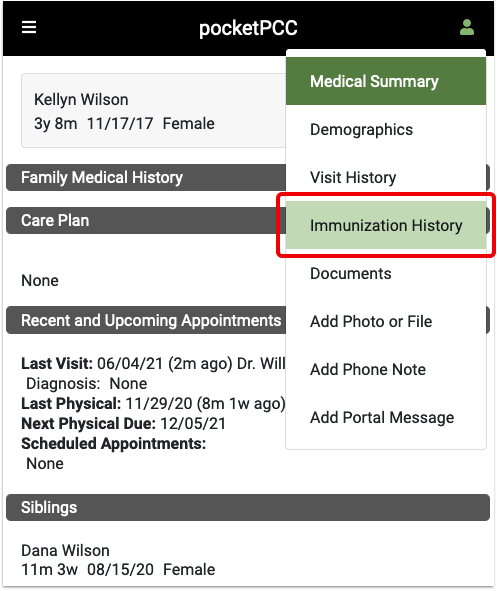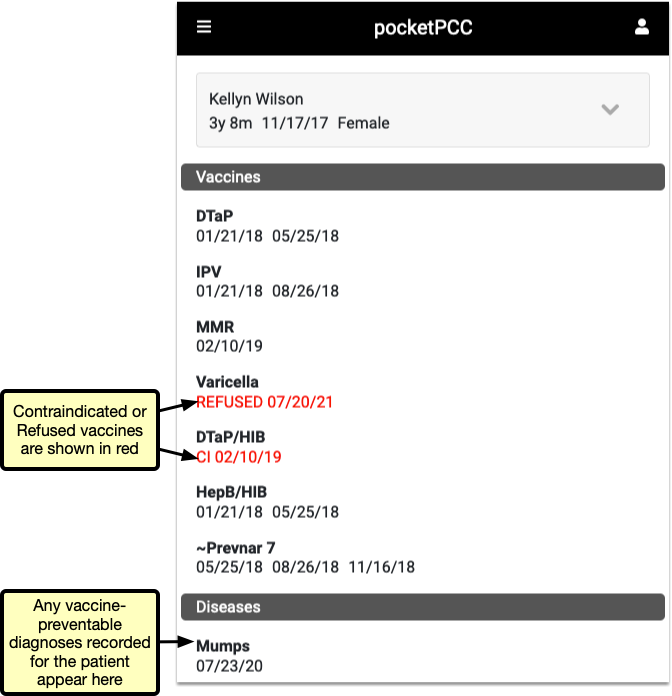 The new Immunization History section in pocketPCC displays all immunizations that are recorded in the patient's chart as administered, refused, or contraindicated. Any outstanding "ordered" vaccines will appear at the bottom, along with any recorded diseases.
Only immunizations that the patient has records for will appear. The name and order of immunizations matches your PCC EHR configuration.
pocketPCC Now Displays Appointment Notes
Physicians and other pocketPCC users can now see appointment notes on their mobile schedule.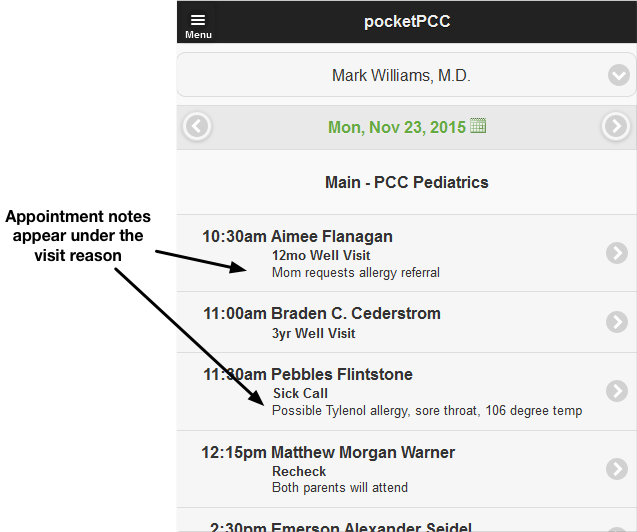 When your practice uses a generic visit reason, such as "Sick Visit", you can now also review the appointment note to know what to expect when you see the patient.
Jump to Any Date in pocketPCC
While browsing your schedule in pocketPCC, you can now jump to any date.
Tap anywhere on the date or the calendar icon to open the calendar.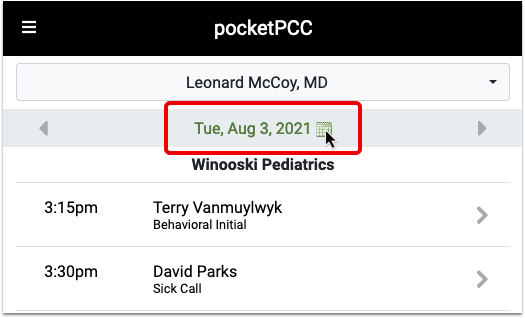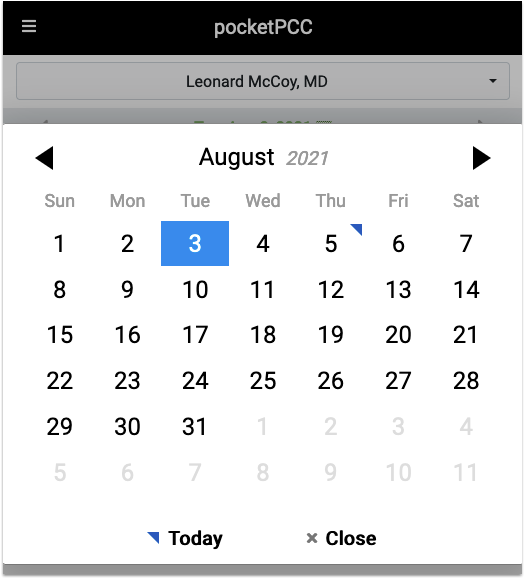 Use the arrow buttons to pick a different month.
Pick any day to jump to that day and close the calendar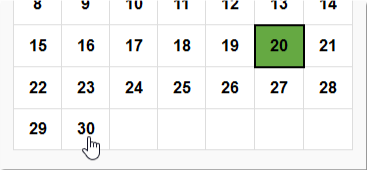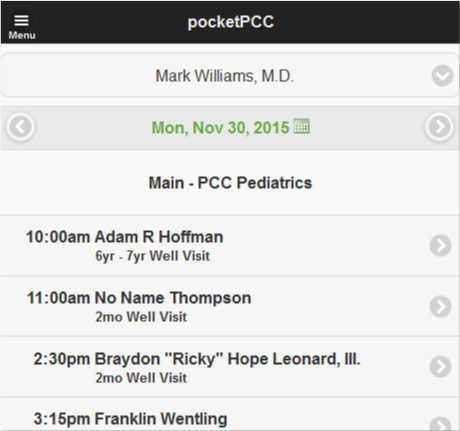 Meaningful Use Measures Report Updated for CMS's Modified Stage 2 Changes
PCC EHR's Meaningful Use Measures report now includes options for the new Modified Stage 2 requirements for the ARRA EHR Medicaid Incentive Program.
When you need to generate numbers for your ARRA or PCMH application, run the Meaningful Use Measure report from the Reports menu.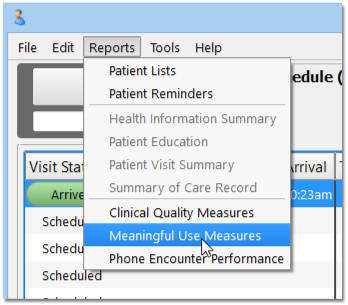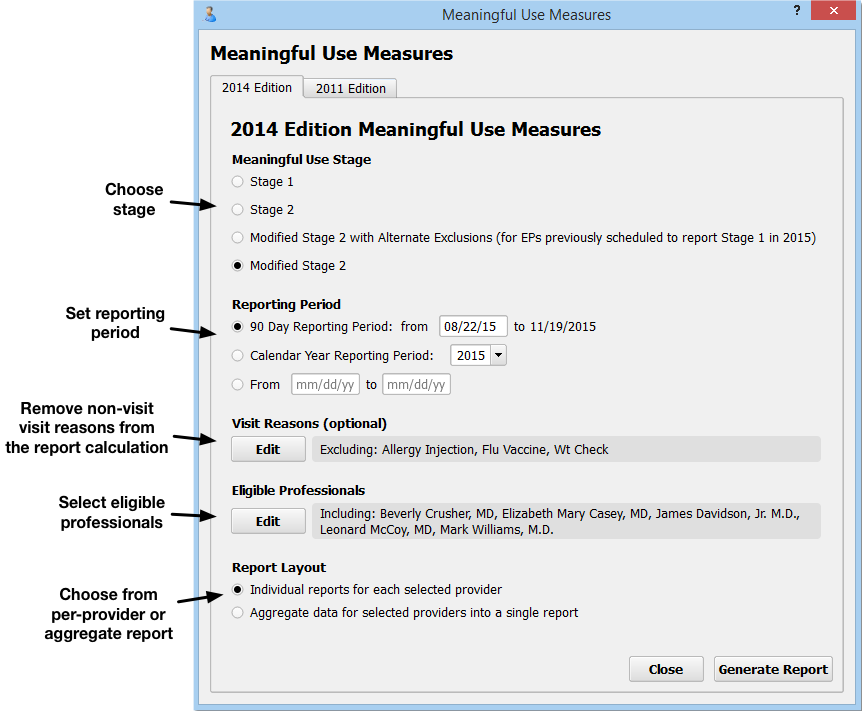 Two new options will let you run the report for the new "Modified Stage 2" requirements announced in October of 2015.
The default is the new "Modified Stage 2" version of the report, which is suitable for all ARRA EHR Medicaid Incentive applications. A "Modified Stage 2 with Alternate Exclusions" option is available if you were intending to apply for Stage 1 for 2015.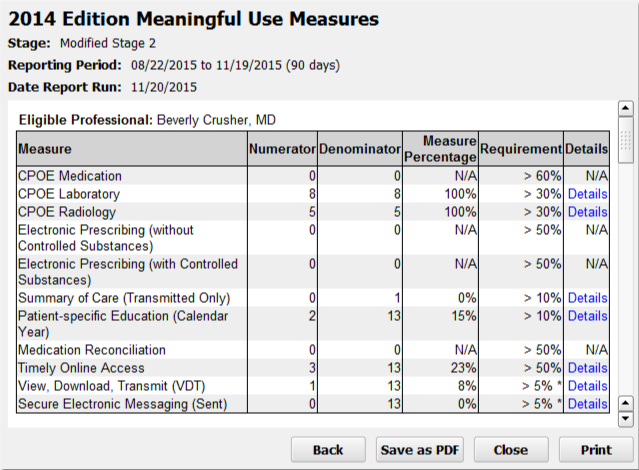 For each measure, you can see the description, numerator, denominator, measure percentage, threshold requirement, and a Details link. You can review a summary of the measure by hovering your mouse over the measure description.
The Alternate Exclusions Report: Because the Modified Stage 2 requirements were not announced until late 2015, CMS has a smaller list of required measures with different thresholds for eligible professionals who intended to apply for Stage 1 in 2015. Select the "Modifed Stage 2 with Alternate Exclusions" option to see your practice numbers for these measures.
PCMH or ARRA?: If you are running the Meaningful Use Measures report for a PCMH program, you may need to use the previous Stage 1 and Stage 2 versions of this report for your application. Contact PCC for more information.
Highlights of Measure Changes in "Modified Stage 2"
Here are the key differences in the new Modified Stage 2 version of the report.
12 Measures Removed: Twelve measures were removed from the previous version of the report, and several measures were tweaked or adjusted

Handouts During the Calendar Year: The new "Patient-specific Education (Calendar Year)" measure behaves differently than the patient education measure from the previous Stage 1 and Stage 2 requirements. The new version of the measure checks whether or not you've used PCC EHR to distribute educational materials during the calendar year of your reporting period instead of through the beginning of the patient's history.

Sent Messages, Not Received: The new "Secure Electronic Messaging (Sent)" measure counts what percentage of patients who visited during the reporting period were sent messages through MyKidsChart, the patient portal. The old "Secure Electronic Messaging" measure counted whether or not you received messages from patients and families using the patient portal.

Year-By-Year Thresholds: Percentage thresholds for meeting the "View Download Transmit" and "Secure Electronic Messaging (Sent)" measures have decreased. The Meaningful Use Measures Report output displays the year-by-year requirements at the bottom.
Learn More About Meaningful Use and the ARRA EHR Incentive Program
For more information about running and reading the Meaningful Use Measures report, read:
More Documentation Coming Soon: PCC is working on a complete guide to meeting each Meaningful Use measure in PCC EHR. Stay tuned! In the meantime, you can watch the latest Meaningful Use Web Lab.
Practice Vitals Dashboard: New Meningococcal and Adolescent Tdap Benchmarks
Your Practice Vitals Dashboard now includes Meningococcal and Adolescent Tdap immunization dashboard measures.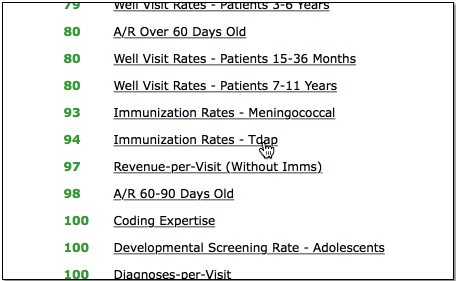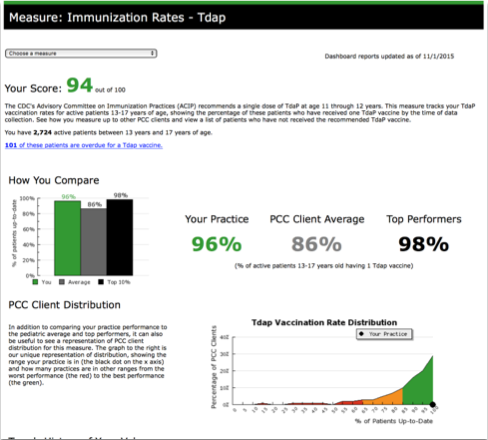 Use the new benchmarks to evaluate your practice's clinical performance on these vaccinations. For each measure, you can see what percentage of your patient population meets CDC recommendations and compare your practice with other PCC clients.
Immunization Measures for PCMH: You can use these numbers as alternate vaccination measures when reporting for a PCMH program.
Not Part of Clinical Pulse Score Yet: At this time, the new Meningoccoccal and Tdap Benchmarks are not part of your practice's overall Clinical Pulse score.
Patient Overdue Lists: Click on the Patient Overdue List link at the bottom of the measure to see the patients who do not meet the recommendations. As with all data in the Practice Vitals Dashboard, the patient overdue lists for each measure are based on your monthly data calculation. Some patients may have visited your practice since that data collection. Use PCC EHR's Patient Lists report or the Partner Patient Recaller (recaller) to produce up-to-date lists of patients.
Other Feature Improvements and Bug Fixes in PCC 7.1
In addition to the features described above, PCC 7.1 includes these smaller improvements and squashed bugs.
pocketPCC Improved Highlight of the Active Field: When you add a subject in a phone note, or edit any other field in pocketPCC, the field you are editing will be highlighted. The consistent highlighting makes the pocketPCC interface easier to read and use.

pocketPCC or pocketpcc URL: Your practice's pocketPCC users can now access their schedule, patient records, and phone note tools by going to the "pocketPCC" or "pocketpcc" URL for your practice. For more information, read Get Started with pocketPCC.

Posted CARC Amounts Can Not Exceed the Unpaid Amount of a Charge: : When a biller posts CARC codes and amounts manually in the Post Insurance Payments (pip) program, they can no longer accidentally enter amounts that exceed the balance of the full charge amount minus all linked insurance payments. The CARC Amount, Code, and Group fields in pip allow you to record the insurance payer's explanation for the amount of the charge they did not pay, so the total amounts should never exceed the unpaid portion of the charge. Read more about posting CARC codes in Partner.

Out of Sequence Claim Acknowledgements Won't Make the 'SRS Claim Error Report' Fail to Report a Claim Rejection: Claim status acknowledgements and claim rejections do not always arrive in time order. The payor sometimes responds with a rejection even before the hub or clearing house reports they acknowledge the claim. Prior to PCC 7.1, that meant the SRS Claim Error Report might not report a claim error if PCC received an acknowledgement after the payer's rejection. The revised SRS Claim Error Report in PCC 7.1 will no longer report on simple clearing house acknowledgements for claim status, and it will sort claim responses by date and time. These two changes will help ensure that the report includes all rejected claims.

Outbound Claims Can Now Include Care-Center Specific Coding for ERA Responses: If your pediatric practice is part of a large, multi-practice group that uses a third-party payment processing center, PCC can now configure your outbound claim identification number to include a code specific to your Care Center so that a payment processing center, upon receiving the electronic remittance advice for the claim, can route payments to the correct practice. These settings are specific to each claim batch and controlled in the claim configuration settings in Partner.

Improved PCP Syncing: Under certain circumstances, when you changed a patient's PCP, it would not change in both PCC EHR and Partner. Now, when you update a patient's primary care physician in PCC EHR, it will always trigger an update in Partner.

Diagnosis Configuration Tool Columns: Under certain circumstances, the Favorites, Allergies, and Family History columns would not appear in the Diagnosis Configuration tool. Now they always will.

Improved PCC eRx Syncing During Network Problems: PCC continues to track down and fix problems with DrFirst syncing with PCC EHR after network errors.

Reprinting Bills from oops: When you reprinted a bill from oops, sometimes parts of the bill would not print because printer control codes were not translated correctly. The text processing program will now adjust the output file and add printer control codes as needed.

SRS Aging Reports Handle Negative Balances Better: SRS aging reports, such as "Monthly Report of Accounts with Credits", will now give accurate results even when there are negative balances or unapplied credits. PCC corrected this issue for all default SRS reports. If your practice uses a custom report that reports negative balances incorrectly, please contact PCC Support.