In September of 2015, PCC will release version 6.29 of our charting and practice management software. PCC 6.29 is the final version 6 release of PCC software, and it includes numerous ICD-10 feature improvements as well as Partner updates in the Correct Mistakes (oops) tool.
Read below to learn more!
Watch a Video: Want to watch a video summary of everything in this release? CLICK HERE. (22 min)
PCC 7.0 is Coming Too: Later this fall, PCC will make an optional 7.0 release available for clients who want to take early advantage of features for meeting Meaningful Use. The features of PCC 7.0 will be rolled into our standard PCC 7.1 release later in 2015, but your office may want the fall 7.0 release if you use PCC EHR and if you need a 90-day reporting window in 2015 for the ARRA program or PCMH.
Contact PCC Support for information about the items below or about any PCC product or service.
Visit Notes in Correct Mistakes (oops)
You can now add and review visit notes in Correct Mistakes (oops).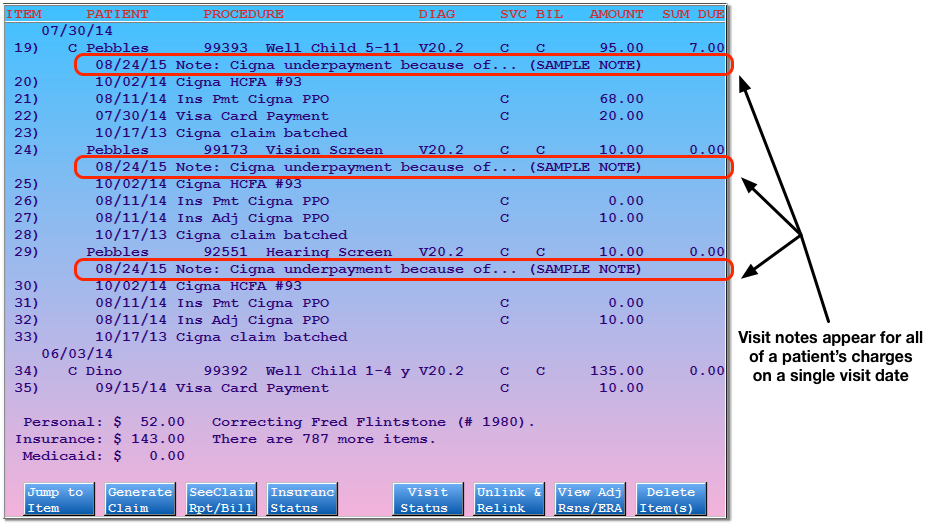 Add a Visit Note
As you review an account's history, press F4 – Insurance Status or F5 – Visit Status, enter item number(s), and then press F4 – Add/Edit Note to view the Visit Notes screen for a set of charges.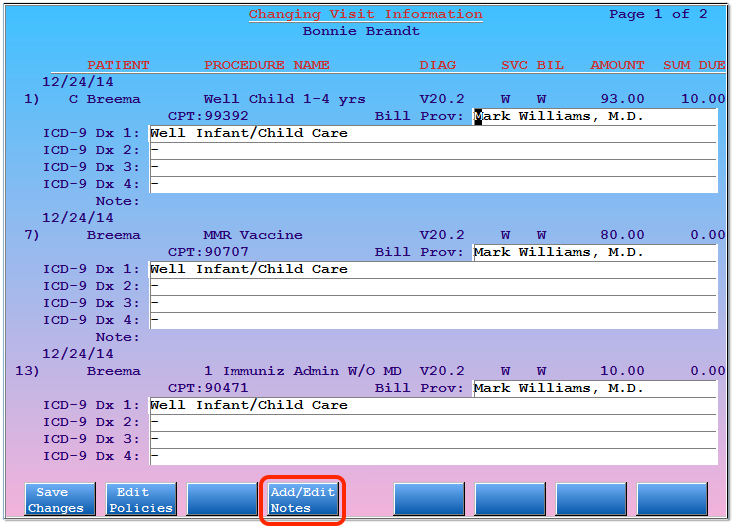 On the Visit Notes screen, press F4 – Post New Note to create a new note.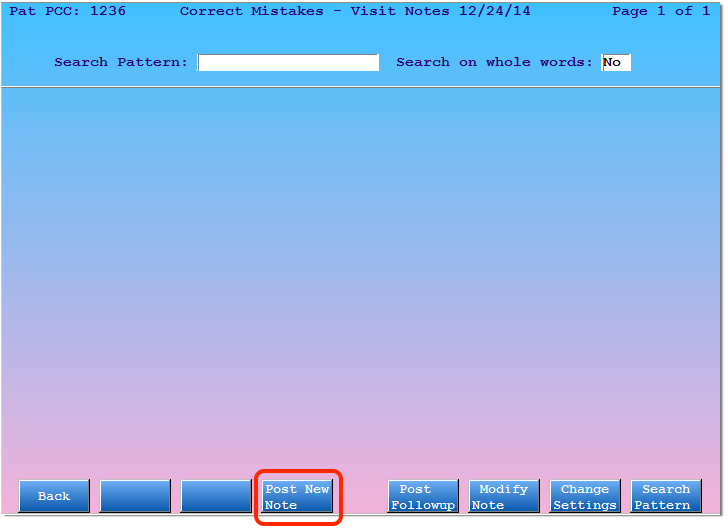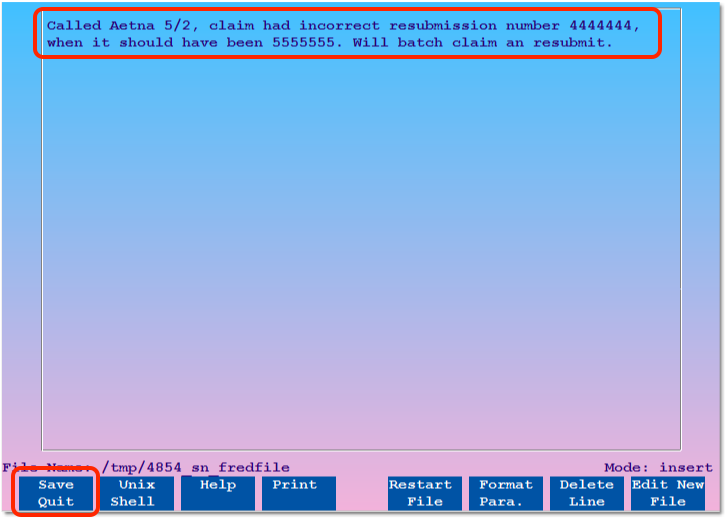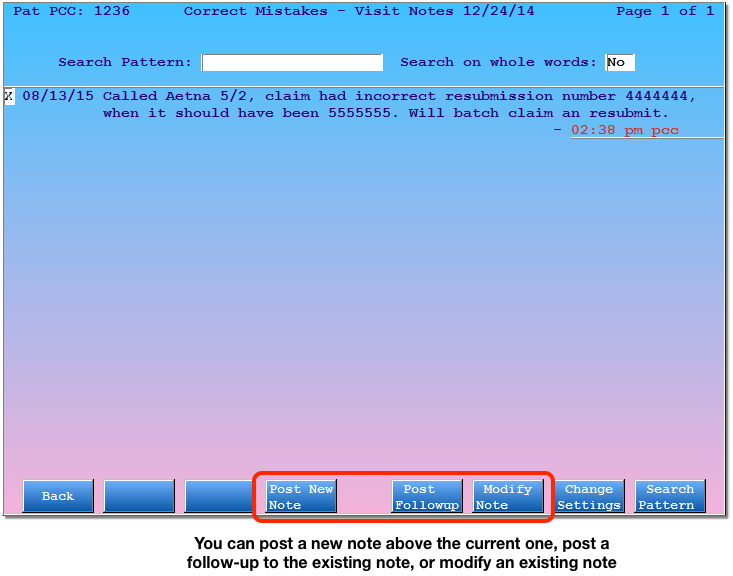 After you save your note, it will appear on the main charge history screen in oops.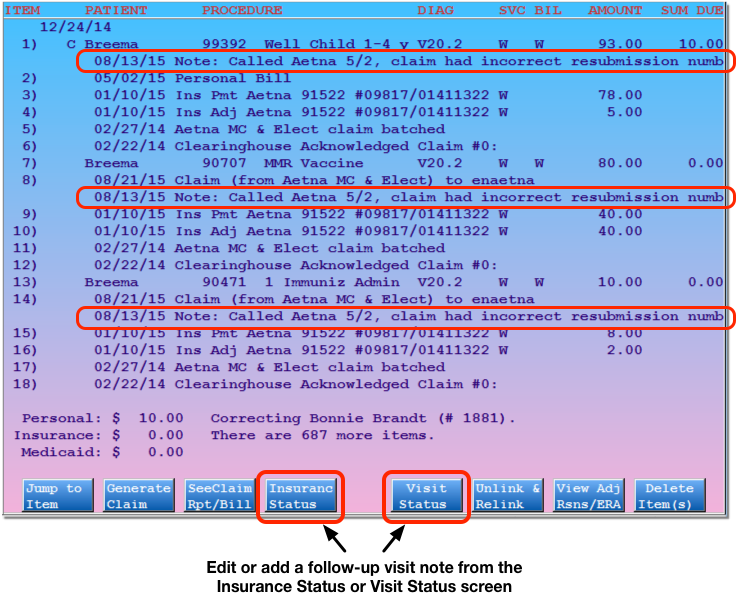 The oops screen only has room to display the top line of the note. You can use the Visit Notes screen to review the full text of the note or edit the note later.
Here are some other features to keep in mind as you use the new visit notes feature:
A single note is associated with all charges for a particular visit date, for a particular patient. You can add additional notes about the visit and add followup notes and they will all be associated with all charges for that patient's visit date.
Partner logs and displays who created or who most recently edited each note.
If two accounts are merged, or charge information changes in some other way, all notes will follow the charge and visit date with which they are associated.
You can make notes visible/invisible by pressing

N

– Toggle Notes. You can also make billing history items visible/invisible by pressing

E

– Toggle Billing History.
Learn More About the Notes Screen: When you add or edit a note, you are using Partner's Structured Notes feature. You can search the visit note and add followup notes, just as you can in the family or patient notes screens, found in the Patient Editor (notjane) and Family Editor (fame).
Jump to Insurance Policy Information from oops
As you work with charge history in the Correct Mistakes (oops) program, you can now quickly jump to the Insurance Policies (policy) screen for a patient.
For example, you may want to review the insurance status of a set of charges. Press F4 – Insurance Status and then select the item numbers for those charges.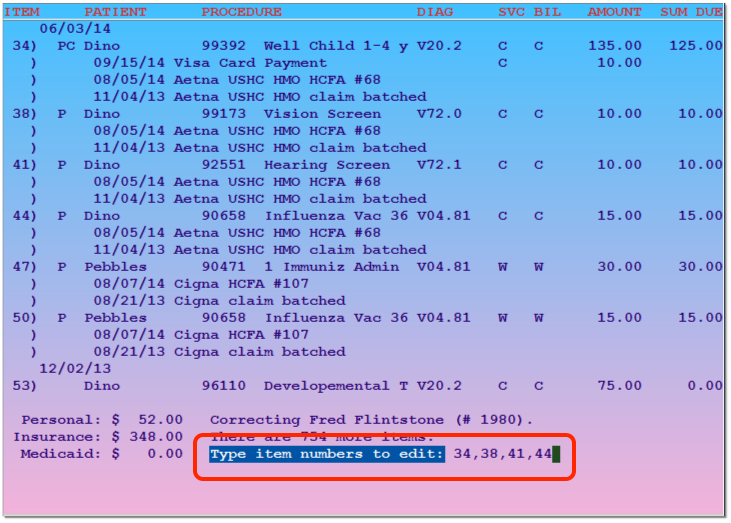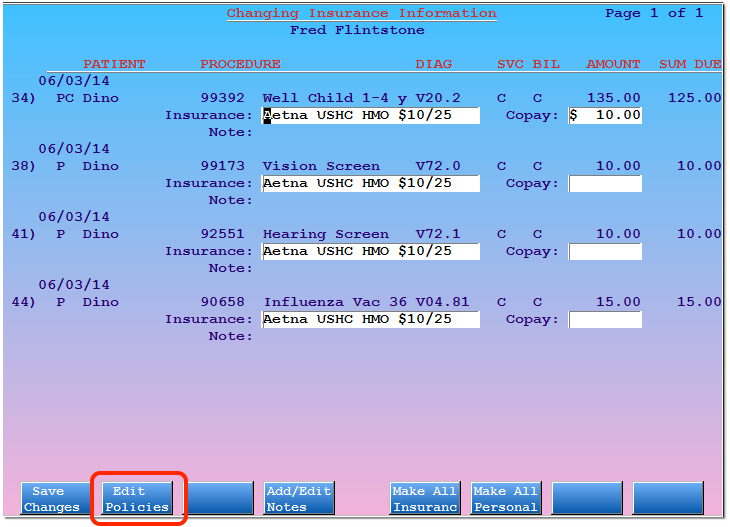 The oops program will display the current insurance status, including responsible party and copay information, for the charges.
Press F2 – Edit Policies to open the patient's policy screen.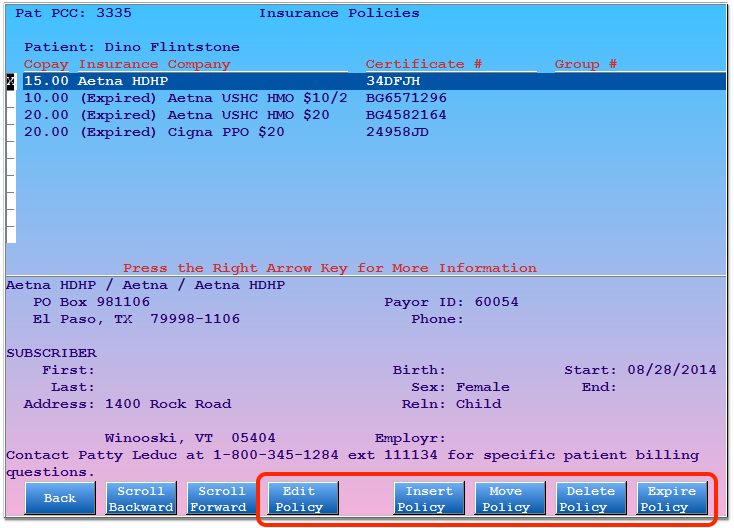 On the policy screen, you can review full insurance details, as well as add or edit policy information for the patient.
After you make changes to the patient's policies, you could change the responsible party for the charges and then re-batch the claim.
Jump to Policy from the Insurance Status or Visit Status Screens: The F2 – Edit Policies function appears on both the Insurance Status screen and the Visit Status screen in oops.
View CPT Billing Codes in oops
Your practice can now see CPT codes on the main charge history screen in Correct Mistakes (oops).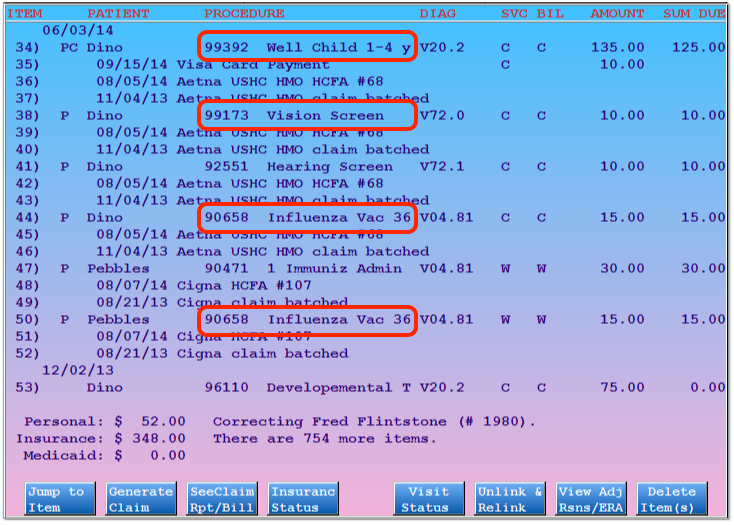 By default, the oops program will now display the CPT billing code first, followed by the procedure description.
Optionally, you can use a new configuration question in the Charge / Payment Posting section of the Configuration Editor (ced) to change the screen back to display only the procedure's text description.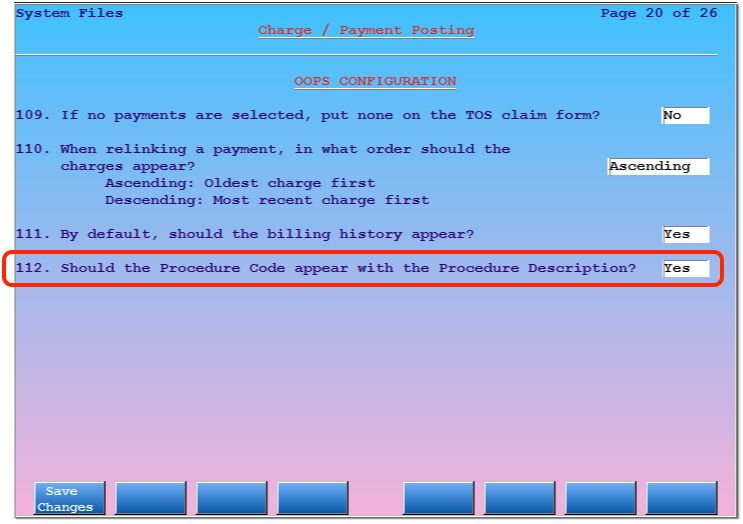 What Code Will Appear on the Claim?: The oops program will display the default Schedule A CPT code for a given charge. If your practice uses special configuration for unique billing circumstances, the actual CPT code on the claim for some procedures could be different.
pocketPCC is Coming Soon!
You will soon have mobile access to patient charts, scheduling, and creating phone notes in PCC EHR.
pocketPCC, the sequel to PCC's Pocket Partner program, is in pilot testing with this release.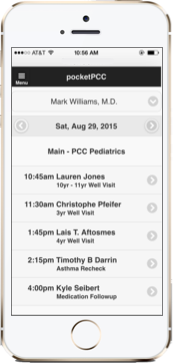 For more information, you can read our beta documentation articles, Get Started in pocketPCC and Set Up pocketPCC User Accounts.
pocketPCC will launch later this fall. Stay tuned!
ICD-10 End-to-End Testing
PCC is completing ICD-10 end-to-end testing with United Healthcare as well as medicaid programs in Massachusetts, North Carolina, and Texas. These end-to-end tests follow your claims from the moment they leave PCC's system to the moment the EOB/ERA is received back by PCC's system. PCC's claims comply with all required standards and are ready for ICD-10. Timing is such that PCC will not be participating in any additional end-to-end testing which is not already underway.
For more information, read PCC Support's ICD-10 End-to-End Testing FAQ and our additional ICD-10 resources.
ICD-10 Billing Codes Re-Added to the Patient Recaller, SRS Criteria, and Other Partner Reports
PCC reports and reporting tools, such as the Patient Recaller (recaller) and Smart Report Suite (srs), now support ICD-10 criteria. In addition, the Partner Referral Tracking (referral) program can now display ICD-10 diagnoses.
This ICD-10 work was completed in 2014 and has been turned back on in the PCC 6.29 release for the October 1st, 2015 deadline.
You can run a patient recall based on whether or not patients have been billed for an ICD-10 diagnosis, and you can add ICD-10 codes as criteria for srs reports.
Update My Custom Reports for ICD-10: Your practice may want to update saved criteria for srs, notify or the recaller with ICD-10 diagnoses. For example, you may have a report, clinical alert, or notification that finds patients with asthma diagnoses. Those reports will continue to work after October 1st for historical ICD-9 diagnoses, but they will become less accurate over time as patients receive ICD-10 diagnoses instead. Contact PCC Support for help updating your report criteria.
Add ICD-10 Diagnosis Codes to Orders
Your practice can now configure orders, such as immunizations, to automatically trigger ICD-10 diagnosis codes when the order is placed.
For example, when you order an immunization, PCC EHR can automatically select the ICD-10 Z23 code for you.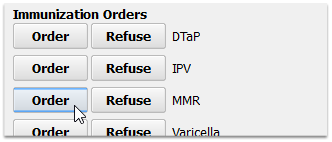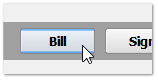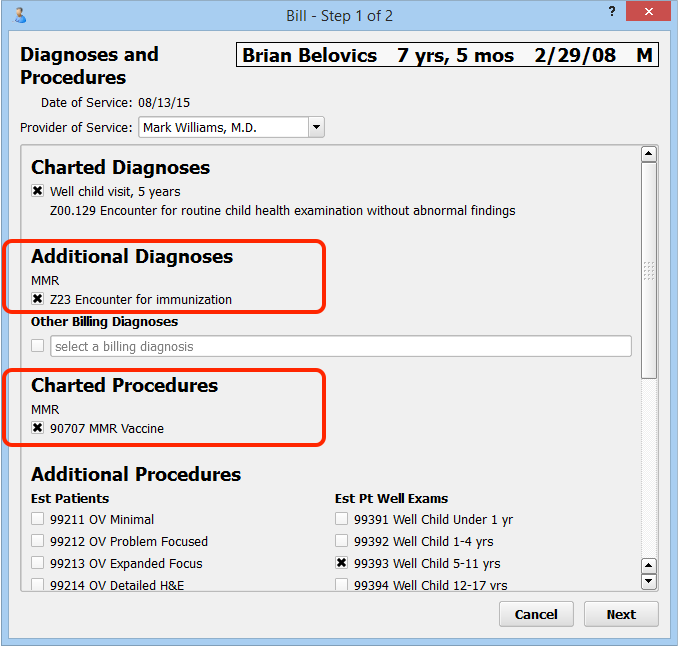 The code will appear on the electronic encounter form. The clinician or biller can make changes later if the code should be different.
Where Do I Configure These Codes?: You can add diagnoses to orders in the Billing Configuration tool. For example, if you want to add the Z23 code to your immunizations, you can open the Billing Configuration tool and find the immunization on the Order Mapping tab.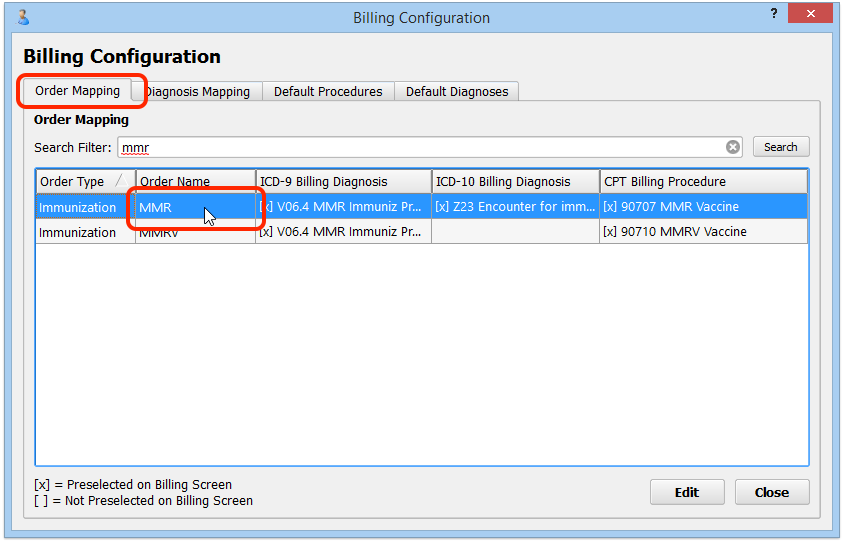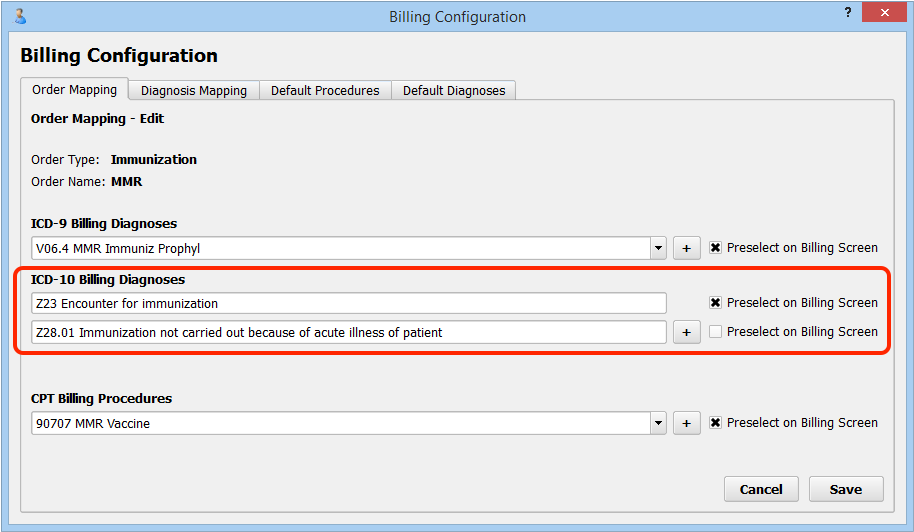 PCC recommends that you add the Z23 code to all immunizations, as it will save time later for your billers. You can also add additional, unselected codes to orders (as shown above) in order to make them available on the electronic encounter form whenever an order is placed.
Try Out ICD-10 Early with the ICD-10 Early Access Server
Your practice can now connect to a training server that runs PCC software as if it were already October 1st.
On that PCC training server, you can create visits for test patients and try out ICD-10 functionality in both PCC EHR and Partner.
To learn more, read the ICD-10 Early Access help article.
Practice Vitals Dashboards Updated for ICD-10 Codes in Addition to ICD-9 Codes
Your Practice Vitals Dashboard now evaluates both ICD-9 and ICD-10 billing data. Specifically, the "Immunization Rates – Influenza (Asthma)" measure and the "ADD/ADHD Patients Overdue For Followup" measure both evaluate diagnosis billing data to determine your practice's benchmark numbers. They will now evaluate both ICD-9 and ICD-10 billing codes related to Asthma and ADD/ADHD.
What Will Happen to Partner's ICD-9 Major Diagnoses and Allergies Lists After October 1st?
For many years, the Partner Practice Management system has used the ICD-9 diagnosis code set to provide some basic clinical tracking features. The Patient Editor (notjane) includes Major Diagnoses and Allergies lists, which are updated automatically from billed diagnoses. These lists can appear when scheduling, on paper encounter forms, form letters, and in the Partner Phone Encounter Notes (pen) program.
The Major Diagnoses and Allergies lists depend on features specific to the ICD-9 billing codes table in Partner. They will not continue to populate after you begin billing with the new ICD-10 billing code set.
Will the October 1st Deadline Remove Patient's Major Diagnoses and Allergies?
PCC will not erase or remove the ICD-9 data tracked in the Major Diagnoses and Allergies lists in Partner. In fact, you can continue to review them, add ICD-9 codes to them, and use them in various programs.
However, once you begin billing with ICD-10, the patient lists will no longer be updated automatically based on billed charges. A patient's ICD-9 Major Diagnoses and Allergies lists will become less and less useful over time, and the ICD-9 code set will not be updated or supported. You can continue updating a patient's lists manually, or discontinue their use.
As they will become less accurate over time, PCC recommends that you remove the Major Diagnoses and Allergies lists from your scheduling screen and paper forms. The patient's chart in PCC EHR includes a Problem List and Allergy list which can replace some features of Partner's Major Diagnoses and Allergies features, and reports and the Patient Recaller can use billed ICD-9 and ICD-10 diagnoses as criteria.
If your practice uses the Major Diagnoses and Allergies lists, PCC Support can help you find alternative solutions. For example, some practices have found that using patient flags to inform physicians and staff about a patient's status can work better than the Major Diagnoses list. Contact PCC Support to discuss your options.
New Practice Vitals Dashboard Measures for Developmental Screenings
Two new measures in Practice Vitals Dashboard will help your practice evaluate your clinical performance for AAP-recommended developmental screenings.
The new measures calculate the percentage of infant and adolescent patients that received recommended developmental and behavioral screenings during the AAP's recommended age range.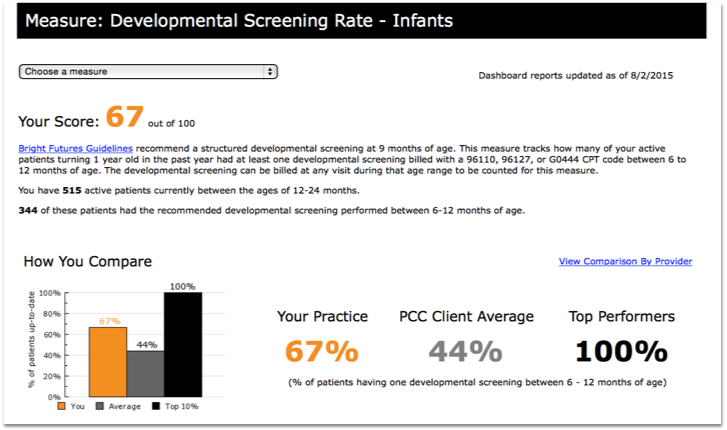 The two new measures are:
Developmental Screening Rate – Infants

This measure calculates the number of patients who turned 1 within the past year, and then it checks whether they received an AAP recommended developmental screening between 6 and 12 months of age. The screening is the Ages and Stages Questionnaire (ASQ).

Developmental Screening Rate – Adolescents

This measure calculates the number of patients, between 11 and 21 years of age, who have ever been billed for either a depression or alcohol and drug use assessment screening. The AAP recommends the PHQ standardized depression screening. Your practice may perform a drug and alcohol assessment. This measure looks for any of several screening procedures.
Not Part of Clinical Pulse: These two new measures are not part of your overall Clinical Pulse score.
PCMH Recognition: The numbers in these reports provide coding performance details that you can use as part of your PCMH Recognition application.
List the Patients: If you want a list of the patients indicated in these measures, you can use the Patient Recaller (recaller) to generate lists of patients who match these criteria.
Link Providers in Partner to PCC EHR Users for Meaningful Use Calculations
You can now link your Partner Practice Management system providers, used for billing and scheduling, to a PCC EHR user ID. This linking will support Meaningful Use reporting.
To link a provider in the billing/scheduling system to an EHR user, open the Table Editor (ted), select the Providers table, and choose from the list of providers.
For each provider, enter their PCC EHR username into the EHR User field.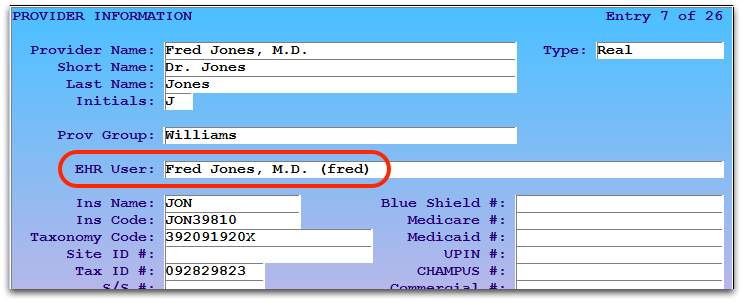 Record that a Patient's Family Declined the Patient Visit Summary
You can now record when a patient or guardian declined to receive a Patient Visit Summary report for the day's appointment.
Click on the Decline button to indicate the patient or guardian did not want the Patient Visit Summary.

Alternatively, you can click Decline inside the Patient Visit Summary window.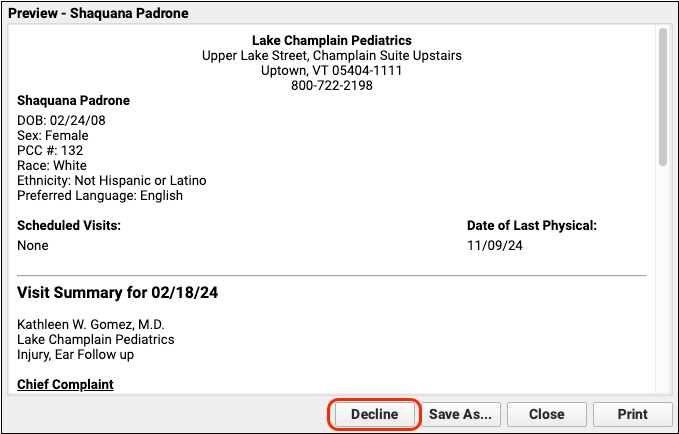 Why Would You Record This?: In order to meet Meaningful Use, your practice must offer a Patient Visit Summary for each visit. Since the family may say, "no thanks", you can now indicate that on the patient's chart and save the paper and ink for the report. PCC EHR will record the act of declining the report in the chart's background event log. Your results on the Meaningful Use report will indicate that the family was offered the report.
Save Patient Visit Summary Report as C-CDA or PDF
Your practice can now save a Patient Visit Summary in the C-CDA Clinical Summary xml file format for transmission to other medical practices.
When you generate a Patient Visit Summary, click "Save as…" to create a file. In the file type pull-down menu, you can choose either a PDF file or a C-CDA xml file.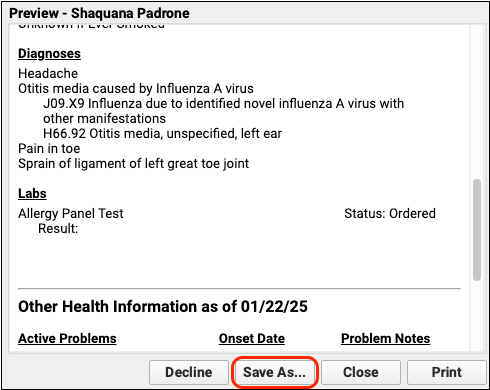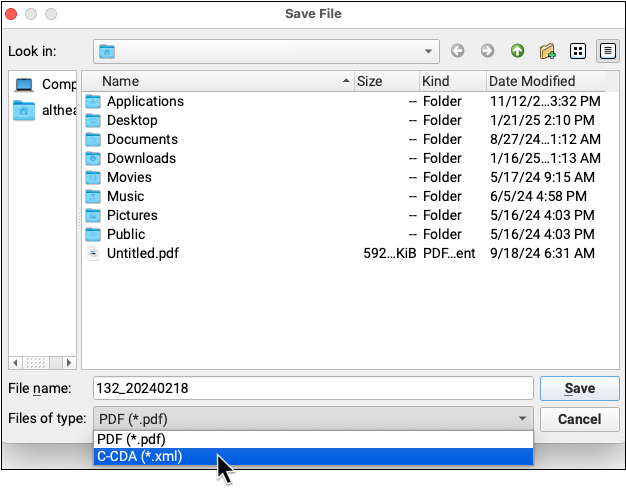 Configuration, Include, Exclude: Your practice can set defaults and make modifications to what appears in the Patient Visit Summary, and the C-CDA will reflect your changes. Labs and orders that are marked to be private and not appear on patient reports will not be included in the C-CDA file.
Features Coming in PCC 7.0
In the fall of 2015, PCC will release PCC 7.0, a PCC release that meets the 2014 Meaningful Use guidelines and includes the features listed below. PCC 7.0 is an optional release, intended for those practices who need reporting period data for Meaningful Use Stage 2 ARRA qualification for 2015.
Direct Secure Messaging Accounts
Receive Direct Secure Messages, Including Inbound C-CDA For Transition of Care
Transmit a Transition of Care Document in C-CDA Format Using Direct Secure Messaging
Patient Families Can Download or Send Visit Summaries in C-CDA Format
Patient Education Materials from the AAP
Meaningful Use Measures Report Updated for 2014 MU Stage 1 and Stage 2 Rules
Clinical Quality Measures Report Updated for 2014 Edition Rules
PCC practices who do not need the PCC 7.0 release in September will receive all of the 7.0 features in their 7.1 release, scheduled for December 2015.
PCC Learn, the New learn.pcc.com
PCC's home for user documentation and resources, learn.pcc.com, has moved to a new home. You are reading this document at PCC Learn, the new learn.pcc.com.
PCC Learn includes a new look and feel, navigation by office role as well as by program, improved searching and linking, and much more.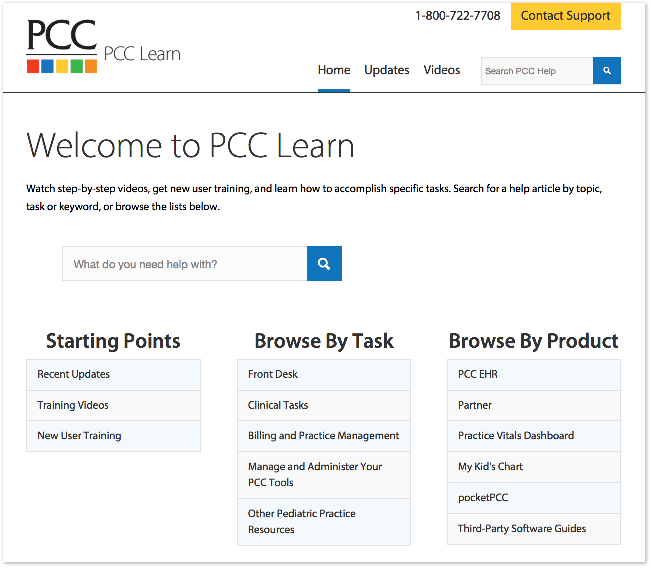 Send us your feedback and thoughts, and let us know what new resources or materials you would like to see.
Other Feature Improvements and Bug Fixes in PCC 6.29
In addition to the features described above, PCC 6.29 includes these smaller improvements and squashed bugs.
Daysheet and Deposit SRS Reports Can Include or Exclude Relinked Payments: When an insurance payment has been unlinked and relinked to a new charge, PCC deposit and daysheet reports can now optionally include or exclude the relinked payments.  You can set the default behavior for your practice in the Daysheet and Deposit Slips sections of the Configuration Editor (ced).

Submit Immunizations to ImmTrac: PCC now supports a direct interface with Texas's ImmTrac immunization registry.

Text Box Notes Off the Screen: In some circumstances, note fields on chart notes could expand off the screen, without a scrollbar, when a user entered a long note. This no longer occurs. (This bug was fixed by a mid-release patch.)

Safety Enhanced Design for Meaningful Use: PCC's User Centered Design process meets Safety Enhanced Design guidelines, including computerized order entry, drug conflict checking, and other standards that make PCC EHR meet Meaningful Use guidelines.

MyKidsChart Customized for Different Care Centers: PCC's patient portal, MyKidsChart, can now be further customized for practices with multiple care center locations. Website URLs, login screen information, sign up and password reset e-mails sent through MyKidsChart, and the displayed practice name and contact information can now match a patient's assigned care center location. If your practice uses PCC's Care Center feature and MyKidsChart, contact PCC Support if you would like custom URLs and onscreen messages for each practice location.