In June of 2015, PCC will release version 6.28 of our charting and practice management software. PCC 6.28 introduces ICD-10 charting features, more configuration options for the patient portal, chart amendment requests, and features that help your practice prepare to meet Meaningful Use. Read below to learn more!
Watch a Video: Want to watch a video summary of everything in this release? CLICK HERE. (24 min)
Implementation: The new features in PCC 6.28 require configuration and user-specific software training. Read about the features below and then review PCC 6.28 Migration Considerations.
Contact PCC Support at 1-800-722-1082 for information about the items below or about any PCC product or service.
Refine Diagnoses in the Chart
PCC EHR can now help clinicians select a more specific diagnosis description. After they select a diagnosis, they can use a new pull-down menu to refine the selection.

The new Refine Diagnosis drop-down menu will show the hierarchy of related SNOMED diagnosis descriptions. The clinician can quickly pick a more specific description.


After selecting a more specific description, it will replace the existing diagnosis. If there are even more specific options, the clinician can make another selection.

By refining diagnoses, clinicians can chart with greater specificity and accuracy. More advantages will come later in 2015, when greater specificity will improve mapping to ICD-10 codes and can result in more paid claims.
Optional: The Refine Diagnosis drop-down menu is an optional tool that allows you to quickly search through similar diagnoses that are below the selected one in the hierarchy of SNOMED diagnosis descriptions. You can use it to explore more specific diagnosis descriptions, but in some cases the more specific code is unnecessary or not appropriate for a visit.
ICD-10 Coding Tools Built Into Your Chart Note
After October 1st, 2015, when a physician selects a diagnosis, PCC EHR will automatically present the ICD-10 billing code. If additional information is needed for ICD-10 billing, the chart note will ask the physician the relevant questions.
For example, if a physician diagnoses "Failure to Thrive" for a child, after October 1st, 2015, PCC EHR will automatically identify R62.51 as the ICD-10 billing code.

If the correct code depends on patient details, such as age or sex, PCC EHR will automatically determine the code from patient information, as shown.
However, if a clinician selects a diagnosis that requires coding conventions, such as laterality or episode of care, PCC EHR will prompt the clinician to select an option.


After the clinician answers the questions, PCC EHR will present the correct ICD-10 billing code.
Later, the physician or biller can review all procedure and diagnosis billing codes on the electronic encounter form, link procedures to the diagnoses, and then send the details to the Partner billing system for posting and claim preparation.
You Will Not See These Tools Until October 1st, 2015: The ICD-10 coding, as well as the laterality and episode of care drop-down menus, will not appear until the ICD-10 cut-over date. You can schedule an appointment for October 1st and review some of the functionality now.
Sex or Age Not on File?: If the patient's chart does not include required sex or age information for determining an ICD-10 code, the clinician or biller can select the correct version of the code later, on the electronic encounter form or when posting charges in checkout.
Override and Configure the Billing Codes: Your practice can adjust the default billing code mapping for any diagnosis in the Billing Configuration tool. During charge posting, the biller can also change the codes if needed.
All Users Can Change Their Own Passwords in PCC EHR
Users can now change their PCC EHR password without administrative privileges or assistance.
When you wish to change your password, select the new "My Account" tool from the Tools menu.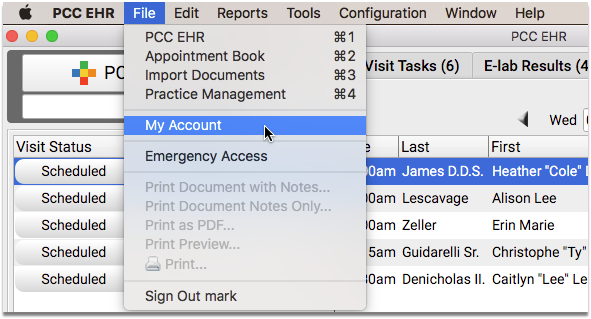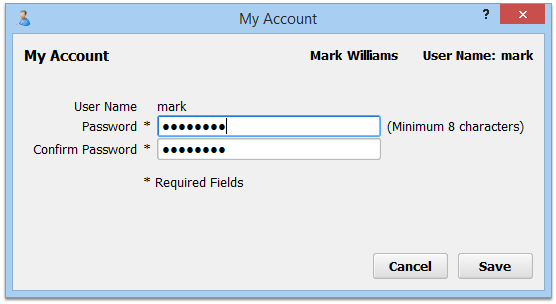 Double-check that you are logged in as the correct user. Then, enter a new password, confirm the new password, and click Save. PCC encourages all users to change their passwords.
Forgotten Passwords?: Users with administrative permission can still change a user's password for them with the User Administration tool.
Improved Password Security
PCC EHR now requires stronger passwords. When you next change your password, common passwords (like "password", "1234" or your username or real name) will not be allowed. Passwords must be at least 8 characters.
PCC recommends that all users use the new My Account tool to change their password to a more secure password.
Administrative Users: If you use the User Administration tool to change a user's password, or to change other user account information, you must comply with the new password security rules.
Chart Amendment Requests
If a patient or family requests that you amend information in their chart, you can now record that amendment request.
For example, if a family objects to a diagnosis in the patient's chart, you can create an amendment request on the visit for that day.
While viewing a chart note (or phone note or message task), select "Add Amendment Request" from the Edit menu.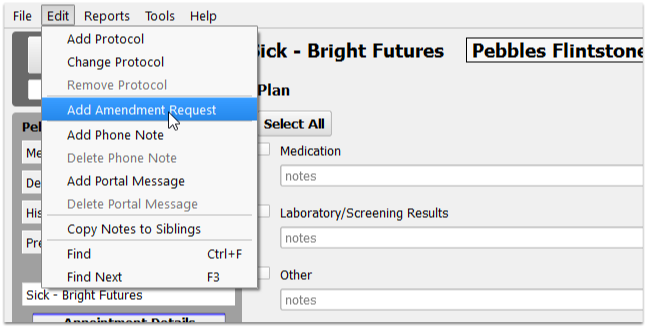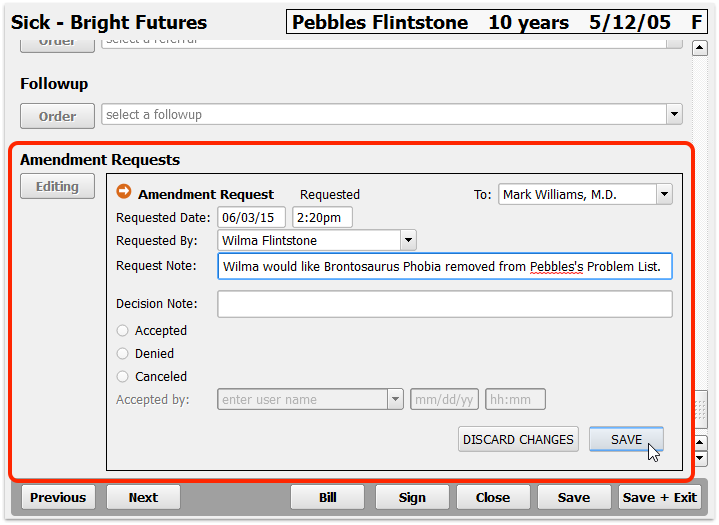 Amendment requests appear similar to labs or other orders. You can enter request details and notes, and you can assign the request to a physician or other user for review.
The assigned user can complete the amendment request task from their Messaging queue. When they double-click on the task, the patient's chart will open and scroll directly to the amendment request.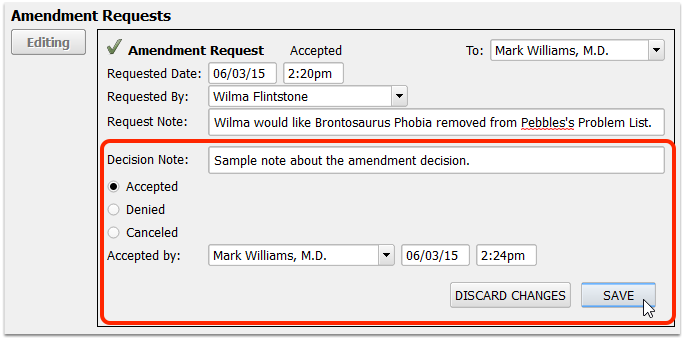 As you edit an amendment request, you can add a Decision Note and accept, deny, or cancel the request.
The history of the request will remain on the chart note (or wherever the request was added). Later, you can review amendment requests in the Visit History section of the patient's chart.
Where Can I Create an Amendment Request?: You can create an amendment request on any visit chart note, on a phone note, on order and elab follow-up tasks, and on patient portal messages. You can create a request on a visit even before it is arrived.
Delete a Duplicate Chart Note More Easily
On those rare occasions when you need to delete a chart note for a visit created in error, you can now review the arrival time as well as the full chart note details to ensure you delete the correct visit chart note.
When your practice needs to delete a chart note, authorized users can select the Delete Charted Visit tool from the Tools menu.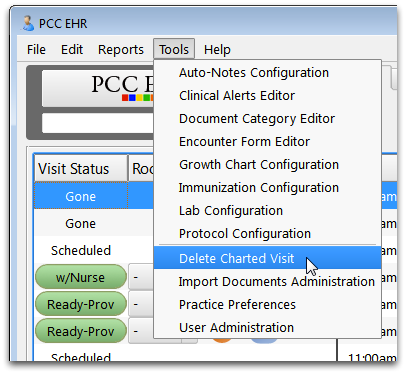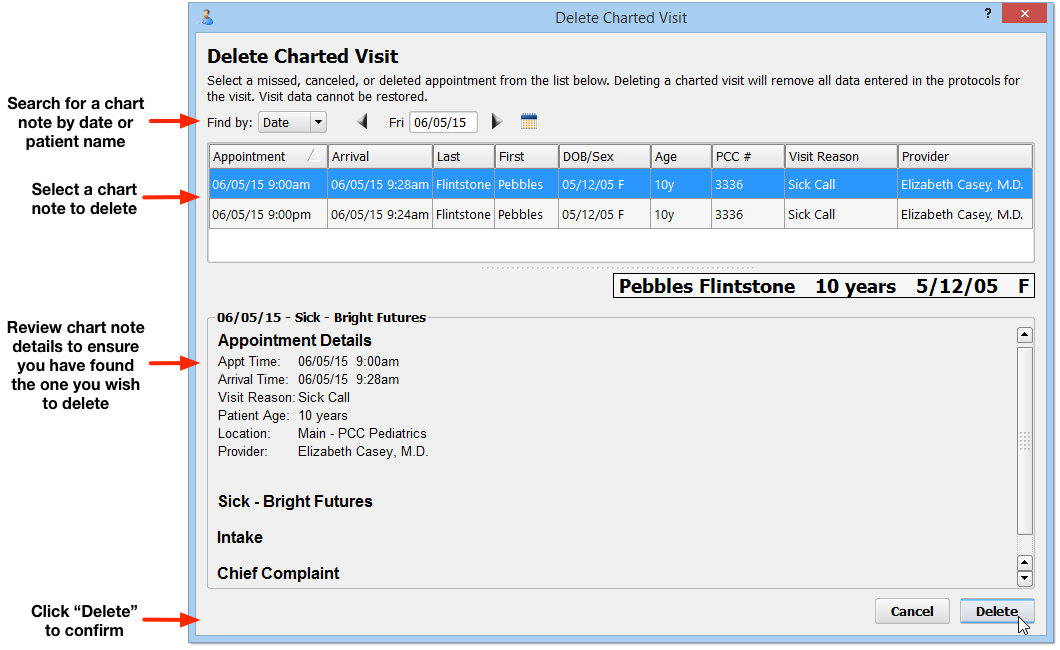 After you search by date or name, you can click on a visit to see full details from the chart note. When you are certain you've found the faulty chart note, click "Delete" to continue.
The new visit information in the Delete Charted Visit tool will allow you to determine which visit was created and charted in error so that you can delete it.
Care Plans and More Patient Details in My Kid's Chart
If a patient has one or more active Care Plans, they can now appear in My Kid's Chart, the patient portal.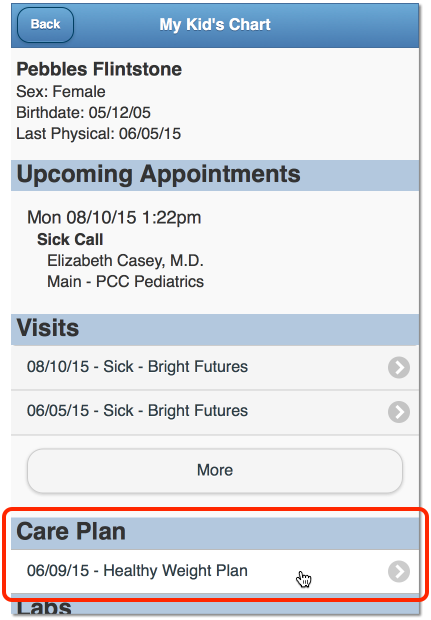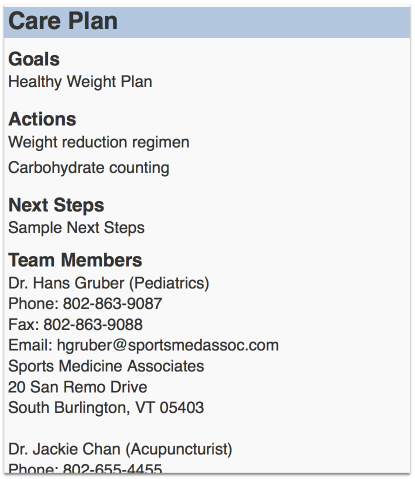 Patients and families can review Care Plan details, such as goals and team member contact information. If a patient has referral information stored in the Care Plan, for example, mom or dad can retrieve that information without contacting your practice.
Other New Fields: In addition to Care Plans, the patient portal can now also display patient sex, race, ethnicity, preferred language, and smoking status (when recorded during a visit). The availability of these fields make your practice's patient portal Meaningful Use compliant.
Turned Off By Default: Care Plans, as well as patient sex, race, ethnicity, preferred language, and smoking status are not visible in My Kid's Chart by default. Your practice can add them to the patient portal with the Patient Portal Configuration tool.
Configure What Appears in My Kid's Chart, the Patient Portal
Your practice can now configure what details and options appear in My Kid's Chart, PCC's patient portal.
Use the Patient Portal Configuration tool to change or update what My Kid's Chart users will see.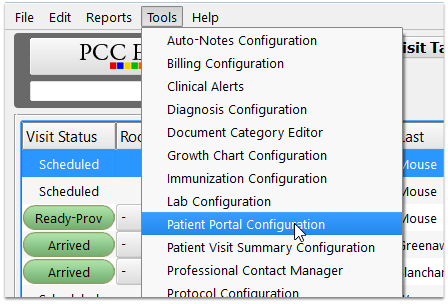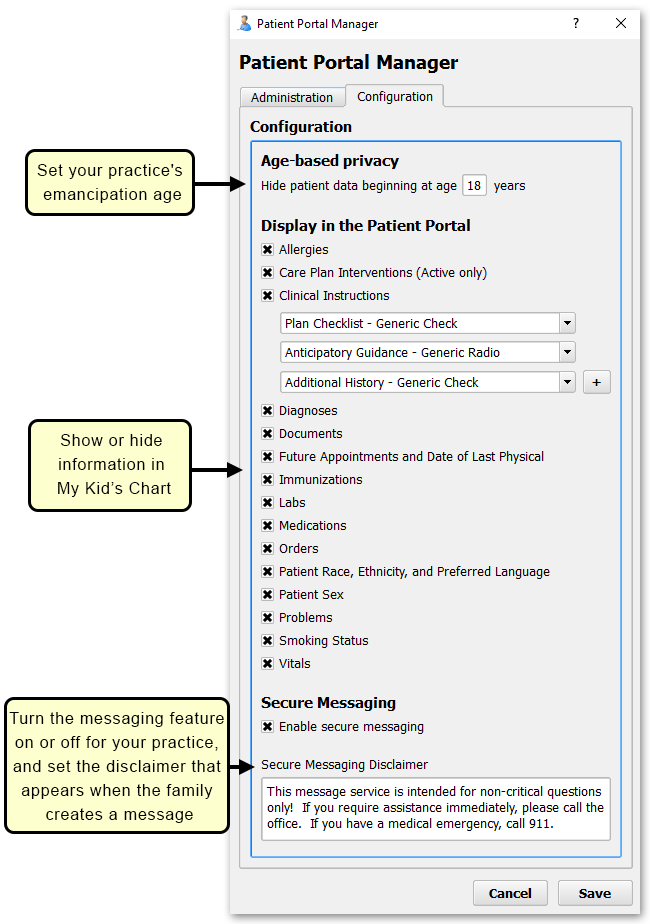 Change settings or select and deselect items to configure what appears in My Kid's Chart.
Set Age-Based Privacy: The aged-based privacy setting determines when patient information will be hidden from My Kid's Chart user accounts. Your practice can set up patient portal accounts for parents, guardians, and for patients themselves. The age-based privacy setting will determined the age of emancipation, whereupon patient data will be hidden from accounts unless specifically granted in the My Kid's Chart administration tool.

Determine What Displays in the Patient Portal: Your practice can use the checkboxes in the Patient Portal Configuration tool to determine what data will appear in My Kid's Chart for all users. Configuration changes are practice-wide, for all patients and all locations. (Note that you can also hide specific orders by default or on a case-by-case basis with the "Display on Patient Reports" checkbox.)

Secure Messaging: Your practice can turn the Secure Messaging features of My Kid's Chart on or off. If the messaging feature is turned on, you can customize a message that will appear at the top of the screen whenever a user creates a new message.
Use the new Patient Portal Configuration tool to manage settings for your practice's patient portal. Contact PCC Support for help getting started with My Kid's Chart.
Patient Portal Activity Log
Users of My Kid's Chart, PCC's patient portal, can now review an activity log. The new Activity Log tool, available in the Settings section of My Kid's Chart, displays all My Kid's Chart activity for patients linked to the account.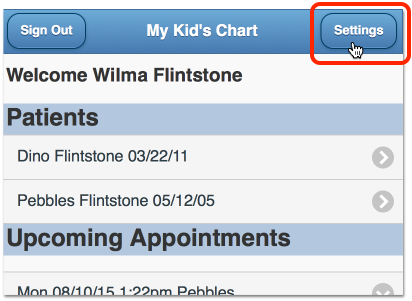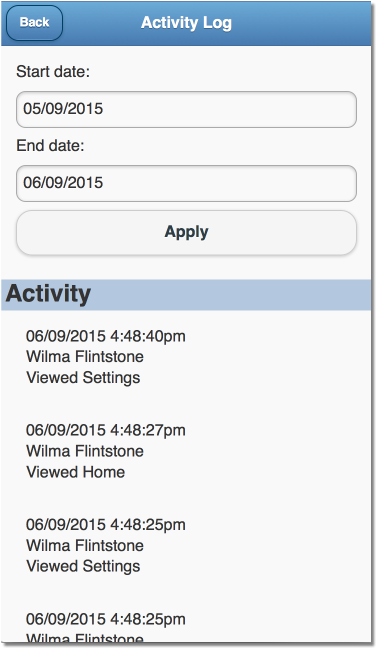 Users can filter the log by entering a date range for activity.
For example, if a parent wants to review whether or not they downloaded an immunization record, or find out which other users accessed a patient's record on a certain date, they can find that information in the Activity Log.
The new Activity Log makes your patient portal comply with Meaningful Use requirements.
Reference Resources in Your Clinical Alerts
In PCC 6.28, you can view diagnostic and therapeutic reference resources for your practice's clinical alerts.
In addition to your custom alert text, PCC EHR can now display resource links related to a clinical alert's criteria. You can configure your alerts to display resources based on items in the patient's Problem List, Medication History, or laboratory tests and results.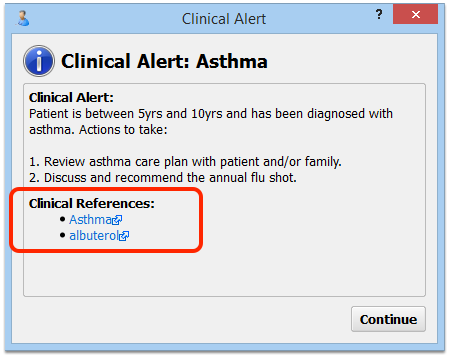 For example, a clinical alert about a disease diagnosis may provide links to additional information about that disease. Or, if the patient had a particular medication, an alert based on that medication can include a link to drug information.
When you see a clinical reference, click on a topic to learn more.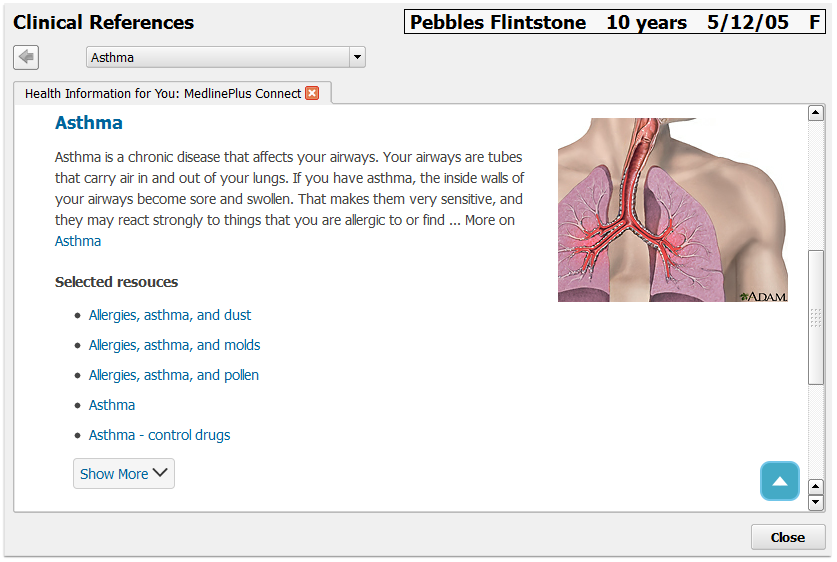 While viewing a clinical reference, you can use the drop-down menu at the top to select a different reference topic for the patient.
What is a Clinical Alert?: Your practice can create Clinical Alerts that appear automatically when a user opens or closes a chart. The alert can appear based on patient diagnoses, medications, or a wide range of other criteria, and as of PCC 6.28 they can include medical reference resources.
Clinical Alerts Activity Log
The Clinical Alerts tool now includes an Activity Log, allowing you to track when a clinical alert was turned on, modified, or turned off.
Open the Clinical Alerts tool from the Tools menu.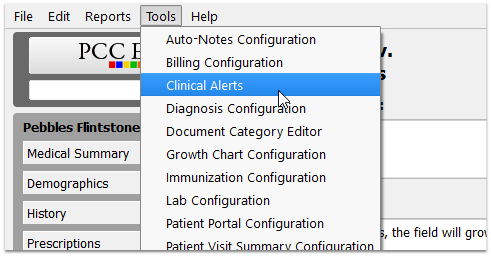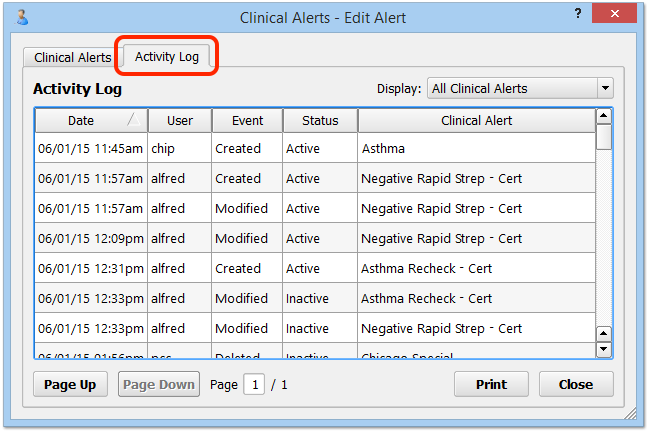 Use the new Activity Log tab to review when a clinical alert was active, or to see which clinical alerts were active during a specified date range. This information will help you meet the Clinical Decision Support measure for meeting Meaningful Use.
Five Active Alerts: In order to meet Clinical Quality Measures for Meaningful Use, PCC recommends your practice create and maintain five active clinical alerts.
What is a Clinical Alert?: Your practice can create Clinical Alerts that appear automatically when a user opens a patient chart. The alert can appear based on patient diagnoses, medications, or a wide range of other criteria, and as of PCC 6.28 they can include medical reference resources.
New Cognitive and Functional Status Chart Note Components
You can now add dedicated Cognitive Status and Functional Status components to your chart notes.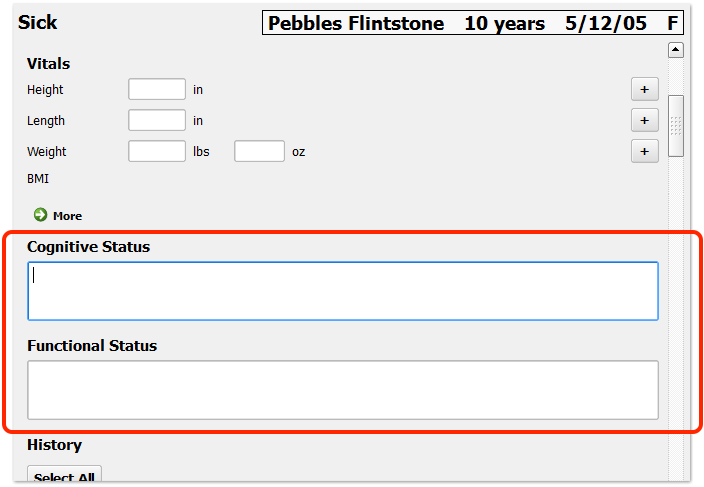 These fields are components of the HL7 C-CDA standard medical record. You can add them to any chart note using the Protocol Configuration tool. The new components support PCC EHR's Last Answer feature for quick entry.
Required for Meaningful Use?: These two components are required features of your EHR for meeting Meaningful Use. By having this feature available, PCC EHR meets the requirement. At present, your practice does not have to add the components to your chart notes to meet the measure. If you are applying for the ARRA Stage 2 program, you should check with your state's local guidelines. Whether or not you use these components or record Cognitive and Functional status in another way is up to you.
Generic Text Fields Will Grow Instead of Scroll
When a user edits a generic text field in PCC EHR, the available typing area in the field will now grow as they type, instead of invoking a scrollbar.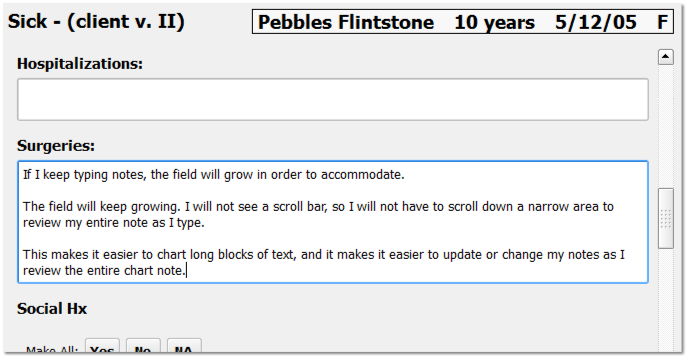 Growing fields make is easier to review and edit clinical information.
Change Procedure Code Modifiers After Posting Charges
Use the Visit Status feature in the Correct Mistakes (oops) program to change or add procedure code modifiers to charges.
First, open oops for the guarantor account and find the charge that needs a different modifier. Press F5 – Visit Status and enter the line number for the charge.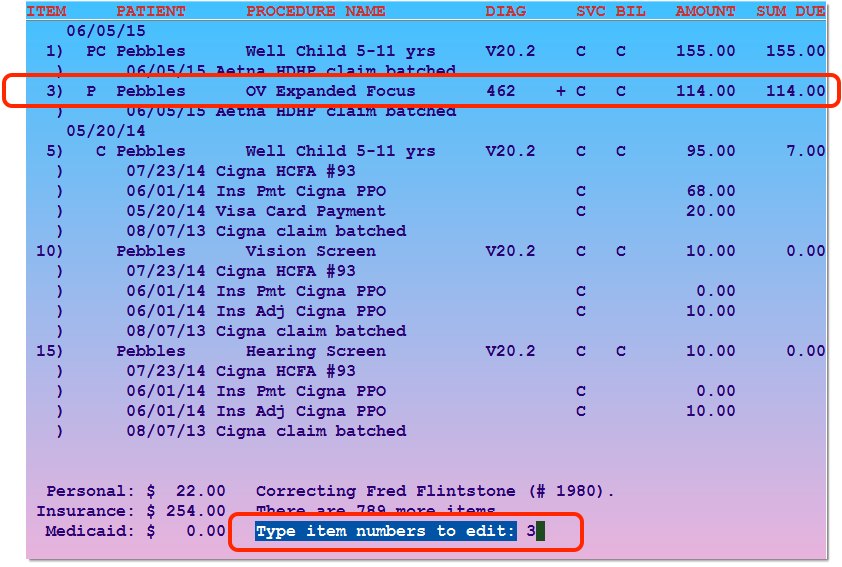 On the first Changing Visit Information screen, you can review the procedure name and the CPT code.

To add a modifier, you can type any alternate version of the code that is available in your Procedures table.


After you make your changes, press F1 – Save to save.
Next, Rebatch the Claim: After you change a procedure code modifier, or make any other insurance status or visit status changes, you may need to rebatch the insurance claim. Press F2 – Generate Claim from the main charge history screen in oops and then select all the charges from the visit.

Search for Modifiers: Instead of typing a modified code, you can enter an asterisk (*) to see all available versions of a procedure. (If no options appear, you can update your Procedures table with appropriate codes and descriptions.)


Charge Prices and the Base Code are Set During Checkout: After you post procedures in checkout, you can not change the price without first deleting the item in oops. You can use the Visit Status screen to change the procedure code modifier only. You can also use the Insurance Status and Visit Status screens to change the responsible party, the copay, the billing provider, diagnoses and linking, and claim information (such as prior authorization number or accident information).
Search User Administration
You can now search the User Administration tool to find and work with a user more quickly.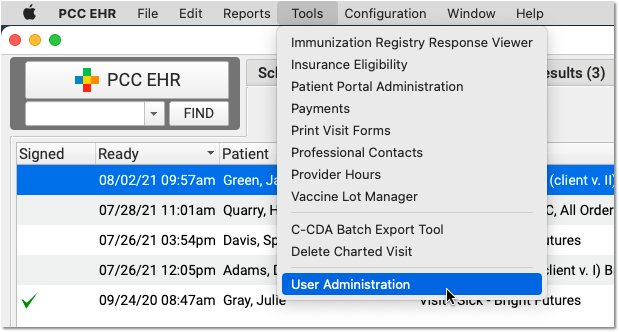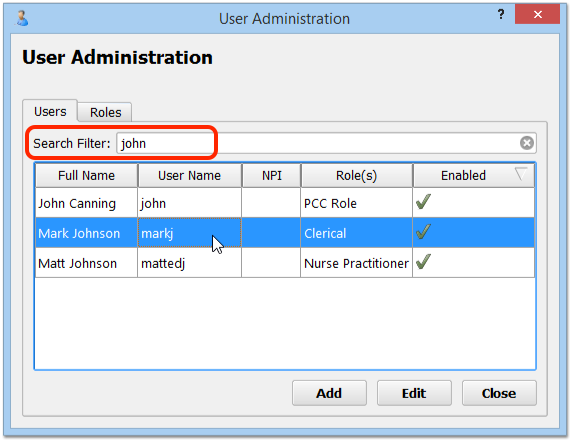 After opening the User Administration tool, enter a full name, username, NPI, or Role to quickly find user accounts and make changes.
Review Log of Patients Automatically Marked as Inactive
Partner can automatically flag patients who have not been seen recently as "Inactive". Contact PCC Support if your practice wants to automatically add the Inactive status flags patients.
PCC 6.28 includes the Autoflag Log Viewer, a new tool for reviewing a log of autoflag activity. PCC Support can activate the tool for you, and then you can run it from the Patient/Account reports section of your Partner windows.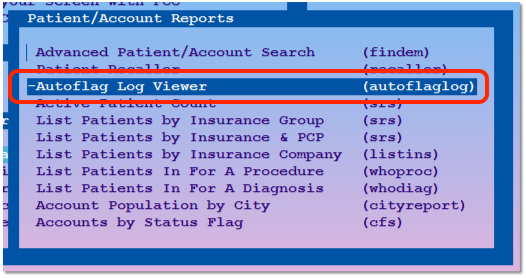 After you run the report, enter a date range and press F1 – Generate Report to view patients who were flagged during that time.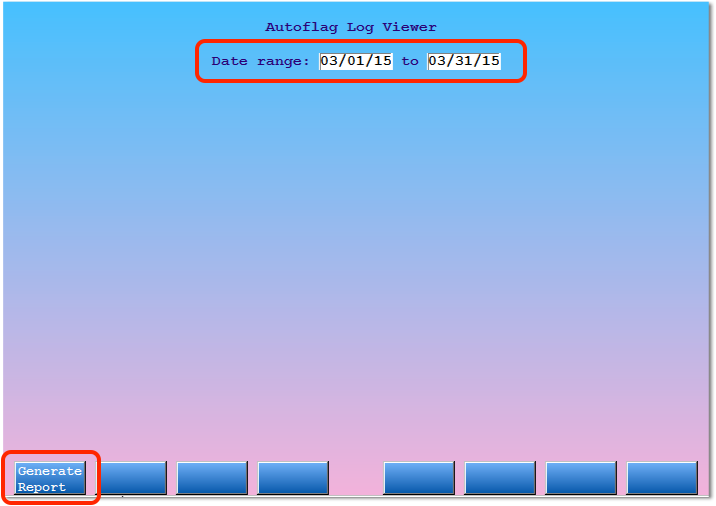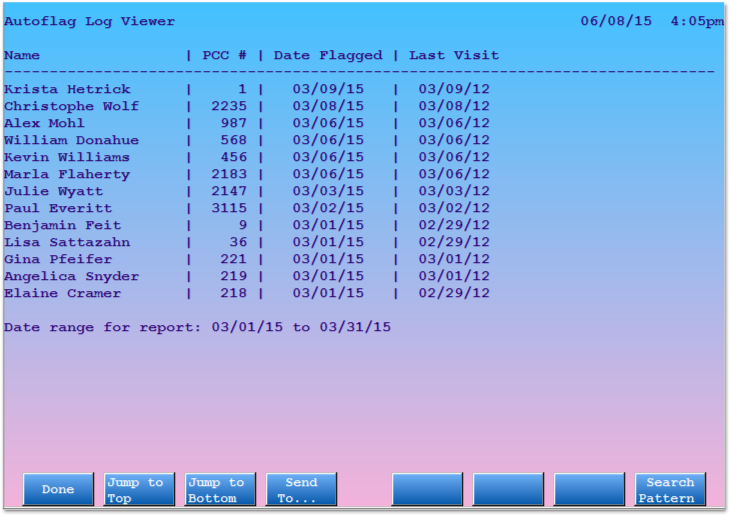 Use the Autoflag Log Viewer to review which patients were marked as inactive for a given date range. You could use that list to pull and archive old charts.
Contact PCC Support to set up autoflag or to install the Autoflag Log Viewer on your system.
Other Feature Improvements in PCC 6.28
In addition to the features described above, PCC 6.28 includes these smaller improvements and squashed bugs.
New VIS Form Entries: PCC EHR's official VIS form list now includes the new 2015 versions of the Tdap, HiB, HPV, and Rotavirus information forms. (PCC updated this list for all PCC clients automatically, before the 6.28 release.)

Radiology Results Attached to Radiology Orders Will Count Towards Meaningful Use: If your practice scans and attaches radiology results to your radiology orders, PCC EHR will record and track that action. Later in 2015, PCC EHR's Meaningful Use reporting tools will count those changes towards the related Clinical Quality Measure.

Full Diagnosis Name: When a particularly long diagnosis description is sent to Partner, and the clinician has not selected a billing code, the checkout screen will now display more text of the diagnosis.

Post Non-Medical Administrative Procedures After October 1st: Many PCC practices post administrative procedures during the checkout process. They link those procedures to artificial ICD-9 codes that they have added to their custom ICD-9 table. However, the ICD-10 table can not be customized, and all procedures still require a linked diagnosis code. After October 1st, users can enter a hyphen or dash (–) to indicate a null diagnosis. Your practice can begin using the dash (–) now to link to administrative procedures.

Image Backup Messages: E-mail alerts about successful or failed backups are now clearer and more succinct. Additionally, the e-mail subject heading will now show if a backup was Successful, Failed, or Successful With Warnings. PCC Support investigates every backup that either failed or was successful with warnings, you do not need to contact them.

Performance Improvements: The Schedule queue in PCC EHR now refreshes more efficiently, which will result in a faster, more responsive experience for large offices. Additionally, chart open times have been improved by adjusting when chart components load to your screen.

Cleaner User Creation: When you create a new user, you can now enter user information and password in a single step.

Windows 10 Testing Continues: PCC 6.28 is being tested on Windows 10, the upcoming major operating system update for the Microsoft Windows platform. Microsoft has announced that the new version will be released on July 29, 2015. The Windows 10 upgrade is free and we expect many clients will be eager to upgrade. As with any new technology, we recommend that you wait a month or two before upgrading so that any early bugs can be patched. PCC is testing PCC 6.28 on Windows 10 Beta, and our early testing indicates that they should be compatible.

CPT II Invalid Codes: The checkout program incorrectly called certain level 2 HCPCS codes invalid or obsolete. Partner now supports the complete list of HCPCS level 2 codes.

HPV-9 Included in HPV Measure: As of June 2015, the recently licensed HPV-9 vaccine will be included in your practice's HPV clinical measure in your Practice Vitals Dashboard.

Growth Percentiles Between Workstations: Under rare circumstances, when a percentile calculation missed today's measurements, different views of the same chart could display slightly different percentiles on growth charts. This no longer occurs.