In March of 2015, PCC will release version 6.27 of our charting and practice management software. PCC 6.27 introduces revolutionary new features, some of which will be immediately useful, like the new Immunization Forecasting in each patient's chart, and some which will allow your practice greater power and customization. Read below to learn more!
Watch a Video: Want to watch a video summary of everything in this release? CLICK HERE.
Implementation: The new features in PCC 6.27 require configuration and user-specific software training. Read about the features below and then review PCC 6.27 Migration Considerations.
Contact PCC Support at 1-800-722-1082 for information about the items below or about any PCC product or service.
Immunization Forecasting
PCC 6.27 can display a patient's upcoming recommended immunizations.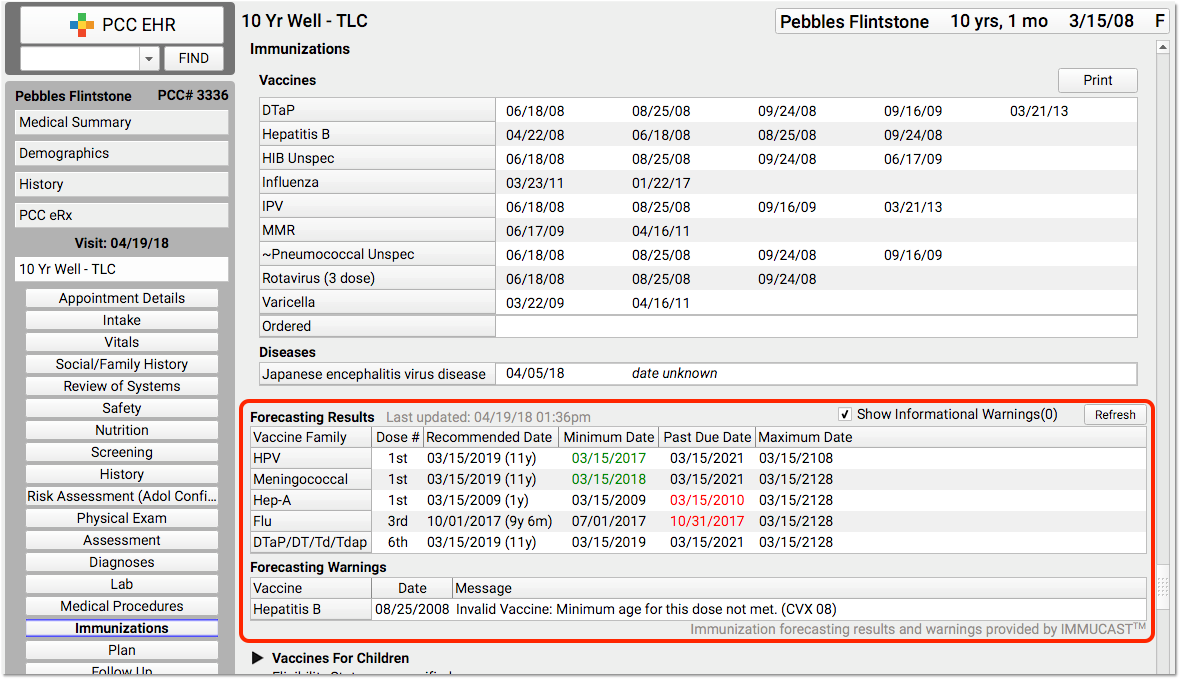 When you review a patient's immunization record, either in a chart note or in the Immunization History section of the chart, PCC EHR can display a new "Forecasting Results" section, which shows the patient's next recommended immunizations.

For each vaccine family, from left to right, you can see:
the next expected dose in the series (1st, 2nd, 3rd, etc),
the recommended date (when it is ideal to receive this immunization) along with the patient's age on that date,
the minimum date the immunization could be given early,
a past due date,
and a maximum date after which the shot or series would be invalid. (Rotavirus is the only common immunization with a normal Maximum Date.)
In the example above, the Forecasting Results recommend that this patient receive their first HPV, sixth DTaP, and first Meningococcal vaccines during their 11 year visit, around 1/30/2016. The patient missed their second dose of Hepatitis A vaccine, and they also did not receive an annual flu shot for 2014. HPV appears first because the Minimum Date is past; today the patient is within the minimum recommend range for receiving their first HPV shot.
Your practice can review the forecasting information and make a decision about which shots to administer today.
Here are some other tools and issues to keep in mind as you review the Forecasting Results:
Turn On For Your Practice: To turn on Immunization Forecasting for your practice, you must first complete some configuration steps and then contact PCC Support. Review the PCC 6.27 Migration Considerations document to learn more.

Color-Coded Date Recommendations: If a Recommended Date or Minimum Date has been reached, you'll see that date in green. If a series is overdue, you'll see the date in red.

Refresh the Record: PCC EHR updates forecasting results when you open a chart or whenever a user edits a patient's immunizations or immunization orders. You can see the most recent updated date and time next to the section title. You can also click Refresh to update the immunization forecasting.

Contraindications: When a patient misses an immunization because they have a fever, the Immunization Forecasting results ignore that contraindication reason. If they miss an immunization for a non-current reason, such as an allergy, immunization forecasting will ignore that vaccine family for the patient and no longer recommend they receive the vaccine. Read the section below on Contraindication Reasons to learn more.
Forecasting Warnings
A patient's immunization record may also include a Forecasting Warnings section.

Each line in the Forecasting Warnings section will show a vaccine name, a date for an immunization from the patient's record, and a message.
There are two types of warning messages:
Informational Warnings: A Warning message is informational. The vaccine is still acceptable towards the series and does not need to be repeated, but it may have been administered early or in a time frame that does not match the manufacturer's recommendation. Warnings can be safely ignored but may be useful as you are reviewing a patient's immunization record. For example, in the above image, a patient received an extra Hepatitis B vaccine.

Invalid Vaccines: An Invalid Vaccine warning is about a vaccine that may not meet the requirements for the vaccine series. Your practice should review all invalid vaccines.

In the above example, a patient received their fourth DTaP shot too early.
Show or Hide Informational Warnings: Warnings can be distracting. You can deselect the "Show Informational Warnings" checkbox to hide them. Invalid Vaccine warnings can not be hidden, and they will appear even if the "Show Informational Warnings" checkbox is deselected.

Where Do These Recommendations Come From?
PCC displays Forecasting Results and Forecasting Warnings from the IMMUCAST™ service by Scientific Technologies Corporation. STC uses an immunization rule set built on the ACIP immunization schedule guidelines from the CDC.
Forecasting Results and Forecasting Warnings in no way represent medical authority in deciding which immunizations a patient should receive.
Your practice may adhere to a custom immunization schedule and make different decisions.
Enter a Contraindication Reason for an Immunization
When you complete an immunization order, you can now select a standard contraindication reason.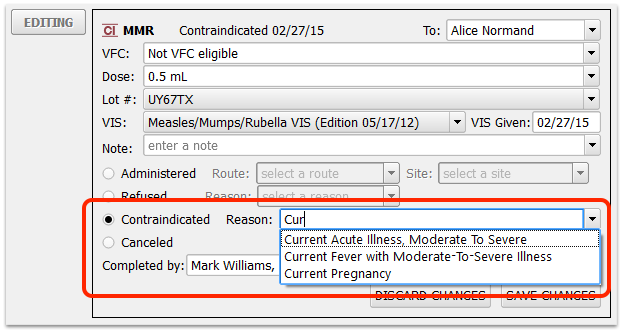 The list of contraindications is maintained by the CDC and includes allergies and current illnesses.
By entering a standardized contraindication reason, you can consistently chart the reason an immunization was not given. This information is also required for some immunization registries.
Contraindication Reasons and Immunization Forecasting
The Immunization Forecasting features of PCC EHR will ignore contraindications for "Current" reasons, i.e. illness or pregnancy.
If a patient has a persistent contraindication reason, such as intussusception history (a contraindication for the rotavirus vaccine) or immunodeficiency (a contraindication for live vaccines), the corresponding vaccine family will no longer appear in Forecasting Results or Forecasting Warnings.
As always, clinicians should remember that immunization forecasting in PCC EHR is a calculation based on published immunization logic. The dates shown are advisory and are not a substitute for a physician's decision.
Disease Diagnoses for Presumed Immunity
PCC can now display presumed immunity for patients who have had vaccine-preventable diseases. If a patient is diagnosed with Varicella, for example, then Varicella will appear with a date in the patient's Immunization History.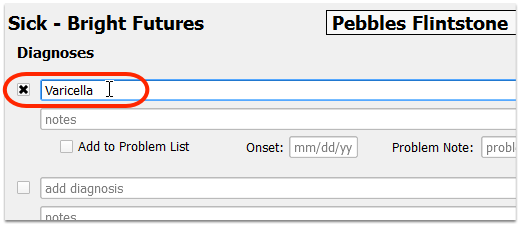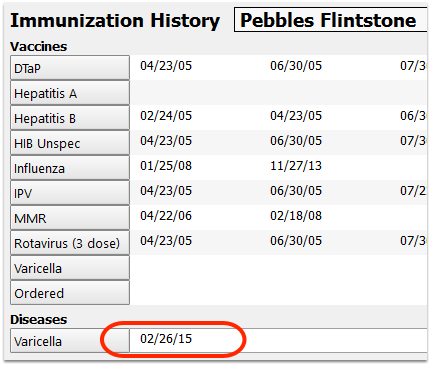 The new Diseases section of the immunization record will also appear in the chart note and wherever immunizations appear. The section can display dates for any of the 28 diagnoses associated with vaccine-preventable diseases, whether the patient has had the disease or has serological evidence of immunity.
Which Diagnoses?: The 28 diagnoses supported by this feature are from the HL7 standard. They include 22 diseases such as varicella, measles, and anthrax. There are also 6 diagnoses that indicate serological immunity to a disease (as determined by an antibody titer test, for example).
Diagnosed Diseases and Problem List Entries
Diseases will appear on a patient's immunization record when the diagnosis is added to the Problem List or when they are diagnosed on a chart note.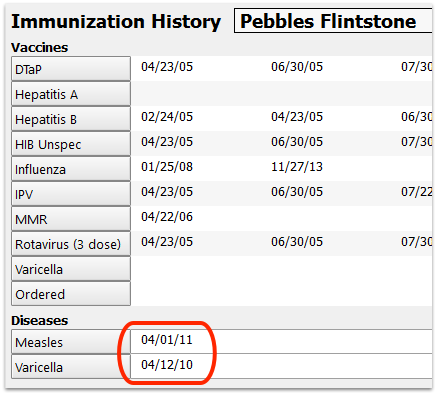 The date for a disease is either the date of diagnosis or the onset date from the Problem List. You can hover your mouse over a date to view all available details, including the source of the date.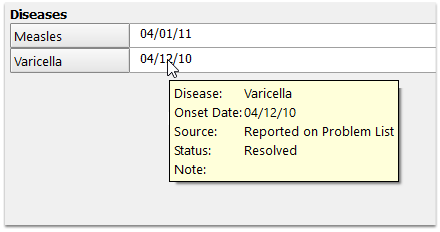 Old ICD-9 Diagnoses: Patients must have the SNOMED description of the disease in their chart for it to be evaluated as one of the 28 vaccine-preventable disease diagnoses. If a patient has 052.9 Varicella in their Problem List for chickenpox, for example, it will not appear in the Diseases section of the immunization record.
Diseases on Reports and Other Output
Diseases can also appear on the Patient Visit Summary report, the Health Information Summary report, and on the patient's school form.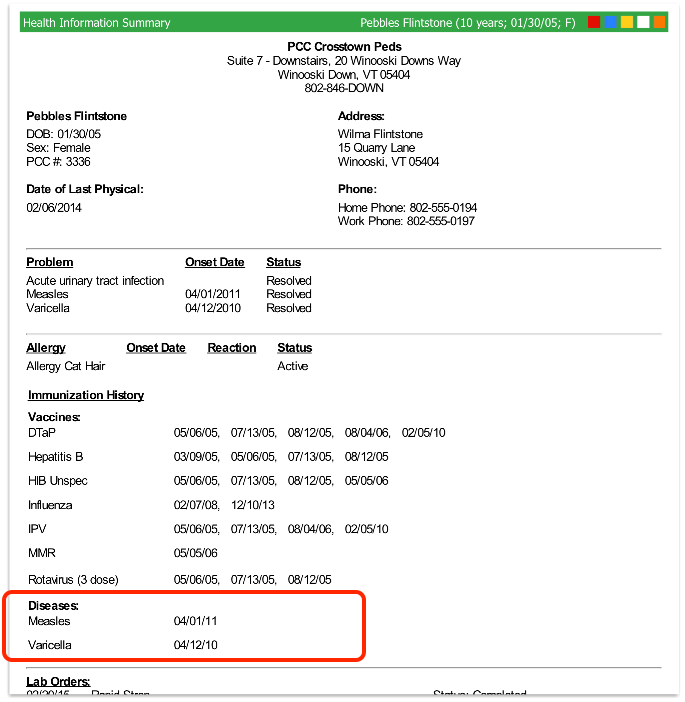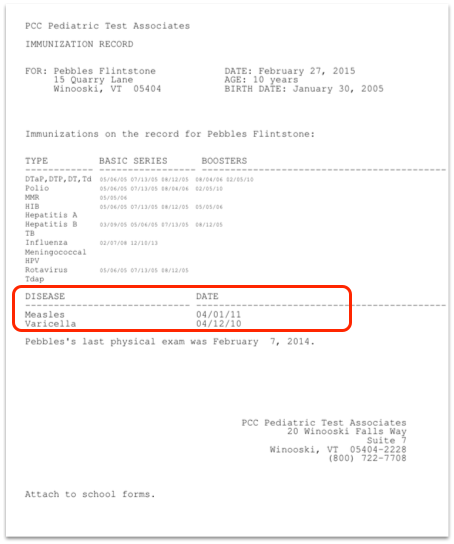 Diseases can also be sent to your state's immunization registry.
Configuration Options: Your practice can configure how and when PCC EHR and Partner will display each disease. Read the 6.27 Migration Considerations document to learn more.
Patient Care Centers for Practices with Multiple Locations
If your practice has multiple locations that operate independently, you can now turn on a Care Center feature. Once the feature is turned on, you can assign patients to a specific care center.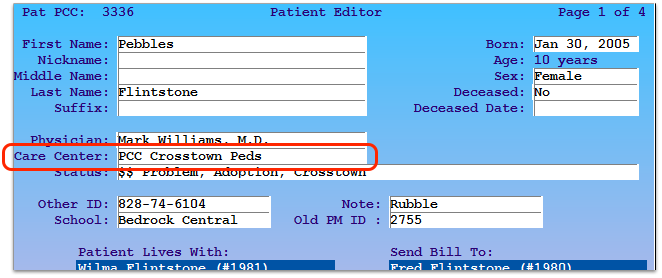 When you assign a patient to a care center, a special location flag is added to the patient's Partner record, and many new features and abilities are available in Partner, PCC EHR, and MyKidsChart, the patient portal.
Care Center features will help large practices or multiple-practice partnerships where different office locations operate independently. Read below to learn more.
Use Care Center When Searching for Patients
When you search for a patient chart, you can see the patient's care center in the search results.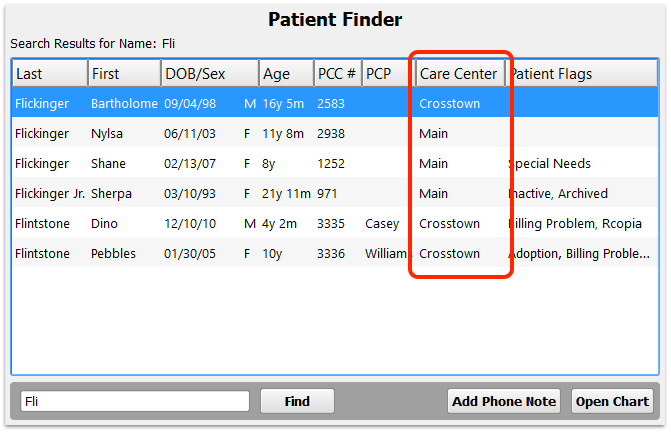 Any office location can open any patient's chart. When you search for a chart, you can use the Care Center column to know if you have found the correct patient.
Filter Messaging By Care Center
When your practice uses the Care Center features, the Messaging queue includes a Location filter.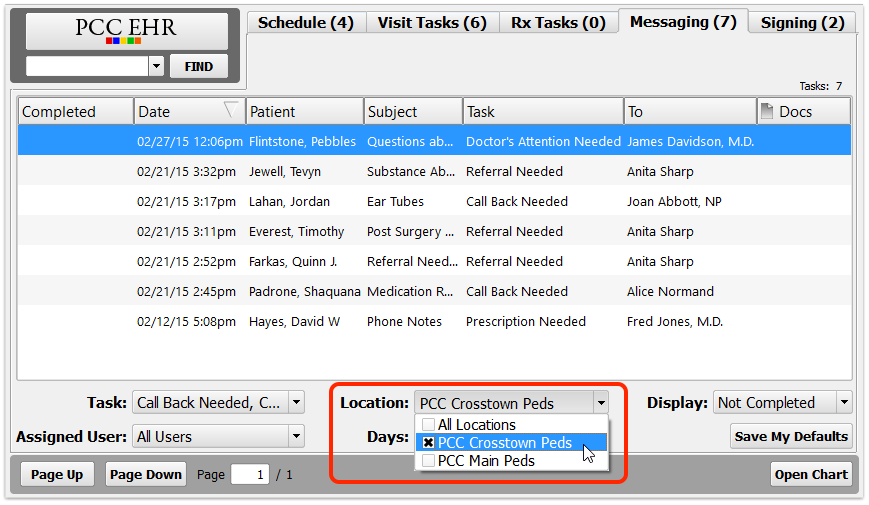 Use the filter to see messages that relate only to the care center location where you work.
By default, all incoming, new messages or tasks on the Messaging queue will have the patient's care center set as the item's care center.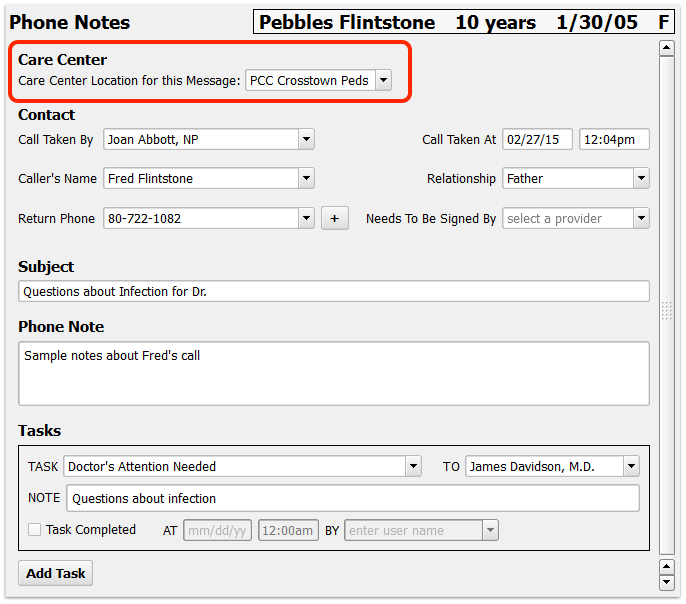 If a nurse creates a phone message task, as shown above, or a physician creates a new order follow-up task, the message will be assigned to the patient's care center location.
However, any user can open the message task and change its Care Center location to redirect the message to a different care center.
Messages for Patients With No Care Center: If a patient does not have a care center assigned, messages about that patient will be visible to all locations on the Messaging queue.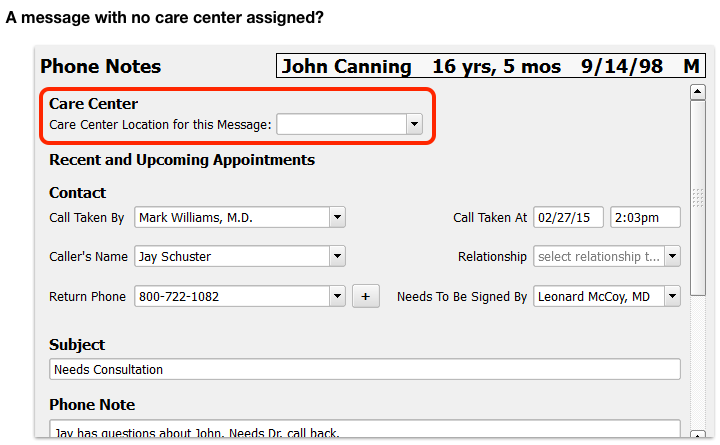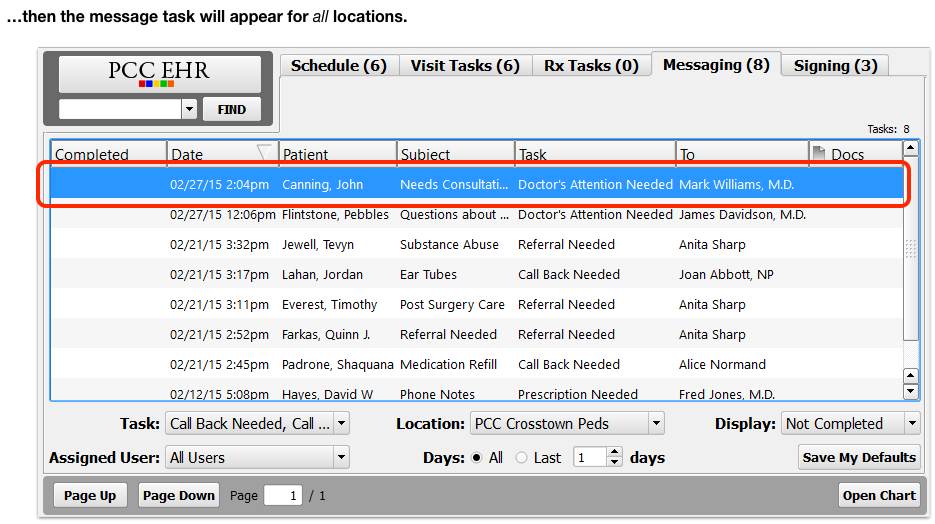 You can open any message (created after your PCC 6.27 update) and assign it to a care center to make sure the correct office handles the issue.
Review Patient's Care Center While You Work
When a patient has a care center, the care center information can appear during patient checkin, during scheduling, and elsewhere in PCC EHR and Partner.

Contact PCC Support for help adding care center information to the SAM Search Criteria screen.
Display the Care Center's Address on Form Letters, Reports, and in MyKidsChart
If you assign patients to specific care centers, you can use new care center variables to produce form letters that contain the care center location. You can also configure the care center address to appear on the Health Information Summary report and in MyKidsChart.

Read the PCC 6.27 Migration Considerations document to learn more.
Use Care Center Flag for Recaller and Other Reports
When a patient has a care center, that care center appears as a patient flag. You can filter by the care center flag when you run the Recaller, SRS, or other reports.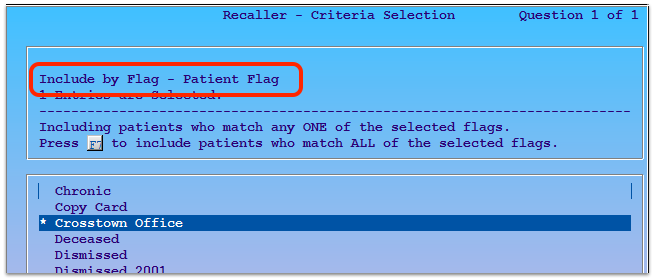 Use the care center flag, along with other report options, to report on or contact a precise patient population.
Review Care Center Information When You Add Patients in MyKidsChart
When your practice adds patients to a MyKidsChart user account, you will see the care center information for each search.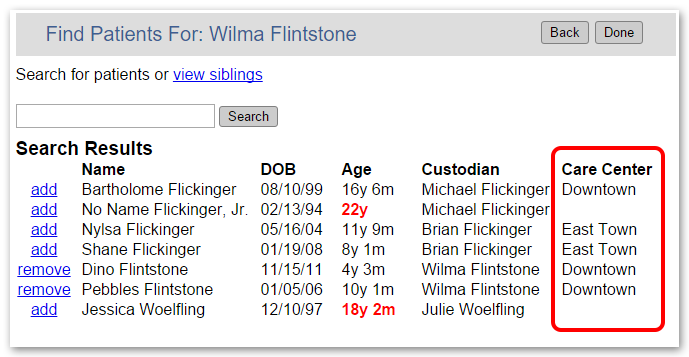 Use the Care Center column to correctly identify the patients you should add for a patient portal user.
All Orders Can Have Discrete Results
All order types in PCC EHR, including screenings, medical procedures, and radiology, can now record and display discrete results.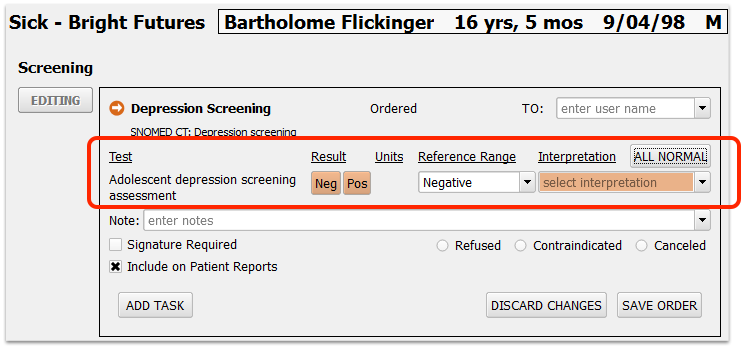 Your practice can add tests to any order. For example, if your practice performs adolescent depression screenings, you can create an order with the correct LOINC test result fields, as shown above. You could also add x-ray tests to radiology orders, or add any other LOINC test to any order type.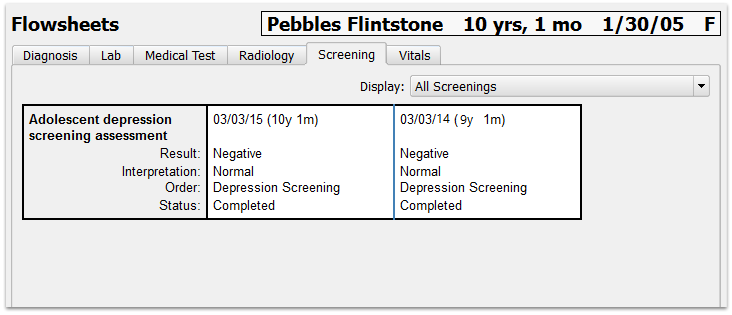 When you record discrete results, PCC EHR displays the results in the Visit History as well as on reports, like the Patient Visit Summary, and in the patient portal, MyKidsChart. If the order matches a Flowsheets category (Lab, Medical Test, Radiology, or Screening), then the discrete results can be tracked in the Flowsheets section of the patient's chart.
Privacy: As with lab orders, if any order should not appear on reports or in MyKidsChart, you can deselect the "Include on Patient Reports" option so it will remain private.
Meeting CQM and ARRA Requirements: If your practice is working to meet CQM requirements for PCMH or ARRA Stage 2, you should add tests with discrete results to your radiology orders and create a depression screening order.
For configuration help and step-by-step examples, read the PCC 6.27 Migration Considerations document.
All Order Types Can Be Refused, Contraindicated, and have Default Privacy Settings
All order types in PCC EHR, including labs, medical procedures, radiology, and screenings, can now be marked as Refused or Contraindicated. You can also configure their default privacy ("Include on Patient Reports") setting.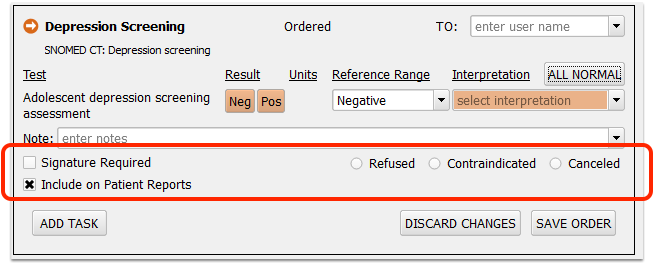 When a user marks an order as Refused or Contraindicated, it will appear on the Visit History as well as on flowsheets.
Configuration: When you add or edit an order in the Lab Configuration tool or the Component Builder, you can set rules and parameters for that order. You can turn on and off the ability for an order to be refused or contraindicated, and you can set the default privacy setting ("Include on Patient Reports") for each order. Read the 6.27 Migration Considerations document to learn more.
Updated LOINC Test List
As part of the PCC 6.27 update, PCC has updated your system's database of LOINC tests. It now includes the 2015 list of discrete tests that can be included in labs and other orders.
You will use this list in two places in PCC EHR. First, when you configure a lab order: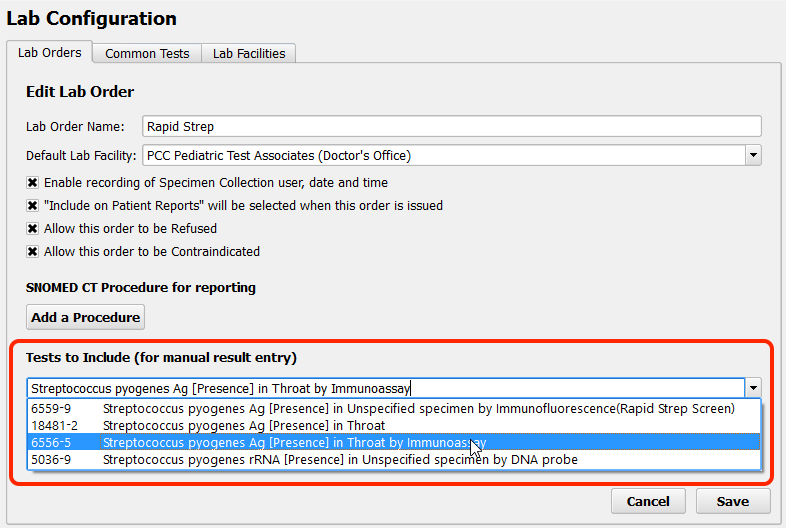 Second, when you add a LOINC test to any other type of order: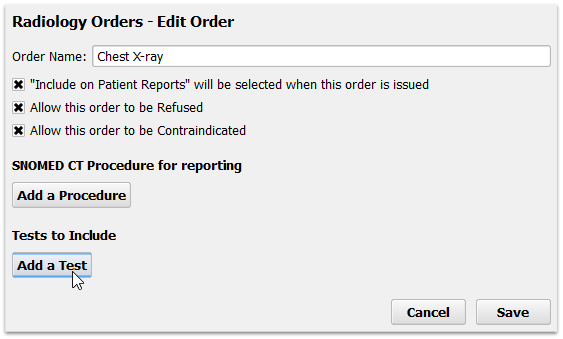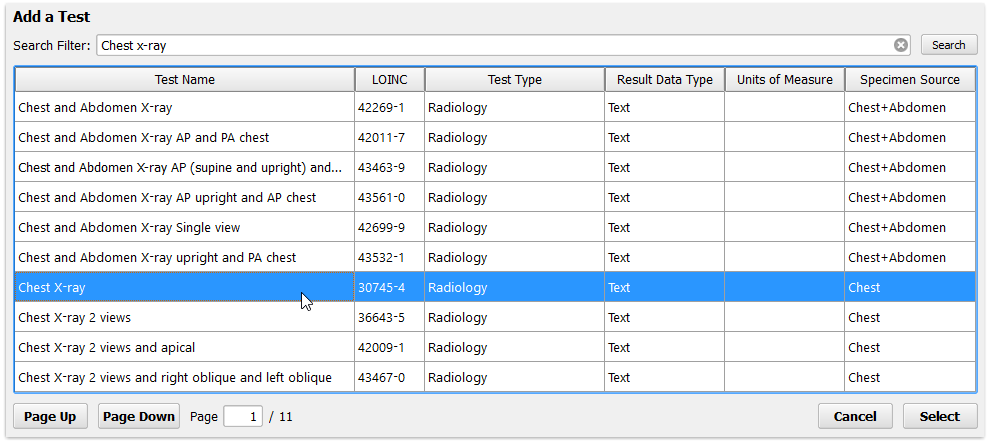 When you assign specific tests to a lab or to another type of order, you can pick from the latest, most complete list.
Obsolete LOINC Tests?: If your practice has an obsolete LOINC test configured for an order, PCC Support will contact you after your 6.27 update to change it.
Billing Configuration Updates and Improvements for SNOMED, ICD-9, and ICD-10
PCC 6.27 includes several improvements to how you use and configure diagnosis descriptions and codes in PCC EHR.
The New Billing Configuration Tool
PCC EHR has a new home for all billing-related configuration functions in PCC EHR. The Encounter Form Editor is now named the Billing Configuration tool.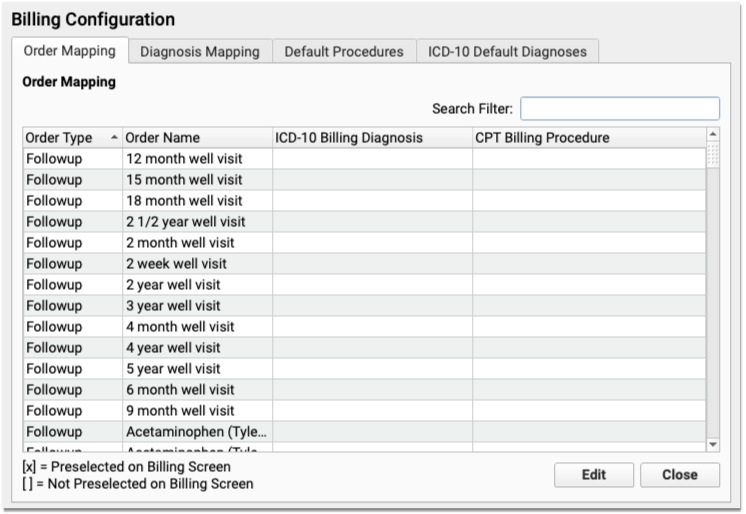 The Billing Configuration tool includes the functions of the Encounter Form Editor, as well as tools for linking codes to procedures and connecting SNOMED diagnoses to ICD-9 or ICD-10 billing codes.
Link Diagnosis Descriptions to Billing Codes
Use the new Diagnosis Mapping tab in the Billing Configuration tool to specify which billing diagnoses will be added to the encounter form for each SNOMED description.
Use the Search Filter to find a diagnosis, and double-click on any description to make changes. When you edit a diagnosis, you can specify the correct ICD-9 billing code.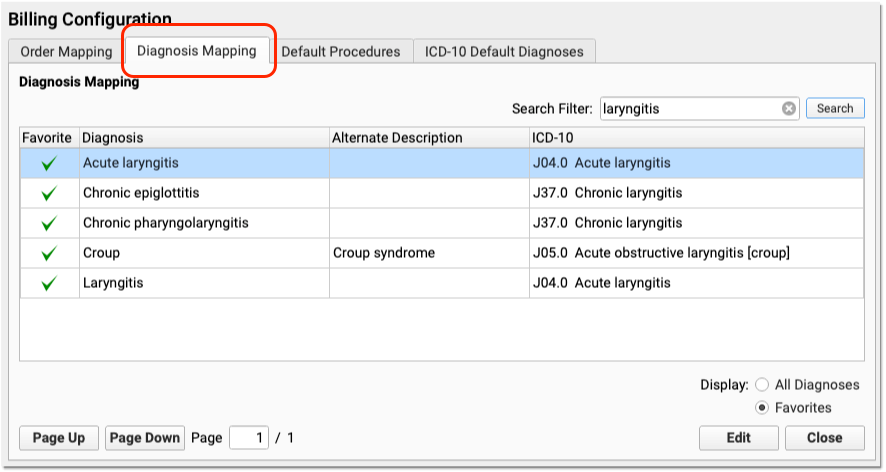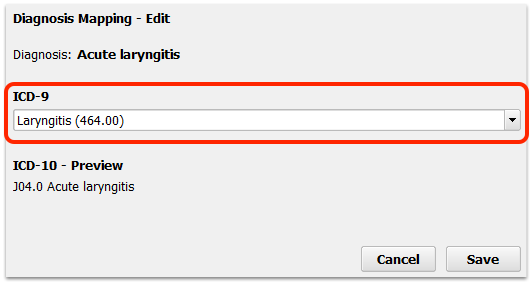 When a clinician enters a diagnosis on a chart note, PCC EHR will automatically add the appropriate billing code to the electronic encounter form.
Features in a New Location: The diagnosis mapping functions were formerly located in the Diagnosis Configuration tool. Make sure any users who configure diagnoses and billing at your practice are aware of this change.
Preview the ICD-10 Code Mapping
While you review and configure your ICD-9 code mapping, you can now preview the mapped ICD-10 codes for each diagnosis description.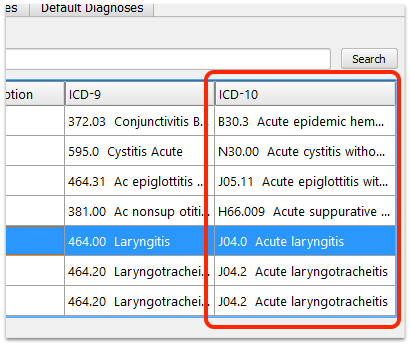 If ICD-10 requires greater specificity, you can see the various possible codes that may be used for a given condition.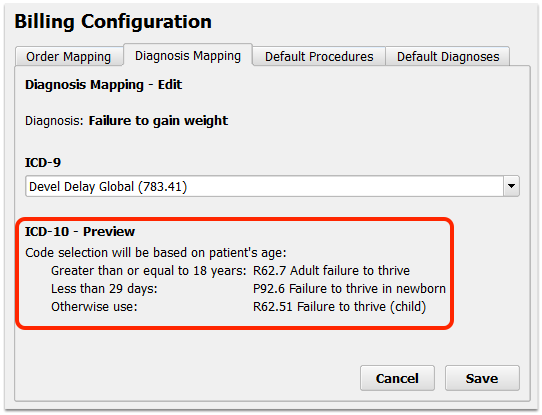 For example, in the image above, you can see that for a Failure to gain weight diagnosis, you would use different ICD-10 codes based on patient age. This window will also preview concepts of specificity for sex, episode of care, and laterality.
Use the ICD-10 Preview to help your practice begin to understand and prepare for ICD-10 coding.
Use the Diagnosis Configuration Tool for Clinical Configuration
In PCC 6.27, use the Diagnosis Configuration tool to modify the behavior of chart tools, like the Allergies list, Family History, or the diagnosis Favorites list.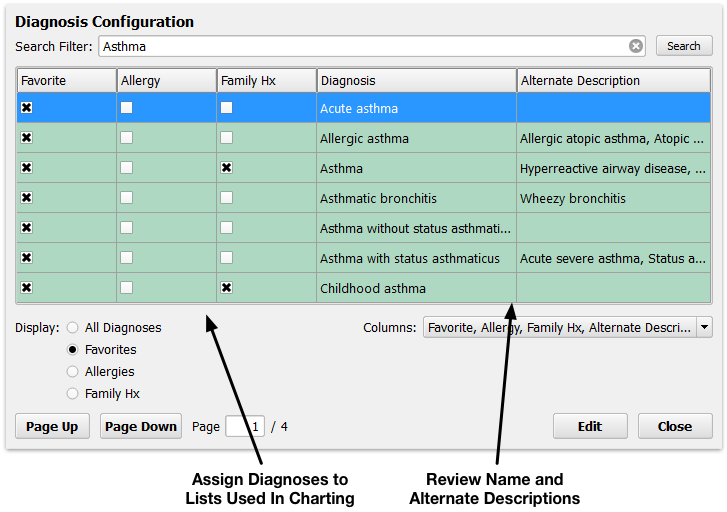 For example, if you want a new diagnosis to be available on the Favorite, Allergy, or Family History lists, you can search for that diagnosis and mark the corresponding checkbox.
You can also double-click on an entry to edit lists or select an alternate description.


Features in a New Location: The Diagnosis Configuration tool formerly included the tools for mapping billing descriptions and codes. In PCC 6.27, all billing functions are in the Billing Configuration tool.
Free PCC ICD-10 Training Course Coming to 10 Cities in 2015
PCC invites you to attend a full-day of ICD-10 training in any of 10 cities across the country.
Our certified coder, Jan Blanchard, will lead you through exercises and discussions about billing with ICD-10.
Winooski, VT (Monday, April 20)
Boston, MA (Friday, April 24)
Columbus, OH (Monday, May 4)
Dallas, TX (Wednesday, May 6)
Philadelphia, PA (Friday, May 8)
Tulsa, OK (Monday, June 15)
Jacksonville, FL (Wednesday, June 17)
Atlanta, GA (Friday, June 19)
Denver, CO (Friday, July 17)
San Francisco, CA (Monday, July 20)
Sign-up at http://www.pcc.com/events.
Link SNOMED Procedure Description to Orders for Reporting
Your practice can now associate labs and other orders with a SNOMED procedure description, allowing your practice to report on CQM requirements for ARRA and PCMH.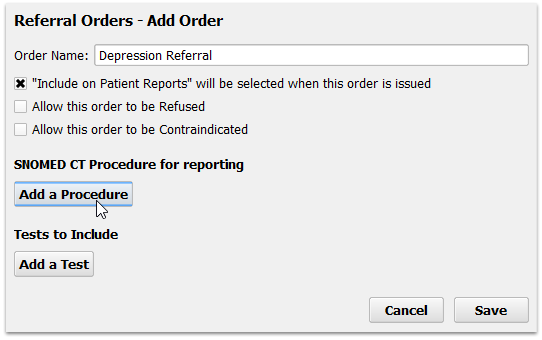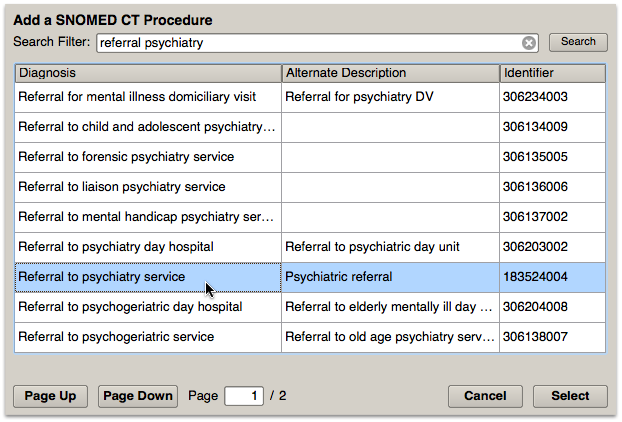 When you edit an order in the Component Builder or the Lab Configuration tool, click "Add a Procedure" to associate a SNOMED procedure for reporting.
Once an order has an associated SNOMED procedure, PCC EHR will display the description wherever the order appears in a chart note.

By completing an order, your practice will record the SNOMED information in the patient's chart. That information will be used later for CQM reporting.
What Orders Need a SNOMED Code?: Two CQMs require SNOMED documentation in certain orders: "Counseling for Physical Activity" and "Screening for Clinical Depression and Follow-Up Plan". PCC is preparing updated materials that show you how and when to record a SNOMED description with an order to meet recording requirements for these and other CQMs.
Fall Back to ICD-9 Codes if a Payor Doesn't Accept ICD-10
PCC software will switch to ICD-10 for billing on October 1st, 2015. If a payor is exempt from HIPAA requirements or fails to accept ICD-10 codes for any other reason, your practice can send them claims using ICD-9 codes instead.
When a payor sends a denial or has indicated they won't accept ICD-10, PCC Support can work with you to adjust the insurance batch configuration to send out ICD-9 codes. PCC Support can also help you split insurance batches or create new ones to ensure that each payor is sent the desired code set.
PCC's account history and billing and reporting tools will display the original, billed ICD-10 codes, but also indicate when the claim was sent using ICD-9.
Customize Your Fall Back ICD-9 Mapping: You can customize your ICD-10 to ICD-9 mapping in the ICD-10 table in the Table Editor (ted).
Better, Faster CPT Code Validation for Claims
For every claim, PCC now validates your CPT codes and modifiers before the claim is submitted.
When you prepare claims in PCC 6.27, Partner examines your CPT codes and compares them with the CMS Physician Fee Schedule Relative Values publication. If a claim includes an invalid CPT or modifier, PCC will tell you in the tagsplit Bad Claim Report.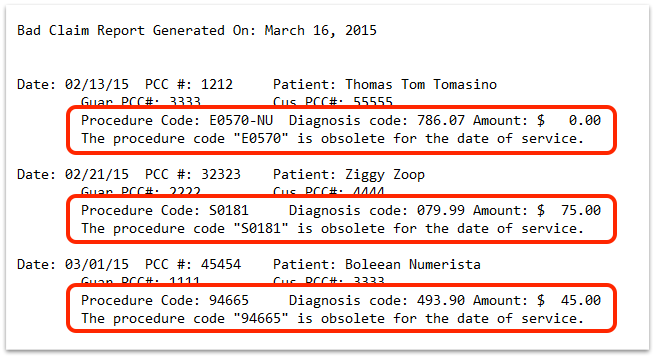 Because the CPT validation now happens in Partner, as you prepare claims, you no longer need to wait until the clearinghouse responds to find and fix a CPT code error. You can make changes, rebatch the claim, and get paid faster.
Manually Specify The Autopost Date for Insurance Payments and Adjustments
You can now specify a transaction date when you post ERAs in autopost.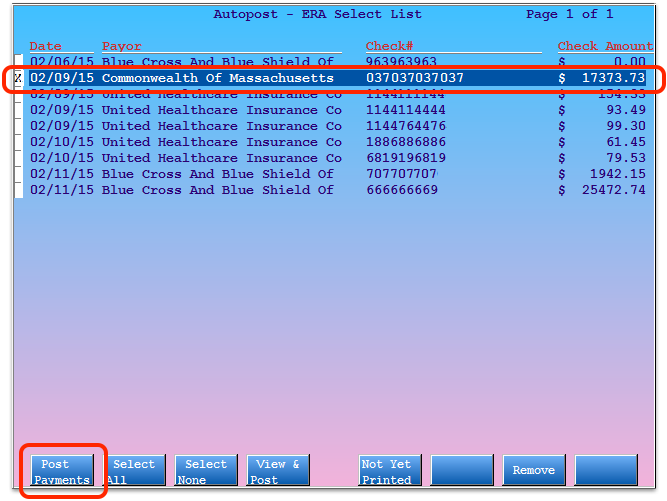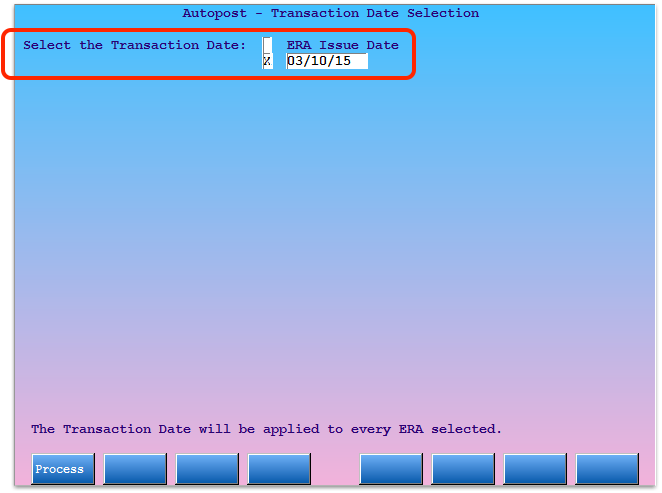 When you select one or more ERAs and press F1 – Post Payments to process them, you can pick either the issue date, today's date, or enter a custom date. You can configure your practice's default in the Configuration Editor (ced).
For example, you may want to specify that an ERA's transaction date should be the date you received the direct deposit. You can enter that date on this screen.
Posting Several?: If you select several ERAs, your choice will be applied to each one. When you make your selection, make sure your choice is appropriate for all selected ERAs.
Catch Missing Reference Numbers on Claims Before They Are Sent
Partner will now warn you if a claim has a Claim Delay Reason of "Original Claim Rejected or Denied Due to a Reason Unrelated to the Billing Limitation Rules" code 09, but no reference number is entered.
For example, if a biller needs to rebatch a claim because it was missing a birth date or some other error, they would enter 09 in the Claim Delay Reason field.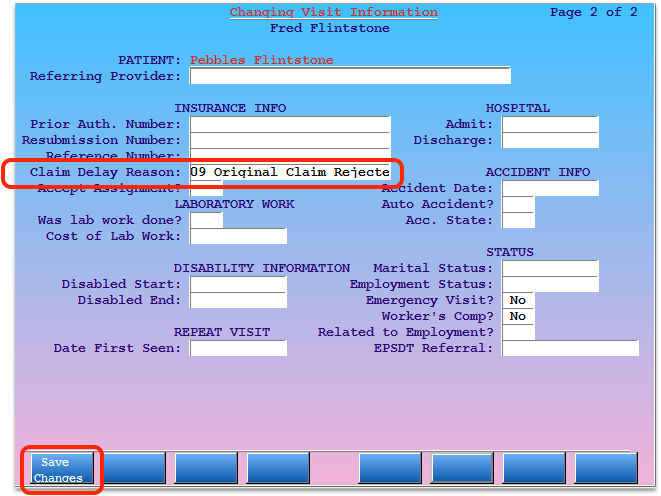 In addition to the Claim Delay Reason, a claim reference number is required for this resubmission. When the user saves the changes, Partner will warn them.

If the user continues anyway, PCC will warn the user when claims are prepared and add an entry to the Bad Claim Report.
By catching this common error before a claim is submitted, your practice can add the reference number right away and get paid faster.
Improved CARC Code Configuration for Autoposting
Your practice now has better control over which CARC codes will automatically post in the autopost program and which will drop to the manual post report.
There are two categories of CARC codes: CARC related to insurance/provider responsibility, and CARC codes related to patient responsibility. For each category, you can set the default behavior (to auto-post or not) and then enter exceptions to that rule.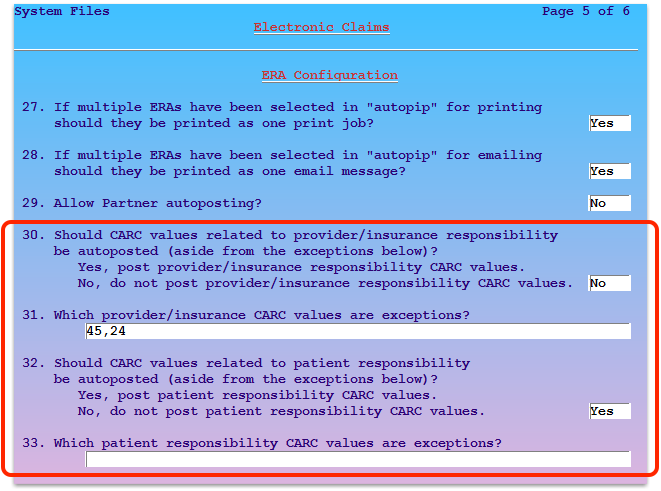 After setting your default behavior and exceptions for each category of CARC codes, the autopost program will automatically post or save to manual the claim responses based on your CARC parameters.
Zip +4 Support and Validation for Claim Submission
HIPAA requires the "Zip +4" value on claims. Partner's claim tools and the tagsplit claim processing program now check your practice's address and warn you in the Bad Claim Report if you do not have the four extra digits on your claims.
Partner will catch an invalid zip code whether it is stored in the Practice's configuration or the insurance batch configuration for the "pay to" or alternate practice addresses. When you see an error in the Bad Claim Error report, you can fix the zip codes in the Configuration Editor (ced) sections for your practice or the individual insurance batch.
CAIR Immunization Registry Support
PCC can now submit records to CAIR, the California Immunization Registry. For records to be valid, your practice must collect certain data for each patient. For more information, read the Submit Immunizations to CAIR article.
Dashboard: New Clinical Pulse Components and Score Re-balance
Your practice's overall Clinical Pulse now includes two more measures. Additionally, as part of your 6.27 update, your Clinical Pulse score will re-balance to incorporate a new category, "Immunization Rates", which will make up 30% of your Clinical Pulse score.

The Immunization Rates component of the Clinical Pulse includes the Immunization Rates – Influenza (Asthma) measure, the Immunization Rates – Influenza measure and the Immunization Rates – HPV measure.

What happened to our score?: As part of this update, your practice's Clinical Pulse score will change. The average PCC client's score decreased by 3 to 4 points, but offices with excellent immunization rates will see a higher score. The Clinical Pulse trend graph displays a marker indicating when scores were re-balanced so you can identify the re-balance in your history.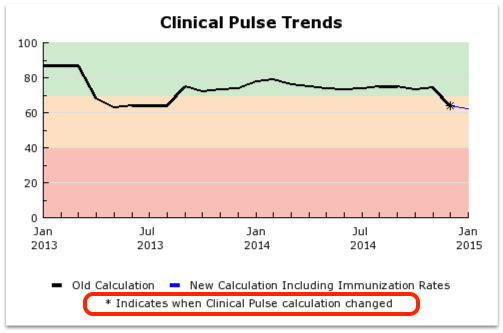 Dashboard: New HPV Benchmarks
Use the new HPV Vaccination benchmark to asses your practice's HPV vaccination rate.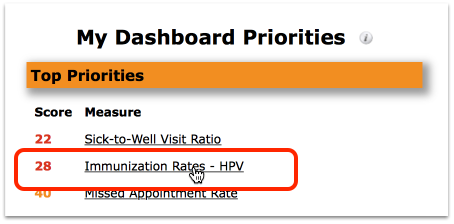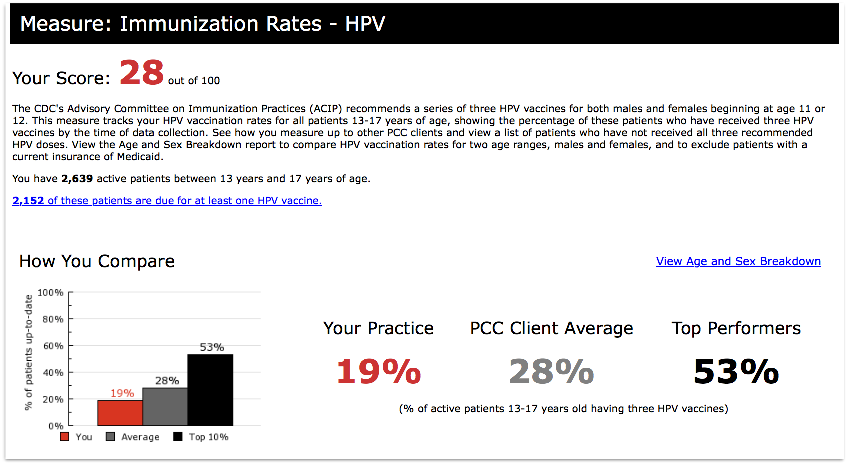 Your score is based on whether your patients aged 13 to 17 have received the three recommended doses of the HPV vaccine. You can see how many patients you have in this age group and what percentage are vaccinated.
You can select Age and Sex Breakdown to further break down your score by age and sex.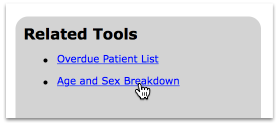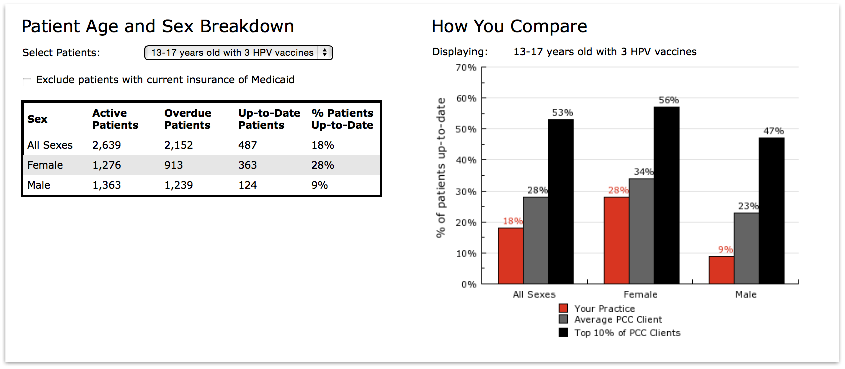 Work With Merck: The Age and Sex Breakdown Report for this measure provides the necessary data for practices participating in Merck's "Health In Focus" rebate program.
List Overdue Patients: Click Overdue Patient List to see a list of patients who are overdue for their HPV vaccination.
Dashboard: Flu Shot Rates Measure Now Includes Clinical and Historical Data
The Immunization Rates – Influenza measure in your Practice Vitals Dashboard now includes both flu shots that were charged at your practice as well as those entered into the Immunization History in the chart or in Partner.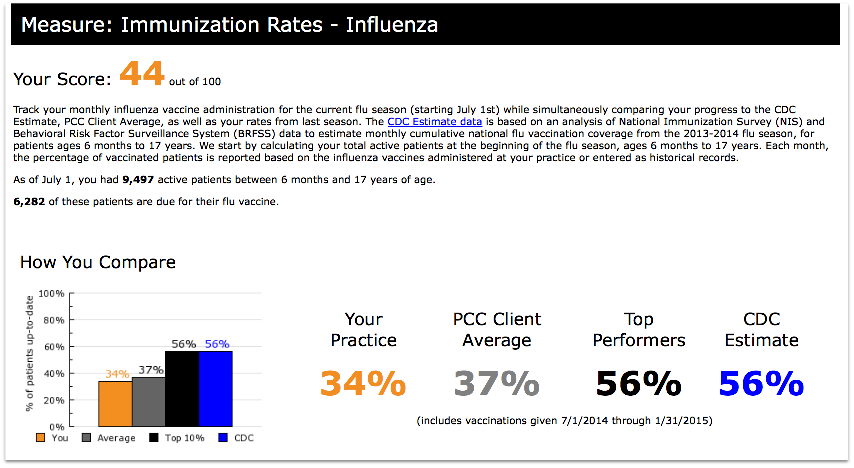 Before PCC 6.27, this measure was based on billing data. Now if your patients receive a flu shot somewhere else, and you enter the information manually in PCC EHR or Partner, that data will be properly accounted for in this measure.
Your score for this measure may increase substantially, and the measure will now be a better report of your patient population flu shot rate.
Other Feature Improvements in PCC 6.27
In addition to the features described above, PCC 6.27 includes these smaller improvements and squashed bugs:
Improved Claim Error Reporting for Resubmitted Claims: PCC's SRS Claim Error Report and other srs reports will no longer display claims that were formerly rejected by a payor but have been corrected and resubmitted. Before PCC 6.27, if a claim was rejected by a payor and then switched to a new payor, the Claim Error Report could still display that claim as an outstanding rejection.

Contraindicated and Refused Immunizations Can Be Sent to Registries: PCC EHR can now include contraindicated and refused immunizations in the data sent to immunization registries. Check with PCC Support if you would like to alter your immunization registry configuration.

Improved Invalid Diagnoses Messages: While changing diagnoses in the Correct Mistakes (oops) program, Partner will now explain more details if you enter an invalid diagnosis. You'll be able to see which diagnosis was invalid, and the screen will provide you with options for going back and fixing the code.

CVX and MVX Codes Alphabetized: When setting the CVX and MVX code values in Partner tables, the pull-down menu of options is alphabetized for easy selection.

Order Types Named "Order": To make it easier to modify your orders in the Component Builder, order types now have the word "Orders" added to their description. Screenings has been renamed "Screening Orders", for example.

Improved Order Formatting: The layout of order name, status, and results is now easier to read and consistent across all order types.

Quicker Access to the Collection Report: The Collection Report (coll) is a great summary of an account's outstanding charges and recent payments. PCC Support can now link the Collection report output to a customizable function key in other Partner programs.

New Ordinal Answers For Results: Labs and other orders can now record and display results that require a list of available answers. For example, a color vision test could now include a pull-down menu with options for "limited, unlimited".
Bugs Squashed in PCC 6.27
In addition to new and improved features, PCC 6.27 includes bug fixes. Some of the more interesting bugs squashed are listed below.
Merge Fix: In rare circumstances, merging two patients in Partner when there were chart notes for both patients would cause the patients not to merge. This no longer occurs.

Chart Note Block: If a chart note had an immunization order with VIS information, that chart note could not be deleted. Now it can.

Insurance Group Priority: If an Insurance Group priority order had an extremely high value, insurance information could fail to appear in PCC EHR. This no longer occurs.

Personal Payments in Checkin: If an account had lots of recent insurance payments and no recent personal payments, checkin's More Details option would sometimes not show a personal payment. Now the function shows all personal payments for the past year.