PCC 6.27 Migration Considerations
The PCC 6.27 release includes new components and other features that may need extra planning, training, or configuration. Read below to learn more, and share relevant details with your physicians and staff.
Read the PCC EHR 6.27 Release Documentation for complete details on these features.
Watch a Video: Want to watch a video summary of everything in this release? CLICK HERE.
Contact PCC Support at 1-800-722-1082 for information about these or any features in PCC 6.27.
Configure Your Immunizations in Preparation for Immunization Forecasting
Before your practice can turn on Immunization Forecasting, you must identify your practice's immunizations by their CVX code.
STC can not calculate the immunization Forecasting Results or Forecasting Warnings for a patient unless it knows which version of each shot is administered at your practice. Therefore, before PCC can turn on the forecasting features at your practice, you must add CVX codes to your immunization configuration. CVX codes identify the specific trade name and formulation of the vaccines you administer.
Other Features: In addition to immunization forecasting, many other PCC features rely on your practice's configured list of immunizations and the CVX codes for those immunizations.
How Can I Compare My Practice's Immunization Configuration with the CDC's Official CVX Codes?
PCC 6.27 includes cvxreport, a new tool that can report on your practice's current CVX code configuration and also generate a CDC reference guide to all CVX codes.
PCC Support can help you run cvxreport, or you can run it yourself from a command prompt.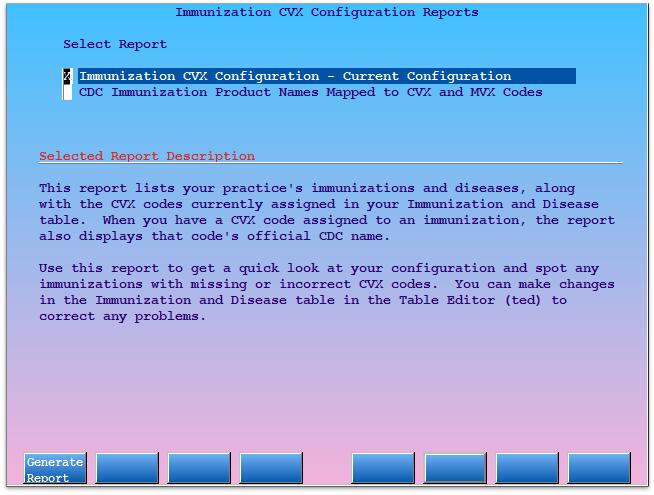 Select the first report to review your practice's configuration.
Select the second report to review the CDC's official list of immunizations and CVX codes.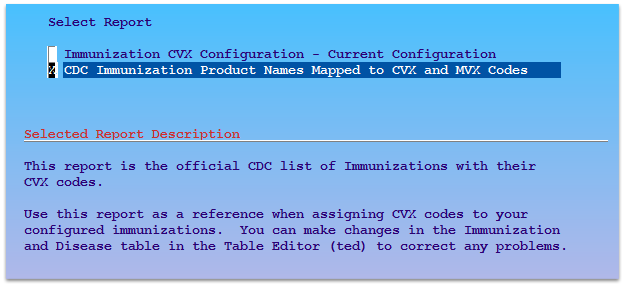 While reviewing either report, you can press F2 – Send To... in order to print or e-mail the report.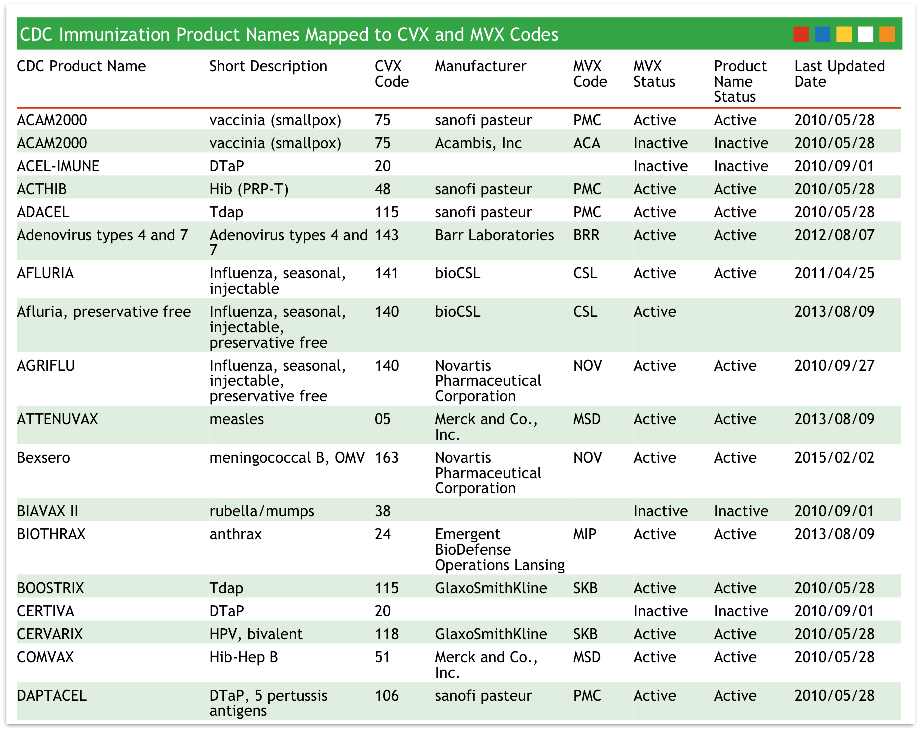 Where Do I Enter the CVX Codes for My Practice's Immunizations?
Once you have reviewed your practice's configuration and checked your refrigerator, you can enter your CVX codes in the Immunization and Disease Table in the Table Editor (ted).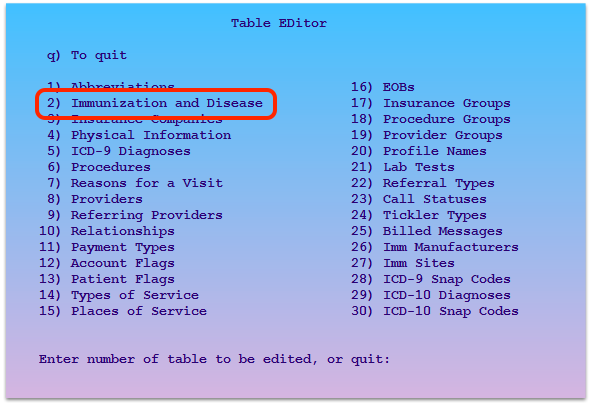 Contact PCC Support to Turn On Immunization Forecasting at Your Practice
Immunization Forecasting is an optional feature. Once you have finished configuring your immunizations, contact PCC Support to turn it on.
Configure Diseases and Presumed Immunity Diagnoses
The new Diseases section of the immunization record can display dates for any of the 28 diagnoses associated with vaccine-preventable diseases, whether the patient has had the disease or has serological evidence of immunity.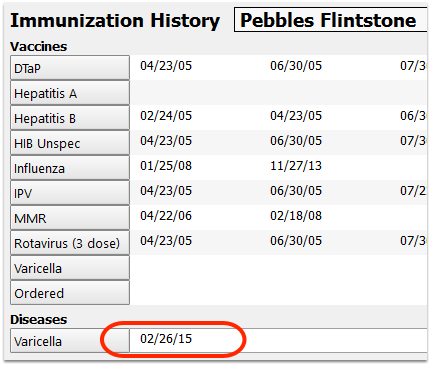 Your practice can specify which of the 28 vaccine-preventable disease diagnoses should appear in the Immunization History, on patient reports, or be sent to an immunization registry.
To make changes, open the Immunization Configuration tool and select the Diseases tab.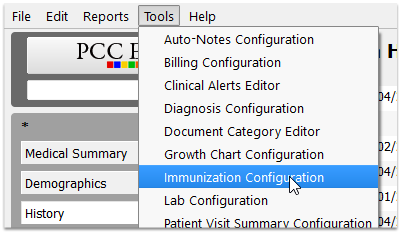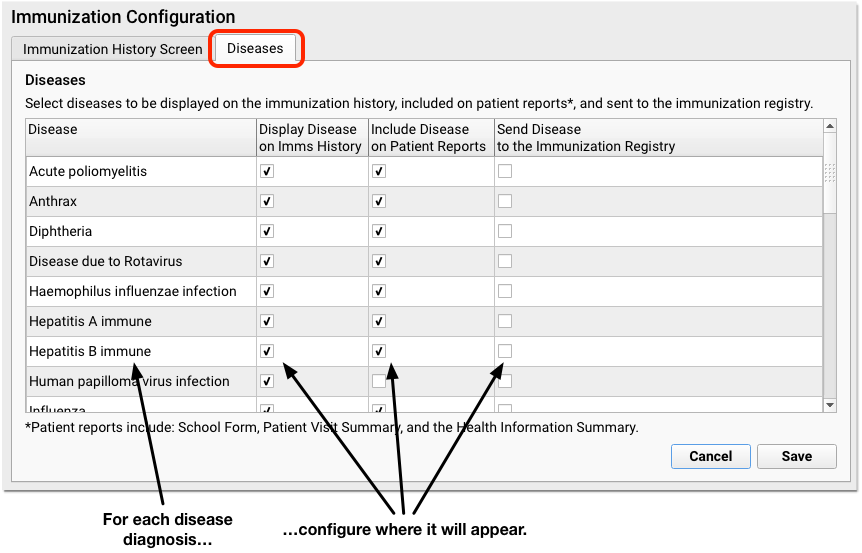 For each of the 28 diagnoses, you can select whether or not it will appear on the patient's immunization history, on reports, and whether or not disease immunity will be sent to an HL7 compliant immunization registry.
For example, if a patient is diagnosed with the flu, you may not want to display that in the Diseases section of the patient's immunization record. Or, you may want HPV to appear in the chart but not appear on patient reports, such as the Patient Visit Summary. (By default, the HPV disease diagnosis will be marked to not appear on patient reports, and the immunization registry options will be disabled.)
Is Your Registry Ready?: At the time of the PCC 6.27 release, very few immunization registries are able to accept disease diagnoses. This feature is turned off by default, and you should work with PCC Support before turning it on for any disease diagnosis.
Customize Your Partner School Form: You can also control whether or not the Diseases section appears on the School Form at all, or add it to your practice's custom immunization form. Call PCC Support for more information.
Remove Diseases From Your Immunization List
Your practice may already be tracking some diseases, such as Varicella, as part of your immunization configuration.
You can continue doing this if you wish, or remove those diseases from your immunization configuration. Contact PCC Support for assistance.
Turn On and Configure Patient Care Centers
If your practice has multiple locations that operate independently, you may want to turn on the new patient Care Center feature. Contact PCC Support to discuss the feature and decide if it is right for you.
If you wish to activate it, consider each of the sections below.
Configure Your Practice Locations and Location Flags
After PCC Support turns on the Care Center feature at your practice, you should double-check your location configuration. PCC can intelligently assign care centers based on the flags you are already using, or you can create new flags and locations and assign them to users.
First, each care center should have a location flag in the Patient Flags table in the Table Editor (ted). You may already have this configured at your practice. If not, clone or create new flags.

Next, each care center should have a scheduling location in the Places of Service table in the Table Editor (ted). You may already have this configured at your practice. If not, create new locations.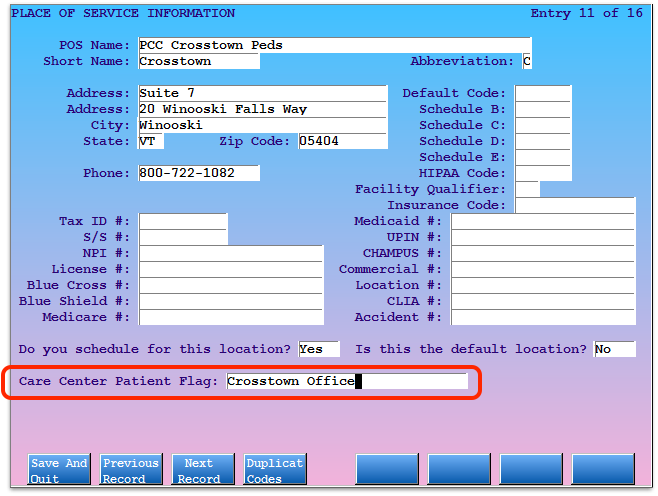 Finally, to activate a care center, enter the matching patient flag in the Care Center Patient Flag field, as shown above. All patients with the flag will be automatically assigned to the care center.
Move the Care Center Component in Messaging Protocols
After PCC Support turns on the Care Center feature at your practice, all message protocols, such as your phone notes, will include the Care Center component at the top.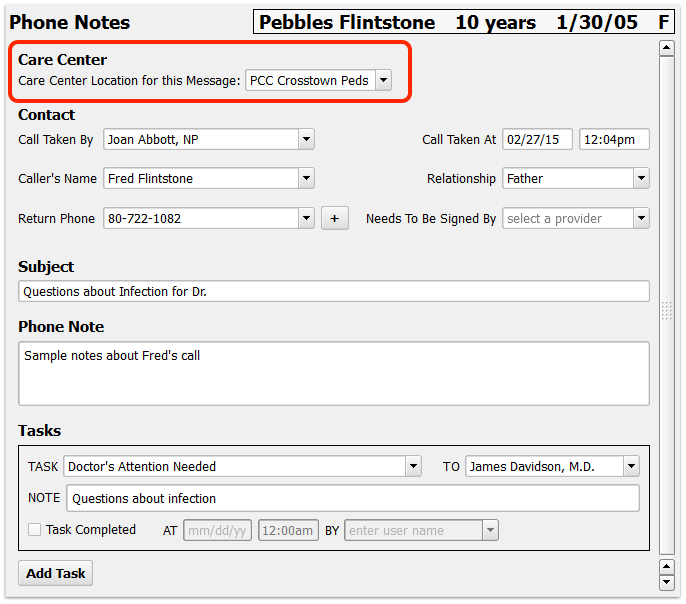 New messages automatically receive the care center of the patient, but users can change that care center to redirect a message to a different location.
You can use the Protocol Configuration Tool to move the component anywhere in the ribbon.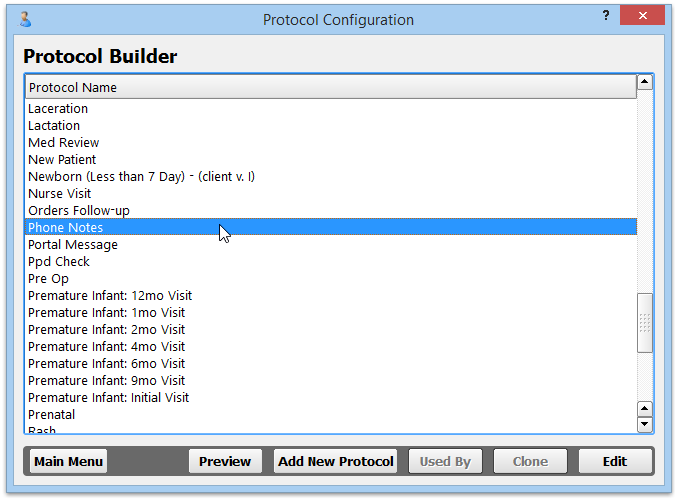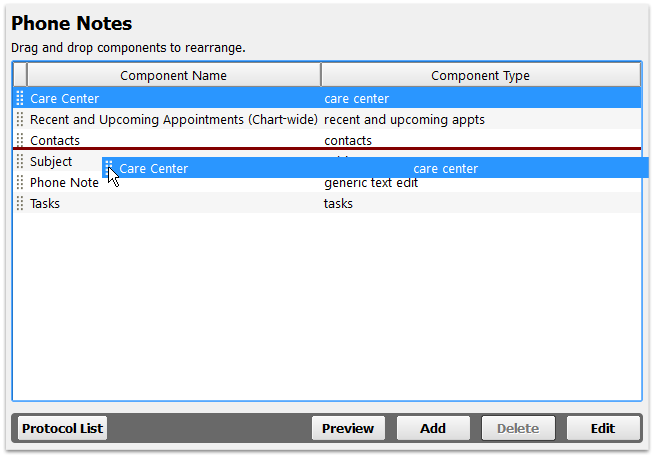 Clean Up Unassigned Messages
After turning on Care Centers at your practice, you may need to spend some time answering and completing old message tasks that do not have a Care Center. All new messages can have a care center, but your practice may have a backlog of message tasks.
Any message without an assigned care center will appear for every location, regardless of the user's location filter setting.
Train Your Staff to Assign Care Centers for Every Patient
During patient checkin, or whenever you create a new patient record, your practice should assign a care center.
Your staff can select a care center on the Demographics section of PCC EHR, anywhere the Demographics component is added (on a chart note, for example), as well as in checkin, checkout, and the Patient Editor (notjane).
One Care Center Only: Note that if you add a new care center to a patient, PCC will automatically remove the old care center (and flag) for them.
Set Location Filters and Save Your Defaults
On the Messaging queue, your staff can set their location. If they are responsible for handling tasks for patients from several care center locations, they can select more than one.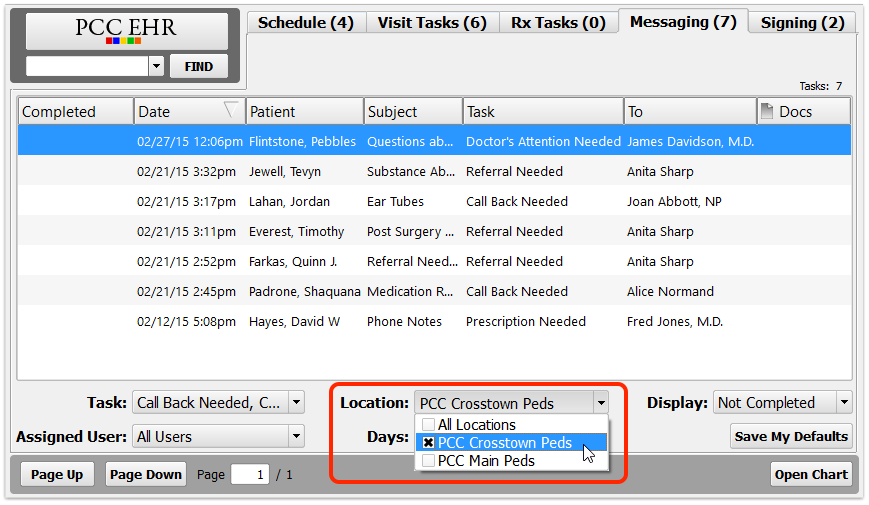 After setting their location, your staff can click "Save My Defaults" and PCC EHR will remember their preferences the next time they log in.
Add Care Center Information to the SAM Search Criteria Screen
Contact PCC Support for help adding the Care Center field to the SAM Search Criteria screen.

Change Your Form Letters to Display the Care Center Address
When you generate a school excuse letter or other form letter, should it display your practice's default address, or the patient's care center address?
Review your practice's common form letters and work with PCC Support to change your form letter variables to display the preferred address.
Configure the Address for the Health Information Summary and MyKidsChart
Use the Practice Preferences tool to set which location address appears on the Health Information Summary report and in the patient portal, MyKidsChart.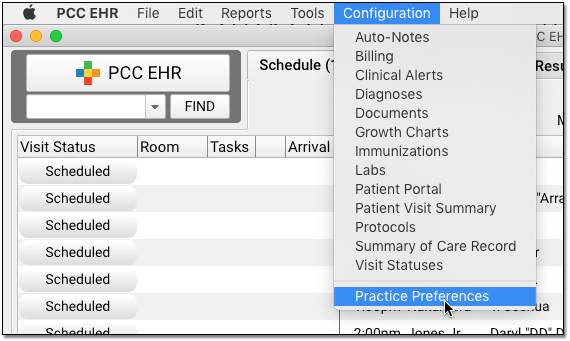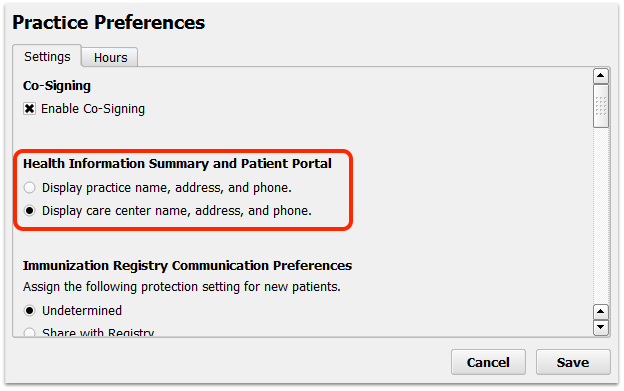 After setting this option, the Health Information Summary report and the patient portal will automatically display either your practice's default address or the patient's care center address. If the patient has no care center assigned, they will see the practice's default address instead.
If a parent has several patients who visit physicians at different care centers, both addresses will appear for them when they log in to MyKidsChart.
Add Tests With Discrete Results to Orders
Use the Component Builder inside the Protocol Configuration tool to add specific LOINC tests to any order at your practice. Examples are shown below.
Create or Edit an Adolescent Depression Screening Order with Discrete Results
If you are applying for Meaningful Use Stage 2 (ARRA) or PCMH, you may want to create or edit a depression screening order so that it includes discrete results. The order will be a useful way to chart depression screening results and will help you meet the CQM requirements for ARRA and PCMH.
Open the Component Builder
First, open the Protocol Configuration tool and click on "Component Builder".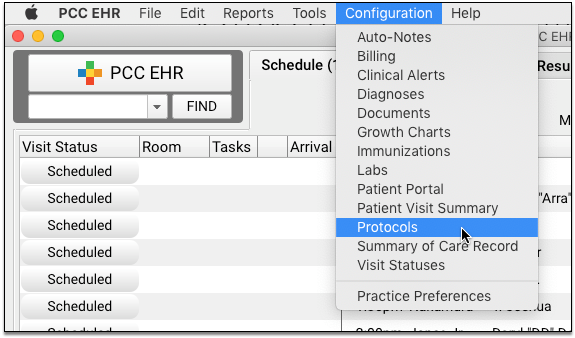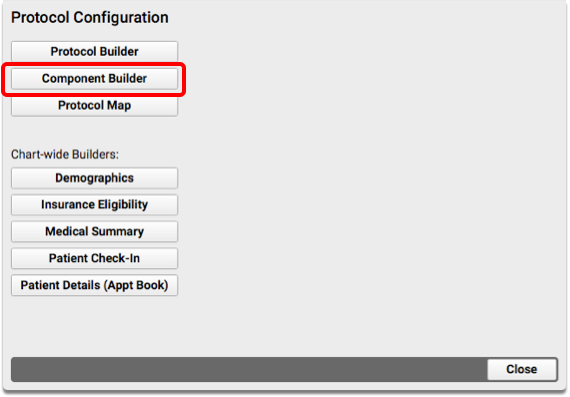 Create a New Screening (or Edit an Existing Order)
Open the Screening Orders component to review your existing screening orders.
If you do not already have a depression screening order, click Add to create one.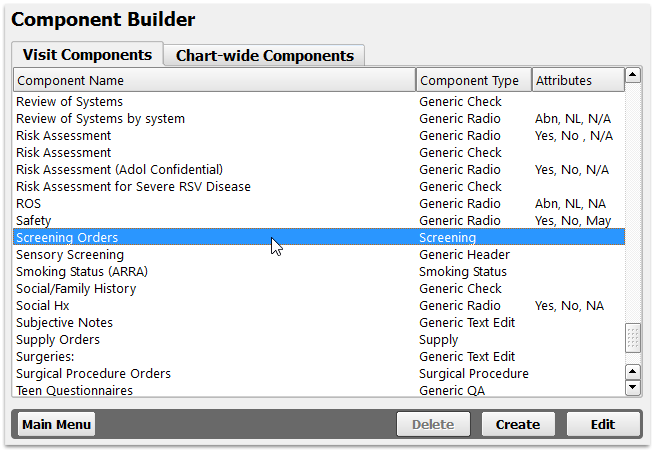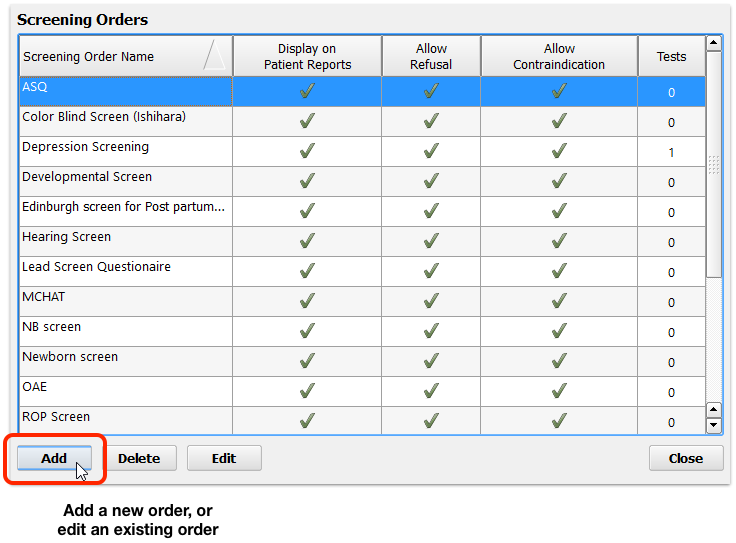 Name Your Order and Set Parameters
Give your screening order a name and set basic parameters. Will the order be included on patient reports by default? Can the order be refused or contraindicated?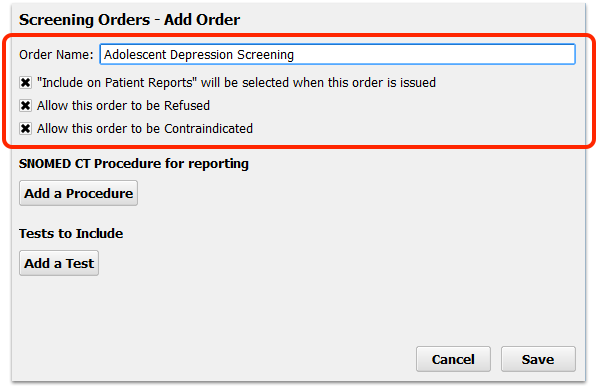 As with lab orders, you can check boxes in order to set whether an order can be Contraindicated or Refused, as well as set the default privacy ("Include on Patient Reports") setting.
Optional: Add a Corresponding SNOMED Procedure Description For Reporting
Click "Add Procedure" to link a SNOMED description to the order for reporting purposes. For example, you may add a SNOMED code to orders for additional adolescent evaluations, follow-ups, and referrals in order to collect data for meeting Clinical Quality Measures.
Add One or More Tests to the Order
Click "Add a Test" to add one or more LOINC tests to the order. For depression screenings that meet the CQM guidelines, you could add the "Adolescent depression screening assessment" test, as shown.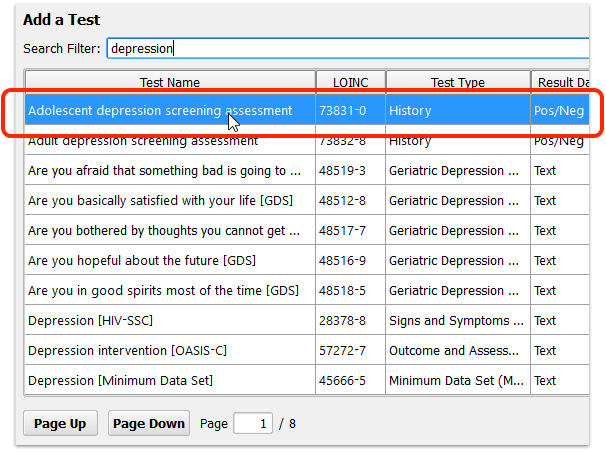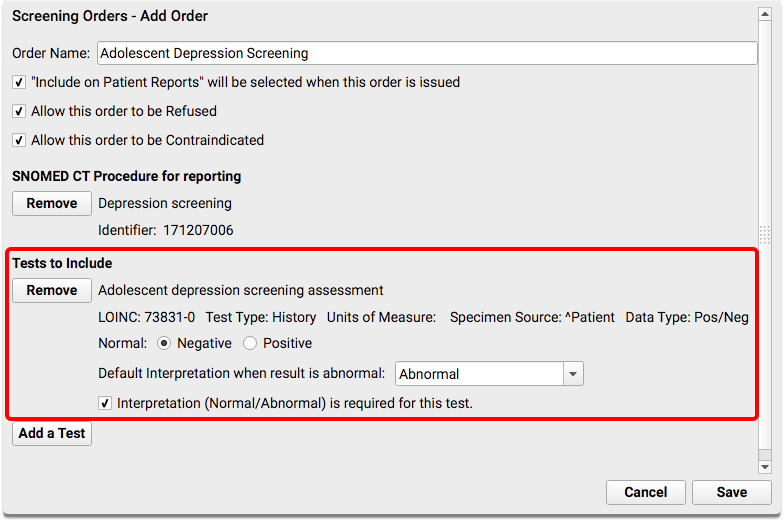 Other Tests to Add, Other Depression Screenings: Your practice can use other screening tests that match the workflow at your practice, either in a single order or in multiple orders. For example, every question in the PHQ-9 depression screening has a corresponding LOINC entry. Your practice could add each question in PHQ-9: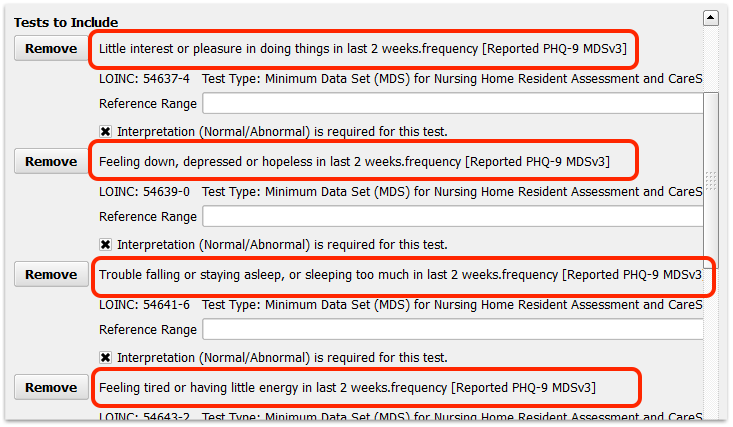 Or, you could create a PHQ-9 order for recording and tracking the patient's total score.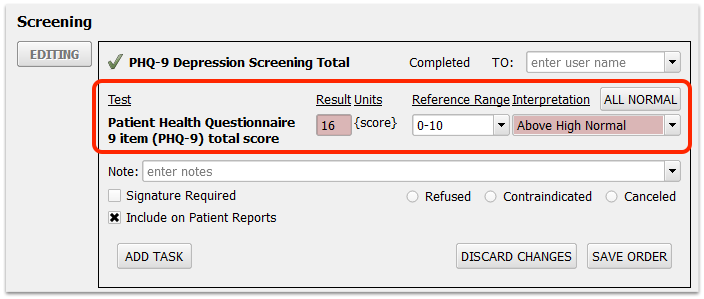 By using discrete test result fields in screenings, you will be able to track the patient's score over time in the patient's flowsheets.
Add Component and Order to Specific Chart Notes
After creating your order, you can add it to specific chart notes. First, add the component to a chart note protocol if it does not already appear. Next, edit the component and add the order.
For more information, read the Protocol Builder help articles.
Configure Billing for Your New Order
After creating your order, open the Billing Configuration tool to map appropriate billing codes to the order.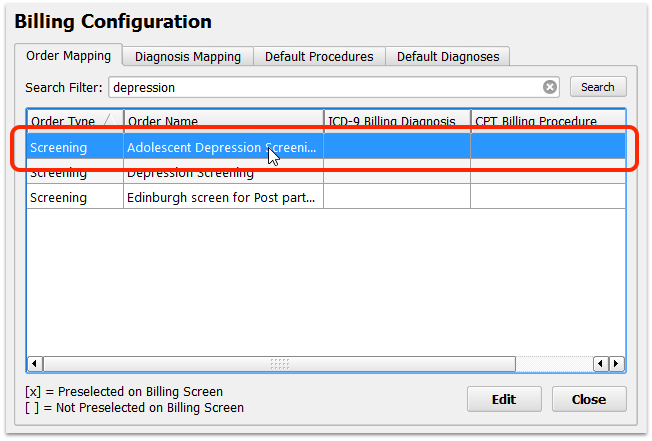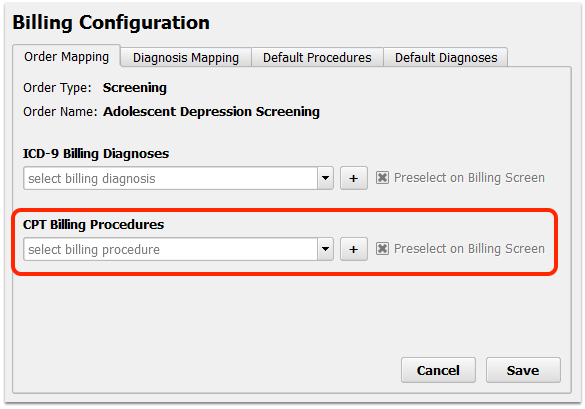 When a user creates the order on a patient's chart note, the mapped billing codes will automatically appear on the encounter form.
For more information, read the Billing Configuration article.
Configure Radiology Orders with Discrete Results
If you'd like a way to enter standardized results for x-rays, and/or if you are applying for Meaningful Use Stage 2, you should add discrete radiology tests to your radiology orders.
Just as with depression orders, you can add or edit your radiology orders and add their corresponding LOINC tests.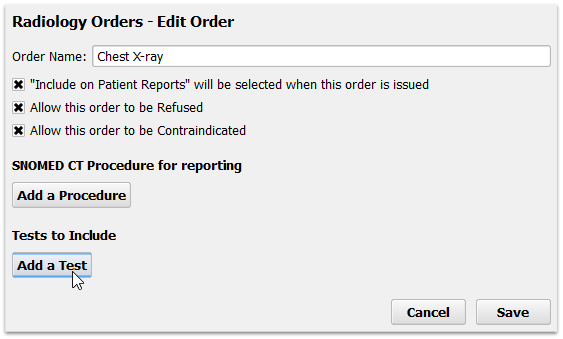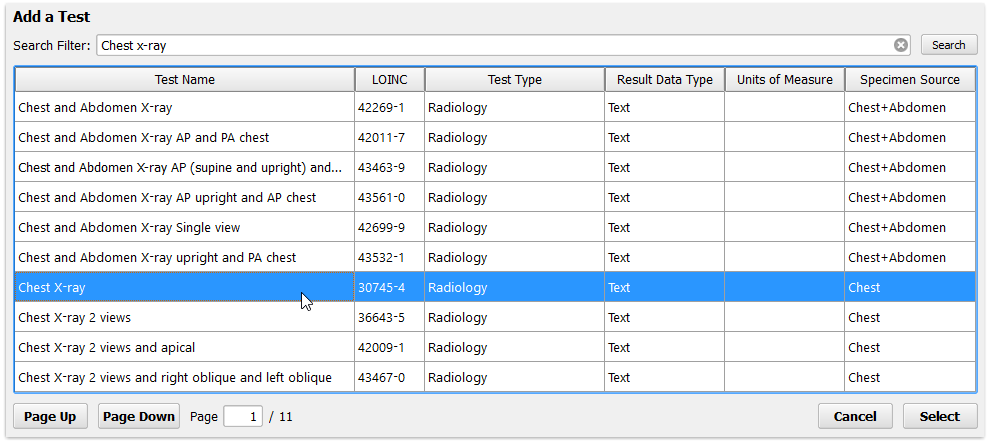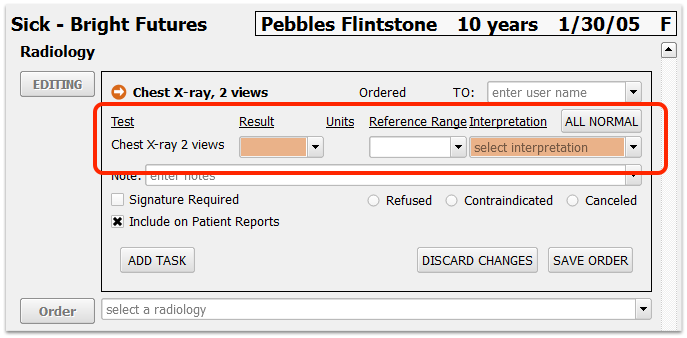 Configure Orders to Be Contraindicated, Refused, or Private
After your PCC 6.27 update, you may want to review your orders and set parameters and default behaviors for contraindication, refusal, and privacy.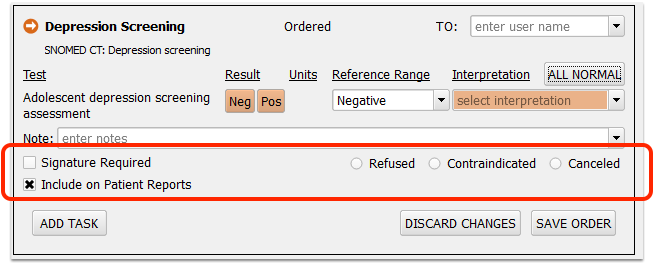 Use the Lab Configuration tool or the Component Builder to edit your orders. For each order, you can set whether it can be Contraindicated or Refused. You can also set the default behavior of the "Include on Patient Reports" option.
Migration: The PCC 6.27 update will automatically turn on the ability for each order to be refused and contraindicated for all orders except followups, handouts, referrals, and supplies. You can turn off the ability to refuse or contraindicate an order and set the default "Include on Patient Reports" setting.
Review New Billing Configuration Tool and Set Permissions
PCC 6.27 renames the Encounter Form Editor to the Billing Configuration tool. Billing code mapping functions move from the Diagnosis Configuration tool to the Billing Configuration tool.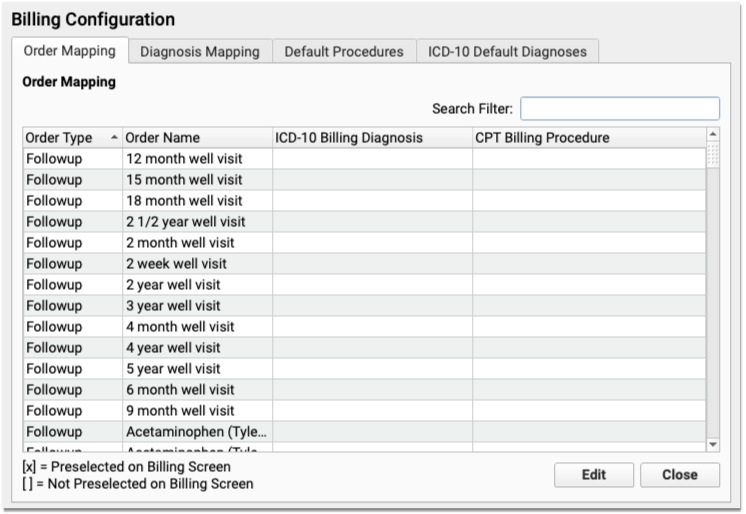 Review the tabs of the new tool with each user at your practice who configures the billing behavior of orders and diagnoses.
On the Diagnosis Mapping tab, your staff can begin previewing ICD-10 billing. New ICD-10 mapping and configuration tools are coming later this year.
The system administrator at your practice may need to adjust roles in the User Administration tool to grant access to the Billing Configuration tool.
Configure Custom ICD-9 Fall Back Codes
After October 1st, all posting and billing in PCC EHR and Partner will switch to ICD-10. However, you may need to configure some insurance claims back to ICD-9 temporarily. In PCC 6.27, you can configure your custom ICD-10 to ICD-9 mapping in the ICD-10 Diagnoses table in the Table Editor (ted).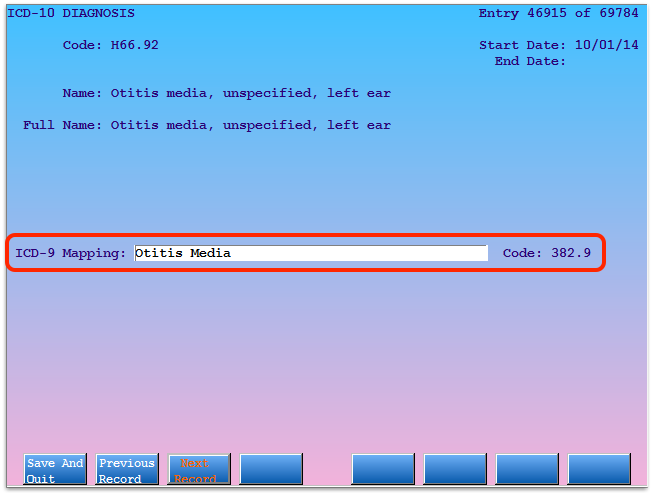 The PCC 6.27 update will attempt to automatically set the "fall back" ICD-9 code for each ICD-10 code in your table using scripts provided by the CMS for reimbursement mapping. However, if a matching code is not available or you wish to change it, you can use the ICD-10 table in ted to enter or modify the "fall back" ICD-9 code for each ICD-10 diagnosis.
Configure Default Options for Autopost Date
After your PCC 6.27 update, you can configure the date options and default transaction date for the autopost program. Open the Electronic Claims section of the Configuration Editor (ced) to review your options.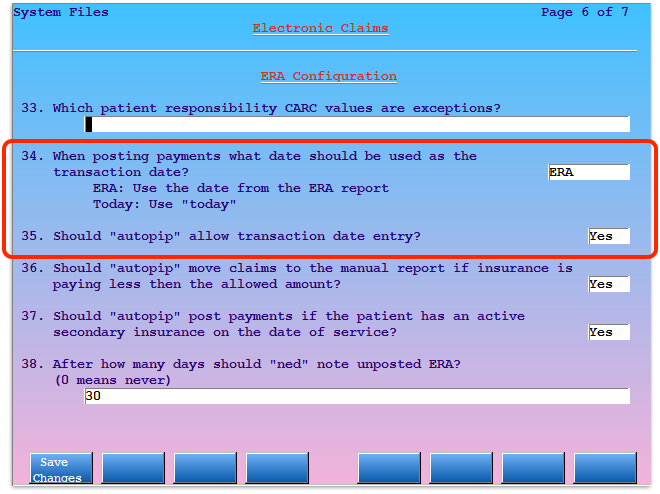 First, specify whether autopost should use the ERA or today's date as the transaction date.
Next, specify whether or not autopost should allow the user to enter a custom date.
Re-Configure Autopost Behavior for CARC Codes
Use the Electronic Claims section of the Configuration Editor (ced) to specify which CARC codes should auto-post and which should drop to manual posting.
For each category of CARC, first set the default behavior (to auto-post or not) and then enter exceptions to that rule.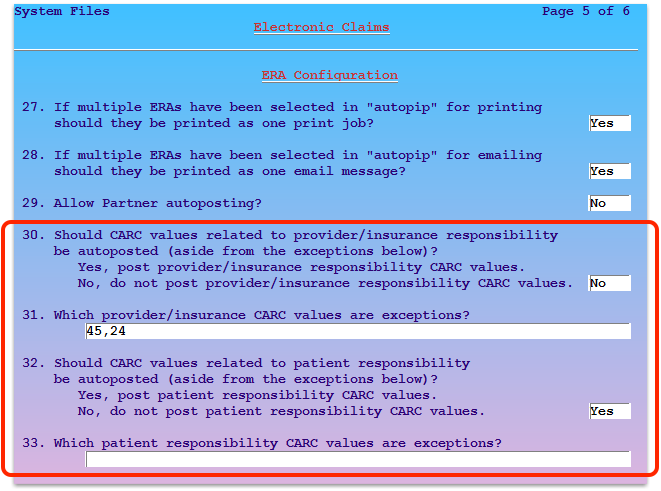 After setting your default behavior and exceptions for each category of CARC codes, the autopost program will automatically post or save to manual the claim responses based on your CARC parameters.
Inform Users of Practice Vitals Dashboard About the Revised Clinical Pulse Scoring Method
Does your practice have any Practice Vitals Dashboard users who are dedicated to improving their Clinical Pulse score? You should let them know that the 6.27 update will add new measures and include a score change.
By adding more measures to the Clinical Pulse, PCC hopes to make the score a better reflection of your clinical excellence.