In January of 2015, PCC will release version 6.26 of our charting and practice management software. PCC 6.26 is our annual "clean up" release, encompassing dozens of small fixes and improvements to both PCC EHR and Partner. In addition, 6.26 includes new VIS form tools for immunization orders, decimal values in weight fields, and more. Read below to learn more!
Watch a Video: Want to watch a video summary of everything in this release? CLICK HERE.
Contact PCC Support at 1-800-722-1082 for information about the items below or about any PCC product or service.
Improved Vaccine Information Statement (VIS) Recording
You can now select a VIS form from a pull-down list of published forms.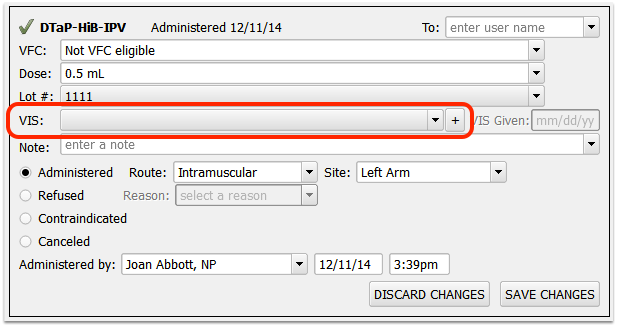 Based on your practice's CVX code configuration, the field will offer you all available VIS forms for the immunization. Previous, obsolete forms are shown under a dotted line. (Previous forms are still sometimes distributed, even after a new form is published.)
Once you select a VIS for an immunization, PCC EHR will remember your office location's standard VIS form for that shot and you won't have to select it each time. One user can select the VIS forms the first time, and from then on each user at your office can simply confirm that the VIS is given.
Add Multiple: When you provide more than one VIS form, you can click the plus sign next to the VIS field. You might do this for Pediarix or other combination vaccines. PCC EHR will remember your office location's multiple VIS form selection for that shot and select it for you next time.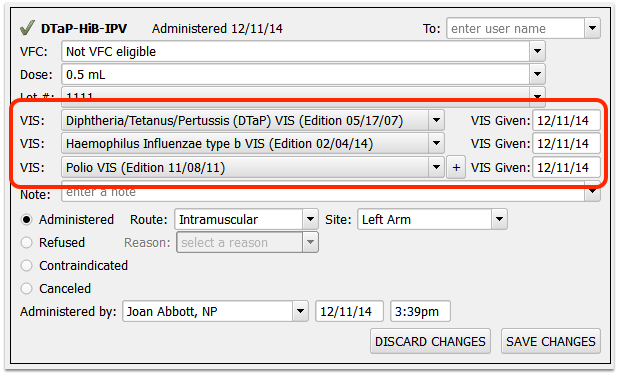 Here are some other important details to keep in mind as your office begins using the new VIS field:
New 2014 Multiple Vaccines VIS: Among the standard VIS forms listed, you may notice the Multiple Vaccine VIS, which will also match by CVX code. The new 2014 Multiple Vaccines VIS may be used in place of the individual VISs for DTaP, Hib, Hepatitis B, Polio, and PCV13 when two or more of these vaccines are administered during the same visit.

Migration: Your PCC 6.26 update will automatically move any historical notes from the previous VIS field into the Notes field for the order. You can use the Notes field for any text notes about the order.

CVX Codes: VIS forms are matched by CVX codes in the Immunization and Disease table in Partner. For help configuring your practice's immunization records, contact PCC Support. If no CVX code is found for an immunization, you will see the complete VIS form list. For help understanding how CVX codes link to VIS forms, you can read the CDC's CVX to VIS Mapping Table.
Review Who Entered Vitals
In PCC 6.26, you can move your mouse cursor over vitals on a chart note to see who entered the data. Hover over any vitals measurement (not entered by yourself) to reveal attribution.

Now you can see which user entered each vitals value and then confirm unusual entries with that user.
Decimal Weight for Pounds
You can now enter either decimal pound values or ounces. All U.S. weight fields now support decimal entry up to two places of precision.

PCC EHR will intelligently arrange the results so you can review decimals as well as ounces.
You can also use decimals in either the pounds or ounces field when you manually add growth chart points.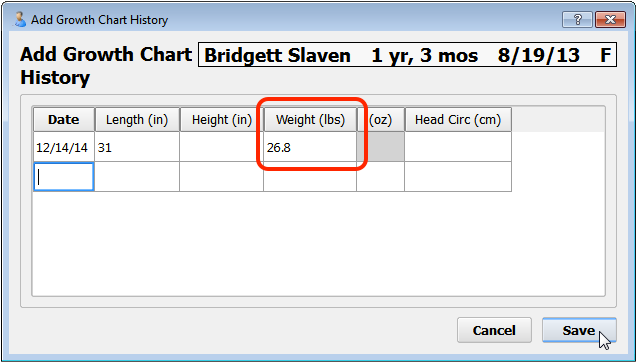 If your practice's digital scale uses decimal pounds, you can now record a patient's weight directly from the scale. The patient's visit history, PCC EHR reports, MyKidsChart, growth charts, and flow sheets will display the normalized weight with pounds and ounces.
Relative Dates in Scheduling and Partner Reports
Anywhere you can enter a date in Partner, you can now enter date calculations to automatically look up a date.
For example, if you want to schedule a recheck appointment 3 weeks from now, you can enter, "t+3w".

You can also use date calculations when running reports. For example, if you want to see all totals for the past two months, you can enter "t-2m" in the starting date field, for "today, minus 2 months".


To create your own example, use "t" for today or "y" for yesterday, a plus or minus sign, and then a number of days, weeks, months, or years. If you do not include "d", "w", "m", or "y", Partner will assume you mean days.
The new date expressions work anywhere you enter a date in Partner, from scheduling configuration to proving out reports.
Practice Vitals Dashboard: Influenza Vaccination Rates
A new dashboard measure displays your flu vaccine rates for 6 month to 17 year old patients. In addition to the existing "Influenza Vaccination Rates: Asthma Patients," the new "Influenza Vaccination Rates" measure will help you track flu shot success rates for your entire practice.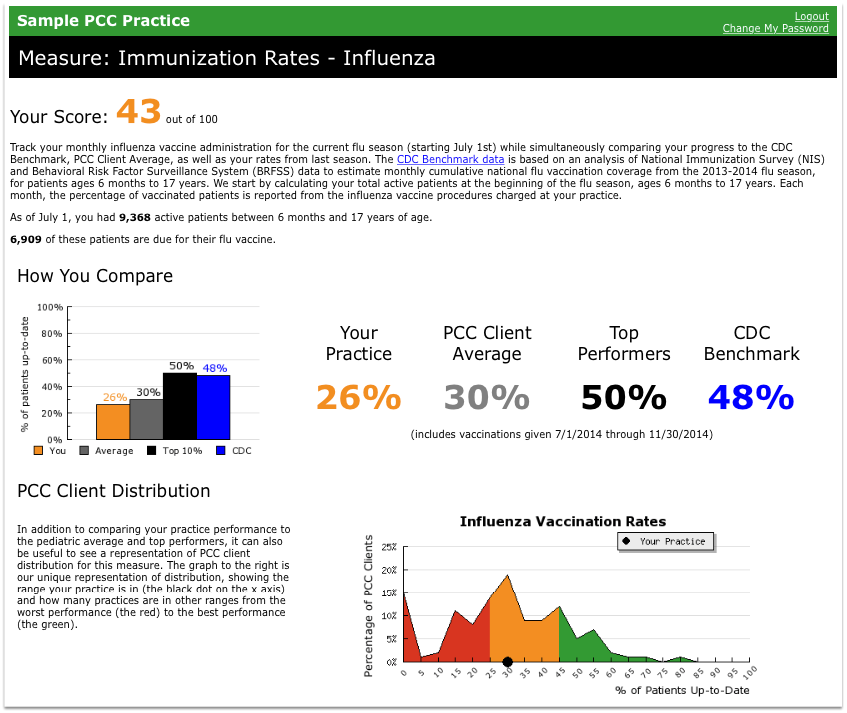 The measure compares your vaccination rate to other PCC practices and to the CDC's benchmark, and it provides insight and ideas for improving your score.
This measure tracks seasonally, from July 1 to June 30th of the following year. Your score will always be at zero on July 1st.
Other Feature Improvements in PCC 6.26
In addition to the features described above, PCC 6.26 includes these smaller improvements and squashed bugs:
Patient's Relationship to Insured: There is a new set of form letter variables for displaying policy information on a patient form letter. The new variables let you easily display the patient's relationship to the insured party.

Custom Immunization Form Variables: When creating a custom immunization school form, PCC Support can now add immunization disease names, CVX codes, and other information from the Immunization and Disease table. This allows you to organize shots by disease or create other custom form layouts.

Capitalization of Contact Names: The name fields in the Professional Contacts and Personal Contacts fields now automatically capitalize names when appropriate, following the same useful automatic capitalization performed for patient and family names.

Notify Call Window Can Be 2 Hours: You can now schedule a 2-hour call window for Notify notifications. If your practice wants all calls completed between 7pm and 9pm, for example, you can now configure that for a notification.

2015 RVU Reporting Numbers: PCC's RVU value data is now up to date for 2015, including all the new RVU values and region modification values (GPCI).

PCC EHR on Macintosh OSX Build No Longer Requires the X11 Libraries: PCC EHR used to require particular software libraries that were included in OSX. Apple no longer includes those libraries automatically. Before PCC 6.26, your practice needed to download them manually on new Macintosh computers or after a system software update. PCC EHR now includes the required libraries.

Performance Improvements: PCC 6.26 includes improvements to indexing and database access which will improve chart opening times in large practices.
Bugs Squashed in PCC EHR 6.26
In addition to new and improved features, PCC EHR 6.26 includes bug fixes. Some of the more interesting bugs squashed are listed below.
Phone Notes Not Word-Wrapping: The patient's Visit History screen now displays task subjects better.

Scan Source Reload: Removing a file from a file source will no longer force a screen reload, saving you time when working with a long list of documents.

Celsius and Fahrenheit: If you receive data from a system that stored temperatures in Celsius, PCC EHR will display the correct corresponding label.

Deleting Problem List Items: If you right-clicked on certain columns to delete a Problem List item, PCC EHR could become unresponsive. This no longer occurs.

Canceled Appointments and Unassigned Labs: If an appointment is canceled, any associated lab orders will still maintain their clinical attribution on the signing queue.

Weight in Dr. First: In some circumstances, a patient's most recent weight wasn't appearing correctly in Rcopia DrFirst. Now it will.

Capitalization for Custom Spelling Words: Capitalization for your custom spell check additions will now be preserved as you typed it.

Handling Unusual PDF Files: If PCC EHR received a scanned document with a file format or other issue, it could sometimes fail to divide the document and finish importing it. Now the process can finish.

Birthday on a Policy: If a policy-holder's birthday is assigned on the policy, it will now override the patient's date-of-birth if the relationship is "self".

Support for ': The Patient History report will no longer produce an error if the patient has an apostrophe (') in their name.

Leaving and Returning to pip: If you opened oops or another program from within pip and returned, you could sometimes see all claims for the account, even if you formerly opened the program by claim ID for a particular patient. This no longer occurs. The pip program now remembers which claim ID you were working with and uses it to display only relevant charges.

Default Units up to 999: You can now create Procedure Table entries in the Table Editor (ted) with up to 999 units. These units are used for certain kinds of drug administration.

Retired Providers on the Day View: The Day View screen in sam can display retired providers. Before PCC 6.26, a retired physician could produce unusual display issues.

Extra Zip-Code Characters: If you overwrote a city field with a zip code, the extra characters from the city could be copied over into the zip code field. This no longer occurs, and you no longer need to press the End key to wipe out the remaining characters.

Deposit Location and Payment Types: When filtering by location, the Deposit report would cause the All Payment Types field to disappear from the screen. This no longer occurs. You may notice the All Payment Types field for the first time on your screen if you work with multiple locations.

Checkin and Payment Errors: Users can no longer enter payments from the future or in negative amounts in checkin.

Capslock and Diagnosis Linking: The capslock key no longer interferes with entering diagnosis linking in Checkout (chuck).

F12 in Checkout: The F12 key would not allow you to quit from the copay message screen in Checkout (chuck), the first screen. Now it does. F12 will now take you back to the appointment selection screen.

Page Down to the Search Field: In the Family Editor (fame), when paging down to a notes page, the onscreen cursor will now begin in the search field, allowing you to search notes with fewer keystrokes.

Reprinting an Encounterform in Inquire: Printing an encounterform through inquire will now correctly update the visit status.

Certificate and Group Number Capitalization: Letters will now correctly autocapitalize in the certificate and group number fields, even when the first value is numerical.

Aging Report Label: The Personal label no longer appears on the aging report when you omit personal charges.

Exponential Eligibility Checking: Under certain circumstances, changes made to an insurance policy could cause duplicates of duplicate requests for an eligibility update. Now the new eligibility request is sent only once for each change.

Appointment Syncing: When a change was made to an underlying Partner table, sometimes the syncing of appointment information could happen before the table update completed. In some circumstances, that could cause an appointment to not have a visit reason and not display in PCC EHR. This can no longer occur.

Patient History: The SRS Patient History (patater) report was not correctly filtering by patient. The report now asks for a patient and includes dollar amounts.