In November of 2014, PCC will release version 6.25 of our charting and practice management software. This update includes built-in spell check, immunization lot management, and many other features. Read below to learn more!
Watch a Video: Want to watch a video summary of everything in this release? CLICK HERE.
Contact PCC Support at 1-800-722-1082 for information about the items below or about any PCC product or service.
Automatic Spell Check
PCC EHR automatically checks your spelling as you type.

Whether entering chart notes, writing up the patient's care plan, or entering text in any other free-text field, PCC EHR will underline misspelled words.
Spellcheck automatically ignores name fields, phone number fields, and other fields where spellcheck would be undesirable.
Suggestions
Right-click on an underlined word to see spelling suggestions.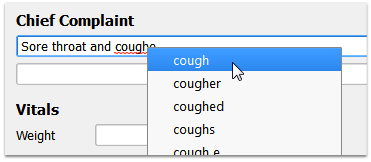 You can select the correctly spelled word from the menu, and it will automatically replace your typed text.
Medical Dictionary Included
The PCC EHR spell check includes a medical dictionary and words from SNOMED descriptions. Your every-day medical terms will be interpreted correctly, and the suggestions will reference common medical terms as well.

The PCC EHR dictionary is a custom combination of the open-source Hunspell English Dictionary, the OpenMedSpel dictionary, and a parsed list of SNOMED descriptions.
Add Words to Your Spell Check Dictionary
Even with the medical terms and SNOMED descriptions, you will undoubtedly encounter unknown terms that are spelled correctly. When a word is spelled correctly, you can right-click to add it to your personal spell-check dictionary.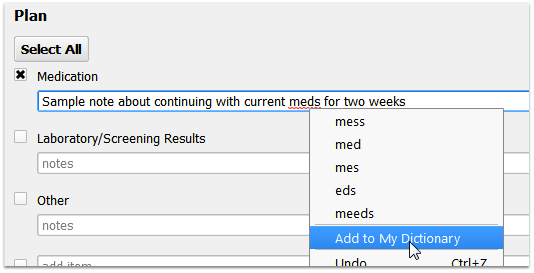 In the above example, the user decided that they want the word "meds" to be considered correct.
Per-User: Custom words added to the spelling dictionary are for each user, not for your entire practice.
Remove Custom Words: You can also remove items that you add to your dictionary in error. Simply right-click on the word and select "Remove From Dictionary" from the pull-down menu.
Immunization Lot Manager and Expiration Tool
Use the new Lot Manager to enter immunization lot information into PCC EHR, track the expiration dates of immunization and their diluents, and configure which lots will be available by practice location.
Review Your Immunization Lots
Click on the Tools menu and select Immunization Configuration to open the Lot Manager.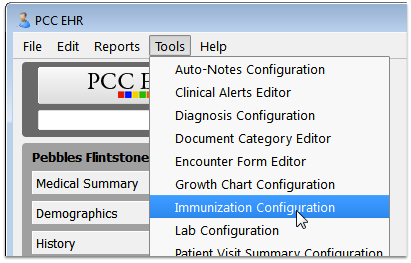 You can also open the Lot Manager from the Lot selection field while editing an immunization order.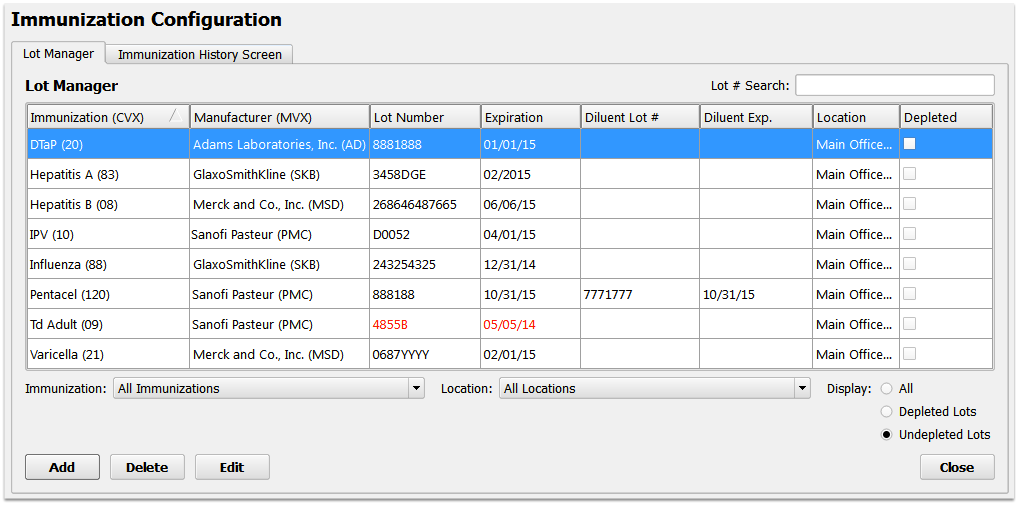 In the Lot Manager, you can review, add, edit, or mark a lot as Depleted. Filters at the bottom help you work with a specific set of lots. You can review all the information about a lot. If a lot or its diluent has expired, you will see the lot number and expiration date in red.
CVX Codes: Each immunization's CVX code appears in the Immunization column. Immunization registries require CVX codes. If you do not see the correct code next to an immunization, you can update your configuration in the Immunization and Disease table in Partner.
Create a New Lot Entry
Use the Lot Manager to add a new immunization lot record to PCC EHR. When you are ready to enter a new lot, click "Add".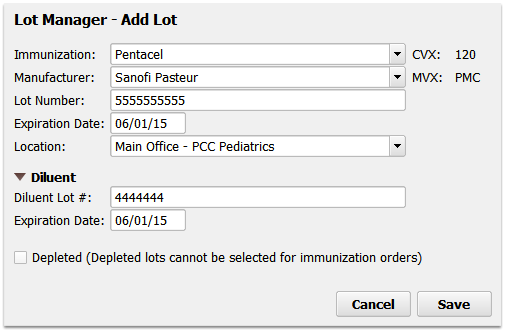 For each lot, select an immunization and a manufacturer. As you enter them, the CVX and MVX codes will appear.
Next, enter the lot number and expiration date. The expiration date can be either an exact date, or a month and year. Some immunization vials only display a month and year.
Locations: If your practice has more than one location, you can enter the location where that lot should be available. If you leave the field blank, the lot will be available at all locations.
Diluents: Immunizations like Pentacel include a diluent. The diluent has its own discrete lot number and expiration date. You can enter the diluent information and it will be stored along with the general lot information.
Searching and Filters
You can use the Lot # Search field, the Immunization or Location filter, or the Display filter to change what lots appear in the Lot Manager. For example, if you want to review all the Pentacel lots on record at your practice, you can select Pentacel from the Immunization filter.

If you type in part of a lot number in the search field, the list of lots will show all matching results.

Depleted Lots
Click the Depleted column when you use up a lot or destroy it.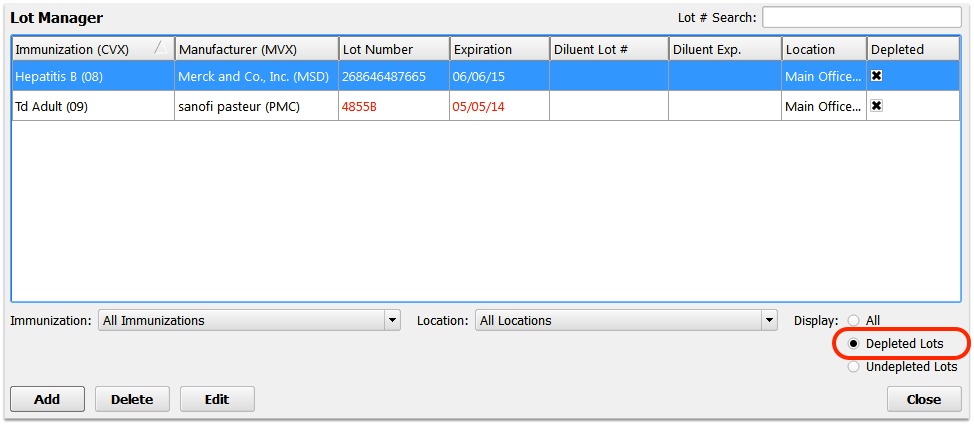 The depleted lot will disappear from your list, but you can review it later using the Display filter.
Migration Considerations and Historical Lot Records
Before the PCC 6.25 update, PCC EHR recorded immunization lot numbers individually, for each immunization.
During your update, PCC EHR will automatically create Lot Manager entries for lot numbers used within the past 30 days. You should review these entries after your update and make changes. Double-check the expiration dates with the current lots used at your practice, and delete or mark as "Depleted" any lots that appear in error.
PCC EHR will not alter the lot number records for shots that were administered before your update. You can review and edit historical immunization lots, and if necessary add a one-off lot number for an older shot.
Grant Permissions: Your practice can grant or restrict access to the Immunization Configuration tool in the User Administration tool.
Lot Memory After the Update: The PCC 6.25 update resets lot number memory for each shot. That means your staff will need to select a lot number for each shot once after the update. After making that selection, PCC EHR will remember what lot you are currently using.
Select Immunization Lots By Location, Automatically Enter Expiration Date and Manufacturer
In the immunization order component, you can select a lot for each immunization from your practice location's active, unexpired lots.

If you can't find the immunization lot you are looking for, you can open the Lot Manager tool and manage your practice's immunization lots.
After you select a lot, the expiration date and manufacturer will automatically appear in the order.

By Location: PCC EHR will only display lots that are available for the location of the visit, saving you time and confusion if you have multiple office locations.
Expired Lots: Expired lots will still appear in the drop-down list for your reference, in case you still have that lot in your refrigerator. You can then use the lot manager to mark the lot as depleted to remove it from the list.
Lot Memory After the Update: The PCC 6.25 update resets lot number memory for each shot. That means your staff will need to select a lot number for each shot once after the update. After making that selection, PCC EHR will remember what lot you are currently using.
Track Diluent Lot Information for Pentacel and Other Shots
The new Immunization Lot Manager can track the lot information of the diluent for combination vaccines like Pentacel.
When you select the lot in the immunization order component, information for both parts of the shot will appear in the patient's record.

In the Lot Manager tool, you can specify a lot number and expiration for the diluent of a vaccine.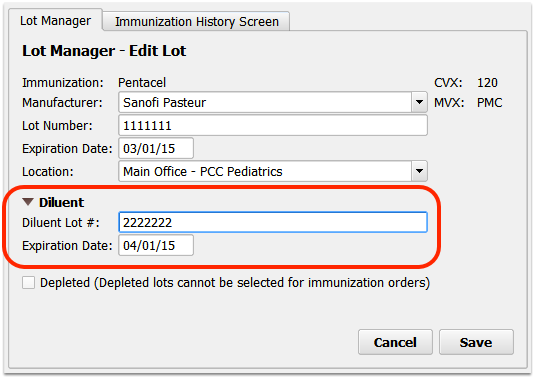 Provider Adjustment Identifiers on ERAs
PCC now displays Provider Adjustment Identifiers on ERAs. Along with the full identifier, PCC displays what some parts of the identifier mean, if possible.

Instead of "Miscellaneous Payment/Adjustment", the new "General Adjustments" section includes the description and numbers or letters from the payor, along with the Payor's Reference ID, verbatim from the ERA.
If PCC can identify the PCC# and Claim ID#, the report will break out that information as shown above.
In the circled example in the image above, an Overpayment Recovery for Fiscal Period Date 12/31/14 had a payor reference ID of 44445 222 2424 4967. PCC searched your charge and payment database and suspects that 222 is the PCC# and 2424 is the Claim ID#.
You can use these numbers to better understand take-backs, overpayments, bonuses, and other unusual transactions that may occur.
Print a Document From Any Place You Can See It
You can now print a document from any location in PCC EHR. A new "Print" button is available on every screen where documents are displayed.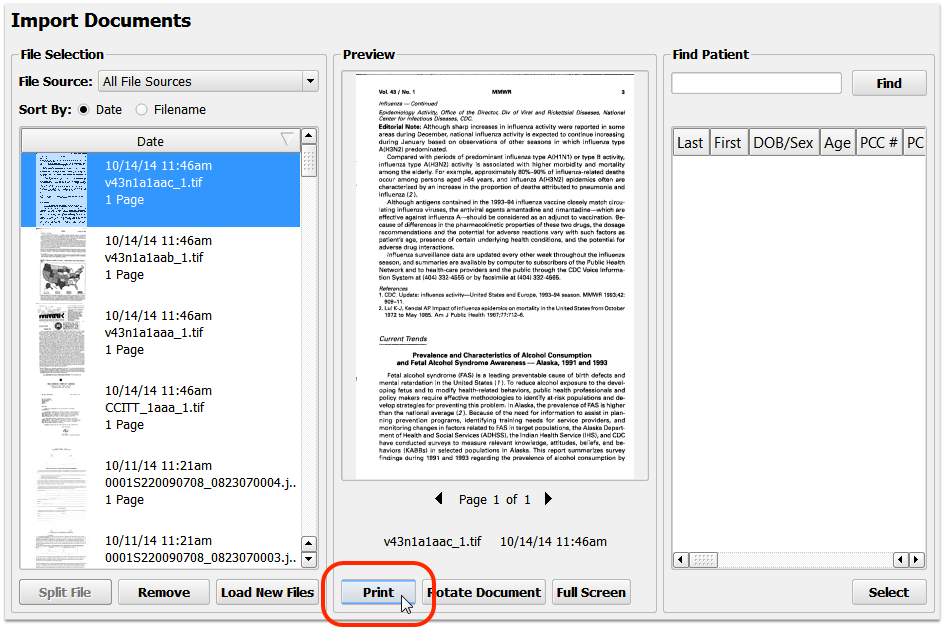 You can click "Print" to print your document…
On the Import Documents screen, once you select a document,
While previewing a document from the Import Documents screen,
In the Documents section of the chart,
In the Edit Tags window,
and in the Document Viewer
When your practice receives a fax directly in PCC EHR, or you need a hardcopy of a document for any reason, you can now print it out quickly.
Document Viewer Improvements
The Document Viewer in PCC EHR now includes a scroll bar for multi-page documents, page numbers or multiple file names, and the ability to rotate or zoom the entire document at once.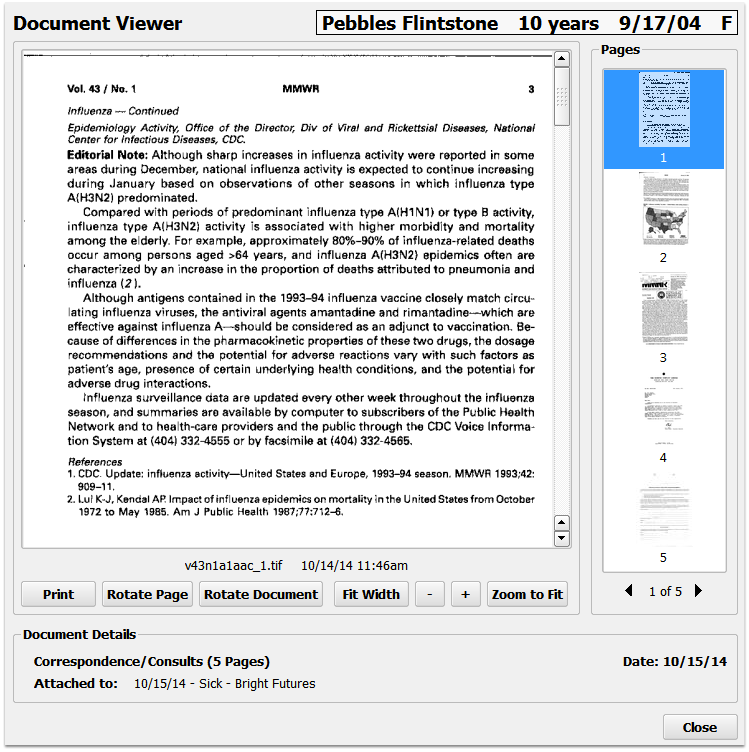 While viewing a document in the Document Viewer, either from the Import Documents window, the Documents section of the chart, or anywhere that documents are viewed, you can now take advantage of better tools for reading documents.
If a document is multi-paged, you will see page numbers or multiple file names, and can move down through the document using a single scroll bar or the right and left arrows.
If you click Rotate Document, or use either the Fit to Width or Zoom functions, the Document Viewer will adjust all pages of your view at once. You will no longer have to re-click on the function for each page.
Import Multi-Page Documents
The PCC EHR Import Documents tool now sees your multi-page documents as single documents. When you scan a document or import a PDF or TIFF file, it will remain in its original format.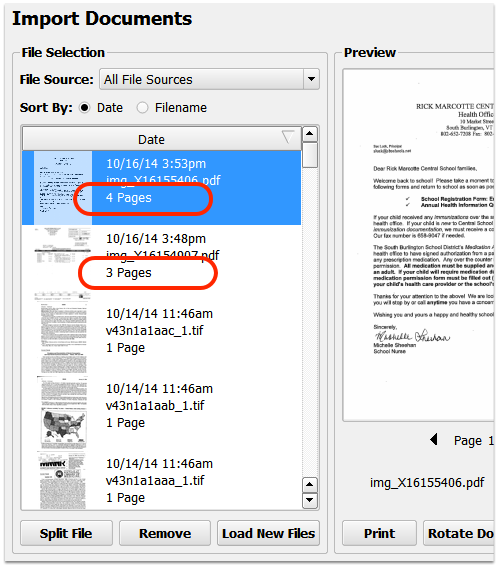 After selecting a multi-page file, you can use the scroll bar or the right and left arrows to preview each page before importing it to the patient's chart.
How Will PCC EHR Handle Giant Files?: If PCC EHR detects that an incoming PDF is greater than 75 megabytes, it will automatically split the document into 250 page sections. You can still join them together by selecting them and importing them as a single document.
Configure Your Scanner/Copier: Your scanner or copiers might be configured to send multi-page documents or single images. Your practice can work with the PCC Technical Solutions Team to set up your workflow so that the files appear in your queue the way you desire.
Join Several Pages or Split Multi-Page Scans
Your practice can still create a multi-page document in a patient's chart by selecting multiple files and importing them together.
You can also split a multi-page document that arrived in your queue as one file. Click on the file and then click "Split File" to split it into multiple files.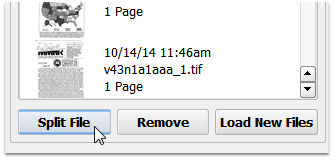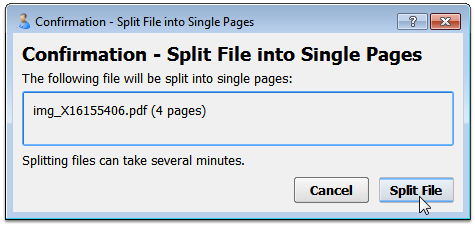 After you click Split File, small files will split quickly. Large scans of dozens or hundreds of pages may take several seconds or minutes to divide into single pages.
Customizable "Other Health Information" in the Patient Visit Summary
The Patient Visit Summary now has even more custom options, allowing you to produce any level of detail about patient information for a visit.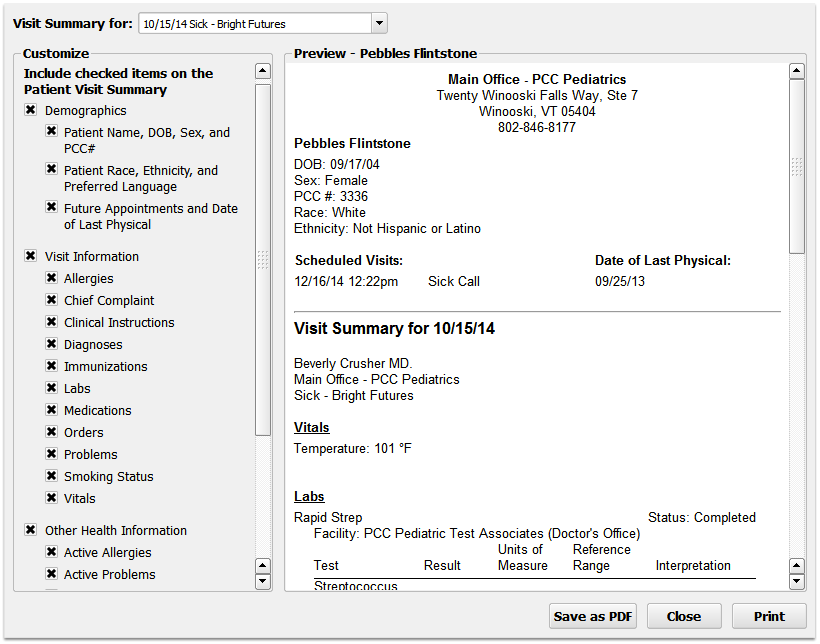 The "Other Health Information" section is now broken into segments, allowing you to specify which should appear on the output.
For example, if your office wanted to produce an immunization record for the patient, without other information, you could include some of the Demographics section and only the Immunization records from the Other Health Information section.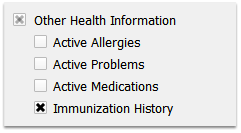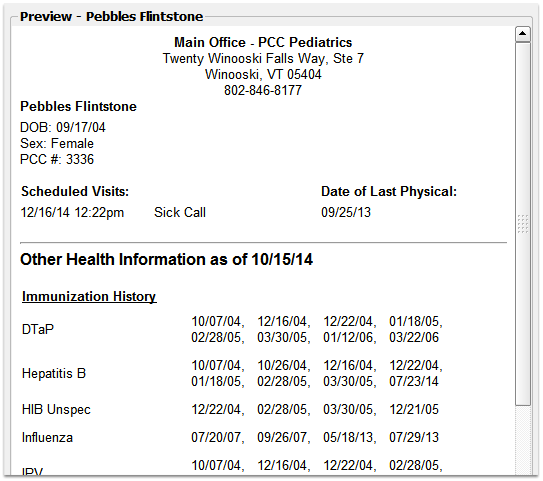 Quick Check/Uncheck All Boxes: While making changes to the Patient Visit Summary output, you can now quickly select or deselect all items in a section by using the section header checkbox.
Estimated BMI Calculations w/o Height
While height and weight are typically required for a BMI calculation, you might only collect weight at some visits.
PCC EHR can now optionally display an "Estimated BMI" in the chart note when you only collect weight.

If a height was collected within a certain time range, PCC EHR will show the estimate BMI and also display when the height was last recorded. Estimate BMI will appear on the chart note as well as in the Visit History.
Off By Default: The Estimate BMI feature is turned off by default. You can enable it by editing the Vitals Component in the Component Builder section of the Protocol Configuration tool.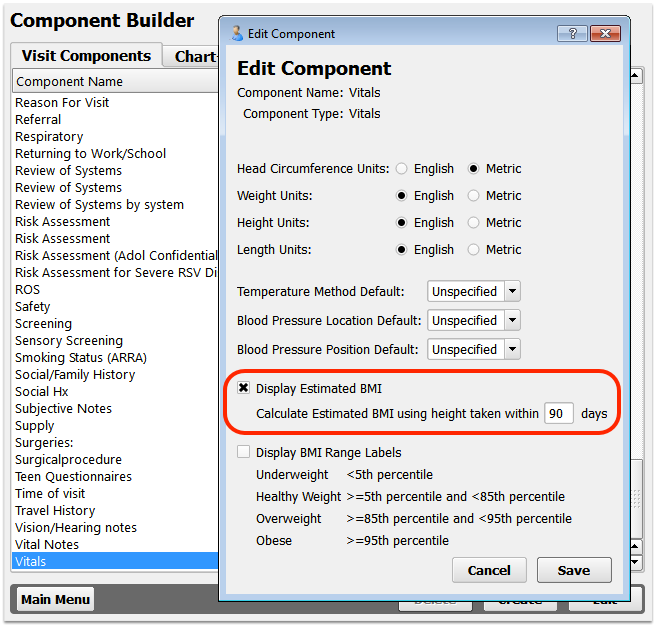 Optional BMI Range Labels
PCC EHR can now optionally display BMI range labels below the BMI measurement in the chart note.

The Underweight, Healthy Weight, Overweight, and Obese range labels will only appear in the chart note while it is open. They will not appear in the Visit History, on the Patient Visit Summary, or anywhere else in the patient's record.
Off By Default: The BMI Range Labels feature is turned off by default. You can enable it by editing the Vitals Component in the Component Builder section of the Protocol Configuration tool.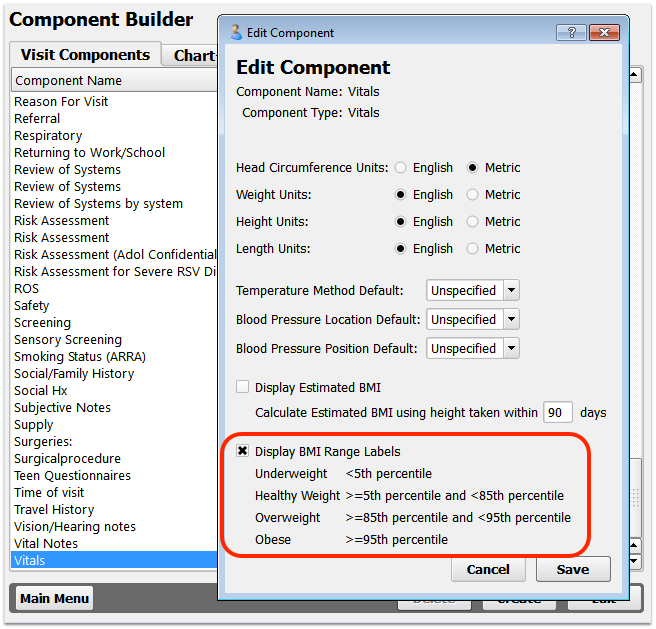 MyKidsChart: Improved Data Security
MyKidsChart now uses encrypted local web cookies, improving security for all users.
A web cookie is a file that a web browser uses to improve navigation and services on a web site or web application. MyKidsChart now uses encrypted local cookies, improving security in situations where a user's computer is compromised. While your users will notice no difference, this change means that patient health information is even more secure than before.
Practice Vitals Dashboard: New Well/Sick By Provider and More
PCC 6.25 includes the following updates to your Practice Vitals Dashboard
Sick-to-Well By Provider: The Sick-to-Well Visit Ratio measure now includes a link to a Provider Breakdown. You can compare the Sick-to-Well ratio for providers at your practice, and select a provider to generate a bar chart.

Missed Appointments Rate: The new Missed Appointment Rate dashboard measure displays your practice's missed appointment percentage and compares your practice's percentage to the PCC Client average. The trend graphs let you review annual rates as well as monthly data. The measure includes recommendations for your practice and a per-provider breakdown.
CQM Reporting Available for 2014 Data
The Federal Government has extended the validation of 2011 CQM measures standards into 2014.
PCC 6.25's CQM reports will now accept dates through 2014.
For more information, read the Clinical Quality Measure Report help article.
Other Feature Improvements and Bug Fixes in PCC 6.25
In addition to the features described above, PCC 6.25 includes these smaller improvements and squashed bugs:
Standardized Immunization Manufacturer List: PCC software now includes a maintained list of immunization manufacturers. PCC will monitor and manage the table of immunization manufacturers and update your system if there is any change.

Sticky Sorting on the Import Documents Queue: Once you set the Import Documents queue to sort by date or by document title, the window will remember your preference until you change it.

Unusual Characters Cause Patient Visit Summary to Hang: If a user cut, pasted or typed an unusual character or string of characters, PCC EHR could hang or display a blank screen. This no longer occurs.

PCC EHR Windows Extending Off the Screen: Some clients observed windows reaching off the edge of their screen when certain long notes appeared. This will no longer occur, text should always wrap and not extend the window size. PCC EHR now automatically checks screen sizes in order to identify and prevent this error in the future.

PCC EHR Auto-Updater Left Login Window Open: In some situations, the PCC EHR auto-updater resulted in two open PCC EHR windows. This is corrected with the 6.25 update, so this update may still see the effect. It will be fully resolved for the 6.26 release..

More Locations: Partner can now support up to 20 locations for custom encounter form printing, general printing configuration, and scheduling configuration.