In September of 2014, PCC will release version 6.24 of our charting and practice management software. This update includes new immunization features, electronic encounter form features, and additions to the Practice Vitals Dashboard and MyKidsChart. Read below to learn more.
Watch a Video: Want to watch a video summary of everything in this release? CLICK HERE.
Contact PCC Support at 1-800-722-1082 for information about the items below or about any PCC product or service.
Eligibility Status for Vaccines for Children (VFC)
While ordering or administering an immunization, you can now review the patient's relevant demographic information and assign a VFC eligibility status. The VFC eligibility status section appears directly above immunization orders in the chart or anywhere immunization orders appear.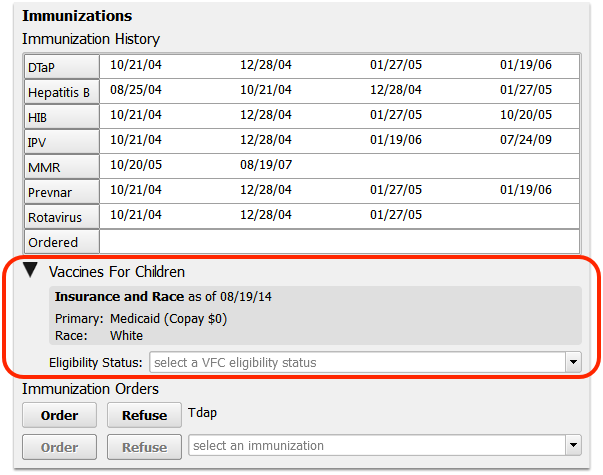 You can review the information and select an eligibility status for the visit.


The status that you select will be applied to all immunization orders on the chart note for the visit. You can also edit the VFC eligibility status for a single order.

Last Answer: At the patient's next visit, PCC EHR will remember the patient's previous VFC eligibility status.

You can click "Last Answer" to select it again.
Extra Reminder for Older Patients: If the patient is 19 or older, an extra line will appear, warning the nurse or physician that the patient may be too old for VFC immunizations.

Workflow and Migration Considerations: Your practice can determine and enter the patient's VFC eligibility status at any time, before or after the physician sees the patient. Even if your practice does not administer VFC immunizations, your state's immunization registry may require that you enter the patient's VFC eligibility status. Finally, some practices use two separate orders, one for a VFC immunization and one for a non-VFC immunization, in order to manage lots more effectively. PCC is announcing a lot management tool in an upcoming release to help meet that need.
Immunization Route and Site
You can now select discrete, standardized values for each administered immunization's route and site.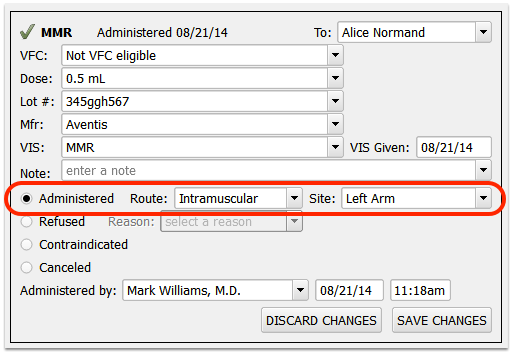 Once you have made a route selection, PCC EHR will remember it as your practice's default route for that immunization.
The new Route and Site fields use a list of answers from the FDA and the HL7 standard. Before the 6.24 update, your office could use a customized list for immunization site. The two new fields replace the previous Site field, and they make the fields compatible with immunization registries across the country.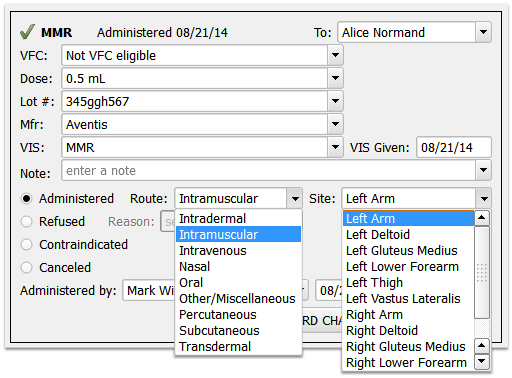 Note About the Update: During the 6.24 update, if your practice used non-standard Site entries, PCC will automatically migrate your previous entries to the new standard. If there are any discrepancies or mismatches, we will contact your practice directly to discuss the migration.
Oral and Nasal are Routes of Administration: Prior to the 6.24 update, your practice may have entered "nose" or "mouth" as the site of administration. For a nasal spray or oral immunization, your practice can now enter nasal or oral as the route, and leave the site field blank.
Immunization Order Completion Date, Time and User
PCC EHR now records a date, time and user for an immunization when it is administered, refused, contraindicated, or canceled.


These values are automatically filled out when the order is completed, and you can change the values if required.
The order's status and the date of the immunization is displayed prominently next to the name of the immunization, wherever it appears.


Migration Considerations: Prior to the 6.24 update, PCC EHR included a completion date for immunization orders, but not a time. During your update, PCC EHR will append the visit arrival time to the new completion time field for old immunization orders. If the order was completed on a different date, PCC EHR will display midnight of the date that the order was completed.
Immunization Refusal Reasons
You can now record an immunization refusal reason for an immunization.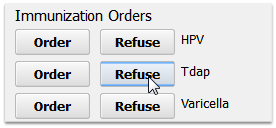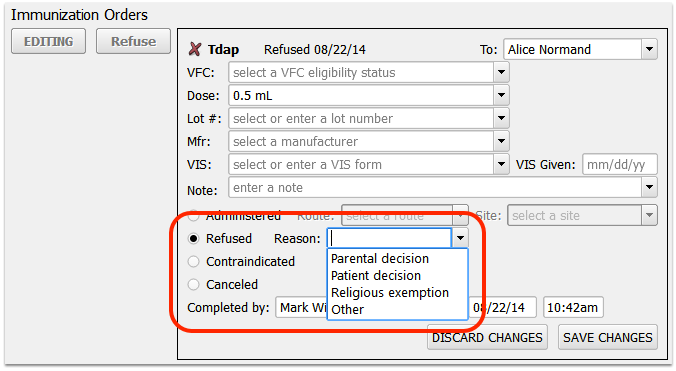 If you select the Other option, you can enter a refusal reason.

The refusal reason will appear with the other order details.

Immunization refusal reasons are part of the HL7 standard and can be submitted to immunization registries.
Refused Immunizations Will Not Display Dose, Lot Number, and Manufacturer
The immunization order component automatically enters the dose, lot number, and manufacturer for each order. When an immunization is refused, those values will no longer display on the chart or in the Visit History.

A refused immunization is never administered, so no shot information needs to appear.
Un-Administer an Immunization, Return an Immunization to "Ordered" Status
If you clicked the Administered, Canceled, or other selection too soon on an immunization, you can now click again to "un"-administer. You no longer have to cancel and re-order the shot.



Simply click again on your selection to de-select it and return the order to ordered.
Immunization Registry Updates
The new immunization features in PCC 6.24, including the site, route, refusal reason, date and time, and VFC status information for each immunization, are available for immunization registries.
PCC's Electronic Data Interchange team is updating each immunization registry that can support the new fields.
If your practice needs help configuring your immunization registry, or would like to know the status of your state's registry integration, call PCC Support.
Auto-Select "Immunization Needed" and "Ear Piercing" ICD-9 Diagnosis Codes on the Electronic Encounter Form
For special billing situations, such as immunizations and ear piercing, there is not always an appropriate SNOMED description. When you create an order for a patient, PCC EHR can now automatically add an ICD-9 billing diagnoses to the electronic encounter form.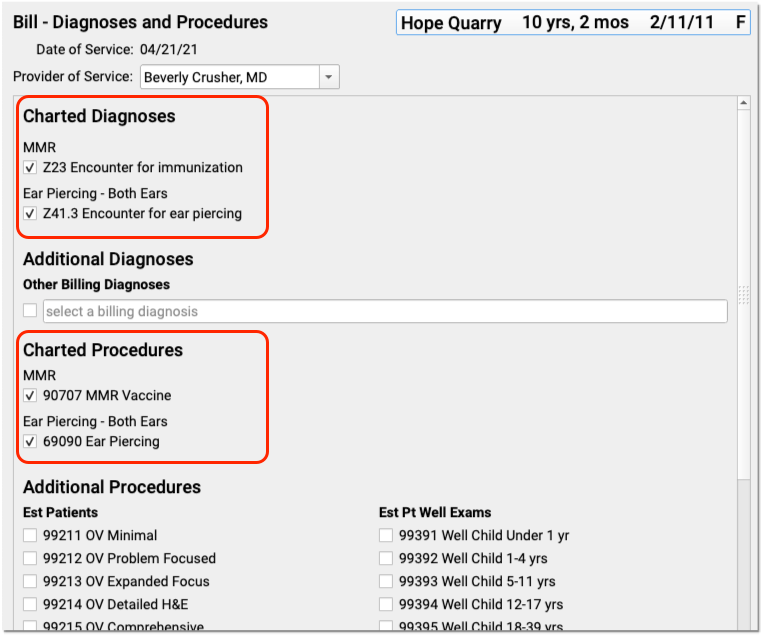 You can use this new feature to automatically select the "immunization needed" diagnosis codes, such as V06.4 for MMR, as well as for special billing situations like ear piercing (V50.3).
Order Codes Appear for Billing, Not for Charting: If you configure an automatic billing diagnosis for an order, it will appear on the electronic encounter form for billing. It will not appear as a charted diagnosis on the chart note. Use the Diagnosis component to chart diagnosis descriptions.
Configure Order Billing
You can configure the billing behavior for orders in the Encounter Form Editor. First, open the Encounter Form editor and find an order.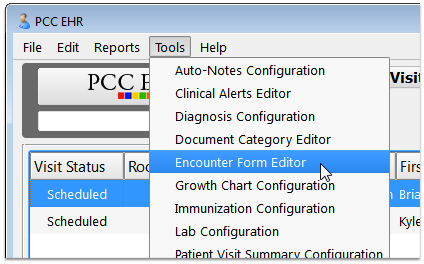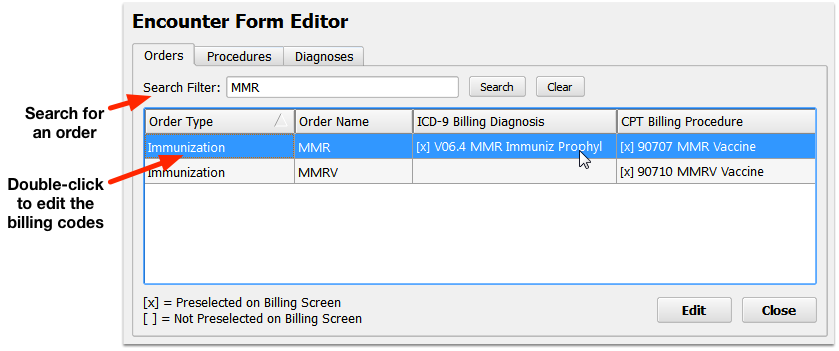 Next, add one or more ICD-9 billing diagnoses.

If a diagnosis should be selected automatically, mark the "Preselect on Billing Screen" checkbox. If you de-select that box, the codes will appear on the encounter form when the order is made, but will not be selected by default.
SNOMED Findings and Disorders
PCC EHR now includes an additional 18,000 SNOMED descriptions for findings and disorders.
In previous updates, PCC EHR included all SNOMED clinical terms that mapped to ICD-9 billing codes, along with a set of descriptions selected by physicians. For this release, we've added all remaining findings and disorders, which include many useful ways of describing patient conditions.
After your PCC 6.24 update, you can use the additional descriptions by right-clicking on a Diagnosis field and selecting Find Other Diagnosis. You can also use the Diagnosis Configuration tool to add items to your favorites list.
Map for Billing: The new SNOMED descriptions have no direct mapping to any billing procedures or ICD-9 diagnosis billing codes. Your practice can use the Diagnosis Configuration tool to create your own mapping, which will cause ICD-9 billing codes to automatically appear on the electronic encounter form when a clinician selects one of the new diagnosis descriptions.
MyKidsChart: Upcoming Appointments for All Patients
In PCC's patient portal, MyKidsChart, users can now easily see all upcoming appointments for all patients.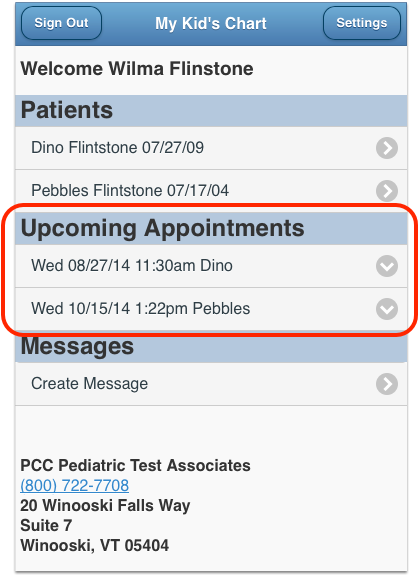 In addition to reviewing appointments within each patient's record, mom or dad can now quickly see all the upcoming appointments for all siblings or other kids on their MyKidsChart account.
Click the appointment to see the physician and location.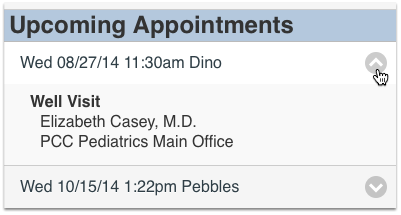 Privacy Enabled Patients: MyKidsChart will not display upcoming appointments for privacy enabled patients. Typically, this is for patients who are older than your configured emancipation age, unless special permission has been granted in the MyKidsChart administration tool.
Practice Vitals Dashboard: New Patient Population Tool and Other Improvements
PCC 6.24 includes the following updates to your Practice Vitals Dashboard
Patient Population: Use the new Age Distribution Graph to track your age distribution over time, as a practice or for a single provider. The box at the left presents your current total, and the graph on the right allows you to track your age distribution over time. You can select a single provider or all providers.

Quadrivalent Flu Shot Vaccine for the Childhood Immunization Report: In the 6.24 update, the two new quadrivalent influenza vaccine CPT codes will count toward patients receiving the required immunizations by age 2.

"As of" Date for Patient Lists for Overdue Well Visits: The "Data is up-to-date as of ##/##/##" message in Practice Vitals Dashboard will now reflect the exact date the data was gathered, instead of the first of the month. This will help clarify situations where it appears a patient should not be on an Overdue Well Visit list, for example.

Improved Well Visit Calculation: When listing patients who are overdue for a physical, the Practice Vitals Dashboard now includes infant patients based on your standard physical schedule, as opposed to annually. You'll be better able to track infant patients who are overdue for a checkup.
Other Feature Improvements and Bug Fixes in PCC 6.24
In addition to the features described above, PCC 6.24 includes these smaller improvements and squashed bugs:
Immunizations in the Visit History: Detailed information about immunizations in the Visit History is now aligned by field value, making the details easier to read.

Encounter Form Editor Improvements: For the 6.24 update, the Encounter Form Editor tool has been completely rewritten. It now works better with longer lists of orders and has a more streamlined interface.

Ordered Immunizations vs. Administered Immunizations: The school form will no longer display immunizations until they have been administered. Previously, the form could display ordered immunizations that were not yet administered. Some practices may need to adjust their workflow when generating school forms.

Clearer Coding Expertise Dashboard: Since coding data was collected using a different standard prior to 2010, the Coding Expertise graph appeared skewed and did not display a helpful progression. The Coding Expertise Dashboard now displays data from 2010 onward, and expands the scale to better show progression during that time.

Date and Time Warning Message: If your laptop or workstation's system clock is off by more than two hours, PCC EHR will now display a warning in the login window. PCC eRx and other PCC EHR services use the system clock for syncing purposes, and an inaccurate system clock may interrupt those services.

Last Answer Appearing on the Chart Note: The Last Answer fields that appear on the chart note were loading only when the protocol was selected for a visit, and not when the patient arrived. Now the Last Answers are refreshed when the visit status switches to arrived.

Same-Day Insurance Eligibility Improved: In rare situations, automatic insurance eligibility checking did not work for same-day appointments. Now it does.