PCC 6.23 Migration Considerations
The PCC 6.23 release includes new components and other features that may need extra planning, training, or configuration. Read below to learn more, and share relevant details with your physicians and staff.
Read the PCC EHR 6.23 Release Documentation for complete details on these features.
Watch a Video: Want to watch a video summary of everything in this release? CLICK HERE.
Contact PCC Support at 1-800-722-1082 for information about these or any features in PCC 6.23.
Prepare for New Name Fields
PCC 6.23 adds discrete fields for nickname, middle name, and suffix.


Here's a quick list of items that your practice should consider:
Workflow Changes: If your practice formerly recorded the middle name, nickname, or suffix in one of the other name fields, your staff will have to adjust to storing them in their correct fields.

Check the Results of the Update: Wherever possible, the 6.23 update will automatically migrate nicknames or suffixes to the correct field. Your Practice should plan for a little extra time after the 6.23 update in order to review patient names.

Form Letters: If your office generates form letters that include the patient's name, you may want to review how those print and check to see that they format the name in the desired way.

PCC eRx and Refill Requests: If a pharmacy sends your practice an automatic refill request, and the patient used to have a middle or nickname included in the first name field, PCC eRx may be unable to automatically link the refill request to the patient. If you encounter this problem, you can use the "Make This Patient into an Alias" link to connect the old name from the pharmacy to the new name on your system and in the DrFirst/Surescripts network. For a step-by-step guide, read the Fix Unmatched Refill Requests article.
As always, contact PCC Support for assistance with any of these items.
Prepare for the New Deceased Status
You can use the new deceased status, which appears on patient records in both PCC EHR and Partner, as a criteria in various reports and other tools.
If your office uses the Patient Lists, Patient Reminders or Clinical Alerts in PCC EHR, you should review the criteria settings. If you formerly used the Deceased status flag, that criteria is automatically removed during the 6.23 update. You should add the new Deceased status criteria.
Your office may want to develop a policy or workflow for when the deceased status indicator is used.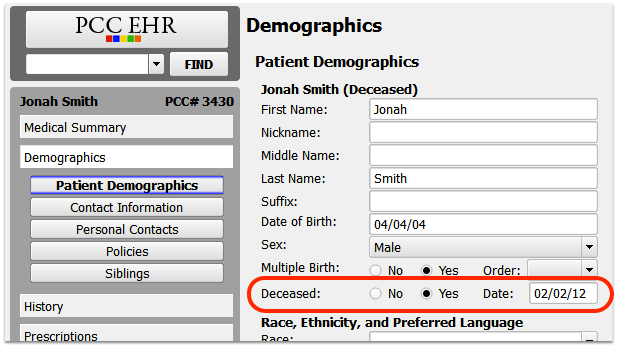 Status Flags in Partner: If your practice wants to use a different status flag in Partner, other than "Deceased", contact PCC Support. We can adjust the term for you. We can not adjust the Deceased and Deceased Date fields, as they are part of the interface.
Third-Party Vendors and the Unknown Sex
The sex of each patient can now be Male, Female, or Unknown.
In advance of the PCC 6.23 update, PCC has coordinated with third-party EHRs and other vendors to be certain that we continue sending compatible records. However, if you have a third-party integration that does not support the Unknown sex, contact PCC Support for assistance.


Find all Unknown Sex Patients: You can use PCC EHR's Patient Lists tool to create a list of all patients with an unknown sex.
Turn On Immunization Registry Communication Preferences
If your state's immunization registry requires that you record communication preferences from the patient or family, you can turn on optional fields for entering that information.
Open the Protocol Configuration Tool from the Tools menu.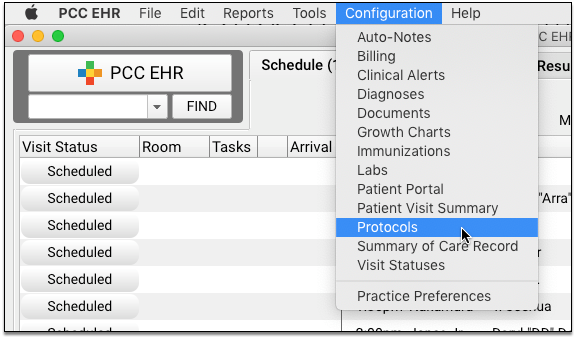 Select the Component Builder. Then choose the Chart-wide Components tab and open the Contact Information component.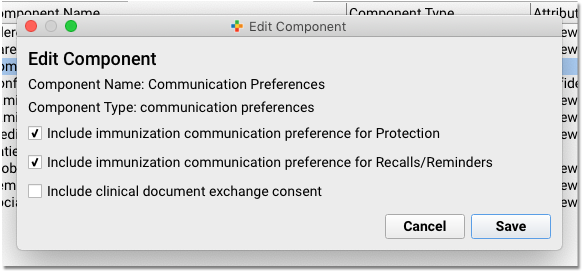 When the immunization communication preferences are turned on at your practice, the new optional fields will appear in the Contact Information component in the Demographics section of the patient chart, or wherever that component appears.

Default Setting for New Patients: Your practice can also set the default option for new patients in the Practice Preferences tool.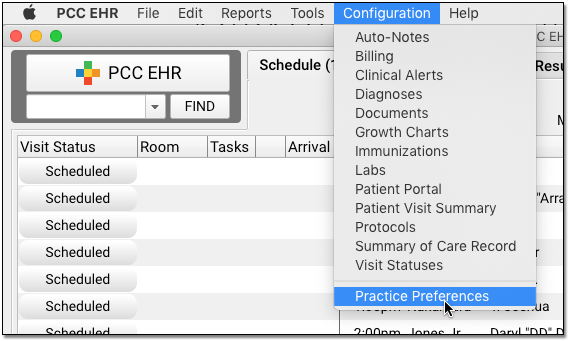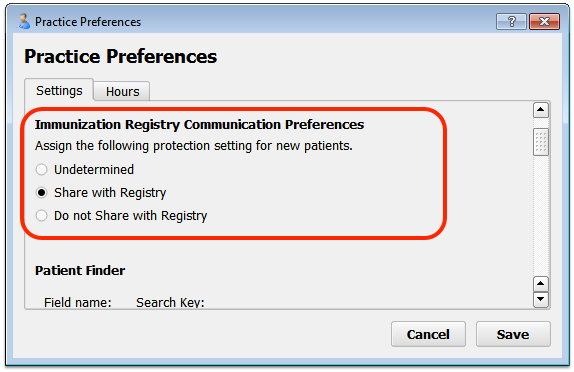 Physicians May See a Large eRx Tasks Queue Number
The eRx Tasks queue number, which tells the user how many items are waiting for review, may now include more items than before. For example, if a physician at your practice has not reviewed pending prescriptions that were sent by a nurse, they may have a large queue number. Physicians may need to spend some time reviewing and cleaning up old prescription notifications, if they use that feature.


.