In June of 2014, PCC will release version 6.22 of our charting and practice management software. This update includes customization and new available sections for the Patient Visit Summary report, along with other features and improvements. Read below to learn more.
PCC EHR and Partner: For previous releases, PCC published two separate release documents for Partner and PCC EHR, our practice management and electronic charting software. These two categories are more and more tightly integrated, and our upcoming releases include many features that stretch across all of PCC's software solutions.
From the June 6.22 release onward, PCC software releases will be unified to a single set of new features, encompassing improvements to both our practice management and electronic charting software.
Watch a Video: Want to watch a video summary of everything in this release? CLICK HERE. (16 minutes)
Contact PCC Support at 1-800-722-1082 for information about the items below or about any PCC product or service.
Customize the Patient Visit Summary Report
Your practice can now customize what appears on the Patient Visit Summary report.
The Patient Visit Summary is a powerful tool for sharing visit information with patients and families. It summarizes everything that happened during a visit, and includes a range of useful information.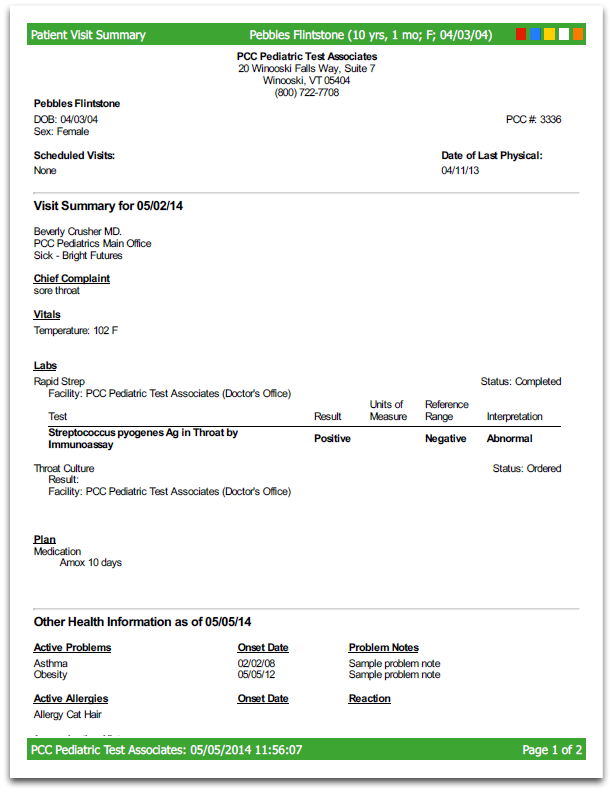 In PCC 6.22, you can indicate what information should appear on the Patient Visit Summary by default. And, when any user generates a Patient Visit Summary, they can add or deselect items before they generate the output.
Configure Your Practice's Default Patient Visit Summary
Use the Patient Visit Summary Configuration tool to configure what will appear on the Patient Visit Summary by default.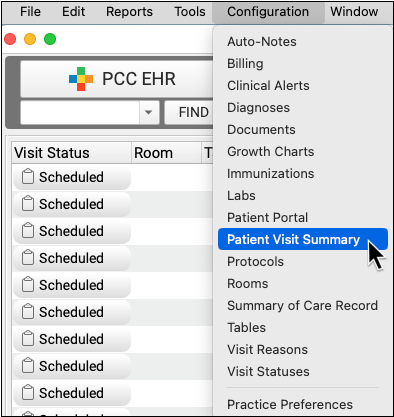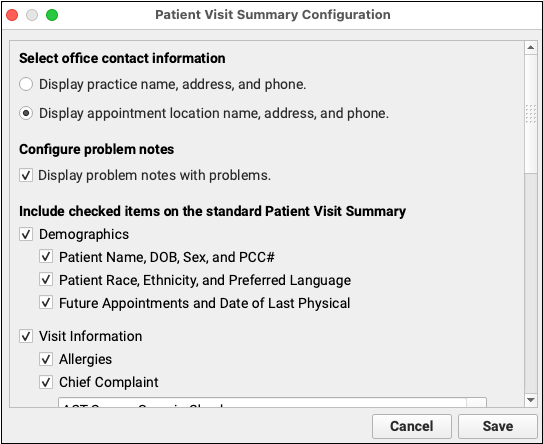 First, you can set what location information should appear at the top of the visit summary. Should your practice's location information appear, or the information for the visit's scheduled location?

Next, if your visit summary is going to include the patient's problems from the Problem List, you can indicate whether the problem notes should appear as well.


Finally, you can set what visit information and other patient information should appear on the visit summary.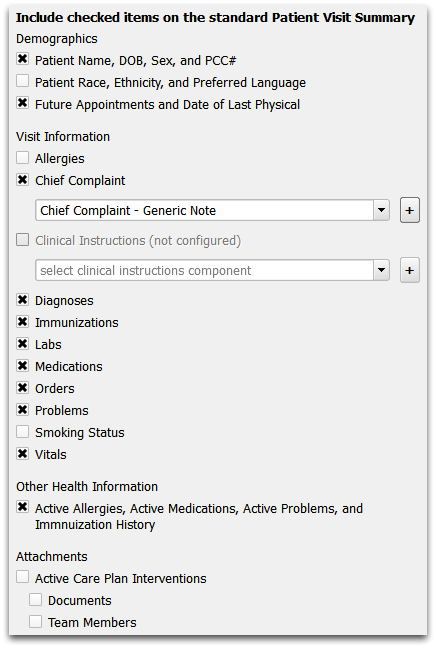 For example, your practice may want future appointments and orders to appear, but you may decide that allergies and care plan information should not appear on the default Patient Visit Summary.
Customization Does Not Override Confidential Orders: The new customization features allow you to display or hide orders from the Patient Visit Summary report. However, if a specific order's "Include on Patient Reports" checkbox is deselected, that order will not appear on the Patient Visit Summary even when Orders are selected.
Configure Chief Complaint and Clinical Instructions
If you would like the visit's Chief Complaint or Clinical Instructions to appear on the Patient Visit Summary report, you must configure which chart note components your practice uses to track that information during a visit.
In the example above, the practice indicated that any charted information in the generic Chief Complaint or custom "Chief Complaint–asthma" components should appear as the patient's Chief Complaint on the Patient Visit Summary report. The practice has also indicated two different Plan components that should appear as Clinical Instructions.
When you generate the report, PCC EHR will use any information it finds in the assigned components for the visit.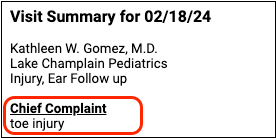 Change the Patient Visit Summary Report As You Generate It
Any user can also change what appears on the Patient Visit Summary when they generate the report.
When you click to generate the report, or select it from the Reports menu, you can select or deselect from a list of checkboxes.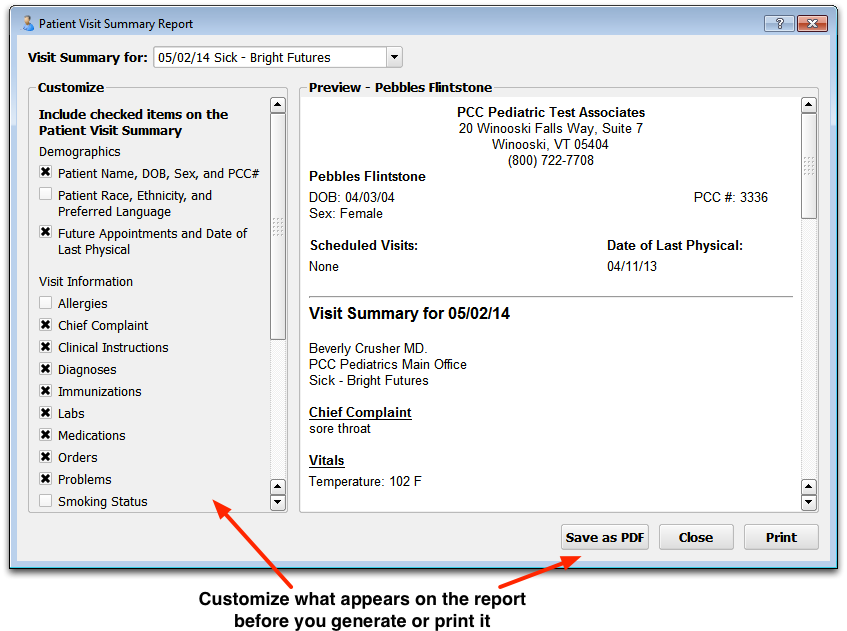 For example, a user can decide to add or remove Medications, Vitals, or other visit information based on whether or not that information is relevant to the visit.
As the users makes changes, the report preview will display a text-only view of the report's contents. Report attachments, such as the patient care plans, will not appear in the preview.
New Items Available on the Patient Visit Summary Report
As part of the new customization features described above, the Patient Visit Summary report can now include many new fields. Here's a list of all the new fields available as of PCC 6.22:
Race and Ethnicity
Preferred language
Smoking Status
Care Plan (interventions, attached documents, and team members)
Chief Complaint
Clinical Instructions
Problem notes accompanying problems
Your practice may decide to edit your chart note protocols in order to take advantage of the new available fields on the Patient Visit Summary report. Many of these items are referenced by Meaningful Use guidelines, and their availability on the Patient Visit Summary helps PCC EHR meet part of the ARRA Stage 2 requirements.
Problem Notes Accompanying Problems, Chief Complaint, and Clinical Instruction: Read the section above to learn how to configure report settings for problem notes, chief complaint, and clinical instructions.
Automatic Privacy in MyKidsChart When the Patient Turns 18
The MyKidsChart patient portal will now automatically hide patient records from parents, or other accounts, when a patient reaches your state's emancipation age.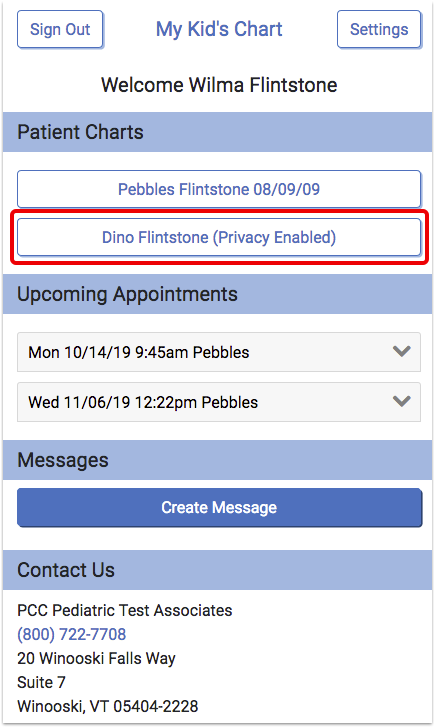 Patients and families use MyKidsChart to review medical records from a mobile device or a laptop. When a patient turns eighteen, their record will automatically become private. The "Privacy Enabled" message will appear beside their name.


This feature meets HIPAA privacy guidelines and improves patient security. Here are some issues to keep in mind:
Messages Are Still Available: If your practice uses the Messages feature of MyKidsChart, parents will still be able to send your office messages and questions in relation to connected patients, even after they turn eighteen. Your staff should keep this in mind when responding to incoming questions on the Messaging queue in PCC EHR.

18, 16, or 21?: Age eighteen is the MyKidsChart default emancipation age, but your practice can set your state's emancipation age by contacting PCC Support.

Current Patient Users: If your practice has older patients who use MyKidsChart before the 6.22 update, they may need to contact your practice to have access turned back on after your PCC 6.22 update. Your office can control access with the MyKidsChart administrative tool. Read below to learn more.
Granting Access for Adult Patient Records
Your practice can use the MyKidsChart administrative tool to grant individuals the right to access a patient's information after they are over the emancipation age. Do this for the patient themselves if they use MyKidsChart, or when special circumstances apply for an adult patient with a guardian.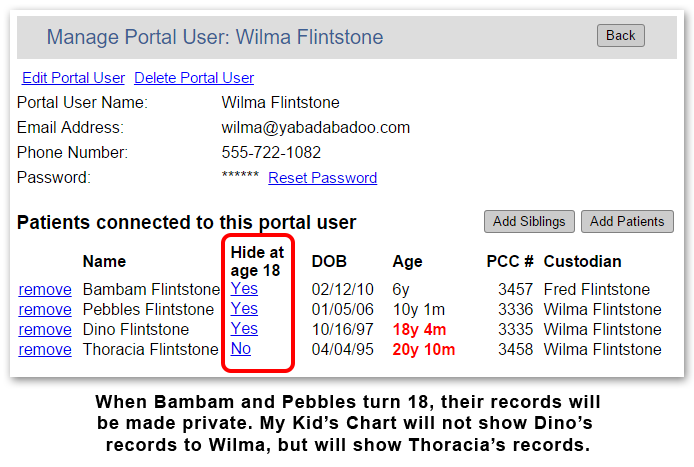 In the example above, the MyKidsChart user Wilma Flinstone has four patient records attached to her account. However, as shown by the "Hide at age 18" column, when three of these children reach eighteen, Wilma will no longer have access to their medical records (Dino has turned eighteen already). The exception is Thoracia, an adult patient whose records will remain visible to Wilma.
The patient portal administrator can change the status for any of these patients by clicking in the "Hide at age 18" column.
When a patient who is over eighteen opens a new MyKidsChart account, your administrator should set this question to "No" for their account, so as not to hide their records from themselves.
Review Connected Patients: When working with a MyKidsChart user account, the new Age column can help you know what to expect. If a user is over 18, the age will appear in bold red to indicate they are over your state's emancipation age.
Alternate Patient Identifiers
You can now record additional identifiers, such as medical record numbers or ID card numbers, for each patient.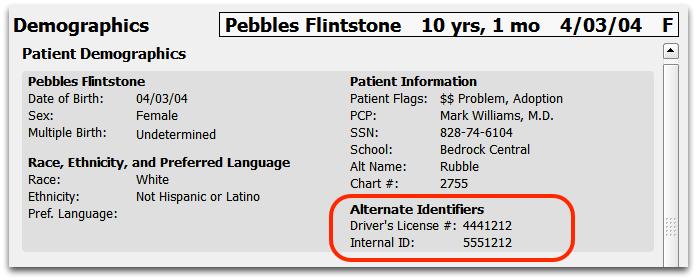 The Patient Demographics component can now include an Alternate Identifiers section, with one or more configurable fields. Your practice can record and store any of several standard HL7 identifier types, and can record one or more identifiers for each type.

Off By Default: Use the Component Builder section of the Protocol Configuration tool to add the identifiers your practice wishes to track.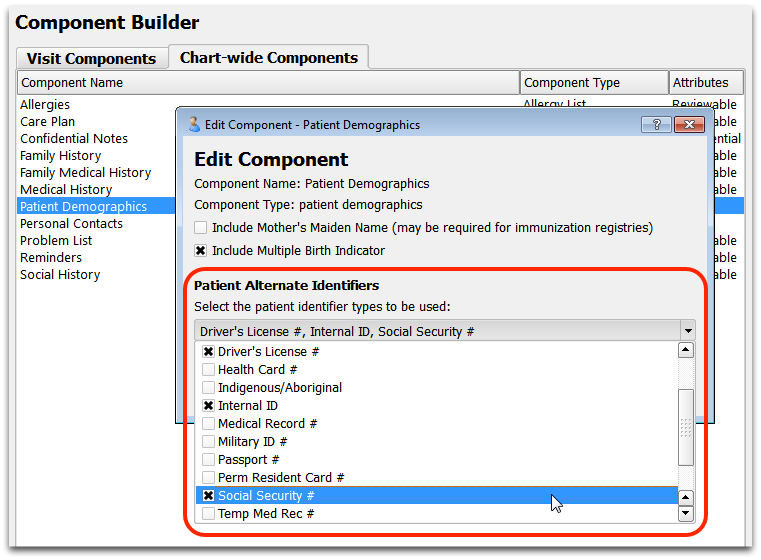 By editing the Patient Demographics component, you can add driver's license number, medical ID numbers, or other identifiers to your patient's records.
View Full Diagnosis Descriptions in Correct Mistakes
While reviewing or editing visit information in Correct Mistakes (oops), you can now see longer diagnosis descriptions.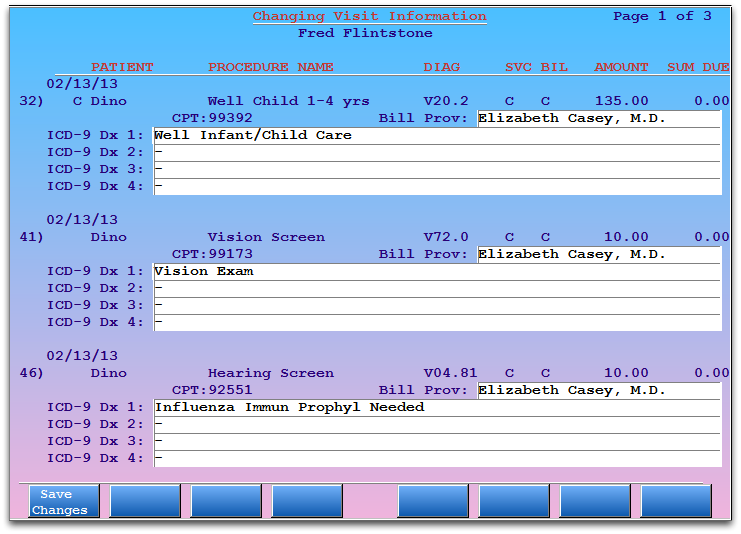 The diagnosis description fields stretch to the edge of the screen, and allow you to review the full diagnosis description. This feature is useful right away for your practice, and will be especially useful with longer ICD-10 diagnosis descriptions coming in 2015.
Coming Soon: PCC 6.23 is a Big Release
In six weeks, PCC will release version 6.23 of our charting and practice management software. This software release will happen in July, right after our annual Users Conference, and we want to give you a heads up about the many features and improvements coming.
The PCC 6.23 release will include features that stretch across our charting and billing software, including expanded patient name options and deceased patient record management, along with the ability to quickly open the most recent patient charts.
We'll have our documentation out early for this major release, and we'll be hosting web labs as well. Stay tuned!
Other Feature Improvements and Bug Fixes in PCC 6.22
In addition to the features described above, PCC 6.22 includes these smaller improvements and squashed bugs:
Patient Visit Summary Displays Orders By Type: The Patient Visit Summary report now displays orders by order type, instead of using the generic "Orders" header.

Country Sent for Immunization Registry: When communicating with immunization registries, PCC can now automatically include USA as the country.

RDP and LTSP to 30: Users who connect to the Partner practice management system through RDP or LTSP connections will now automatically see 30 lines of horizontal text.

ICD-10 Removed From the Referral Program: Due to the delay of ICD-10, we have removed ICD-10 descriptions from the referral program.

More SNOMED-CT Descriptions: PCC 6.22 includes many new requested SNOMED-CT descriptions, including nine candidiasis descriptions, and findings such as apparent life threatening event, vegetarian and vegan, body mass index levels, and adoption.

Better Image Size Management: PCC EHR now manages scanned image sizes to prevent database bloat that can slow down access to information.

Updated CARC and RARC: PCC 6.22 includes the latest 2014 CARC and RARC codes and descriptions.

Phone Number Labels: In some circumstances, the labels for phone numbers were not appearing in phone notes in PCC EHR. Now they always appear.

Allergies Marked as Reviewed: When a user marked allergies as reviewed on a chart note, the record of that action could sometimes appear twice in the visit history. This no longer occurs.

Partner Scheduling Reports: If a scheduling report had a particularly long line, it could wrap below the command prompt, causing some information to be hidden. This no longer occurs.

EHR Immunizations in Partner and Immsreg: In some circumstances, tools that accessed PCC EHR immunizations in Partner, including immsreg, could produce an error or fail to display data. This problem was fixed by a patch in April and the fix is included in PCC 6.22.