In July of 2012, PCC will release Partner 6.9, introducing automated "Due for a Visit" notifications and other improvements.
Contact PCC Support at 1-800-722-1082 for information about these or any features in Partner.
Automated "Due for a Visit" Notifications
You can now create a custom "Due for a Visit" notification in the Patient Notification Center, and Partner will automatically contact your patients to remind them to schedule physicals, rechecks, flu-shots, or other appointments.
Instead of running a monthly recall in the recaller, you can create a notification based on your custom criteria. Once configured, Partner will use TeleVox to automatically call, e-mail, or text your patients or families to remind them that they are due for their annual physical or other appointment type.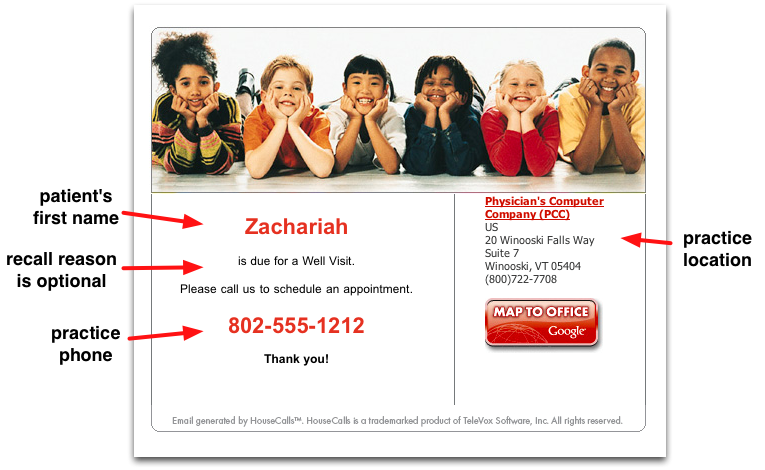 Learn More
Read the Patient Notification Center help article to learn how to get started. Then, check out the new Create a "Due For a Visit" Notification article to learn how the program works and how to set up a Well Child notification.
Available Now, More Coming Soon
As of Partner 6.9, you can use the Patient Notification Center to create automated Appointment Reminder and Due for a Visit notifications. You can make one-time notifications or create recurring, scheduled notifications. TeleVox delivers the notifications based on the patient's communication preferences or the custodial phone number.
Later in 2012, PCC will expand contact options and add more notification types.
How Much Does it Cost?
Partner's notification center tools and interface with TeleVox are included features of Partner. However, there is a setup fee and per-contact fees for each phone call, text message, and e-mail.
Contact PCC Sales for more information about the Patient Notification Center or for help getting started.
Other Feature Improvements and Bug Fixes in 6.9
Inactive Patient Status Sync with OP: Partner can now inform the Office Practicum EHR when a patient has any status flag that would make the patient inactive. If your practice uses Office Practicum, contact PCC to learn more about this available interface change.

Quicker Backup Error Checking: Partner now informs PCC Support whenever an office has more than one bad backup in a row.

TOS Receipt for Linked Personal Payments: The Posting Payments (pam) program will now produce a time-of-service receipt for linked payments. Just make the selection on page one before you press F4 – Link Payments.

Time Zone Management for DST and Patient Notifications: Partner now informs TeleVox whether or not your practice is observing Daylight Savings Time.