In June of 2012, PCC will release Partner 6.8, introducing Partner's new communication gateway, a tool for automatically contacting patients and families for upcoming appointments and other reminders.
Contact PCC Support at 1-800-722-1082 for information about these or any features in Partner.
Notify: The Patient Notification Center
Partner 6.8 includes the new Patient Notification Center, a tool for contacting patients and families. With the notify program, you can set up scheduled notifications, and PCC will deliver those messages to your patients automatically through our partnership with TeleVox.
Appointment Reminders, More Coming Soon
The Partner 6.8 release includes tools for sending out appointment reminders. You can create one-time or reoccurring notifications, and Partner will then find patients with appointments that match your criteria and use TeleVox to deliver reminders.
An appointment reminder e-mail looks like this: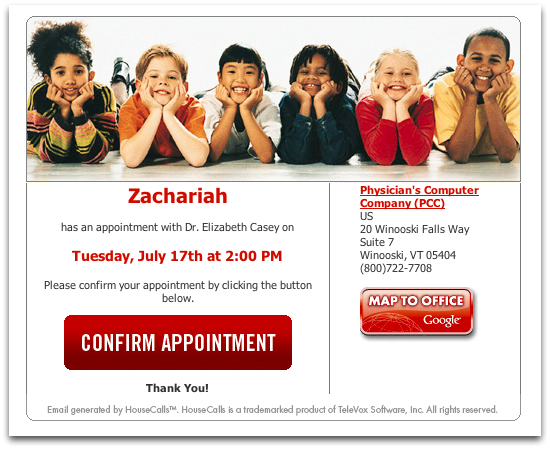 Future Partner releases will add other functionality to the Patient Notification Center. Soon, your office will be able to set up patient recall notifications and balance due reminders.
Contact By Phone, E-Mail, or Text Message
When your notification is processed, Partner uses TeleVox to contact your patients by phone, e-mail, or text message. How does it know which delivery method to use?
Default Settings
By default, Partner looks for a patient confidential communication preference. If the patient's preference is set to "No Preference", then Partner will use the first available phone number in the Custodian account. This default delivery method behavior can be defined in the Patient Notification Center section of the Configuration Editor (ced).
Your office can collect a patient's phone, e-mail, or text message preference in the Confidential Communication Preference section of Patient Checkin (checkin), the Patient Editor (notjane), or the Demographics section of the patient's chart in PCC EHR.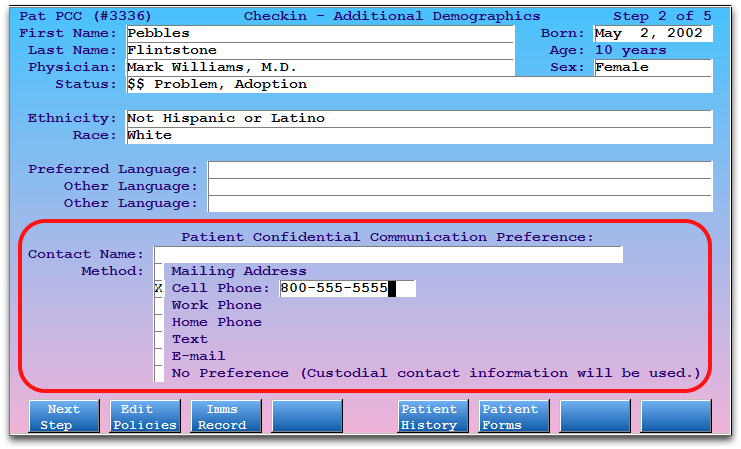 Custom Delivery Method
When you create or edit a notification, you can also specify the preferred and alternate delivery methods. For example, you could tell Partner to send TeleVox instructions to text message the Custodian's cell phone number, if available, and otherwise to call the home number.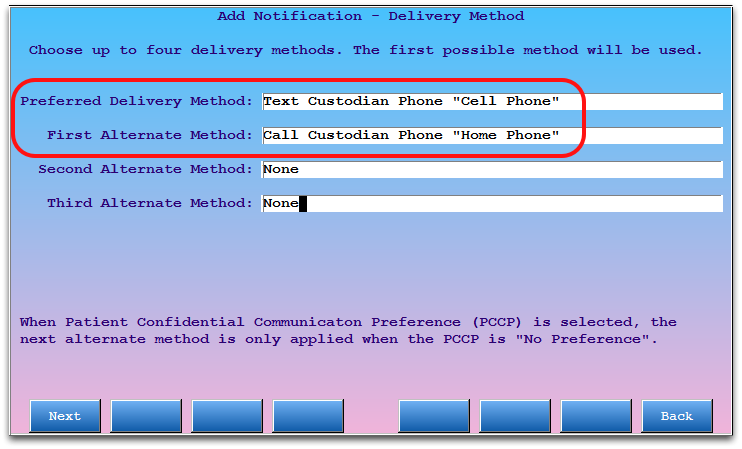 How Much Does it Cost?
Partner's new notification center tools and interface with TeleVox are included features of Partner 6.8. However, there is a setup fee and per-contact fees for each phone call, text message, and e-mail.
Contact PCC Sales for more information about the Patient Notification Center or for help getting started.
Learn More
To learn more, read the Patient Notification Center Overview and How-To help articles.
ARRA Bug Fix in Partner 6.8
The Partner arra report, which helps clients determine their Medicaid percentage, was using a 91-day window rather than a 90-day window. It now uses a 90 day window.