In April of 2014, PCC will release Partner 6.21. This release includes the addition of the ICD-10 table and tools to configure and test charge posting with ICD-10. Read below to learn more.
Contact PCC Support at 1-800-722-1082 for information about these or any features in Partner.
Watch a Video: Want to watch a video summary of everything in this release? CLICK HERE.
ICD-10 is Delayed Until 2015
Due to a bill that passed on March 31st, ICD-10 is delayed. CMS's ICD-10 coding requirements will no longer take effect on October 1st, 2014, and your practice has at least another year to prepare for ICD-10 coding.
PCC's software is ready for ICD-10, and many of the features described below were designed to meet the configuration needs of the new codes.
We will use the additional time to expand our configuration tools in both PCC EHR and Partner, and to work on other features that will make coding and billing more powerful for your practice. Stay tuned!
The ICD-10 Diagnosis Table
You can now review the ICD-10 diagnoses table in the Table Editor (ted).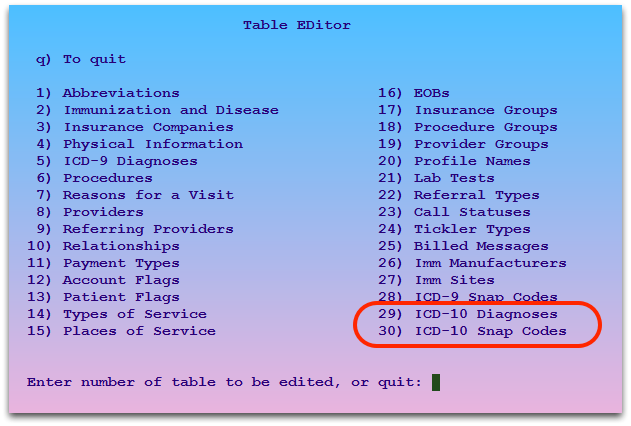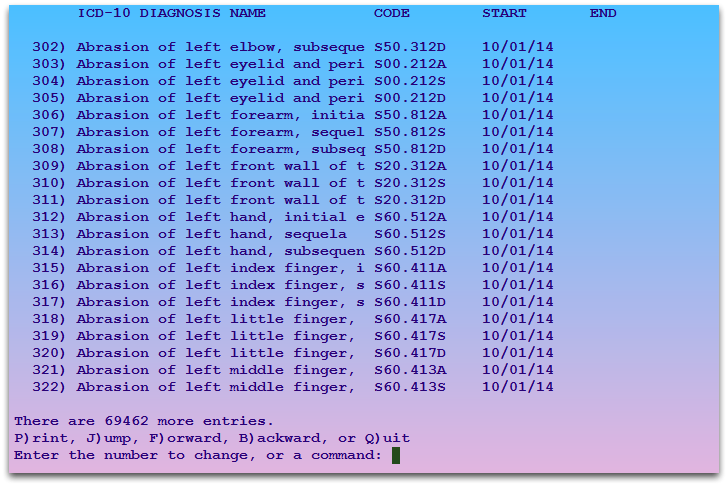 Partner 6.21 includes the new diagnosis table so your practice can review it and prepare for the transition to billing with ICD-10. The ICD-10 table includes a far more detailed and expansive set of codes and descriptions than ICD-9.
You can open an entry to review codes and descriptions.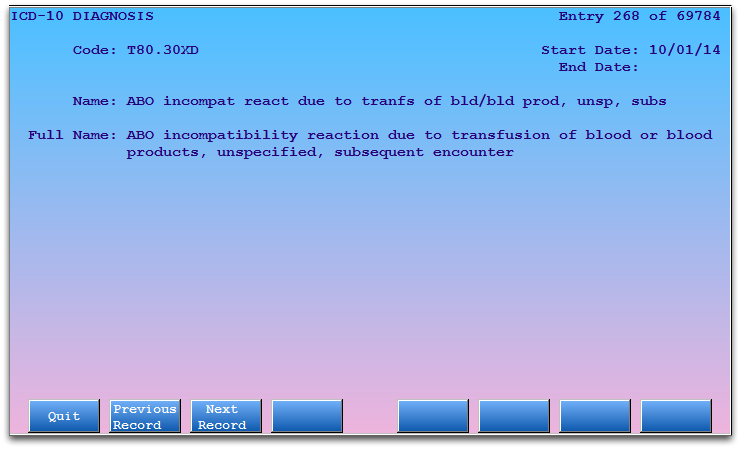 ICD-10 codes can have a short "Name", as well as a longer "Full Name".
Standardized Codeset: Partner keeps your ICD-10 table in sync with the national standard. Unlike the ICD-9 table, the ICD-10 table does not allow you to create invalid entries. If your practice uses custom, invalid ICD-9 entries for administrative purposes, you can work with PCC Support to develop alternate workflows.
Test Post ICD-10 and Configure Checkout
Run the new "Test ICD-10" Checkout program (checkouticd10) to try posting a visit with ICD-10.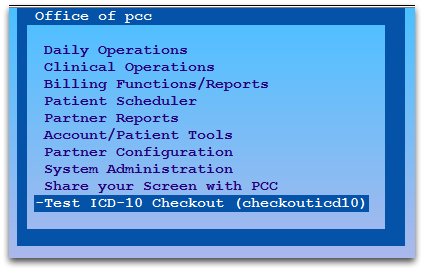 After choosing a sample patient, you can enter ICD-10 diagnoses and link procedures.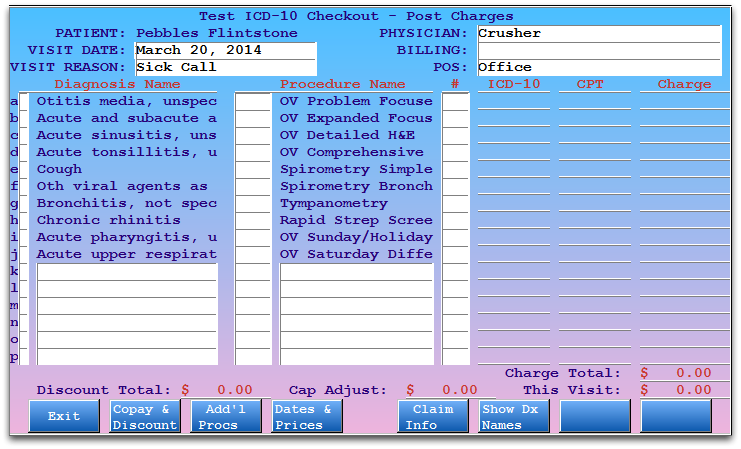 ICD-10 descriptions and codes will appear as you post.
As you try out ICD-10:
Don't Worry, Nothing Will Post: Anything you do in the Test ICD-10 program is forgotten when you press F12 or F1 – Exit. The visit will not save to the patient's record and no claim will be batched. Also, all screens will behave as if it were after the ICD-10 changeover. The real checkout program will switch back and forth from ICD-10 to ICD-9 based on the date of service.

View Long Descriptions: As you enter ICD-10 diagnoses, you can press F6 – Show Dx Names to view a longer diagnosis field. This will be useful, as many ICD-10 diagnoses have long descriptions.

Test and Configure Charge Screens: If your office uses custom visit-based charge screens, you can use checkouticd10 to review your ICD-10 charge screens and use the csedit program to make changes. See below.

Test and Configure SnapCodes: Similarly, if your office uses SnapCodes, you can use the checkouticd10 program to test your ICD-10 SnapCodes and revise them in the Table Editor (ted). See below.
Charge Screen and SnapCode Migration
The Partner 6.21 update creates an ICD-10 version of your practice's custom charge screens and SnapCodes, converting the diagnoses.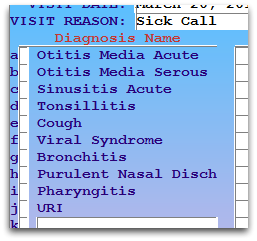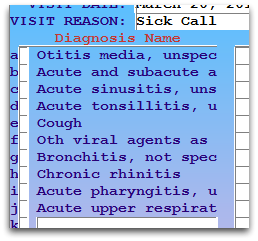 If your practice uses an EHR, then your EHR may fill out most of your charge screen in checkout; you might not use charge screens or SnapCodes. However, if you enter diagnoses or procedures manually (from a paper encounter form, for example), then you will see the ICD-10 charge screens in checkout once billing switches to ICD-10.
After your 6.21 update, you can review and edit both your ICD-9 and ICD-10 configurations using the Table Editor (ted) and the Charge Screen Editor (csedit).
ICD-10 in the Charge Screen Editor (csedit)
When you run the Charge Screen Editor, you can edit either ICD-10 or ICD-9 codes.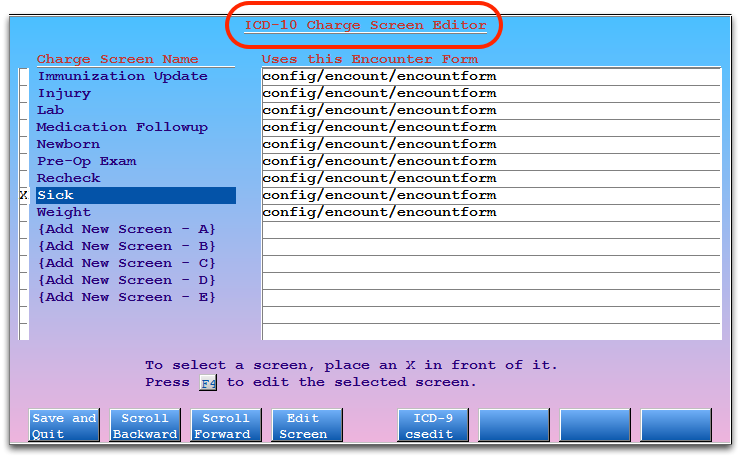 You can toggle between ICD-9 and ICD-10 charge screens by pressing F5 – ICD-9/ICD-10 csedit from the main csedit screen.
Select a charge screen and press F4 – Edit Screen to review it and make changes.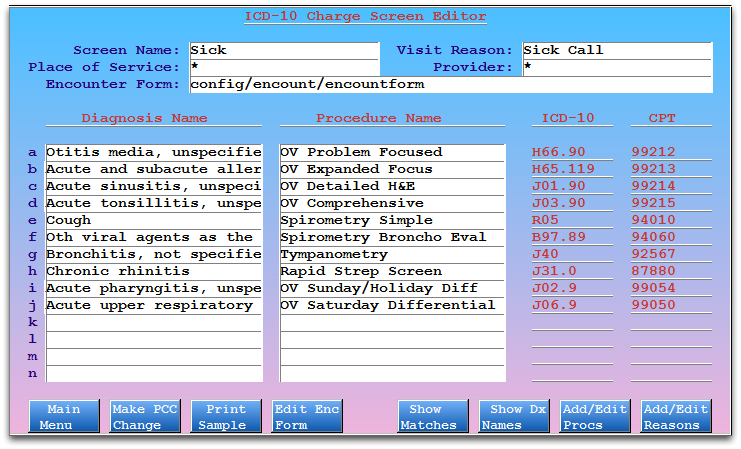 Partner 6.21 creates the ICD-10 versions of your ICD-9 charge screens based on available codes and descriptions, so you should review each charge screen carefully. Press F6 – Show Dx Names to work with a wider Diagnosis Name field.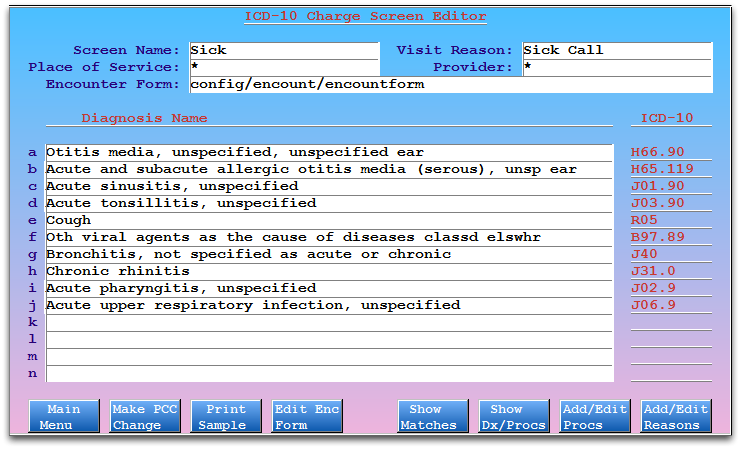 ICD-10 SnapCodes
The Table Editor (ted) contains configuration sections for both ICD-9 and ICD-10 SnapCodes. You can review, edit, and create new SnapCodes for rapid entry of diagnoses and linked procedures.
The 6.21 update creates the ICD-10 versions of your existing SnapCodes using available codes and descriptions, so you should review each SnapCode carefully.
After making changes (or creating new ICD-10 SnapCodes), you can test them in the checkouticd10 program.
Coming Soon: See More on the Screen
The standard Partner interface will increase to 30 characters by 80 characters in an upcoming release. You can increase your screen size now to take better advantage of Partner features.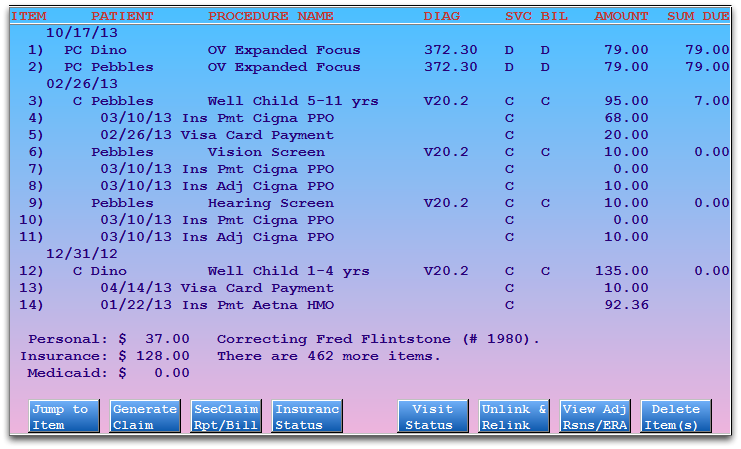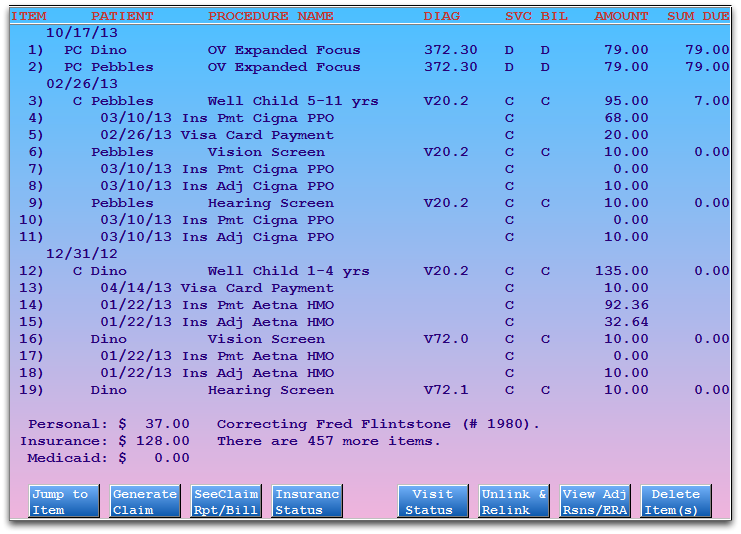 You can learn how to change your screen size in the Longer Partner Windows help article. Contact PCC Support for more assistance.
In 6.21, you may see a new message on your screen encouraging you to change your settings:

Press any key to dismiss the message.
CoRD, Jump Desktop and Others: If you connect to Partner using CoRD, Jump Desktop, Windows RDP, or another program that uses RDP to get a desktop from your PCC server, then your screen size will automatically update in an upcoming release. You can ignore the above message.
Dashboard Reporting for Vulnerable Populations
You can now review Well Visit Rates and ADHD Follow-up measures in the Practice Vitals Dashboard by vulnerable populations. The provider breakdown tool includes ethnicity, preferred language, primary insurance, race, and sex.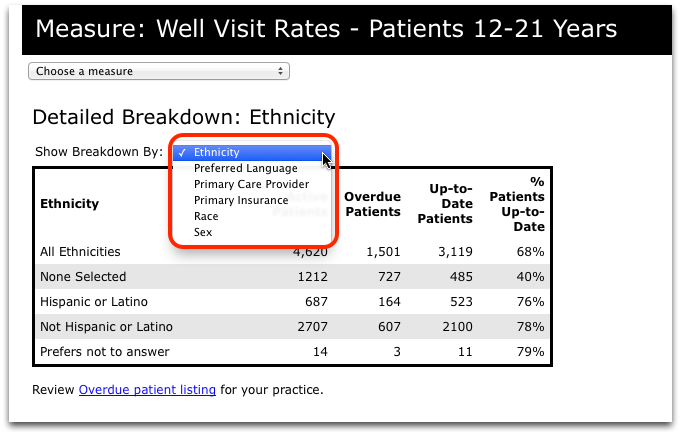 The new features allow you to see if you are serving one population of patients differently than others. You can see if you have more patients overdue for a physical who use medicaid, for example. By creating a report broken down by one of these criteria, you can review how you are meeting your various clinical and financial pulse standards for vulnerable populations.
Other Feature Improvements and Bug Fixes in Partner 6.21
In addition to the features described above, Partner 6.21 includes these feature improvements and squashed bugs:
Most Recent Flu Shots: The immunization form or "School Form" will now show the five most recent columns of information. That means that the most recent flu shots will appear on the form.

ICD-10 Code Validation and Claim Submission: As part of our continued work to prepare for ICD-10, Partner 6.21's underlying claim validation software can now check whether diagnosis codes are valid ICD-10 codes before submitting a claim.

Full Procedure Codes Appear in the Table: The Procedures table in the Table Editor (ted) now displays up to fifteen characters of the procedure code. This makes it easier to review and select complex codes, such as surgical codes.

Incorrect Linking of Multiple $0.00 Payments: If a payer sent multiple $0.00 payments with the same charge ID information to different charges with the same CPT code, the autopip program linked those payments to a single charge instead of distributing them to all charges on the claim. Now Partner can disperse the $0.00 payments to multiple charges.

Improved Dashboard Updating: Your Practice Vitals Dashboard numbers are collected on the first Sunday of every month. In Dashboard 6.21, we've made the update more automated and more efficient. That means that you'll see new numbers and details more quickly.

Dashboard Navigation Bugs Fixed: In some circumstances, the measure navigation menu could appear blank, or a page refresh could return you to a different measure. This no longer occurs.

Correct Mistakes of Very Old History: After paging down to the very bottom of an account history in oops, using the arrow keys could cause oops to stop scrolling. This no longer occurs.

Selecting Location: Practices with multiple locations sometimes experienced a blank selection screen when choosing their location. This no longer occurs.