In March of 2014, PCC will release Partner 6.20. This release includes the completion of ICD-10 feature support. We've reviewed and revised dozens of Partner programs and reports to support ICD-10, and along the way we've added some handy new features. Read below to learn more.
Contact PCC Support at 1-800-722-1082 for information about these or any features in Partner.
Watch a Video: Want to watch a video summary of everything in this release? CLICK HERE.
Features that Support ICD-10 in Partner, But ICD-10 Is Not Here Yet
The Partner 6.20 update includes a broad range of changes to support ICD-10, the new billing code standard that will be effective for all payors on October 1st, 2014.
However, this release does not include an ICD-10 table. Many of the features announced in this release will be invisible. Your workflow will not need to change with this release, and you do not need to begin using or posting ICD-10 until October.
Coming Soon: In an upcoming release, Partner will include a special tool for test-posting ICD-10 in the checkout program. We'll load the ICD-10 table onto your system and make configuration tools ready so you can begin getting ready for the October deadline. Stay tuned!
Update: ICD-10 is Delayed Until 2015
Due to a bill that passed on March 31st, 2014, ICD-10 adoption is delayed. CMS's ICD-10 coding requirements will no longer take effect on October 1st, 2014, and your practice has at least another year to prepare for ICD-10 coding.
PCC's software is ready for ICD-10, and many of the features described in 2014 release documents were designed to meet the configuration needs of the new codes.
We will use the additional time to expand our configuration tools in both PCC EHR and Partner, and to work on other features that will make coding and billing more powerful for your practice. Stay tuned!
Checkout is ICD-10 Ready
The Charge Posting (checkout) program is now ICD-10 ready. We've added room for the longer codes, added a header to make it clear when ICD-10 is in effect, added features so that visits posted for a date of service after 10/1/2014 will use ICD-10 automatically, and integrated ICD-10 charge screens which you will be able to edit with the Charge Screen Editor (csedit).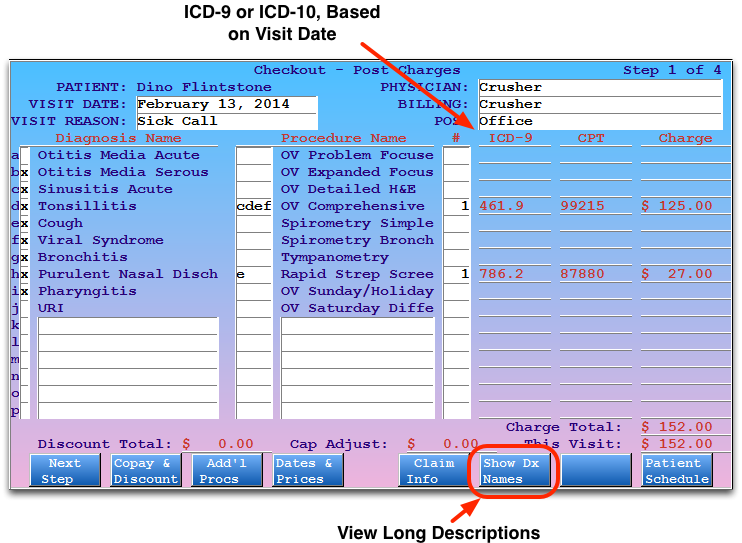 Switch Between ICD-10 and ICD-9: The checkout program will automatically switch to ICD-9 or ICD-10 based on the date of service. If a visit date is entered incorrectly, you can adjust the date and checkout will switch back to the other code set.
New Function Key: ICD-10 code descriptions are longer than ICD-9 descriptions. While posting charges, press F6 – Show Dx Names to review more text of the diagnosis name. This feature is available now, even though your Partner system does not yet have an ICD-10 table.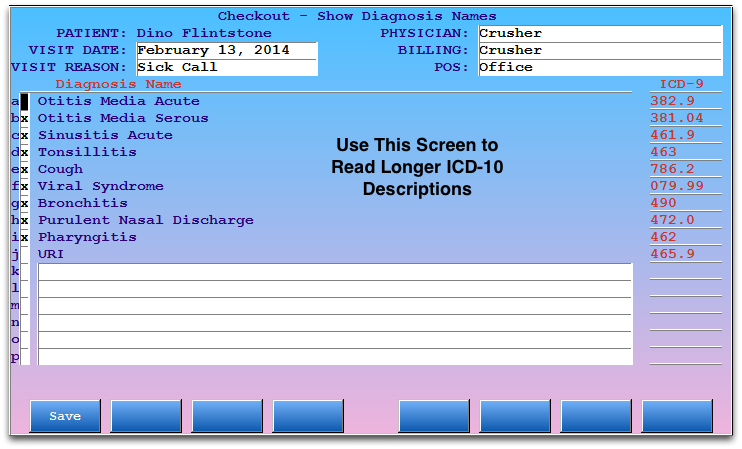 Press F1 – Save to return to the Post Charges screen.
When Can I See ICD-10 in Partner?: In this release, PCC made changes to support ICD-10. In a release later this spring, PCC will load ICD-10 codes into your system and provide ways for you to test post ICD-10 diagnoses and configure the tools that support the new code-set.
Charge Screen Editor is ICD-10 Ready
The Partner tool for editing your custom checkout screens, csedit, is now ICD-10 ready.
In a future release, PCC will add ICD-10 codes to your system, copy all your existing charge screens, and automatically create a set of ICD-10 charge screens for you to review and configure. In this release, you will notice more room for diagnoses and new labels.
Save Your Work: The csedit program will now prompt you to save your work if you press F12 from the Main Menu screen after making changes.
Snapcode Diagnosis Feature is ICD-10 Ready
Snapcodes are a fast and easy way to post common sets of procedures and diagnoses during checkout.
The Table Editor (ted) and the checkout program are now ready for ICD-10 Snapcodes. In a future release, PCC will duplicate all your existing Snapcodes and create ICD-10 versions of them. You will be able to create ICD-10 Snapcodes in ted and use them to post visits quickly.
Read the Snapcodes help articles to learn more.
Correct Mistakes (oops) is ICD-10 Ready
All screens in the Correct Mistakes program now support ICD-10 codes. Once ICD-10 codes are loaded onto your system and posted, you will be able to review them in the account's claim history. ICD-10 and ICD-9 codes will appear in the Diag column.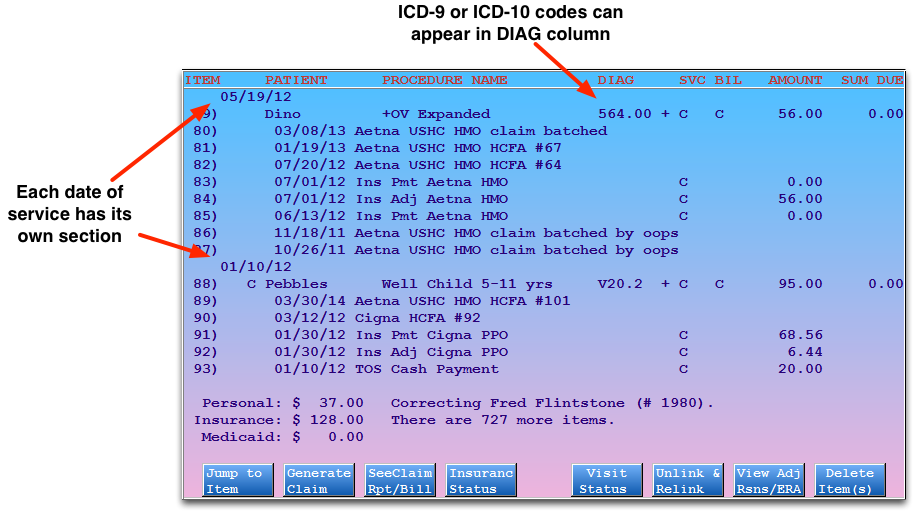 Dates of service now each have their own section, with a separate line indicating the date. The extra space makes room for longer codes ICD-10 codes and makes oops easier to read. If more than one diagnosis is linked to a procedure, the primary will appear and a plus sign (+) will indicate there is more information.
Review ICD-10s with F5: Just as you can for ICD-9 codes, you can review all of a charge's diagnoses and update or add ICD-10 codes on the Visit Status screen.
Partner Reports and Payment Posting are ICD-10 Ready
All Partner reports have been reformatted to support ICD-10 diagnosis codes and descriptions. As part of this redesign, many minor changes were made to layout of both onscreen and printed versions of reports.
Reports that were updated for ICD-10 include the Smart Report Suite (srs), Insurance Accounts Receivable Detail (inscoar), Collection (coll), Insurance Reimbursement Analysis (ira), Family History (tater), Daily Check (dailycheck), Patient History (patinfo), and all reports that use interactive screens.
As part of this reformatting, the manual insurance payment posting programs (pip, spam, bam) were also adjusted to accommodate ICD-10.
Searching for a Diagnosis is ICD-10 Ready, New "View Selected" Functionality
Many Partner programs and reports use a special screen to search and select diagnoses. This "Select Diagnoses" screen is now ICD-10 ready.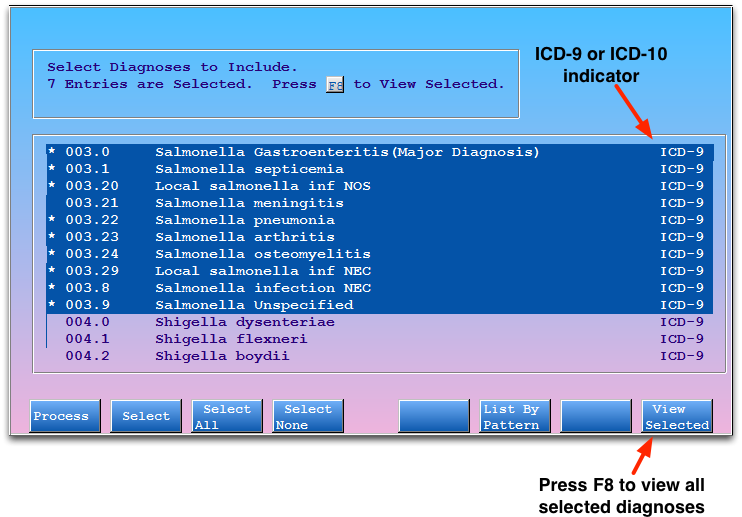 To the right of the screen, Partner will display whether a diagnosis is ICD-9 or ICD-10.
New "View Selected" Key: While searching for and selecting diagnoses, you can press F8 – View Selected to see a list of all selected diagnoses.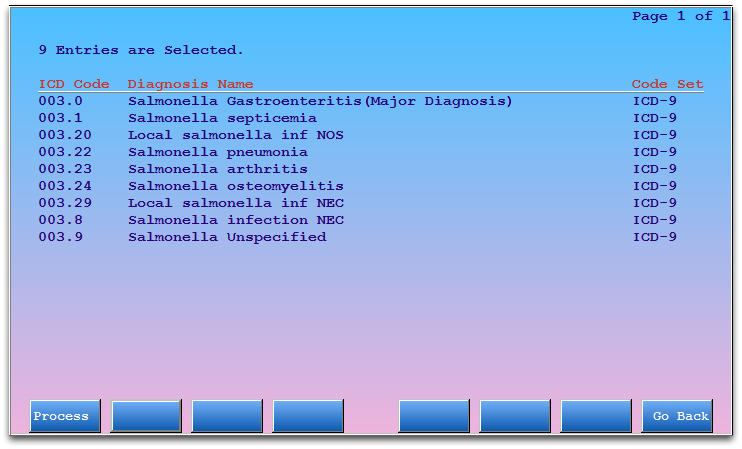 Selection by Group Shows Totals: When selecting locations, providers, insurance companies, or other grouped items in many Partner programs, you can now see a total of the items in that group in parenthesis.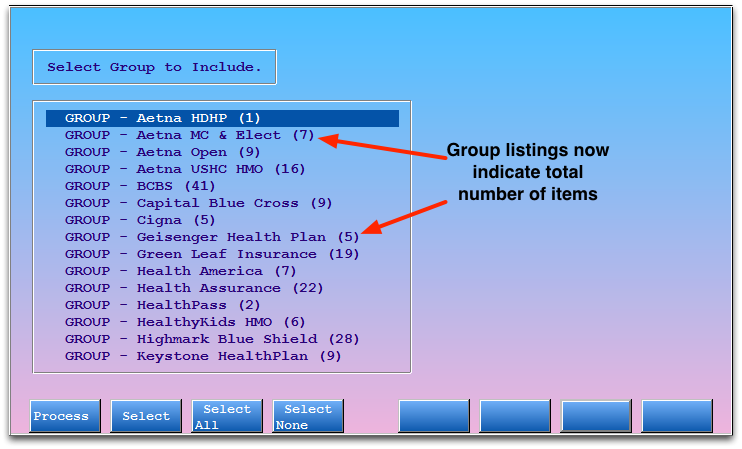 Partner Supports the new NUCC 1500 HCFA 2/12 Form
As part of the 6.20 update, Partner supports the revised CMS 1500 Claim Form 2/12. If you're interested, call PCC Support and we will complete the configuration for you.
The revised form, approved last June by the National Uniform Claim Committee (NUCC), is scheduled to permanently replace the 08/05 version of the form on October 1st, 2014, when ICD-10 takes effect.
Until then, some payers have announced they will accept submission of the new form as well as the old form, but this is not a requirement. If your office plans to use the new form before October 1st, we recommend you first contact your payers to see if they are ready to support it. Medicare requires the new form after April 1st.
The new standard includes support for qualifier codes in several boxes as well as a box 21 indicator for ICD-9/ICD-10. You can also now input up to 12 diagnoses instead of 4. (Electronic claims have supported 12 for some time.)
ICD-10 Education and Training Continues
Have you attended one of PCC's free ICD-10 training web classes? Dozens of physicians, practice managers and billers did last month!
We've planned 35 online sessions this year. You can connect and learn about ICD-10 coding and how PCC software and support are handling the conversion. Bring your questions for Jan, Lynne, and Doug.
Your PCC Support Team will also receive training, so we'll be ready to help your practice. Call us any time with questions related to ICD-10 and Partner.
Stay tuned for more about our ICD-10 educational opportunities throughout 2014.
Referral is ICD-10 Ready
The referral program can now support ICD-10 entry for listing diagnoses when generating a referral.
Other Feature Improvements and Bug Fixes in Partner 6.20
In addition to the features described above, Partner 6.20 includes these feature improvements and bugs squashed:
Review Appointment Sheet Before Printing: When running the Appointment Sheet (apptsheet) report, you can now review the output on the screen before printing.

SNOMED Mapping Reports: The SNOMED Mapping Reports (snomedmap) program includes custom reports for reviewing and evaluating your common diagnoses. Use the reports to learn about SNOMED equivalences with ICD-9 and plan for configuration changes in PCC EHR. This program was distributed during the 6.19 update.

Root Kit Hunter: Your Partner server now runs RKHunter, a security service that scans your system for "root kit" type viruses and reports back to PCC Support.

2014 RVU Values: Your PCC reporting suite now includes the 2012 RVU data values. When you use PCC's custom RVU reports and the Practice Vitals Dashboard, the new 2014 values are in place.

Missed Appointment Report Fix: Under certain circumstances, the srs report "Patients with Missed Appointments" did not display appointments marked as missed during checkout. Now it does.