In November of 2011, PCC will release Partner 6.2, directly addressing several of our most common client requests. Partner 6.2 includes more visible copay notes, a practice Web site address field, and more.
No Updates During the Holidays: Partner 6.2 is the last 2011 software release. There will be no new features to train before the new year.
Contact PCC Support at 1-800-722-1082 for information about these or any features in Partner.
Partner 6.2
Better Visibility of Copay Information at Checkin
The insurance copay amount now appears more prominently on the fourth screen of checkin.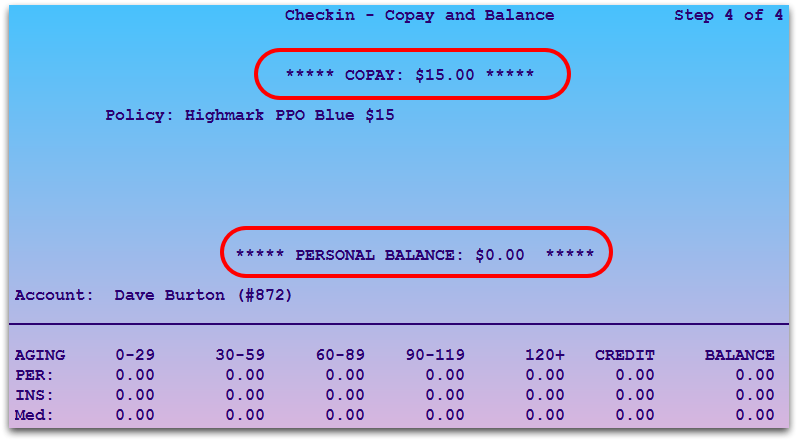 The screen is now clearly labeled as "Copay and Balance", and both the copay and personal balance are offset and starred. If there is a special copay note for the guarantor account, it will appear as well. A new "CREDIT" column in the section at the bottom displays if there are any credits on the account.
Collecting a copay when a patient checks in is a great help to office workflow and collections, and these changes make copay and balance information more difficult to overlook when you check in a patient. Press F5 – Post Payments to enter a payment.
Website Address Field
Partner now includes a web address field for storing your practice's Website URL. You can enter that address in the Practice Information section of the Configuration Editor (ced).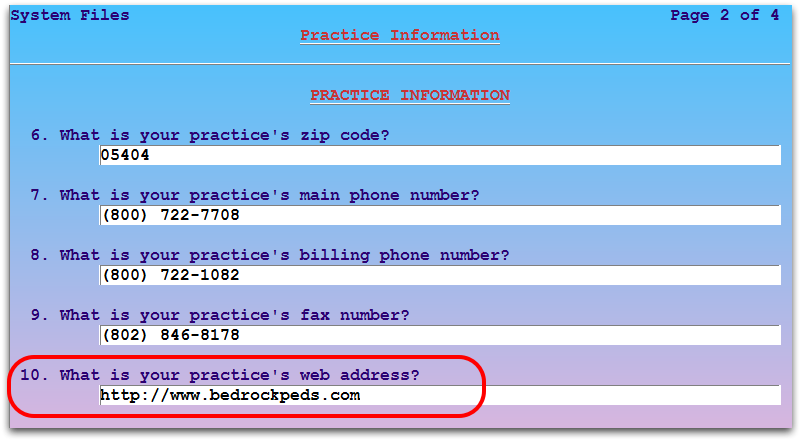 Once entered, you may use the <prac.webaddr> variable in your form letters and bill messages, which will help direct your patients and families to your Web site.
Contact Information and Control Number on ERAs
When you read or print an ERA from Partner, you can now see the payer's contact information and their claim control number, if the information is available.


This information will help you contact and work with a payer when there is a problem with the ERA. Note that different payers may include slightly different information (e-mail, phone number, etc.).
Account E-Mail Field in Checkin
The account e-mail field now appears in checkin.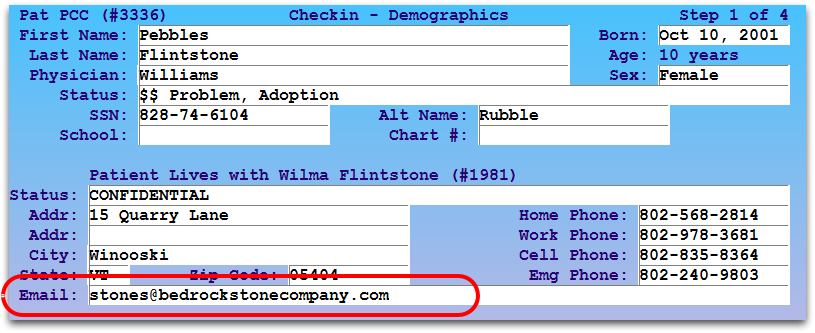 Use the e-mail field to update e-mail addresses for families as they visit your office. If the patient has a separate custodian and guarantor account, both e-mail fields will appear in checkin.
Unique Practice Address for Claim Batches
PCC can now configure an insurance batch with a different practice address. Sometimes an insurance payer has a peculiar address requirement, different from the practice's usual address, and the new 5010 guidelines require non-P.O. box addresses.
These new configuration options will prevent some claim rejections and will help you send 5010 compliant claims.
Other 5010 Conversion Work
PCC continues to prepare our various EDI connections for the new 5010 communication standard. This month, we redesigned our EDISS, VT BCBS, and Highmark connections so they are compatible with the latest 5010 rules.
Minor Feature Improvements and Bug Fixes in 6.2
Improved SRSoft Interface and Conversion: PCC has improved our interface and data conversion tools for SRSoft products.

Printing Encounter Forms: Partner 6.2 fixes a bug that was causing extra pages to print after encounter forms.

Calendar Hanging: Under rare circumstances, the scrod calendar program could continue running after the window was closed. This no longer occurs.