In January of 2014, PCC will release Partner 6.19. This release includes ICD-10 infrastructure features to support the conversion from ICD-9. The Practice Vitals Dashboard gains new columns for patient recall and per-physician data for evaluating practice clinical health and PCMH. Read below to learn more.
Contact PCC Support at 1-800-722-1082 for information about these or any features in Partner.
Watch a Video: Want to watch a video summary of everything in this release? CLICK HERE.
ICD-10 Infrastructure Preparation
ICD-10 is coming to Partner! Before we can retire ICD-9, however, the many tools and reports in Partner need to be adapted for ICD-10. In the 6.19 release, we've added a new underlying diagnosis table, ICD-10 Diagnoses, which will be used in the Table Editor (ted), Post Charges (chuck), and other programs. The table will be blank for a few more releases, but the mechanics are in place for ICD-10.
In addition, the 6.19 update includes the features and tools that will be used to keep your office up-to-date whenever there is an ICD-10 update. When changes are made to the official ICD-10 code set, PCC will automatically keep your practice's underlying ICD-10 code table up-to-date.
Stay tuned for more ICD-10 news in each 2014 Partner release.
ICD-10 Education and Training Schedule
As part of our 6.19 release, PCC created a tentative 2014 ICD-10 Education Schedule, including plans for ICD-10 training throughout the year.
We'll start in January, with online courses on Anatomy & Physiology related to pediatric coding in ICD-10. Later in the year, we'll add courses on understanding the ICD-10 code-set, using the new codes when posting charges in Patient Checkout (checkout), and later we'll train your office on ICD-10 in Correct Mistakes (oops), reports, and other Partner tools.
Along the way, your PCC Support Team will also receive training, so we'll be ready to help your practice. Call us any time with questions related to ICD-10 and Partner.
After the October 1st transition to ICD-10, PCC will offer follow-up training, filling in the gaps and answering questions as your practice completes the transition and the insurance payors catch-up with the new standards.
Stay tuned for more about our ICD-10 educational opportunities throughout 2014.
Update: ICD-10 is Delayed Until 2015
Due to a bill that passed on March 31st, 2014, ICD-10 adoption is delayed. CMS's ICD-10 coding requirements will no longer take effect on October 1st, 2014, and your practice has at least another year to prepare for ICD-10 coding.
PCC's software is ready for ICD-10, and many of the features described in 2014 release documents were designed to meet the configuration needs of the new codes.
We will use the additional time to expand our configuration tools in both PCC EHR and Partner, and to work on other features that will make coding and billing more powerful for your practice. Stay tuned!
Dashboard Patient Lists Include Patient Flags and Upcoming Visit Information
The Practice Vitals Dashboard includes several powerful tools for reviewing patients who are overdue for well visits, ADHD followup, or who are not up-to-date with their flu shots. By reviewing these metrics, your practice can evaluate your progress for these clinical measures, see a list of patients, and even export a spreadsheet for contacting patients or doing further analysis.

In the PCC 6.19 update, we've added new information to these patient lists:
Patient Flags: Use the patient flags column on each patient list to understand more about the patient. Patient status flags may tell you the office location where the patient is seen or billing status.
Next Scheduled Visit Date and Reason: Use the next scheduled visit date and reason to identify patients who are already scheduled to return to your practice. For example, you may use well visit patient lists to recall patients who are overdue, and the next scheduled visit information will help you contact only those patients who really need a reminder.
By using the patient lists in your Practice Vitals Dashboard, you can start with a broad analysis of your practice's clinical and financial health and then drill down to specific patients. The new columns in the 6.19 release will make the lists more powerful and useful.
Home Address: The home address of the patient now displays only in the exported .csv file for mail merge purposes. It is not included on the screen listing.
Dashboard Metrics By Provider
You can now review Flu Shots for Asthma patients, ADHD Follow-up, and Well Visit metrics by provider. The new pages allow you to break down the practice-wide metric into per-physician reports.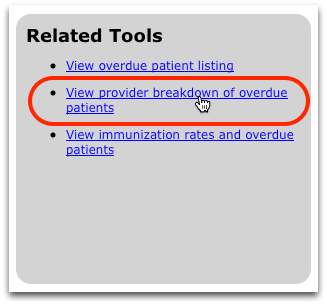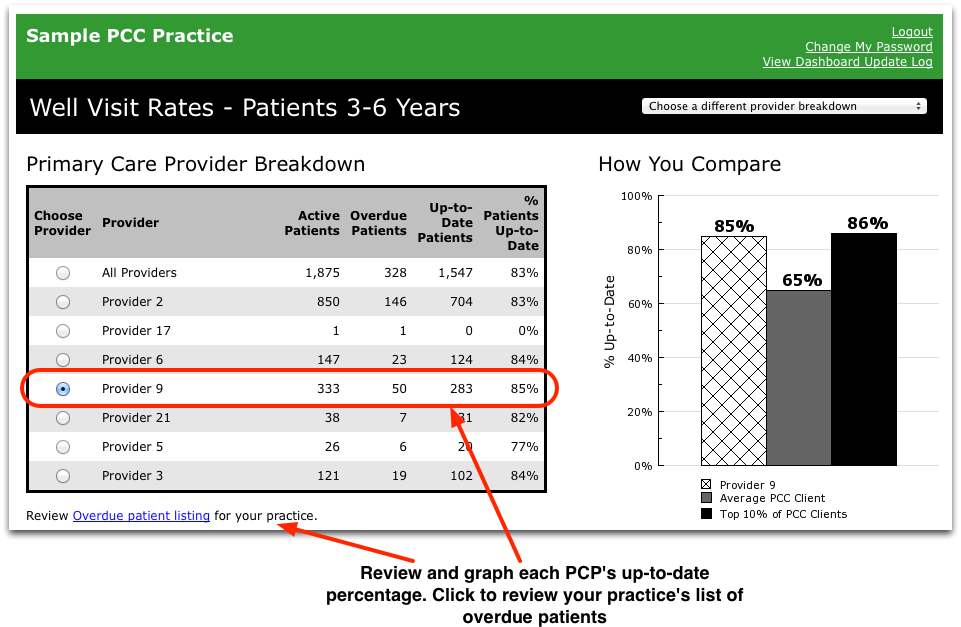 Use the new provider breakdown tools to report PCMH requirements and to better understand your practice's clinical health.
Backups Overhaul Complete
In 2013, PCC reviewed and updated our PCC server backup solutions. The 6.19 release marks the completion of our quest to improve backups for your PCC data and prevent data loss.
Every office is different, and PCC works to find the best backup solution depending on your location, office configuration, and other factors.
Here is a summary of PCC's different backup solutions:
Backup Tapes: Your practice's data can be backed up to an encrypted backup tape, and you can store a backup tape offsite for added data security in the event of a natural disaster. Backup tapes require manual swapping by your staff. They provide fast restoration of all practice information.

Remote Cloud Backup: PCC can use a secure, encrypted internet connection to backup your data on a remote server. This solution requires very little maintenance and ensures that data is safely offsite.

Network Accessible Storage: PCC can install a networked hard drive in a practice's office that automatically backs up all data. The NAS drive is a fast, local backup that makes data recovery easy.

RAID Array: Your PCC server includes a RAID array, one or more extra hard drives that automatically duplicate all information on your PCC server. RAID is not a backup solution and can not be used to recover deleted files. Your RAID array prevents data loss in the event of a hard drive failure. One faulty drive can be swapped out for a working drive without any interruption of service.
Contact PCC Support at 1-800-722-1082 or support@pcc.com to discuss backup solutions for your practice. We periodically review the technical needs of your practice to ensure your data is safe and secure from theft, natural disaster, and hardware failure.
Client Security Scan Expanded
As part of the 6.19 update, PCC has improved the security scans that run on your Partner server.
After each scan, your practice's System Administrator will receive an e-mail report detailing any high, medium, or low-risk vulnerabilities we find in your network. PCC Support evaluates these vulnerabilities and contacts your office immediately to address any high-risk vulnerabilities.
For more information, read the Security Assessment help article.
Stage 2 ARRA Report for Medicaid Visit Percentage
The Partner arra report can now be run for either Stage 1 or Stage 2 Meaningful Use guidelines.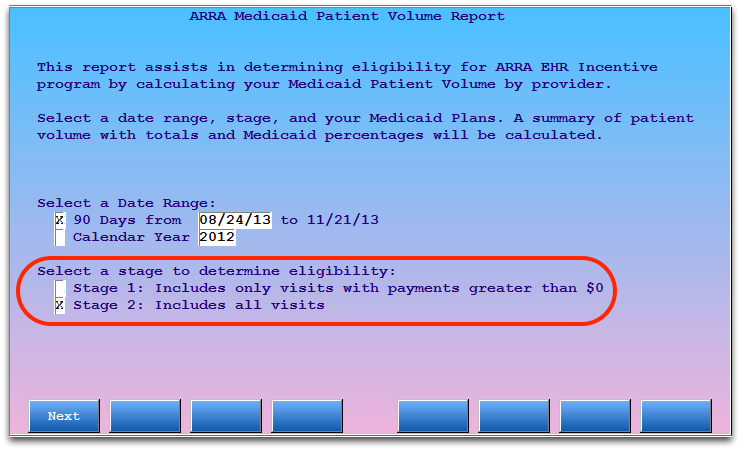 Under Stage 2 guidelines, all visits by Medicaid-eligible patients can count towards your Medicaid visit total, even if another insurance payor paid the claim. Visit the CMS.gov site to learn more.
Run the new Partner arra report to review your Medicaid visit percentage if you are applying for the ARRA incentive. For more information, read the ARRA Report article.
Other Feature Improvements and Bug Fixes in Partner 6.19
In addition to the features described above, Partner 6.19 includes these feature improvements and bugs squashed:
Automatic Insurance Eligibility Checking for Same Day Appointments: Due to a bug in a prior release, Partner did not automatically check eligibility for same-day scheduled appointments. (Users needed to press a key in checkin or run elig to check eligibility for same-day appointments). Partner now automatically checks patient eligibility when the patient is scheduled for the appointment.

Other Race: "Some Other Race" is no longer an option in patient demographics as it was removed from the ARRA Stage 1 status list and the 2010 census requirements. Any prior selection of Some Other Race will be mapped to "Prefers Not to Answer" or changed to blank, according to your practice's preference.

CARC Codes Turned On or Not: After the previous Partner update, offices that do not enter CARC information when manually posting insurance payments may have noticed the CARC fields appearing anyway. PCC corrected this with each office's configuration in October. Contact PCC Support to learn more about CARC values in Partner and your configuration options.

Updated Washington State Immunization Registry Support: As part of the 6.19 release, PCC completed updates to support the new Washington state immunization registry. Check with PCC Support to stay up to date with your state's immunization registry.

More Flu Vaccines Added to Flu Shot Metric: Several quadravalent flu vaccine procedures are now counted in the calculation of the Flu Shot dashboard metric.

Dashboard Coding Expertise Measure Adds 99174: The 99174 code (Ocular Photoscreening) is now included when calculating the Coding Expertise measure. This change affects only current and future Coding Expertise measure calculation, past results have not changed.