In October of 2013, PCC will release Partner 6.18. In this release Partner gains manual access to the CARC amount and group fields for secondary electronic submission, and the Practice Vitals Dashboards tool gains new screens for investigating your practice's health. Read below to learn more.
Contact PCC Support at 1-800-722-1082 for information about these or any features in Partner.
Watch a Video: Want to watch a video summary of everything in this release? CLICK HERE.
Secure Instant Messaging In Your Office
Your practice can use an instant messaging client to communicate among clinicians and staff, using a private office-only chat service.
Instant messaging, like texting, is a popular way to fire off a quick question or send a message to a co-worker. PCC can set up a private, secure instant messaging service that will be internal to your practice only.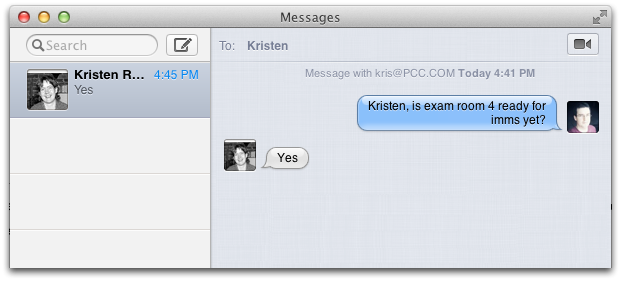 After setup and configuration, you can provide your staff with login information. Every PC, Macintosh, or Linux workstation on your network can use the instant messaging service.
PHI Sent Via Instant Messaging?: Unlike mainstream instant messaging applications, such as Google Chat or AIM, PCC's private network instant messaging is maintained behind PCC's firewall, which means you can send PHI securely. If your office allows external instant messaging using AOL IM or another service, your office's policy should reflect what usage is appropriate.
Availability and Activation: PCC's instant messaging service is available for all practices using Partner and/or PCC EHR, on computers running inside your PCC-maintained network. PCC Support must activate and configure PCC IM for your practice. Contact PCC Support (800-722-1082) and ask for the Technical Support Team.
For complete instructions, read the PCC IM help article.
Post CARC Group and Amount for Secondary Submission
In addition to CARC values, you can now post CARC group and amount codes. This update allows you to enter the required information for electronic submission to a secondary insurance.
If CARC is enabled and turned on at your practice, you will see a new second line when posting payments.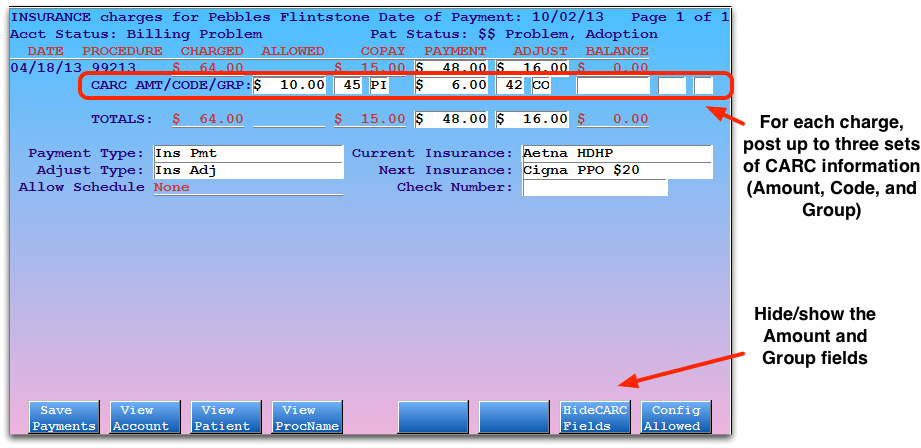 Instead of just posting individual CARC values, you can enter up to three CARC values along with corresponding amounts and group codes for each charge. You can press F7 – Hide/Show CARC Fields to toggle back and forth between the expanded and simple CARC view.


Enter an asterisk (*) in either the CARC or Group fields to see a list of valid entries with descriptions.
Note that the CARC amounts do not correlate with the payments and adjustments on an ERA/EOB. They relate to copays, deductibles, and other messages from the insurance payor.
Withhold Column Available with CARC
In order to display payment, adjustment, and CARC fields, the Withhold column was formerly hidden if you displayed CARC. The Post Insurance Program (pip) can now display all columns and CARC value information.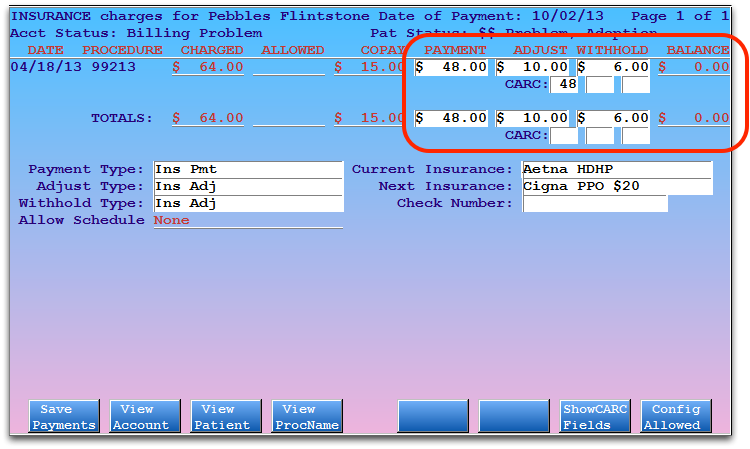 Contact PCC Support for help configuring what columns appear for posting at your practice.
Page Down While Posting Insurance Payments (pip)
The Post Insurance Payments (pip) posting screen can now expand to multiple pages. You can press Page Up and Page Down to review a long list of charges.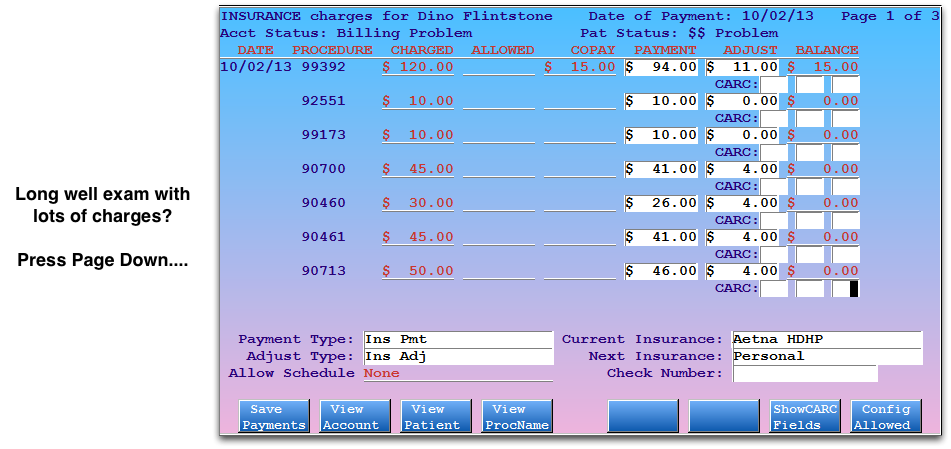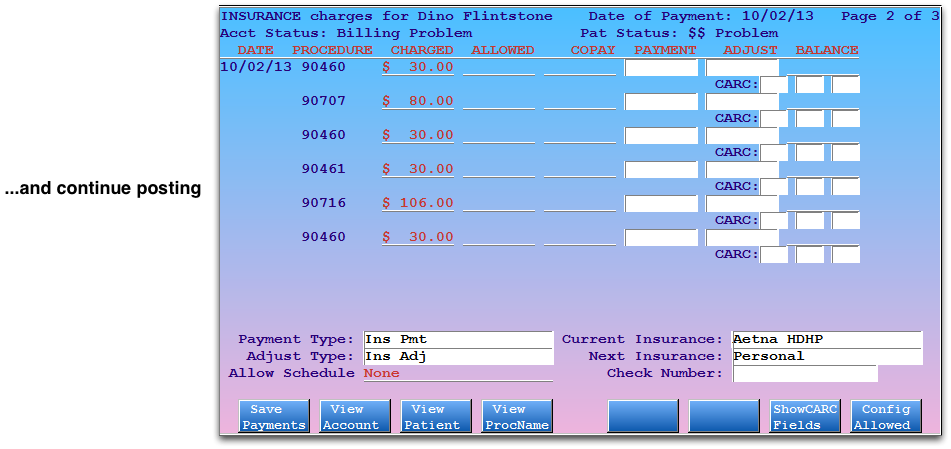 If you are posting a complex visit, or using the new expanded CARC tools in pip, you can use the paging keys to review and work with all charges.
Small Screen Woes?: While many screens in the Partner billing system can use multiple pages, you can also expand the number of horizontal lines that display on your screen. Contact PCC Support or read Larger Partner Windows to learn more about these options.
Understand Your Financial Pulse and Clinical Pulse
The Practice Vitals Dashboard now includes a detailed guide to understanding how the Dashboard calculates your Financial Pulse and Clinical Pulse scores. Click on the Financial Pulse or Clinical Pulse navigation links to learn more.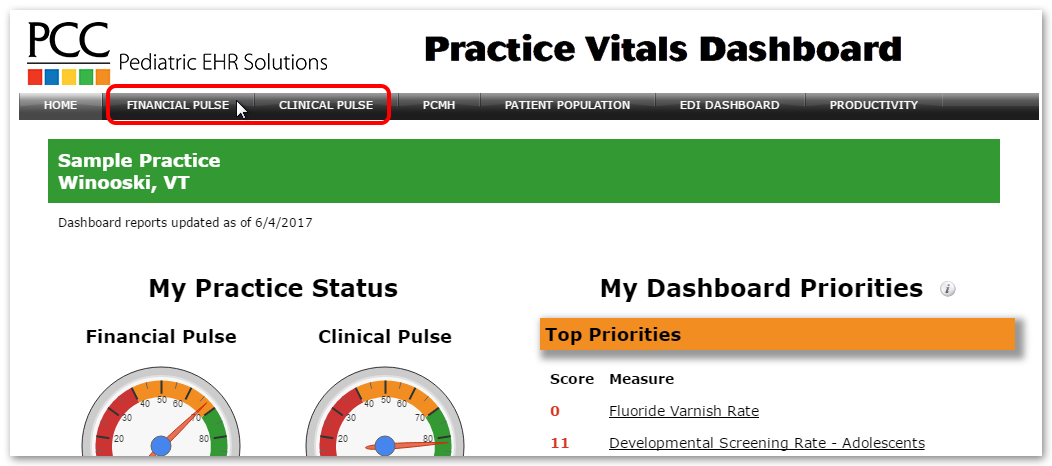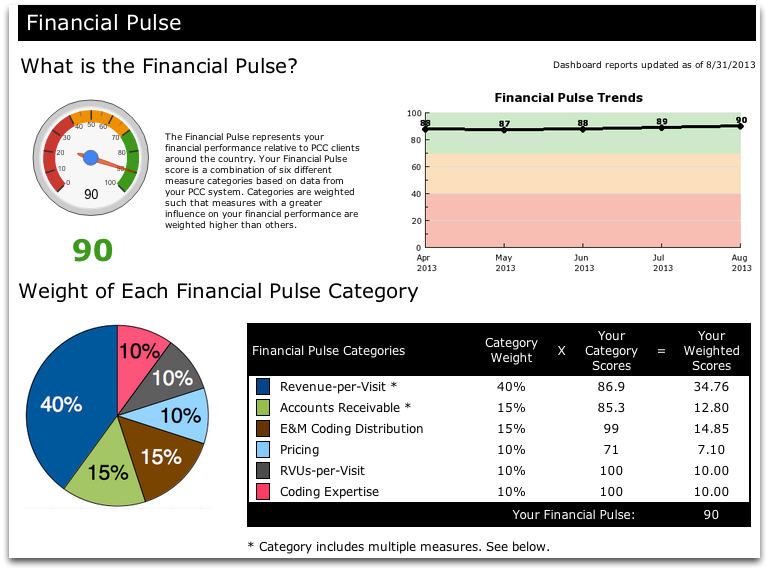 Your pulse scores provide a quick summary of your practice's health in a number of key areas. On each Pulse page, you can see an explanation of the different components that make up the Financial and Clinical Pulse scores, along with links to each of the metrics involved.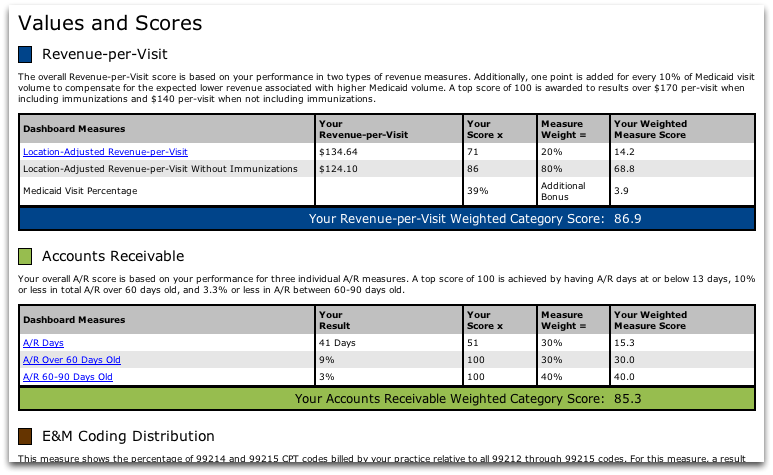 You can use these descriptions as a launching point for evaluating your practice's score and planning for the future.
Other Feature Improvements and Bug Fixes in 6.18
Payment Type Abbreviations in Checkin: Your payment type abbreviations will now work when posting a payment from the Patient Checkin (checkin) program.

CARC Groups Defined: When you review an ERA, you can now see a section defining the CARC Group values that appear on the remittance.

Dashboard Fixes: The Practice Vitals Dashboard reports now support more insurance groups. The reporting period for patients who are overdue for vaccines has also been corrected.

Long Adjustment Reason Explanations: In situations where an adjustment reason explanation was long, some of the text might be omitted from the printed bill. This no longer occurs.