In August of 2013, PCC will release Partner 6.17. The Practice Vitals Dashboards tool now includes an updated Details page for each metric.
Contact PCC Support at 1-800-722-1082 for information about these or any features in Partner.
Watch a Video: Want to watch a video summary of everything in this release? CLICK HERE.
Practice Vitals Dashboard Details Pages
PCC's Practice Vitals Dashboards now includes a new details pages for each measure. We've taken your feedback and made each dashboard measure's details easier to read, and we've added helpful information that makes your dashboard an even more powerful resource.
To see the new details pages, click on any measure in your Dashboard Priorities list.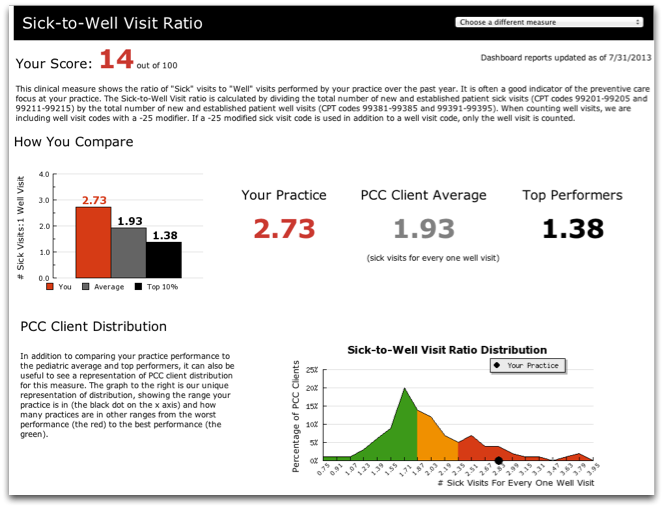 You'll see an explanation of your score, comparison charts, trends, and recommendations. From the top of each details page, you can use a new pull-down menu to navigate to any other measure.
Other Feature Improvements and Bug Fixes in 6.17
Flu Season Verification: The start of the flu season, as used to calculate the Asthma Flu Shot measure in PCC's Practice Vitals Dashboard, now begins on July 1st so that patients receiving a flu shot in July will be counted as "up to date".

Terminal Improvements: For some user terminals, pressing the End key on certain screens blanked several fields' contents. This no longer occurs. Additionally, a mouse click in sam Normal View no longer produces unusual results.

Better CARC Behavior in oops: Deleting the CARC information from a payment in oops no longer deletes the payment.

Unusual Daysheet Entry: Under rare circumstances, it was possible to add an adjustment type to the Table Editor (ted) and post it on a separate screen, causing a different type of entry to appear on the daysheet instead. This no longer occurs.