In July of 2013, PCC will release Partner 6.16. The Practice Vitals Dashboards tool now includes an informative home page, drawing key metrics to your attention. The Correct Mistakes (oops) program now helps you review ERA information to better understand a payor's adjustments, and our automatic payment posting program can now more easily handle ERAs with unusual comments.
Contact PCC Support at 1-800-722-1082 for information about these or any features in Partner.
Watch a Video: Want to watch a video summary of everything in this release? CLICK HERE.
View ERA Details for Payor Adjustments in oops
While researching a payor's adjustment in Correct Mistakes (oops), you can now read the relevant portion of the payor's ERA.
Press F7 – View Adj Rsns/ERA and select an adjustment.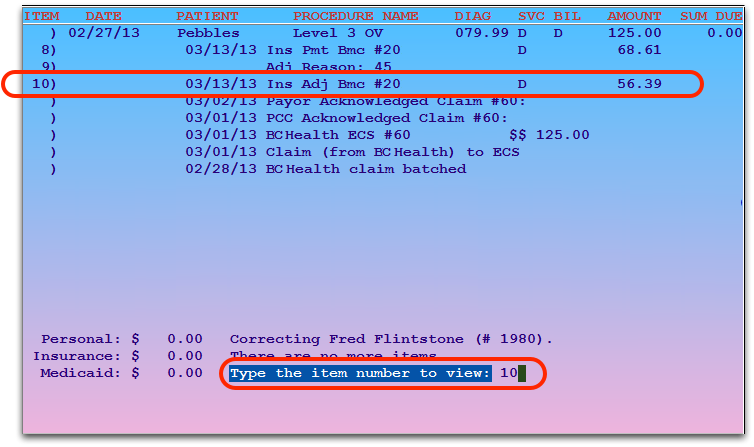 If the adjustment was posted automatically from an ERA, Partner will find and display a section of that ERA. Along with the amount, you can read the text description of the CARC values and any other information sent by the payor.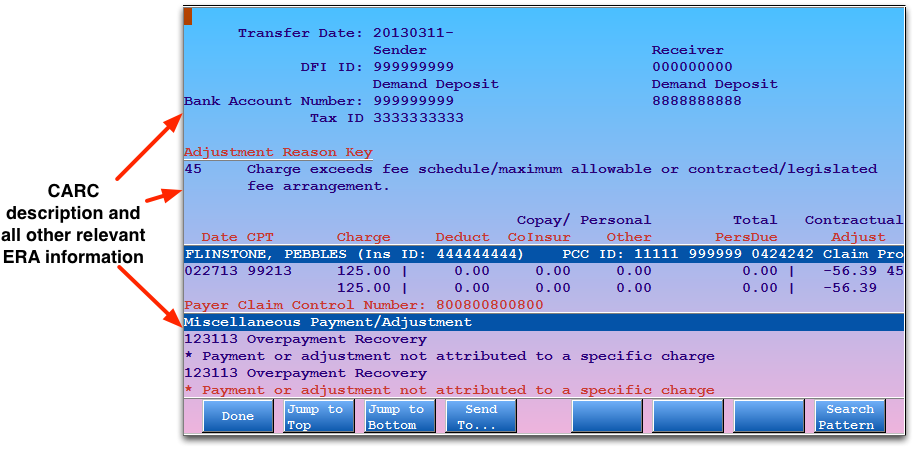 Not Posted with an ERA: If you did not receive an ERA from the payor and posted the adjustment the traditional way, you can use F7 to look up the text description of CARC values.
Auto-Posting of ERAs w/ Unexpected MOA Notes
Partner's autopip program can now automatically post ERAs for accepted claims that include a RARC value with a $0 adjustment amount. This change will result in fewer ERAs that require your review.
Some payors, such as United Healthcare and Florida Medicaid, have begun using the MOA (Medicare Outpatient Adjudication) segment of ERAs to report RARC values, even when there is no claim level adjustment to report. Formerly, autopip turned these items over to the manual post report for review, even though no items required your attention. For accepted, paid claims with no additional adjustment, autopip can now post these items. Your practice may see a dramatic time savings.
If your practice has removed one of these payors from your autopip workflow, consider moving them back in and giving them a try!
Practice Vitals Dashboard Homepage
PCC's Practice Dashboard, a powerful tool for evaluating the clinical and financial health of your practice, has a new home page. When you first log into the Practice Vitals Dashboard, you will see a new Financial and Clinical Pulse, summarizing your overall practice health based on fifteen measures relevant to pediatric practices. On the right, you can review a list of priority areas.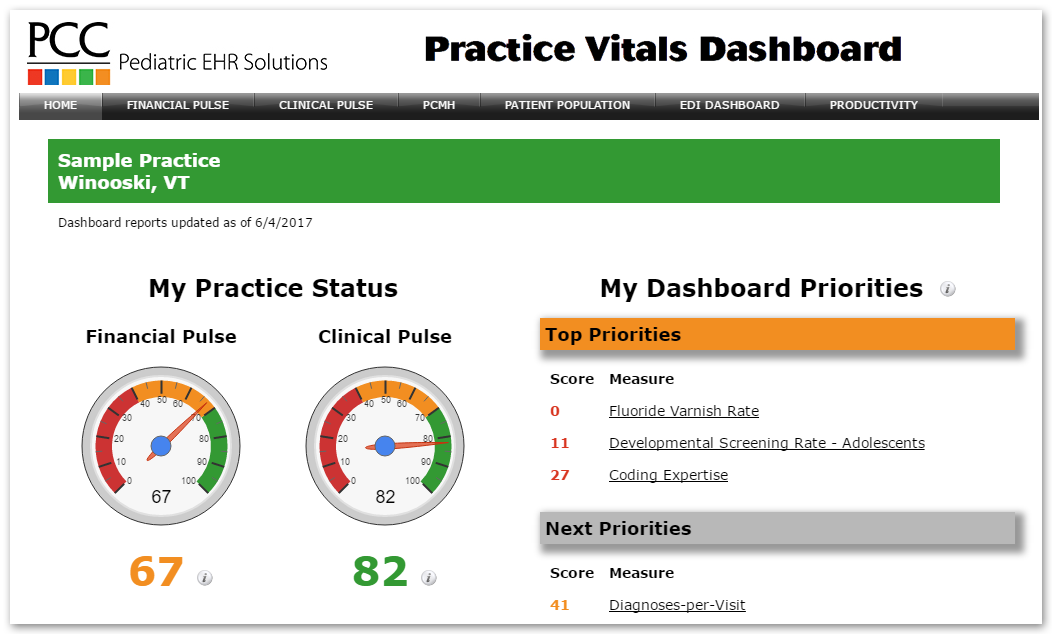 Click on any of the dashboard priority links to jump to that section of your dashboards, or use the topic navigation bar at the top.
Underneath your practice status, a new Dashboard News section will keep you up-to-date on recent developments and learning opportunities.
Other Feature Improvements and Bug Fixes in 6.16
Dashboard Now Includes Capitation and Other Non-Visit Revenue: The Payor Mix report, visible in the Revenue-Per-Visit section of the Billing and Revenue Dashboard, now correctly includes capitation revenue and other non-visit revenue.

Relinked Payments with CARC Information: If a payment with an associated CARC was unlinked and relinked to multiple charges, a duplicate "Part of Payment" line could appear in Correct Mistakes (oops). This no longer occurs.

Line Numbers When Relinking Adjustments: When relinking an unattached adjustment, the number lines in oops did not always appear as expected. Now they do.