In June of 2013, PCC will release Partner 6.15, adding improvements to the Post Insurance Payments (pip) program and a new feature for patient notifications.
Contact PCC Support at 1-800-722-1082 for information about these or any features in Partner.
Watch a Video: Want to watch a video summary of everything in this release? CLICK HERE.
More CARC Values in Manual Insurance Posting (pip)
When you post an insurance payment manually, you can now enter up to three CARC values.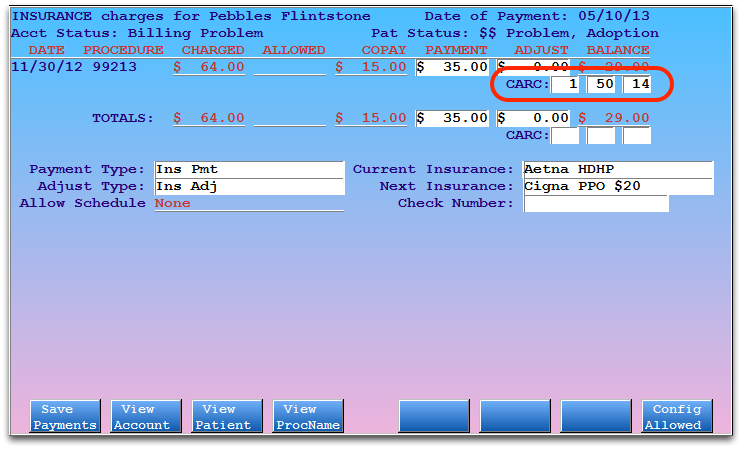 Type an asterisk in any CARC field to review a list of CARC codes and descriptions. The new drop-down menu displays the full description.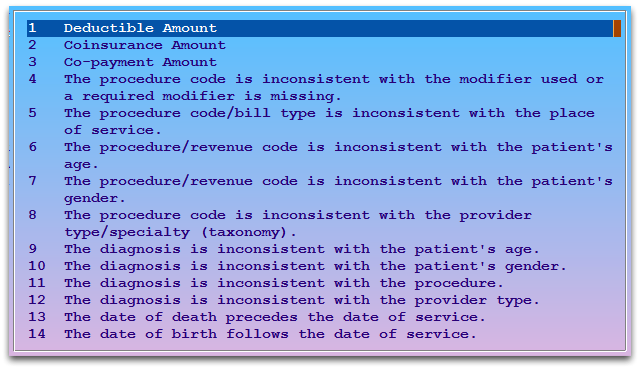 You can also enter CARC codes at the bottom of the list of charges to apply them to all charges on the screen.
CARC values appear in Correct Mistakes (oops), Account History (tater), and on personal bills. Your office can use them to record information from the insurance carrier and inform families why an item appears on a bill. PCC recommends entering CARC codes instead of using payment and adjustment types to indicate the nature of a payment or adjustment.
Configure CARC in pip: CARC support in Partner may be deactivated at your practice. You can turn it on in the Charges and Payments section of the Configuration Editor (ced). You can also select whether one or three CARC fields appear. Contact PCC for assistance.

View More Charges While Posting Insurance Payments
The Post Insurance Payments (pip) program now displays as many procedure lines as your screen will allow.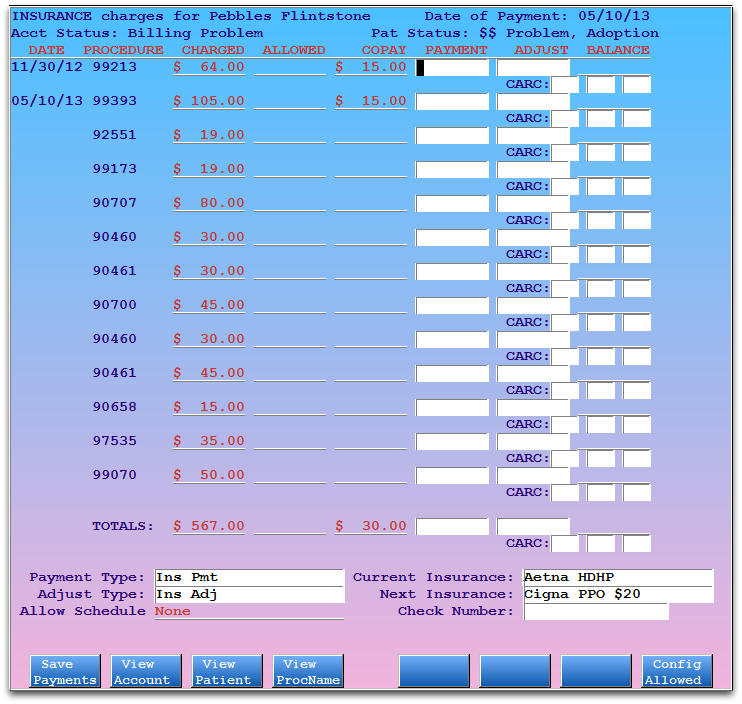 For help changing your screens vertical limit, read Larger Partner Windows or contact PCC Support.
Patient Notifications with Visit Reason Messages
Appointment reminders sent with Partner's Patient Notification Center can now include a trailer message based on the visit reason for the appointment.
If you are reminding a patient about a physical visit, for example, and you wish them to arrive twenty minutes early, you can now tell them that with a brief message at the end of the notification.
If you haven't tried Partner's notify features yet, read the Patient Notification Center article to learn more. If you wish to adjust your configuration to add trailer messages based on visit reasons, contact PCC Support for help.
PCC EHR Users and the Partner Providers Table
Partner's Providers table, in the Table Editor (ted), contains a list of all clinicians at your practice. The table is used for scheduling, billing, and patient primary care physicians. As part of the 6.15 Partner and PCC EHR release, each Providers table entry now syncs with a PCC EHR user account.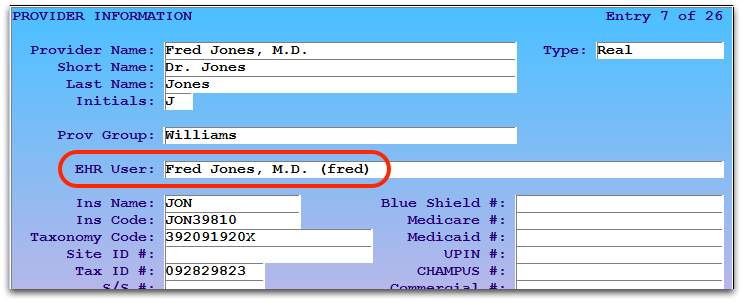 You will only see the EHR User field if your office uses PCC EHR. PCC Support will contact your office over the next few weeks to make sure your entries align correctly.
Later this year, PCC will use the new clinician/account relationship to improve existing PCC EHR and Partner integration and to introduce new features. Stay tuned!
Other Feature Improvements and Bug Fixes in 6.15
Restarting Patient Notifications After a Power Outage: If a power outage occurred at your practice, then PCC needed to restart your notifications. Now notifications will resume without support intervention.

Recalling For a Single Birthday: In some situations, recalling by birthdate for a single birthdate produced a list of all patients. This no longer occurs.

Finding "No Preferred Language" Patients: In certain situations, the Recaller could return the wrong number of patients when restricting by those who had "No Preferred Language" selected.