In April of 2013, PCC will release Partner 6.14, adding comprehensive CARC support, improvements to several Correct Mistakes (oops) features, and new patient notification tools.
Contact PCC Support at 1-800-722-1082 for information about these or any features in Partner.
Watch a Video: Want to watch a video summary of everything in this release? CLICK HERE.
Deductible Not Met and Multiple CARC Codes, On Bills and Throughout Partner
In Partner 6.14, all recorded CARC codes, with associated descriptions, appear on patient bills as well as in Correct Mistakes (oops) and Account History (tater).
CARC Codes and Partner: A CARC is a claim adjustment reason code. Partner records and displays CARC codes for insurance payments. For example, when a payor sends an electronic EOB, the autopip system automatically applies the payments and adjustments to the charges and also adds all CARC codes to the record. You can also enter CARC codes manually using the manual Post Insurance Payments (pip) program.
Partner 6.14 expands CARC support in several key areas, and makes it easier than ever to follow and understand a payor's response to a claim.
CARC on Personal Bills
On the personal bill, all CARC codes appear, including "Deductible Not Met". CARC descriptions appear with an asterisk at the bottom of the bill.
CARC in oops
In the Correct Mistakes (oops) program, CARC codes appear in line with insurance payment information.

Press F7 – View Adj Reasons and enter an item number to read a description of the codes.



CARC in Account History
In the Account History (tater) program, CARC codes appear underneath insurance payment information. A description of each code appears at the bottom.
CARC Now Appears w/ Payment: Insurance companies attach CARC codes to the payment on an EOB, not the adjustment amount. Partner 6.14 displays CARC in the same way, with codes appearing directly below insurance payments in oops, tater, and on bills.
New and Improved Correct Mistakes (oops)
The 6.14 release improves many key functions in the Correct Mistakes (oops) program, improving access and clarity for several features.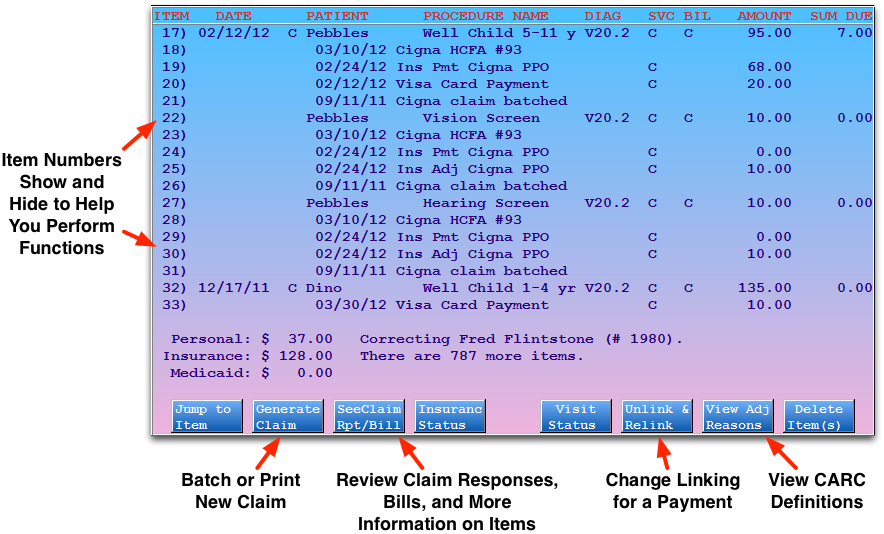 Generate a Claim
To batch or print a claim, press F2 – Generate Claim and select the relevant items.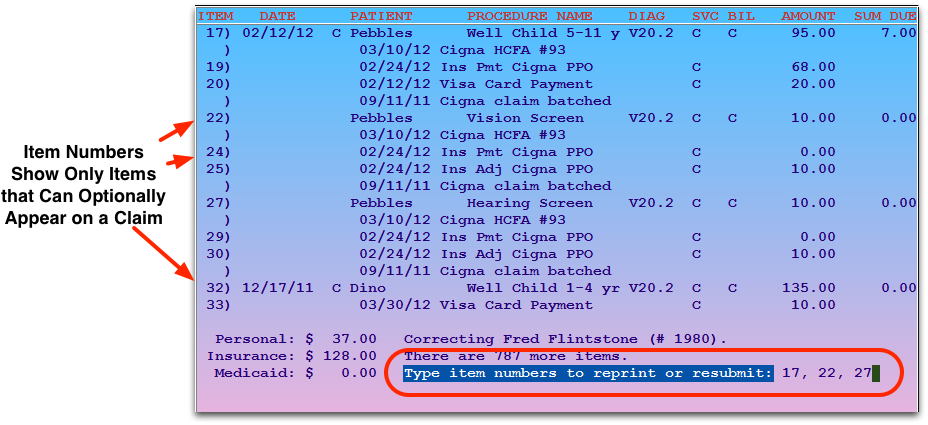 When you press F2, oops shows only the item numbers for charges, payments, and adjustments. That makes it easier to find relevant items for a claim.
Next, oops will summarize the items you selected and offer to batch a claim for electronic submission, or send it directly to your HCFA printer.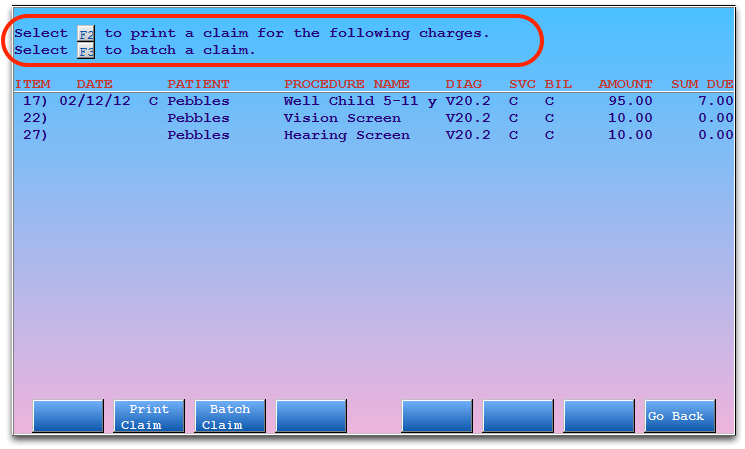 View Bills, Claim Reports, and Full Claim Data
Press F3 – See Claim Rpt/Bill and select a bill, claim response, or claim message to view more information.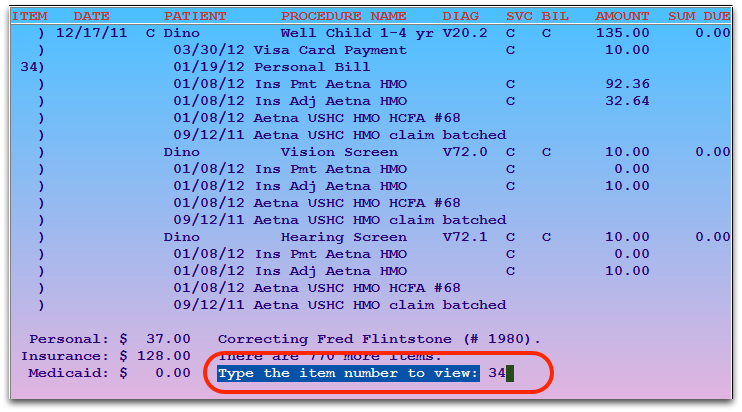 For example, if you select a bill, you can review the exact text record of the bill that was sent to the family.
If you select a claim message, you can review the electronic response from the payor or clearinghouse. You can also press F3 and select a claim batch message to view the raw claim data, which allows you to review exactly what was sent to the claim processing clearinghouse.
Note: In previous Partner releases, your office may have used some of the F3 – See Claim Rpt/Bill features through the F4 – Insurance Status key. Now that oops has a dedicated function key for reviewing more details about various items, more users can take advantage of the features. Your office's billing staff may need time to adapt to the new function key placement.
Unlink / Relink a Payment
Press F6 – Unlink & Relink to unlink a payment and/or link a payment to different charges on the account.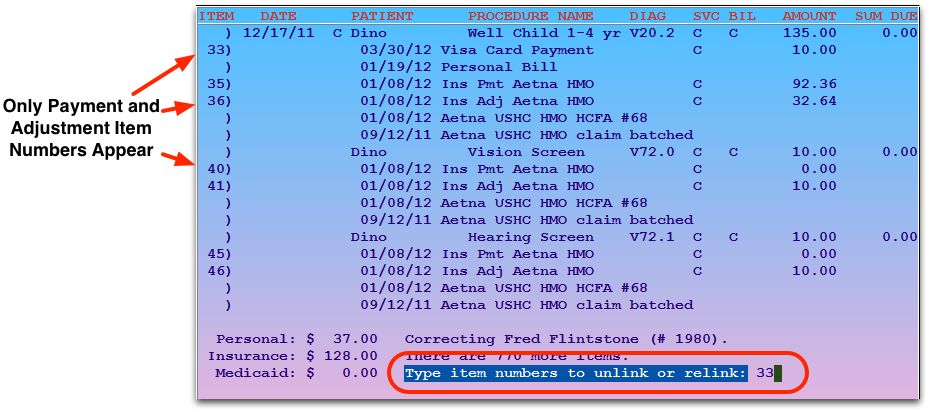 When you press F6, only payment and adjustment item numbers appear. That makes it easier to find and select items for relinking.
Next, oops will summarize the payments you selected, and allow you to relink it to another charge, or leave the payment unlinked.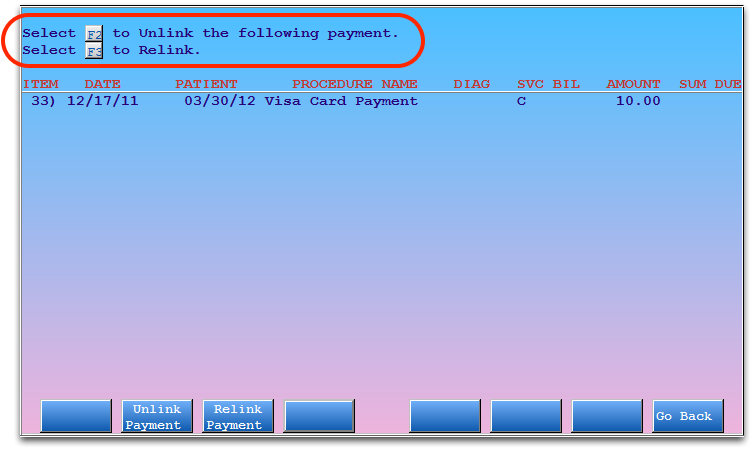 Don't Forget the Toggle Tool: While using the new oops features described above, you may find it useful to press the "e" key to hide or show the complete billing history of each charge. When you press e, the oops program toggles the billing messages and billing history, making it easier to review the account record.
Patient Notification Responses and Automatic Cancelation
Your patients and families can now respond to automated notifications about upcoming appointments. When they receive a phone notification, they can press a button to confirm or cancel their appointment. They can text a reply to text message notifications, and they can e-mail a confirmation reply to e-mailed appointment notifications.
Configuration: Contact PCC to set up these new features. We'll turn on the cancelation/confirmation features, and work with you to adjust your notifications.
Depending on your office's policy, Partner can automatically cancel an appointment based on the notification response, or queue up cancelation requests for your staff to review. Then your schedulers can use Notify Log (notifylog) to review all confirmations and cancelations.
When appointments are canceled early, your office has more time to fill those slots with other appointments. Read below to learn more about the new Partner tools.
Review Responses in Notify Log
The notifylog program now sorts reports by patient response.
Run the notify program and press F8 – Notify Log to view the activity log of all notifications.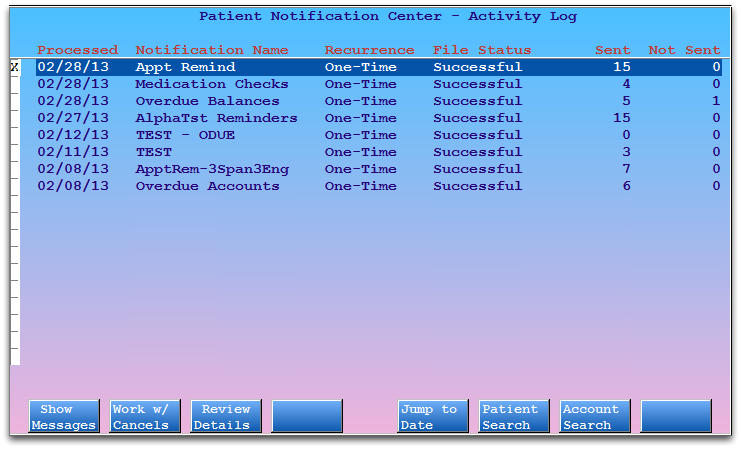 Select a notification and press F1 – Show Messages to review responses.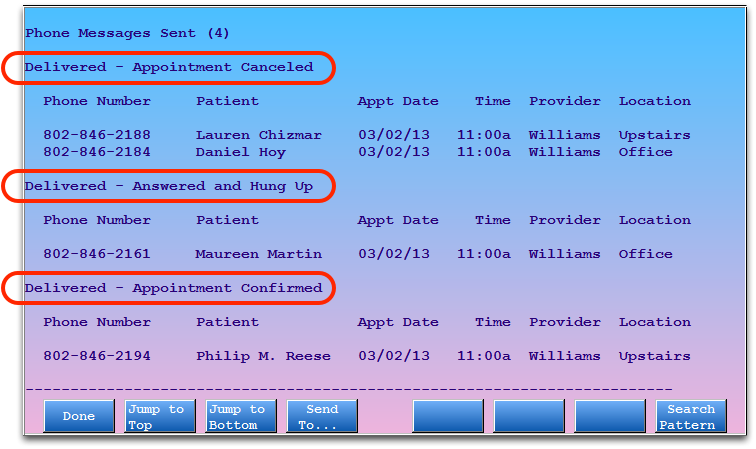 Cancelations always appear first, at the top, followed by notifications that were delivered or have other statuses, such as "Delivered – Answered and Hung Up".
Work With Cancelations
Instead of looking at all responses, you can work with a list of cancelations. Select a notification and press F2 – Work w/ Cancels to view all cancelations that came from that notification.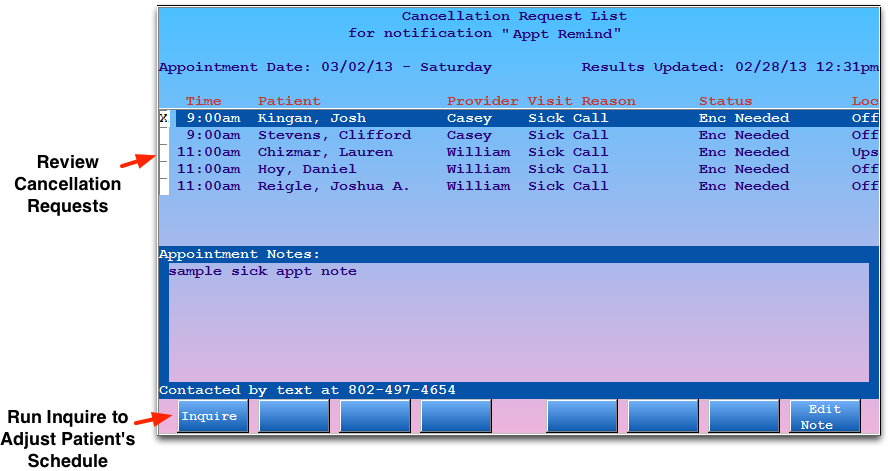 You can work down the list, and press F1 – Inquire to jump into inquire and reschedule or revise the patient's schedule. If your office allows patients and families to automatically cancel their appointment, you can use the list to review those cancelations.
Review Responses for a Specific Patient or Account
You can use the Patient or Account search features in notifylog to quickly find all responses for a particular family or patient. Open notify log and press F6 – Patient Search or F7 – Account Search.

After finding a patient or account, you can see all notifications and any confirmations or other responses.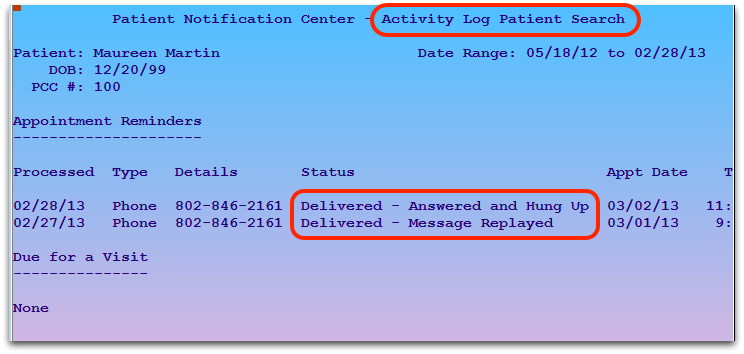 If a patient doesn't show up for an appointment, for example, you could use the search tools to see if they received or responded to a notification.
Configure Auto-Cancel Options
Partner can either store cancelation requests for your review, or automatically cancel a patient's appointment.
A new question in the Patient Notification Center section of the Configuration Editor (ced) asks if you want to "Automatically mark appointments canceled when patients choose the option to cancel from their Appointment Reminder Message."

If that question is set to "Yes", your patients can use their phone or a text message to cancel their appointments, in addition to queuing up a response in notifylog. In the inquire program you will see "Canceled on ##/##/## by pcc" for appointments canceled in this way.
Improved Bump Report
The bump scheduling report now takes a date range and has a new feature for showing blocks.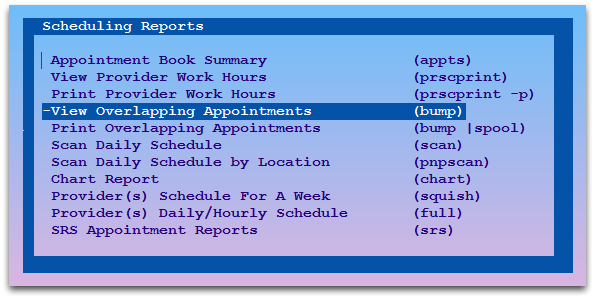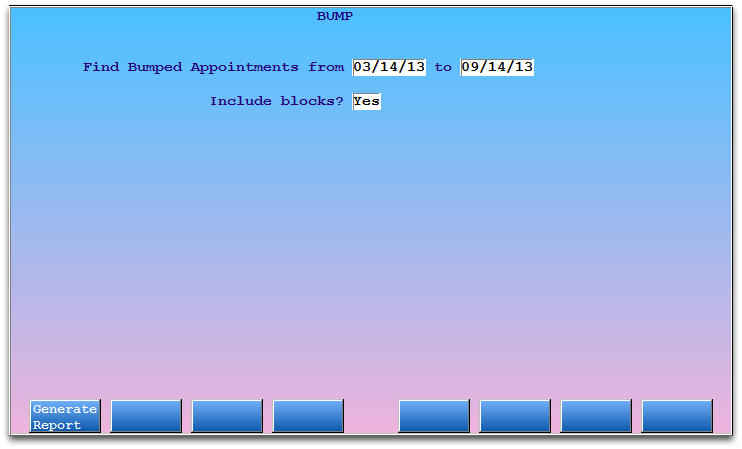 The Partner scheduling system prevents over-scheduling by adjusting open time when you double-book. You can use the bump program to research an overbooked day and review scheduling overlaps.
Other Feature Improvements and Bug Fixes in 6.14
Notify Doesn't Balk at Quotation Marks: Under certain circumstances, the notify log did not display notifications for some patients. While notifications were sent to Televox for these patients, the notify log report did not display data on patients who had quotation marks in their name, such as Robert "the Bob" Smith. Now Partner parses the data and ignores the quotation marks, and TeleVox ignores the quoted name as well.

More Price and Code Schedules: Your office can now utilize up to 26 code and price schedules for procedures in the Table Editor (ted). A dedicated code and price schedule for a payor allow your office to meet unusual payor coding requirements.