In February of 2013, PCC will release Partner 6.13, updating the Daily Check tool and improving the rescheduling feature in the Inquire program.
Contact PCC Support at 1-800-722-1082 for information about these or any features in Partner.
Watch a Video: Want to watch a video summary of everything in this release? CLICK HERE.
Daily Check Update
Daily Check (dailycheck) is a great tool for reviewing posted charges. Offices use dailycheck when proving out, when comparing encounter forms to posted charges, and to double-check that each visit had the proper codes. In Partner 6.13, the dailycheck report is remodeled to add options and be easier to use.
Report options are now available in pull-down menus. Enter an asterisk to see all options. Once you make a selection, your settings will be restored every time you run dailycheck.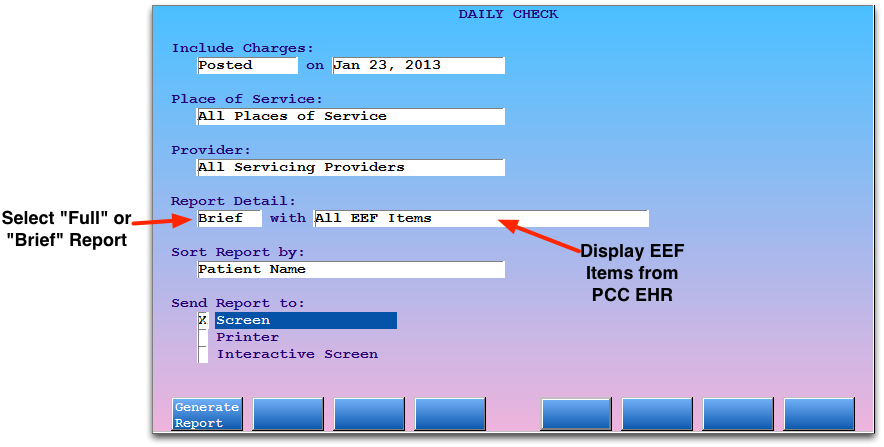 The two Report Detail options (Full and Brief) are now more straightforward to select. The Full report includes all codes, units, and linking information. The Brief report omits those details but is quicker to review.
PCC EHR users can also choose to display electronic encounter form items. The electronic encounter form can send diagnoses and procedures to checkout, and using this option may help you find diagnoses and procedures that appear in the EHR but may or may not have been posted.

Select "All EEF Items" to generate a dailycheck report with all items that appear on the electronic encounter form.
Select "No EEF Items" to display only diagnoses and procedures that were posted in Partner.
Select "Only EEF Items Added After Checkout" to include only those PCC EHR items that were added to the chart after the appointment was posted in checkout.
After making your selection, press F1 – Generate Report to review the results.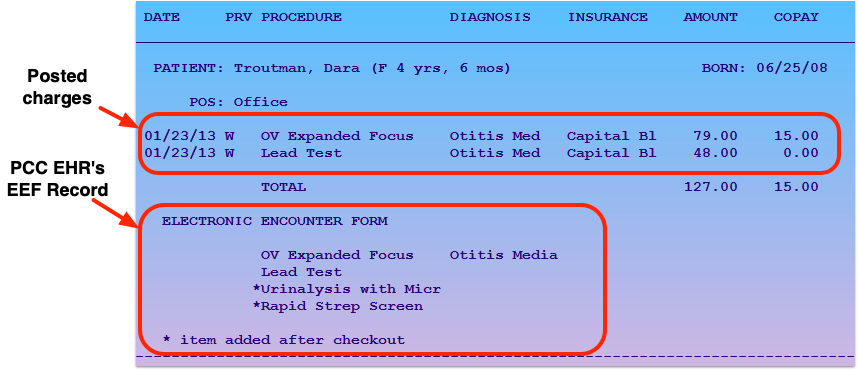 On the report output, your selected EEF option will display below the posted charges. An asterisk appears next to items that a user added after the visit was checked out.
Not a PCC EHR or EEF User?: If your office does not use PCC EHR, you will not see the electronic encounter form options. If your office uses PCC EHR but does not use the Bill feature and the electronic encounter form, you should select "No EEF Items" to omit the section of the report that displays EEF information.
More Reschedule Features in Inquire
Partner's inquire program, which provides quick access to a patient's appointment history and facilitates canceling appointments or marking them as missed, now includes better tools and status indicators for rescheduling.
While reviewing a patient's appointments, select one and press F2 – Cancel Appt, F3 – Delete Appt or F4 – Missed Appt to begin the rescheduling process. Once completed, inquire will now display that the former appointment was rescheduled.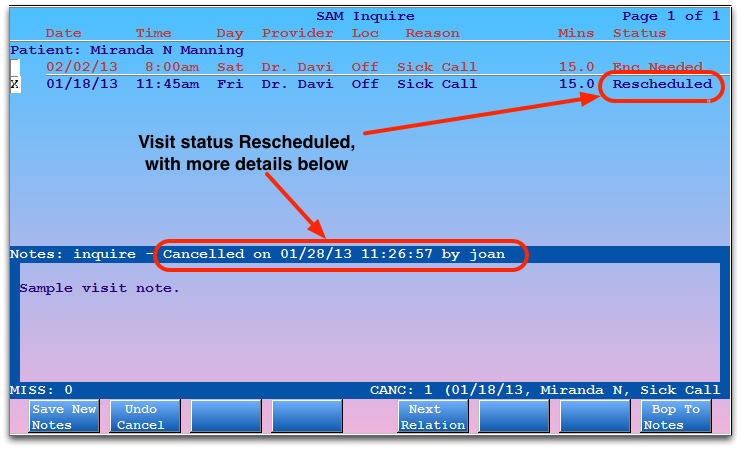 The note section for the appointment will display why the appointment was rescheduled (canceled or missed) along with the user who performed the action. The appointment's status for reporting purposes remains canceled, missed, or deleted, but the inquire program indicates that the appointment was rescheduled.
If you select an appointment that was already marked as missed or canceled, you can now press F6 – Resched to reschedule it again in sam with the same appointment information.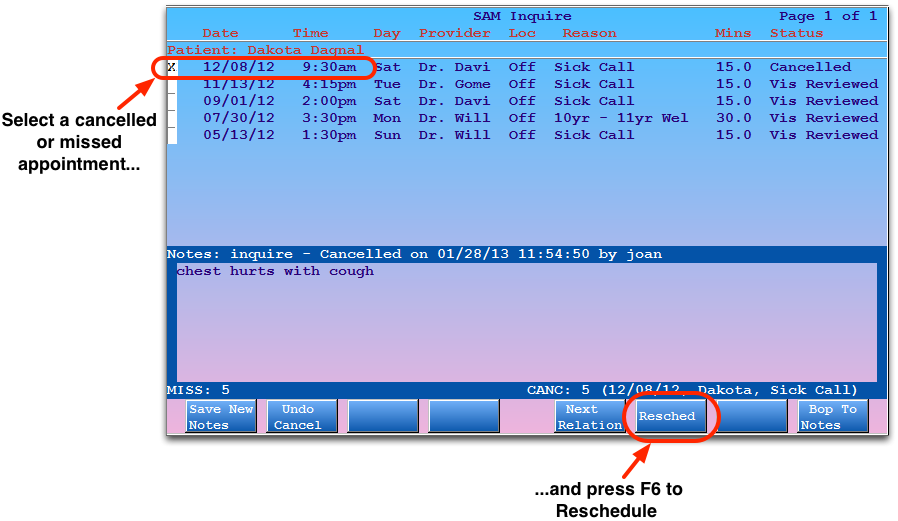 After rescheduling, Partner will remember and report that the appointment was canceled or missed, but the Status column in inquire will also indicate that the appointment was rescheduled.
The new Rescheduled status paves the way for better notify and TeleVox integration features coming later this year.
ADD/ADHD Patient Follow-up Trends (PCC Practice Vitals Dashboards)
The ADD/ADHD Patient Followup dashboard section now shows a trend graph, allowing you to track your followup percentile over time. You can also click to download that data for a spreadsheet.

For information about logging in and using your Practice Vitals Dashboard, read the online documentation.
Other Feature Improvements and Bug Fixes in 6.13
2013 RBRVS Values: The SRS reporting tool in Partner now includes the 2013 RBRVS values for reporting and rate evaluation.

Under-the-Hood Backup Tool Improvements: You won't see any changes in this release, but Partner's backup system now supports new backup solutions. PCC can backup your Partner and PCC EHR data to NAS storage devices that we provide, in addition to tape backups. Stay tuned later in 2013 when we introduce new backup solutions.