In January of 2013, PCC will release Partner 6.12, expanding our automated notification tool to include account balance notifications and adding a new section to PCC's Dashboard Reporting tool.
Contact PCC Support at 1-800-722-1082 for information about these or any features in Partner.
Watch a Video: Want to watch a video summary of everything in this release? CLICK HERE.
Overdue Personal Account Balance Notifications
You can now create overdue account notifications that will automatically inform families when they have an overdue balance.
In the Patient Notification Center, you can create one or more Overdue Personal Account Balance notifications, and specify criteria.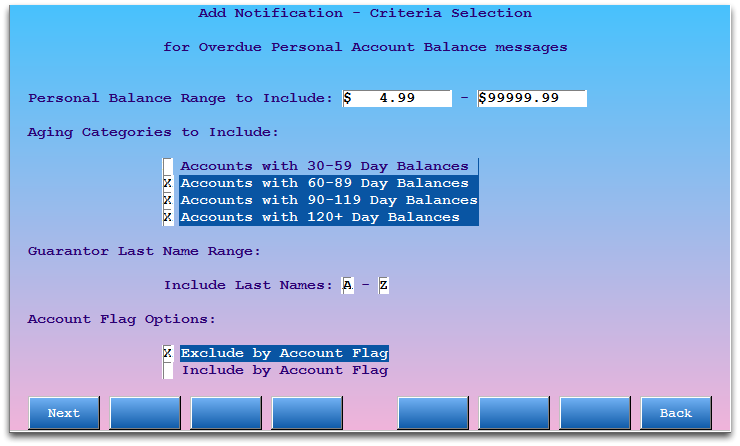 While creating or editing the notification, you can set a personal balance range, an aging category, and even limit delivery based on last name. The notify program also guides you through including or excluding families by account status flag. As with other notifications, you can set how often the notification will be sent and choose delivery methods.
After creating a notification, Partner will use TeleVox to deliver phone, e-mail, or text messages that remind guarantor accounts that they have an overdue balance. To learn more, or to get started with notify at your office, read the Patient Notification Center help articles.
Family Messaging Option for Notifications
The Patient Notification Center can use TeleVox to automatically delivery reminder messages to all patients with scheduled appointments. But if a family has more than one sibling scheduled for an appointment on the same day, they might receive two messages in a row.
Partner's Patient Notification Center can now be switched to Family Messaging. Call PCC Support and ask for the configuration change, and we will adjust TeleVox settings so families will only get one message a day.
ADD/ADHD Patient Follow-up Report (PCC Practice Vitals Dashboards)
PCC's dashboard reporting tool now includes an ADD/ADHD Patient Follow-up report.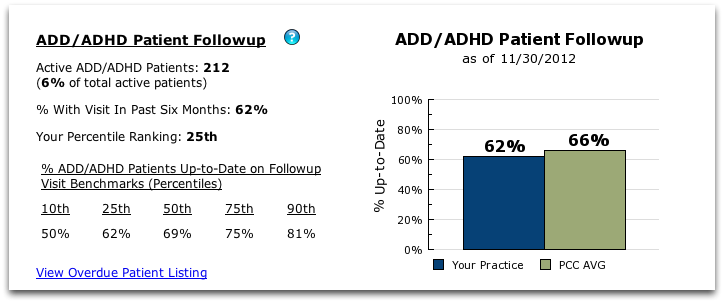 You can see total active patients with ADD/ADHD diagnoses, the percentage of all active patients, and benchmark comparisons for meeting the recommended regular six-month medication checkup.
The Overdue Patient Listing displays the ADD/ADHD-diagnosed patients who have not visited your practice in six months and may be in need of a medication checkup. It also includes the next date and reason for a Scheduled appointment, helping your practice make more informed callbacks.
For more information about logging in and using your Practice Vitals Dashboard, read the online documentation.
Other Feature Improvements and Bug Fixes in 6.12
Better E-Mail Parsing: The E-Mail field in the Family Editor (fame) is designed to hold one e-mail address with no additional characters. If additional characters are entered or multiple e-mail addresses are typed into the field, Partner will now attempt to parse the first available e-mail address. If your practice wishes to regularly record e-mail notes or additional e-mail addresses, contact PCC Support for help setting up an additional, custom field in fame.

Better Multiple-Database Support: Under certain conditions, the notify system did not work well for practice's with multiple Partner databases. It now does.

SRS Scheduling Reports and PCC EHR: Some appointments created on-the-fly in PCC EHR did not appear in Partner's SRS scheduling reports. They now do.