In November of 2012, PCC will release Partner 6.11, expanding our automated notification tool to allow specification of alternative contact methods and infrastructure improvements for future features.
Contact PCC Support at 1-800-722-1082 for information about these or any features in Partner.
Improved Notification Delivery Method Control
You can now use the Patient Notification Center to create notifications that will use a specific delivery method, such as the custodian home phone or family e-mail address. You can also configure what contact information Partner should send to TeleVox if the desired delivery method is unavailable in the patient or family record.
Choose Delivery Methods for a Single Notification
When you configure a notification in the Patient Notification Center, you can set preferred and alternative notification delivery methods.
For example, you may want a special reminder text message sent to each matching custodian's cell phone number, if you have it in their Partner record. If the custodian cell phone number is unavailable, you want a notification called to the family's home phone number. You can now enter that information in the Patient Notification Center, while adding or editing a notification.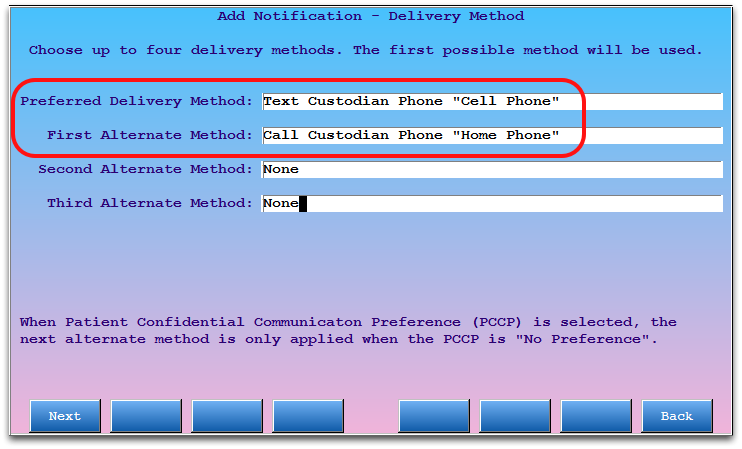 After your 6.11 update, you should review your existing, active notifications and double-check the preferred and alternate delivery methods.
Patient Preference Can Stop Delivery: If a notification uses Patient Confidential Communication as the preferred delivery method, Partner will only use an alternate method for a patient if their confidential preference is set to "No Preference".
Set Your Practice's Default Delivery Methods
In addition to setting the delivery methods for a specific notification, you can also set your practice's defaults in the Configuration Editor (ced).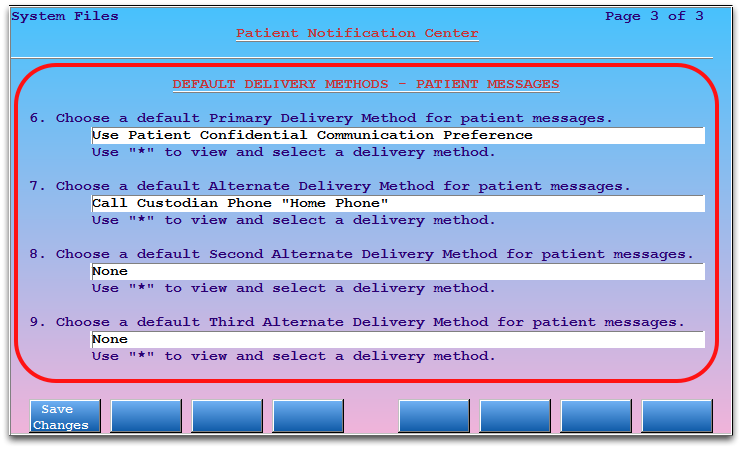 By specifying the default delivery methods, you can control what contact information Partner will send to TeleVox for a notification. Settings for specific notifications will override the default.
Set Home or Other Custodian Phone: Before Partner 6.11, if a patient's Confidential Communication Preference was set to "No Preference", the Patient Notification Center selected the first custodian phone number with the word "Home" in the title. In Partner 6.11, you can use the Default Delivery Methods questions or the deliver method selection in notify to pick exactly the custodian phone number(s) you want Partner to send to TeleVox. The new default is the first available number.
Privacy, HIPAA, and Meaningful Use: If you choose to use a delivery method other than the patient's confidential communication preference, consider whether or not the content of your notification could violate HIPAA or interfere with your ability to meet Meaningful Use guidelines to qualify for the ARRA program.
Partner and PCC EHR Scheduling Integration Changes
If your office uses PCC EHR, you will notice scheduling integration improvements after your Partner 6.11 update. Read the PCC EHR 6.11 Release document for more information.
Other Feature Improvements and Bug Fixes in 6.11
Flag Sync Without Editing: If your office uses a special Partner configuration tool to automatically set flags for some patients and accounts, you no longer need to edit the patient or account to sync those flags with your EHR. Partner will now automatically update PCC EHR or other EHR vendors.

Notifications By Location: When creating a new notification, it is now clearer that location-based reminders utilize your TeleVox configuration and not your practice's place of service configuration.

Infrastructure Work for CARC Codes and Secondary Claims: PCC completed underlying database work to allow Partner to record and retrieve all CARC code information. This under-the-hood work is a step towards electronic submission of secondary claims, coming in 2013.