In September of 2012, PCC will release Partner 6.10, introducing a new logging tool for patient notifications.
Contact PCC Support at 1-800-722-1082 for information about these or any features in Partner.
Notify Activity Log
The new Notify Log (notifylog) program displays a detailed log of notifications sent with Partner's new Patient Notification Center.
You can reach the Notify Log by pressing F8 – View Log from within the notify program, or by typing notifylog at a command prompt.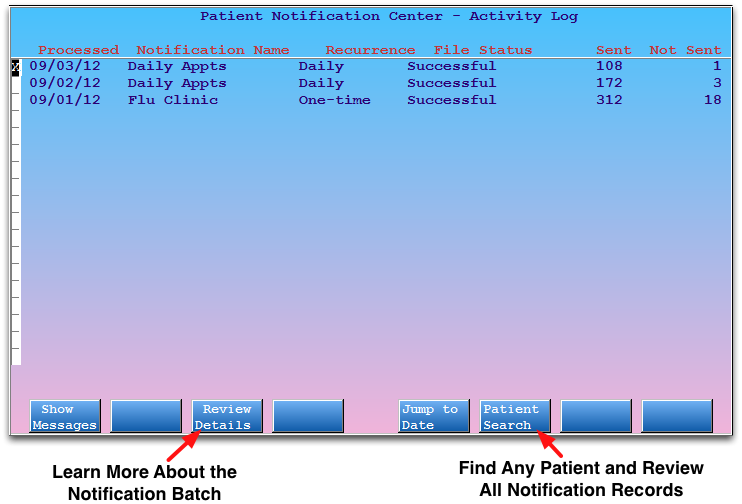 You can quickly review when each batch of notifications was sent, whether or not it was successful, and how many notifications went to the TeleVox system.
Select any notification and press F3 – Review Details to examine the batch in more detail. If there were any matching patients who were not sent a notification, or if the batch failed, you can review why.
You can also press F6 – Patient Search to search for a patient and review their notifications. This feature comes in handy when a patient deletes or mishears their notification and calls the office for more information.
Other Feature Improvements and Bug Fixes in 6.10
Registered User or Connection Error: If your office is registered to use the Patient Notification Center, you will no longer see a registration error if your system is encountering a network error instead.

Update Sibling Information Upon Checkin: Partner can now update the account record information for third party EHR vendors when that information is updated for a patient during checkin. If you use OP or another third-party EHR, contact PCC Support to learn more about this feature.

Changing a Patient's Last Name: After changing a patient's last name, sometimes the ability to search for the patient by the new last name was not available immediately. Now the search database updates as soon as the new last name is saved.