Order a Lab, Procedure, Supply, or Other Order
While performing an exam or charting a visit, a provider may need to request a nebulizer treatment, provide a handout, or order a lab. The procedure below shows how to create orders.
Open a Patient Chart
Double-click on a patient chart or use the Find field.
Jump to the Desired Section of the Chart Note (Labs, Medical Procedures, etc.)
If the patient has an appointment, the chart note buttons include a direct link to the "Labs" or "Orders" section of the chart note for the order you need.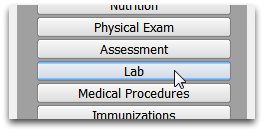 Note: If the visit does not include the type of orders you need, you can select Edit–>Add Protocol from the menu and add a "General Sick" or other template that will include Labs.
Note: If the patient has no appointment, you can click "Create Visit" and select a visit reason in order to start a chart note and request a lab or other order.
Click Order
Click "Order" next to the order you need. Or, begin typing in the blank pull-down and then select the order and click "Order".

You can work with PCC Support to customize the list of labs and other orders available for each chart note protocol.
Snap Labs: Some orders may be "Snap" orders, which pop in several orders with a single click. For more information, read the Lab Configuration guide.
Immunizations: You can order immunizations just as you would any order. The patient's immunization record, and optionally an Immunization Forecasting section, appear inline to help you determine what immunizations are needed. Your custom chart note may list common immunizations for today's visit. Also, a special VFC section will provide patient information and let you enter the patient's VFC eligibility for all the immunizations in this visit.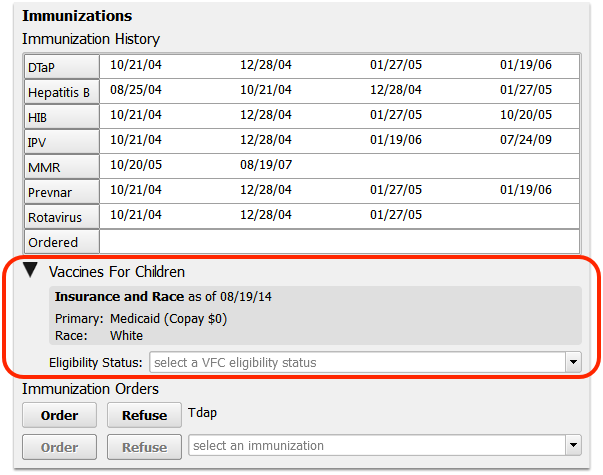 Optional: Click "Edit" to Edit Order Details
Click "Edit" to change your order defaults, add details or make the order more specific.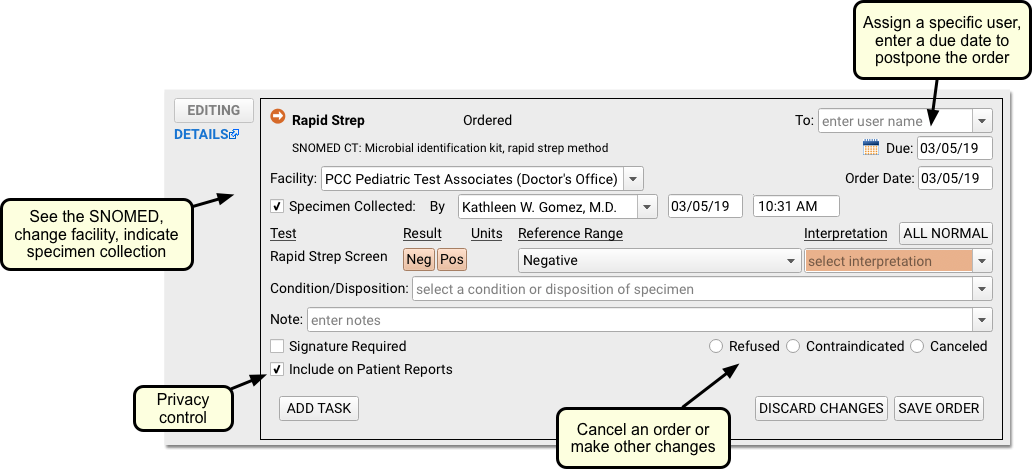 You can change the order date and enter notes. You can assign a specific user or user group to complete the order, and you can enter other information (such as specimen collection information, lab facility, or results) immediately, if applicable. For example, immunization orders include details about VFC, VIS, whether a shot was administered or refused, and other options.
For each order, you can also turn on or off three important status items.
Signature Required: The order will appear on the signing queue for clinician review.

Canceled: The order is canceled. It will not appear on any task queue or the Edit Orders window, but the canceled order will still appear (as canceled) on the chart note.

Include on Patient Reports: The order will appear on patient reports and will be available in MyKidsChart, the patient portal. Deselect this box to make the order "confidential", and only visible within PCC EHR.
Optional: Add or Edit Order Tasks
Labs and other orders may include tasks. While editing an order, click "Add Task" to create a task for that order.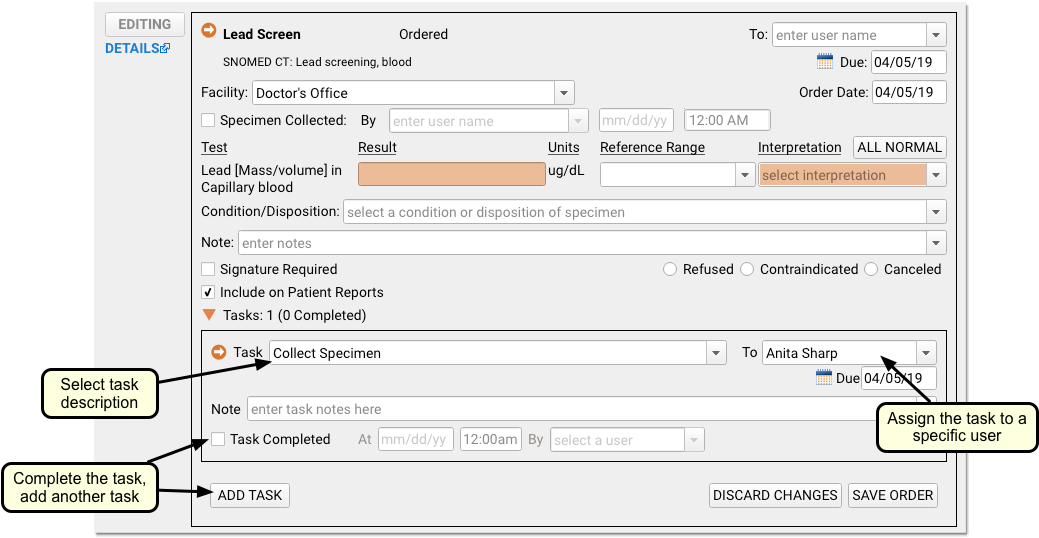 Choose a task name from the customizable drop-down list, and optionally assign the task to a specific user. (All tasks must have a task name, a user, or both.) Your practice can customize which users may be assigned tasks in the User Administration tool.
Tasks appear wherever the order appears, and show up on the Visit Tasks queue.
Tasks are optional. Your practice can use them to indicate that a nurse should collect a specimen, a physician should review results, or a staff member should prepare a handout. However, labs with discrete test results have a built-in Lab Order task that appears on the Visit Tasks queue automatically. Your office may decide it doesn't need an additional task to know that labs are complete.
Default or "Sticky" Tasks: When you add a task to an order, PCC EHR remembers it. The next time you create the same order, that task will appear automatically. This is called a "sticky" task. PCC EHR remembers sticky tasks per order, per user, so if your office is using a new type of order for the first time, each clinician may need to add the Collect Specimen task (for example) the first time they create that order.
Remove a Task, Remove a Sticky Task: You can remove any task by blanking out the "TASK" field and the "TO" field and saving the order. If your office decides to no longer use tasks for a particular order, each ordering clinician can blank out those fields the next time they place that order to remove the default sticky task.
Who Can Be Assigned Tasks?: You can customize whether a user can be assigned tasks on the Account Information tab in the User Administration tool. For example, you may want to grant all nurses the "Tasks can be assigned to this user" attribution, or you may want to remove the attribute for nurses who do not complete orders.
Optional: Fulfill Order Immediately
You can click "Edit" and complete an order (by entering test results or completing order tasks) immediately, as soon as you order it.
You can also find your order tasks on the Visit Tasks queue, and all users can open a list of today's orders using the Tasks column on the Schedule screen.