Your office can use a flu clinic to immunize your patient population quickly and efficiently.
Partner's tools for patient recall, scheduling, patient management, and checkin and checkout can make your flu clinic more successful and easier to run. The sections below describe PCC's "best practices" for using Partner software to improve your flu clinic. Not all of these ideas will apply to your office and your flu clinic, but the items below will help you customize Partner to your workflow.
Contact PCC support at 800-722-1082 to learn more about any of the tools and procedures described.
H1N1: For information about H1N1 Vaccines and Partner configuration, H1N1 Vaccines and Partner
Plan Ahead
A successful flu clinic requires planning and advertising, and you may need to configure your Partner tools for the task. Be sure and plan your flu clinic several weeks or a month in advance, if not longer.
Here are some tips and questions to ask while planning your Flu Clinic:
How many patients do you expect? You can use the Patient Recaller (recaller), or procedure-based reports in srs, to figure out how many patients received flu shots last year or during any date range. While you may plan to increase the number of patients you immunize through advertising and outreach, your numbers from previous years will provide a good baseline. These numbers can also help you estimate how many flu vaccines to order.
Decide ahead of time whether you wish to appeal to just your regular patients, their families, or the general public. If you plan to expand from your patient base, you will need to decide whether you will bill insurance companies or work on a cash-only basis. Will you create new patient and account entries for walk-in patients?
If you use Partner to schedule the flu shots or use encount to produce encounter forms, Partner can also generate VIS forms and your practice policy form for new patients and families. Partner can also produce a different, custom encounter form for the flu shot visit reason, which can speed up your workflow on the day of the clinic. Spend some time reviewing your forms before you get started and decide what you will need.
Do you need PCC Support's help revising forms, setting up checkout screens, or adjusting your scheduling configuration? PCC support can help you prepare for your flu clinic, but some configuration projects can't be completed in the same day. Give PCC a week or two of notice, and we'll be able to help you much better.
Decide How to Schedule
You can use the Partner Scheduler (sam) to give flu clinic appointment openings to patients, or you can open the office and give first-come-first-serve slots, using encount. Whether you use sam or encount, you may find it useful to set up the program's defaults for the day.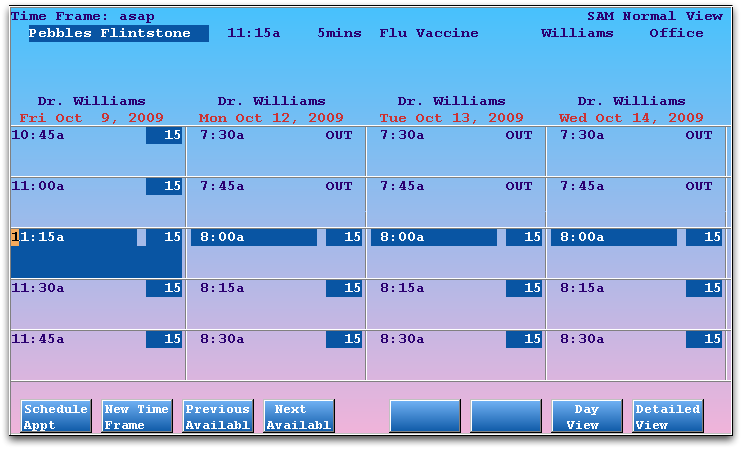 For example, if your default visit reason in encount is "Sick Visit", you could change it to "Flu Shot Visit" for the duration of your clinic.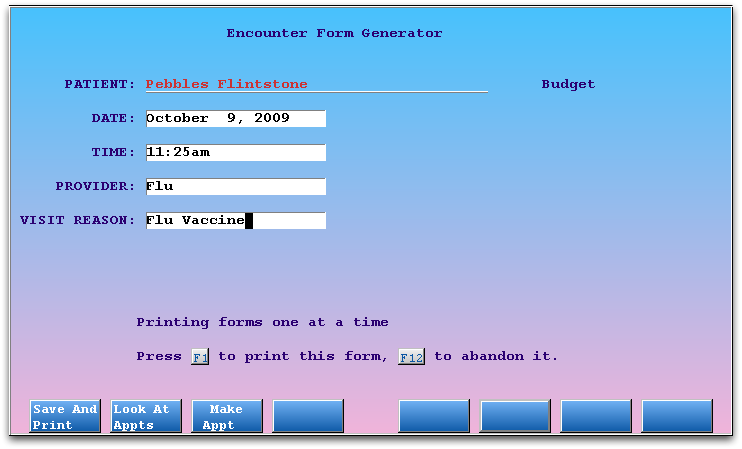 Set Up Providers and Hours
During a flu clinic, your practice may want to schedule (or create encounter forms) for a "Flu" provider, and then switch to a real billing provider during checkout. Or, you may decide to schedule each provider normally, based on who will be on duty.
Optional: Create a New Flu Provider
You can create a new provider entry using the Providers table in the Table Editor (ted). Press "c" to clone an existing provider, and then fill out the relevant information.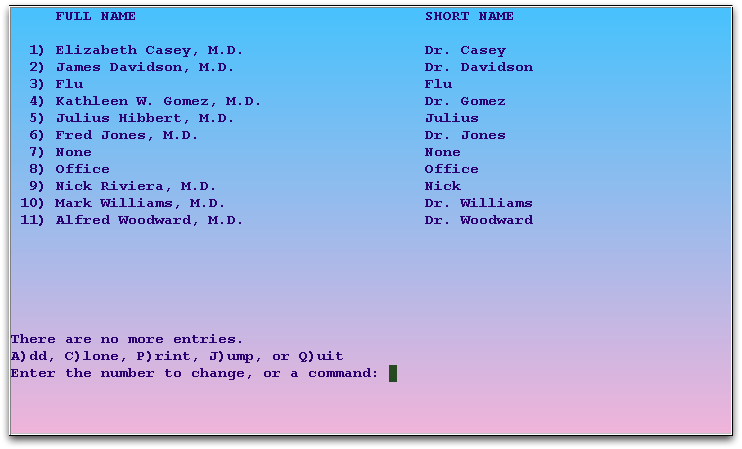 If you are billing an insurance company for a flu shot, you should enter a billing provider in the upper-right hand corner of the Charge Posting screen in checkout. Insurance companies will reject charges billed for "Dr. Flu". Your billers can change the billing provider later, in the Correct Mistakes (oops) program, but it is better to train your front desk staff to fix the provider during checkout. If you wish, you can use the Provider Identifiers (provids) program to adjust what name and ID numbers will appear on claims.
Set Up Provider Hours for the Clinic
If you are going to schedule the flu shots, you should add hours in the schedule for your providers (or your new "Flu" provider).
Run the Provider Calendar (scrod) Program
Choose the Provider and Date
Press F4 to Enter "Strange Hours"
Enter the Working Hours for the Clinic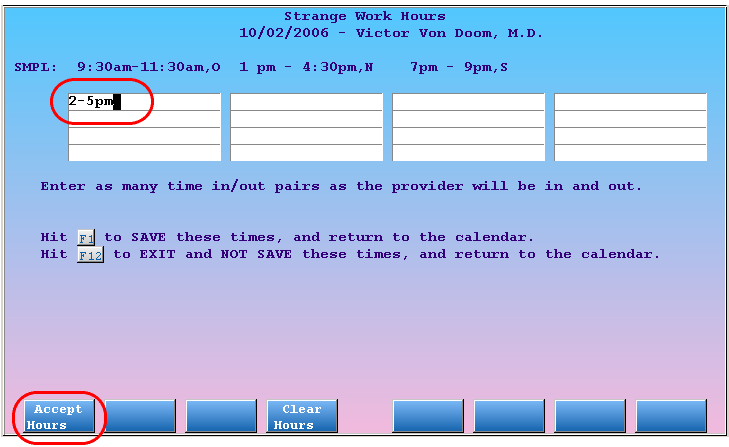 For a full guide to the scrod program, read the Partner Schedule Configuration help articles.
Create a Flu Visit Reason
When you schedule (or create an encounter form) for a flu shot, you will need a visit reason. You can create a flu visit reason in the Reasons for a Visit table in the Table Editor (ted).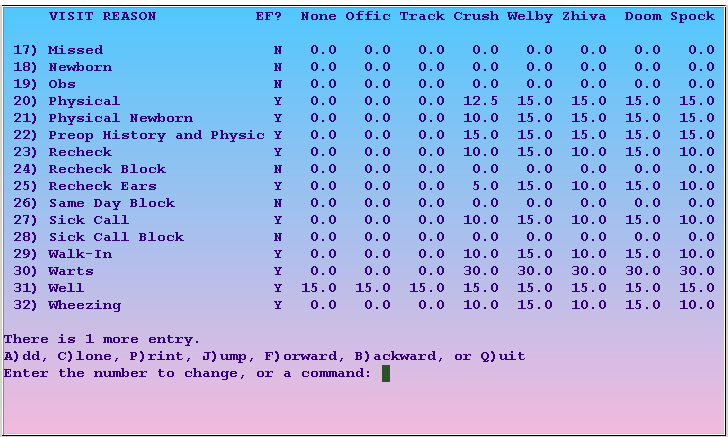 Press "C" to clone the Sick Visit entry, and then rename your new entry. Change the visit lengths for each provider.
Note: The minimum visit reason time is 2.5 minutes.
Update or Create Procedure CPTs
Stay up to date on the latest diagnosis and procedure codes for various flu vaccines and the reporting guidelines from your state and your carriers.
You can adjust your Partner configuration by editing the Procedure table in the Table Editor (ted). Remember to always create (or clone) new procedures; never erase or write over an existing procedure.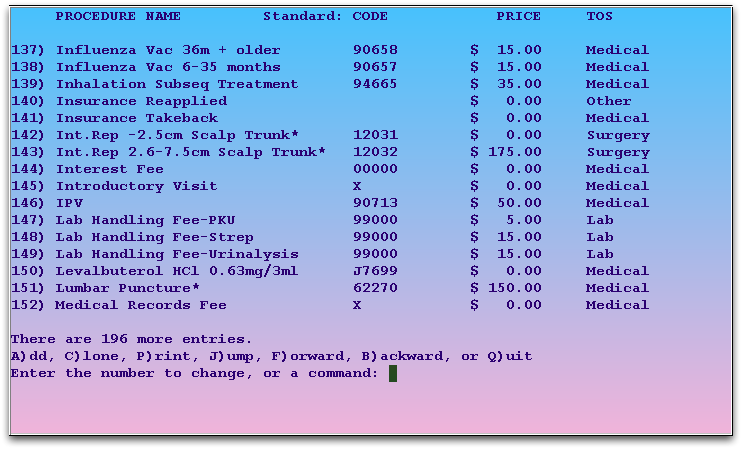 New Codes in 2009
In 2009, the AMA adjusted and created new flu vaccine codes. Two recent updates include:
90470: H1N1 immunization administration (intramuscular, intranasal), including counseling when performed

90663: Influenza virus vaccine, pandemic formulation, H1N1
In addition to the new procedure codes, there are also new ICD-9 diagnosis codes, such as:
488.1: Influenza due to identified novel H1N1 Influenza Virus

488.0: Influenza due to identified avian influenza virus
The above list is a sample and may not include all recent procedure and diagnosis code updates.
H1N1: For information about H1N1 Vaccines and Partner configuration, H1N1 Vaccines and Partner
Immunization Records and Registries
When you add a new immunization to your PCC system, you may need to adjust how Partner collects procedures and stores them in the immunization and disease record. Contact PCC for assistance.
If you use PCC's immsreg integration to submit flu vaccine information to your state registry, be sure and contact PCC about updating your Immunization and Disease table to ensure that new procedures show up in the patient's vaccine record.
Flu Clinic: Create Forms and Workflow Tools
What forms would make your flu clinic run more smoothly? Could minor changes to your existing tools help you process clinic patients faster? Partner can generate custom encounter forms and associated materials for you, as they are needed.
Many practices print an encounter form or "superbill" for each appointment, which they attach to the chart. Along with an encounter form, Partner can generate policy forms, immunization records, custom handouts, or other items that may be useful to a patient or family, or that may ease the workflow of your busy office.
For example, do you provide each family with a Vaccine Information Statement (VIS)? Partner can generate the VIS automatically, on a form with the patient's information. You may also wish to create a simplified, customized encounter form for the "Flu" visit, which displays only the immunization and the immunization administration codes.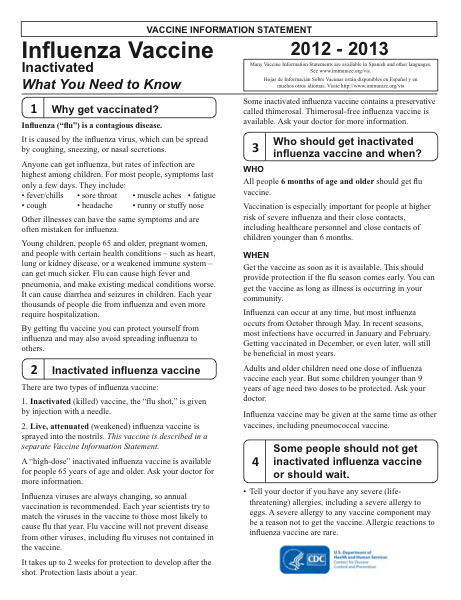 All of these adjustments are simple to make, but they take time. As indicated above, PCC Support can help create and configure these tools, but be sure and plan ahead and make your requests to support with plenty of advance notice.
Download the CDC's Flu Vaccine VIS Forms
Sample Flu Clinic Form
Partner can generate custom forms, including encounter forms and policy statements. You can generate these forms automatically based on scheduled visit reasons at the beginning of the day (or days before).
For a flu clinic, you might wish to combine patient information, screening questions, and a policy signature line on a single form. Working with Randy, a PCC support specialist, Veronica of Pediatrics Plus in Louisiana developed a single form to do just that.
Pediatrics Plus now uses this form, along with a sticker with lot #, manufacturer, and expiration information, for their flu clinics.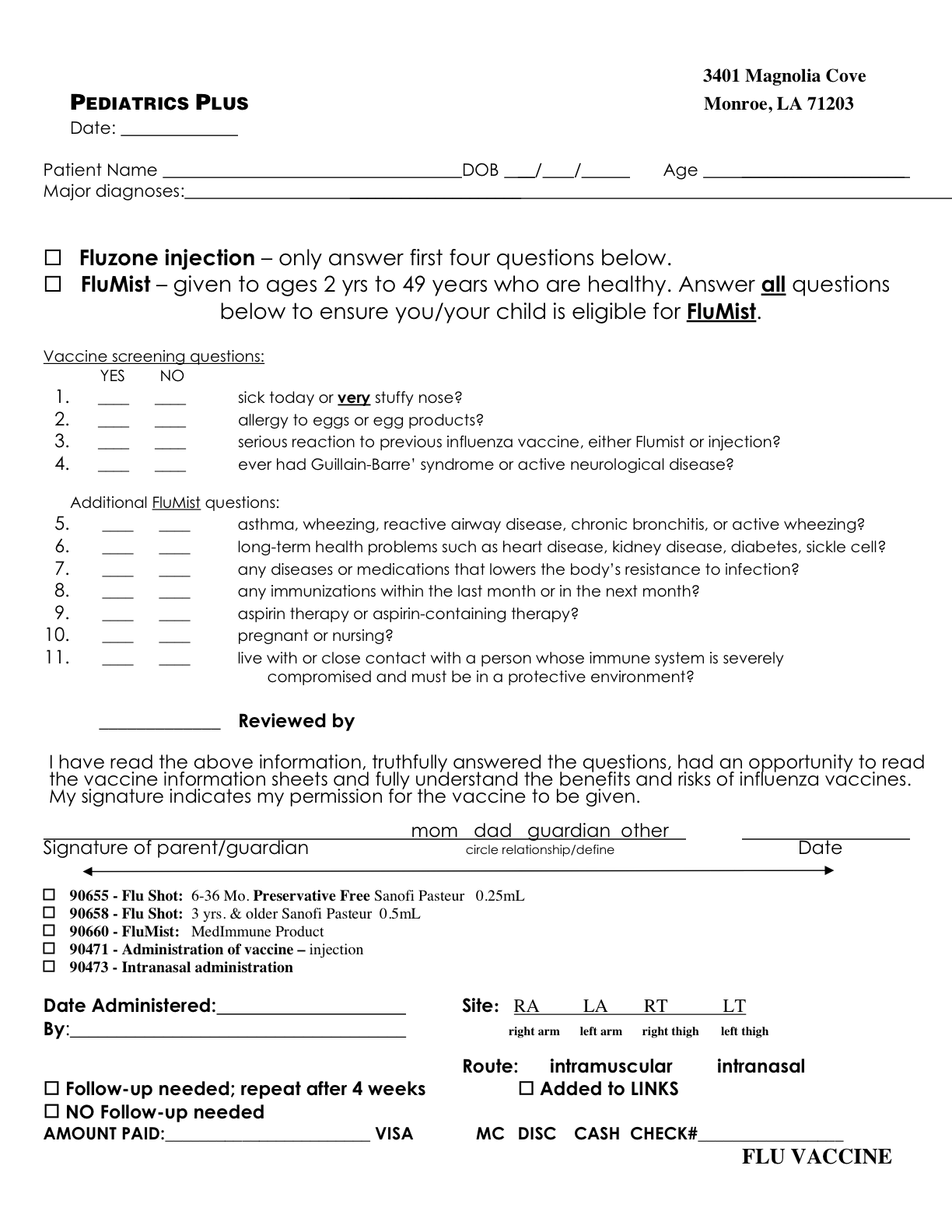 Adjust Your Checkout Process
You may need to adjust your checkout and charge posting process to help your office process flu shot visits. Will you be billing insurance companies for the flu shot and associated administration fees, or will patients and families pay cash?
Partner's checkout program displays a custom charge screen for each unique visit reason. You can work with PCC Support to create a Flu Clinic screen filled with only those items that are needed for the clinic. If you give different kinds of flu vaccines (nasal, injection), you can have both of them on your checkout screens for easy selection.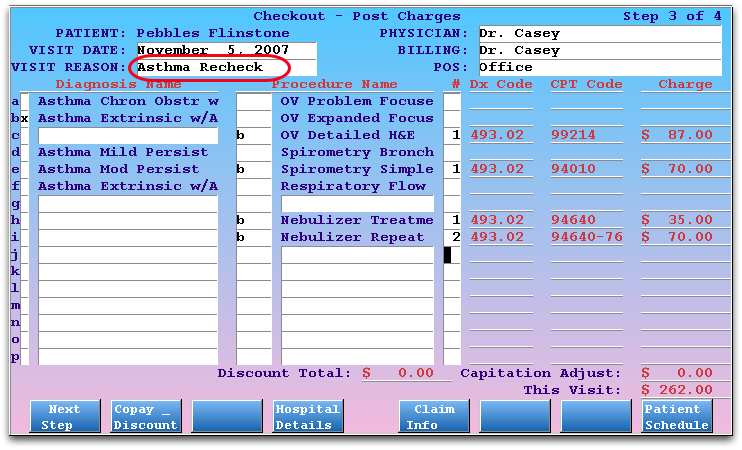 If you plan on billing insurance companies, remember that they require a registered provider on the claim. If you schedule all patients for a "Flu" provider for easier processing, then either your checkout staff needs to enter the correct provider during checkout, or you need to adjust the provider name and ID# for the Flu provider using the provids program. Work with PCC Support to explore your options.
Use Recaller to Notify Patients
Run the Patient Recaller to create lists of patients and send out mailings. The recaller can find all patients in a specific age range, find all patients who have had certain diagnoses (like asthma), or find patients based on a combination of criteria.
Note: Practices frequently use the "last appointment date" criteria in recaller to limit the list of patients to those who have visited within the last three years.
After creating a list of families and patients, you can create mailing labels, form letters, or output a customizable call list.
For an introduction to the recaller, watch the Patient Recaller Training Video. Or, you can read step-by-step instructions in the recaller help section.
Tips for During the Flu Clinic
When the big day arrives, keep these tips in mind. If you have more suggestions or ideas to share, send them to us at support@pcc.com.
Use the scan and chart reports during the day to see the list of patients.
Create fame and notjane records for new patients and family members.
The imms school form indicates the last 10 flu shots, depending on your configuration settings.
Schedule surprise siblings and family members, too, so they get the appropriate encounter form and can be checked out and billed properly.
Links and Other Resources
You can learn more about flu vaccine and flu clinics at the following sites: