The second page of fame is the dependents screen. It displays all patients related to the account, and contains tools for adding and editing patient information.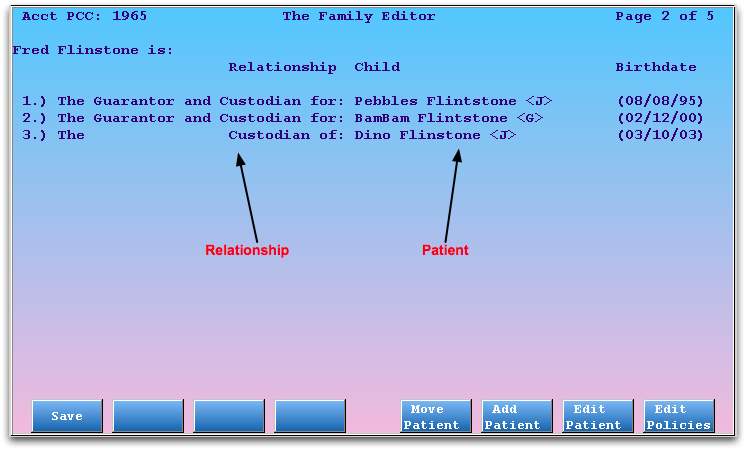 The list of family members includes any patients who have this account as either a guarantor, a custodian, or both. The relationship to the patient is described on the left, and the patient's name and birth date appear on the right. The initial next to the patient's name indicates their primary care physician, if one is assigned.
Function Keys
F1 – Save
Press F1 to save any changes and quit the Family Editor.
F5 – Move Patient
Press F5 and select a patient to reassign them to another account.


You will be prompted to find an account and then asked if that account should be the guarantor, custodian, or both for the selected patient.

F6 – Add Patient
Press F6 to add a patient to the account.

If the patient is not already entered into your system, you can add them during the procedure. After finding or adding the new patient, you will be asked if the current account should be the guarantor, custodian, or both for the patient.
F7 – Edit Patient
Press F7 and select a patient to run the Patient Editor (notjane) for that patient.
F8 – Edit Policies
Press F8 and select a patient to view the Insurance Policies screen for that patient.