When you press F1 – Post and Print from the Payments screen, checkout saves the information you have entered, may print a receipt or ask if you want one printed, and shows you a wrap-up screen. Once you see the Wrap Up screen, the visit has been posted and saved.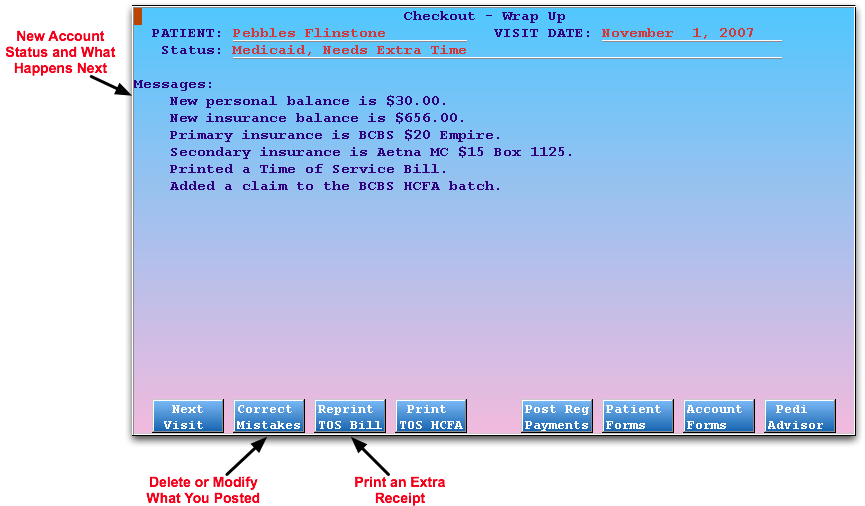 The wrap-up screen displays several simple-English messages: the new personal and insurance balances, and insurance and claim submission information.
You can perform a number of useful functions on the Wrap-Up screen.
Function Keys from the Wrap-Up Screen
F1 – Next Patient
Press F1 to return to the appointment list and pick a new patient.
F2 – Correct Mistakes
Press F2 to run oops, the Correct Mistakes program. In oops you can delete charges and payments, change the responsible party for charges, change diagnosis information for procedures, and perform many other functions. Read Correct Mistakes ([prog]oops[/prog]) to learn more.
F3 – Reprint TOS Bill
Press F3 to generate an additional receipt. Some practices do not print receipts by default, in which case press F3 to print the first receipt.
Last Chance: The receipt is a formal record of the transaction and the payment. Once the Wrap-Up screen has been cleared, there is no way to regenerate a receipt. You can instead generate an account history for a single day (tater), a Collection report, or a personal bill.
F4 – Print TOS HCFA
Press F4 to print a HCFA form for the charges you just posted. Your practice may generate a HCFA for patients who have an insurance plan with which you do not participate.
F6 – Patient Forms
Press F6 to jump to the patient form-letter page.
F7 – Account Forms
Press F7 to jump to the account form-letter page.
F8 – Pediatric Advisor
Press F8 to run the Pediatric Advisor program. Pediatric Advisor is a library of handouts on various medical issues. Your office may not have the Pediatric Advisor program installed.