Checkout Post Charges Screen Details
After you select an appointment and complete other optional checkout steps, you will see the Post Charges screen.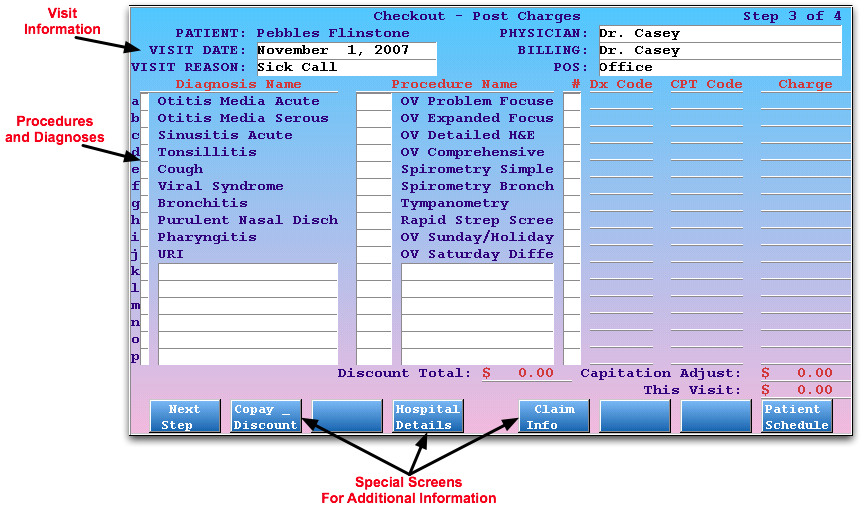 On the Post Charges screen, you can edit the appointment's date, provider, place of service, diagnoses, procedures, and the number of units performed. Partner will fill out some or all of that information for you, either from information in the appointment record or from your practice's EHR.
Function keys on the Post Charges screen open special screens for adding additional visit information or scheduling a new appointment.
Review and Update Visit Information
If a visit was scheduled in PCC EHR or Partner, checkout will automatically fill out visit information fields. For example, in the above image, PCC knows that Pebbles Flintstone is seeing Dr. Casey on November first for a Sick Call visit in the main office location.
If the patient has no appointment, or if the basic visit information has changed, you must fill out the Physician, Visit Date, Visit Reason, and Place of Service ("POS") fields in order to post a charge. You can use abbreviations or the asterisk (*) to find entries quickly.


Supervising Physician: You can enter a supervising or "Billing" physician in addition to the primary physician for a visit. If a visit was scheduled with a nurse or an unaccredited physician, the "Billing" physician could replace or accompany the provider of service on the insurance claim. Contact PCC for assistance configuring these options, which can be set differently for each insurance company.

Review and Enter Diagnoses and Procedures
You can use the Post Charges screen in checkout to review and update the diagnoses and procedures for a visit.
Diagnoses and Procedures from Your EHR
If your practice uses an integrated EHR, you will automatically see all the diagnoses and procedures sent to Partner by the charting software.
You can review and update the codes, units, prices, and other information before you post the charges and batch an insurance claim.
Enter Diagnoses and Procedures Manually
If you do not use an integrated EHR, your practice can create custom charge screens for each visit type (or provider or office location), and checkout will display the most common and useful codes for each appointment. You can quickly enter diagnoses and procedures as they appear on a paper encounter form, for example.
If a diagnosis or procedure is not visible on the screen, you can use abbreviations and asterisks to search for the item in any available blank field.

You can also enter diagnoses or procedure codes and Partner will look up the names for you.

Other Features for Entering Procedures and Diagnoses
The Charge Posting screen in checkout has many other powerful features for entering procedures and diagnoses.
Snap Codes: You can type one of your office's custom Snap Codes to automatically enter a set of procedures and diagnoses and link them. Learn how to setup and use Snap Codes in the Snap Codes guide.

More Procedures than Will Fit On the Screen: If you run out of room while posting procedures, you can press F3 – Additional Procedures to toggle to a second list.

Out of Room for Reading Long Diagnosis Descriptions: If you can't read all the text for a long diagnosis description, you can press F6 – Show Dx Names to view the Diagnosis column in full-screen mode. From that screen, you can review and edit diagnoses and then press F1 – Save to return to the normal view.

Change Visit Reason On-the-Fly: You can enter a new visit reason to switch to a more useful list of diagnoses and procedures. If a physical visit turns into a sick visit, for example, you can change the text in the Visit Reason field and the lists of diagnoses and procedures will change to reflect the new visit.

Switch Between ICD-10 and ICD-9: The checkout program will automatically switch to ICD-9 or ICD-10 diagnosis descriptions based on the date of service. If a visit date is entered incorrectly, you can adjust the date and checkout will switch back to the other code set.

Compliant Diagnoses Code Checking: If you enter a diagnoses code that is not HIPAA compliant or is an expired billing code for the date of service, the code will turn red on your screen and you will receive a warning message when posting it. With Partner's diagnosis code validation, your office will not waste time and resources resubmitting claims due to expired diagnosis codes.

Post a Missed Visit: You can use checkout to post a Missed Appointment procedure with or without a fee. Partner can then automatically mark the appointment as missed in your schedule. For assistance configuring a Missed Appointment procedure, contact PCC Support.
Link Procedures to Specific Diagnoses
As you review and post charges, you should indicate which diagnoses apply to each procedure. A clinician or biller may have indicated that in the EHR, but you can also specify it on the Post Charges screen.
Enter the letters of each diagnoses into the fields next to the procedures they warranted. For example, the letter "h" is used to indicate why the Urinalysis procedure was performed:

You can link up to four different diagnoses to each procedure. A high-level sick visit, like a 99214, may need two or more diagnoses attached to it:

Other Features for Linking Diagnoses and Procedures
The Charge Posting screen in checkout has many other powerful features for linking procedures and diagnoses.
Snap Codes: You can type one of your office's custom Snap Codes to automatically enter a set of procedures and diagnoses and link them. Learn how to setup and use Snap Codes in the Snap Codes guide.

Skip The Diagnoses: You can save time while posting by simply marking procedures with the letter next to the diagnoses. In other words, you do not have to manually "X" off each diagnosis, just use the associated letter on a procedure and Partner will know what diagnosis you intend.

Fix Diagnoses After Posting: Once a procedure is posted and saved, it is part of a patient's financial and medical record. Diagnoses are more flexible. You can change which diagnoses appear on a claim and how they link to each procedure from the Visit Status screen in the Correct Mistakes ([prog]oops[/prog]) program. After making such changes, you should re-batch the claim.
Set Multiple Procedure Units
The Units field in checkout indicates how many of each procedure will be billed. If you increase the number of units, you will see the corresponding charge for that procedure automatically increase in the Charge column.

In the above example, three "repeat" nebulizer breathing treatments were performed. When the unit number was changed from 1 to 3, the New Charge increased. Both the number of units and the final price will appear on the insurance claim.
Upper Limit: You can post up to 999 units of any procedure, matching the HCFA claim standard of three digits.