Checkout Copay and Discount Screen
After you enter diagnoses and procedures in checkout, press F2 – Copay & Discount from the Post Charges screen to open the Copay & Discount screen.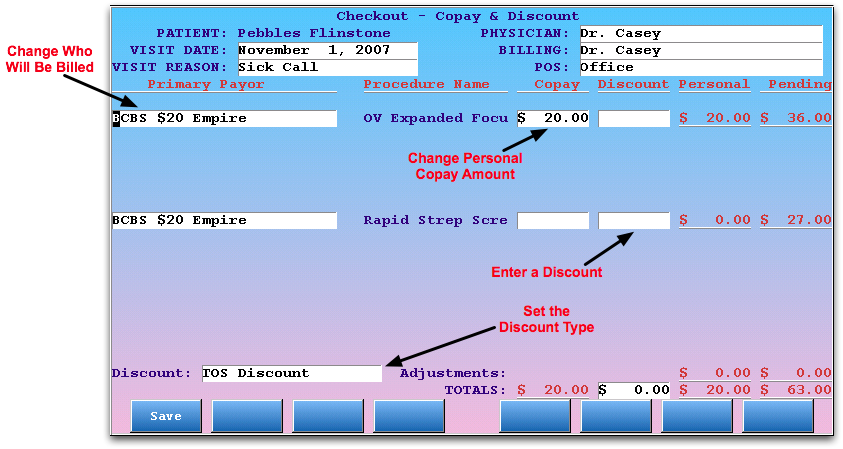 On this screen, you can:
Enter a new expected copay amount for each procedure or erase the current expected copay. This may be necessary for insurance policies that have unusual copay rules.

Assign a different Primary Payor to a charge. You can change the responsible party for a procedure to a different insurance policy. Leave the Primary Payor blank in order to charge the patient's guarantor instead of an insurance plan.

Enter a time-of-service discount for each procedure and change the discount type. Your office may mark down the cost of procedures for Professional Courtesy or other reason. You can enter a discount amount or a percentage.

If you enter a discount on this screen, it will appear on the Payments screen.
When you are finished changing copays or other items on this screen, press F1 – Save to return to the Post Charges screen and finish posting the visit.
Automate The Copay: Many unusual copay rules can be automated. If an insurance plan requires a different copay depending on the OV or physical procedure, Partner can adjust the copay automatically. Contact PCC Software Support to learn more.