Advanced Criteria Screens
Many Partner reports have options on the initial screen that will cause other configuration screens to appear before the report output is generated. With these options, you can include or exclude large amounts of report data and make a report more useful. The main option screen asks a criteria question, and the subsequent screens ask the user to fine-tune that criteria.
For example, the ira option screen includes a series of yes/no questions: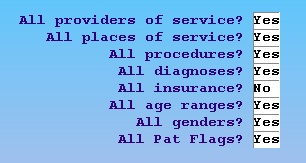 The Patient Recaller (recaller) option screen contains a long pick-list of possible criteria: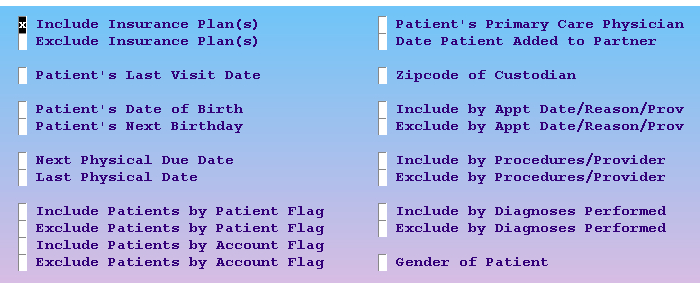 If you answer "No" to any of ira's questions, or select a criteria item in recaller, the report will need to ask you which of the selected items you want it to include.
In the examples shown above, the user wishes to run each report for only a single insurance company. They changed the "All insurance?" question to "No" in ira, they checked off "Include Insurance Plan(s)" in recaller. When they run either report, Partner will ask them which insurance companies should be included: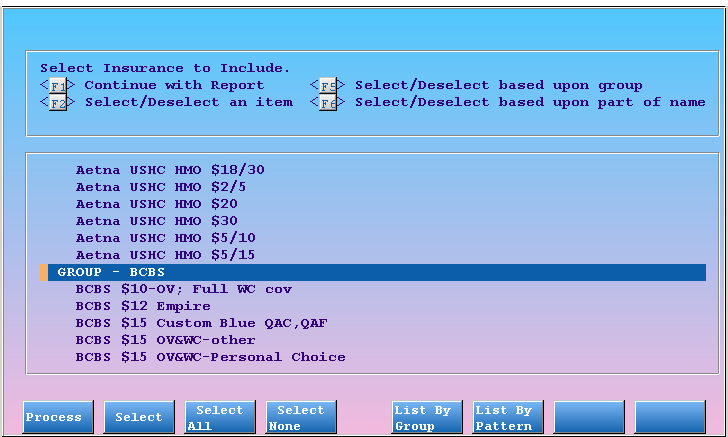 You can scroll through the list with the arrow keys or by pressing Page Down and Page Up. Press F2 – Select to mark an item you wish to include. Press F1 – Process to continue.
The image above shows insurance company selection, but the screen is identical for procedures, diagnoses, providers, or any other restriction criteria. You will see one such screen for every criteria option you selected on the report's main options screen.
Here is a full explanation of each of the screen's function keys and how to use them to select entries:
Function Keys on Advanced Criteria Screens
F1 – Process
Press F1 to run the report using all of the items you have selected. If you do not first select an item, the final report may be blank.
F2 – Select
Press F2 to select the currently highlighted item. You can select more than one entry. Selected entries will be marked with an asterisk (*). If you select a "GROUP" item, all of the items within that group will be included. Press F2 a second time to deselect an entry.
F3 – Select All
Press F3 to select all entries. If you want your report to show results for all insurance companies except for a few, you could press F3 and then deselect the entry or entries you do not want to include.
F4 – Select None
Press F4 to deselect all the selections you have made and start over.
F5 – List By Group
Press F5 to condense the list of options. The individual items will disappear and you will see only the groups.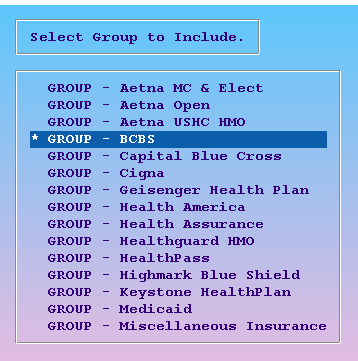 Insurance companies, providers, and procedures all have groups. Selecting the BCBS Group is much easier than selecting every BCBS plan individually. You can modify your groups in the Table Editor (ted).
F6 – List By Pattern
Press F6 to search for an item. You can search by name or any number that appears in an item's title. The search screen gives detailed instructions: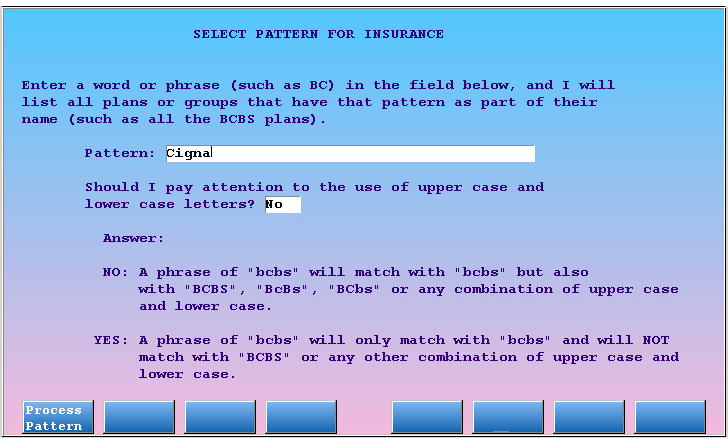 After entering a search item and pressing F1 – Process Pattern, you will see a list of all items that contain the pattern you entered:

After you select desired items from the search results, press F1 – Process. Partner will return you to the complete list, allowing you to make additional selections.
After making all of your selections, press F1 – Process to continue. If you answered "No" to several questions or selected more than one criteria on the report's main options page, Partner will display a separate selection list for each one.