Add Immunizations to a Patient's Record
There are four ways to add an immunization to a patient's immunization record.
Method 1: Automatic Immunization Records
Whenever a user posts an immunization procedure in the Charge Posting (checkout) program, Partner updates the immunization record for the patient. If a user has already added the immunization using another method, Partner is smart enough not to add a duplicate record.
If you need assistance configuring automatic immunization records, contact PCC at (800) 722-1082.
Method 2: Add a Date in imms
You can manually add an immunization to the record simply by entering a date next to the appropriate immunization:

You can enter the date without slashes; Partner will format the date for you.
Method 3: Add Immunization With Details in imms
If your practice records manufacturer, lot number, and other immunization details in Partner, press F8 – Add New Immuniz in imms to add an immunization with details. The screen will change to allow for the additional information: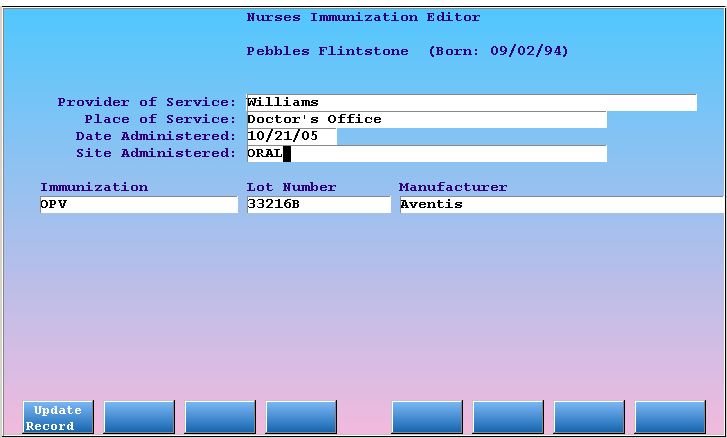 Press Tab or Enter to move among the fields. No fields are required; enter only the information that your office collects.
Press F1 – Update Record to save the new immunization entry. Press F12 to return to the imms screen without saving.
Method 4: Add Multiple Immunizations With Details in nimms
If you often give several immunizations and immediately record detailed information in Partner, you should use the Nurses Immunization Editor (nimms). The nimms program can be added to your Partner Windows or can be run from a command prompt.
For a complete manual on nimms features, read Nurse Immunization Module.